Hands-On With The Grand Seiko SBGA407 Skyflake
The success of the Snowflake continues in new variations
The Grand Seiko Snowflake is a huge success, and it seems to be the collector's darling for a while now. But there's a new hero since this year, the Grand Seiko SBGA407 Skyflake.
Of course, Skyflake is not the official name for this Grand Seiko, but enthusiasts used their creativity to come up with something in line with the original Snowflake. When I was in the market for a Grand Seiko watch, I decided against the Snowflake, for two reasons: the use of titanium and the case shape. I wrote about this struggle in this lengthy article. Instead, I went with the stainless steel Grand Seiko GMT 'Mt. Iwate' with 44GS inspired case and hi-beat movement. Up to this day, I don't regret my decision. But I also decided that at some point, I do want to own a Grand Seiko with the Spring Drive movement. And I love the snowflake dial (which has been used by Grand Seiko since 2005). So this watch does make sense for me, but would I buy it? Let's find out.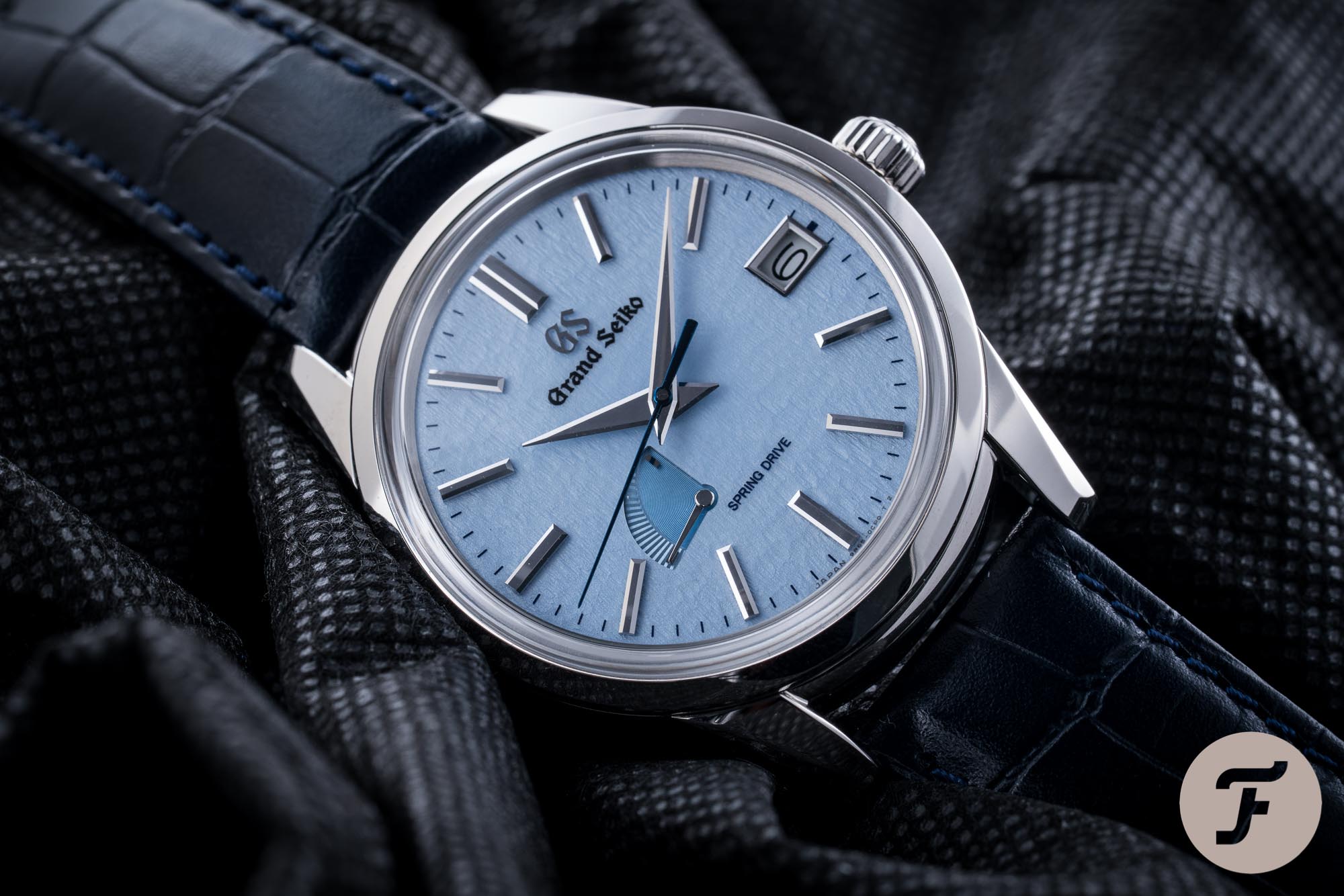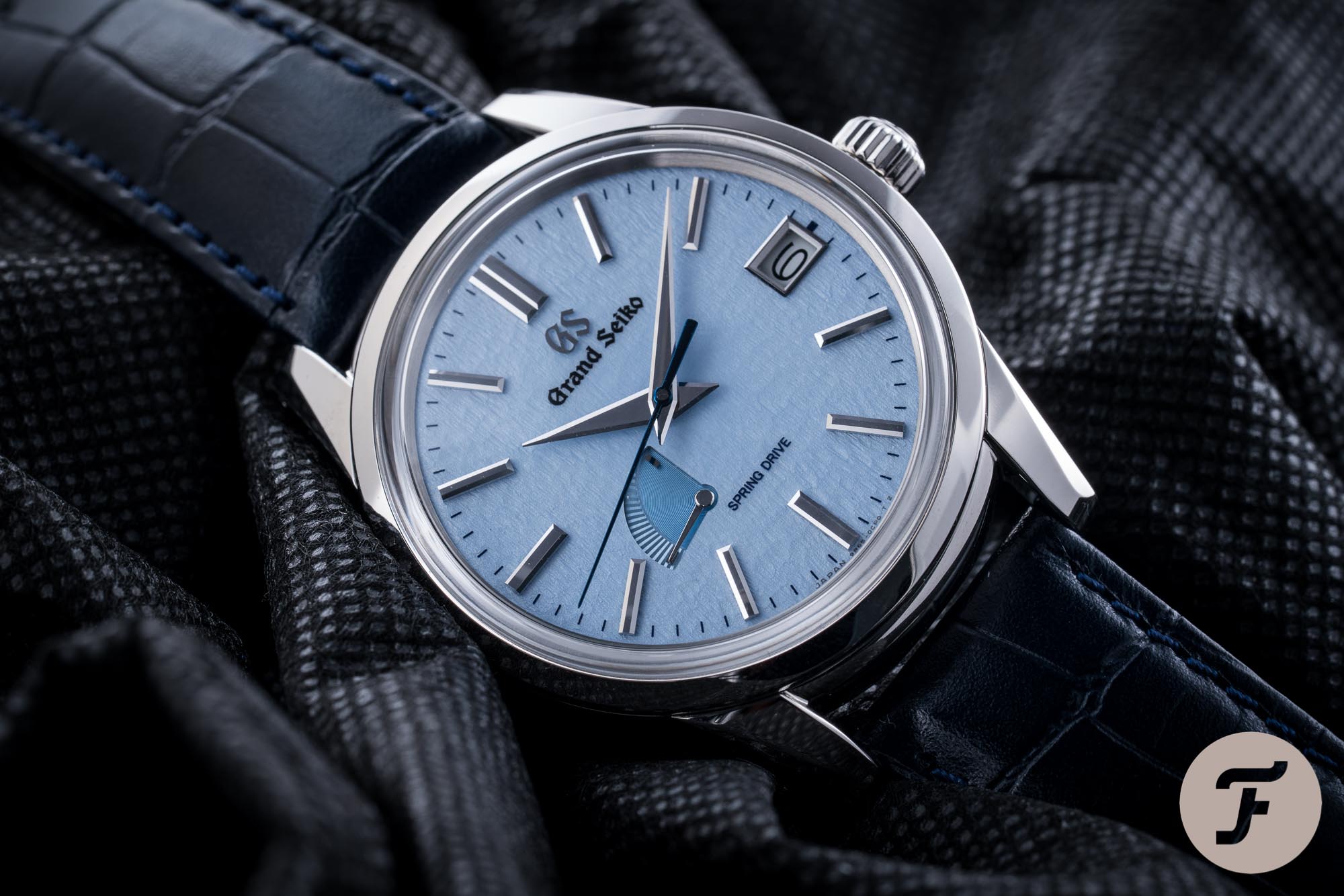 Grand Seiko SBGA407 Skyflake
The Snowflake has been so successful, and Grand Seiko has been introducing more variations on this theme, hence the Grand Seiko SBGA259, for example. A mild variety on the original SBGA211 Snowflake. Where other brands have been [almost] demonised for bringing out an endless stream of limited editions or variations on iconic models, Grand Seiko gets away with it quite well. It would be an interesting topic for another time.
The Skyflake dial
A long time ago, must have been around 2000, I bought my first watch with a blue dial, and I wasn't too sure about it. "Is it a fad, or will it stay attractive in years from now.". It worked out to be widely accepted in the end, as many watches have blue dials and I can also see this happening to different colours. Red and green are now very popular as well, although I still ask the same question as I did 19 years ago. Will it always be cool in the (far) future? Anyway, you will be safe with this blue dial Grand Seiko SBGA407 Skyflake.
It is inspired by the wind-swept snow in the mountains of Shinshu, according to Grand Seiko. Fans say it is the Skyflake, and I will go for that as well. Blue snow is scarce, I've been taught. It is the light-blue version of the Snowflake dial, and it is the main attraction of this watch. The texture of the Skyflake (and Snowflake) dial is that of Japanese paper, which reminds many to the texture of snow. The snowed mountain tops might appear blue-ish when there's a very clear blue sky.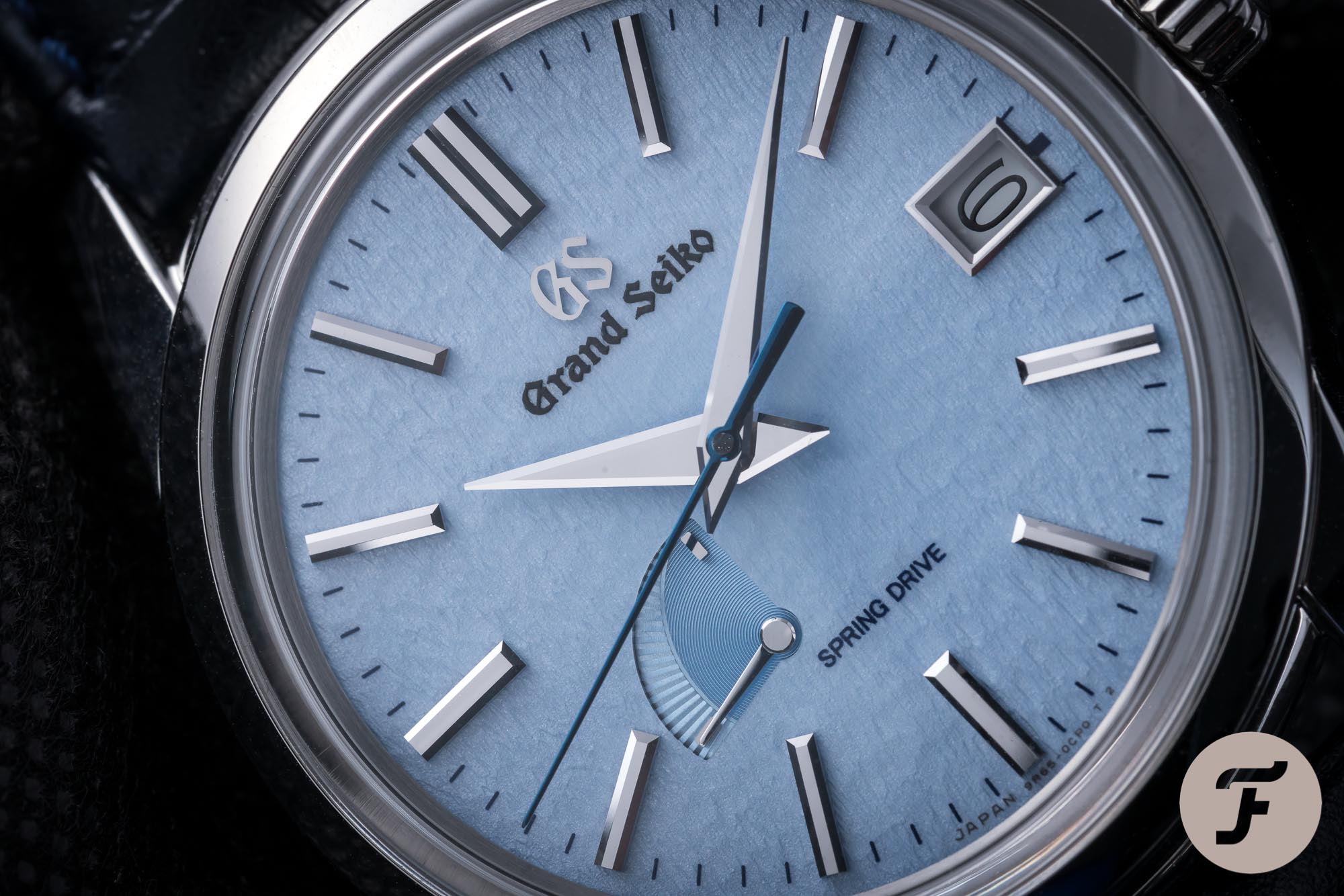 Razorsharp hands and hour markers
One of the attractions for me in any Grand Seiko is the finish of the hands and hour markers. The level of finishing that Grand Seiko applies to them is beyond belief. It can easily be compared to that of brands that are perceived to be in higher echelons, as we showed in this article on the SBGR311. I don't want to get into 'repeat mode', so see for yourself below. Our photographer Bert "Berti" Buijsrogge is always happy to have a Grand Seiko in front of his camera, as it provides images of dials that have no flaws or rough surfaces.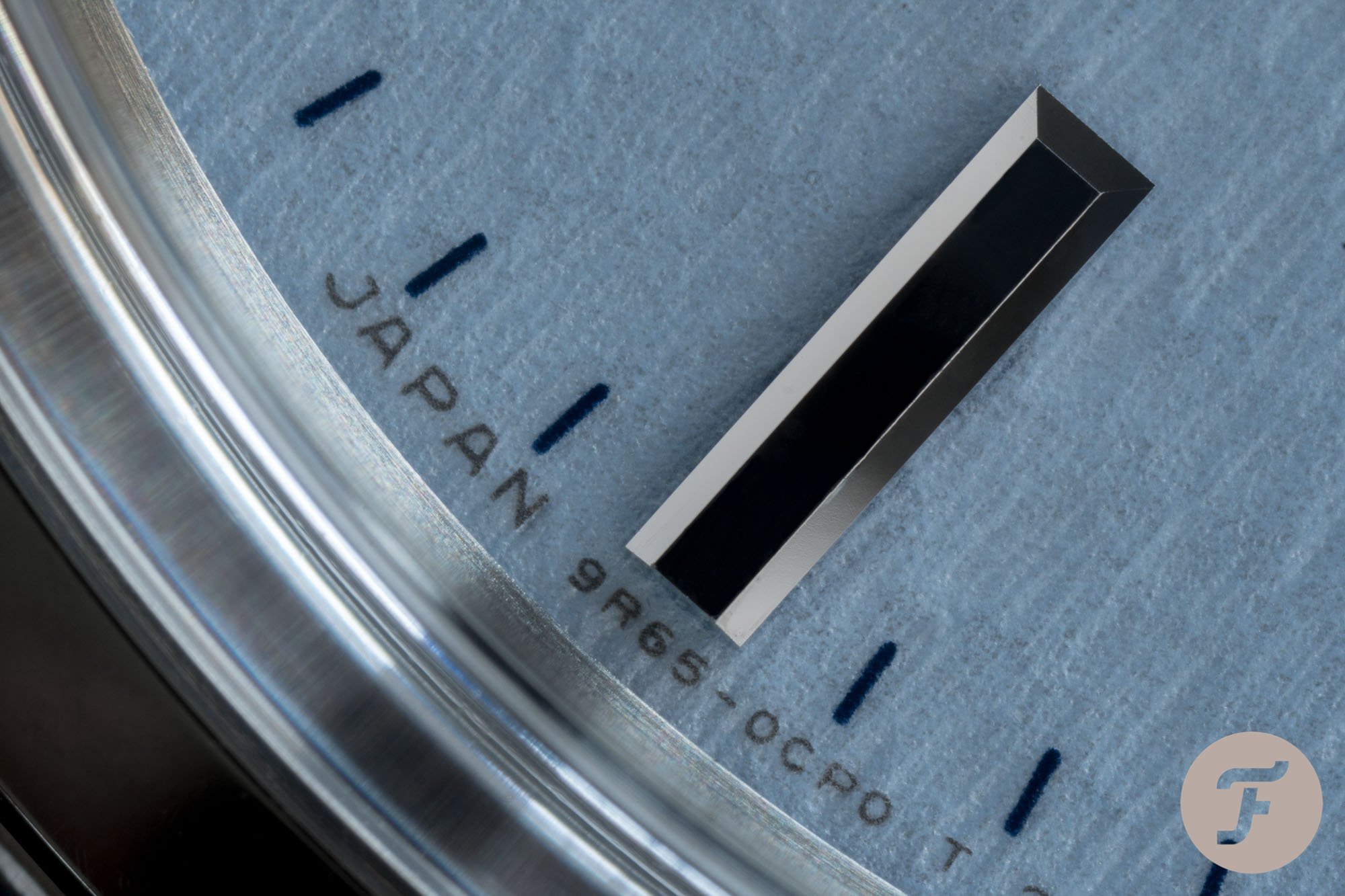 Spring Drive 9R65
I will get to the case later, as I want to share some more with you about the wearing experience of the Grand Seiko SBGA407 Skyflake. The case played an important role there. Inside this Skyflake, we'll find the Spring Drive caliber 9R65. It is identical to the movement used in the Snowflake, and other Grand Seiko watches with Spring Drive movement. As with all Spring Drive movements, the motion of the second hand is stepless and reminds of an electric clock. Some people don't like the idea of an integrated circuit (IC) in their mechanical watch, let alone a quartz crystal, but it is an exciting technology. A perfect combination of mechanical engineering and craftsmanship and technology, without having to depend on a battery. The energy that comes from the mainspring is immediately being used and doesn't need to be stored somewhere. Although some would say the escapement is the soul of the mechanical watch, or the 'heart', the Spring Drive solution for me is mechanical enough to consider the watch a mechanical one, instead of a quartz watch. I have several watches in my private collection, but none of them has a Spring Drive movement. It isn't on purpose, as I would love to add one to my modest collection, but picking the right model takes longer than I thought. I love the concept of Spring Drive and admire Seiko & Grand Seiko for the development of this movement, which took nearly 20 years.
One of the reasons that I quite often get against Spring Drive is the story that these watches need to go back to Japan for service or repair. That might have been the case a while ago, but today it isn't. Grand Seiko has been working hard to get watchmakers in local markets up & running as well for these watches (and movements). Here in The Netherlands, for example, even the Zaratsu polishing can be done locally. For a Spring Drive caliber Grand Seiko watch, the service costs are €430,-. That's a fair price, in my opinion.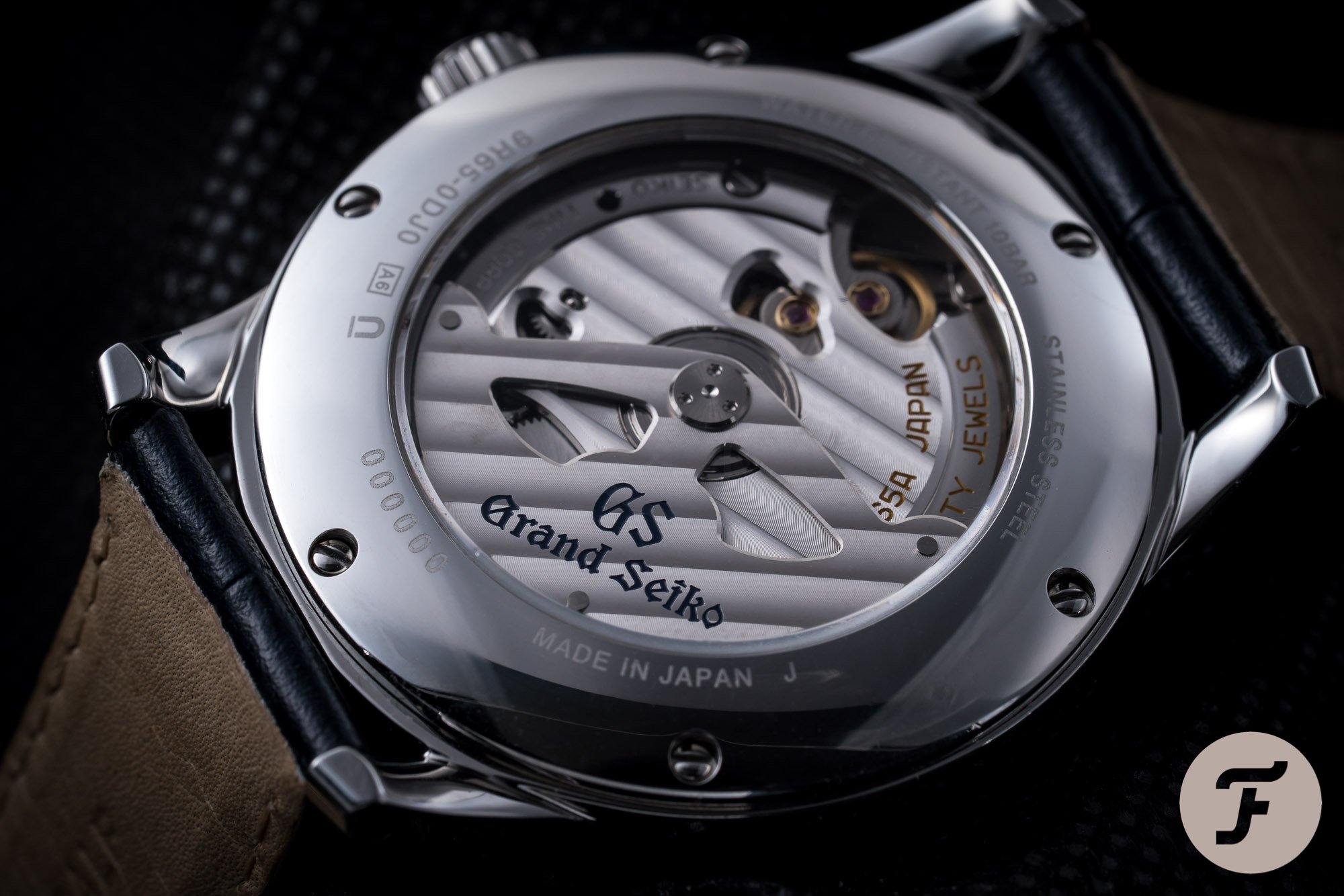 The SBGA407 on the wrist
As I've told you, one of the reasons for me to go for the SBGJ201 (Mt Iwate) instead of the Snowflake was the use of titanium. Another was the shape of the case of the SBJ201, that shows resemblance with the classic Grand Seiko 44GS style case. The case of this SBGA407 is inspired by those first Grand Seiko watches in the 1960s, well, it is a round case with long and elegant lugs. A GS-signed crown is there to correct time and date, and for manual winding of the spring. A power-reserve indicator is – like most Spring Drive models – visible at 8 o'clock on the dial. I could have lived without, but it doesn't bother me as well.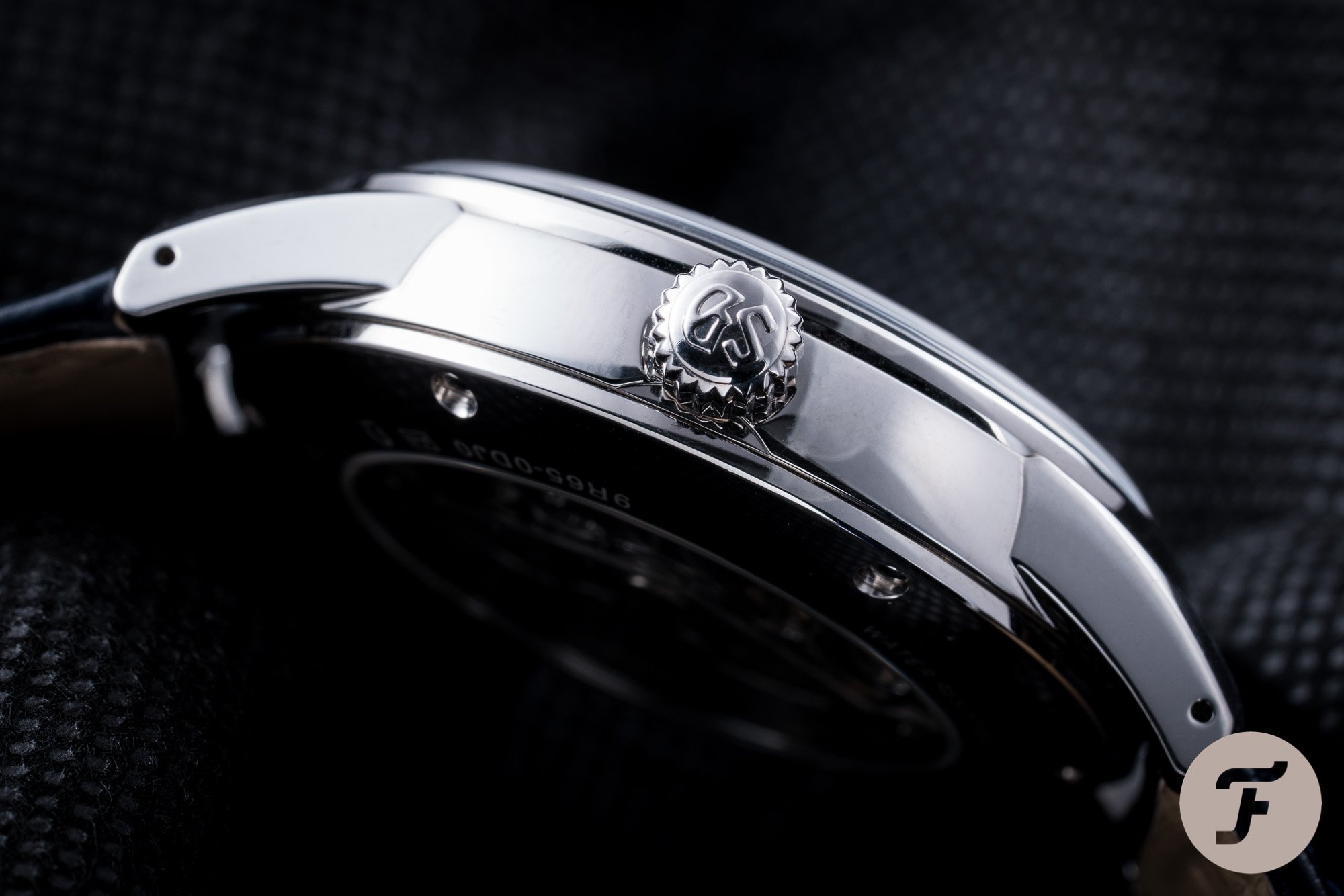 Due to the shape, the watch fits nicely on the wrist. And as opposed to the 44GS style case, with its beautiful long and wide Zaratsu polished surfaces, I am not paranoid when walking in the supermarket trying to avoid hitting shopping carts. That case is so nicely done, that you automatically become a bit too careful with it (and in the end, it is an object for daily use). With a diameter of 40.2mm and a thickness of 12.8mm, this watch sits comfortably on the wrist. As you can see on the image below, taken inside my office, near the window, the hands and markers play beautifully with the light. These watches don't use lume (which I don't happen to find very elegant anyway when it comes to aesthetics), but it also isn't really necessary with the polished finish of the hands. Even in low light conditions, you will be able to read time, as long as there's just a tiny bit of light.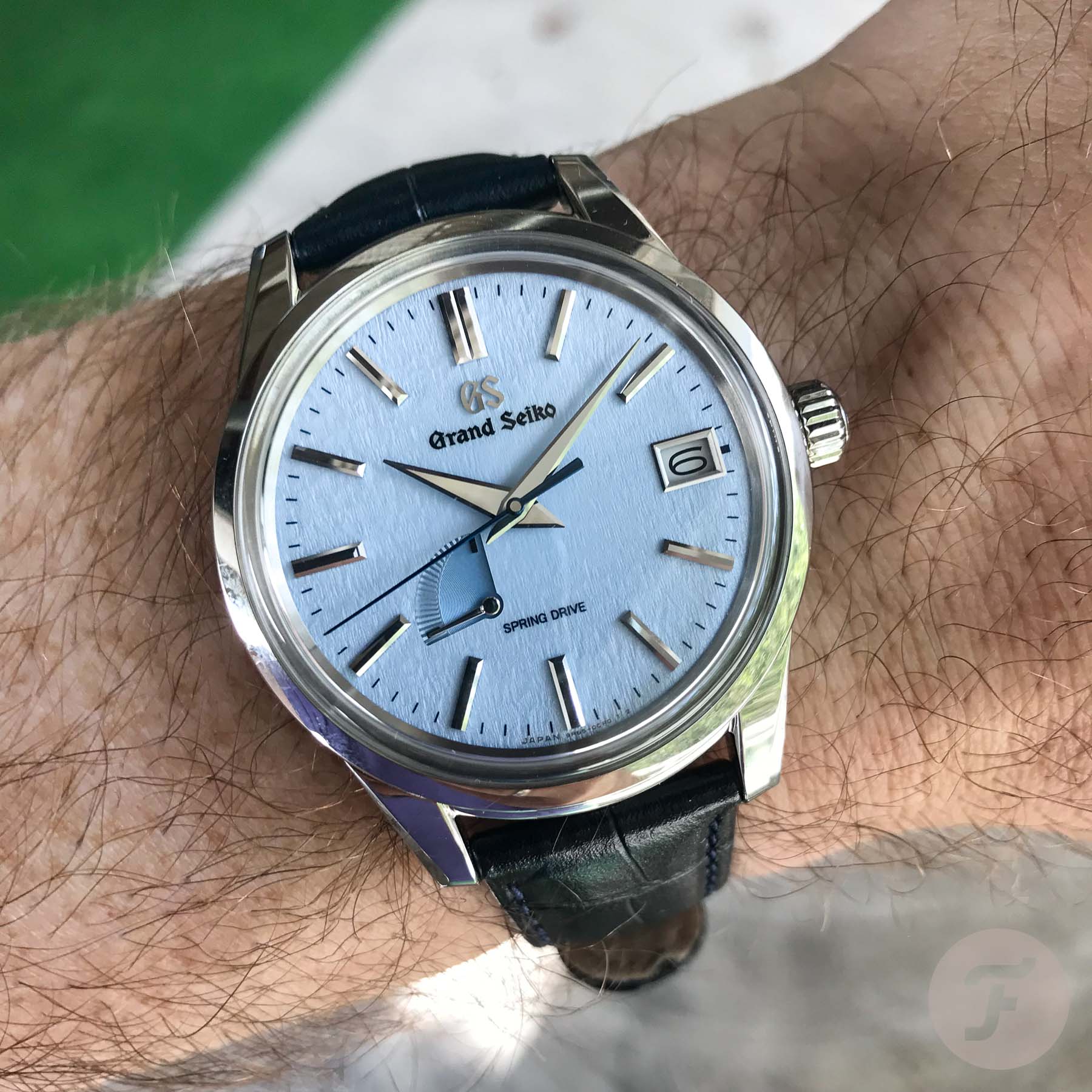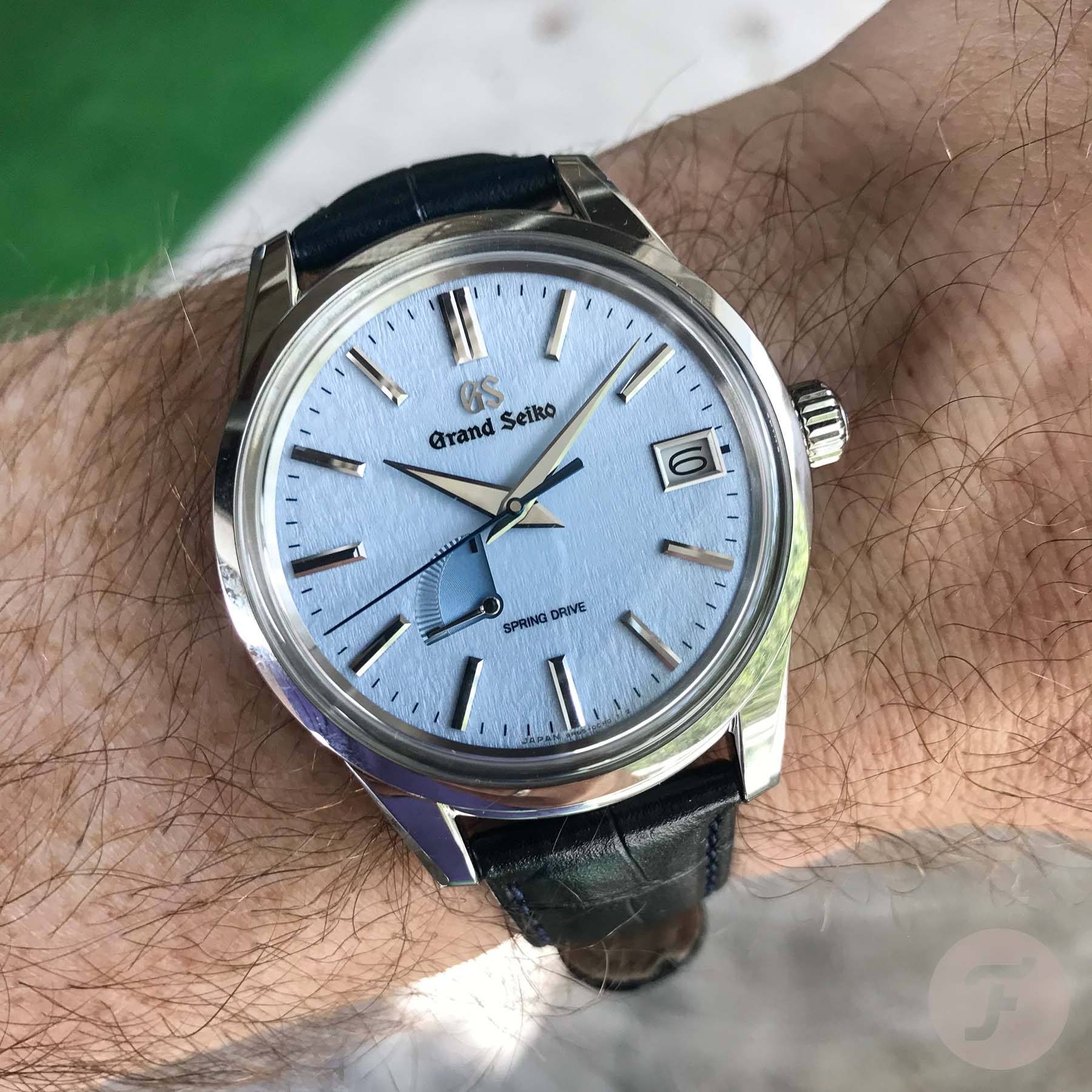 Stainless steel, Spring Drive and a Snowflake/Skyflake dial, all big fat green checks in those tickboxes. When deciding between the SBGA211 Snowflake and the SBGJ201 Mt Iwate, the shape of the case was very important to me. And if this blue dial Skyflake would be available in the 44GS case, I would have cried, manned-up and get my hustle on to get the funds ready. But it isn't. This watch has a case shape which is less outspoken than the 44GS or the case of the Snowflake, and a round case isn't that unique, but very easy on the wrist.
The strap that comes with the watch is a crocodile leather one, in a dark blue tone. It comes with a three-part folding clasp (or double folding buckle), which does the job perfectly (although I prefer a tang buckle).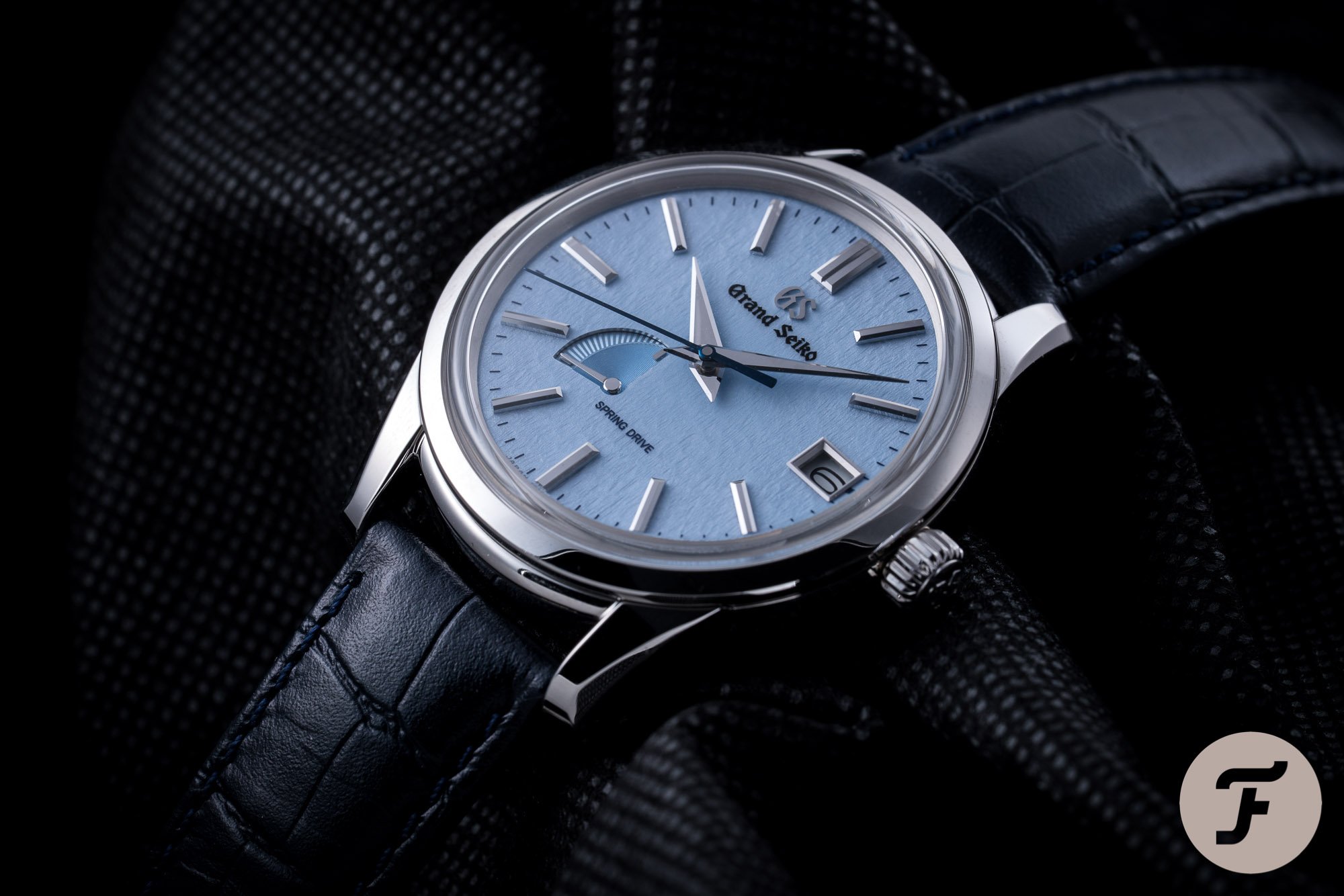 Conclusion
Pfff. This watch is simply stunning, and with a retail price of €5900, it leaves a lot of the competition wondering what they're doing wrong. The finishing is sublime for this kind of money. It is like buying an Audi car that comes with a Bentley interior; it almost doesn't make sense. But, you also have to realise that only watch nerds and enthusiasts like us will see and appreciate this. On top, it comes with the Spring Drive movement. And again, that's an 'on top' for me (and perhaps for you), but this technology is often still misunderstood by a vast majority. But, if you are like me, you purchase a watch for yourself, not to impress others. To impress yourself, which is what (any) Grand Seiko will do.
Is it all good? Well. As I wrote above, if it would have the 44GS case style, it would be a no-brainer for me. For me, this watch ends up on a shortlist for now. A shortlist for future purchases (as I still need to recover from some other purchases this year) and truth to be told; there aren't many on there. So far, it is filled with dress watches only. For some, a thickness of 12.8mm might be a bit much, but I am okay with it. What I didn't particularly like about this watch was the strap. The material was fine, as well as the matte finish, but it was only too long (and I don't have small wrists!). Something I noticed before with (Grand) Seiko straps. But that's easy to solve. More difficult to solve is to clean up the dial a bit. I am wondering what it would look like when there would be only an hour and minute hand, perhaps the seconds hand. But no power reserve indicator and date window. An immaculate time-only watch, with an open large (Skyflake) dial surface to admire. Just wondering out loud, and certainly not a dealbreaker for this Grand Seiko SBGA407 Skyflake.
When you're in the market for a Grand Seiko, or a dress watch in general, make sure to give this watch a try.
All specifications are listed below. Click here to visit the official Grand Seiko website.
Watch specifications
Model
Elegance Collection 'Skyflake'
Dial
Blue, Japanese paper texture
Case Material
Stainless Steel
Case Dimensions
Diameter: 40.2mm, Thickness: 12.8mm
Crystal
Box shaped sapphire
Case Back
Stainless steel with sapphire crystal
Movement
Caliber 9R95, Spring Drive, Power Reserve: 72 hours, Accuracy: +/- 1 second per day on average, maximum of +/- 15 seconds a month, Hacking Seconds
Water Resistance
100 meters / 10 BAR
Strap
Blue crocodile leather strap, double folding clasp
Functions
Time, Date, Power Reserve indicator
Price
€5900,- (including VAT)