Why I Bought The Grand Seiko SBGJ201 (And Love It)
And not the Grand Seiko Snowflake
A few months ago, I wrote why I did not buy the famous and much praised Grand Seiko Snowflake. Today I will tell you why I bought the Grand Seiko SBGJ201 "Mt. Iwate" instead.
Without writing too much about the background story (you can read that here), I was undoubtedly after the Grand Seiko SBGA211, or Snowflake. I was mesmerized by the structure of the dial, ever since I handled it during my first trip to Japan in 2015 to see the Grand Seiko manufacture. Sure, there were some cons for me as well about this watch, like the power reserve indicator and the titanium material, but the beautiful snowflake structure of the dial and the Spring Drive movement were more important to me. There's nothing wrong with titanium as such, but I like to feel a watch on my wrist and a power reserve indicator to me on a self-winding watch makes little sense and it makes the dial a bit too cluttered.
Grand Seiko SBGJ201 Mt. Iwate
But I was destined to purchase a Grand Seiko SBGA211 as soon as I had the funds to do so. Until I found myself standing in front of a display in the Grand Seiko boutique in Knightsbridge, London. That was in the summer of 2017, when Seiko invited me to join them for the athletics they sponsor and to visit their new and impressive boutique in Knightsbridge. In the display, there was the Grand Seiko Snowflake and I asked the sales person to get it out for me. Then, with the Snowflake on my wrist, I noticed this other model on display. The Grand Seiko SBGJ201, with a blue GMT hand and also with a little structure in the dial. But more importantly, to me, it had the case shape inspired on Grand Seiko's 44GS design (according to their Grammar of Design principles). The structure on the dial reminded me of rice paper and was very interesting to observe. The downside is that you really need to be close to the watch to see it. Of course, it isn't rice paper inspired, but by the Mt. Iwate. The mountain that is visible through the windows of the Shizuku-Ishi Watch Studio where Grand Seiko mechanical watches are made. (In the past I reviewed a limited edition that was also dedicated to this mountain)
Making a Decision
Where the Grand Seiko Snowflake has a larger diameter (of 41mm), the Grand Seiko SBGJ201 (40mm) is a bit thicker. Most probably because of the GMT function. The price tag of the Grand Seiko SBGJ201 is a €500 higher than that of the Snowflake, but in the end, it is not making much of a difference when you are considering one of these two watches. I did not take a decision at the spot (also because the prices in the United Kingdom were significantly higher than in The Netherlands), but I decided to give the Grand Seiko SBGJ201 a thought.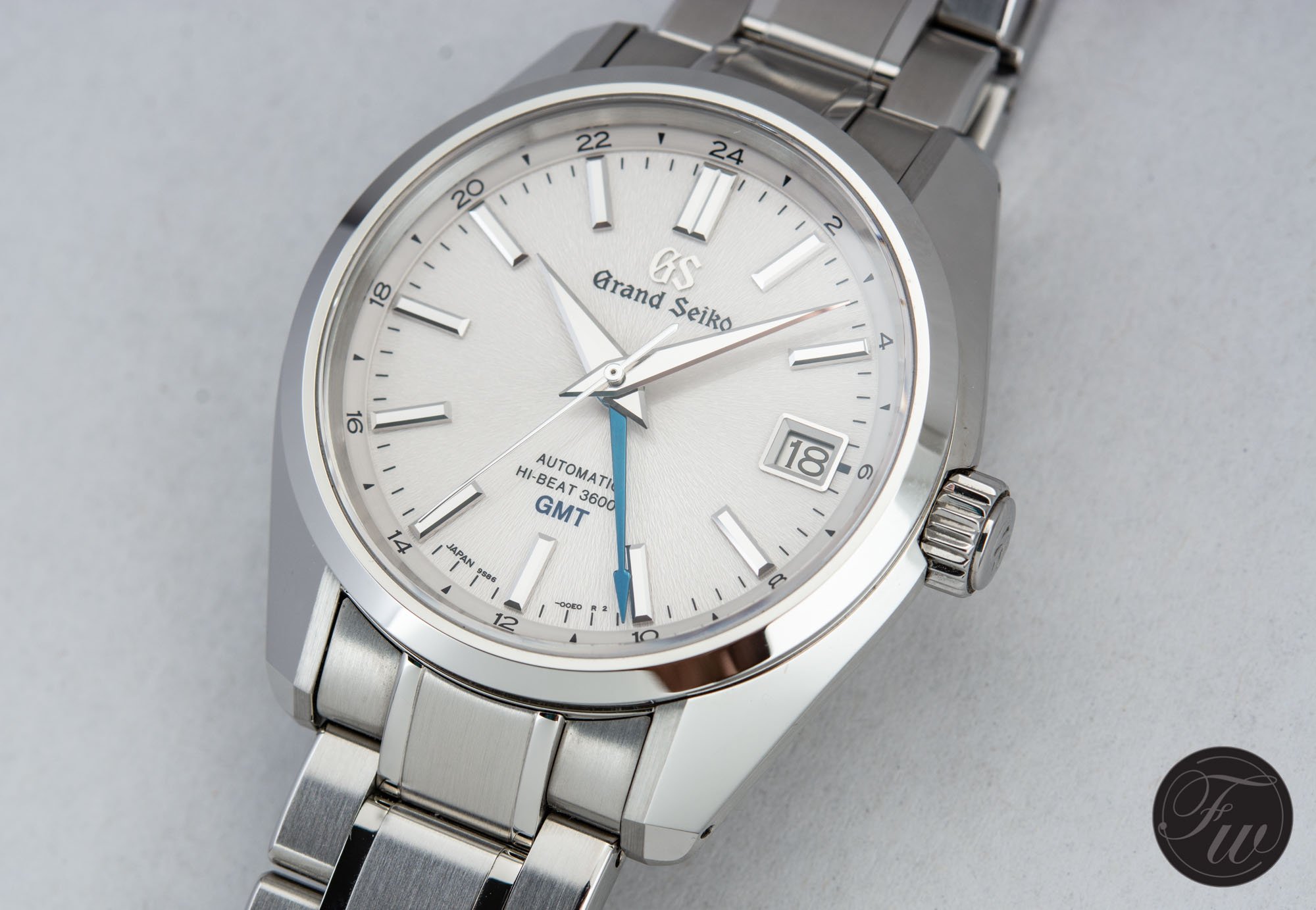 Months went by and I decided to also wait for Baselworld 2018. That made it even more difficult, as the 9S 20th-anniversary pieces with blue (here) and brown (here) dial were also very interesting. But, after seeing the Grand Seiko SBGJ201 and Snowflake once more in the flesh, I knew it had to be the SBGJ201 "Mt. Iwate". I ordered this model as it was not available in stock in The Netherlands at the time (this changed a few months ago when they reopened the (Grand) Seiko boutique in Amsterdam). A few weeks later, end of June 2018, I received a message that the watch was ready to be picked up. After having the bracelet resized by a watchmaker, I put the watch on my wrist and finally was the proud owner of a Grand Seiko. Like all Grand Seikos, this watch is delivered in the blue leather box with a few booklets and an accuracy certificate. I feel that this could be a bit more special for a watch with this price tag, but I also realize that these boxes end up in storage anyway, so it is more convenient when they are not too big.
Grand Seiko SBGJ201 on a strap
In the months after, I found myself wearing this watch quite a bit. Of course, the Speedmaster Speedy Tuesday "Ultraman" also came along and their Tokyo 2020 Olympic Edition "Rising Sun" (at least it has a Japan theme) that I also picked up, but the Grand Seiko SBGJ201 became a watch I find myself wearing a lot. Soon after I also ordered a custom blue alligator strap (19mm) for this watch, with an original Grand Seiko buckle, as I believe that a strap highlights the design of the case. Especially the razor-sharp lugs (a feature I missed on the Grand Seiko Snowflake) are perfectly visible when wearing the watch on a strap. The downside of putting it on a strap is that the watch appears to be thicker than when worn with the stainless-steel bracelet. The look & feel does change drastically though when worn on a strap. It immediately becomes a dress watch (and a thick one, at 14mm), where on the bracelet, it is definitely an all-rounder like a Rolex Datejust for example. The extra hour hand in blue is nice, and it functions as a real GMT watch should, meaning with an independent hour hand that you correct to the local time zone. The GMT function also adds some thickness to the watch (as the SBGH243 measures 0.7mm less, with a High-Beat movement and same 44GS case), but there's really no alternative if you fancy this dial and case in stainless steel. For those who prefer titanium, there's also a similar model available (SBGJ211) with the same case and movement. That dial also has an interesting structure, but not based on the Mt. Iwate.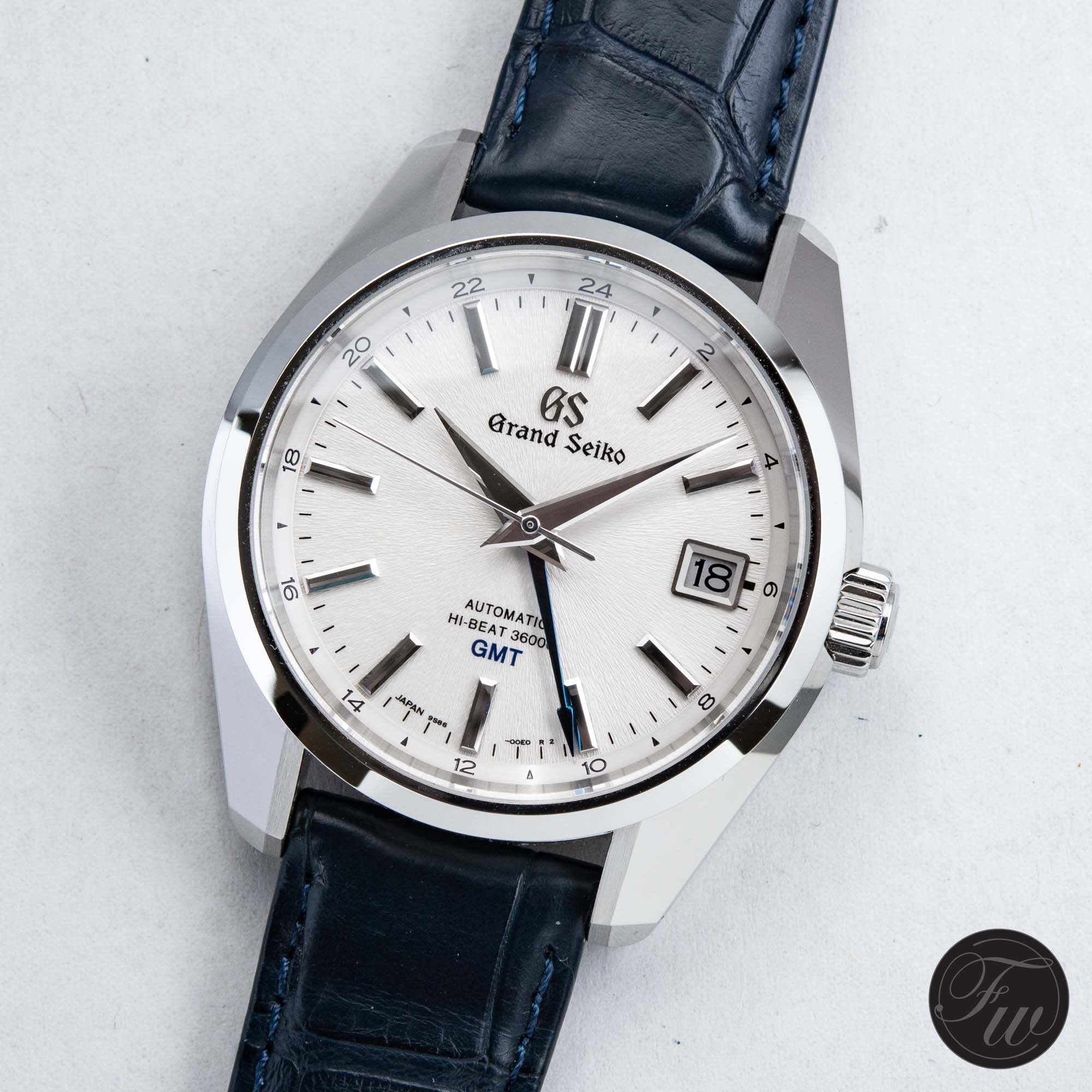 Long-term Review
Now, February 2019, after half a year of ownership, I can tell you that nothing much has changed my thoughts and feelings towards the Grand Seiko SBGJ201. Grand Seiko introduced some new (limited edition) models, but the one I fancy is US only. This would be the SBGA387 "Kira-zuri U.S. Limited Edition" with 44GS case in stainless, with Spring Drive model and stunning blue dial. I am very happy with the SBGJ201 though and find myself wearing it very often. I am about to change back to the original bracelet, as the watch is a bit more versatile that way.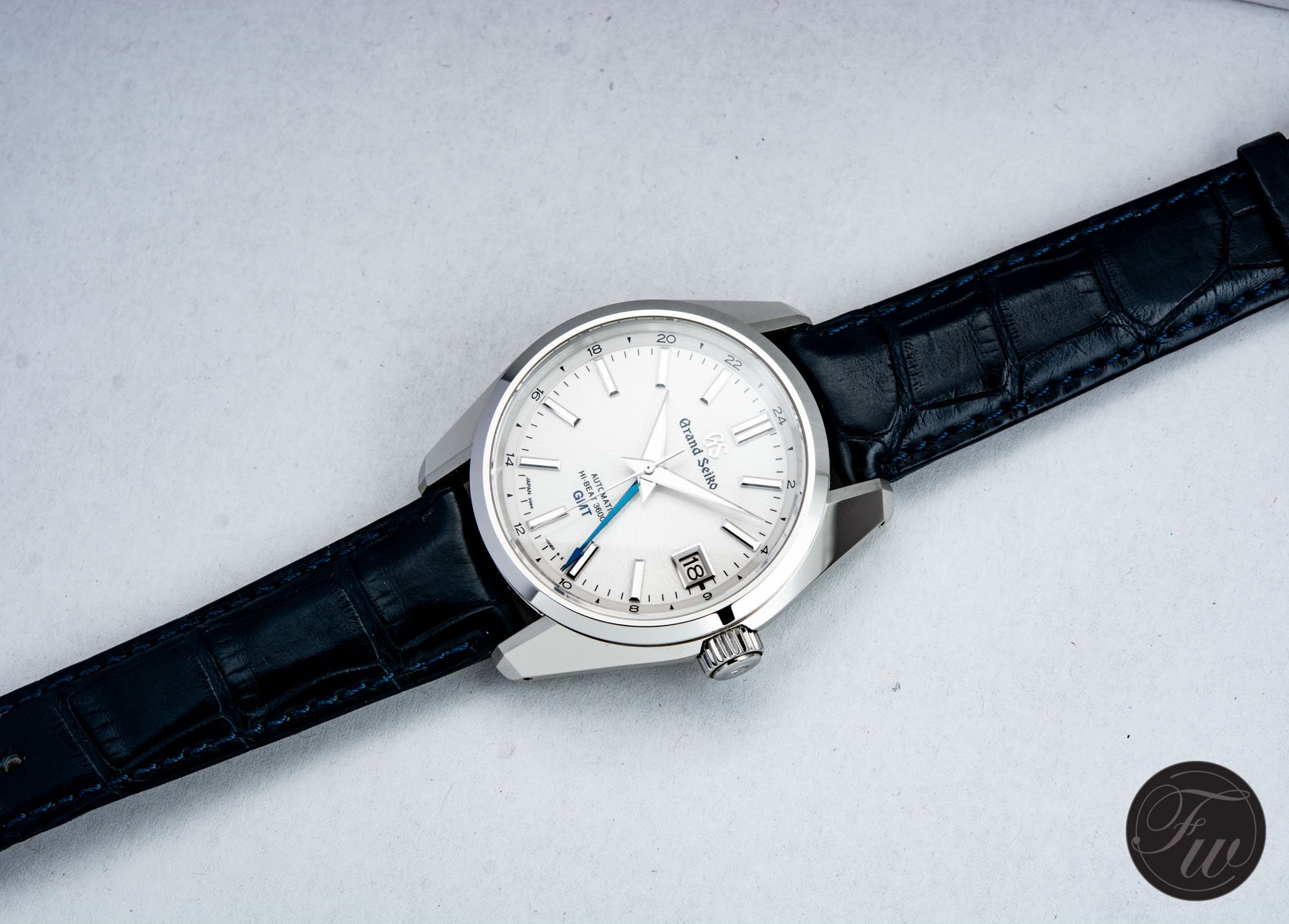 Accuracy
Although the watch has the famous Zaratsu polishing technique applied to the case, I managed to keep it free of scratches (*knocks on oak wood). It must be the nightmare of any Grand Seiko owner, as the Zaratsu polishing can only be redone in Japan. On the positive side, the servicing prices of Grand Seiko are very acceptable so you can stick to the advised intervals. According to Grand Seiko, a service interval is recommended every 4 years. The official price for servicing this 9S movement is €385 (the service prices for the other GS movements can be found here). In my case, the service can take place here in The Netherlands, except for the Zaratsu polishing work.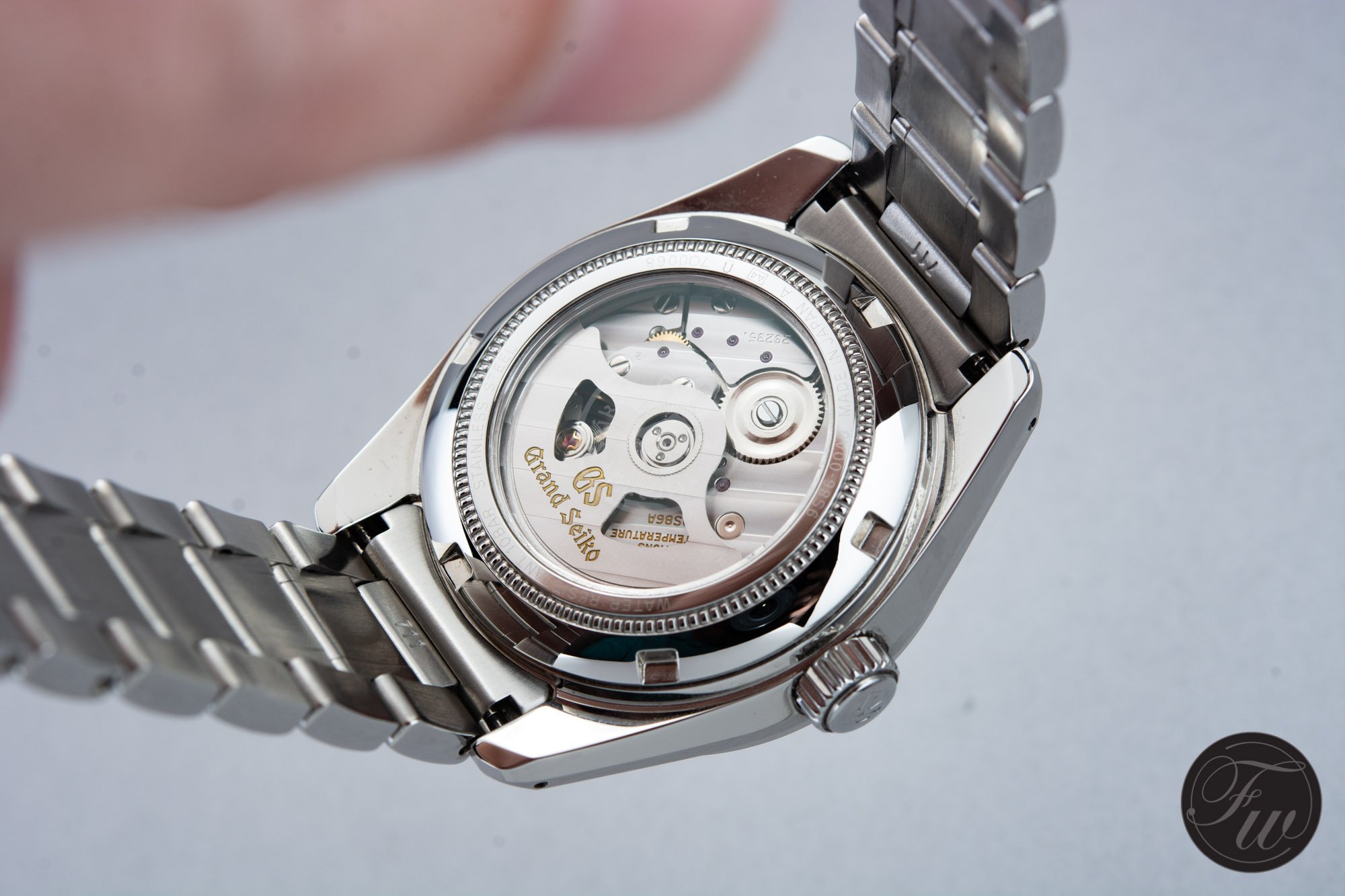 However, after just 7 months of ownership, my Grand Seiko SBGJ201 is not in the need of a service. The 9S86 high-beat movement runs sweet and well within the specifications (-3 / + 5 seconds a day). Actually, mine runs with -2 seconds a day with the dial side up, and +1 seconds a day with the crown down. The amplitude is 270 degrees with the dial side up, and 254 degrees when the watch is vertically positioned. The high-beat movement has a ticking number of 36000vph, which makes the seconds' hand sweep smoothly over the dial.
Unreal Finishing
As praised many times before, the (hand) finishing of the hands and hour markers are from another world. Even when observed using a loupe or macro lens, the polished surfaces and edges are razor-sharp. I simply can't believe how much effort Grand Seiko spends in getting these details right, which are only visible up close (or with a loupe even). Compared to the usual Swiss brands in the same price category, it is really no competition. Grand Seiko plays in a different league here. The same applies to the Zaratsu polished case and the stainless steel bracelet. Although the bracelet is not exactly my taste, due to the polished links, the finish is superb. It is these details that give me great joy in wearing and owning the Grand Seiko. I also follow some of the Grand Seiko communities on Facebook with great interest and noticed the friendly atmosphere there. There's a lot of respect for the brand and for each other, in those groups.
Strap Choices
Ever since I had my eyes on this watch, I decided I was going to wear it on a strap. As I wrote above, I had a custom strap made in dark blue and ordered a Grand Seiko buckle for it as well. I really adore the look of the watch on a strap, but as it quickly turns into a dressier watch this way, the Grand Seiko SBGJ201 is a bit too thick. Somehow, on a bracelet, I am not bothered with its height at all. I have my share of dress watches, from vintage to modern and in steel, bi-colour and gold, and none of them is as large (diameter and height) as this Grand Seiko SBGJ201. The fact that a watch is on a leather strap doesn't make it automatically a dress watch of course, but somehow this one does. Probably due to the polished surfaces on the case and high polished hands and hour markers. Also, the fact that I put an alligator strap on this watch probably give it a different appearance than when I would have used a calf strap, for example. I might want to give that a try in the near future, to have something made in 19mm from calf leather, perhaps with the vintage stitches even. For now, it is back on the stainless steel bracelet. The bracelet also definitely adds some weight to the watch, of course.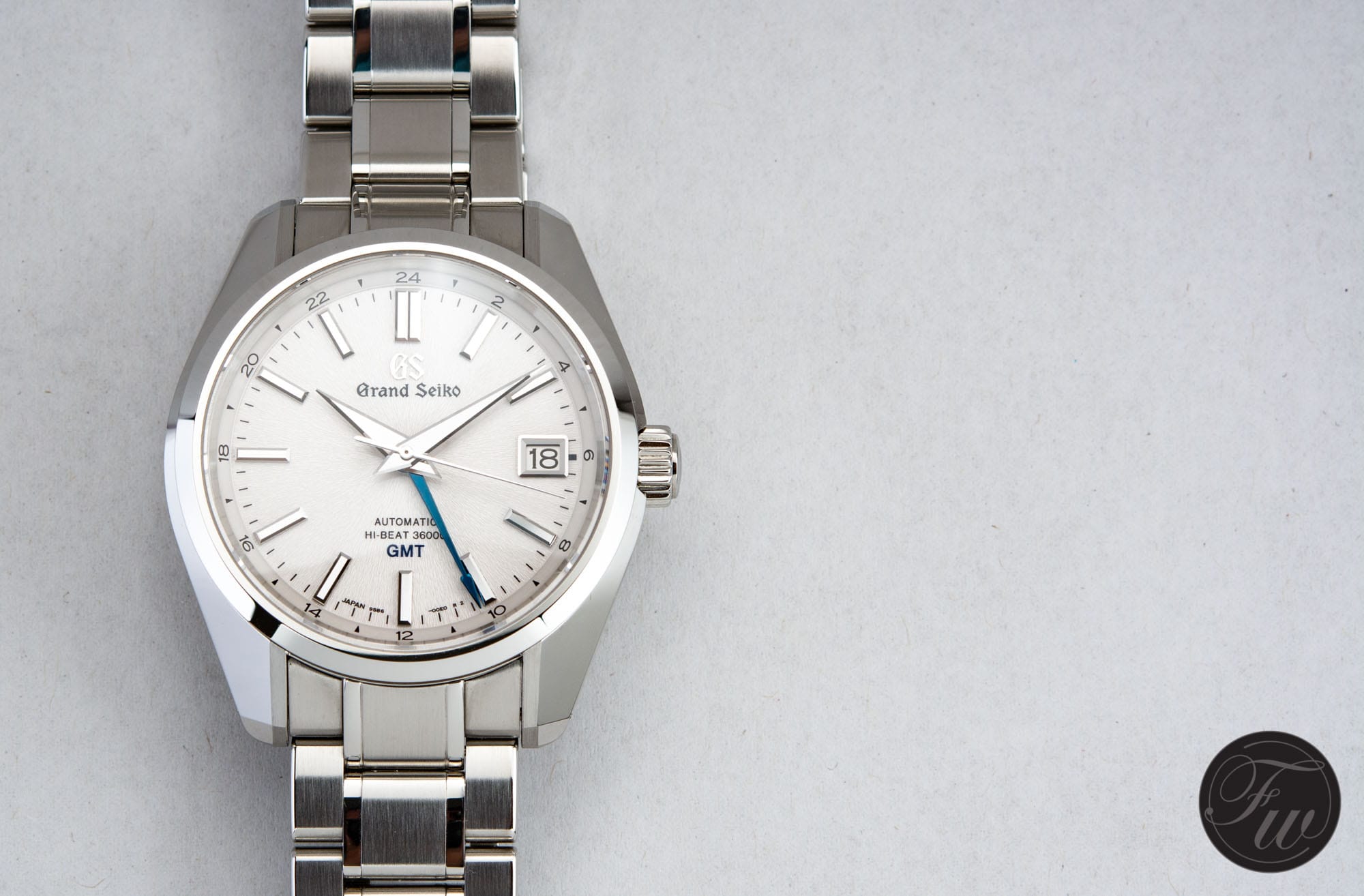 Price And Market Value
A subject that I rarely touch when doing a watch review is the market value. Or resale value. For me, that's not really important when describing or judging a watch. If you want to have strong resale value, buy a sports Rolex or a Patek Philippe Nautilus etc. I buy a watch to wear and enjoy, not to make a quick buck or even with the idea of selling it in the future again. I did that 20 years ago when I started collecting watches, but I am more at ease these days and take more time to decide when I purchase a watch. That said, I also had a look at the pre-owned market of Grand Seiko watches. What I noticed is that the supply, at least in Europe, is very small. The production of Grand Seiko watches is also relatively small of course, with an estimated 45.000 watches a year, but it also seems that the people who buy them, hold on to them. Or actually purchased them to enjoy, not to be the next flipper. There is not one Grand Seiko SBGJ201 being offered on Chrono24 today, in pre-owned condition. Only a pre-owned predecessor, when there was still 'Seiko' on the dial beside the Grand Seiko logo (this changed in 2017), is being offered for sale, for €4500. Given the fact that Grand Seiko offered these watches with quite a bit of discount themselves when they started to use the Grand Seiko-only dials, that's a fair price. It is interesting to see that the number of pre-owned Grand Seiko watches being offered on Chrono24 is so low. Only 15 pre-owned Grand Seiko watches in total with the production year of 2017 or later.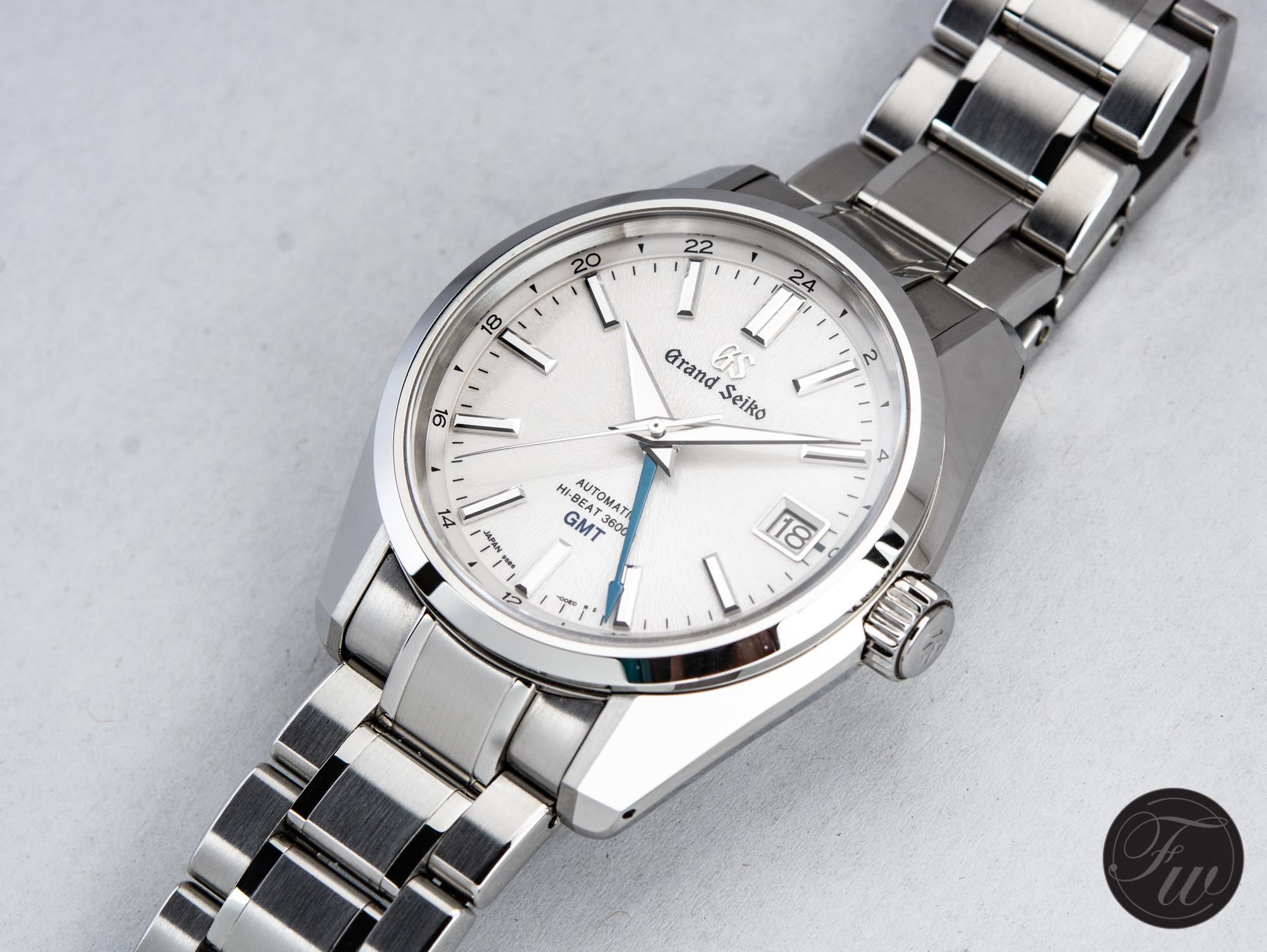 Today, the Grand Seiko SBGJ201 has a retail price of €6500. I don't think and feel that this is an unrealistic or high price, although it opens up a lot of other options as well. But looking primarily at the quality and finish of the watch, it is well worth it. If these watches would be flooding the pre-owned market for 50% off, I would still feel the same about the watch itself, but the appreciation from the market would be below mine.
What's Next
It took me a year to pull the trigger on a Grand Seiko, but I decided I should take the time to make a good choice for a watch that I want to enjoy for a long time. And I do enjoy it, a lot. The Grand Seiko SBGJ201 has proven to be a great companion so far. That said, it also made me realize that Grand Seiko is offering quite a sensational 'product' (I hate to use that word) for the price they are asking. Although I don't have a specific wish for a next Grand Seiko, I did decide that it is probably going to be a watch with their Spring Drive movement. That movement fascinates me and I just need to find the right case and dial configuration for it. If they would make a watch with a snowflake dial, in steel, I would be more than happy to pull the trigger. On the other hand, my colleague Gerard purchased a beautiful hand-wound Grand Seiko SBGW235 with this beads-of-rice bracelet that is pretty awesome. I will take my time.
More information on Grand Seiko, go here. Or click here to see all our Grand Seiko articles.