Grand Seiko SBGM021 Automatic GMT Hands-On Review
Grand Seiko SBGM021
The Grand Seiko SBGM021 is not a new model. Actually, it has been in the collection for a couple of years already. However, I had a closer look at it while I was in Japan and have admired it ever since. In fact, my interest was sparked even more when I saw it on the wrist of – friend of the show – Jason Heaton. Even though it does not have the sharp and long lugs and case shape like the Grand Seiko SBGH001 for example, I feel it is one of the nicest Grand Seikos out there.
The ivory dial of the Grand Seiko SBGM021 and high polished markers and hands give this wonderful contrast. At first glance, it may not register as a 'Hingucker' (eye-catcher) as they say in German, but let me show you why it deserves attention.
Grand Seiko Automatic GMT
This watch has something very "1960's" about it in my opinion. The big applied hour markers, sharp dauphine hands and traditional case shape certainly evoke classic pieces from that era. However, upon closer inspection you'll see that the watch, with its diameter of 39.5mm and sapphire crystal, is classic, but very modern.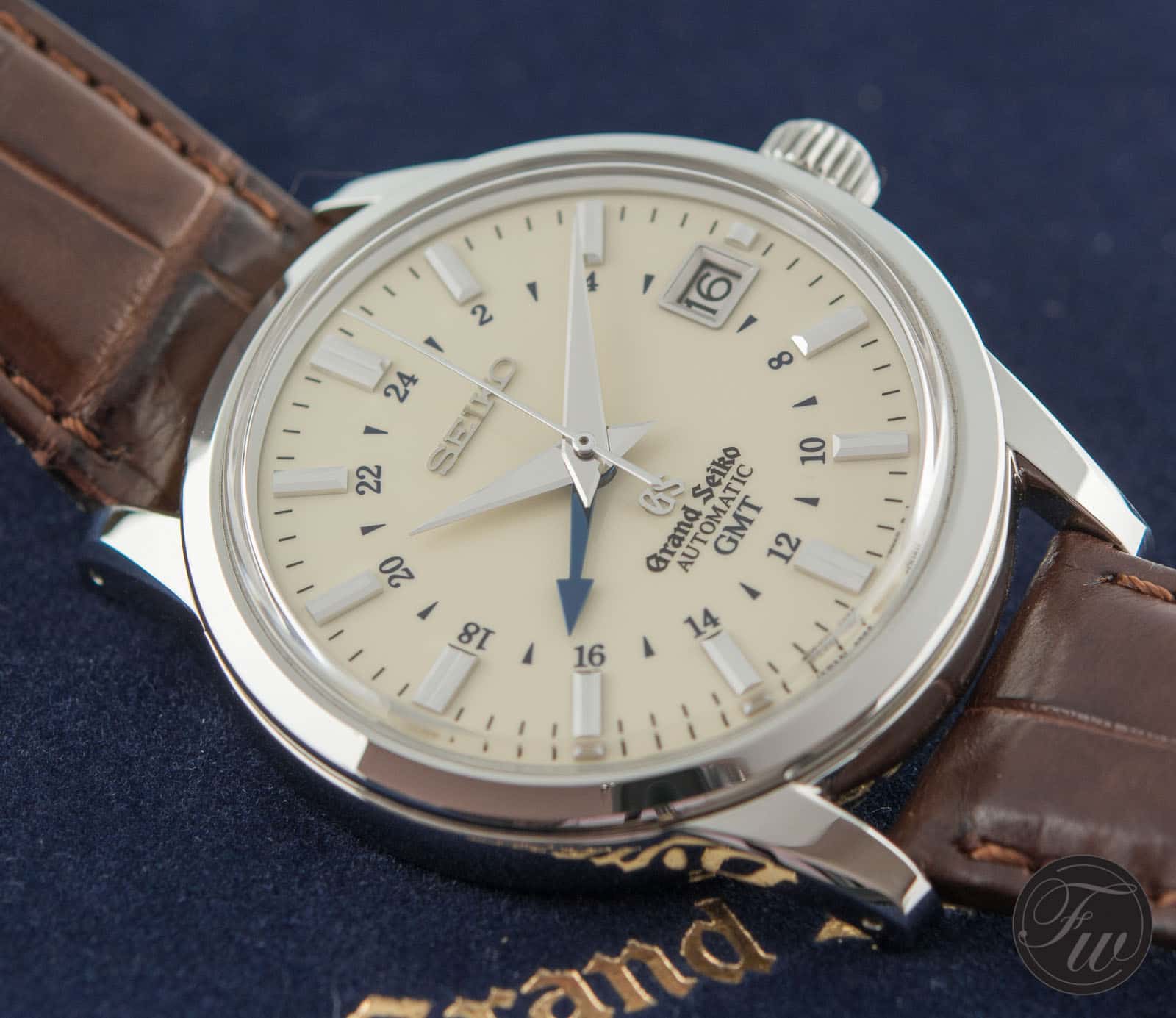 Packaging
Where the packaging of the average, normal, Seiko varies from a cheap plastic box till something slightly more luxurious (carton), the Grand Seiko watches are all delivered in blue leather-look boxes with a blue velvet inner box. Inside, there are the papers of the Grand Seiko SBGM021 in this case and an instruction book on the 9S66 movement. To be honest, I did not look at the paperwork for this watch and went straight to the Grand Seiko SBGM021 Automatic GMT watch itself. To be honest, other watch brands typically employ more luxurious (wooden or full leather) boxes even when it concerns watches with lower price tags. I feel Seiko can do a bit more regarding their packaging for the Grand Seiko line.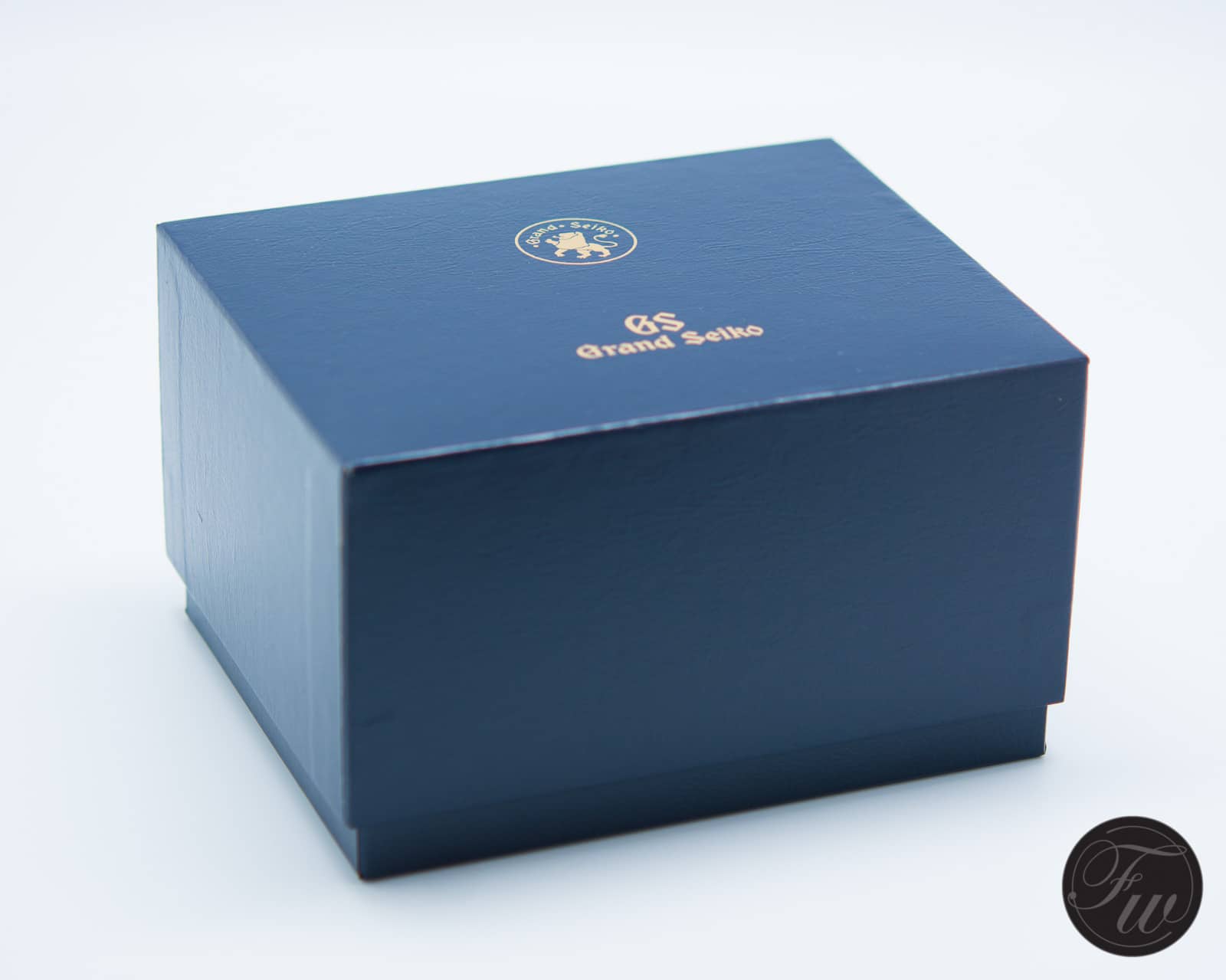 Regardless, I also know that many of these boxes end up in the attic or in a drawer somewhere. Alas, people love to be treated like Kings and Queens. However, I quickly forgot about the packaging when I opened it and saw the beautiful Grand Seiko SBGM021 inside. In the end, the blue Grand Seiko box makes me happy anyway as I know what's inside.
Grand Seiko Dial
Once in a while there's discussion amongst watch enthusiasts about the brand name on the dial of a Grand Seiko. Valid or not, there is 'SEIKO' at 12 o'clock. Only below, above 6 o'clock there is the applied GS logo and 'GRAND SEIKO'. In any case, we now find three indicators of 'Seiko' on the dial in total. The big SEIKO at 12 o'clock and the Grand Seiko indicators also have different fonts, but I don't find this disturbing at all. Below the Grand Seiko logo on the dial, we find 'Automatic and 'GMT'.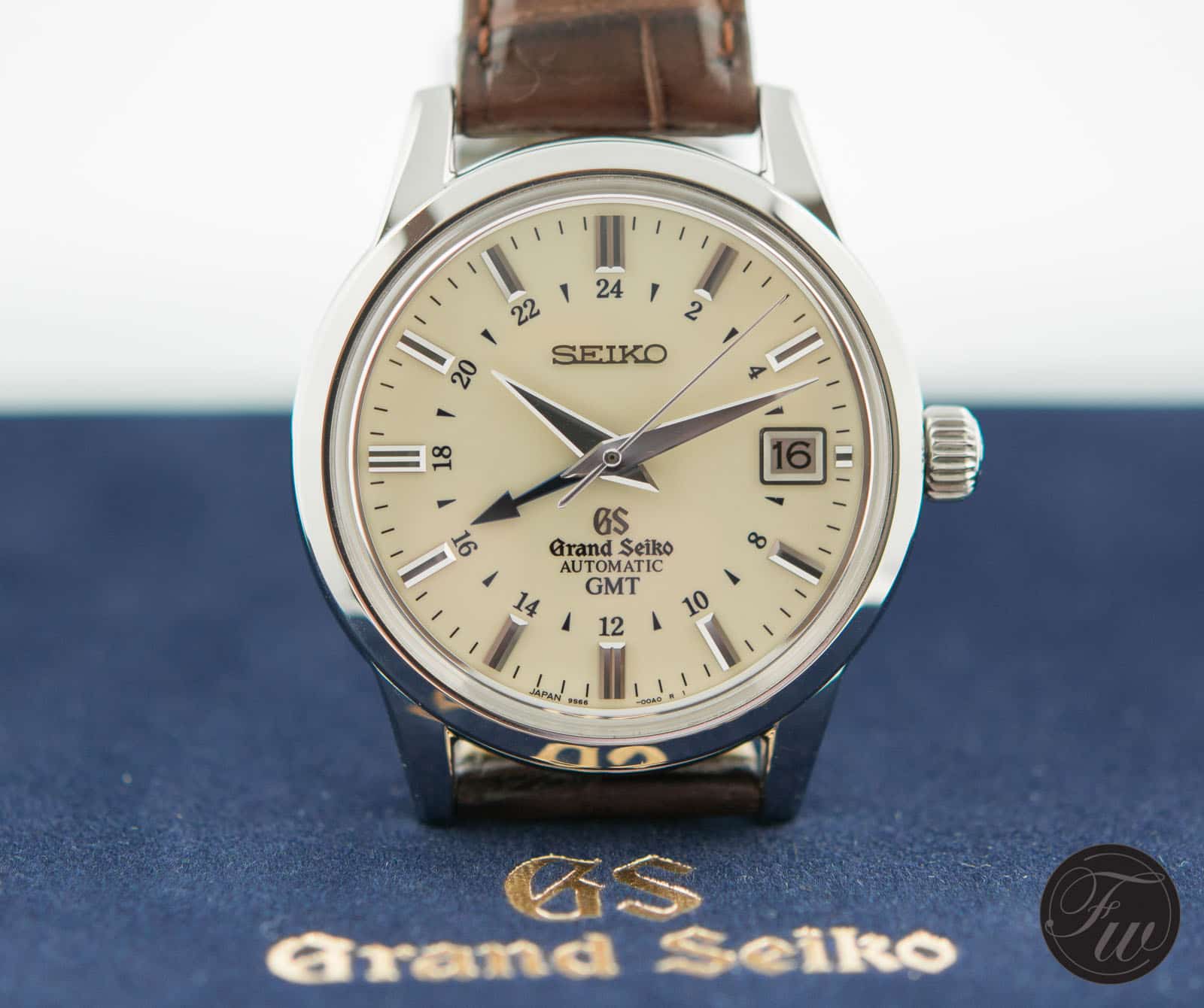 The date aperture has a beautiful frame around it. It also matches perfectly with the hour markers and hands. I briefly mentioned it already, but the hour markers remind me of these watches from the 1960's. In Japan, I have witnessed how these hour markers are polished and checked for imperfections; it's all done by hand. Actually, it's done by hand and a mirror! Below is a picture I took during my visit to one of the Grand Seiko production facilities.
Hands
The GMT hand is in blue to give contrast with the dauphine hands that indicate hours and minutes. The finish on all four hands is mind boggling and it makes me wonder if there's anyone out there that does not like them. To me personally, the hands are such an important design aspect of a watch and, therefore, the finish should be impeccable. These are the parts you look at most of the time and a watch brand should get that right.
The long sleek seconds hand perfectly aligns with the outer (minute) track. The minute hand itself is a bit shorter, it just stops before this outer track. Then, there's the 24-hour scale on the dial, printed in black. A blued 'broad arrow' hour hand indicates the home time. An independent hour hand can be easily set to the local time. With this independent hour hand, you also advance the date.
The high polished parts on the dial give an awesome contrast again with the ivory dial of the Grand Seiko SBGM021. To me, this is one of the key design features of this watch.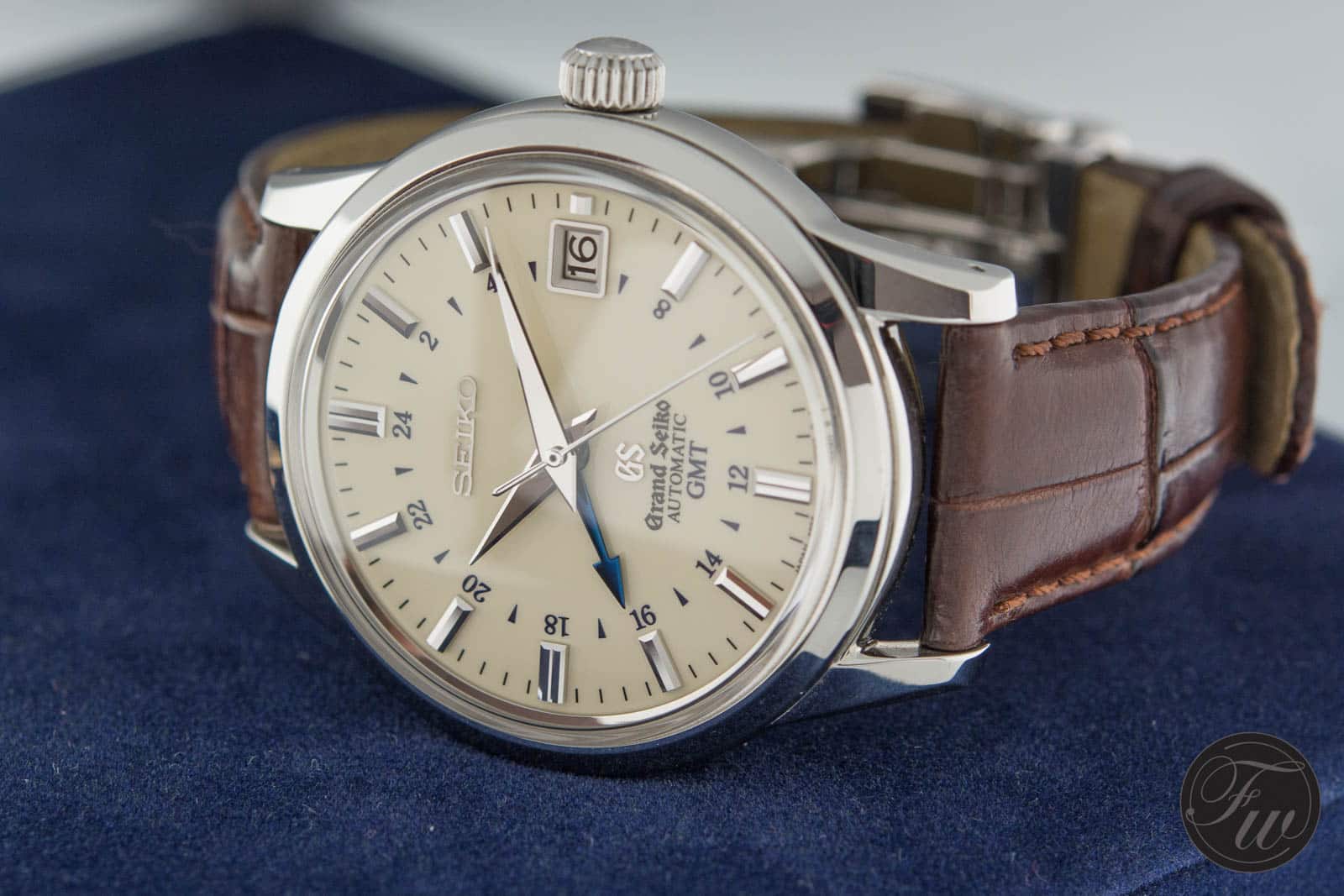 Case
The case of the Grand Seiko SBGM021 is by no means identical to that "grandfather's watch" of the 1960's. It measures 39.5mm x 13.7mm and that is about as small as my wrist can handle. But I like it very much and not only for formal occasions. I could see myself wearing this watch on a daily basis. I live a desk-life mostly when I am not traveling for Fratello Watches or holidays, so this would do perfectly. The polished case is simply stunning. The lugs have big facets on there that look great. On the other hand, I would not mind a bit more satin brushed finishing. However, the different polished parts and steps do give enough contrast.
You will find a GS signed crown. It is relatively large and easy to operate. To be honest, it could have been a crown for hand-wind movement. The Grand Seiko SBGM021 has a boxed sapphire crystal on the front, and a sapphire crystal on the caseback as well.
Through the sapphire on the caseback, you can see the automatic movement of the Grand Seiko. It has a polished finish and contains the necessary engravings. Six large screws keep the caseback in place.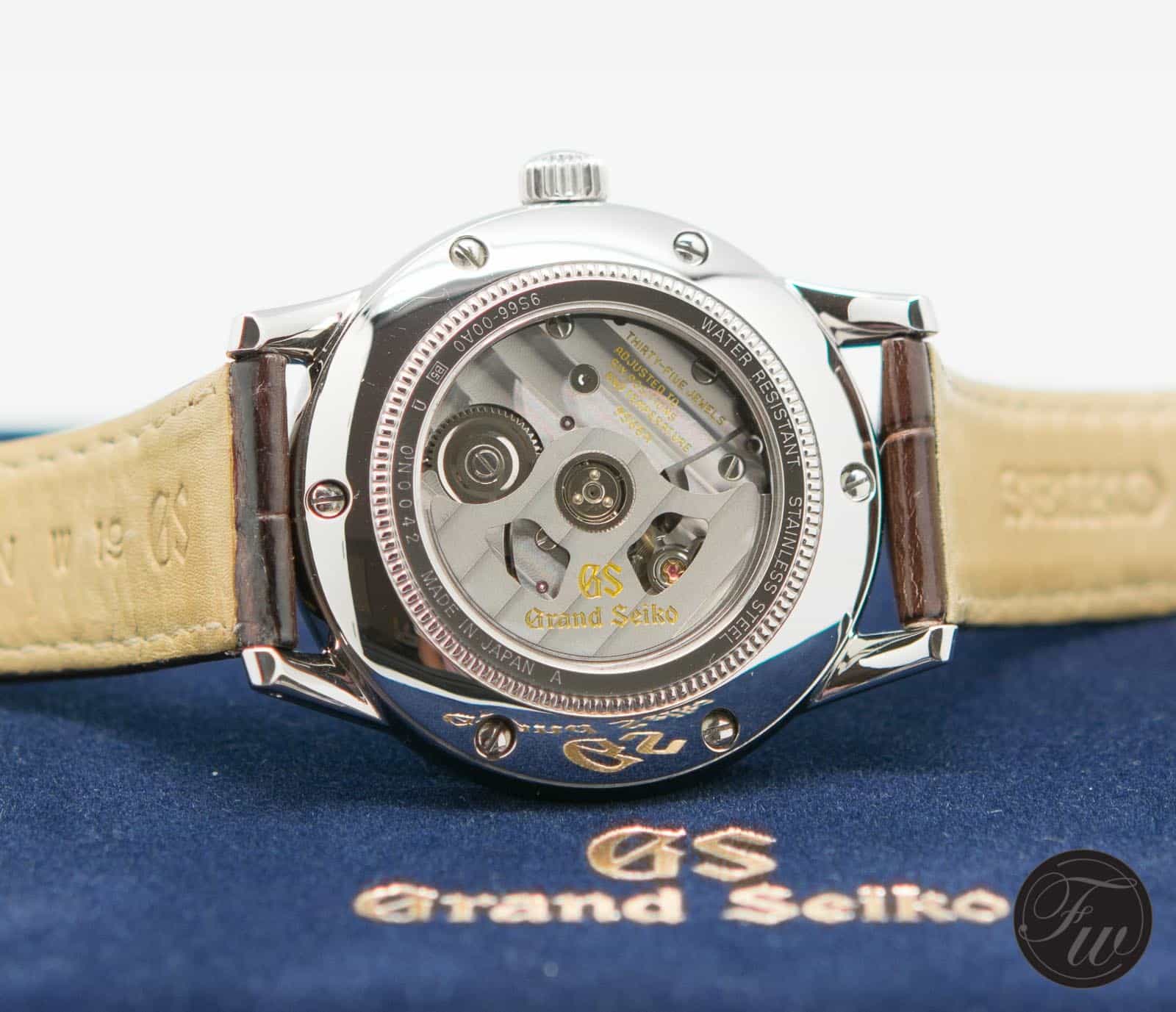 Caliber 9S66
To some of you, this is what Grand Seiko is about: the movement. The Grand Seiko SBGM021 is equipped with the 9S66 caliber movement. The 9S refers to the mechanical movements by (Grand) Seiko, the 9R to their Spring Drive movements and the 9F to their quartz movements. Furthermore, the '66' is similar to the 9S65 movement, but of course the 9S66 has the extra time zone complication.
Seiko uses more strict norms for their Grand Seiko movements than those of COSC (Chronometer). This results in a daily average rate of -3 / +5 seconds (instead of -4 / +6 seconds). You can see more brands using tighter margins than the official chronometer standards, like Rolex and Omega. Grand Seiko also belongs to this selection of brands that think it should perform better than those old standards.
Caliber 9S66 has a power reserve of over 72 hours, uses the anti-magnetic SPRON material for the hairspring and mainspring and ticks at 28,800vph. So, no high beat movement for this particular Grand Seiko reference. That would have been caliber 9S86, used in some of the other Grand Seiko models with GMT function.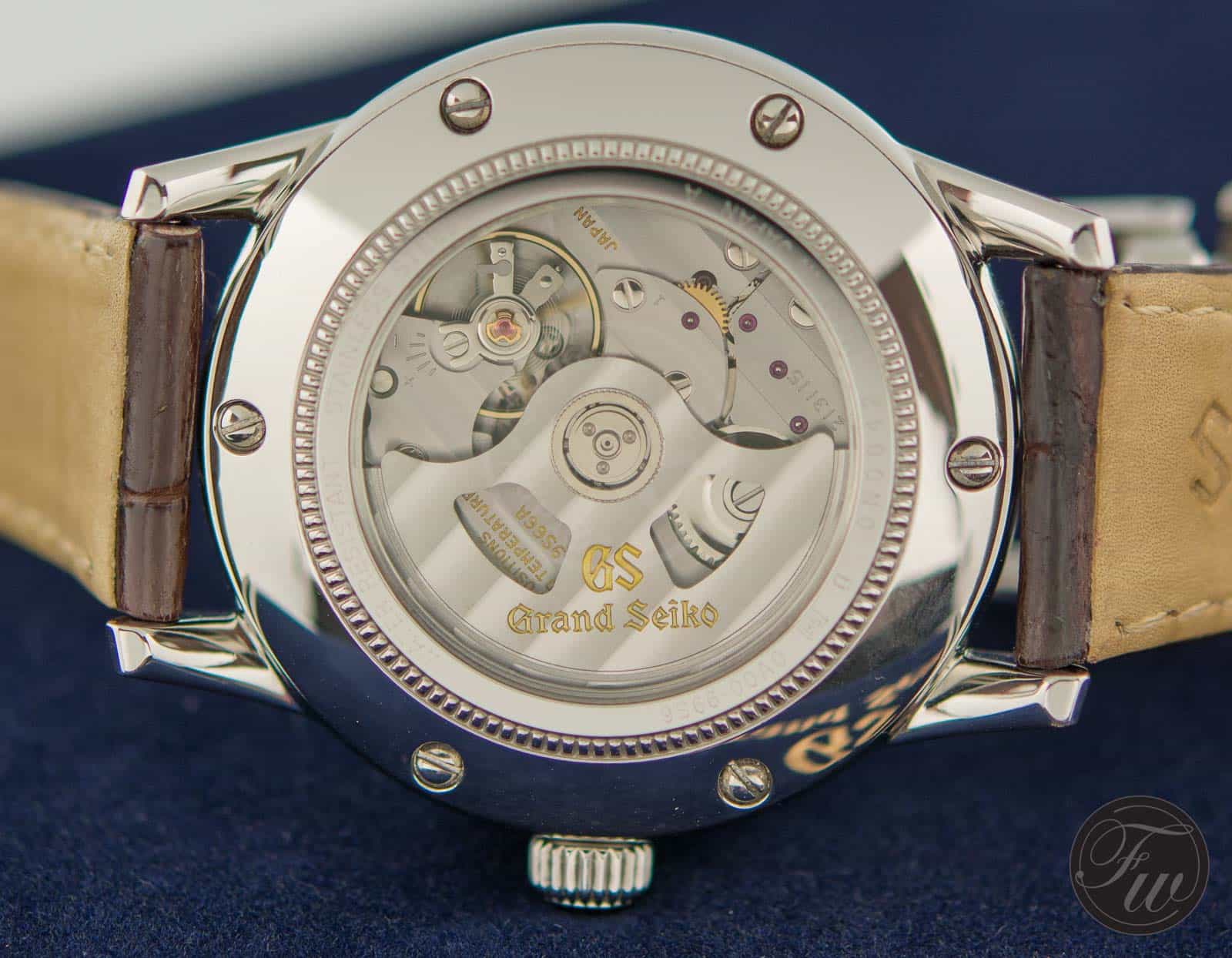 Strap and Clasp
The Grand Seiko SBGM021 comes on a brown alligator strap and stainless steel folding clasp. The lug width of this Grand Seiko Automatic GMT is 19mm, so it will be quite easy to attach a different style strap if you'd like. You can add a calf strap with off-white stitching for a more vintage look, or keep the alligator for a more formal appearance.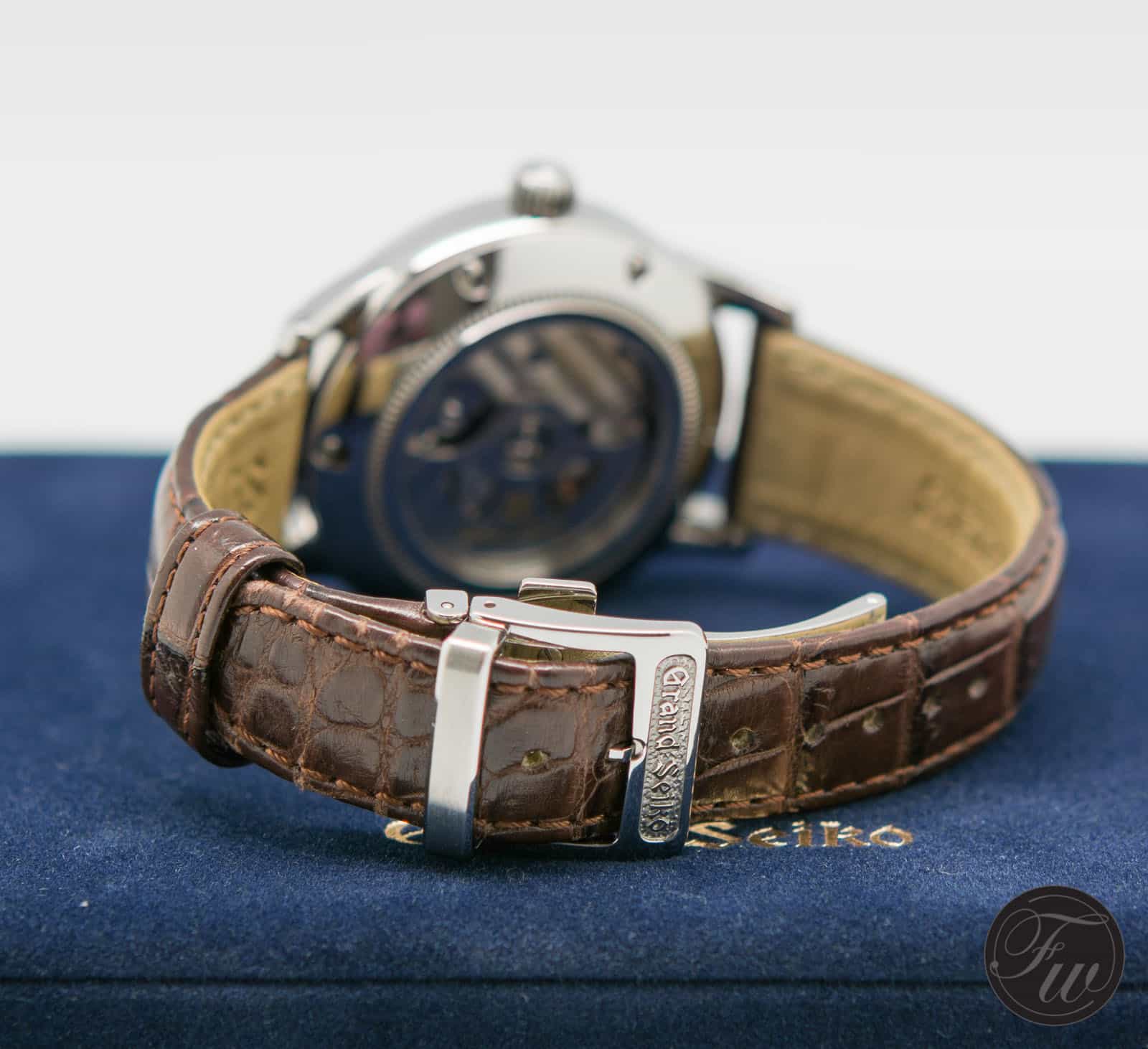 The folding clasp works very well and is nicely finished. 'Grand Seiko' is in relief on the clasp, in the same font as on the dial. On the inside of the clasp, Grand Seiko is engraved as well as the GS logo. Normally, I am not a fan of folding clasps as they are often a bit 'thick' under the wrist. However, this particular one wears quite thin and is quite comfortable. The strap is of good quality and looks fabulous on this watch. It starts out with large scales and they become smaller towards the end of the strap.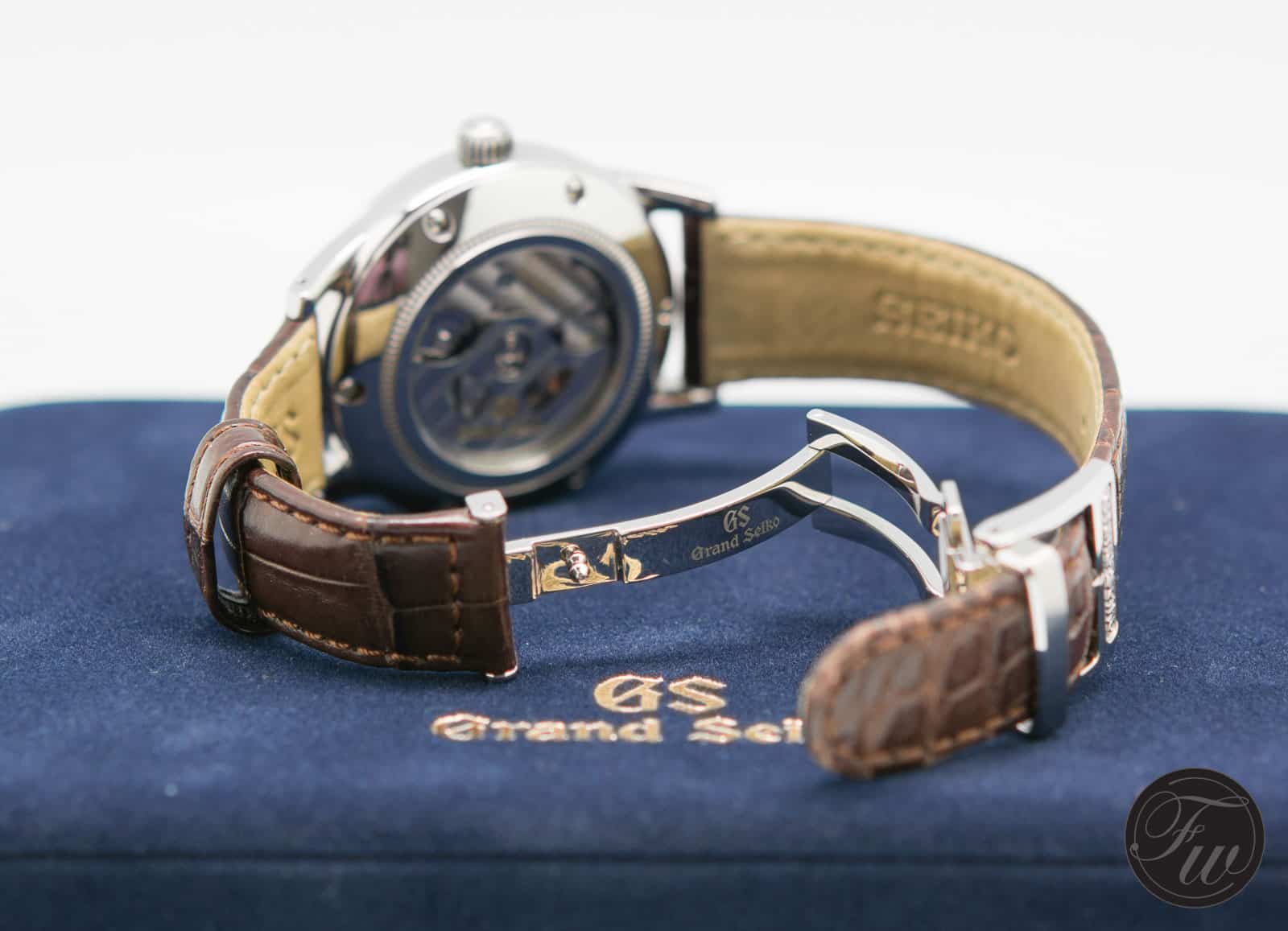 Price and Availability
The Grand Seiko SBGM021 is an awesome watch. There is not much I can criticize about it. That which can be criticized likely comes down to personal taste. The 1960's appearance might not be your thing. Or you may prefer a stainless steel bracelet (which can be added) instead of a leather strap. The quality of the Grand Seiko SBGM021 and of Grand Seiko in general is simply stunning. Compared to its Swiss and German competitors, there is not much that comes close in terms of finish and quality in this price range.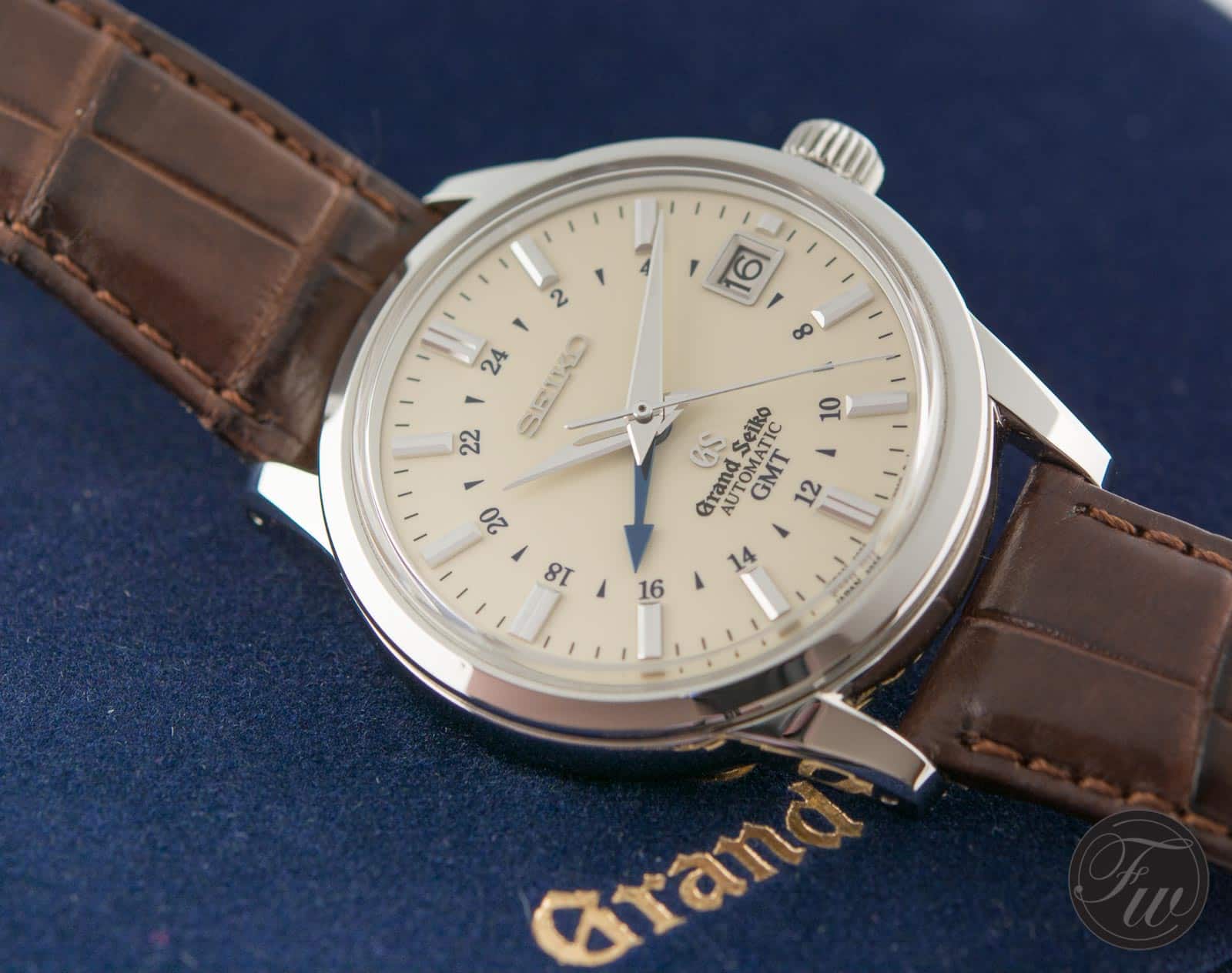 The official retail price of the Grand Seiko SBGM021 Automatic GMT is €4600 Euro. Grand Seiko is still a brand that is difficult to find in Europe, although Seiko has flagship boutiques in Paris, Amsterdam and Frankfurt. Besides those locations, there are only a few retailers that carry Grand Seiko. I am not sure whether this is influencing the price, as I see that official Grand Seiko retailers in the USA are showing a lower retail price in USD ($4400USD). So in the USA this watch retails for just below €4000 Euro, which feels a bit unfair.
That said, importing this watch by yourself is not a very good idea due to customs and other risks involved (loss). €4600 Euro for a timepiece with the finish and quality of the SBGM021 is tough to beat. The Grand Seiko Automatic GMT will not disappoint you and might be your timekeeping partner for life.
This watch is also available with a silver dial and stainless steel bracelet, the Grand Seiko SGBM023.
More information via Grand Seiko on-line.