The Grand Seiko SBGY007 "Omiwatari" — One Of The Best Dress Watches Of 2021
A Masterfully Crafted Textured Dial Inspired By The Frozen Waters Of A Japanese Lake
Grand Seiko has become synonymous with its incredibly textured dials — but there's more to the brand than that, of course. Meet the Grand Seiko SBGY007 from the Elegance Collection: a Spring Drive powered dress watch whose dial pays tribute to the frozen waters of Lake Suwa. During most winters, a long ridge appears in the ice from one side of the lake to the other. Legend has it that this is the 'Omiwatari', or where the Gods themselves walk over the ice. When Grand Seiko puts it like that, then you know it must be good. And based on what we've seen so far, it is.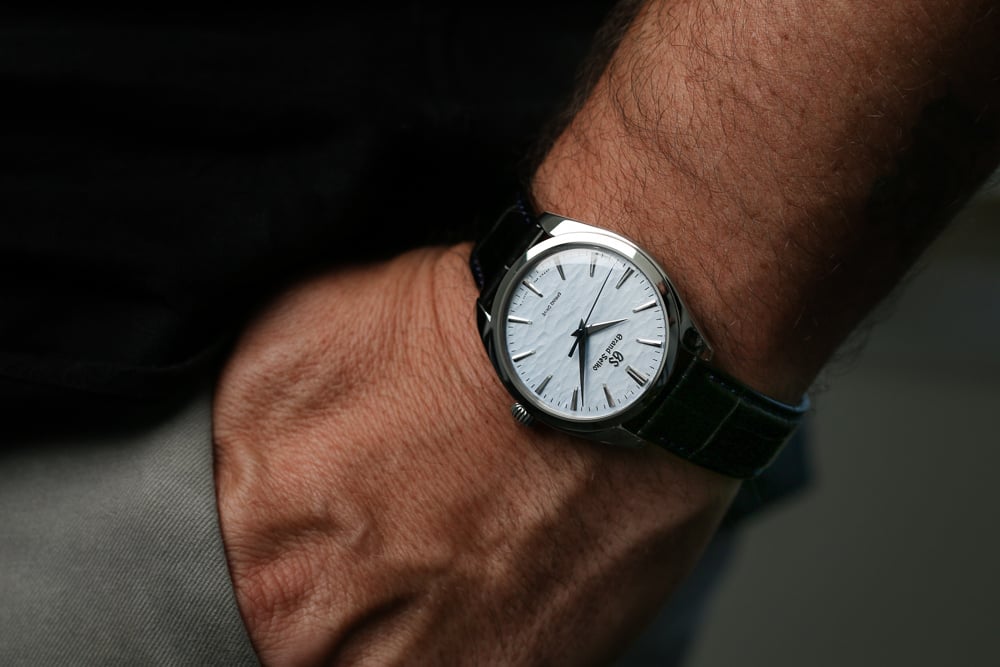 The dress watch stylings of this Grand Seiko Elegance Collection SBGY007 are unmistakable. The case dimensions also reflect its more refined nature. The case measures 38.5mm in diameter and 10.2mm thick, for a perfect fit under any shirt cuff. Made of stainless steel, the case is expertly finished to a high polish, further contributing to the dress watch aesthetic of this timepiece. Where other Grand Seiko watches have a more substantial height, the thinner case is achieved by using the hand-wound Spring Drive caliber 9R31. We've seen this movement before, in the equally beautiful Grand Seiko SBGY003, for example.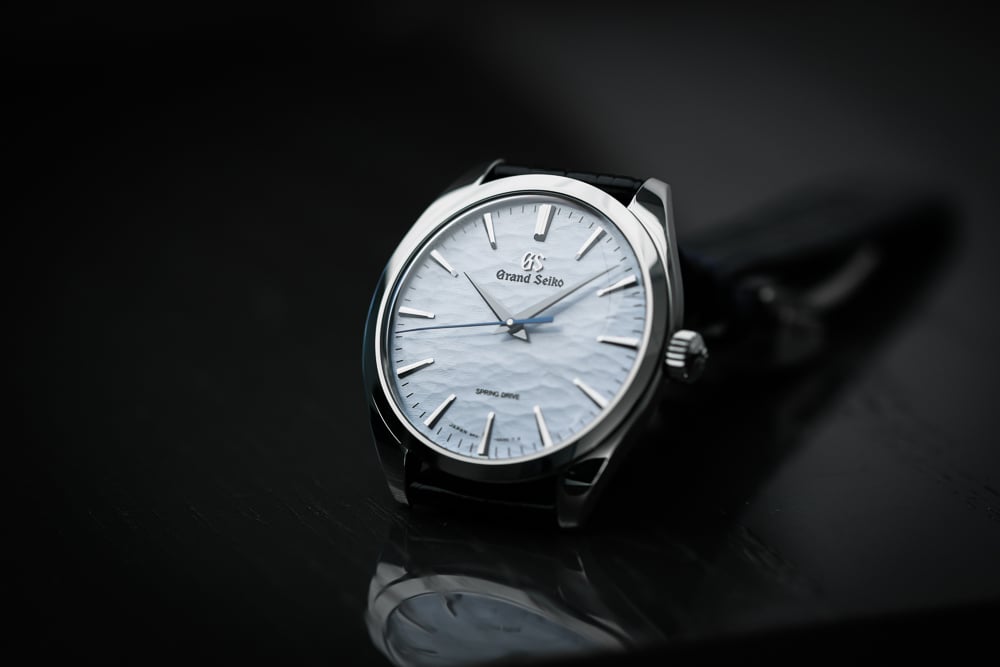 Grand Seiko SBGY007 "Omiwatari"
The SBGY003 from two years ago, with its sunray dial pattern, was a watch I adored. But man, this SBGY007 is just something else entirely. I've been casually looking — I use that phrase just to protect myself against impulse purchases — for a dress watch from a variety of brands. This Grand Seiko SBGY007 ticks many boxes, especially when it comes to its lack of a date feature (hooray!), a beautiful case shape, a movement to admire, and (no less important) an amazing looking dial. Most dress watches I come across have a number of the important features I'm looking for, but often the dials are quite boring. Grand Seiko tackled that issue in this particular model. Giving it a beautiful light blue dial with a "snow-covered ice" texture.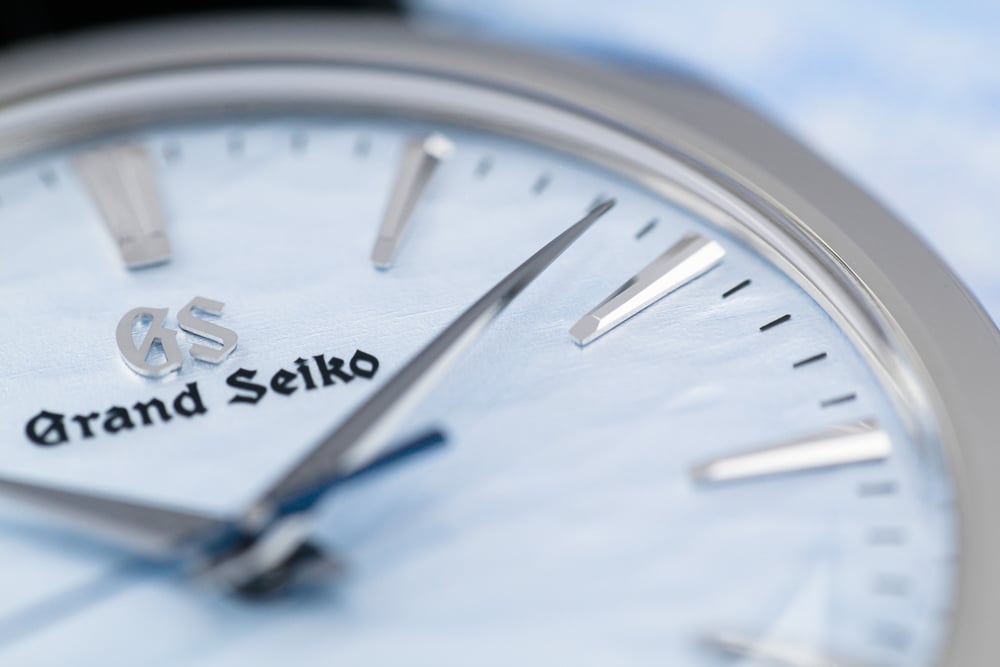 Spirit of Takumi
According to Grand Seiko, this SBGY007 is created in the spirit of the Takumi, which translates to "artisan". It's the artisans at Grand Seiko who bring these beautiful watches to life. They implement their skills and passion and are only satisfied with the very best results. And it shows. The level of detail is simply breathtaking. Whether it's the polishing of the multi-faceted hands and indexes, the Zaratsu finishing on the case, or the manufacturing of the Omiwatari dial, it all adds up in their quest for the creation of a perfect watch.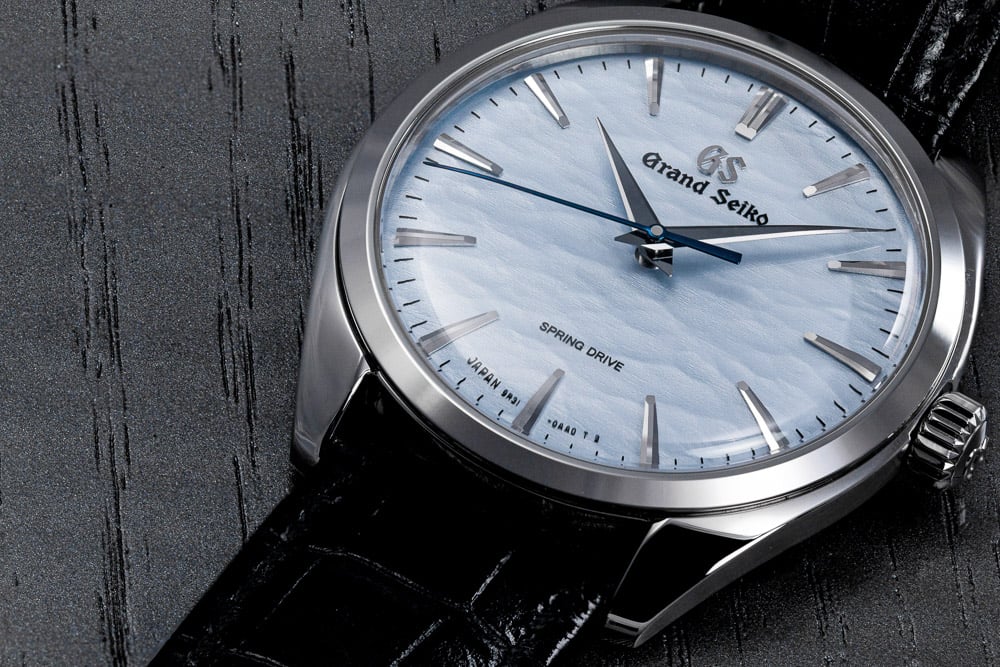 When talking, or writing, about Grand Seiko watches, it's difficult not to end up using superlatives. I also have to add that everything you can say about these pieces truly comes to life when you are handling these watches in person. Only then, will you notice the spectacular way that the case, dial, and hands play with the light. It is in this very unique way in which Grand Seiko watches interact with the light that they display their beauty to the fullest extent. Luckily, we have recently seen the number of Grand Seiko retailers and boutiques increasing, so make sure to pay them a visit when you can. See them for yourself, you won't regret it.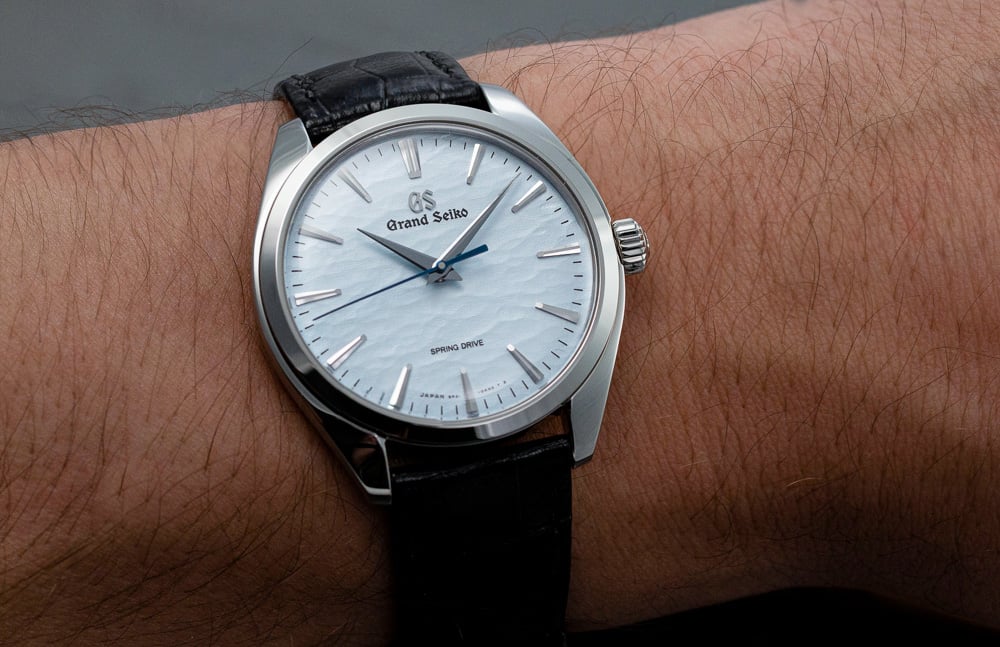 Ticking all the right boxes
I promised myself, that when the time comes to buy another Grand Seiko, I would go with a Spring Drive-powered model. Since 2017, I've owned a high-beat Grand Seiko SBGJ201 (GMT). Also known as the "Mt. Iwate", it is a brilliant watch in its own right. However, recently I've been eye-balling various potential candidates with a Spring Drive movement. My major concern used to be the power reserve indicator on the dial. Although I've come to appreciate it and feel it has become a bit of a signature thing on Grand Seiko (Spring Drive) dials. However, for a dress watch like this Grand Seiko SBGY007, the power reserve indicator has been moved to the back of the watch.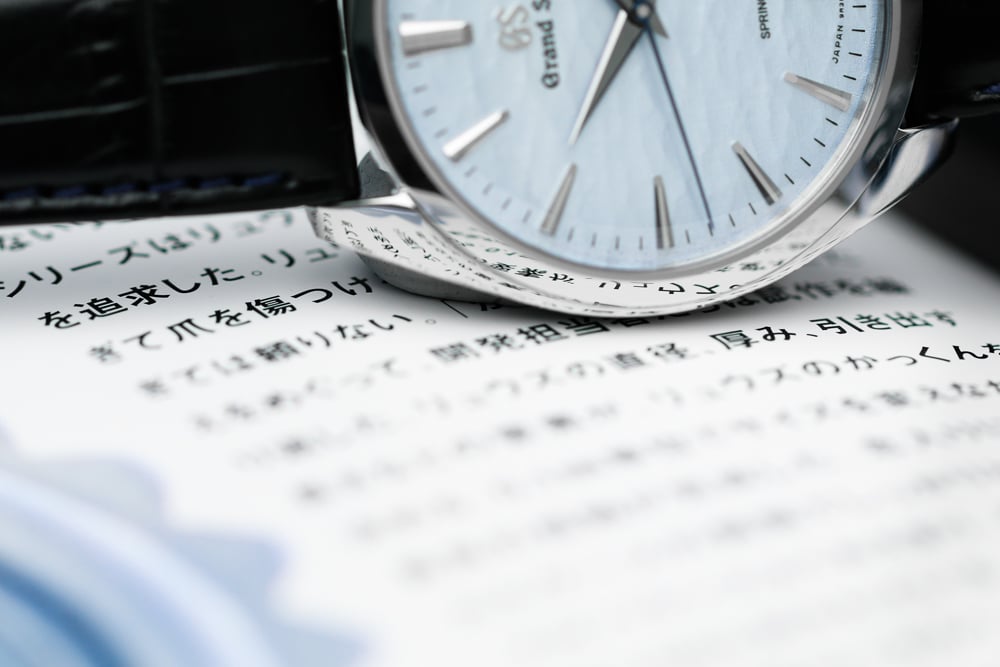 There, on the movement, you will find the indicator of how many hours (or days) remain in its power reserve. This represents yet another box that can be ticked and makes it very difficult to neglect the Grand Seiko SBGY007 on the shortlist of watches I want to own. Purists might opt for an even thinner watch as a dress piece, but 10.2mm is already "supermodel" thinness in the context of my collection. I like watches with a little bit of body. The quest for creating the thinnest watch in the world is a noble one. Some brands seem to live and breathe for that record. But is not something I really care all that much about anyway.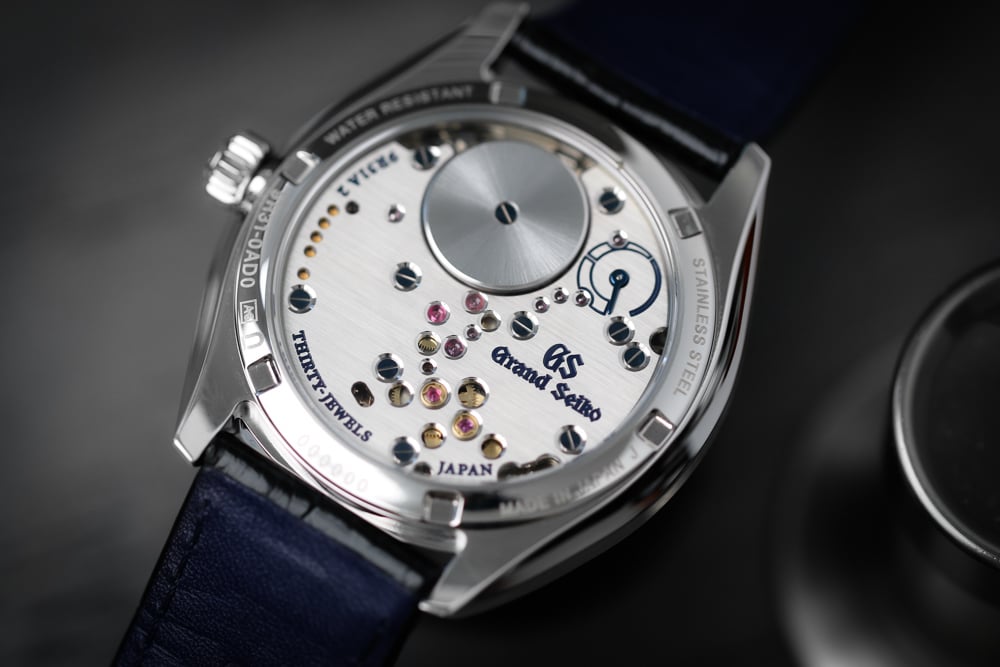 Spring Drive 9R31
The Spring Drive caliber 9R31 is still quite a recent movement in Grand Seiko's impressive lineup of calibers. We've seen it before in the aforementioned SBGY003 (limited to 700 pieces, worldwide). It was also featured in the very limited (22 pieces only) SBGY005, a Japanese market exclusive. This is the first time this movement is used in a non-limited edition watch. The caliber 9R31 shares some similarities with the 9R02. A movement used in some high-end platinum Grand Seiko models.  It's designed and constructed by the same watchmakers responsible for Credor's Eichi II.
So it will still be running on Monday if you took it off your wrist on Friday afternoon…
The 9R31 movement provides an accuracy of just +/- 1 second per day on average, and a maximum of 15 seconds per month. Its Spring Drive technology offering a level of accuracy which remains impressive for a mechanical watch. To top it all off, it has an impressive 3-day power reserve. So it will still be running on Monday if you took it off your wrist on Friday afternoon. In favor, let's say, of something more weekend-friendly — like the Grand Seiko Diver, for example.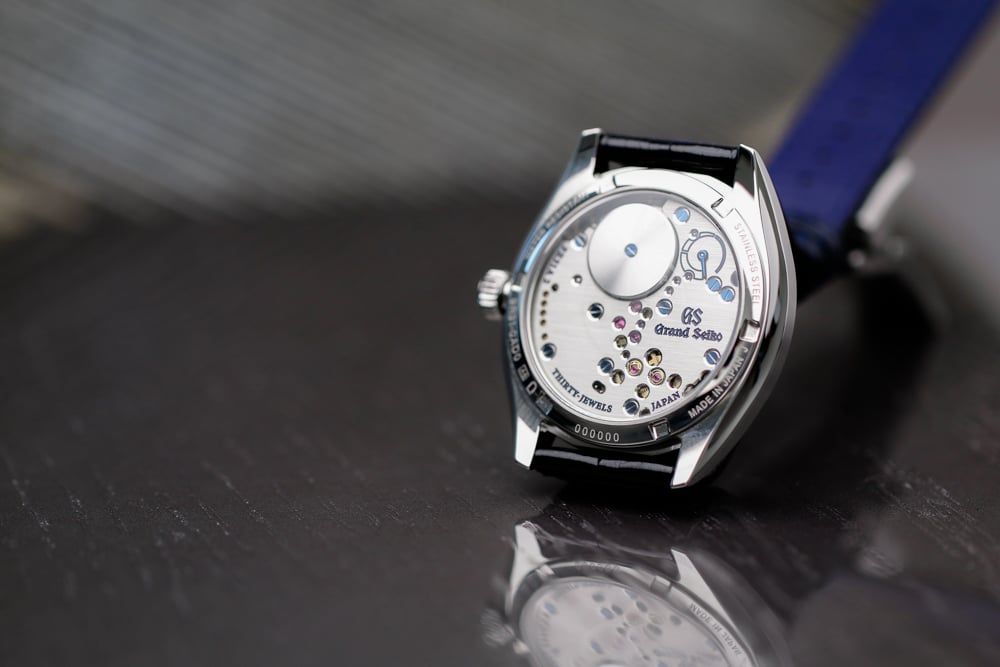 The 9R31 movement uses 30 jewels and has hacking seconds. The base plate is rather large. This means you'll hardly see any moving bits and pieces through the sapphire crystal case back. What you will see, is the beautiful finishing. Another noticeable feature, on the front of the watch this time, will be the incredibly smooth sweep of the second's hand. This rather eye-pleasing lack of ticking can be attributed to the brilliant Spring Drive mechanism inside.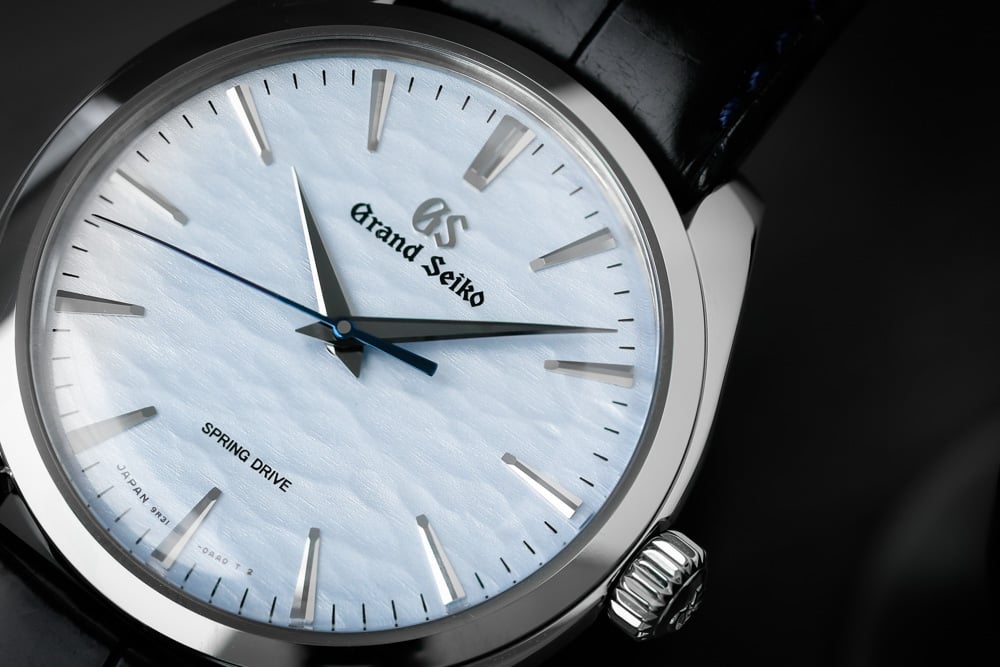 Price and Availability of the Grand Seiko SBGY007
The Grand Seiko SBGY007 will be made available for purchase this month (August), with a retail price of €8,600  / $8,300. There's not much competition out there that offers watches with identical (or even slightly similar) finishing on all the components. Certainly not with such an outstanding accuracy of +/- 1 second per day on average. Let alone at this price point! I can't wait to see and try this watch in the flesh. How about you? Give us your thoughts in the comments below.
Specifciations: Grand Seiko Elegance Collection SBGY007 / 38.5mm x 10.2mm / stainless steel / Spring Drive Caliber 9R31 / 72 hours power reserve / water resistant to 30 meters.
This is a preferred position post. Please read our transparency policy here.