Fratello Watches x Grand Seiko Reader's Journey – Part 2
In part 1 you've read that during our reader's journey to Japan, we've been visiting the Grand Seiko manufacture in Shiojiri. In that location, we witnessed the creation of Grand Seiko and Credor models, using their Spring Drive and 9F quartz movements. We also had a workshop in polishing cases in the 'zaratsu' style and applying indexes on the Grand Seiko dials. Grand Seiko made sure that we not only got a tour, but also received a couple of masterclasses to show how difficult some of the skills are.
Grand Seiko Reader's Journey – Part 2
After our first days in Tokyo and Shiojiri, we had a 'day off' on Wednesday. Needless to say that most of us went 'watch shopping'. Tokyo has some interesting places to visit if you're into watches. As you could already have in read in some of the articles by Michael Stockton, the Nakano Broadway location is perfect if you're looking for vintage and pre-owned watches. A shop called Jack Road has an amazing selection of pre-owned and vintage watches. There are also some other shops in the Nakano Broadway mall, that have a very decent offer of interesting watches. I have to say that since the last time I visited Jack Road and the other shops in Nagano Broadway, the prices have increased quite a bit. For a bargain on vintage watches you should perhaps go to other places. In Ginza, I visited CTI Watch together with one of our guests. An interesting place located in the basement in a shopping street. You will find an interesting selection of vintage (Grand) Seiko watches as well as watches from brands like Rolex, Omega, Longines, JLC etc. Later on that day, we visited Lemon. Lemon is located near the Ginza Metro Station and sells cameras, fountain pens, trains and watches. Perhaps a few other things as well. I've read wonderful stories about this shop, but to be honest I was quite disappointed by it. It really depends on what is being offered whether it is worth the visit, as (most) watches are in consignment. I had two King Seikos taken out of the display, the only watches worth taking out that day, and both were in bad condition. Heavily damaged case back (which is not an indication that someone with proper skills and knowledge has opened it up) on the one, and a damaged dial on the other (moisture). Prices were fair though, but just not something I'd spend my money on. However, that said, when you're in Ginza I would definitely take a look there as you never know what they have on display. You might be lucky some day.
Ginza is also packed with new boutiques. Swatch Group has a huge building, where you'll find Breguet, Blancpain, Omega, Longines etc. The Hour Glass is just one block away with an impressive selection of watches from various brands, including a Patek Philippe corner. Richard Mille has a boutique there as well, where they showcase some very impressive complicated watches. If you're looking for new Grand Seiko models, you definitely have to visit WAKO. This department store is owned by Seiko and has a very nice watch selection. Not only (Grand) Seiko and Credor, but also brands from the Swatch Group and Richemont Group are being offered there. For the 70th anniversary of the WAKO boutique, there will be a limited edition Grand Seiko of 30 pieces that can only be bought on October 19th 2017. There's also a Grand Seiko chronograph with Spring Drive movement for the WAKO boutique, but I didn't take a photo of that one. You can easily find it on the web though when you google for it.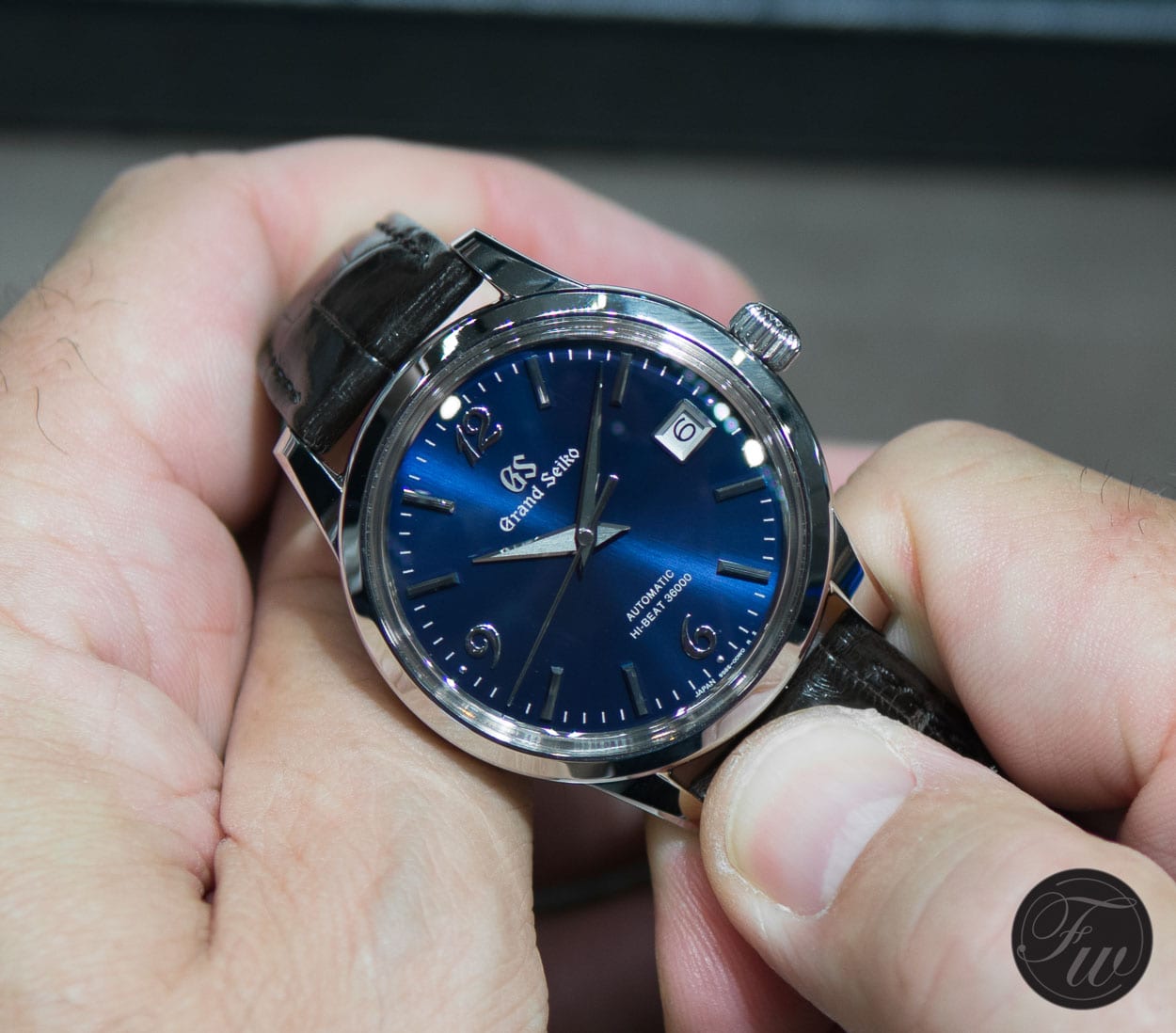 Trip To The Seiko Museum
Next day, the Grand Seiko Reader's Journey pack was back together and we visited the Seiko Museum in Tokyo. Mr Kobari, the museum curator, gave an inspiring tour through the different sections of the museum. They have a large selection of Seiko watches and clocks, including the very first Grand Seiko models. A separate part of the museum is also dedicated to timekeeping in sports.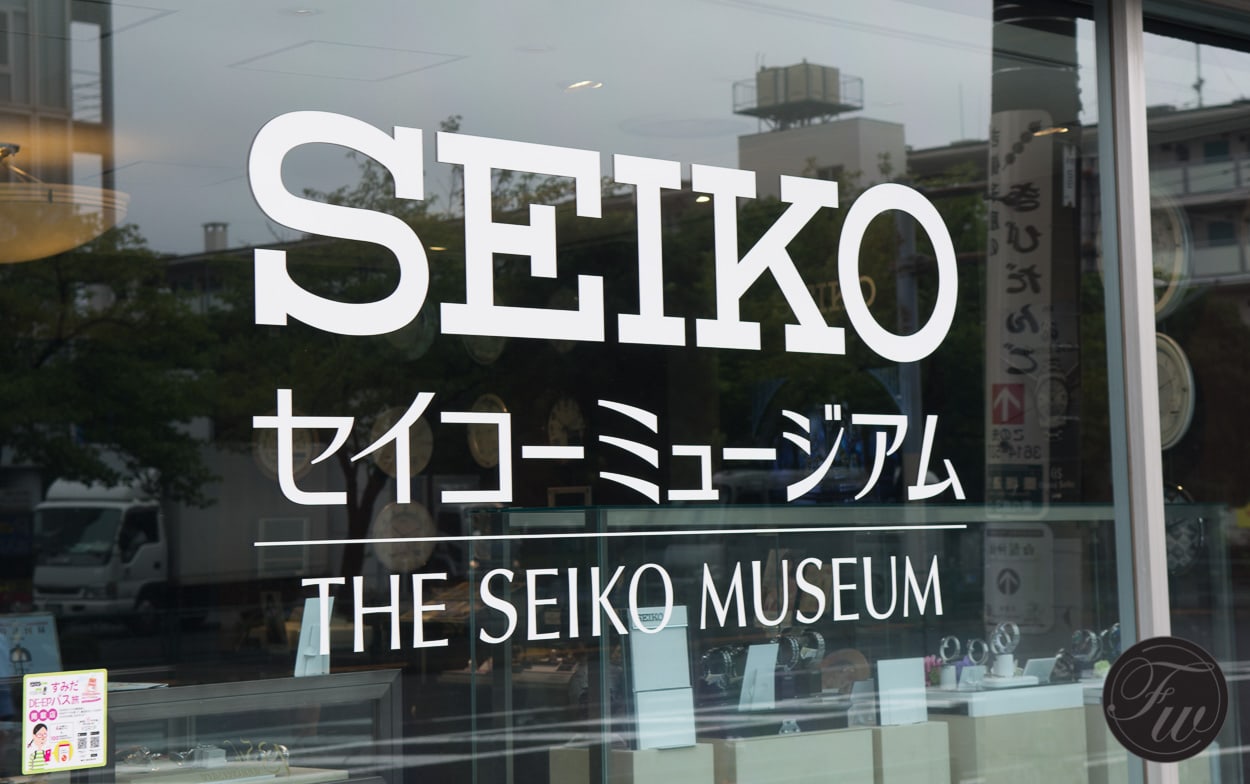 Interesting to see is that the Seiko Museum contains a lot of watches that were important to the company's decisions. The first pocket watches are there as well as the first wrist watch, a piece from 1913 called 'Laurel'. The Presage watches from a while ago were inspired by this Laurel watch, as we explained here.
Something that Seiko never emphasized much about, is the King Seiko vs Grand Seiko competition they had in the 1960s. Watches that were created by two different Seiko factories, with the strong request from Seiko's management to produce the best wrist watch they could. In the end, both collections were cancelled in the 1970s but Grand Seiko revived in 1988. The King Seiko still is a sleeping beauty. The first Grand Seiko that was re-introduced in 1988 was a quartz model. In the meanwhile, Seiko also started developing a mechanical movement for the Grand Seiko collection that was finally re-introduced in 1998.
Below, one of the information signs from the museum that explains 'the Grand Seiko Style' that was introduced in 1967. It shows the key features of the case design that you will still find in some of the Grand Seiko models today. The first Grand Seiko model that was designed according to these key features, was their 44GS model from 1967.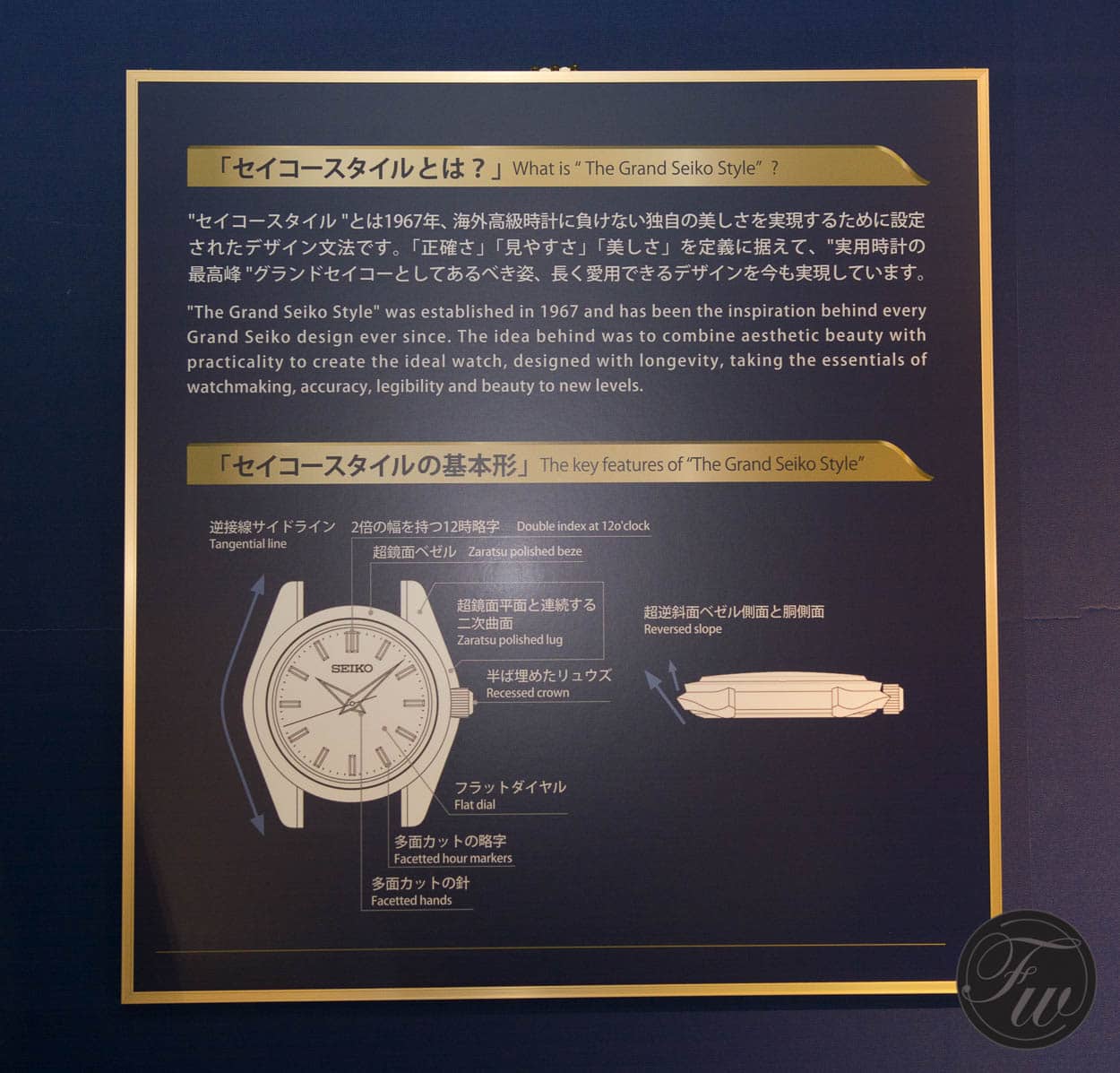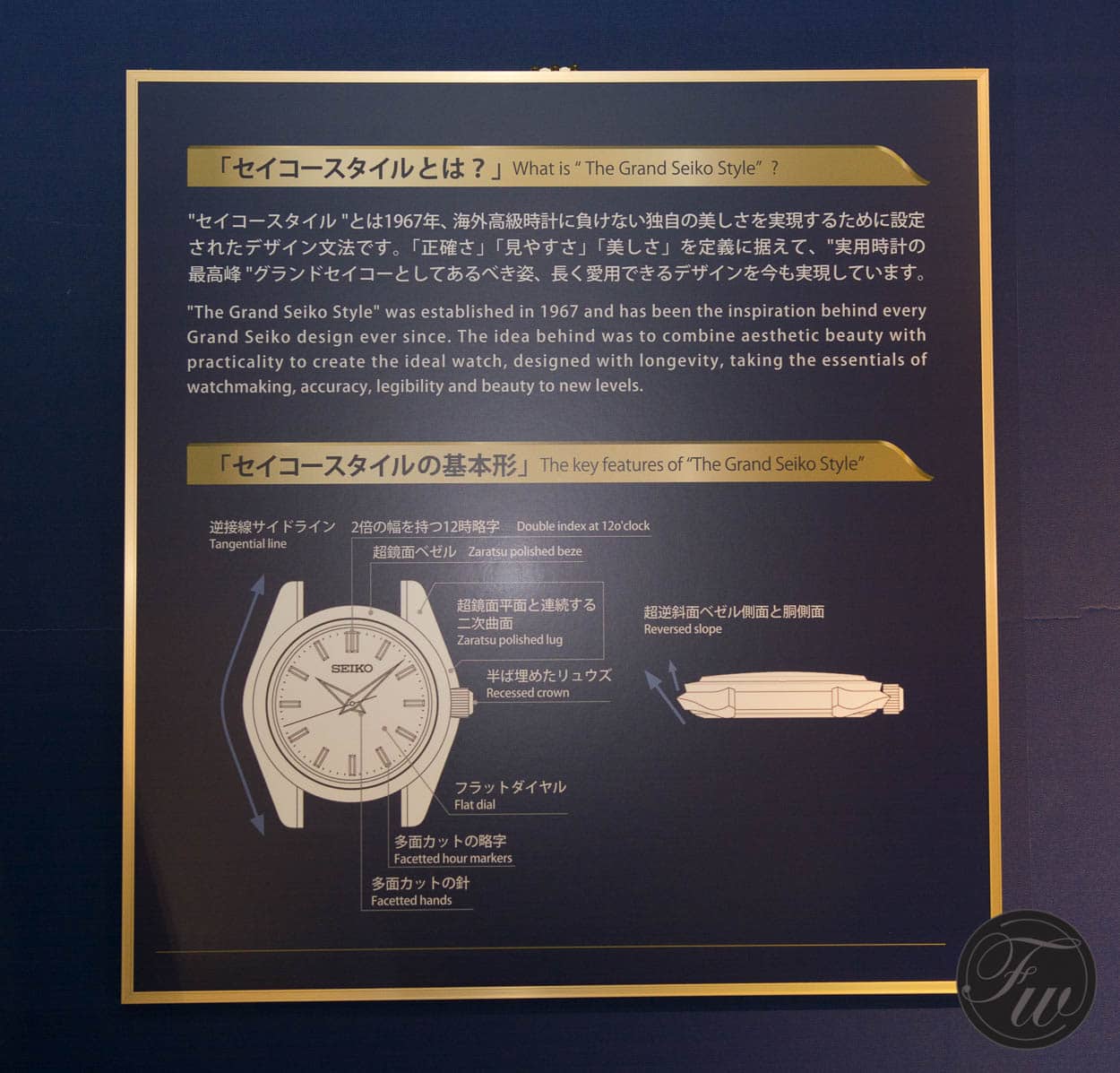 For more images on the Seiko museum, click this link of a report we did earlier. The displays in the museum give a great impression of the watches that Seiko has produced. You will find the first diving watches, such as the 62MAS, 6159-7000 and the Grand Father Tuna for example.
The nice thing about the Seiko Museum is that you will also come across historical significant watches that won't cost you an arm and a leg. The King Seiko is a great example (click here for an analysis on those) You will also find the Seiko Pogue in the museum for example, which can be purchased for a few hundred Euros and you will buy some 'space' history there. What I also enjoyed was their '3D' design computer, where you could 'virtually' disassemble Grand Seiko movements, using a pair of 3D glasses and a pointer (to pick-up, turn, zoom-in on parts). Below, you see one of the participants and Mr. Kobari 'virtually' disassembling a movement.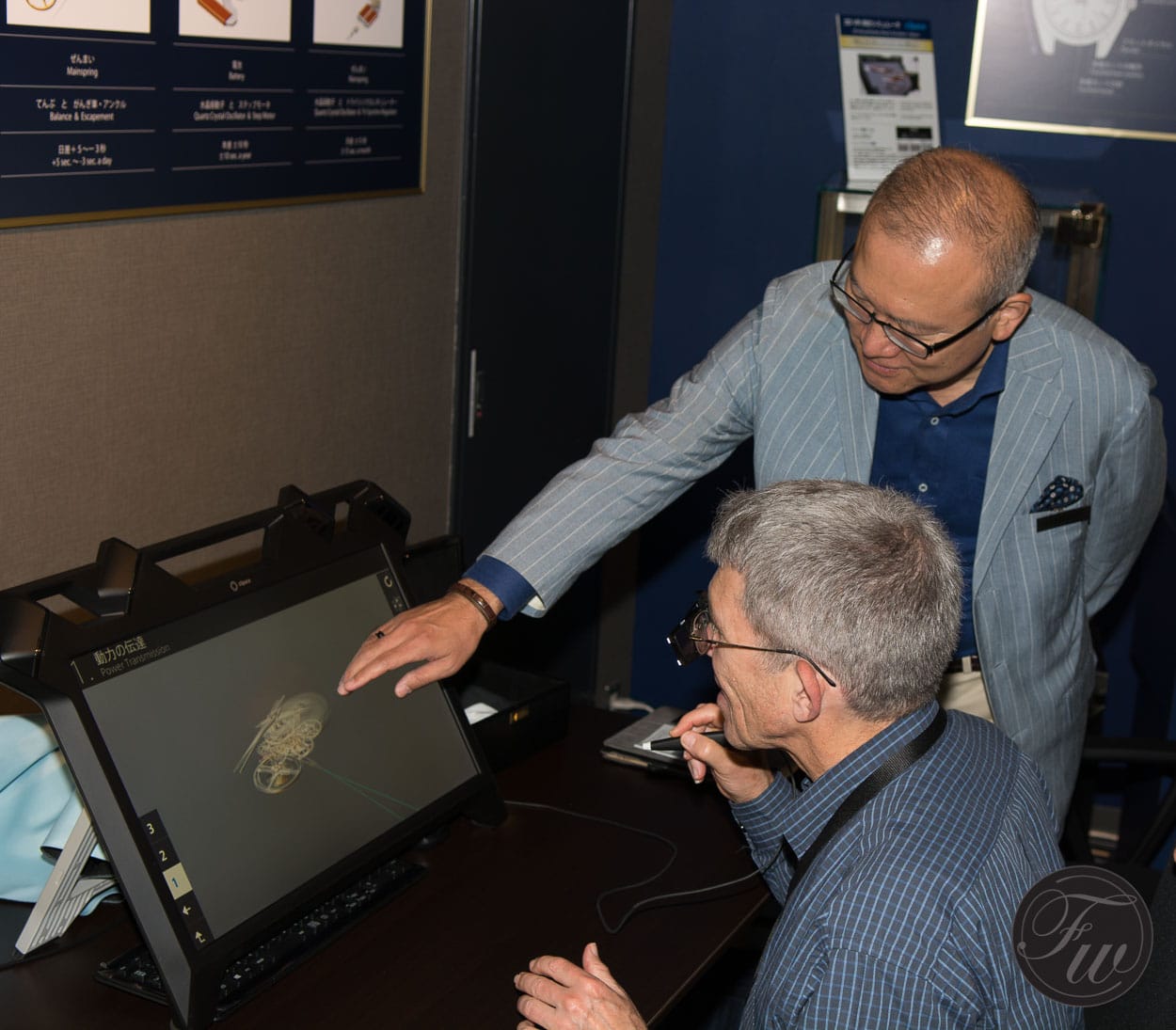 Next Stop: Morioka
After visiting the museum, we left by the famous Hayabusa bullet train for Morioka. Morioka is located a good 520 kilometers north from Tokyo, so that asks for fast transportation. From Morioka station, we were picked up by a bus to bring us to hotel Shikitei in the Iwate Prefect.
We had an overnight in this traditional Japanese hotel and enjoyed a traditional diner there as well. It was quite the experience, like last time I was there in 2015. Next morning we left early with a bus to the Seiko Instruments Inc. production facility in Morioka.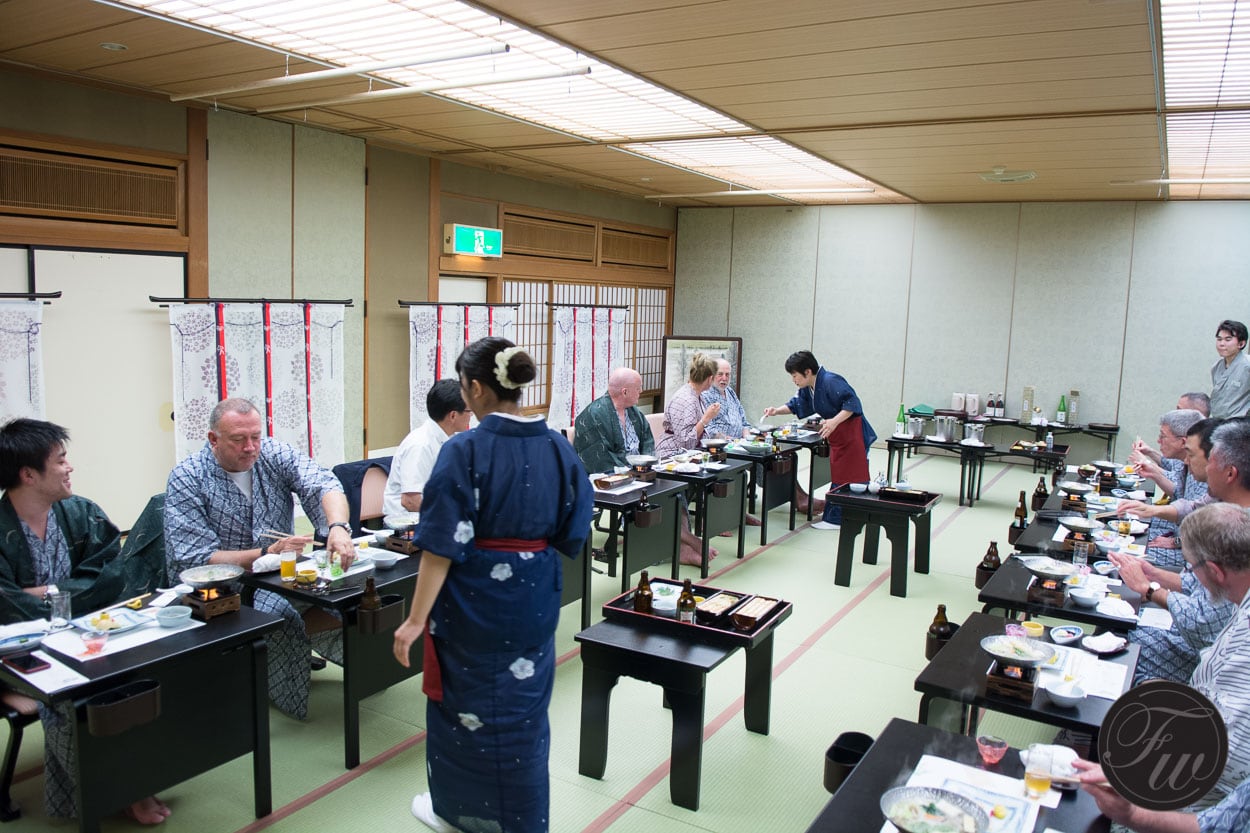 In Morioka, there's the (Morioka) Seiko Instruments Inc. location where the production of the mechanical Grand Seiko watches takes place. Besides that, you will find another production facility for creating Seiko quartz movements in (very) large quantities. Just like in Shiojiri, the production capacity on those movements is about 100 million per year.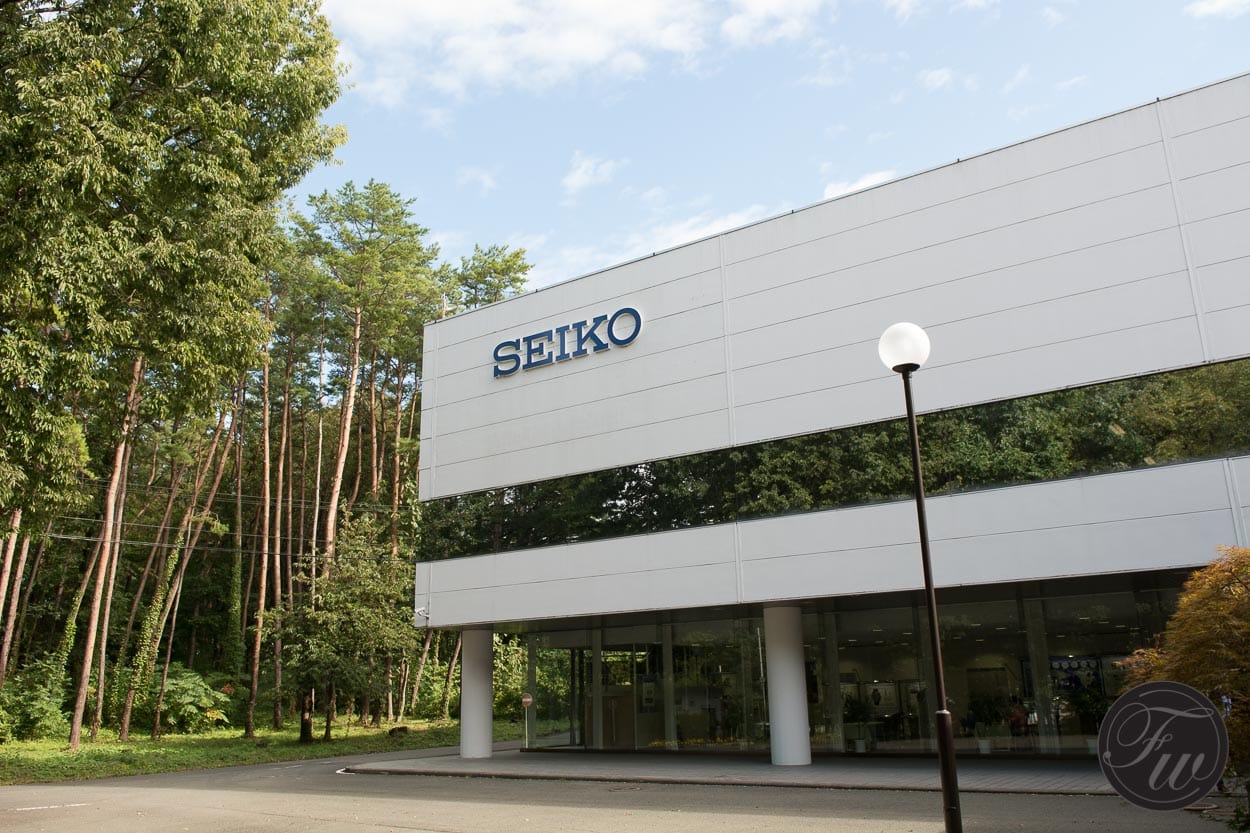 In contrast, you will find that the total production number of Grand Seiko is around 35.000 watches per year, of which most will stay in Japan. The production of the mechanical movements is being done in Morioka, as is the case making, assembly and testing of the watches.
In the lobby, there's a permanent exhibition of some of the manufacture's historical pieces.
Not everything could be photographed or filmed, but we received a tour through the manufacture where they showed us the production of the movement's parts. One of the movements that is also being created in this facility is their 8L35(B) caliber. You might recognize this caliber from the Marinemaster 300 (SBDX017) or this year's SLA017 '62MAS' re-edition. This movement is also being produced here, as it is based on the Grand Seiko 9S55 movement.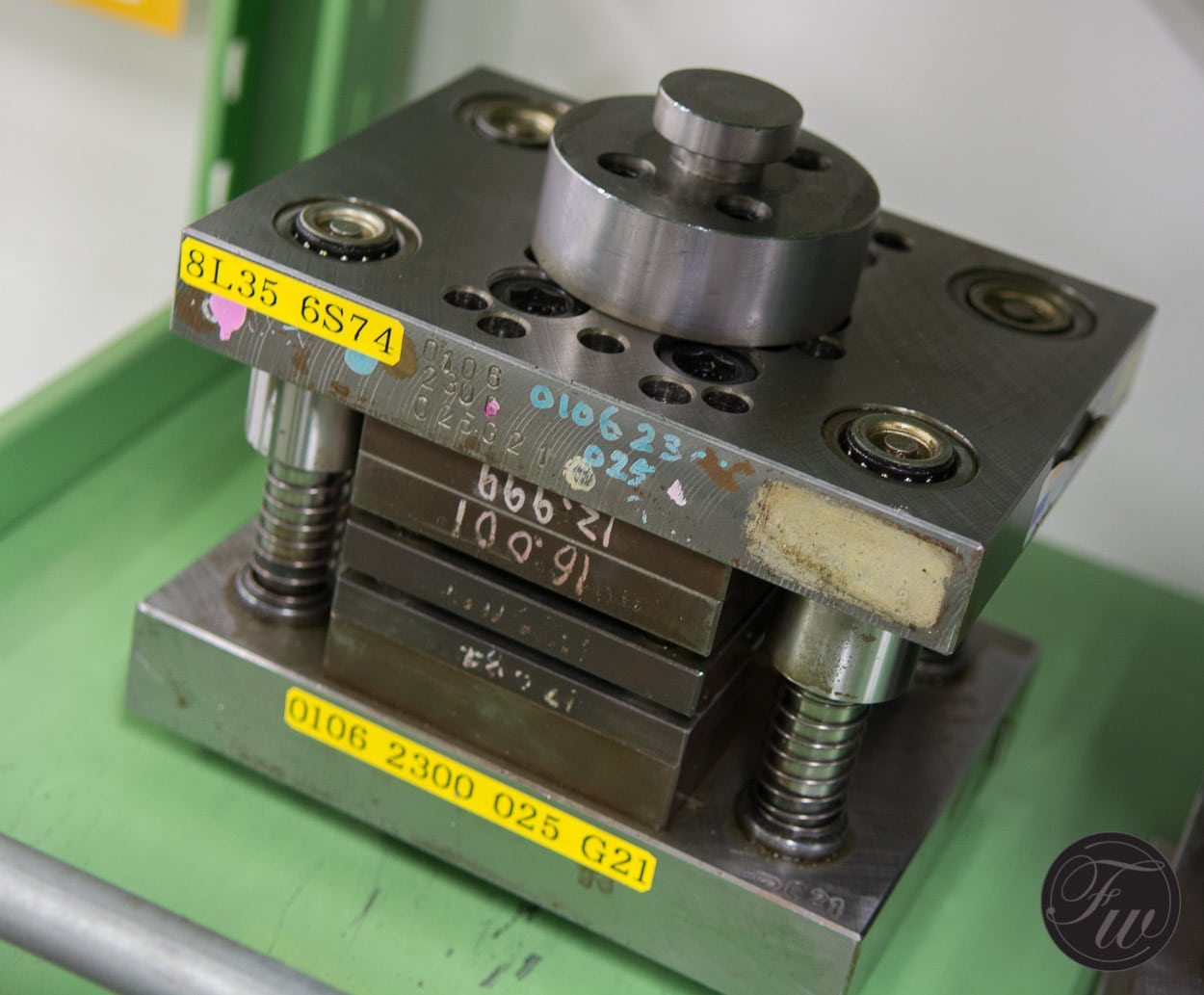 As you can see, the movements are being made from scratch. A pretty expensive park of CNC machines are working on the base plates and parts of these movements. CNC machines are dedicated per caliber for certain production periods.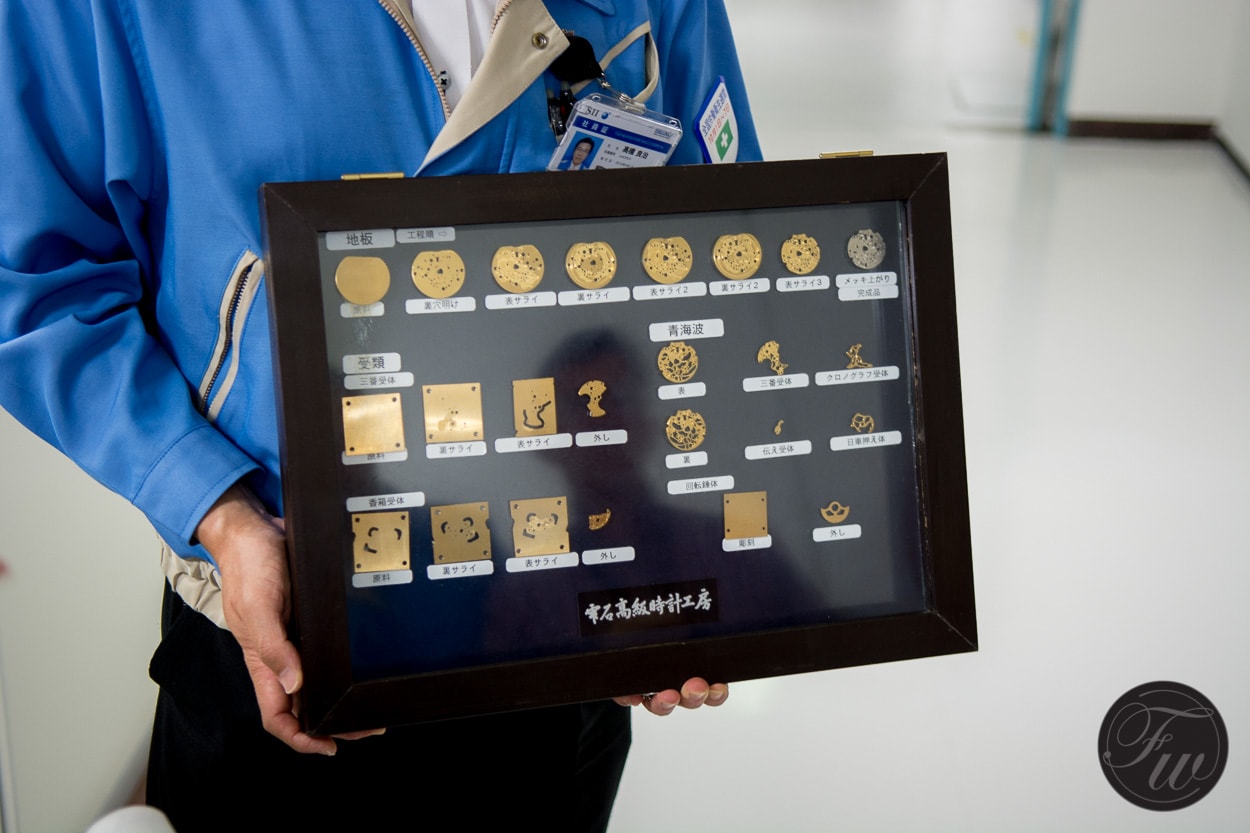 When the movement plates are being done, they go into the finishing and assembly departments. The finishing on the Grand Seiko (and 8L35(B)) movements are all being done by machines. Striping, engraving etc is being done in separate departments in the Morioka building. All can be witnessed by visitors behind glass. There's little that is being kept secret or hidden from visitors. Of course, the movements for the Credor watches have hand-finishing as explained and shown to you in this article.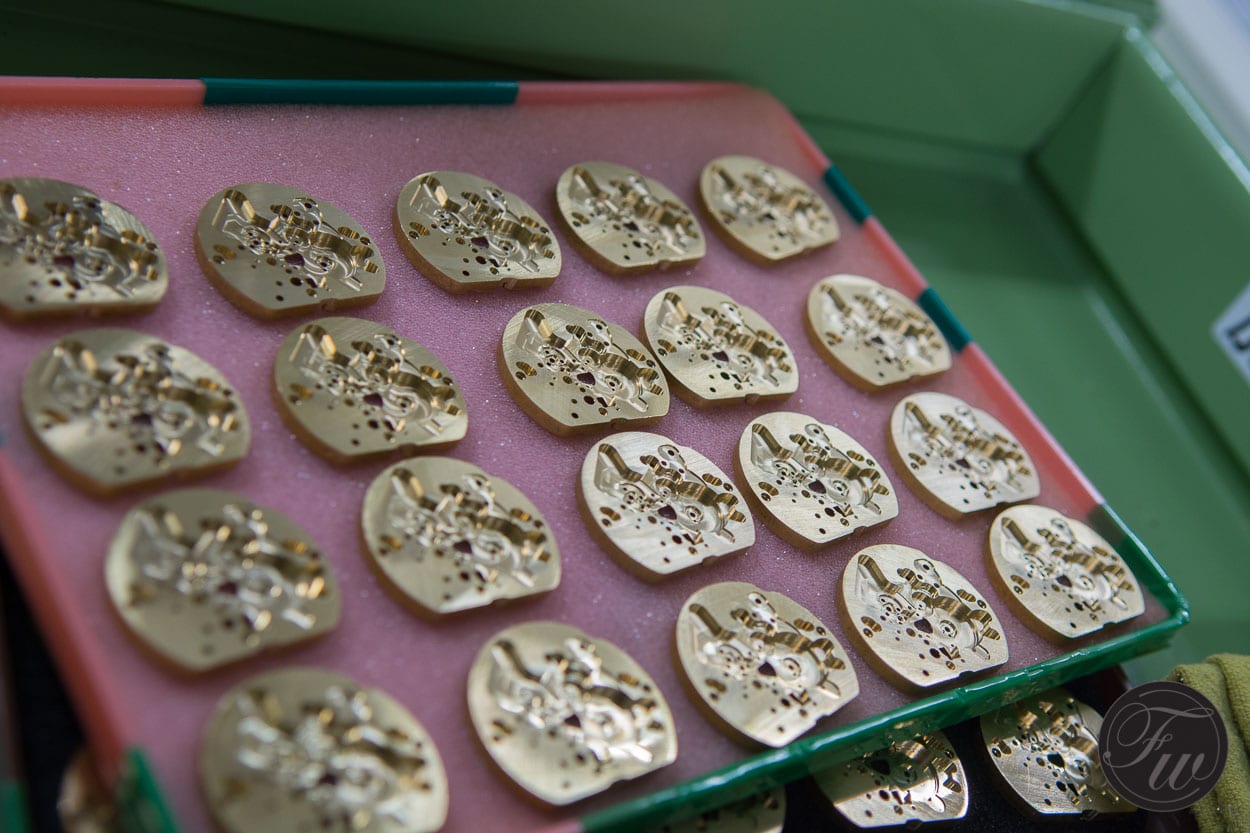 Also the production and (sub)assembly of the balance-wheel and hairspring, pallet fork and escapement wheel take place in a separate department, as can be seen below. Everyone works in this dust free environment and also take measurements to stay dust-free with the protective clothes they are wearing.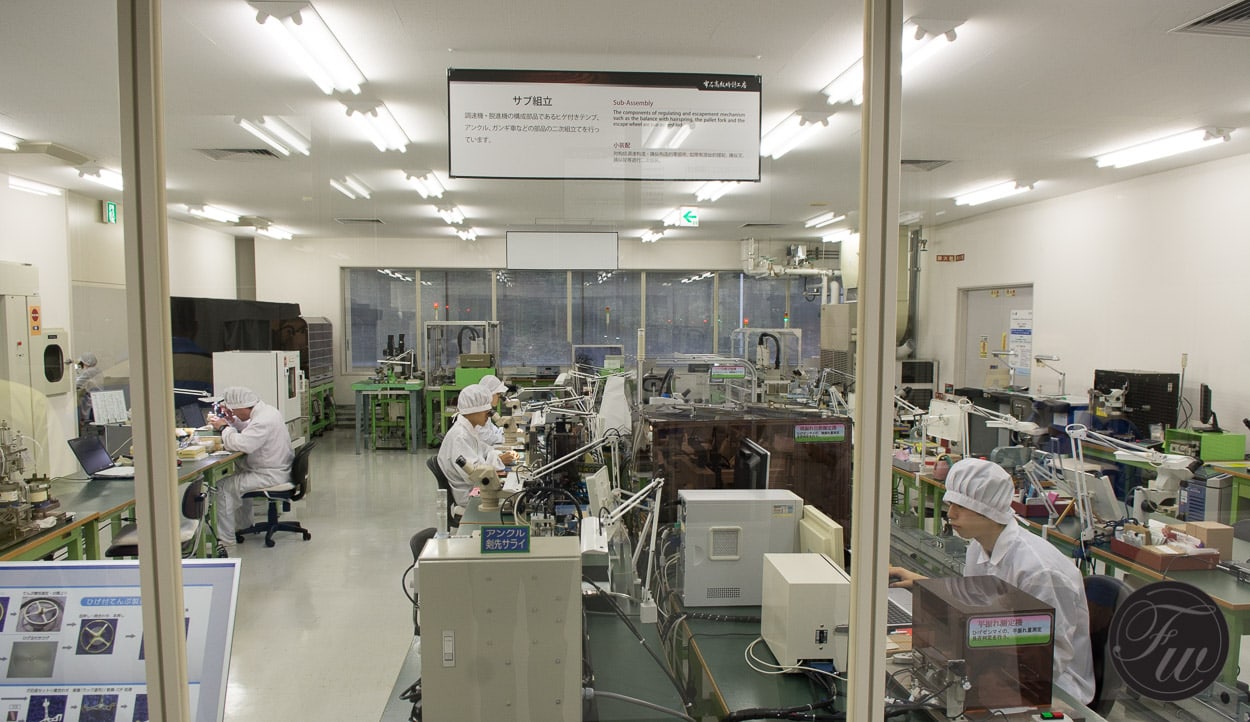 And then, when the movements are ready for assembly and casing, they go to the special watchmakers that are certified Bronze, Silver or even Gold with Seiko's own 'Meister' levels of craftsmanship. In one of the hallways of the Morioka Seiko Instruments Inc building, there's this panel with all the 'Meister' certified watchmakers that work on Grand Seiko watches.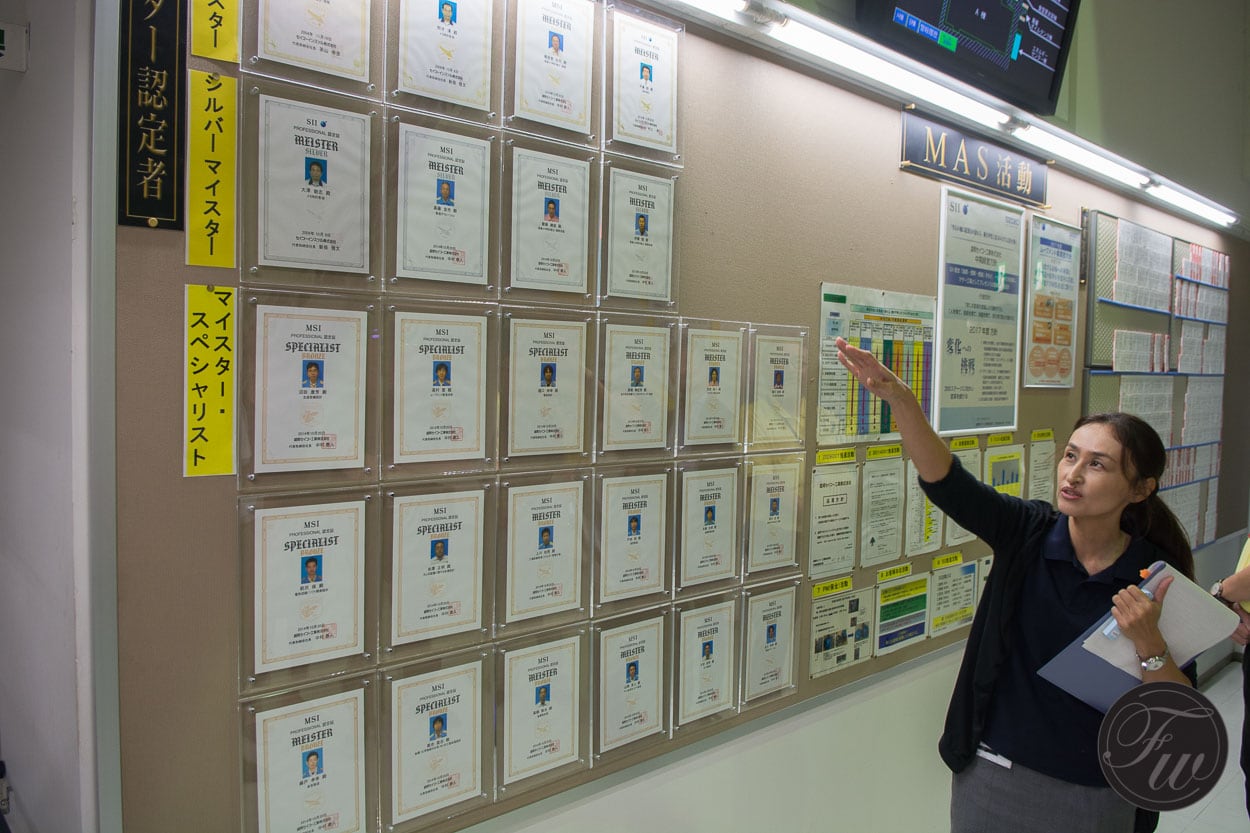 In a special department, you will find these watchmakers working at their own (maple leaf?) wooden desks, especially configured to their needs. The wood for these desks comes from the region. Below, the 'Meister' watchmaker assembles a Grand Seiko movement and regulates it. After this procedure, the movements are being cased. The final assembly of the watch, where it will also receive a strap or bracelet, is done in a different department. Before though, the watches (with movements) have to withstand some pressure in a test room.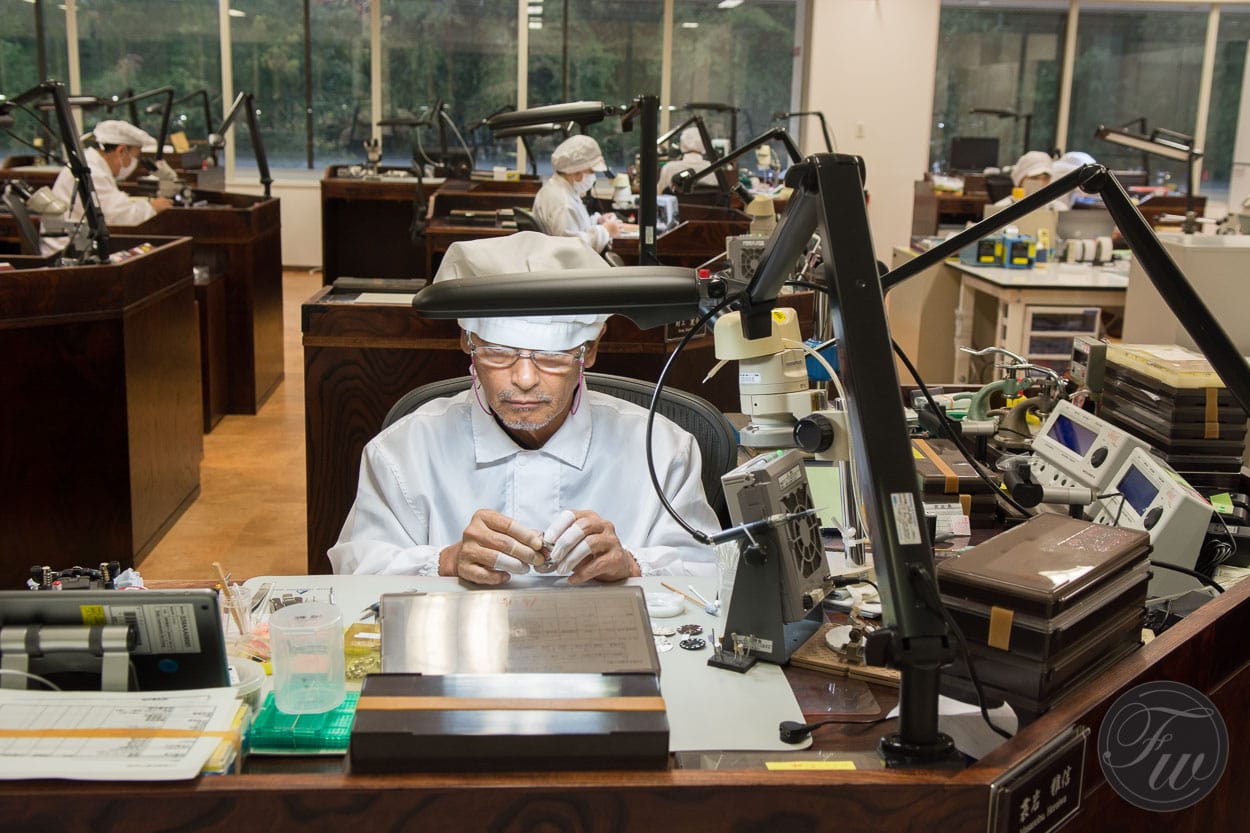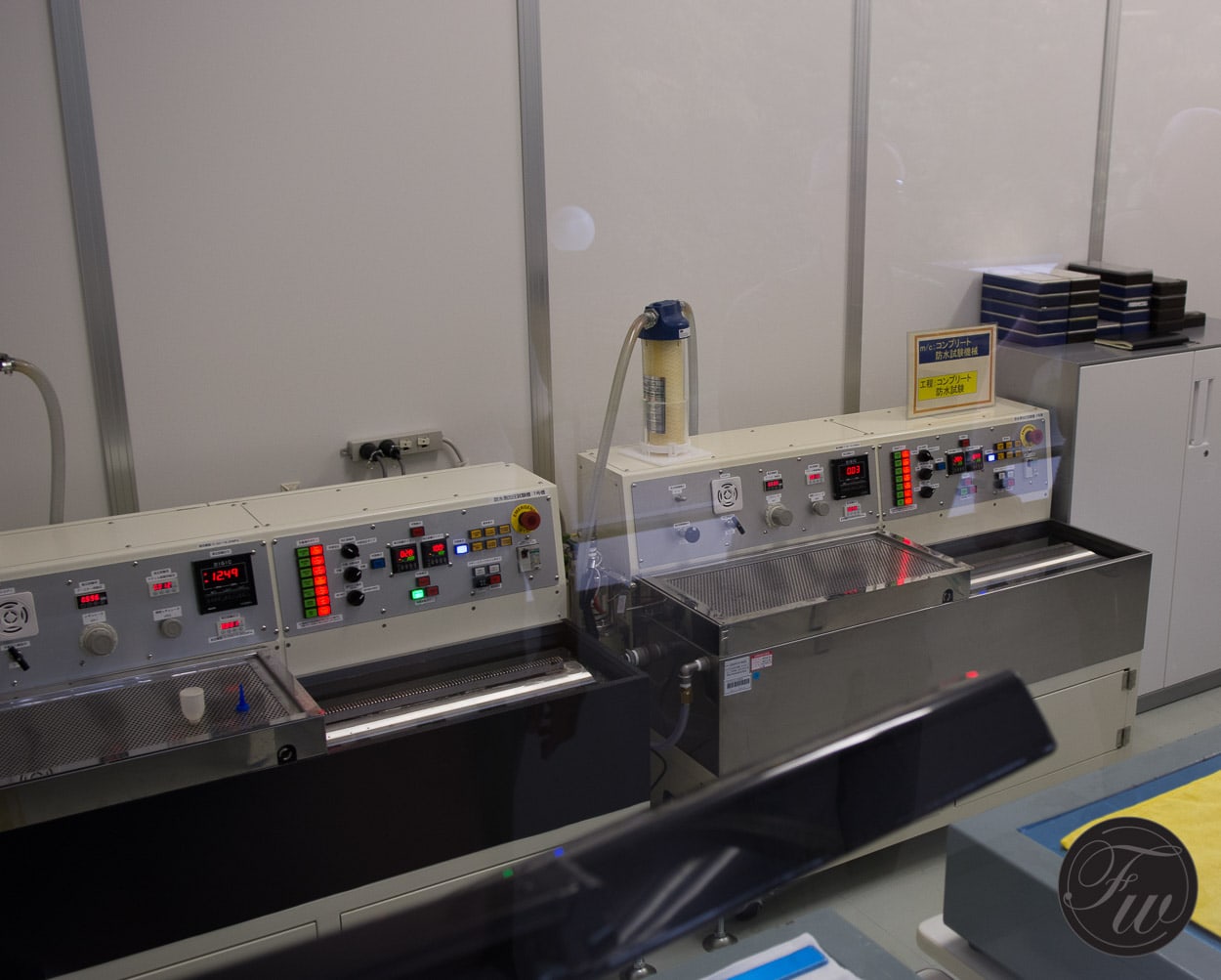 In this room they test the Marinemaster 300, 600 and 1000 watches for water resistance. Professional diving watches that should be able to withstand quite a bit of pressure.
Disassembling & Assembling a 9S Movement
After this tour that gave us a lot of insights in watchmaking and how a Grand Seiko comes to life, it was time for us to show our own skills. All participants received a mechanical 9S65A caliber movement and a set of watchmaking tools. One of the 'Meister' qualified watchmakers was in front of the classroom to demonstrate what needed to be done.
After a short introduction and a demonstration by the watchmaker, we disassembled the Grand Seiko 9S65A step-by-step.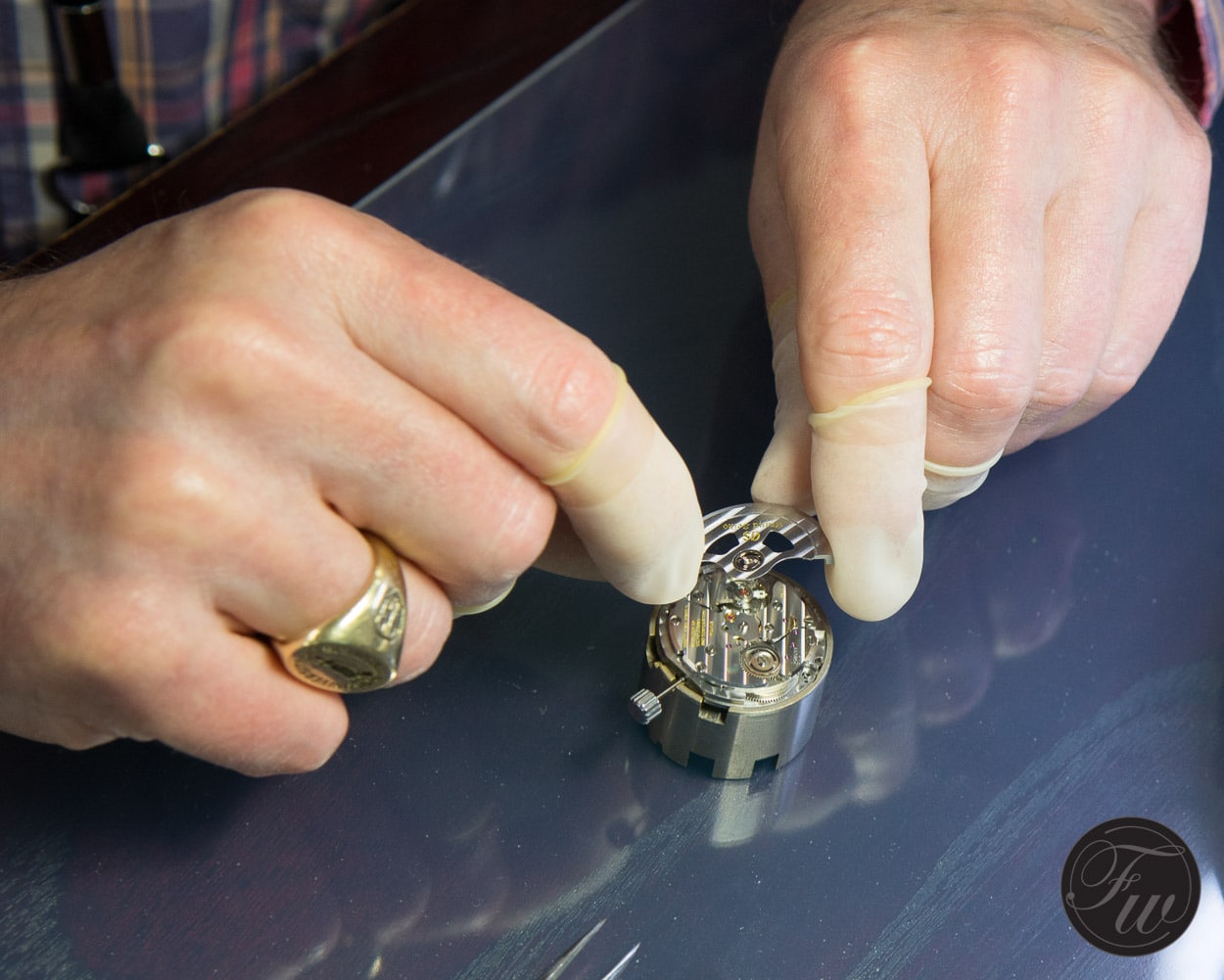 I have to say that once you are a bit comfortable using the screw-driver and pincett, the disassembly was quite OK to perform. I had some masterclasses in the past, from other brands, and the disassembly is a matter of patience and following the instructions. Look twice before your start, that kind of advice. However, the assembly of the different parts is something else. Now, bridges and wheels need to perfectly fit again. Make sure you don't force anything, it comes down to the square mm basically. Luckily, they gave us a microscope to work with, which already made it a bit more easy. But it was surely tough, especially to get the gear trains aligned again. Also, putting back the balance-wheel was not that easy. However, as soon as it started to 'swing' again, the euphoric feeling is hard to describe.
With this, the day in Morioka ended and we were brought back to the trainstation with a bus. From Morioka, we took the bullet train back to the Shinjuku station in Tokyo. The week ended with a wonderful diner in restaurant Luke where there's a Skylounge at the 47th floor with a beautiful view over Tokyo city.
The reader's journey in Japan has been a blast and the participants were all as excited as I was visiting Seiko in 2015. I was prepared to some of the things we would be seeing during this reader's journey, but it still amazed me at times. The people at (Grand) Seiko are very open and friendly and take their watchmaking very serious. For me, it is more or less common sense that Grand Seiko can rank itself among some of the great Swiss names. However, I still notice that this is not widely accepted and agreed upon yet. In the last couple of years Grand Seiko raised quite a bit of awareness among watch enthusiasts, and with this trip I hope that our participants and you, our readers, look at their watchmaking with a different perspective than before. Or perhaps you already were a Grand Seiko fan, I hope this report than will just confirm what you already knew, or that you've learned something new.
Some Watches People Brought
I realize that there aren't many watch shown in these reports. It is mainly because it wasn't a showcase of new Grand Seiko models, but about the insights and aspects of watchmaking. However, some of the participants brought really nice Grand Seiko and Credor watches. Below, a selection of watches that were with some of the participants on the reader's journey in Japan.
Credor Eichi II
Let's start with a bang. A very handsome three-hand watch with porcelain dial, platinum case and with a beautiful hand-finished hand-wound Spring Drive movement. For me it ranks amongst the most beautiful non-complicated watches. It was with one of our participants of the trip, who brought it with him from the USA. He also met with the person who created this very Credor. An amazing experience for both the owner and the creator.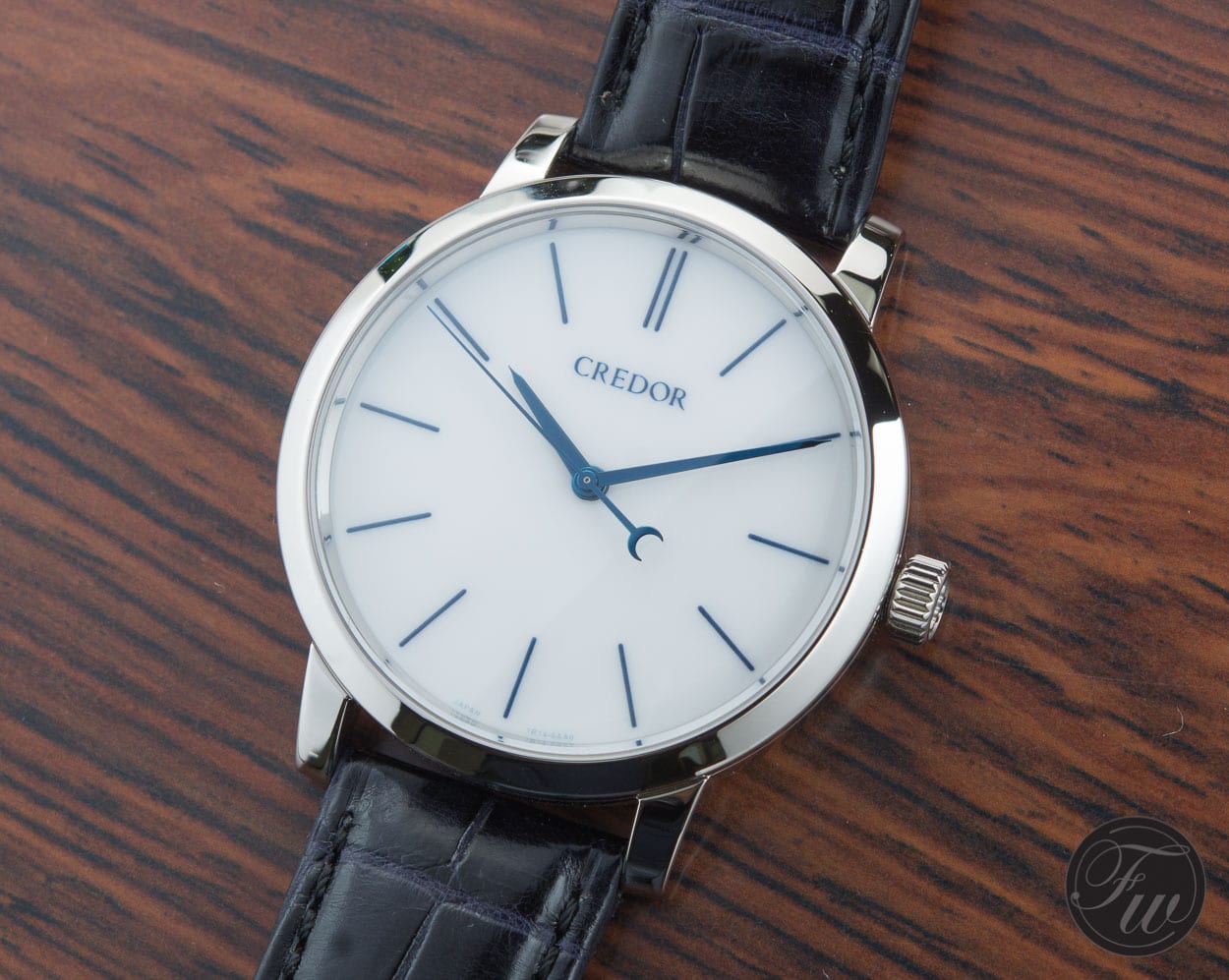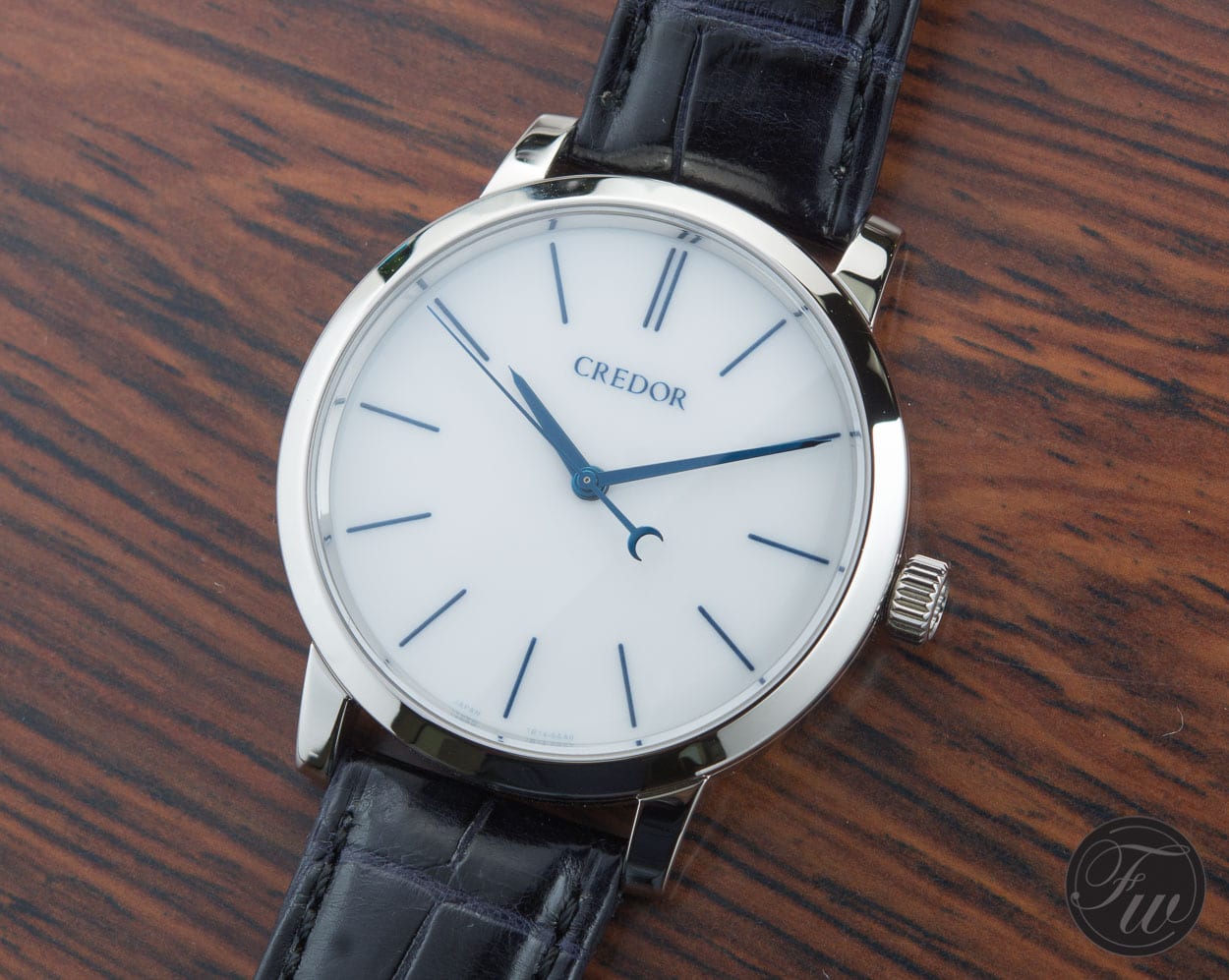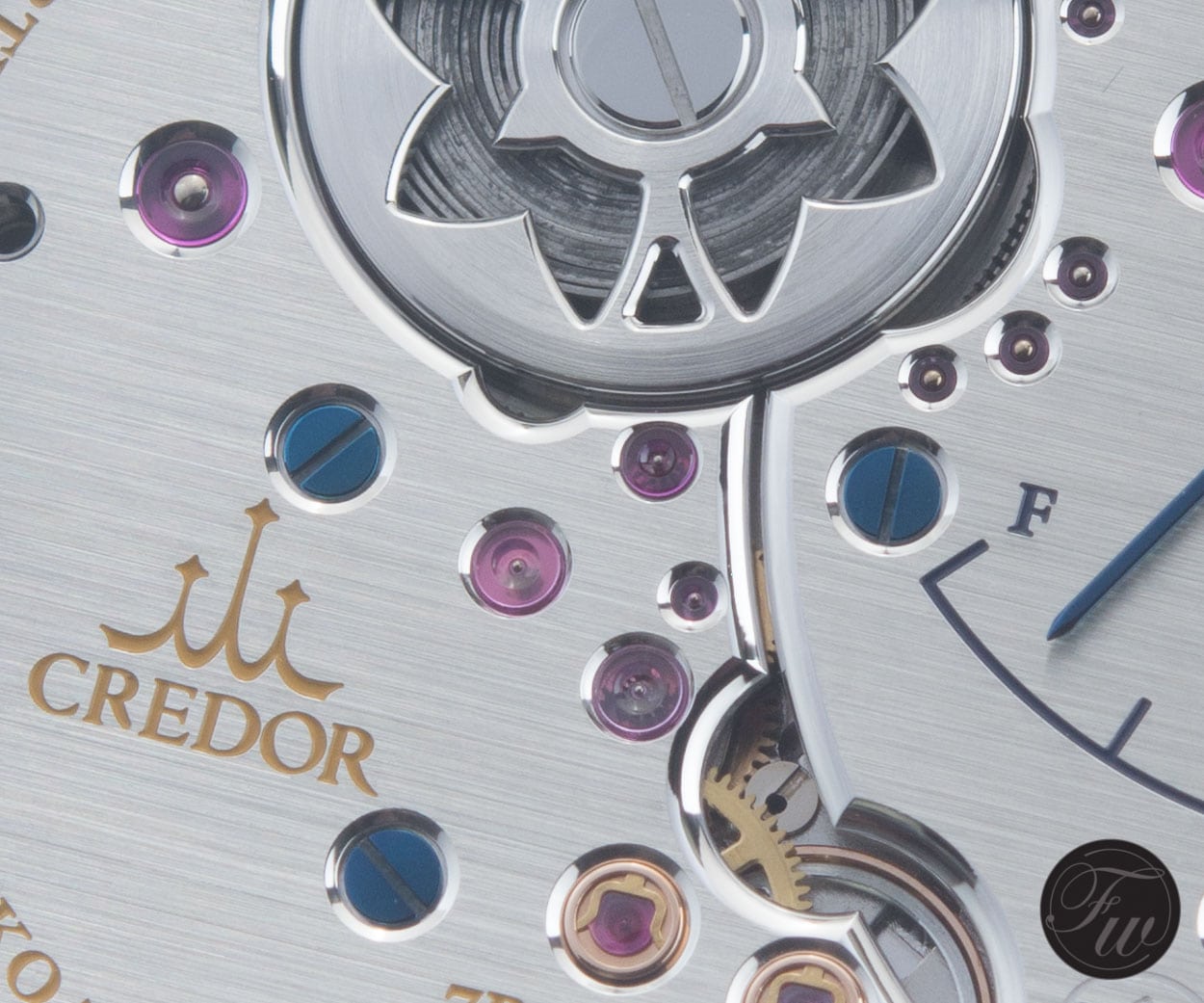 Credor Skeleton
Another Credor. This one is a bit more 'over the top' than the Eichi II, but nevertheless an impressive piece of craftsmanship. The engraving is beautiful and done in Tokyo. This watch is a yellow gold reference GBBD998 which is still in their current collection (click here).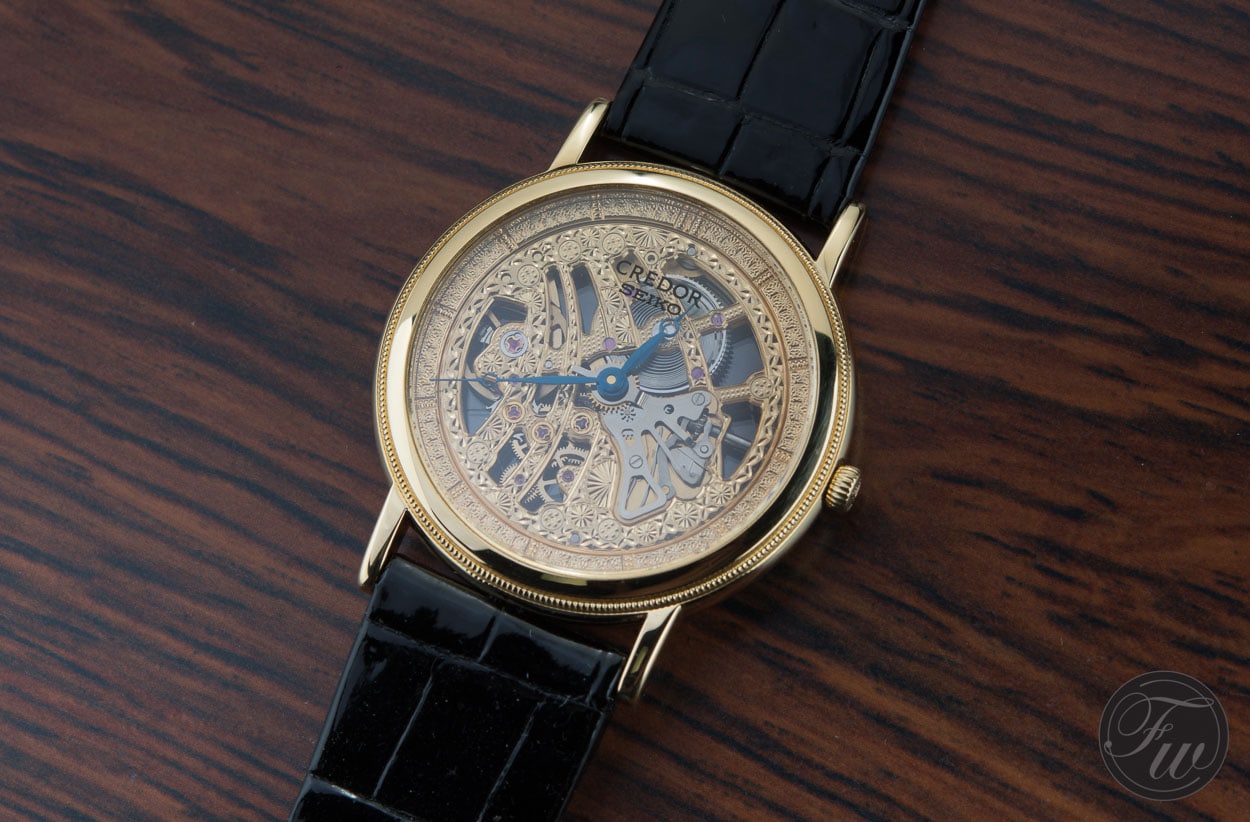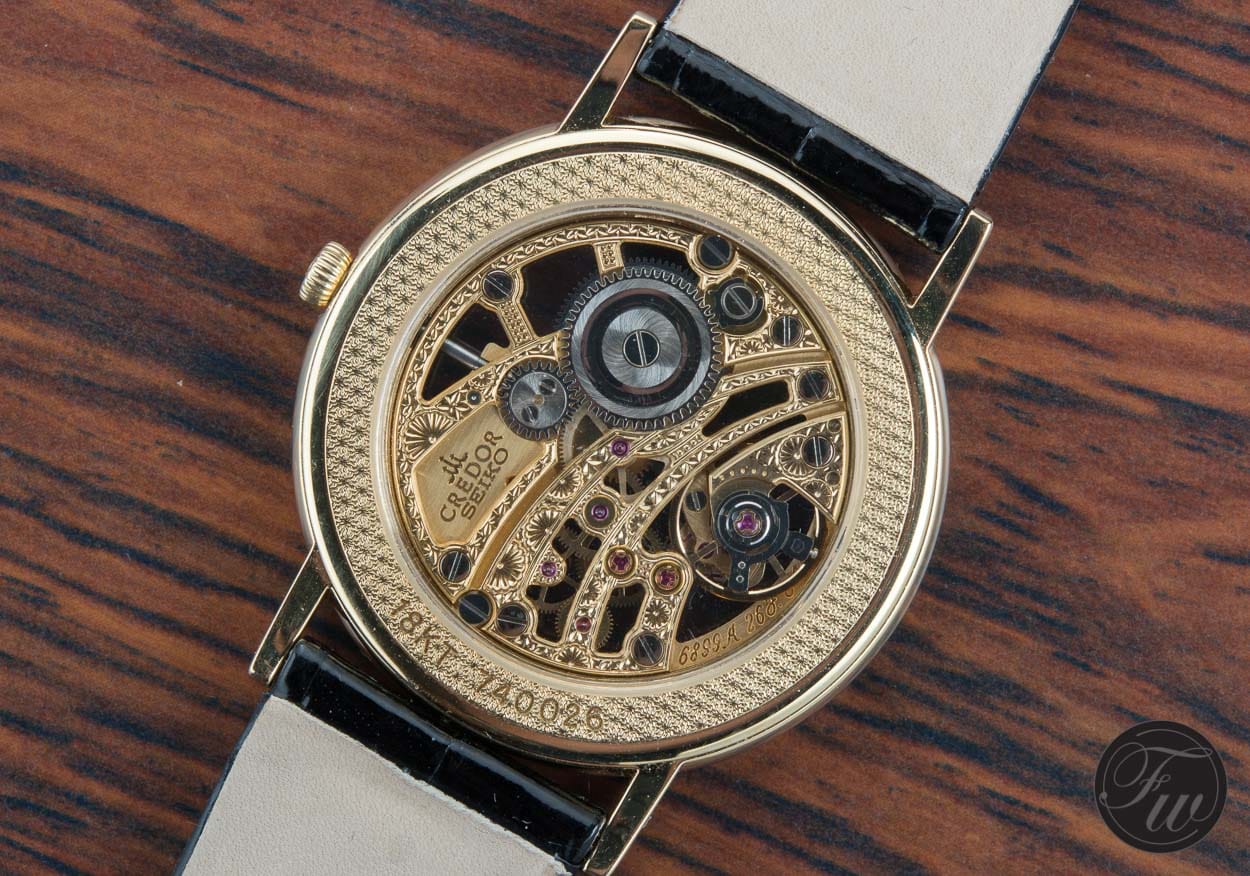 Grand Seiko 5722-9990 ca.1966
Some of the participants also brought vintage Grand Seiko, like this reference 5722-9990. There were actually two of these references with us in Japan. This particular one is from 1966.
Grand Seiko SBGW043
This Grand Seiko SBGW043 was introduced in 2013 to commemorate the Grand Seiko 44GS model, the first model that was designed according to the 'Grand Seiko Style'. We did a thorough review on this model in stainless steel, SBGW047, a while ago here on Fratello Watches. So now someone brought it with him in white gold. It is one of the most beautiful Grand Seiko's I had seen in a while, and the use of white gold makes it quite impressive to wear as well. It has hand-wound movement caliber 9S64 and retailed at the time for a whopping 20.000 Euro. Only 70 pieces were ever made in white gold.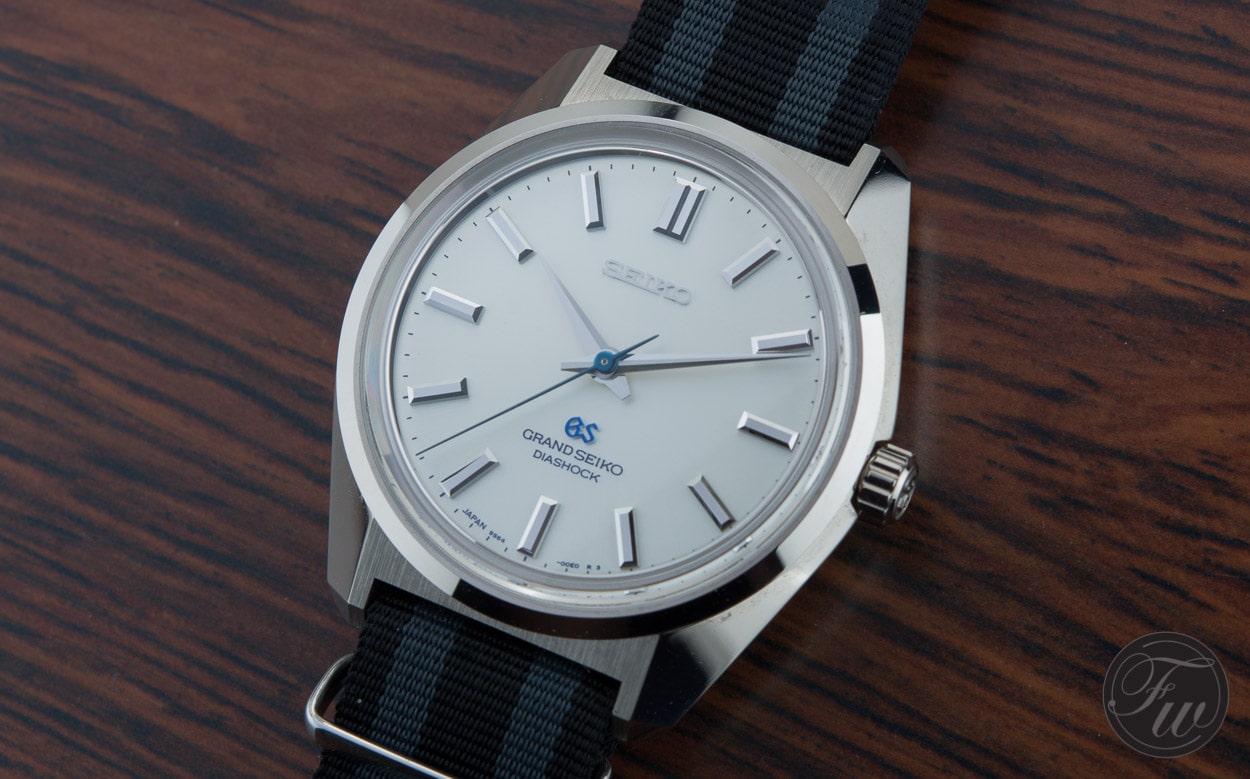 Grand Seiko SBGH005
Although there were some more interesting Seiko watches brought to the table (I also keep one in 'stock' for another article soon), this one is also quite nice. The SBGH005 with hi-beat caliber 9S85A movement. A stainless steel 40mm watch with bracelet and on the back you'll find a sapphire crystal that shows you the hi-beat movement. The black dial is just stunning. The profile image shows how nice the case design is of this watch. For me personally,I would wear this watch on a leather strap to emphasize more on the case design. The stainless steel bracelet does give a level of comfort though, especially when it is hot and humid outside.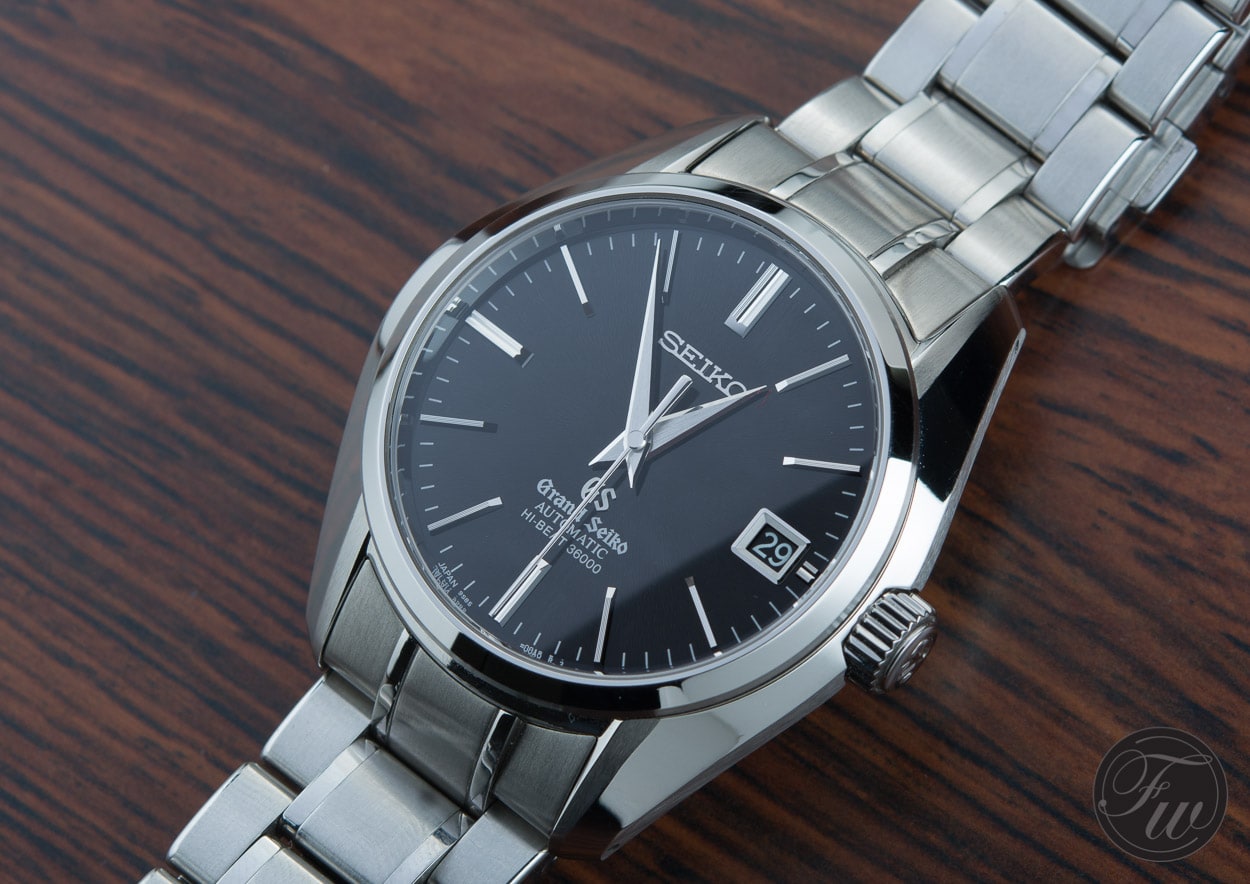 I hope you enjoyed the second part of our Fratello Watches x Grand Seiko Reader's Journey report. I would like to thank Seiko Japan, Seiko Germany and all the participants for making this reader's journey an awesome experience.