Hamilton Khaki Field Murph – A (Inter)Stellar New Release
From a one-off prop to production
Five years after the release of the hit movie Interstellar, we're treated to something that fans of the movie and watches alike have pined for: a serial production version of the Hamilton Khaki Field Murph.
The 2014 Christopher Nolan film was incredibly popular and depicted Matthew McConaughey as a NASA physicist "Cooper" who travels via a wormhole to another dimension in order to find a place where Earth's population can escape what has become a dying planet. Before leaving to this other dimension, he hands his daughter "Murph", played by Jessica Chastain, his watch. While showing a watch in a film isn't so unique, the timepiece plays a greater role later in the film as Cooper communicates with his daughter from the "tesseract" (a multi-colored striped "room") within the fifth dimension via the watch.  The sweep seconds hand actually ticks to Morse code at one point to spell out the word "Eureka" once Cooper has found the solution to saving Earth's populace.
Hamilton Khaki Field Murph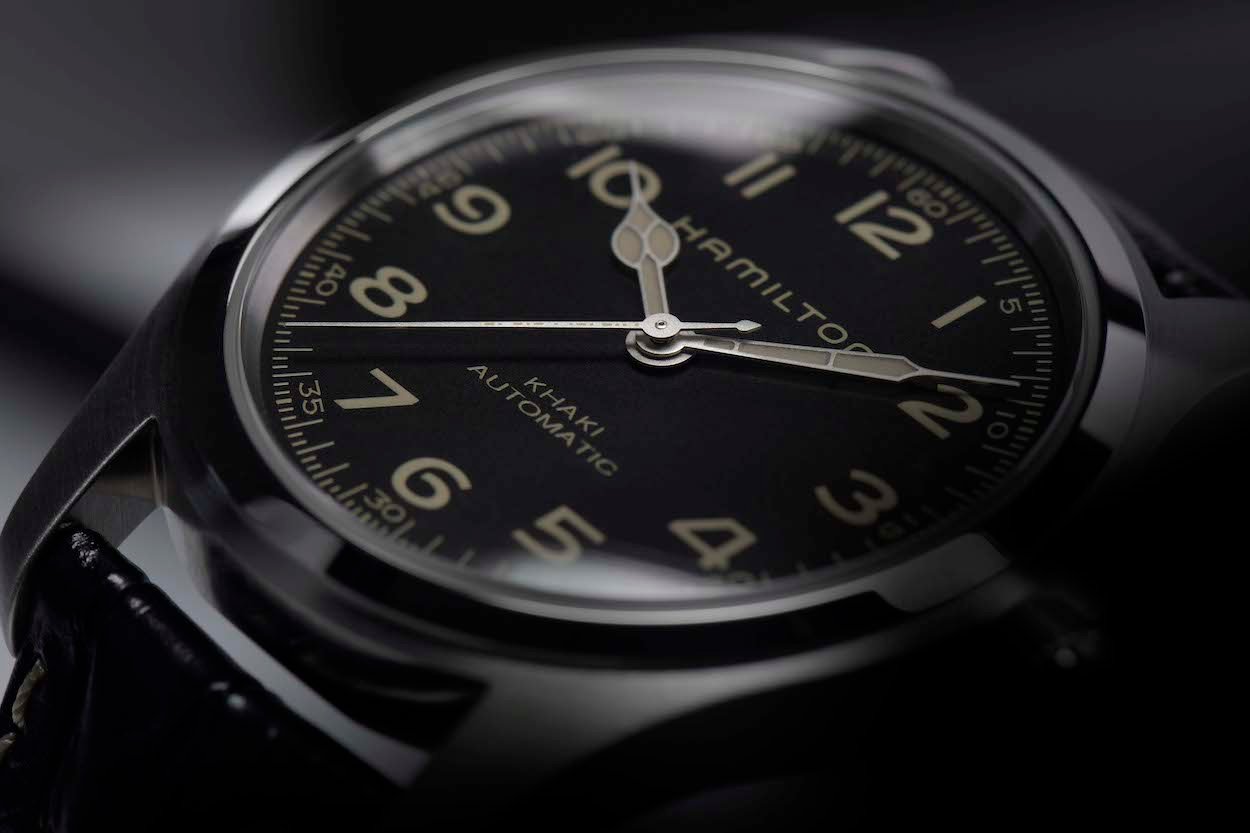 It just so happened that the watch in Interstellar was a Hamilton and it obtained the nickname of "the Murph watch."  Nicknames are common in our hobby, but people began asking about the actual Khaki Field watch model name and where to buy this legend of the screen. The problem was that the watch was a one-off prop created for the film and despite loud requests to the brand, the watch was not commercially available…until now and it carries a name that watch fans will certainly like: the Hamilton Khaki Field Murph.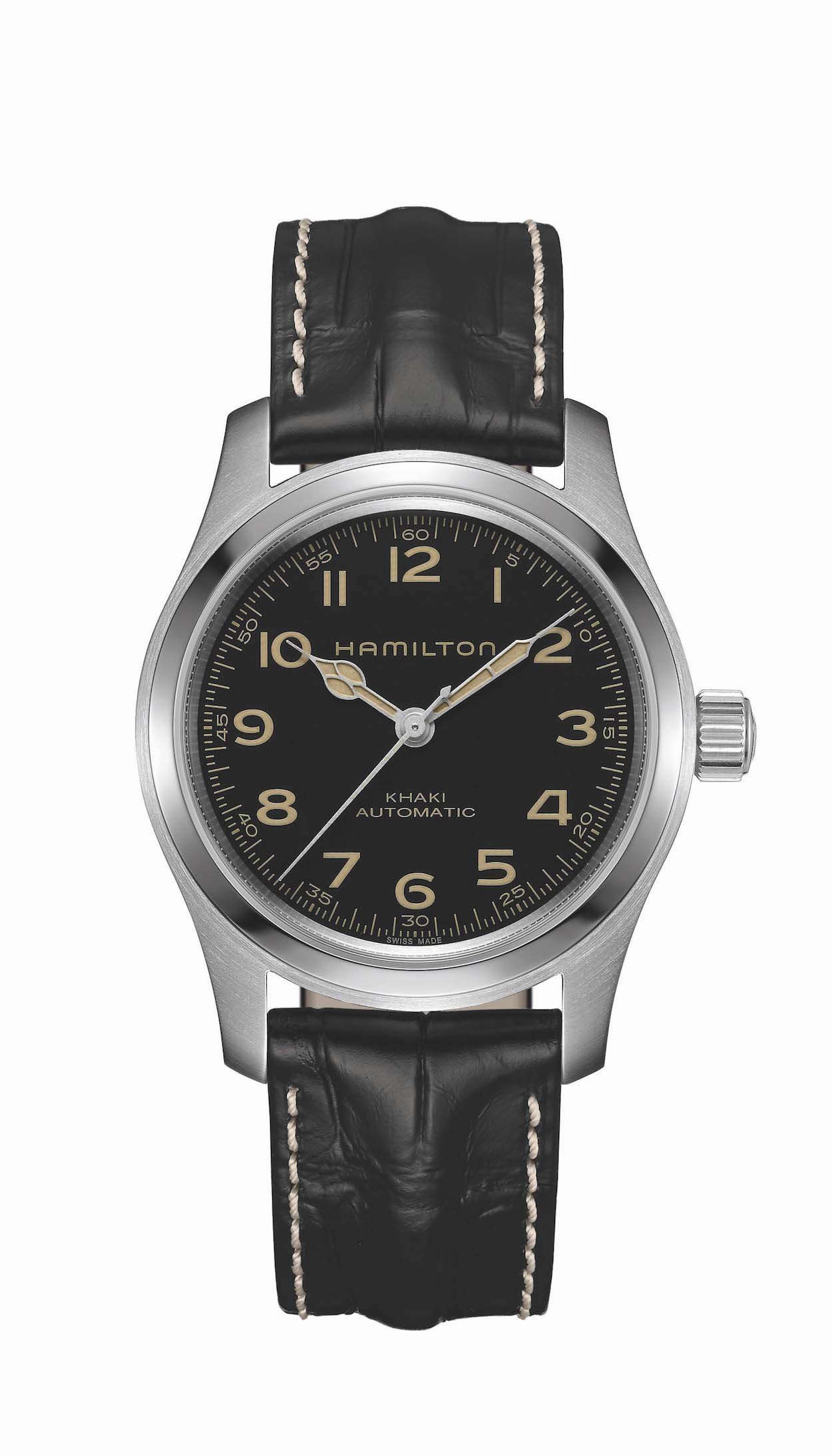 A Recreation
We're not completely sure why it took five years for the Hamilton Khaki Field Murph to hit the shelves (licensing negotiations perhaps?), but we're happy it's here.  So, what exactly is the Murph?  Hamilton calls it a 1:1 recreation of what was seen in the movie, so what you're getting isn't a watered down "inspired by the film" watch.  The watch starts with the familiar 42mm steel Khaki Field Auto case that is used on what seems like tens of different variants within the popular Hamilton subline. It also carries the familiar H-10 caliber movement with an impressive 80 hours of power reserve.  But what is different on the Murph versus other Field Autos is that it lacks a date, contains a unique Arabic dial with beige Super-LumiNova and similarly lumed cathedral hands.  The watch's only transgression from being a true exact replica of the film watch are tiny lacquered dots on the sweep seconds hand that spell out "Eureka" in Morse code.  I won't kid you, if you're going to call out something from a movie on your watch, THIS is the way to do it – it's subtle and not at all hokey.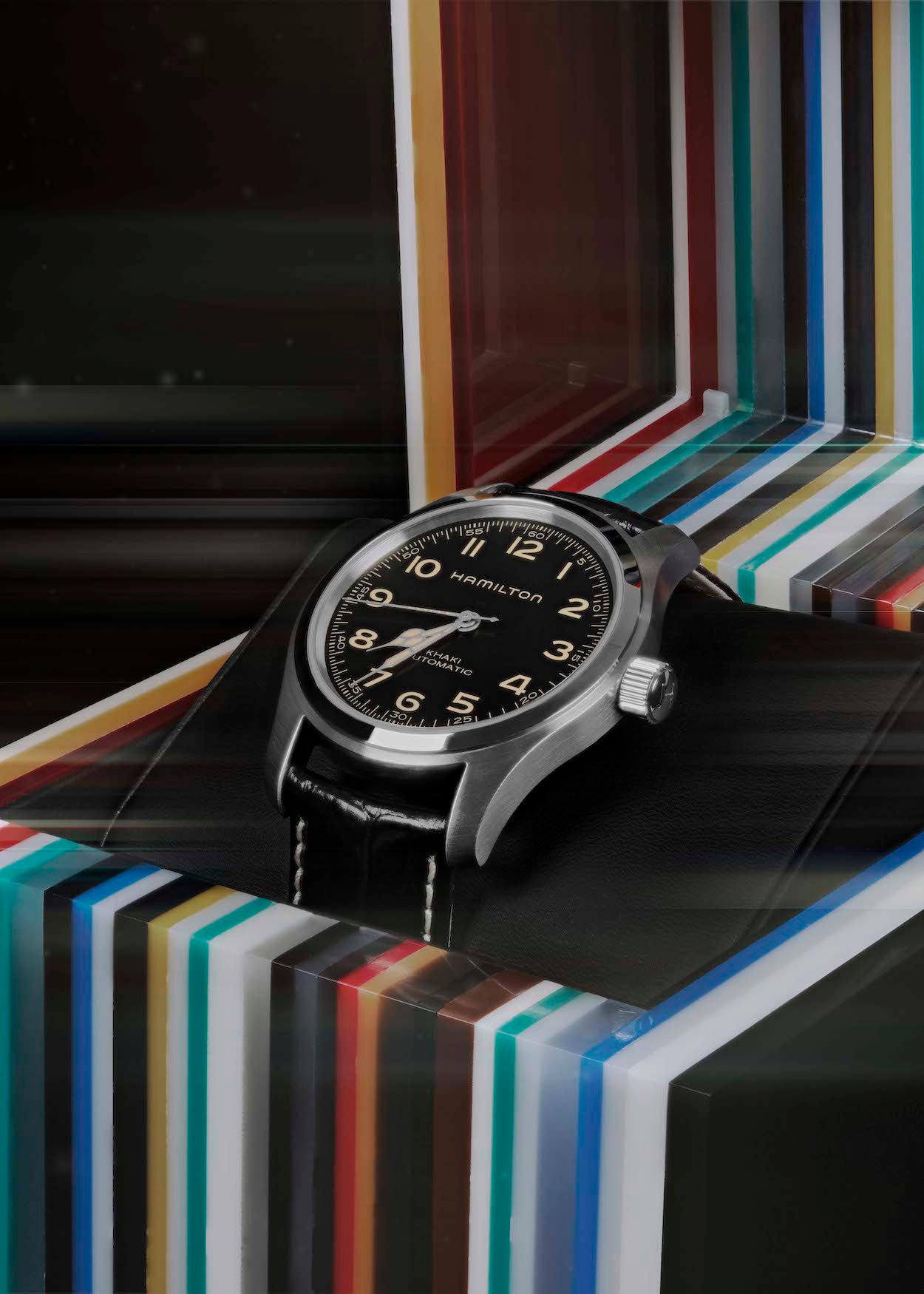 Non-Limited Watch With A Limited Edition Box
The Hamilton Khaki Field Murph rides on an embossed 22mm leather strap (it looks like alligator) with pin buckle and is good for 100 meters of water resistance.  A sapphire crystal completes the package.  Speaking of packaging, the first 2,555 pieces of the Murph will come in a bright, multi-colored and striped resin box that's meant to evoke the "tesseract" within Interstellar.  Hamilton tells us that they worked with Nathan Crowley, the movie's production designer to create the limited box. Once these boxes have been sold, the Murph will be available as a non-limited piece in standard Hamilton packaging.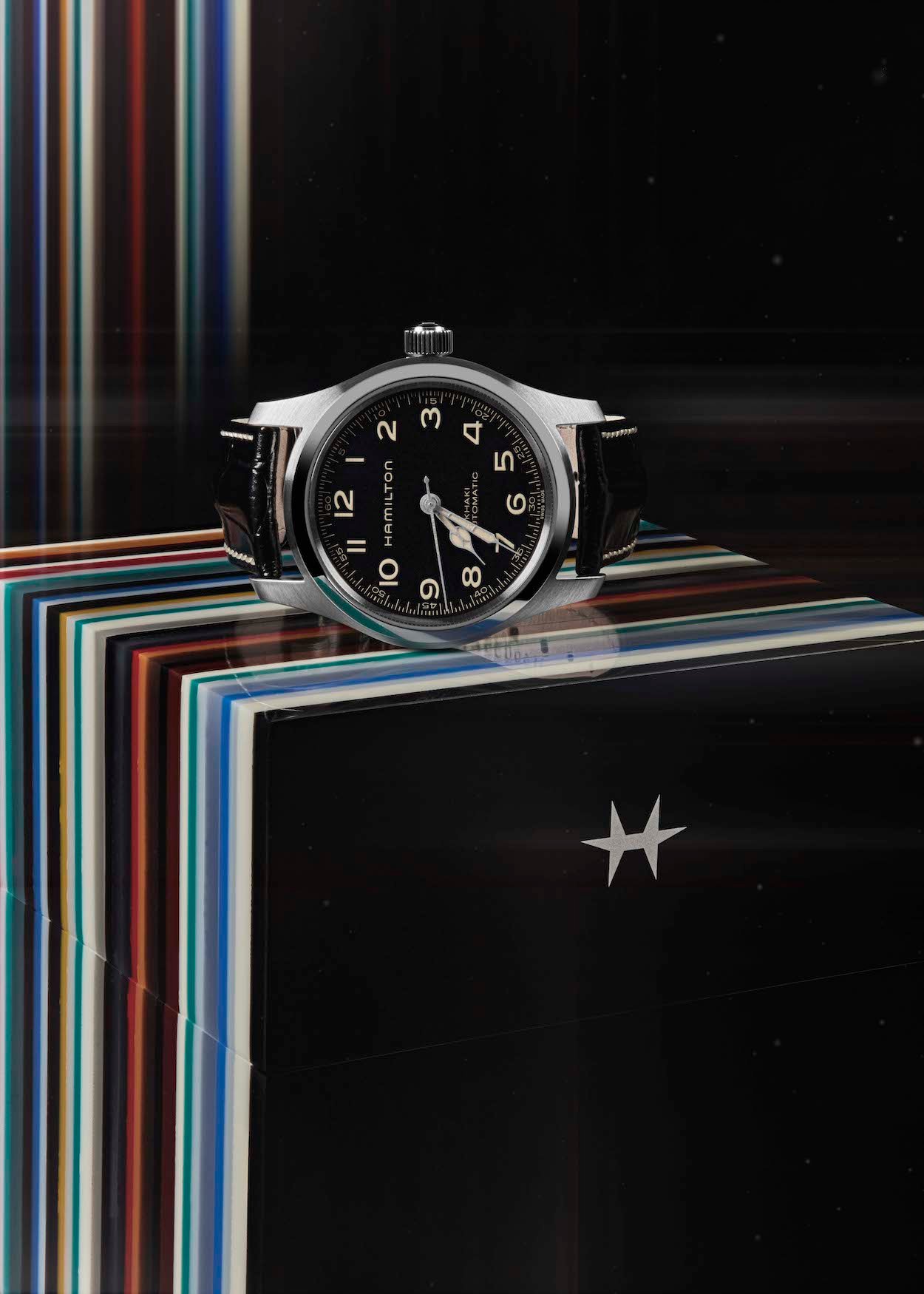 A Healthy Premium
While it's technically not on sale yet, the Hamilton Khaki Field Murph is on the Hamilton website.  And that brings us to where the rubber meets the road – and that relates to pricing. The Murph retails for 895 Euros in Germany and while that may not seem like a lot of money, it does reflect a rather healthy premium when comparing it to some very similar watches within the same collection. Granted, all contain a date function (day/date versions are also available) and very different dial designs, but all of these 42mm steel Hammies range from 495 – 645 Euros.  Some even include a bracelet.  So, yes, you are definitely paying for the pleasure of owning a movie prop and likely some licensing fees as well.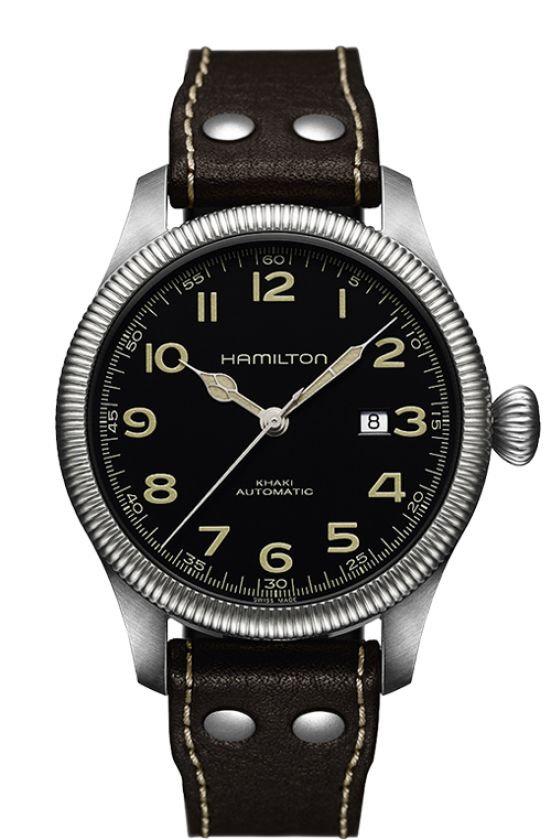 Food for thought
Ah, and more aside; as I was scrolling through the Khaki Field collection, I stumbled across the brand's Khaki Field Pioneer.  The lone model in this sub collection (seen above) comes in at 45mm, features a ridged bezel, similarly ridged turnip crown, and date function. It does, however, come with what looks like the same dial and handset as the Murph: it comes in at 750 Euros. Finally, and I do get that it's a very different watch, but it's always hard to ignore the sublime hand winding Khaki Field Mechanical that we reviewed last year – it retails for 420 Euros.  So, food for thought while you're considering a Hamilton.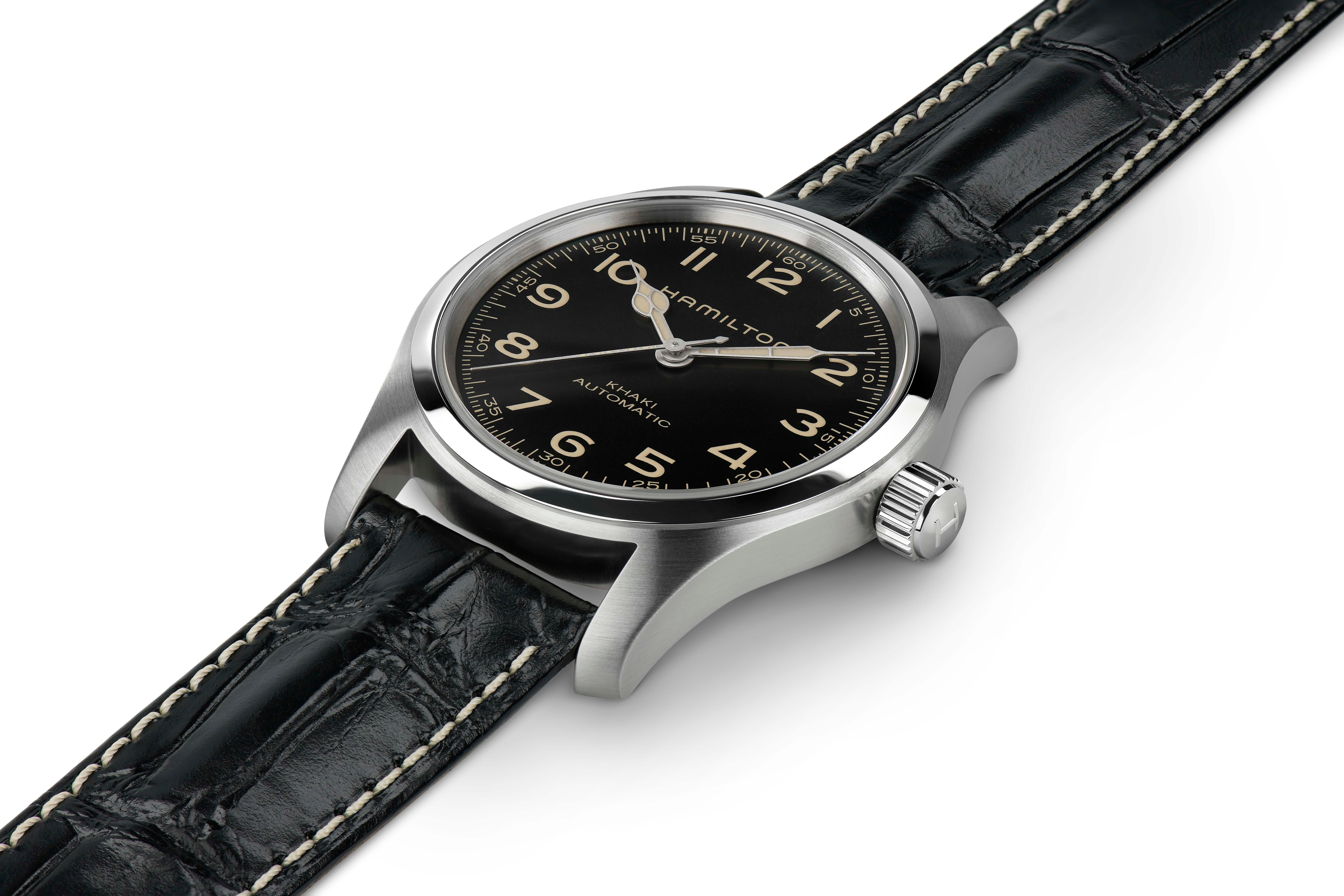 Pricing premium aside, the new Hamilton Khaki Field Murph is a great looking watch.  Its simple, but bold looks combined with a non-date dial help make it quite distinctive within the Hamilton lineup. Furthermore, it's yet another wonderful example of a large watch company listening to its fans and, in turn, deciding to give them what they want.
For more on Hamilton and the new Murph, head to their official site.