Hamilton Revives Its Railroad Pocket Watch — A Limited Edition For The Brand's 130th Anniversary
Are pocket watches making a comeback?
The launch of a pocket watch from Hamilton… Who would have imagined we'd see that in 2022? On second thought, maybe it shouldn't be the least bit surprising given the now-130-year-old brand's history. With a tagline "The Railroad Timekeeper of America" at the turn of the 20th century, it is almost Hamilton's birthright to bring us a remake of its Railway Special pocket watch in the modern day. The brand's new Railroad Pocket Watch pays homage to the company's roots as one of the chief manufacturers of precision timekeepers for the American railway industry. The series is limited to 917 pieces in reference to Hamilton's founding address at 917 Columbia Avenue in Lancaster, Pennsylvania.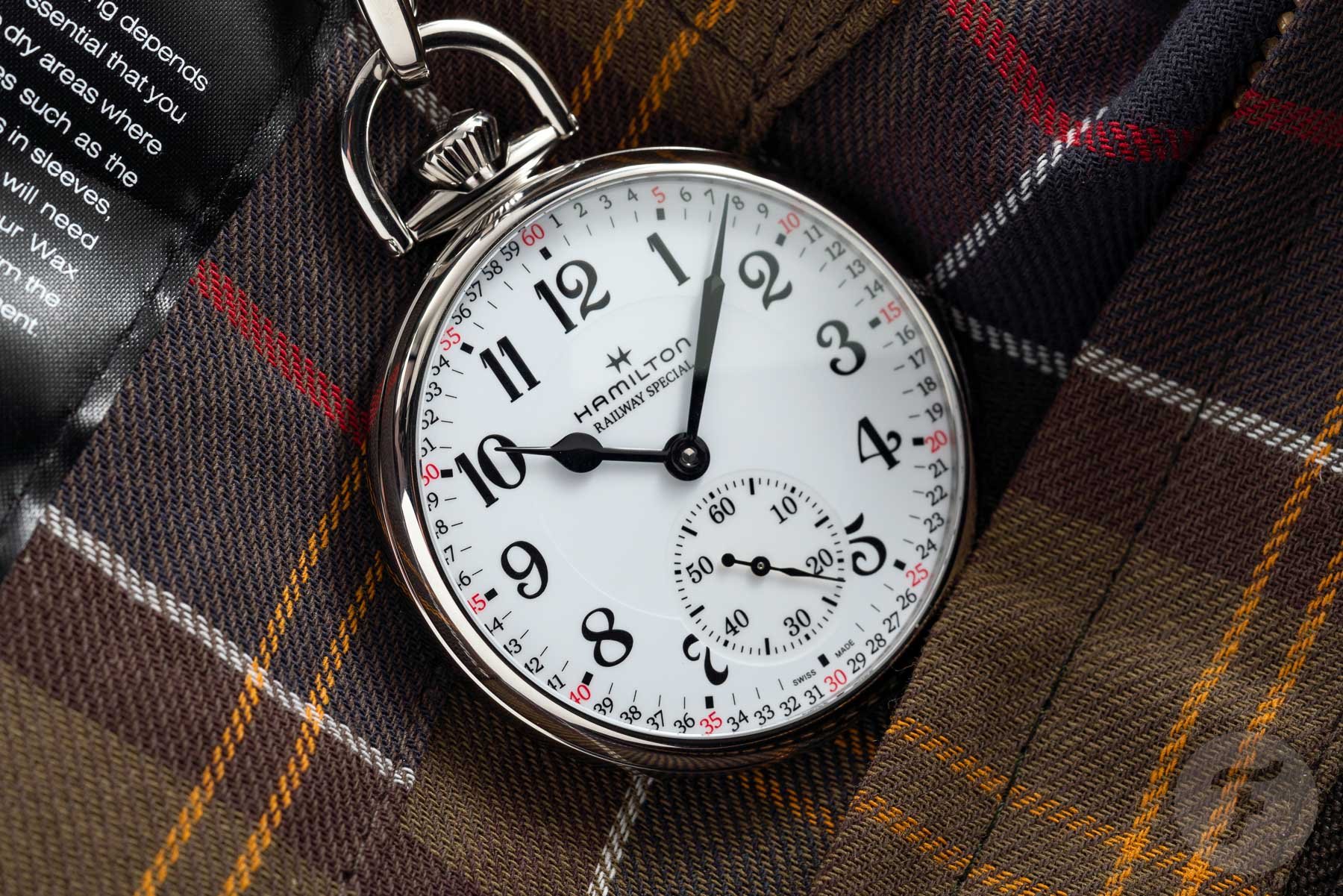 A precision instrument
A railroad watch was a highly-specialized instrument back in the day. Accuracy and readability were vital for conductors and railway workers to keep a complicated network of trains on the tracks and avoid collisions. A tragedy happened in 1891 when a head-on train crash in Ohio killed eight people due to a four-minute discrepancy between two conductors' timekeeping.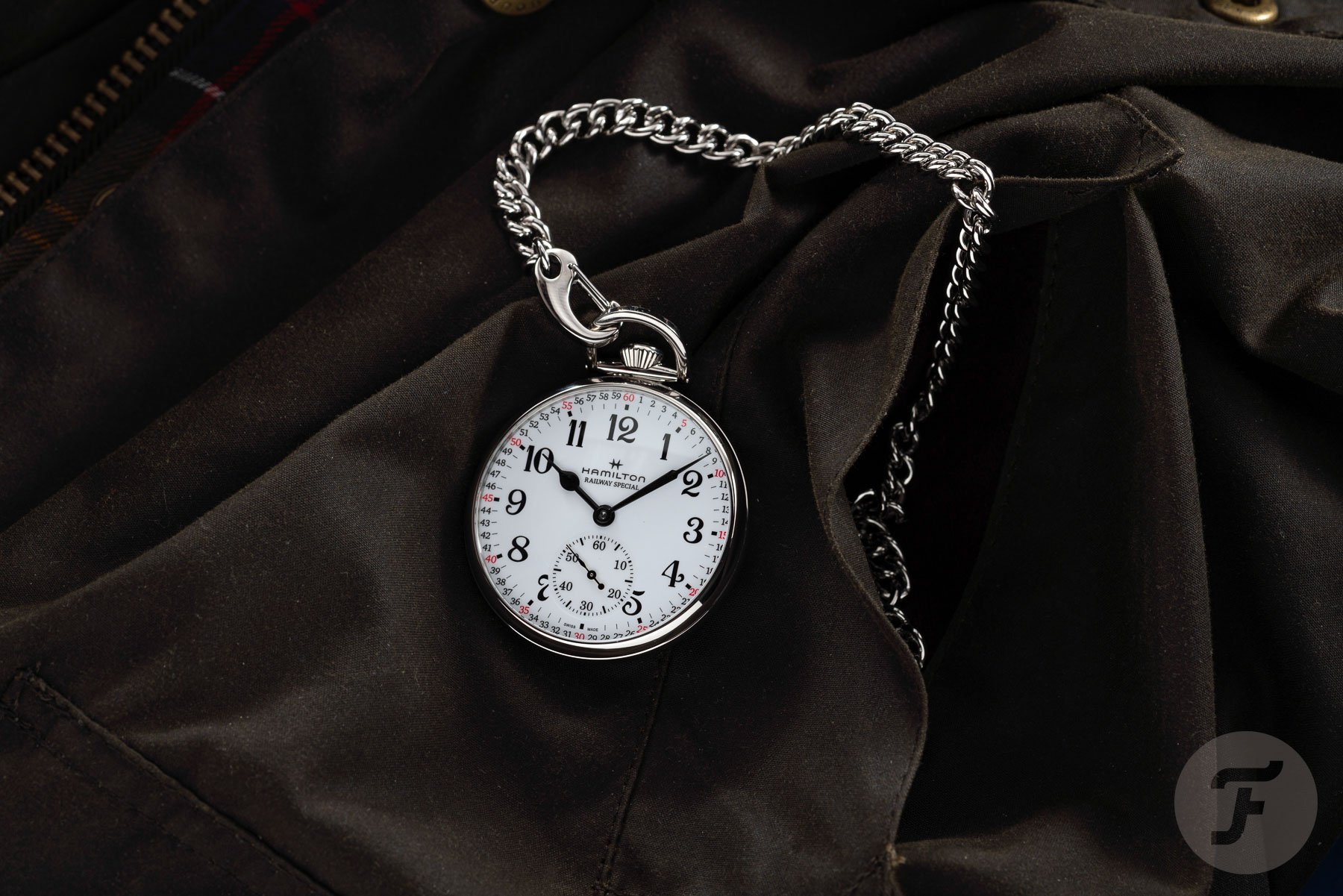 The industry standards
As a result, the railroad industry worked with watchmakers to establish manufacturing standards for new watches to ensure transport safety. Railroad-approved watches, therefore, had to be made of high-quality materials with movements accurate to ±30 seconds per week. They also had to be easy to read with a plain white dial to display large black Arabic numerals. Each minute also had to be clearly marked.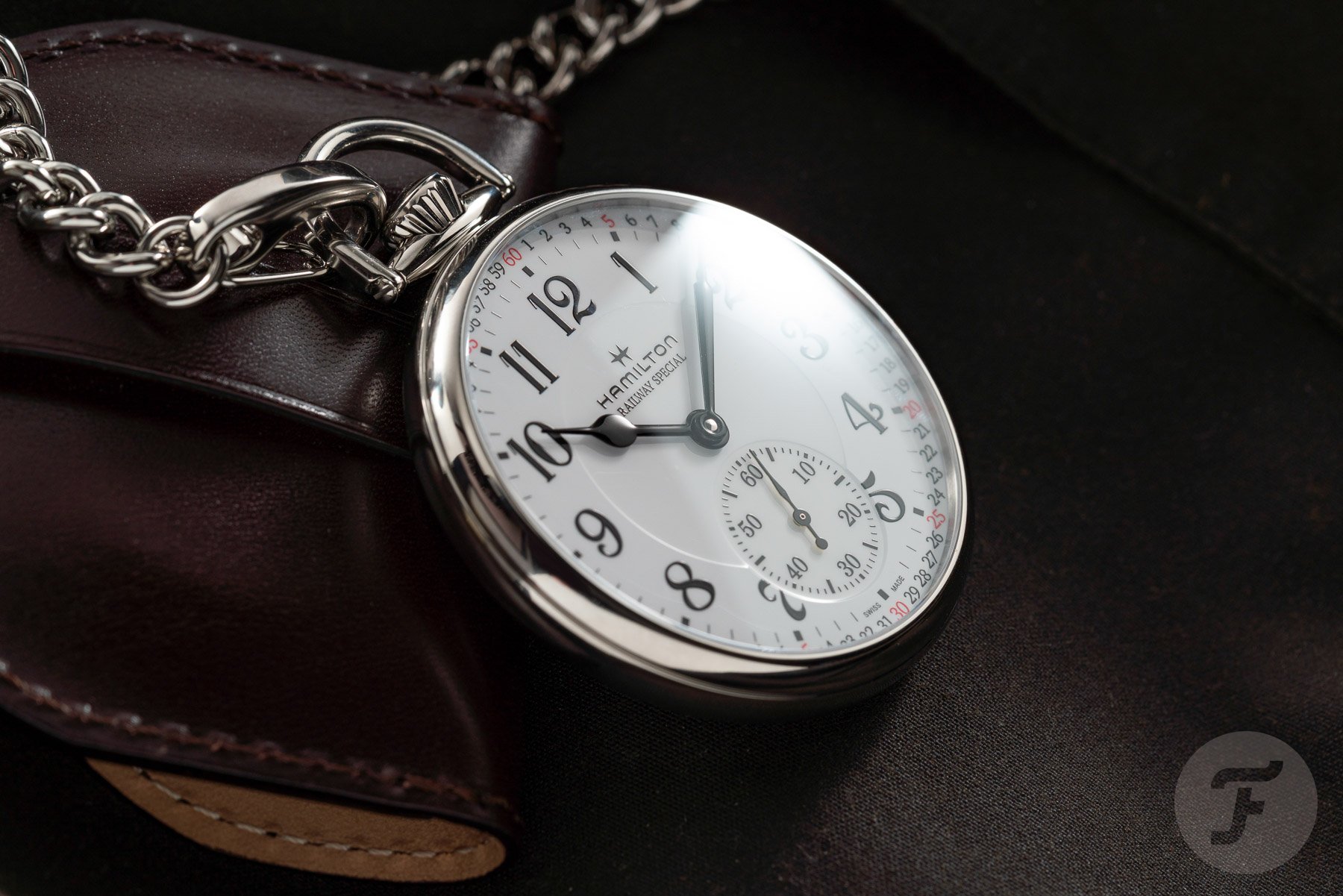 A mass consumer appeal
In 1892, Hamilton was founded to begin mass production of pocket watches and soon began focusing on those meeting the railroad standards. These highly accurate timekeepers not only became popular as professional instruments, but they also appealed to the general public as high-quality timepieces for decades to come.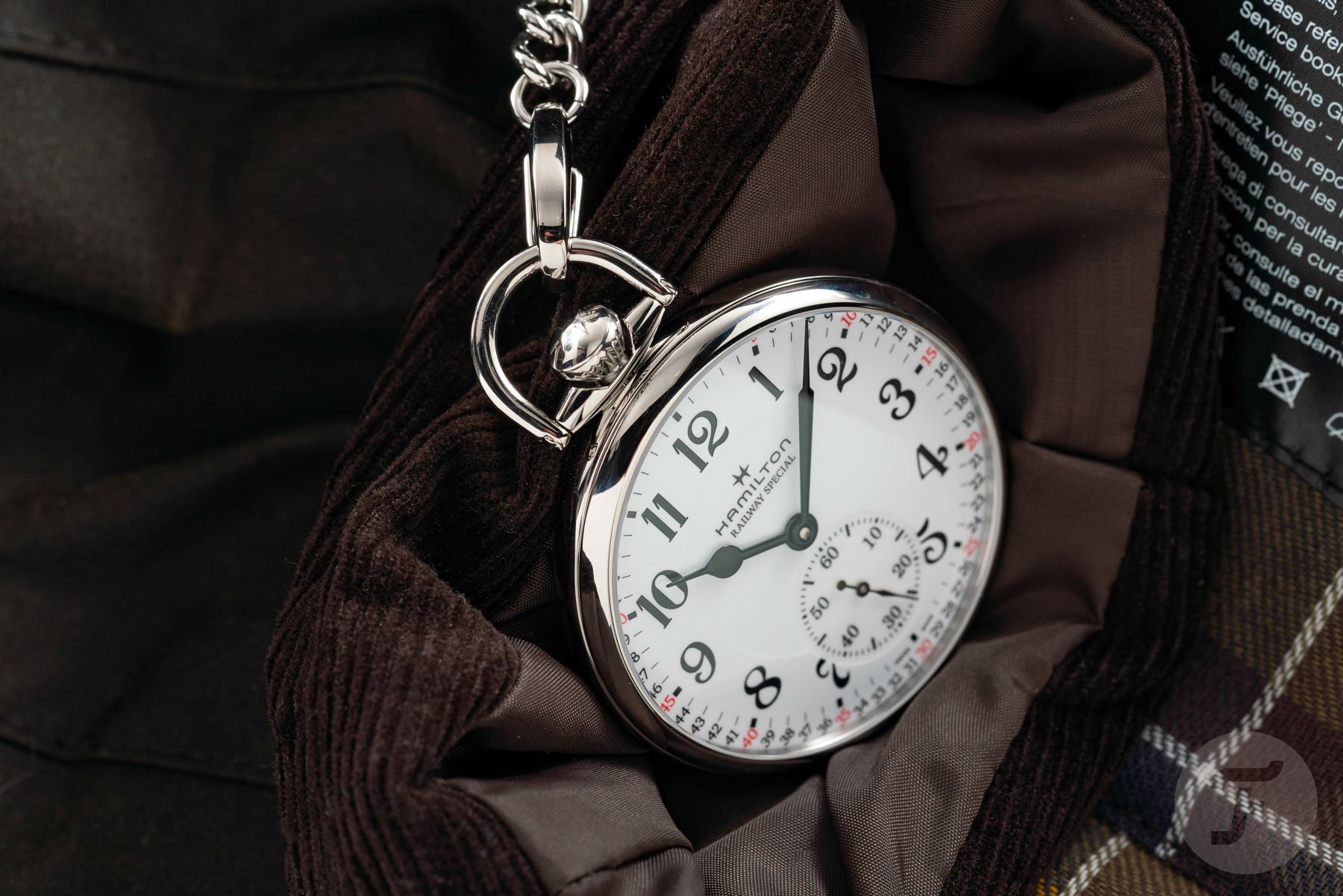 A surviving craft
As we all know, the need for wristwatches during the two World Wars consequently rendered pocket watches obsolete. In recent times, conversations about pocket watches usually revolve around vintage and antique kinds. Interestingly, however, pocket watches are still being created in the modern day. Watchmakers at all levels, from independent watch artisans to big industry names such as Patek Philippe and Audemars Piguet are keeping the form alive.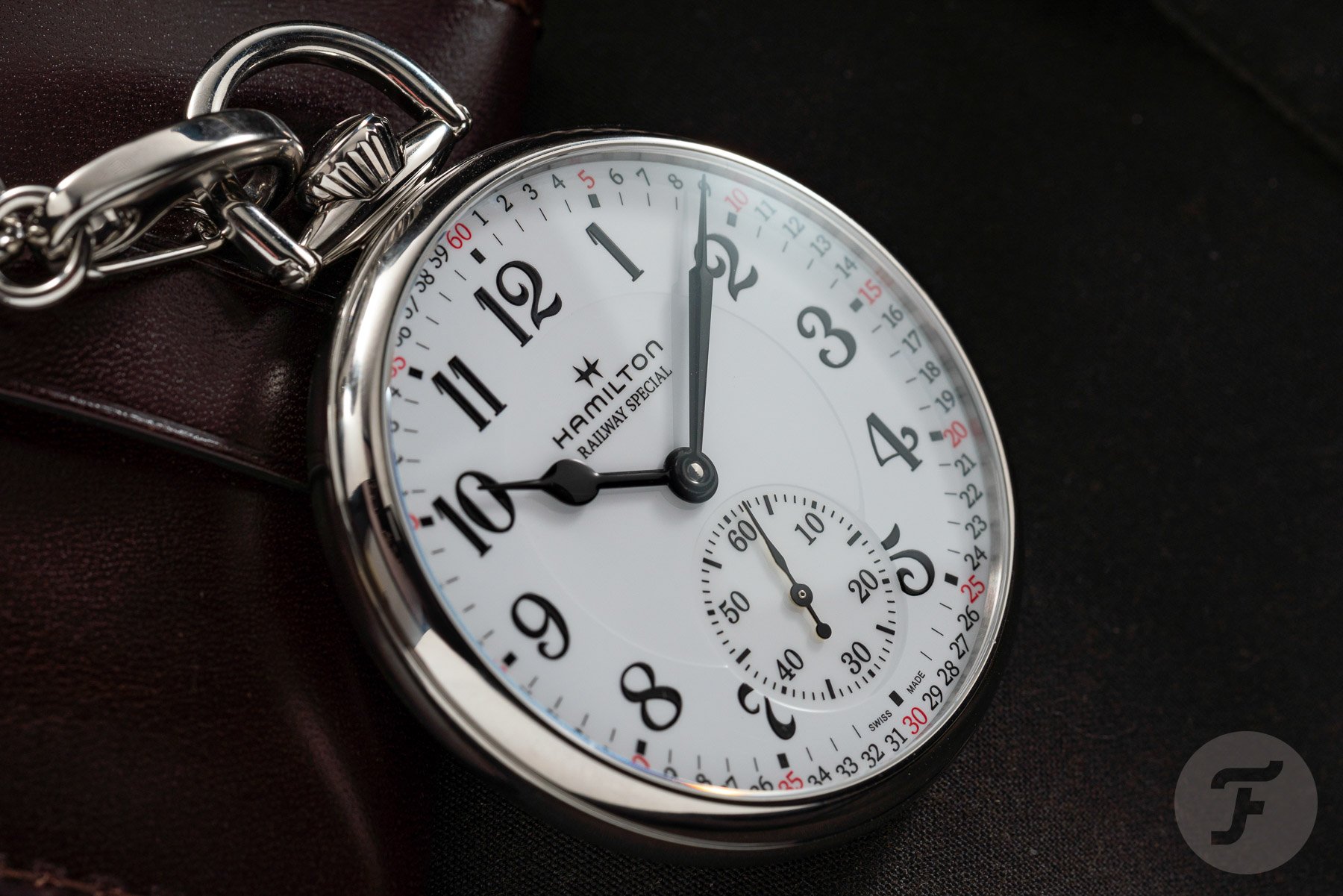 And talk about good timing! By complete coincidence, our very own Thomas Stover wrote an enlightening article last month on pocket watches by established brands on the market today. It couldn't be more timely as a prelude to the Hamilton launch to get us clued up.
The Hamilton Railroad Pocket Watch
The Railroad Pocket Watch very much honors its early ancestors in compliance with the railroad standard. Its white enamel-like dial features oversized Arabic numerals and black lacquered hands for legibility. The outer minute track is fully graduated and printed with five-minute demarcations in red. In traditional fashion, a sub-dial for the seconds sits at 6 o'clock. The current Hamilton logo and "Railway Special" text take the prime position at 12 o'clock. Covering the dial is a domed sapphire crystal with an anti-reflective coating, a subtle but decidedly modern touch.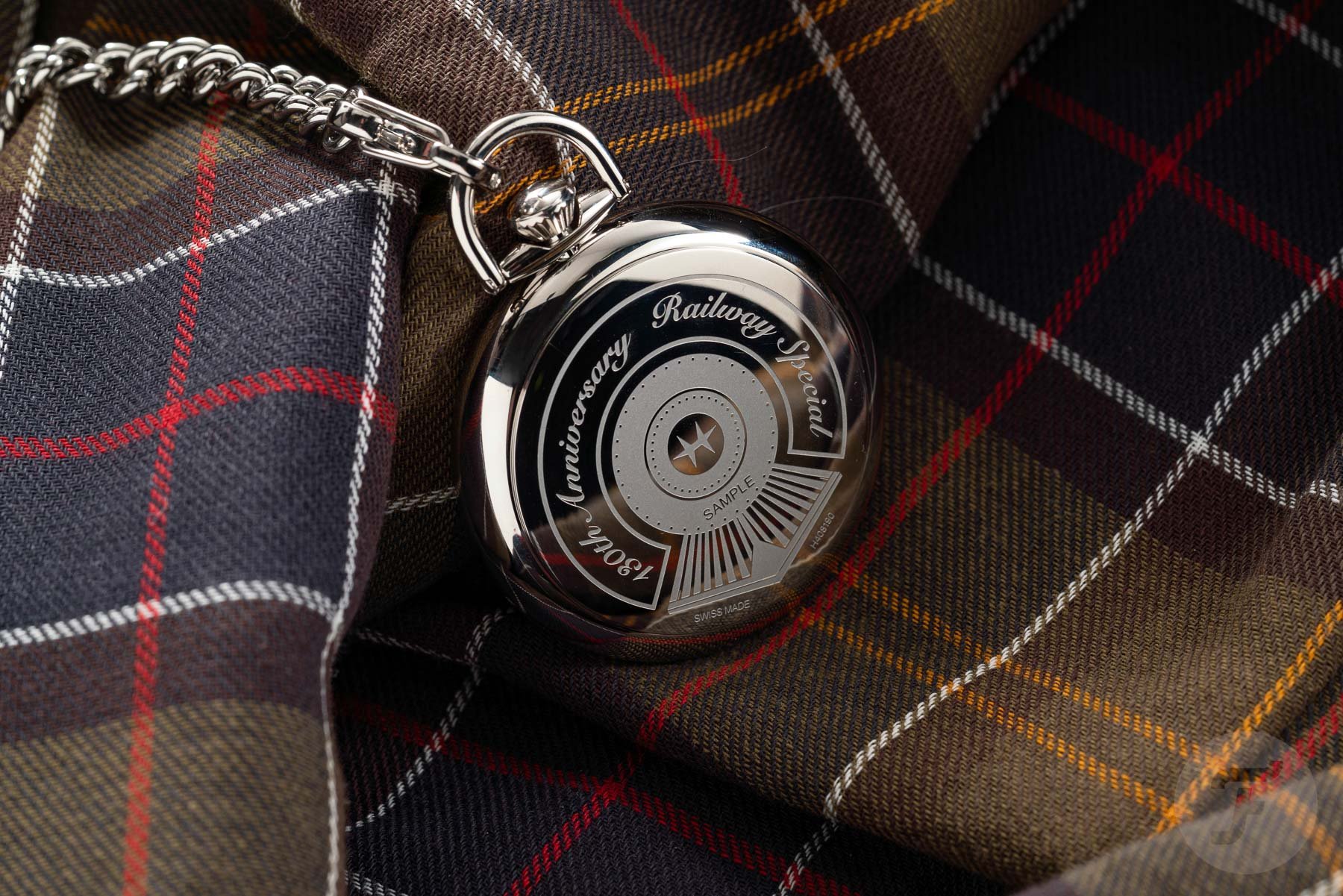 The style, form, and engine
Housed in a polished stainless steel case with its crown at 12 o'clock, the Railroad Pocket Watch is 50mm in diameter and 11.95mm tall. This classic casing offers 50 meters of water resistance. Turning over to the case back, a large inscription of "130th Anniversary Railroad Special" arches around an engraving of a train head with the "H" logo graphic in the middle. The limited edition number will go where it says "sample" in our photo. Powering this commemorative pocket watch is the hand-wound Unitas/ETA 6497 caliber. It runs at 18,000vph (2.5Hz) and provides 50 hours of power reserve. Though we usually find this movement in larger-sized wristwatches today, it's a fitting choice for a pocket watch, having started life as a pocket-watch caliber in 1950.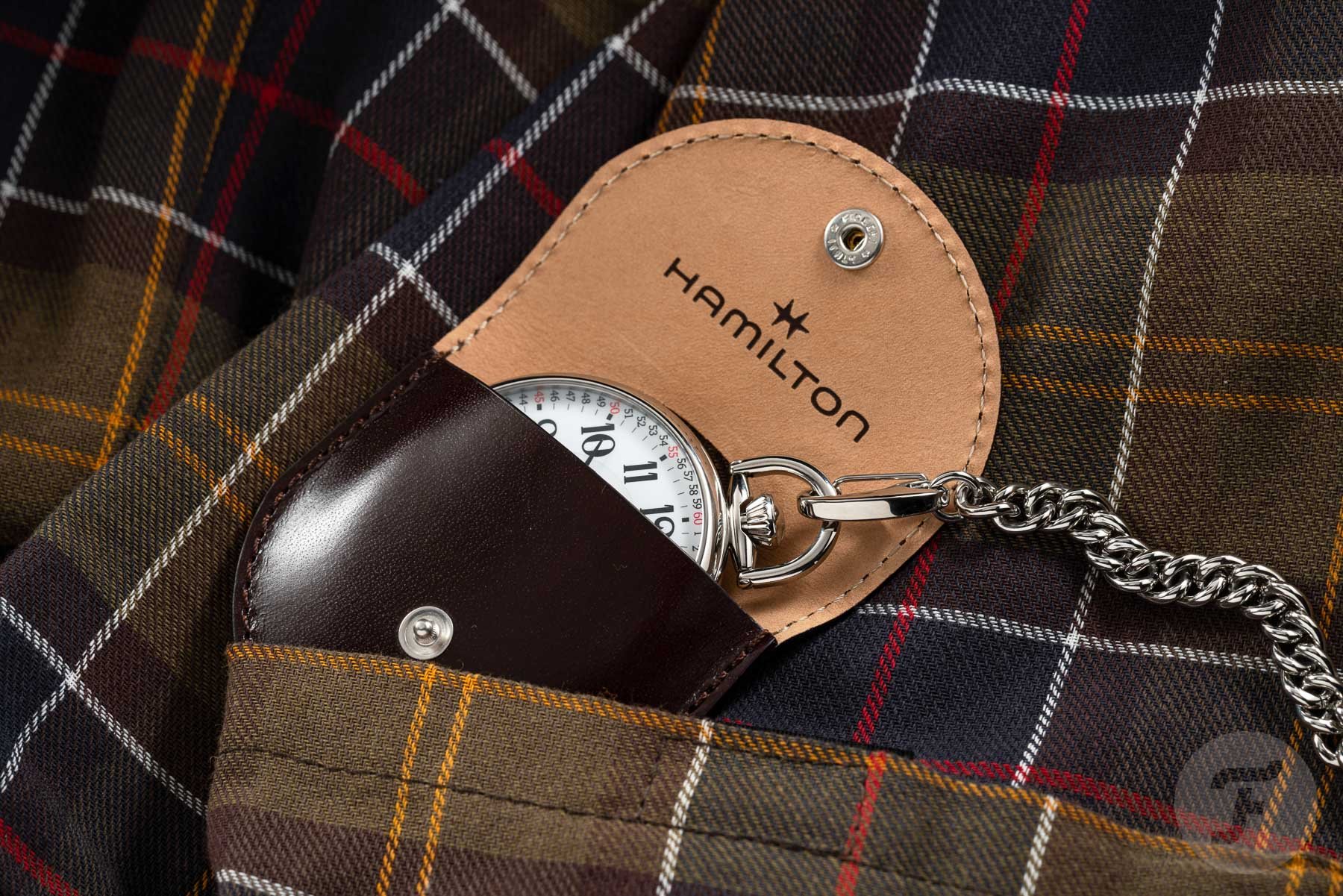 The finishing touches
To complete the vintage look, the Railroad Pocket Watch comes with a removable stainless steel chain and a branded custom catch to secure onto the handle attached to the crown. A beautiful brown leather travel pouch stores and protects the watch when idle. Each of the 917 pieces in this limited series is €1,495 including VAT or $1,395 in the United States.
For more information, visit Hamilton's official website.
This is a preferred-position post. Learn more.