Pocket Watches: Who Needs 'Em? — Seiko, Tissot, And Patek Philippe, Apparently
You may find yourself "needing" one too
I'm going out on a limb here and assuming that at least some of Fratello's readership is interested in pocket watches. Sure, they're outdated, but in this case, that also indicates a rich history. Their larger size allowed for some of the most complicated watches ever made. Today, a handful of watch companies still make pocket watches for those few going for uber-sophistication (or irony). And there's at least one company making old pocket watches into something completely new. Taken out of context, today's pocket watches seem like an anachronistic novelty. However, companies like Seiko and Patek Philippe have a strong history with the form. And — believe it or not — there are still people in the world who use them daily.
As I mentioned in my last article, I have a pocket watch I inherited from my great-grandfather. It's a small Elgin with the gold plating worn off the brass where his fingers handled it most. It doesn't run, but it may one day, especially with my renewed interest as a result of writing this article. My good friend — a rough-and-tumble skater who would rather be skating or climbing trees more than anything — has a pocket watch that was gifted to him by his in-laws. It's his only watch, and he wears it appropriately on the rare occasion he's caught in a suit. For years, my mother had a simple pocket watch on a short fob that she kept clipped to her work bag as she doesn't like anything on her wrists.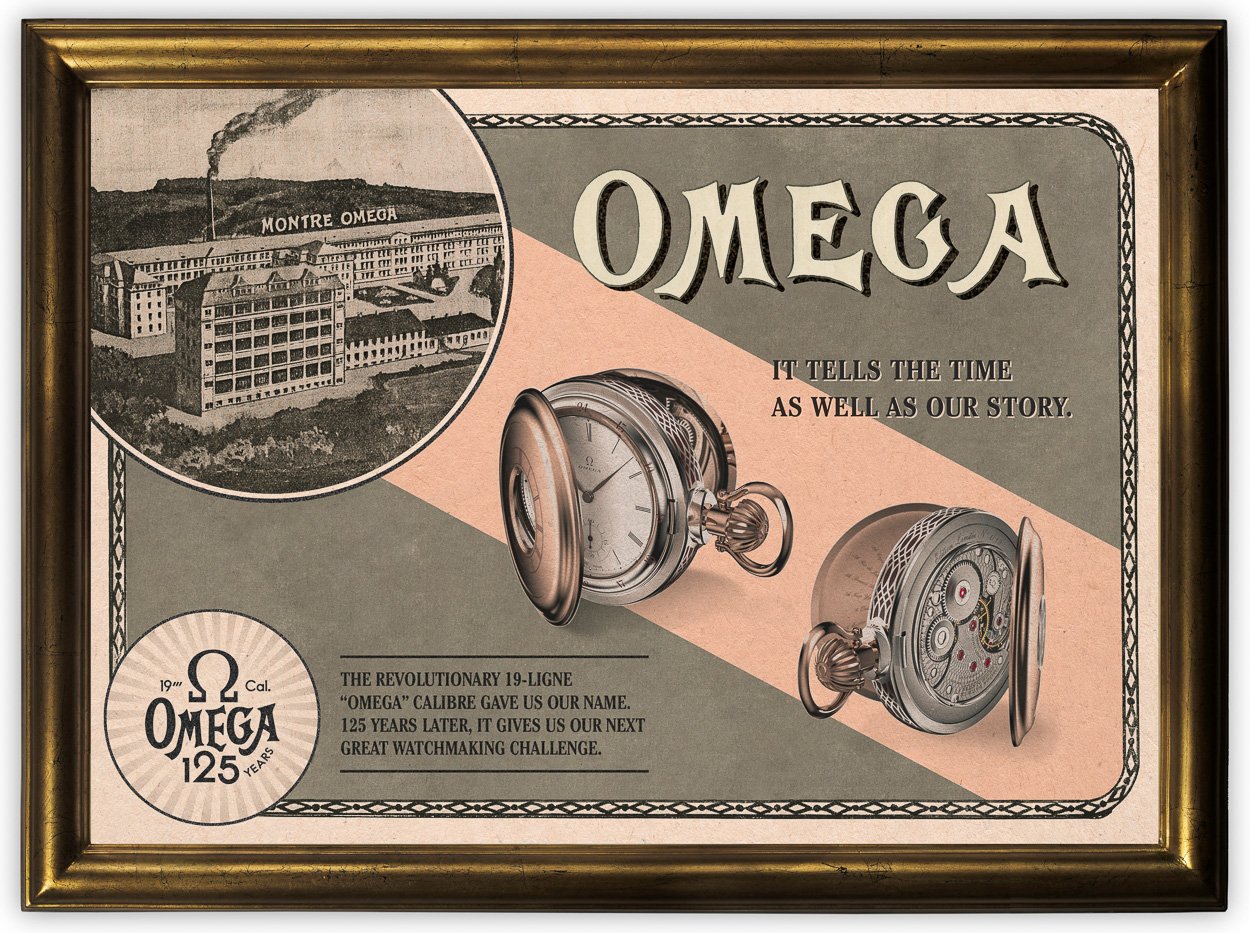 Forgotten, but not gone
Pocket watches are everywhere, in many different forms and uses, regardless of how much the modern watch industry neglects them. They've been suffering a slow and painful demise ever since soldiers returned from WWI with wire lugs welded to theirs. Since then, the battle-ready-tool-watch motif has grown to dominate men's timepieces, leaving little room for anything less than shock-resistant wristwatches with water resistance of at least 50 meters.
The obsolescence of the simple non-smartwatch combined with its intense resurgence in popularity in recent years may be the saving grace that pocket watches need. I'm nowhere near claiming that pocket watches are making or will make a comeback, but if they ever were to, it would be at a time when the practicality of watches is at its lowest and their popularity is at its highest. We still have pockets (those haven't been made obsolete… yet). In the live-and-let-live world of watch enthusiasm and ownership where no one bats an eye at someone strapping an Omega Ploprof to their wrist for running errands, there's no better time to test the waters of using a pocket watch or, at the very least, owning one and enjoying it privately. The Ploprof is already pocket-watch-sized, just in a different orientation.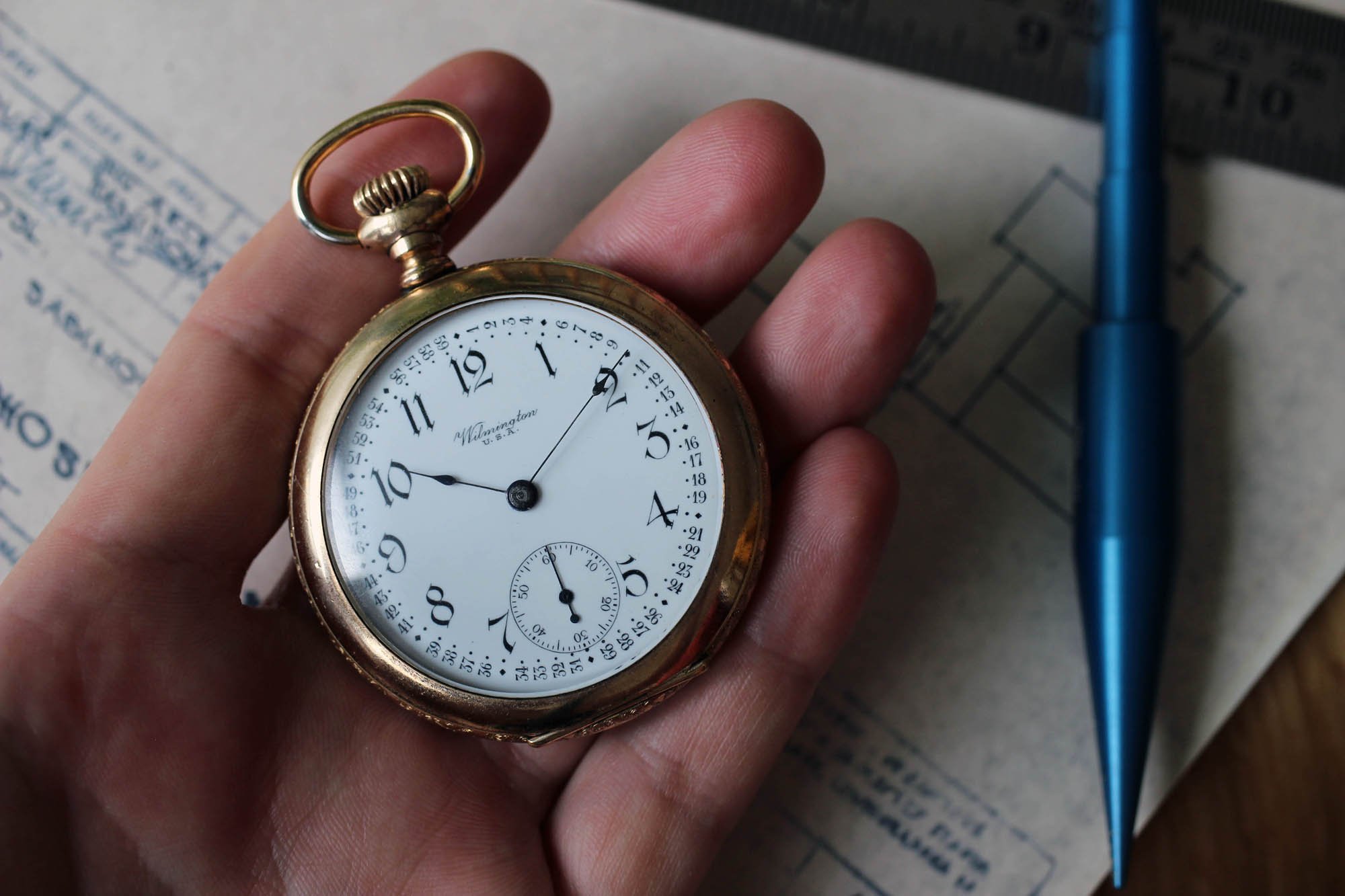 Used pocket watches
The ultimate source for pocket watches is the past. Before the popularity of wristwatches, almost every man that needed to know the time and could afford a waistcoat owned a pocket watch. Back then, the United States was one of the largest producers of pocket watches. Between 1850 and 1950, the Waltham Watch Company manufactured about 40 million timepieces and instruments, a great deal of which were pocket watches. The Elgin National Watch Company had the largest watch manufacturing complex in the world in Elgin, Illinois for nearly 100 years. My great-grandfather's watch undoubtedly came from that facility. In 1880 alone, the Illinois Watch Company produced 47,065 watch movements.
Sure, these production numbers pale in comparison to modern standards. Rolex is on its way to producing one million watches per year (if it hasn't already). But unlike wristwatches, which are undergoing an unprecedented renaissance, pocket watches are still largely unpopular. There are literally thousands of pocket watches from the last century and beyond gathering dust in drawers and boxes that no one knows what to do with. One can buy lots of four, six, or even eight vintage pocket watches in various states of neglect for $100-200 from their auction house of choice.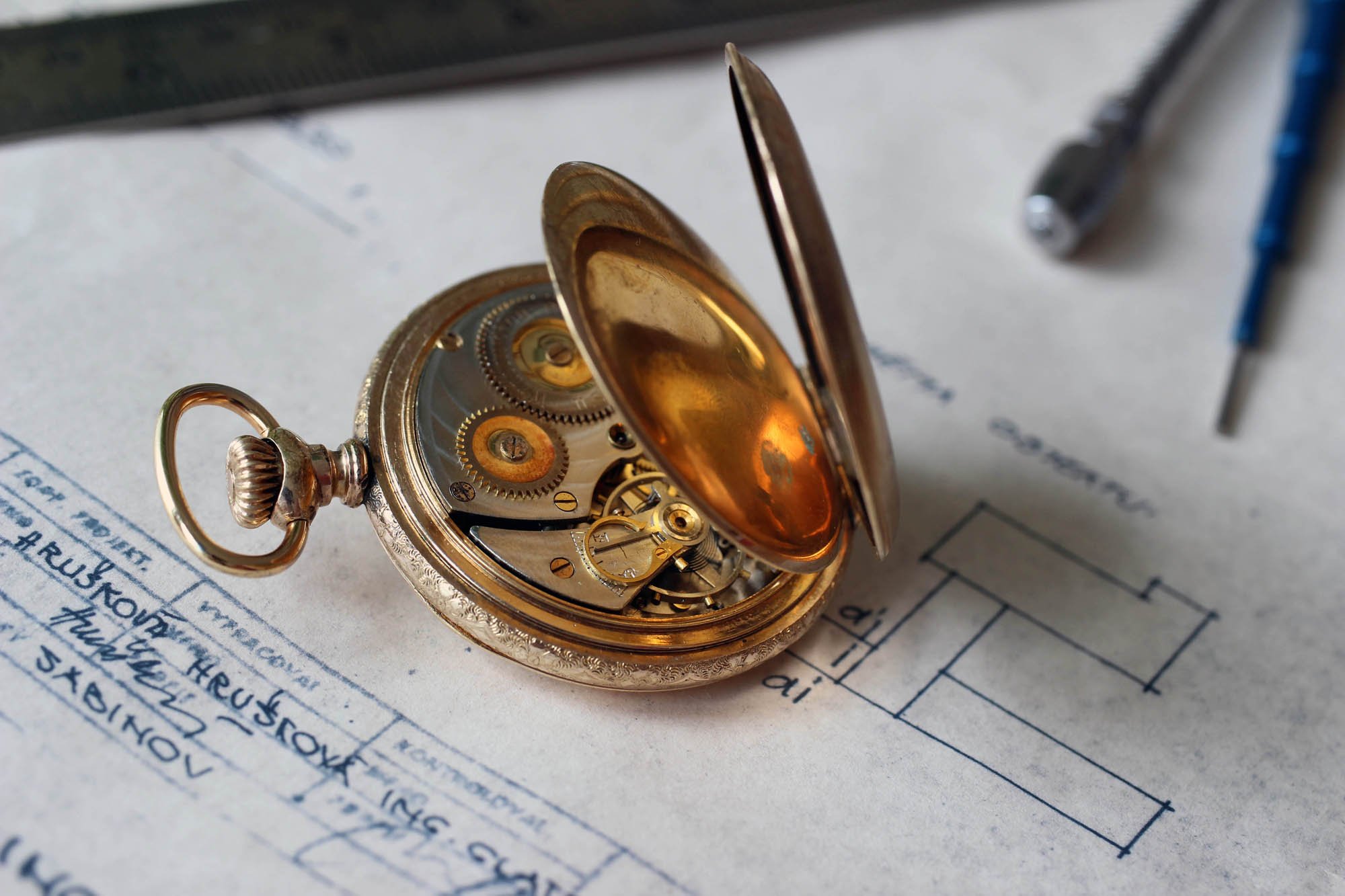 Affordable and good
And don't let the price fool you. Each of these watches was worn with pride and comes with its own history in the way of scuffs and scratches on the case and hairline cracks in the dial. The designs are usually sophisticated with simple elegance. Once restored, there's no reason that they wouldn't keep as good as time as they did for their original owners, if not better.
But these watches are in desperate need of servicing before use, though that's no problem either. Pocket watch movements are some of the simplest designs and constructions in the industry, and most watchmakers cut their teeth (so to speak) disassembling and reassembling pocket watches while in school. But at those prices, you'll end up paying more for the servicing than for the watch. Of course, one can always find a more expensive watch, and that's just as true for vintage pocket watches as it is for any other kind.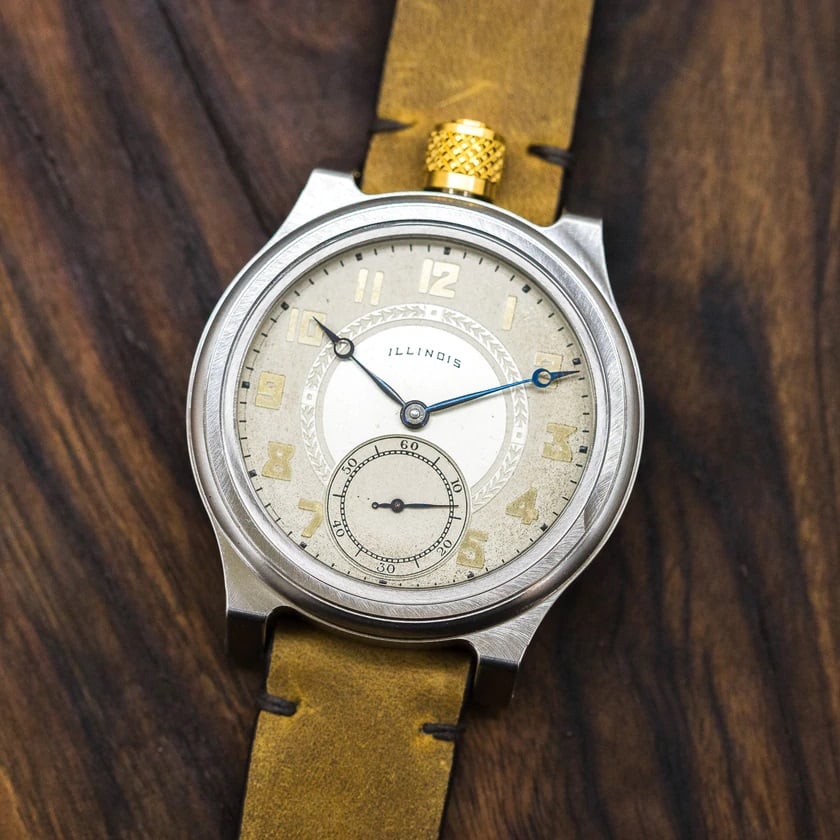 Vortic Watch Company
Watch company Vortic is in on the antique-pocket-watch-sourcing game. However, the brand isn't restoring old pocket watches — not quite. Vortic is repeating history. In short, Vortic takes vintage American pocket watches, restores the movements, and rehouses them in custom wristwatch cases, retaining the original dials. This is the modern version of WWI infantrymen welding lugs on their pocket watches. The result is an attractive Frankenstein's monster of vintage dial design and hands with all their elegance shrouded in muscular-lugged cases with crowns still positioned at 12'clock. It's a completely American approach to remaking American watches. It reminds me of how enthusiasts restore and customize vintage muscle cars.
The best part about this process is that Vortic is happy to apply the process to eligible pocket watches that customers send in. Grandpa's pocket watch need not collect dust anymore (though Vortic isn't getting mine). Those interested in converting an old American pocket watch of their own can contact Vortic and begin the process of creating a custom reinterpretation of their own personal piece of history. Vortic also has readymade watches available. As each piece is unique, there's no set price, but they start at around $2,500.
Patek Phillipe — Famous pocket watches
Of course, Americans weren't the only ones using and manufacturing watches (as I'm sure you know). Every watch company whose lineage goes back more than 100 years has a history of making pocket watches. Most notable, perhaps, is Patek Philippe.
What put Patek on the map of pocket watch history was a now-famous, good-natured, yet incredibly expensive feud. In the early 1900s, James Ward Packard, a wealthy American businessman and engineer, commissioned Patek Philippe to create a pocket watch with the most complications the world had ever seen. Patek delivered a 16-complication piece, complete with a rotating star chart specific to Warren, Ohio, Packard's hometown.
Not long after, American banker Henry Graves Jr. also commissioned Patek for the most complicated pocket watch. This one had 24 complications, well outdoing Packard's mere 16. It wouldn't be until 1989, long after Packard and Graves had died, that Patek would release what was then the ultimate complicated pocket watch — Caliber 89. This piece boasted 33 complications and was designed with computer assistance. Caliber 89 would not be dethroned until 2015 when Vacheron Constantin released the Reference 57260 with 57 complications.
These Patek watches still exist today and trade for millions of dollars when they occasionally come up for auction (except for Caliber 89, which resides in the Patek Philippe Museum.) But what if I told you the oft-repeated story of the rivalry between Packard and Graves was a complete fabrication? Well, according to an article by Alan Downing on SJX, the competition was nothing more than a marketing ploy created by Patek in the 1990s. So much for that… For pocket watch aficionados, that must hit like realizing the closest the Omega Speedmaster got to the Moon was in a Hollywood backlot. (I kid. We've been to the Moon. So has the Speedmaster, and we're apparently going again.)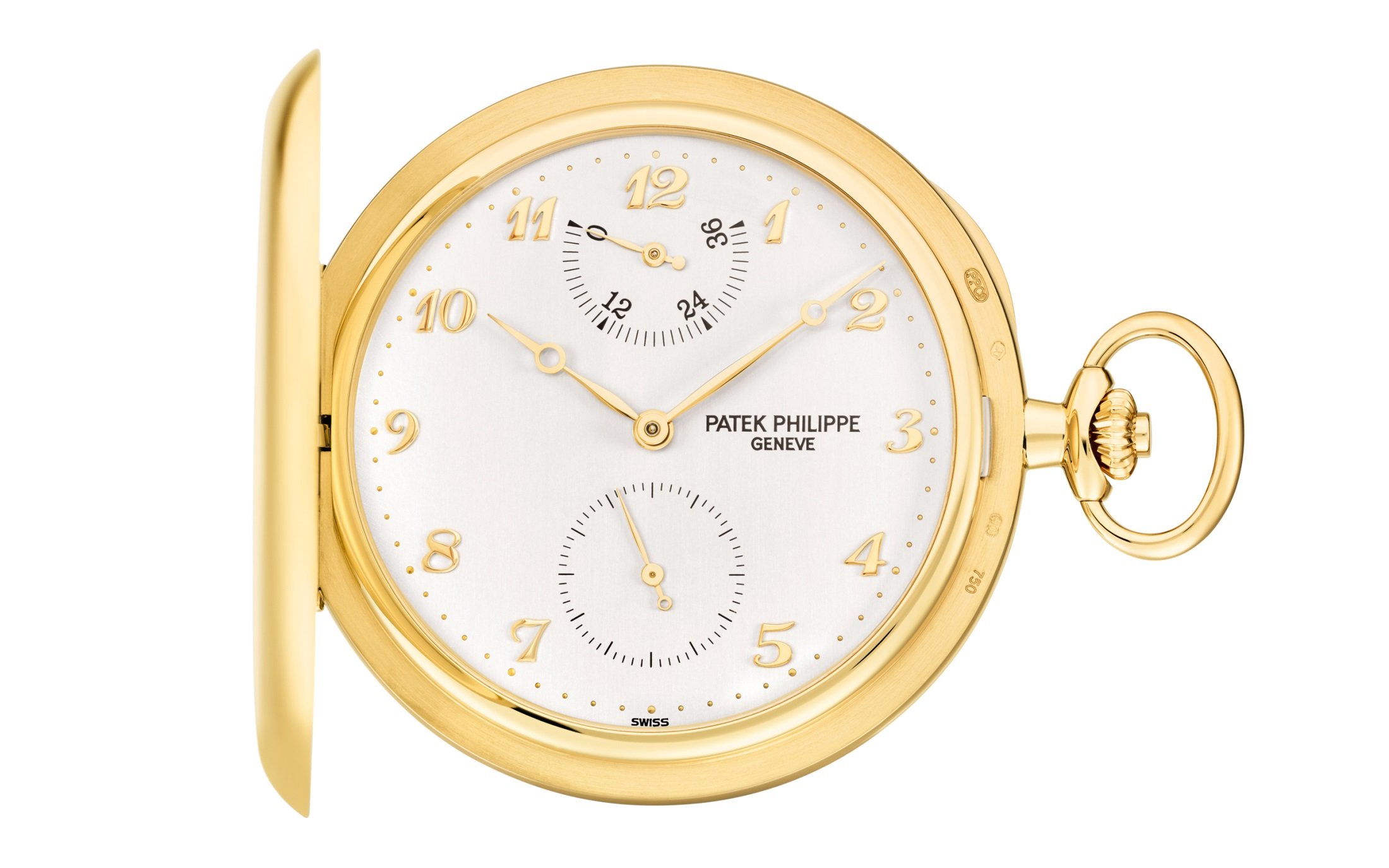 Patek Philippe pocket watches today
What is not a complete fabrication is the superb craftsmanship of Patek Philippe watches. The brand produces pocket watches to this day, albeit without the eye-popping complications that etched its pocket watches down in history. The brand's modern pocket watches are simple time-only three-handers, the only exception being the reference 983J, which includes a power reserve indicator on the dial.
Ref. 983J is an elegant affair with yellow gold for its 48mm hunter case, numerals, and hands. In the past, the spring-actuated cover of a hunter-case pocket watch was to keep out dirt and debris while, well, hunting. Yesteryear's hunting excursions were more "gentlemanly" with horses and bugles. A $50,000 pocket watch with no water resistance would be much more at home than today's approach to hunting. Nowadays, a hunter case is just an extra step to looking cool as it flips open with a button press and perhaps protects against pocket lint. The 983J is powered by Patek's 17"' SAV PS IRM. It's a 20-jewel movement with a 36-hour power reserve beating at 18,000vph.
Patek's pocket watches exist for those that move in the sort of circles where pocket watches are neither anachronistic nor ironic. At $55,590 for ref. 983J, it is not for those who are curious about "trying out" rocking the ol' pocket watch, though watches better suited for that are still made as well.
Seiko railroad pocket watch
Seiko is not an expected player in the modern pocket watch game, or at least it wasn't to me. Indeed, without some searching, one would never know that Seiko makes pocket watches — the brand doesn't exactly promote them. But by many measures, Seiko is the official watch company of Japan (sorry, Citizen/Casio fans). Japan has a long history of precision and perfection of craft. This includes almost every profession in Japan. As such, it should come as no surprise that strict uniform practices are enforced in many professions there. Train conductors are one such group subjected to exacting standards of dress and protocol. Part of the Japanese train conductor's uniform and set of tools is an official pocket watch. Guess who makes those pocket watches. That's right, Seiko.
The Seiko railroad pocket watch available today (SVBR003) has remained virtually unchanged aesthetically for 100 years. As pocket watches went extinct within other professions, Japan's Ministry of Railways doubled down and recognized the strengths a pocket watch offered train conductors. Seiko pocket watches have been the official watch for Japanese train conductors since 1929.
Solid specs for a hardworking tool watch
This reliance on a pocket watch is more than merely recognizing that a larger watch is easier to read. Japanese train control booths have cutouts that perfectly fit and display an official Seiko railroad pocket watch. Watches like the SVBR003 also have heightened magnetic resistance to about 200 gauss, which is important in environments like Japan's magnetic-levitation trains. The movements in Seiko railroad pocket watches nowadays are quartz for heightened reliability and accuracy. The movements average ±15 seconds per month and provide a 10-year battery life. However, it's the form of the pocket watch that's most important to Japan's conductors.
As Japan has a strong train-enthusiast culture, it makes perfect sense that Seiko makes its official railroad pocket watch available to the Japanese public for purchase. For railroad fans outside of Japan who are interested in owning one of these iconic tool watches, they'll have to find a specialized JDM (Japanese Domestic Market) watch reseller, of which there are many. Expect to pay around $230. For those of you not sold on the railroad connection, Seiko makes quite a few other JDM pocket watches too.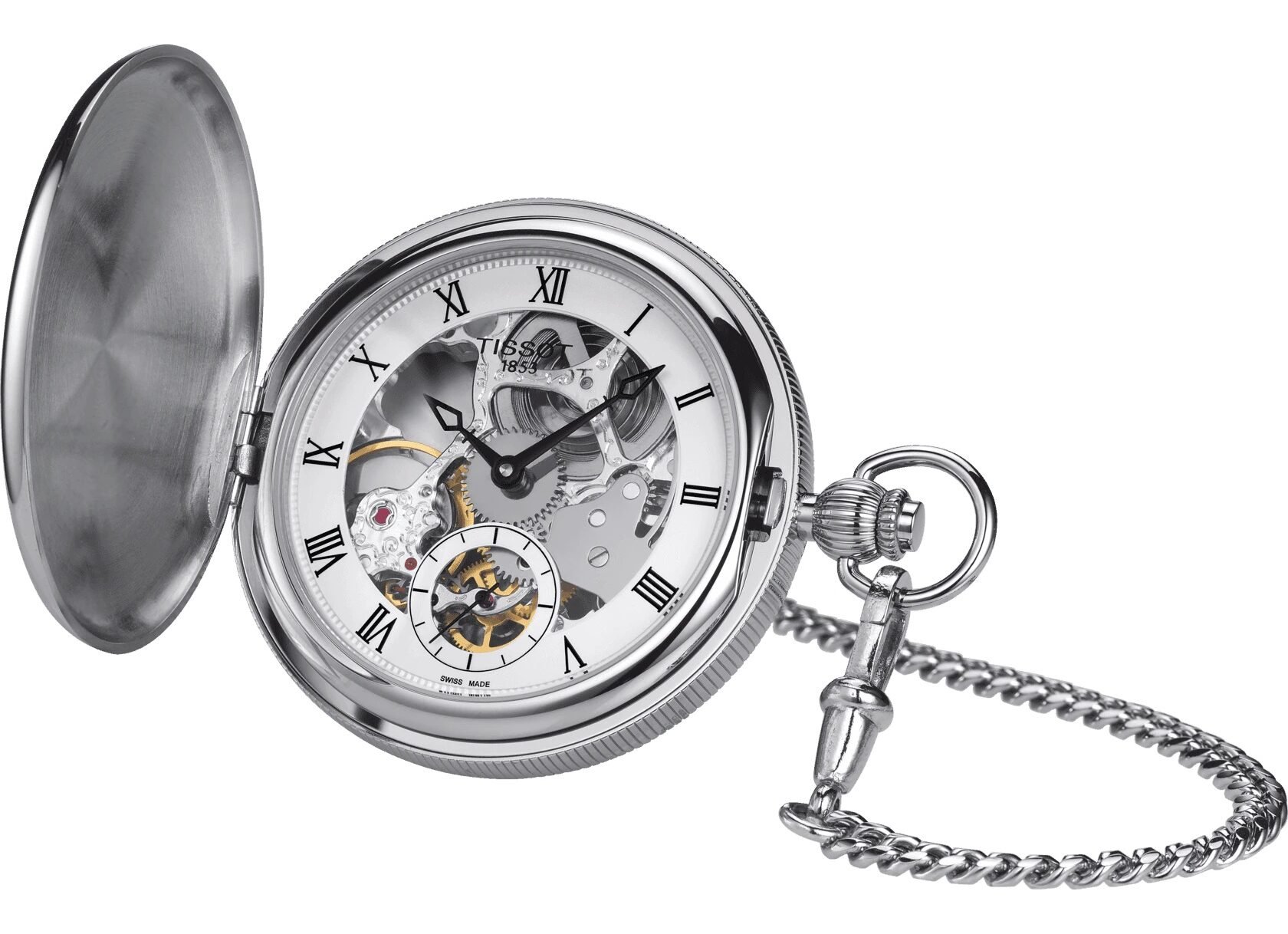 Tissot Bridgeport Mechanical Skeleton
As is apparent in its PRX line, Tissot is one company that's not afraid to lean into retro designs. But one wouldn't necessarily think that "retro" extended all the way back to pocket watches. And yet, Tissot offers a number of them.
Even if you're not into pocket watches, you have to admit that seeing so much of such a large watch is cool.
The most fun for me is Tissot's Bridgeport Mechanical Skeleton because what's the fun of a larger watch if you can't enjoy the larger movement? True, the ETA 6498-1 caliber within is nowhere near as mouthwatering as Patek's 17"' SAV PS IRM, but the massive, exposed mainspring counts for something. Also, both the back and front open on its 47.5mm stainless steel hunter case, revealing both sides of the movement. Even if you're not into pocket watches, you have to admit that seeing so much of such a large watch is cool. What exists of the dial is a tasteful ring of printed Roman-numeral indices and a running-seconds sub-dial ring at 6 o'clock.
The power reserve on the hand-wound 6498-1 caliber is a solid 46 hours. The case exterior features an intricate spiral design, and the water resistance is a splash-resistant 3 ATM. Tissot is asking $1,150 for this modern-day mechanical pocket watch.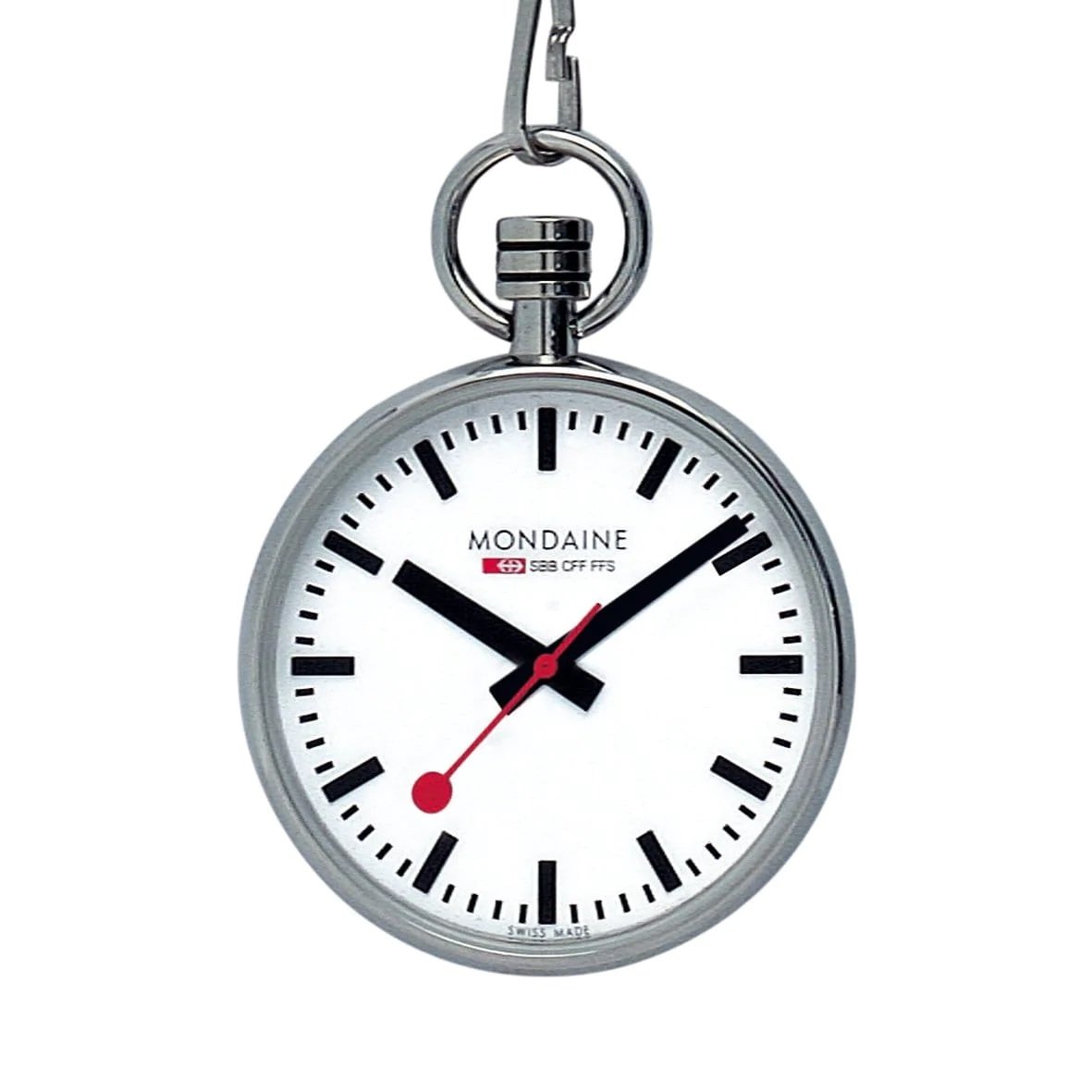 Mondaine Classic Pocket Watch
Mondaine does away with any emulation of or reference to vintage design. Instead, the brand employs its trademark white, red, and black recipe of a spacious dial with blocky indices and hands. The Mondaine Classic Pocket Watch is truly a contemporary offering that reminds me most of the watch my mother kept clipped to her briefcase years ago. The bright red lollipop hand ticks satisfyingly second by second with help from the Ronda 513S quartz movement within. The Swiss-made Ronda 513S has a two-year battery life and is accurate to within +20/-10 seconds per month.
Mondaine's offering is as minimal as you can get with a pocket watch. It's just a 51mm steel case housing a simple movement with a simple dial. It's simply a watch, and it's perfect for someone who just needs a watch and can't stand wearing one. In short, my mother, though even she has gone the way of the smartphone. Mondaine's Classic Pocket Watch is a reasonable $295.
So many pockets, so little time!
Finding modern-day pocket watches isn't easy, though I'm sure I didn't find all of them for this article. Which ones do you like, if any at all? Let us know in the comments below. Though really, aside from them being a little unwieldy, I don't see anything to not like about pocket watches. We lug our smartphones around everywhere with us already, right? What's one more thing in a pocket? Maybe if someone made pocket watches that we could play Candy Crush on, they'd be more popular. Oh wait, they already did — smartphones.
But regardless of how you feel about them personally, there's no denying pocket watches' long and interesting history in horology. For that reason alone and for those few still using pocket watches today, I applaud the few watch companies keeping the form alive. And who knows? Maybe pocket watches will make a comeback. Stranger trends have happened.
You can find more of me on Instagram @WatchingThomas