Hamilton Watches For The Festive Season Ahead — PSR, Intra-Matic, Jazzmaster, And More
That's right, it's that time again, folks!
Yes, believe it or not, we're barreling into the festive season once more. With Halloween in the books, attention shifts towards the gift-giving portion of the calendar. Hamilton has kindly provided us with some decidedly joyous images of the brand's big hitters for your consideration. In this holiday run-down we have some of our favorite pieces released in recent times. Including the Hamilton American Classic Intra-Matic Chronograph H, the American Classic PSR Digital Quartz, and the Khaki Field Mechanical Bronze among others.
While it's rare that yours truly receives a watch from my friends or family, I am a fanatical giver of the ticking marvels that occupy my life and mind. I enjoy sharing the hobby of watchmaking with all asunder. And while my present-buying habits may be somewhat one-dimensional, I'm yet to meet with any complaints. I hope this list can offer you some inspiration. Whether it is for watches you'd like to add to your wishlist. Or, if you're like me, watches you might be able to imagine on the currently-bare-or-befouled wrist of a loved one. Let's kick things off with an absolute stunner. A watch that wowed us all at Fratello HQ when we got the chance to see it in the metal.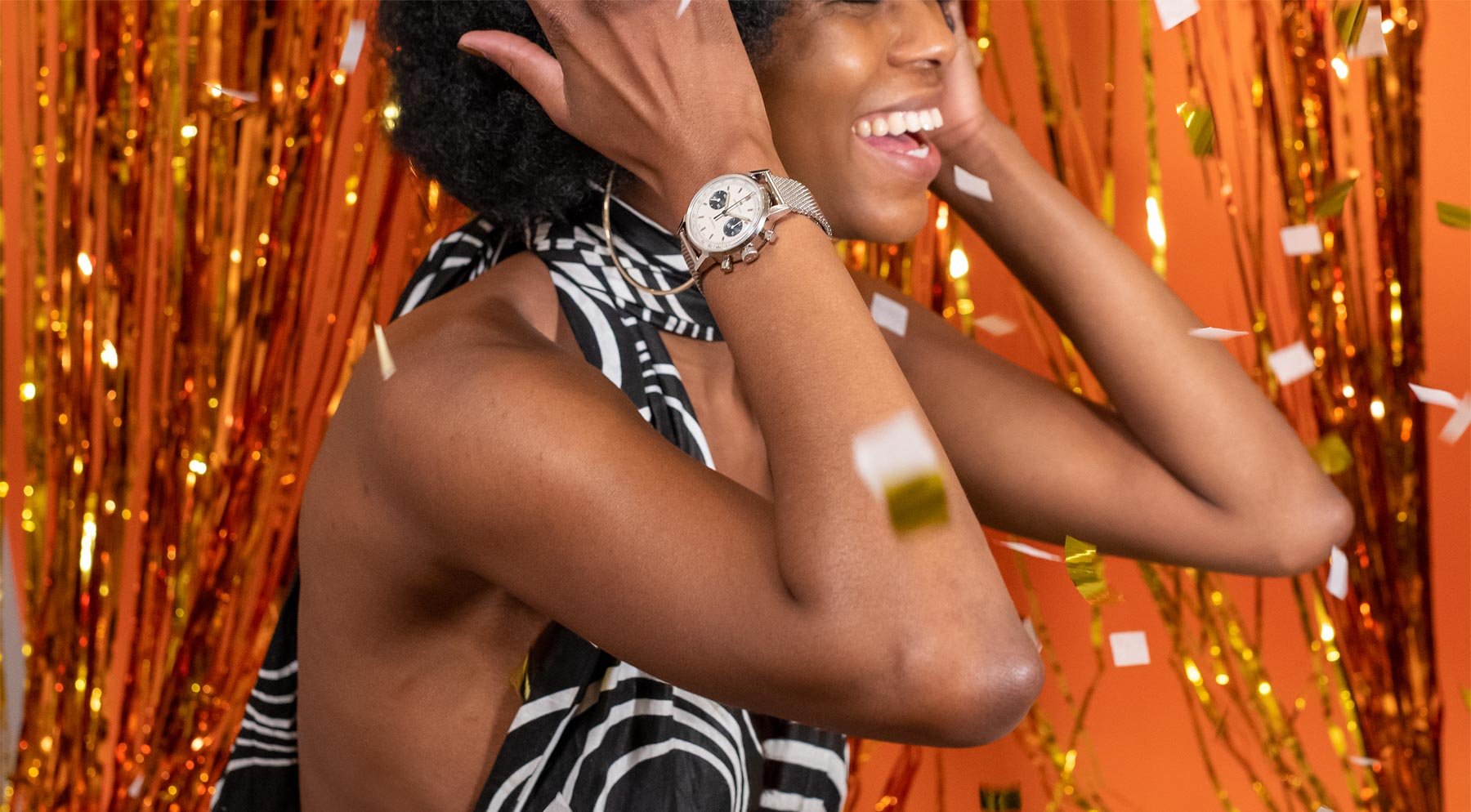 Hamilton American Classic Intra-Matic Chronograph H
Just like the woman in this picture, I would be overjoyed if I unboxed this beauty on Christmas morning. The Hamilton American Classic Intra-Matic Chronograph H took an already excellent model and, in my opinion, made it better by giving us a hand-wound version of the automatic model that was previously on the top of my Hamilton wishlist. The off-white panda dial pictured here was my favorite model. This colorway brings warmth to a design that I'd previously thought to be borderline unimprovable.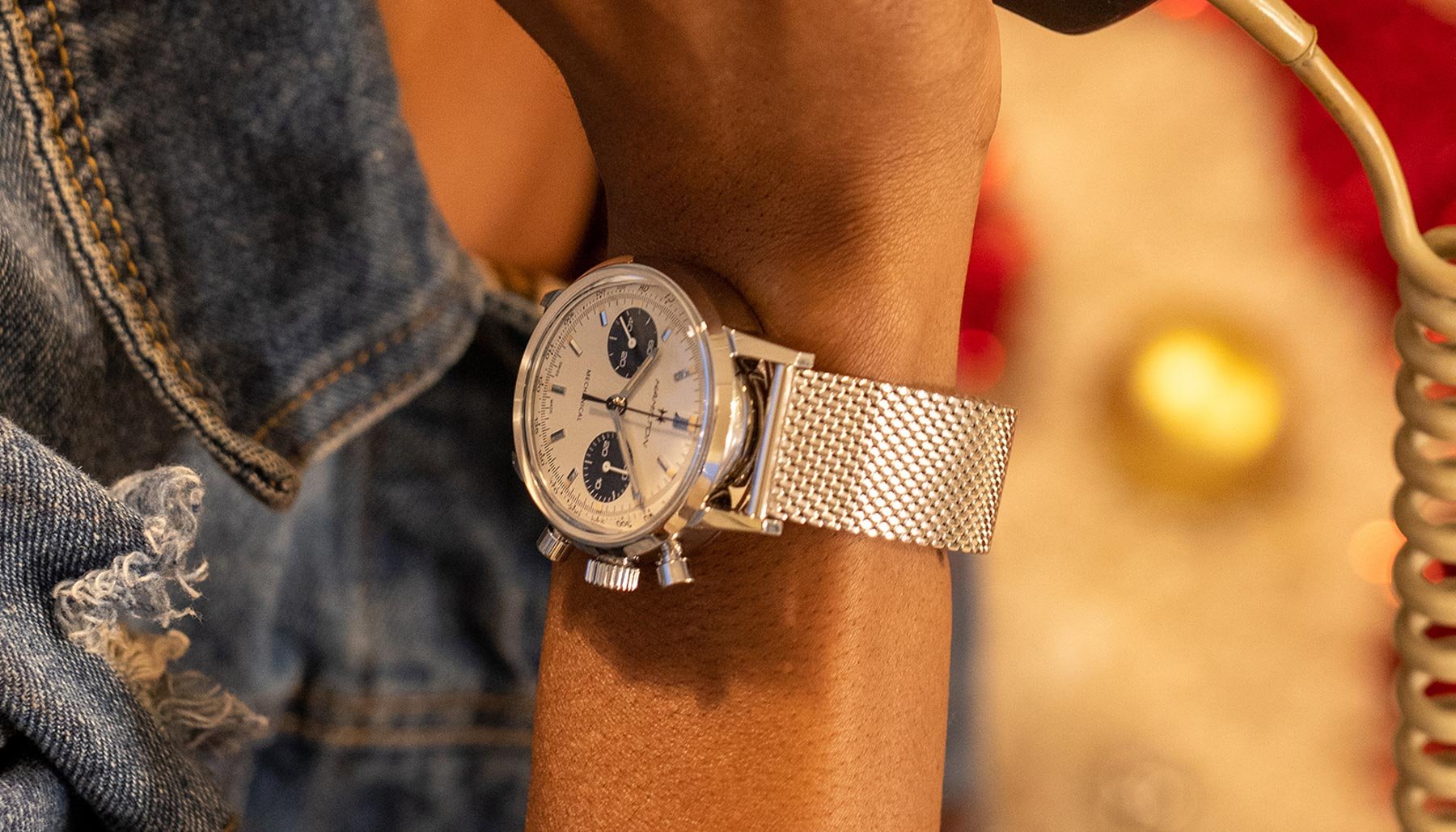 Aside from the style-appropriate manual movement, this watch offers a marginally slimmer case from its automatic counterpart. The 40mm diameter remains constant, but the watch drops from 14.45mm tall on the wrist to 14.35mm. That isn't a huge change but due to the tachymeter scale shifting from black on the auto to off-white on the auto, the dial itself appears larger. This adds to the overall reduction in perceived size when worn. Additionally, the "old radium" style lume, the absence of a date function, and the space afforded the single word — "mechanical" — between 6 and center, makes for a glorious display that I doubt Hamilton will be able to top. At a shade over CHF 2,000 on the bracelet, this watch is a standard-bearer for the value-for-money major group brands can offer.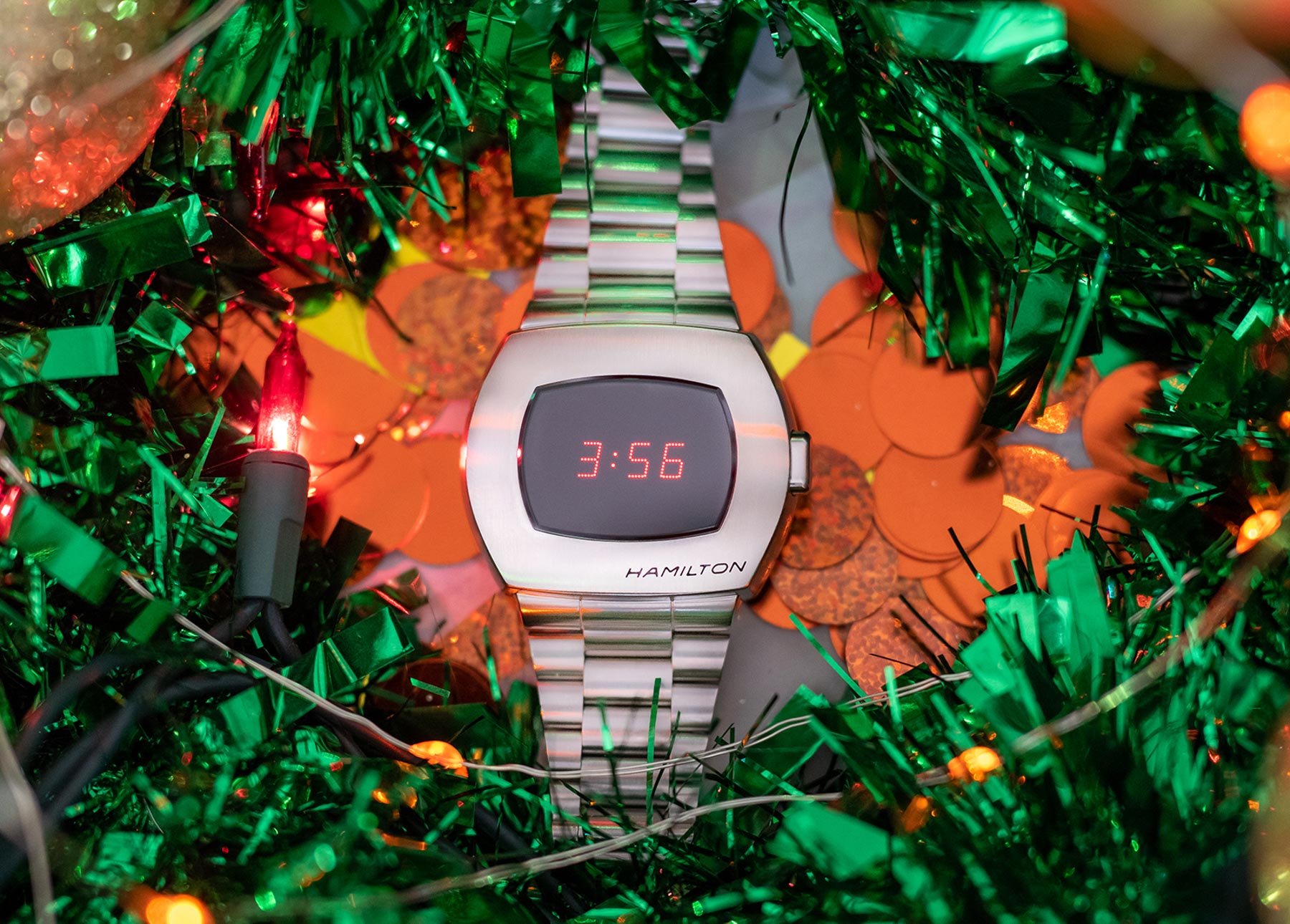 Hamilton American Classic PSR Digital Quartz
In the watch world, the word unique gets thrown around like a worn-out baseball. When it comes to the inspiration that led to the (re)creation of the Hamilton American Classic PSR Digital Quartz, however, the word would've been apt at the time. The original, Pulsar watch was made extra famous by Roger Moore's James Bond wearing it in a memorable scene of Live And Let Die. Its cushion-shaped case measures 40.8mm by 34.7mm and is made from stainless steel.
…this quartz-powered icon is surprisingly fit for purpose…
While it looks a bit chunky, its thickness is actually a very wearable 12.3mm. And its bracelet, while 24mm at the lugs, tapers significantly for a comfortable experience on the wrist. With a water resistance of 100 meters, this quartz-powered icon is surprisingly fit for purpose and particularly attractive given its accessible price point of CHF 745.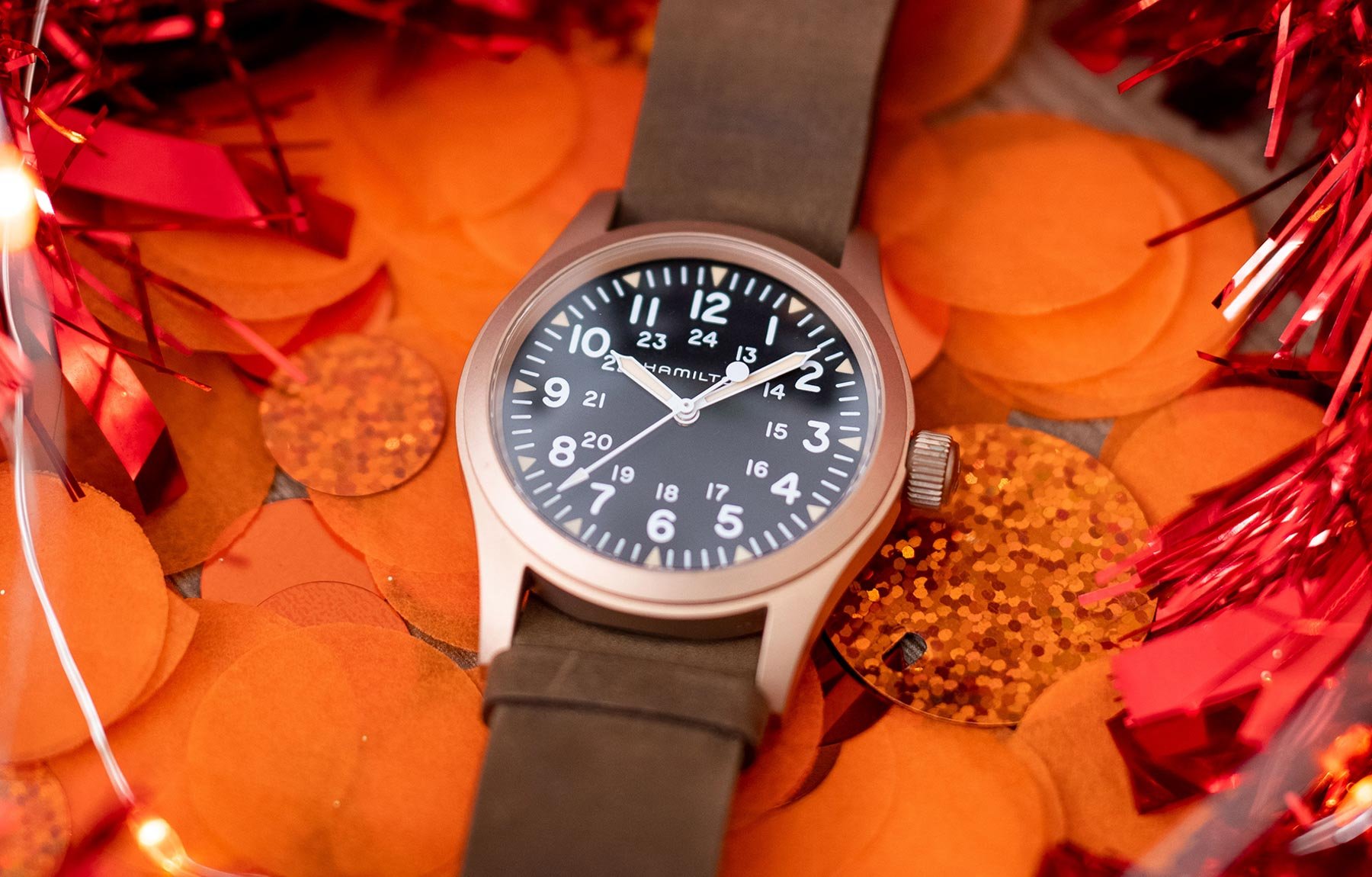 Hamilton Khaki Field Mechanical Bronze
This has to be, hands-down, one of team Fratello's most beloved watches of the past couple of years. The 38mm case size and classic dial layout have made the model (in both steel and bronze) incredibly popular. So much, four team members own one of these bronze beauties. One of the nicest things about this model is how lightweight it is. This is enhanced by its titanium case back, which also makes it very comfortable to strap on given titanium's incredible inertness. Unlike steel, it doesn't react to temperature changes, in the same way. This means that it often feels warmer to the touch even after it has been off the wrist for a while.
…an incredible 80-hour power reserve.
Those aspects, coupled with this model's affordability (retailing at just €795) make it a smashing choice for the experienced collector looking for a daily knock-around piece, or a neophyte watch collector that would appreciate a credible mechanical timepiece for not much money. Add to the equation that this sub-€1K model is powered by the Hamilton H-50 movement. A hand-winding caliber which boasts an incredible 80-hour power reserve. The 9.6mm thickness and the soft brown calf leather NATO with titanium ardillon buckle should also not be ignored for out-of-the-box approachability.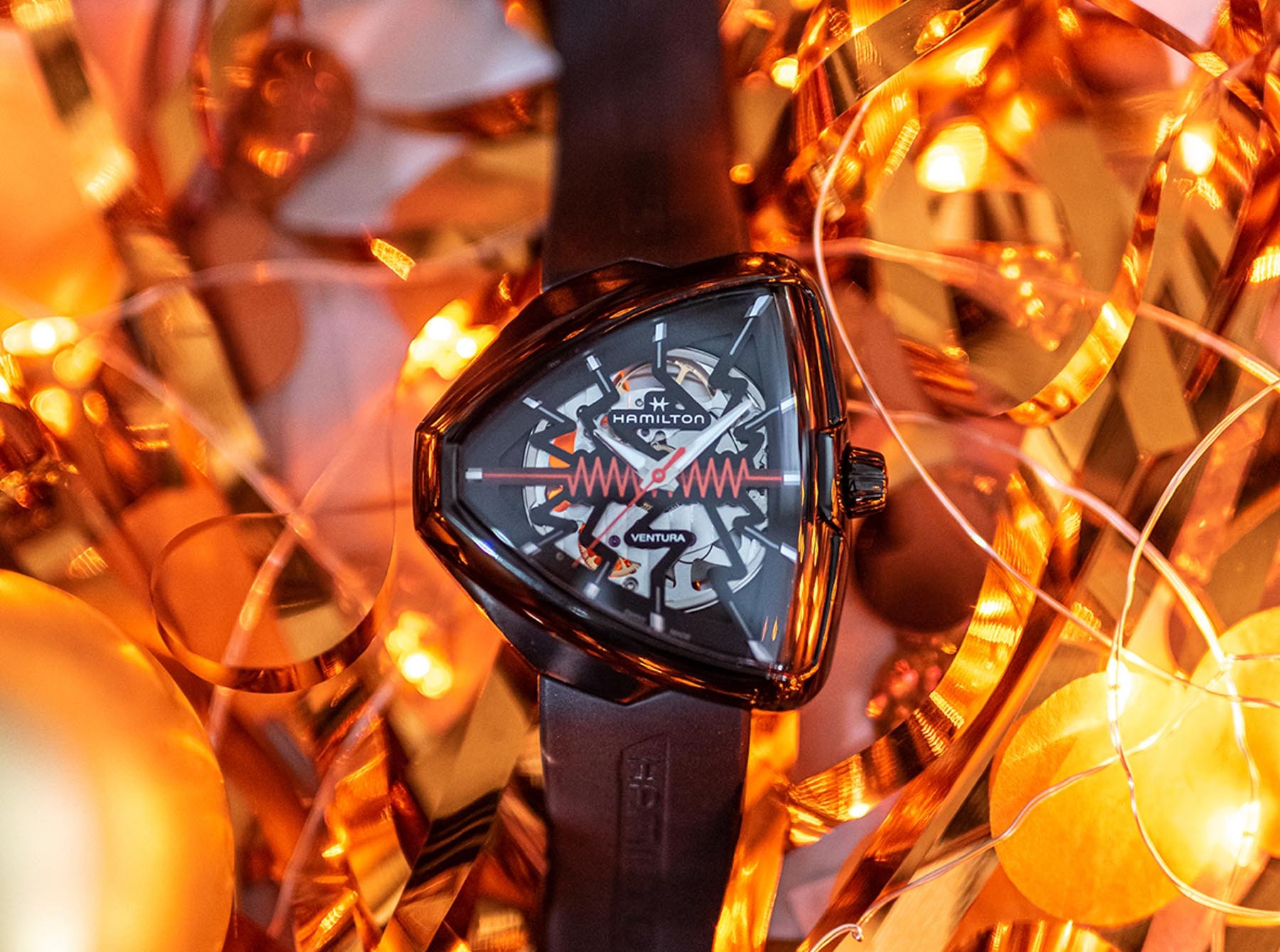 Hamilton Ventura Elvis80 Skeleton Automatic
And not for something entirely different… Where the bronze-cased Hamilton Khaki Field is a watch for all seasons, the bombastic Hamilton Ventura Elvis80 Skeleton Automatic is a showstopper sure to divide opinion. This model would suit fans of The King as well as dedicated followers of fashion looking to make a splash with this 42.5mm by 44.6mm black PVD-coated wrist maniac. Truthfully, black and white dimensions have never meant so little. This is a model that needs to be worn to be believed. Luckily, a pleasingly palatable 12.33mm thickness makes that possible. This model also features a fine 80-hour power reserve, but this time comes courtesy of an automatic winding movement.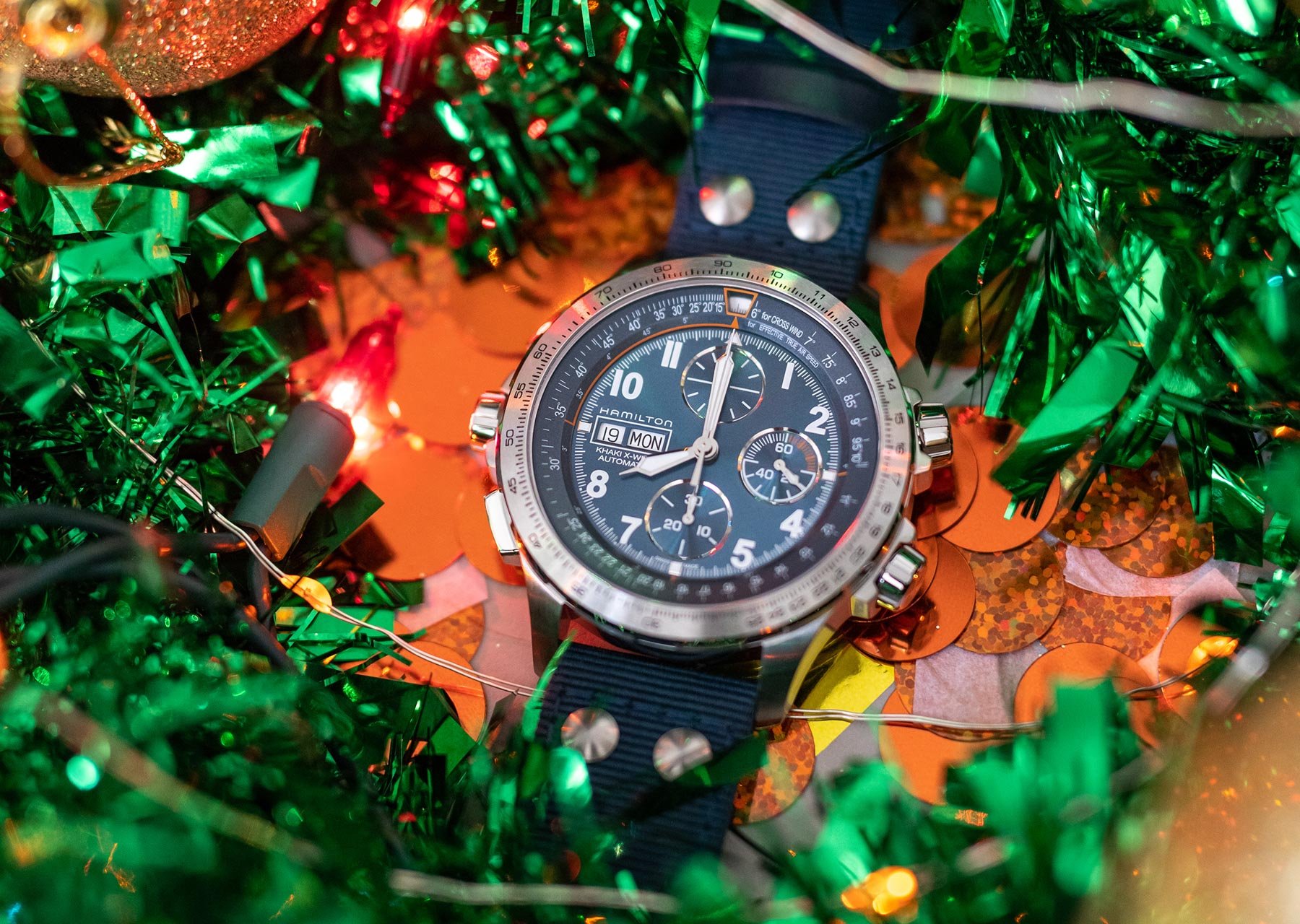 Hamilton Khaki Aviation X-Wind Auto Chrono
I was lucky enough to review the new 45mm Hamilton Khaki Aviation X-Wind Auto Chrono when it came out. If you'd like to read my in-depth explanation of what the fancy numbers and scales on the dial mean, please check out this article here. Now, this model is a bit more serious than some of the others on this list. Both in terms of both price and functionality. It also represents a high point for a brand commonly associated with and very proud of its history in aviation.
…the change-up from the steel case to either a leather or textile strap helps dilute the wealth of information on the display.
At CHF 1,950, it still sneaks under the €2K boundary but, unlike the first model on this list, doesn't boast a metal bracelet. For me, that's never been a problem when it comes to the X-Wind models. I feel the change-up from the steel case to either a leather or textile strap helps dilute the wealth of information on the display.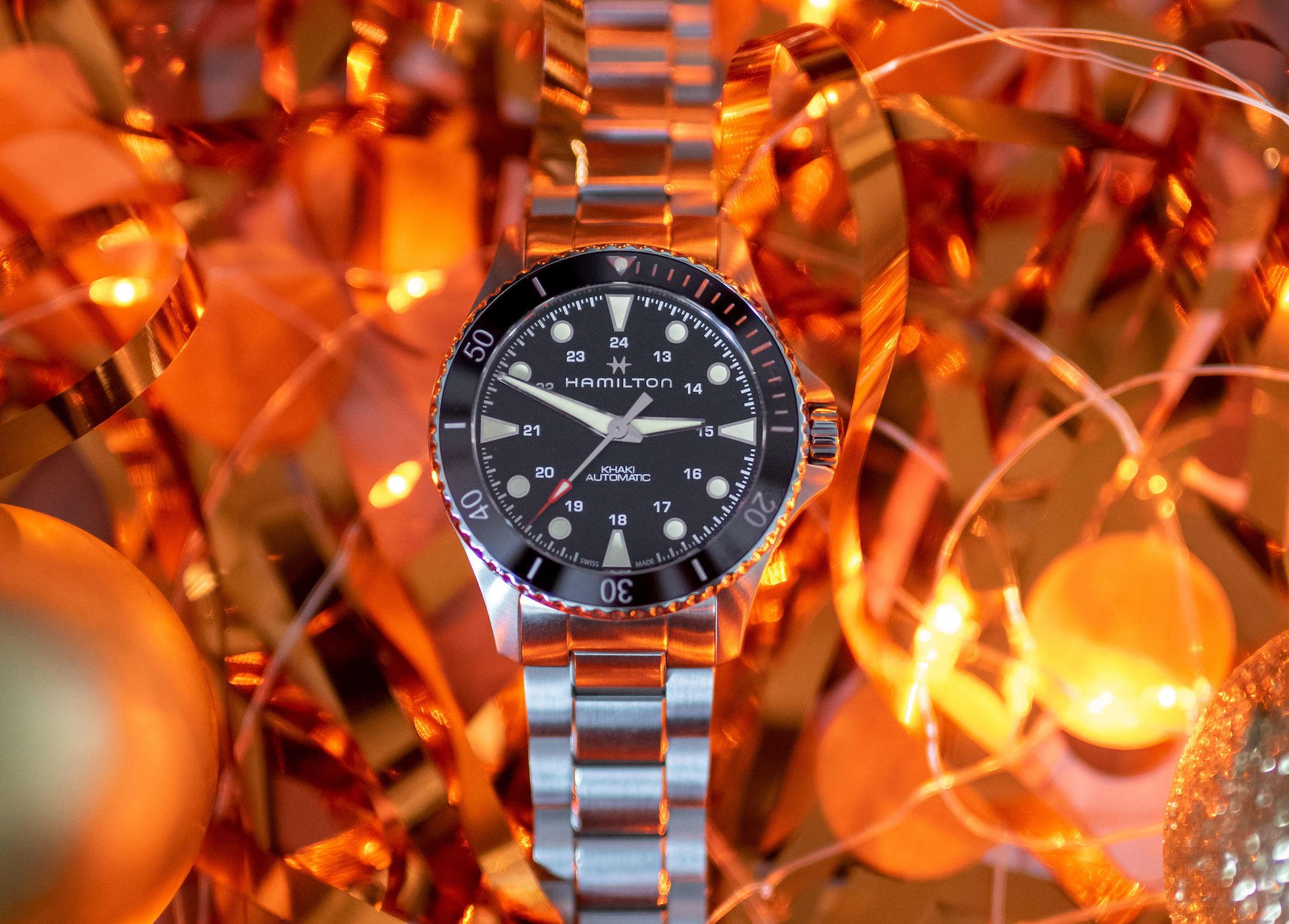 Hamilton Khaki Navy Scuba Automatic 43mm
For the Action Man or Woman in your life, the 43mm, 300-meter water resistance Hamilton Khaki Nacy Scuba Automatic is a serious consideration. Especially given its crazy level of performance for a sub-€1K watch from such a prestigious brand. Models like the Khaki Navy Scuba Automatic always remind me of exactly what the advantages of being part of a major conglomerate look like from a product perspective. The specs, and, of course, the build quality, of this model from an independent, just wouldn't add up to the CHF 995 price tag. The presence of Super-LumiNova on the dial and the Nivachron balance spring further hammer home how serious a piece of kit this model is.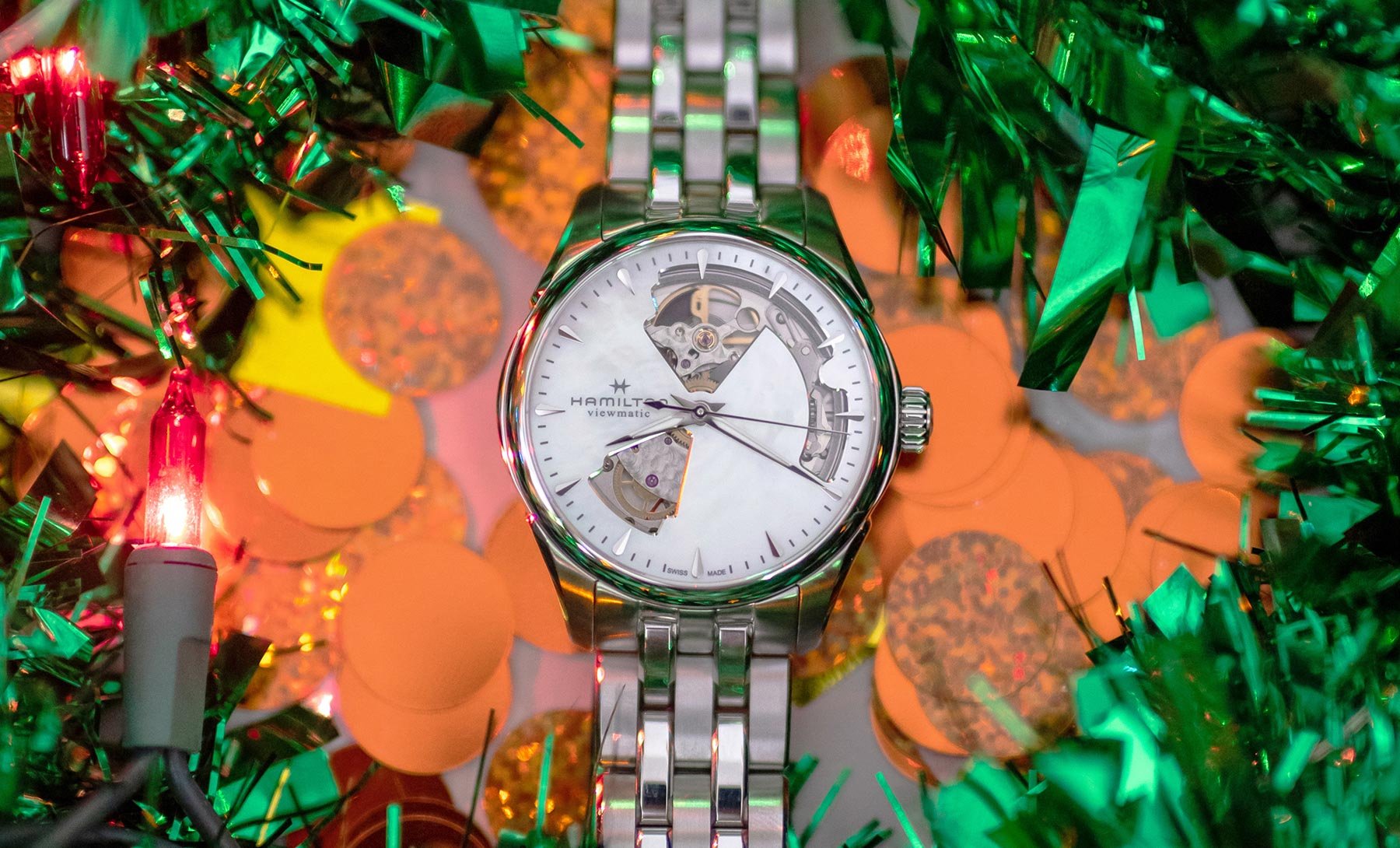 Hamilton Jazzmaster Open Heart Lady Auto 36mm
Open heart dials are not for everybody, but they certainly have their fans. Mixing the fluttering visage with a Mother of Pearl dial adds further visual interest that will mesmerize its intended audience, I'm sure. Delivered in a 36mm case, this 10mm thick model has a versatile 18mm lug width. So, even if the butterfly clasp bracelet is not to your liking, you can find myriad aftermarket options to dress this model up or down appropriately. Again, despite its diminutive size, the Hamilton Jazzmaster Open Heart Lady Auto 36mm is powered by the H-10 automatic movement. This means that it provides an 80-hour run time on a full charge.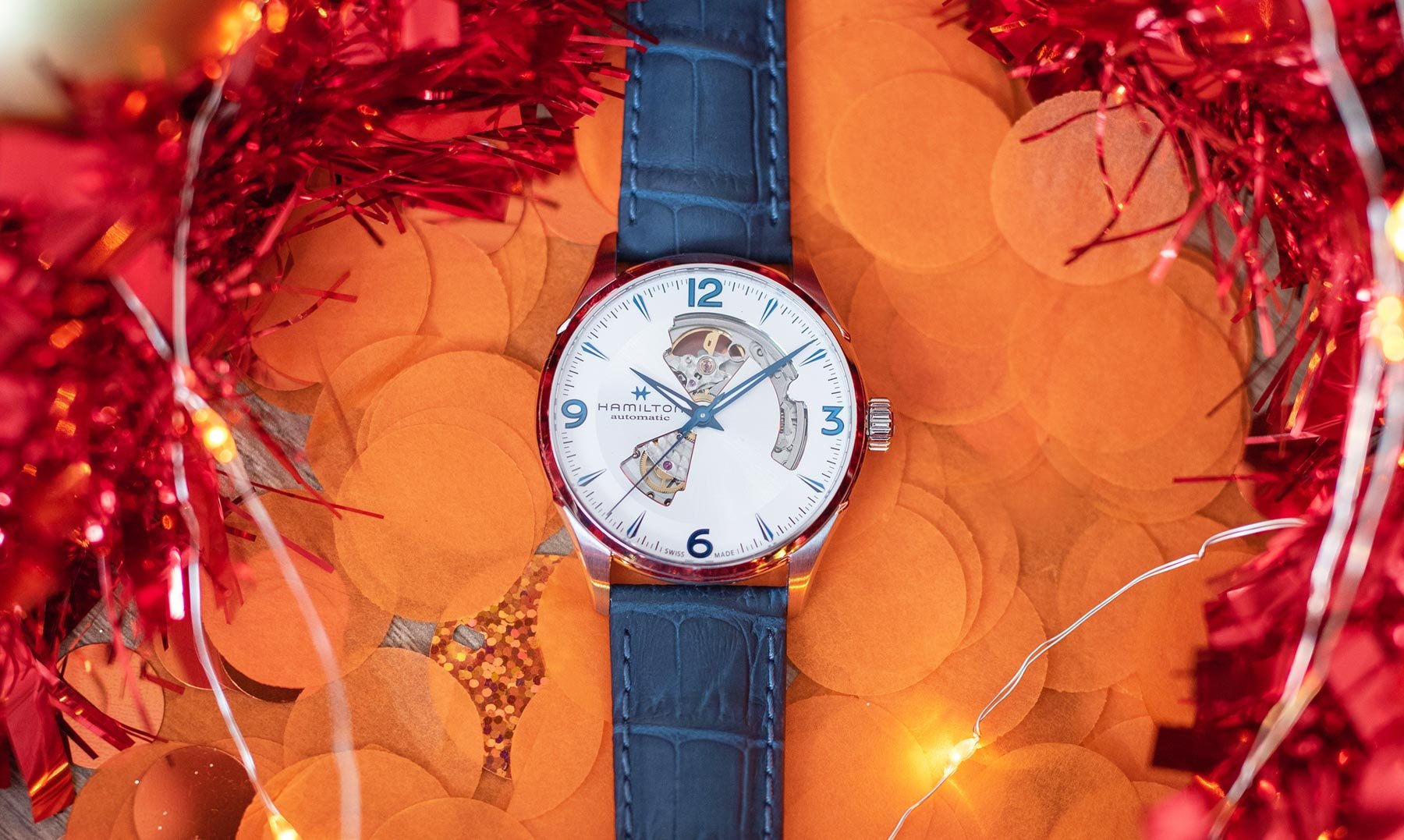 Hamilton Jazzmaster Open Heart 42mm
The last model on our festive rundown is the Hamilton Jazzmaster Open heart 42mm. In addition to its larger case diameter (42mm), this model adds four Arabic numerals to the cardinal points of the dial. The skeletonization is the same shape and reveals the same portion of the movement as the 36mm MoP version. Obviously leaves a bit more surrounding real estate to play with. A silvered dial replaces the Mother of Pearl display and blue hour markers replace the silver alternatives of the smaller model. A nice touch for sure!
The 22m lug width is similarly versatile, so this model could happily accept a more neutral leather strap. Or it could have its appearance changed entirely by an alternative material. The case houses the H-10 Automatic caliber and offers 50 meters of water resistance. The price? An attractive CHF 995 on the leather.
Learn more about Hamilton and discover its full range here.