Hands-On: The Benrus Type II — Spending Some Time With This Vietnam-Era Reissue
Did Benrus capture the magic of the 1970s original with the reissue of the Type II?
There is no shortage of reissue watches in today's market. It seems we have a taste for vintage aesthetics combined with modern reliability and ready availability. It is a winning recipe, and Benrus is tapping into it once more with the Benrus Type II. I have spent some time with this one on the wrist to see if Benrus managed to bring the Vietnam-era military vibe.
Previously, Benrus reissued the Type I, which is nearly identical to this Type II. The difference is in the dial. Whereas the Type I is fitted with a dive-style dial, the Type II's dial has more of a field watch design. A double array of Arabic numerals displays both civilian and military time. Other than that, there is one big difference — the movement. Benrus caught some criticism for the use of an atypical ETA caliber with a phantom date position on the Type I reissue. The brand corrected that with a new caliber choice here.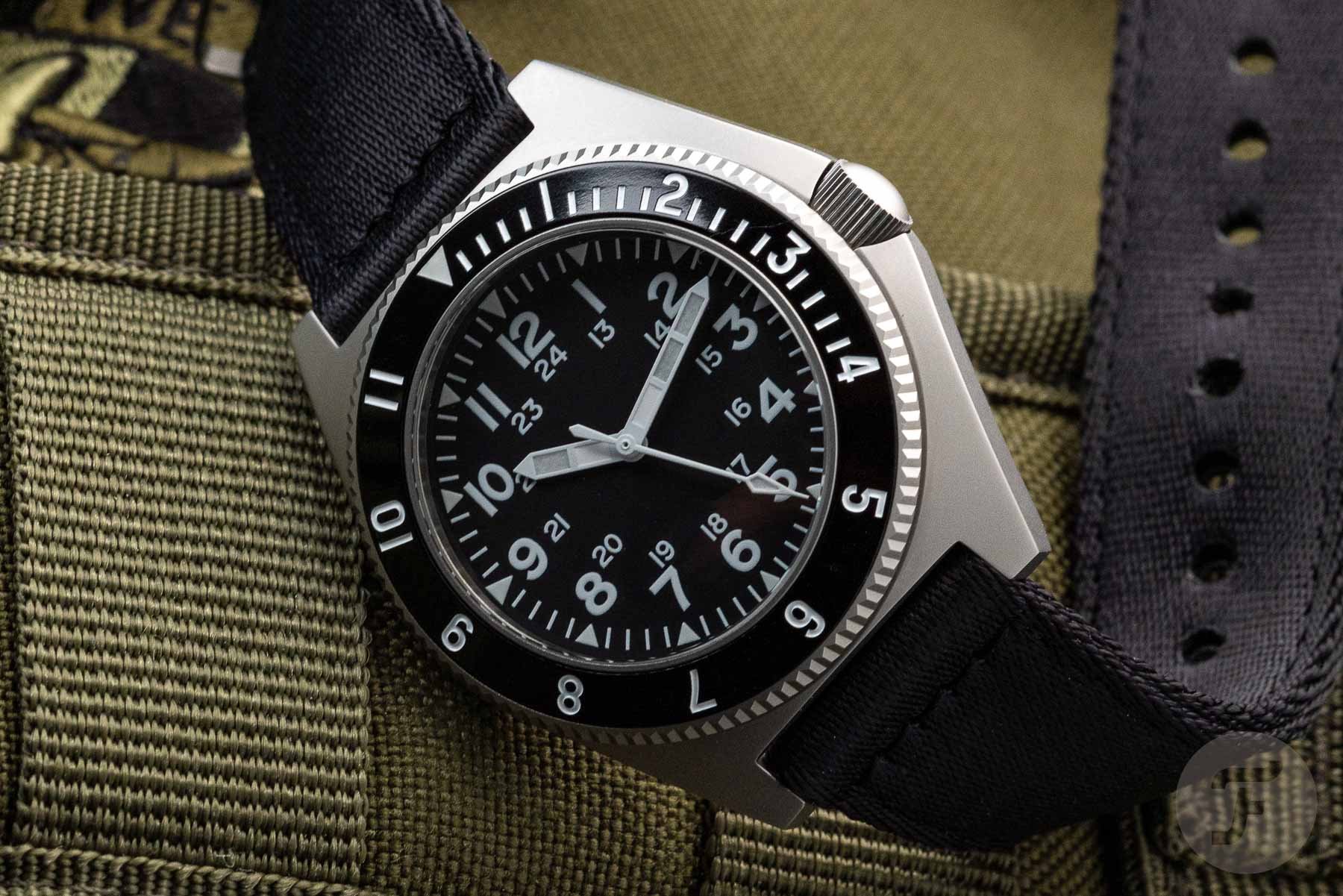 Some history on the Benrus Type II
In 1970, with the Vietnam War still raging, the American government issued the military specifications MIL-W-50717. These specs described a wristwatch in the style of a heavy-duty and super-legible dive watch. Among other brands, Benrus answered the brief with the Type I and Type II in 1972.
The watches featured asymmetrical cases in bead-blasted stainless steel. The wider right side of the case served as a crown guard. A friction-based rotating bezel was fitted with an acrylic inlay. The clear inlay featured recessed and painted numerals on the underside, resulting in a cool 3D effect.
Both the Type I and Type II came in Class A and Class B versions. The difference was the absence of lume on the Class B. When used on nuclear submarines, the radioactive tritium could disturb some of the onboard instruments, so a non-lumed version was required. The watches would remain in production unchanged until 1980. An estimated 16,000 pieces were produced in total. All of them were issued to military personnel, and none were sold publicly.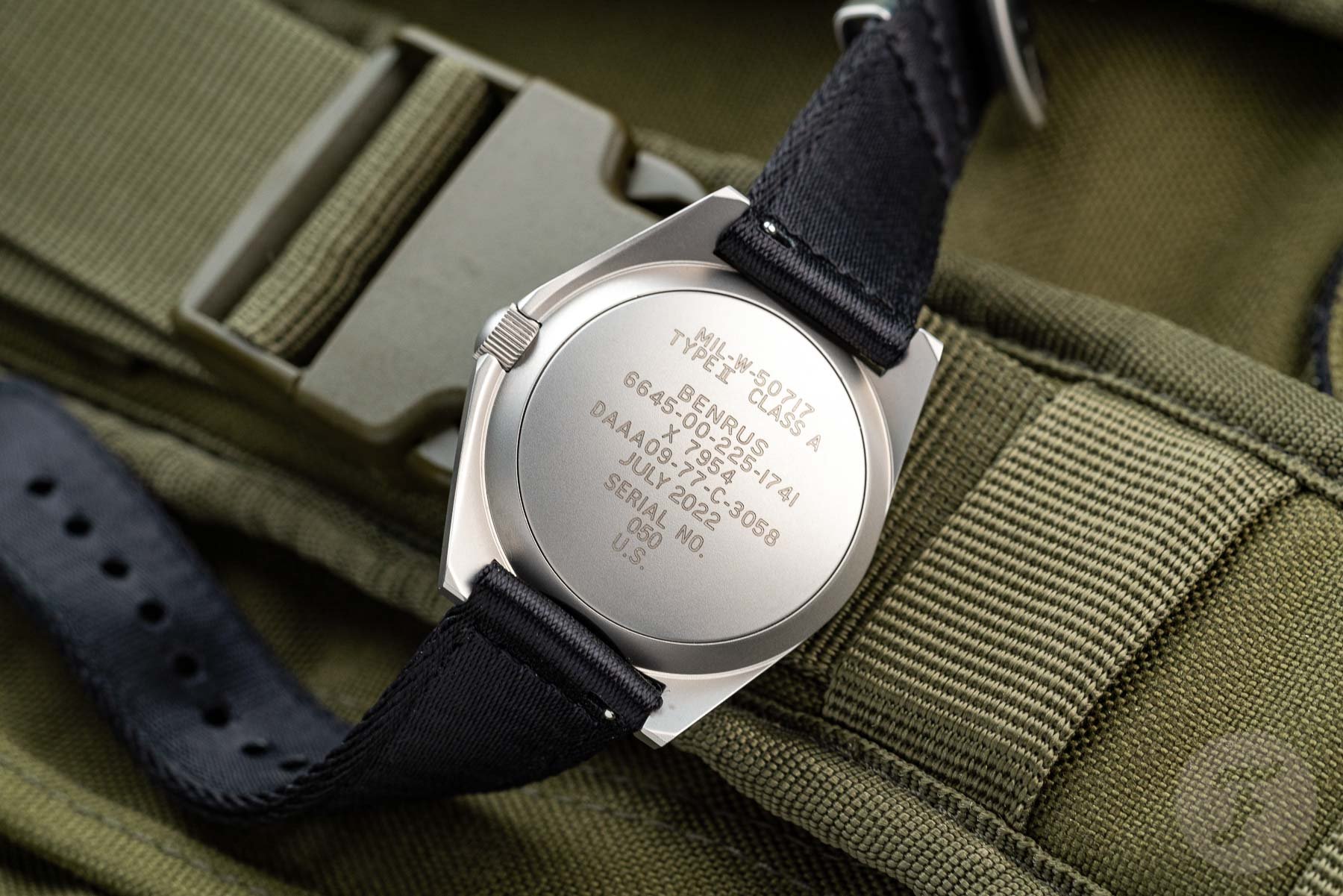 Bringing the Benrus Type II to 2022 spec
At first glance, the reissued Benrus Type II looks exactly like its predecessor. In fact, Benrus has a fun little slider on its website that allows you to compare the two. The visual differences are negligible. Still, there is quite a lot that has changed.
For starters, we find a different engine under the hood. The originals were fitted with ETA 2620 calibers. The new one is powered by the Soprod P024 movement. It is an automatic caliber with a 38-hour power reserve. Benrus does not specify its accuracy. While the originals were top-loader designs, a neat screw-in case back is used on the reissue. This should allow for easier servicing.
The acrylic crystal has been replaced by a sapphire specimen, and the acrylic bezel insert is now aluminum. It has deeply etched and paint-filled numerals but lacks the cool 3D effect of the original. Lastly, the original had a lug width of 19.5mm and fixed bars. The reissue has a more practical 20mm lug width and regular lug holes for use with spring bars.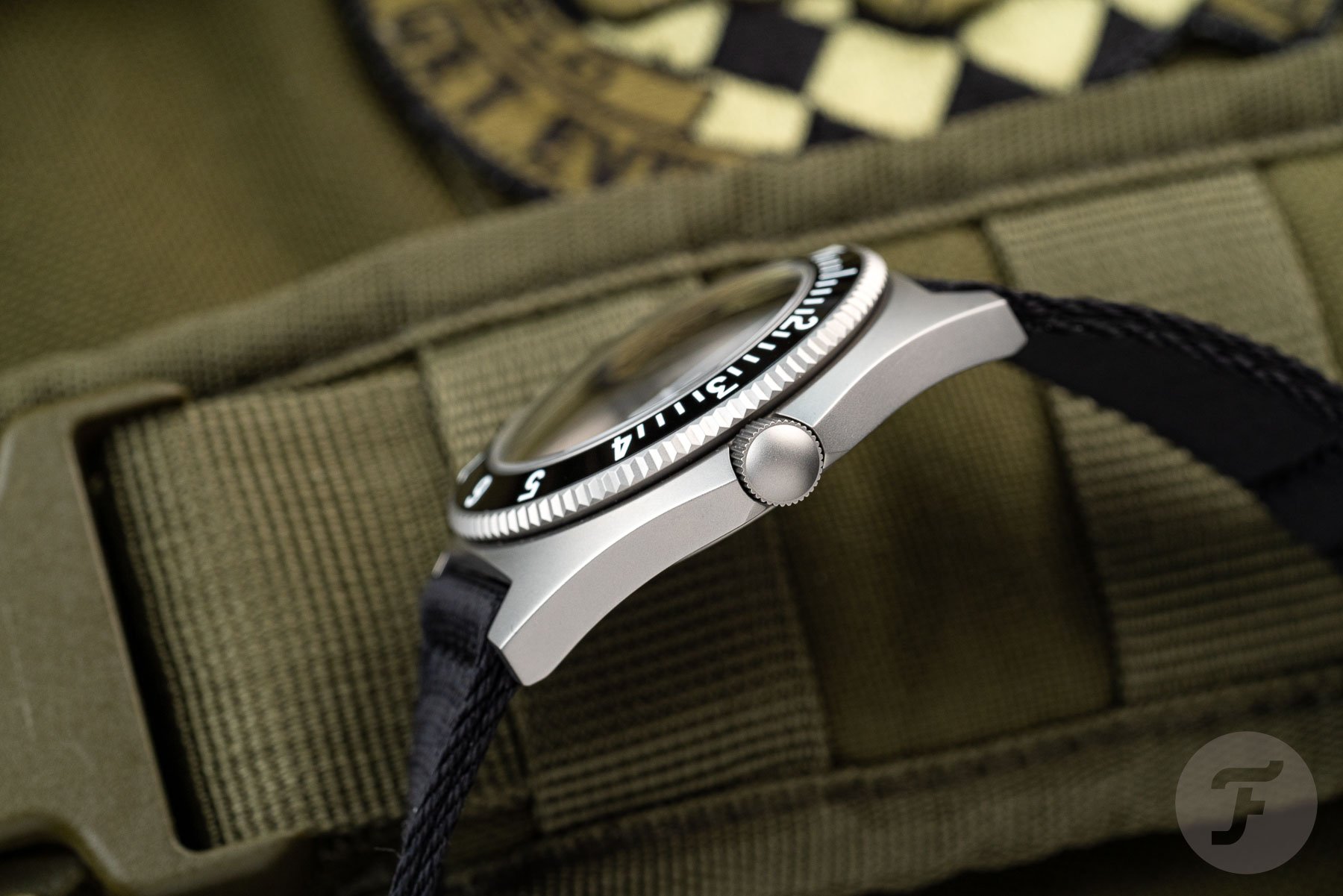 Having a look at the design
Owning a Marathon Military Navigator, I am quite familiar with the general shape of this style of watch. Admittedly, the Marathon is built to MIL-PRF-46374G spec, but the result is rather comparable from a visual perspective. It is a look that I like, and I had my eye on Benrus for a while before this review unit hit my desk.
The Benrus Type II has quite a busy dial layout due to the double array of numerals. Add to that the minute track and triangular lume plots, and you have quite a lot going on indeed. Still, looking at the Type II from a distance, it is super clean. It probably has a lot to do with the lack of branding and other text, but this watch looks purposeful.
In hand, there is a lovely pebble-like quality to this watch. The smooth texture of the blasted case combined with the domed crystal and bezel makes for a very soft shape. It feels like it has been on the bottom of a river for twenty years. And I mean that as a compliment. You know this will be a comfortable watch to wear before you strap it on. And although it is a chunky and heavy watch, it is very comfortable indeed.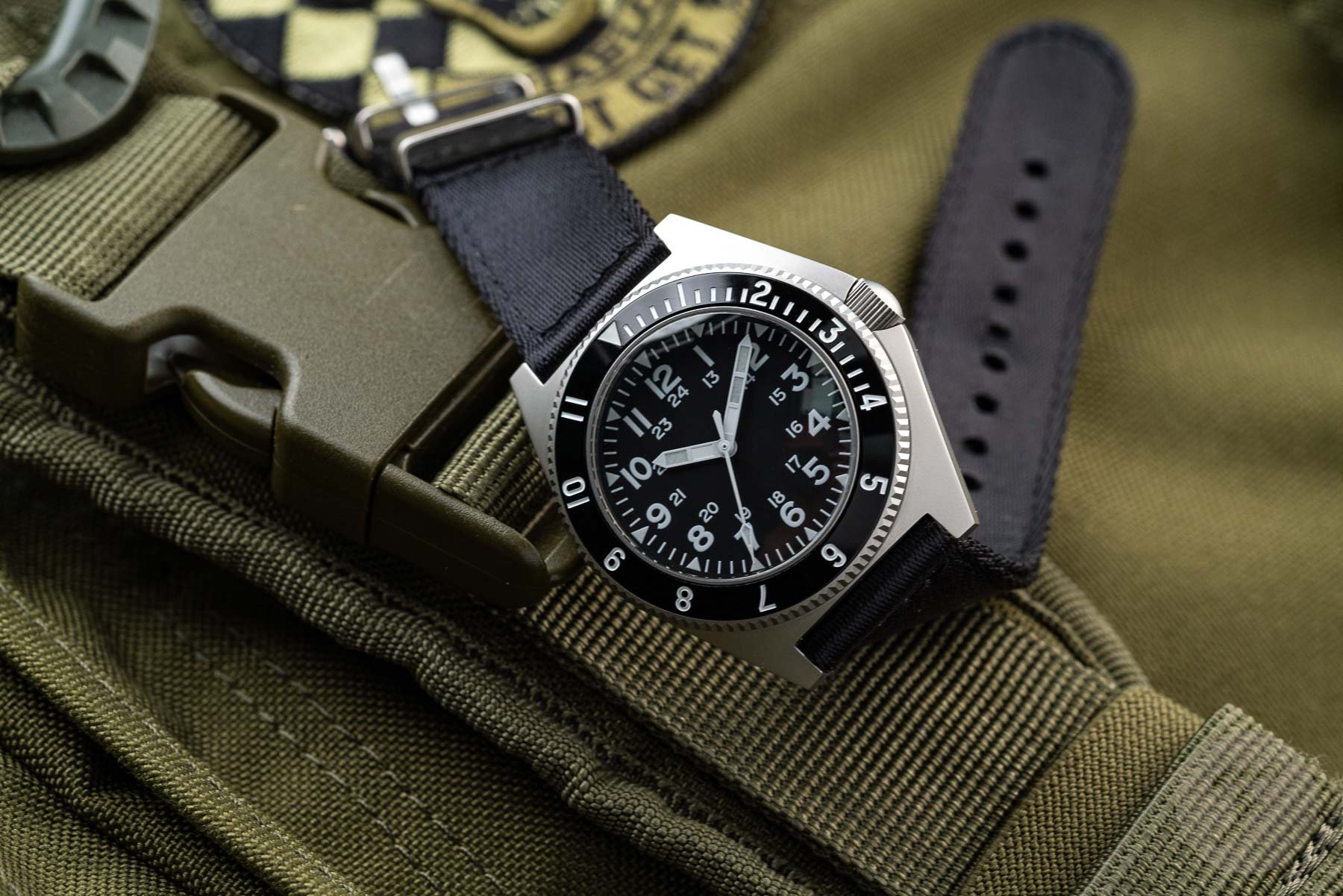 The Benrus Type II strap
When I first opened the no-nonsense Benrus zip pouch, I was not instantly feeling the standard strap. This is a two-piece black seatbelt nylon strap with quick-release spring bars. It has the same gloss as your typical actual seatbelts, although it is a lot softer to the touch.
My first impression was that the black did not really make the watch sing. It was a bit bland. The glossy nylon did not sit quite well with me either. After a couple of days of wearing it, though, it started to make sense to me. While this might be a beast of a watch in terms of ruggedness, it is also discreet in the military sense. It was made to perform without drawing unwanted attention, and this strap is very much in line with that vibe. The subdued combination makes the watch feel like a very capable piece of gear that nobody will ever notice. It has an enjoyable humility to it.
If you want a little more pop, you can add a tan strap for an extra $34.95. I would certainly tick that box at this price, especially since the quick-release spring bars allow you to swap them out in seconds. The one criticism that remained was the fact that the strap hardware is brushed, while the watch is blasted. It does not match, and that is a shame. This was one place where a 2022 update would have looked good.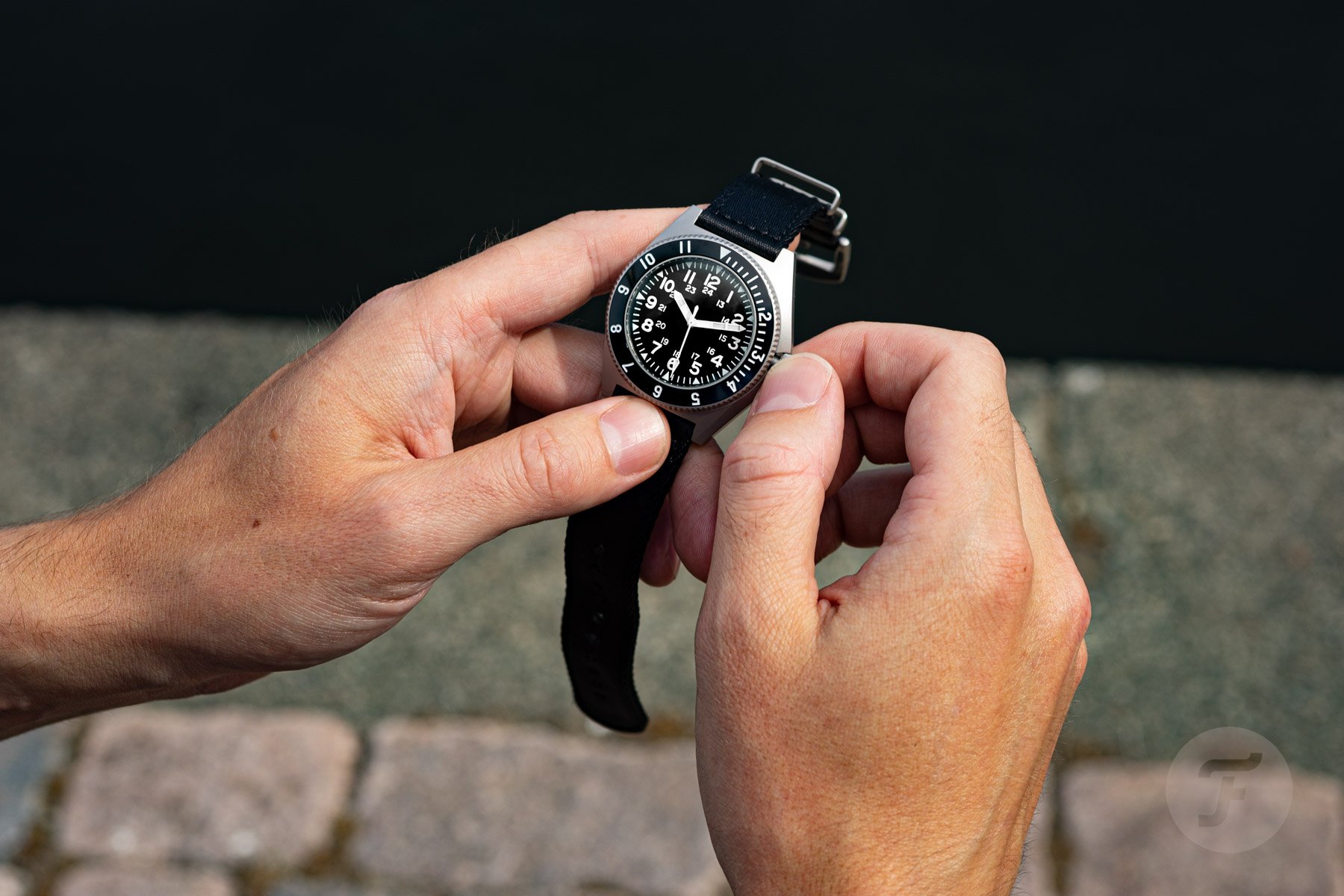 Performance
There are no two ways about it. This is a tool watch in its purest form. The original was military-issued only, and the reissue is arguably even tougher. The Benrus Type II is all about performance, and I am happy to report it feels that way. It really does feel like a chunk of steel on the wrist. It is weighty and feels rock-solid. Or maybe I should say "pebble-solid". It feels like you could knock out enemies and deflect bullets with it.
After the strap, I had one other initial disappointment — the lume. The white BGW9 Super-LumiNova glows blue, but it does not exactly light up the room. It might be tempting to compare it to your average Seiko and conclude it is sub-par. Then again, it is in perfect harmony with the philosophy of this watch. It glows just enough for you to read the time. Anything more is just unnecessary glitz. And the Benrus Type II does not do glitz.
Once you start looking at this like a true military watch, it makes a lot of sense. The caliber is basic but reliable and easy to service. Remember that the Soprod P024 is basically just an ETA 2824 in architecture. There might be no accuracy claims and a modest 38-hour power reserve, but what else do you need? Screw down the crown and you have got 300 meters of water resistance. A friction-based bi-directional bezel completes a purely functional and no-frills package. It just works. And that has its own kind of charm.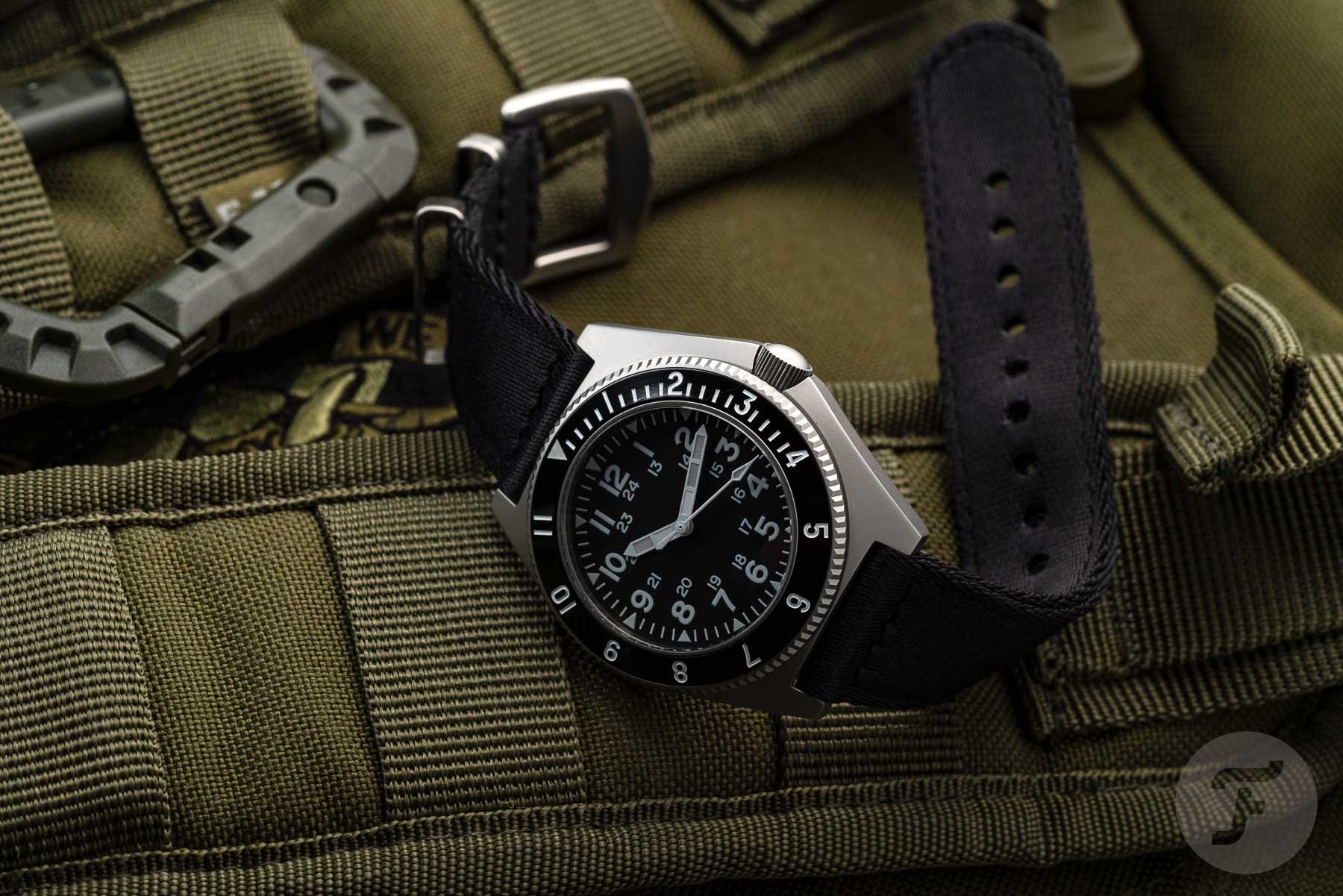 Closing thoughts on the Benrus Type II
The Benrus Type II really grew on me. I liked the looks from the beginning, but it slowly charmed its way even deeper into my heart. It reminds me of people who combine great talent with genuine modesty. Those are the best people to be around if you ask me. The Benrus Type II is the watch equivalent. It is highly capable but does not flaunt it.
I think this watch might appeal primarily to the well-initiated watch lover. It does not have the obvious impressiveness you might be looking for when you first enter the watch world. At some point, however, you will find yourself longing for something like this. Something that will not get you any compliments at a birthday party. Something that, at the same time, does thoroughly impress you. A little private affair between you and your watch.
To me, that is just cool. What do you think?
Benrus clearly succeeded in reviving the Vietnam-era military-watch vibe. I have handled my fair share of authentic military watches from the likes of Hamilton, Smiths, Benrus, Seiko, and Glycine. The Benrus Type II takes that precise vibe and transports it to 2022. I think the brand struck the right balance between authenticity and updated modernity.
The Benrus Type II is limited to 500 pieces. It is now available via the Benrus website and retails for $1,495. Let us know your thoughts on this reissue in the comments below.
Watch specifications
Case Material
Bead-blasted 316L steel
Case Dimensions
42.5mm × 15mm × 47.5mm lug-to-lug
Crystal
Double-domed sapphire
Case Back
Screw-in with laser engraved military specifications
Movement
Soprod P024 automatic
Water Resistance
300 meters
Strap
Two-piece seatbelt nylon
Special Note(s)
Limited to 500 pieces