Hands-On: Formex Essence Leggera FortyOne — Exotic Materials Done Right
Sometimes you like a watch way more than you expected to
I recently reviewed the Formex Reef GMT. As much as I admired that watch, it did not quite strike a chord with me. It was a tad too elaborately styled for my liking. I hinted that I would try another Formex that might be more up my alley. I strapped on the Essence Leggera FortyOne for a few days of testing but ended up wearing it for several weeks. In fact, the Formex Essence Leggera played a funny little trick on me…
The Formex Essence Leggera FortyOne is a forged carbon and ceramic evolution of the brand's innovative do-it-all line. While it might be stylistically less versatile than its steel siblings, it is even more impressive.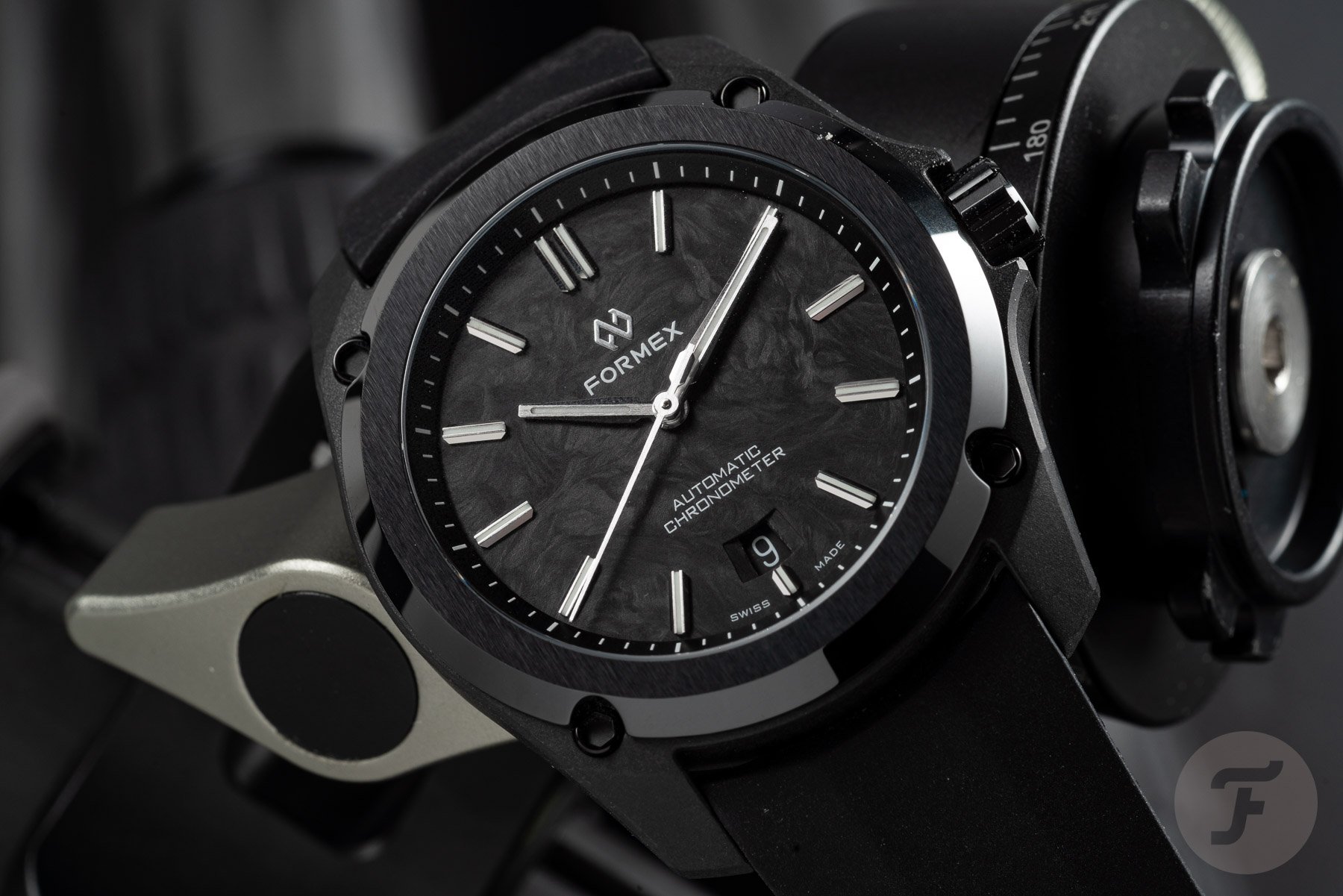 Exotic materials, exotic construction
Formex cleverly combined forged carbon and ceramics for the Essence Leggera. Forged carbon may be ultra-light and rigid, but it is not particularly scratch-resistant, so Formex opted for a ceramic bezel and sapphire crystal. That puts some exceptionally scratch-resistant stuff between the case and the scary outside world. Sensible.
Additionally, the ceramic takes a very sharp finish. The bezel pairs a super-glossy piano-black bevel with a deeply brushed flat top. It gives the watch a premium aesthetic that a carbon bezel perhaps would not have.
The four bolts around the bezel may look a bit overly dramatic, but they are actually part of a rather inventive construction. An entirely separate inner case is suspended within the outer case. It allows for some play when you bend your wrist. I was convinced it would be a gimmick, but it actually does make the watch more comfortable. The experience is reminiscent of that of a stretch bracelet.
Another spec monster
Formex seems to be able to just tick every single box on the dream-watch-specification list. I have already covered why I do not necessarily applaud attributing too much value to specs here. However, I do find myself impressed with what Formex offers at the price. It makes it very hard to fault the brand's products on any sort of rational, technical level.
Beyond the exotic case materials and construction, you get a chronometer-certified Sellita SW200-1 and 100 meters of water resistance. You get a strap of your choice with a beautiful forged carbon folding clasp. The clasp is fitted with a clever stepless micro-adjustment mechanism and quick-release spring bars. Not only can you swap straps without tools, but you can also swap the carbon clasp between straps in the same way.
All of this is offered at a starting price of €1,850 /US$1,840. I don't dare imagine what one of the typical luxury watch brands would ask for this package. Formex just seems to be willing to go a step beyond. The brand-unique clasp system is a great example. Many watches several times the price come with generic, externally sourced clasps, surely not something as innovative and practical as this.
Formex Essence Leggera sizes
The regular steel Essence is available in 43mm and 39mm cases. The Leggera, on the other hand, comes in 41mm and 43mm options. If you have read my reviews before, you will probably expect a lamentation about it being too big by now. I am happy to report, however, that the 41mm version I reviewed actually works very well.
We have a modest lug-to-lug of 46.6mm and overall dark materials to thank for that. The Essence Leggera 41 looks nice and compact on my 17cm (6.7″) wrist. Its size is somehow neutral, neither big nor small.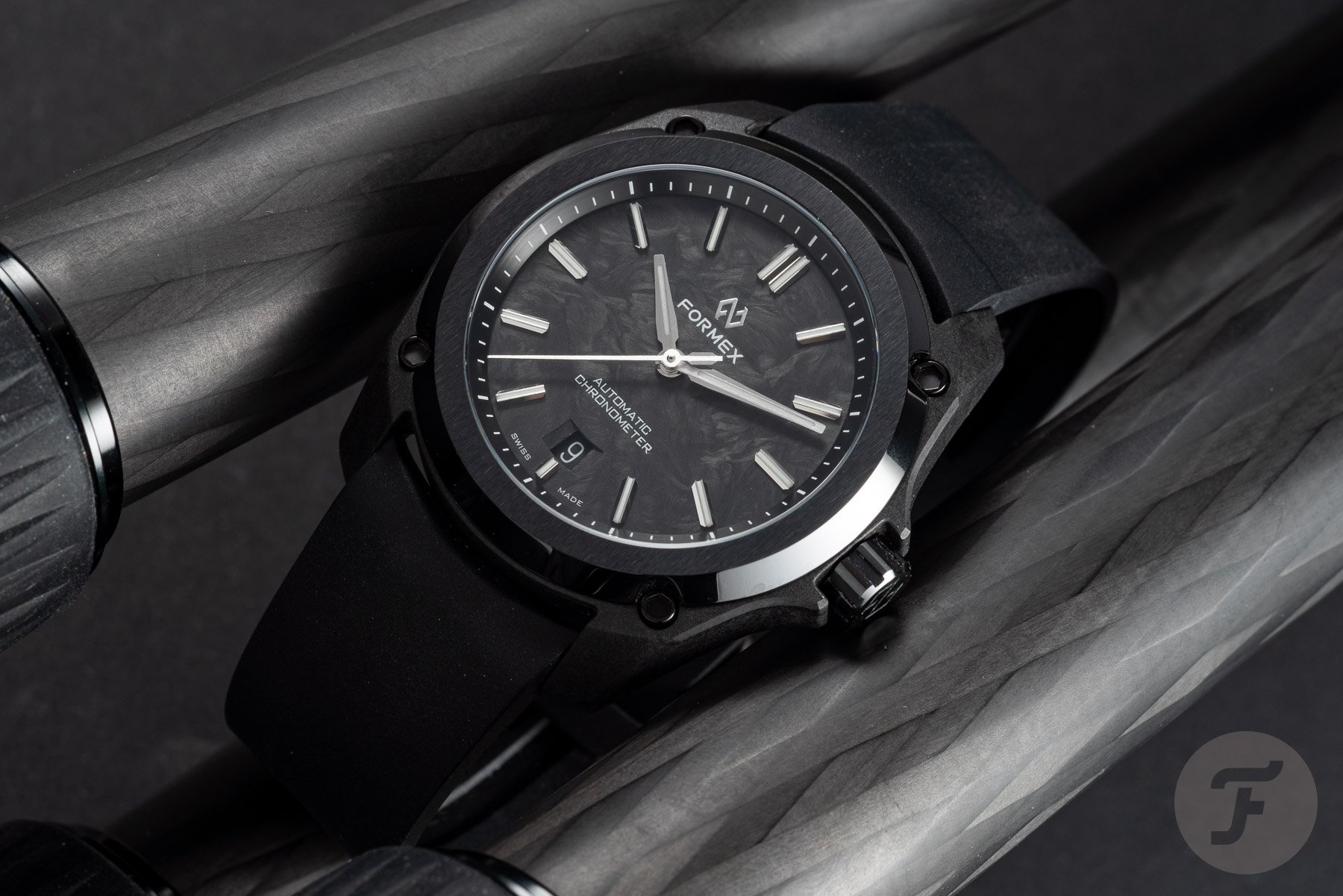 Essence Leggera, as in light
"Leggera" is Italian for "light". And light it is. Without a strap, the watch weighs a feathery 40 grams. I have worn it on the rubber strap paired with the carbon clasp. That combo adds hardly any weight, and it really does feel like you are not wearing a watch at all.
That is not a good thing in all circumstances. Sometimes a little heft is actually nice. In a luxury dress watch, for instance, the heavy feel of gold is really cool. But in the case of the Essence Leggera, the lightness is awesome. This watch is just so comfortable, I found myself hardly ever taking it off.
The only detractor in terms of comfort is the thickness of the clasp. It packs two layers of rubber strap plus the carbon clasp itself on the underside of your wrist. I found that, in practice, the stack would be about a centimeter thick. That is extra noticeable if the rest of the watch is as comfortable as this. It is too bad because I really love the clasp otherwise. It suits the watch aesthetically, it is nicely made, and the micro-adjust is simply great.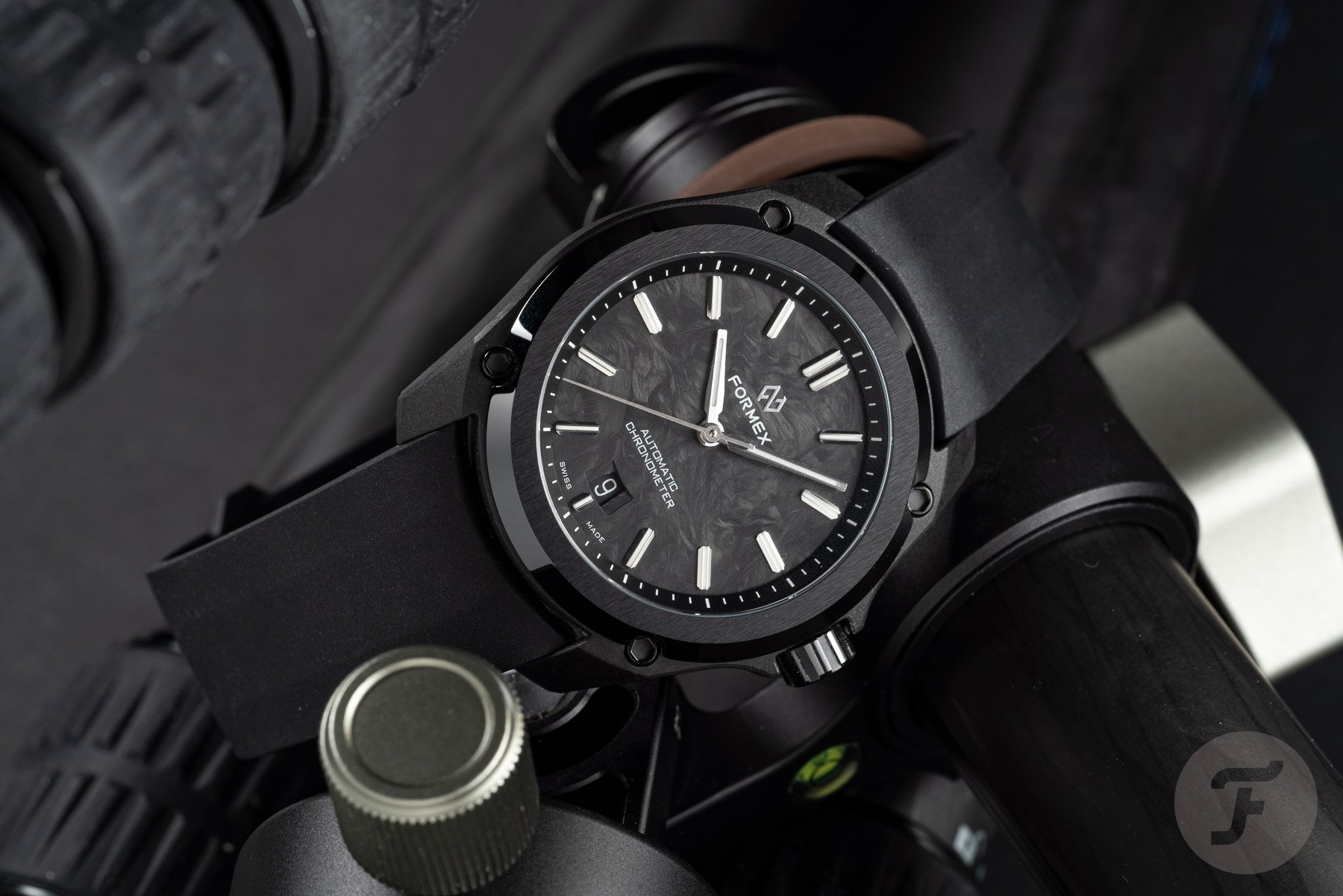 A word on dials
The Formex Essence Leggera comes with your choice of five dials. First, there are matte gray and sunburst blue options. Then, we have a choice of white and green dials, both of which come with horizontal "teak deck" striping. Lastly, there is the bare forged carbon option you see in the pictures here.
To me, this is the one to have. If you are going to get a forged carbon watch, you might as well have it as the star of the show. It is a €200 / US$200 upgrade over the other dials, though. The forged carbon plays with light quite beautifully. It has a subtle dimensionality to it that works well on a dial. It also just visually drives home the whole concept of this watch.
The dials are made in-house at Formex. The hands and applied indices feature matte and polished facets for extra visual impact. A particular highlight is the dial aperture. It is beveled on both sides, blending it into the dial surface. A color-matched date wheel keeps it nice and under the radar. A modest application of BGW9 Super-LumiNova ensures night-time readability. Do not expect this one to light up like a Christmas tree, though. You will need a Formex Reef for that.
Creeping into my heart
I mentioned in the intro of this article that the Formex Essence Leggera played a little trick on me. Let me explain. When I opened the packaging and picked it up, I was impressed. I was, however, not infatuated. I was sure that I would admire this watch from a technical perspective, but I was equally sure that it would not be for me. You see, I tend to wear more classical-looking watches, and this does not suit my style or wardrobe very well.
But then I started to wear it, and I found myself rarely taking it off. There was something about the stealthy looks and the comfort that kept it glued to my wrist. Even when I felt it did not pair with my outfit very well, I wore it.
The Leggera sneakily crept into my heart. I cannot really explain why, but I really, really like it. I enjoy having it on the wrist. The carbon dial is great. I love the Darth Vader-esque gloomy style. The light play of the carbon dial and deeply brushed ceramic bezel keeps drawing my gaze. The Essence Leggera must have played some kind of voodoo trick on me.
Closing thoughts on the Formex Essence Leggera
I just love when this happens. You think you know, and then reality turns out to be different. I knew the Formex Essence Leggera had a good design and feature set. I was curious to find out whether the quality would be there too. And I am happy to report that it is. I was not prepared to fall for the watch on a gut-feeling level, but I did.
So is it perfect? Of course not. The Essence Leggera's very particular style limits its versatility. The clasp is a bit too thick on the wrist. And lastly, the lug holes are too close to the case to fit generic straps with straight spring bars.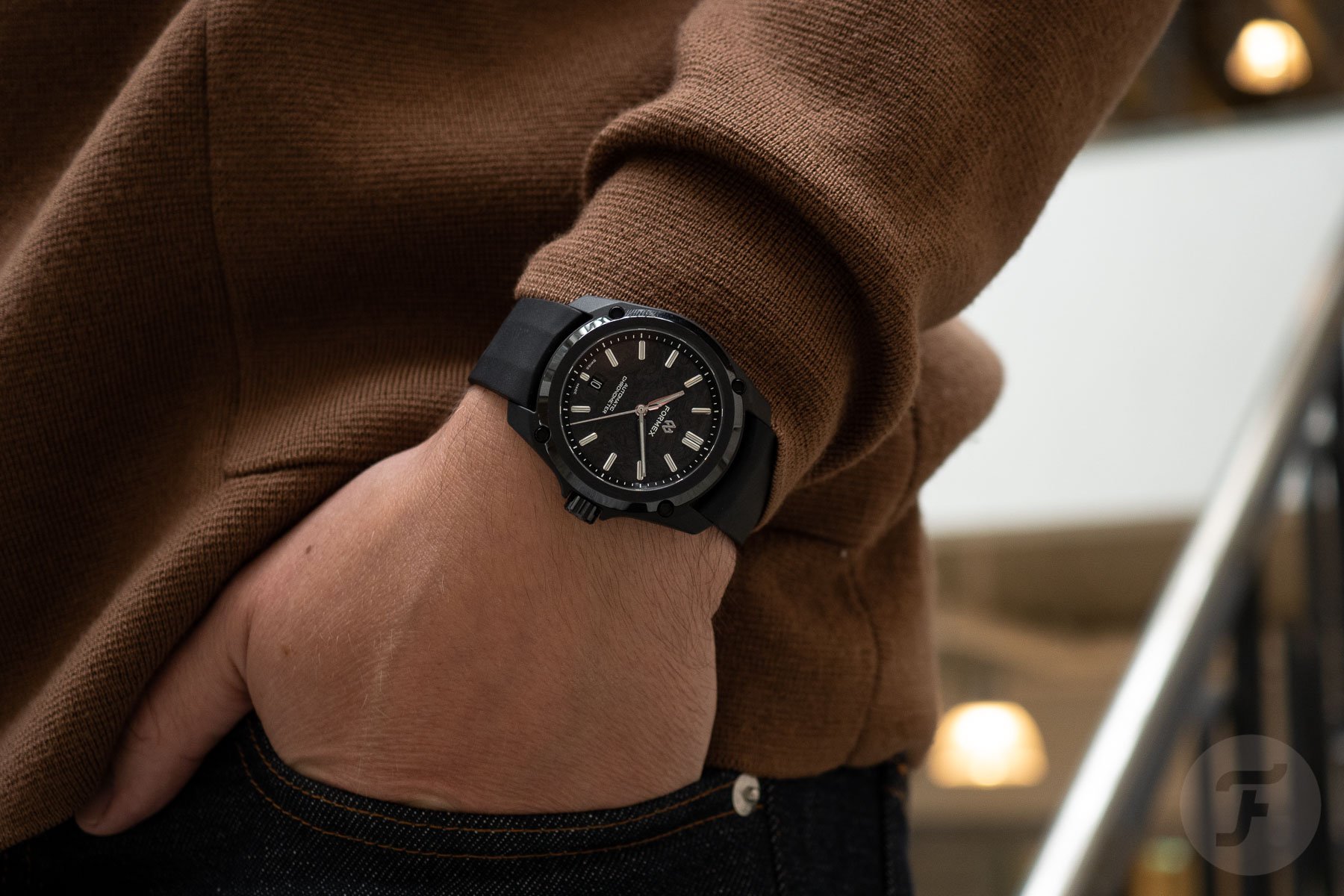 But if you are looking for a sports watch in exotic materials, this is a very compelling offering. It does everything it says on the tin, and at a very reasonable price. It is similar to the recently released Norqain Wild ONE, but I think this looks better, and it is way more affordable. One thing I know for sure: this is one I send back to the brand with healthy reluctance.
What do you think about the Formex Essence Leggera FortyOne? And how do you feel about "leggera" watches in general? Let me know in the comments.
You can also find and follow me on Instagram: @time_travelers_journal
Watch specifications
Model
Essence Leggera FortyOne
Reference
Essence Leggera FortyOne Automatic Chronometer Forged Carbon
Case Material
Forged carbon and ceramic
Case Dimensions
41mm × 46.4mm × 11mm with 22mm lug width
Case Back
Display case back
Movement
COSC-certified Sellita SW200-1
Strap
Several options in rubber, leather, and fabric
Price
€1,650–1,990 / US$1,640–1,990 depending on dial and strap choice