Hands-On With The Norqain Wild ONE — Is It Truly The Ultimate Modern Sports Watch?
Up close and personal with all four models
Following last week's launch of the Norqain Wild ONE — an event that I made the journey to Zermatt to witness — it's time to take a closer look at the watches. Reading a press release with a handful of renders and images of a watch is one thing. Holding it in your hand and strapping it to your wrist, however, is something else. And it's a different thing altogether to strap it to your wrist for a two-and-a-half-hour e-mountain bike ride up to the Zmutt Glacier at the foot of the Matterhorn and back down in time for dinner. Especially when a brand claims that its latest creation is the ultimate modern sports watch, it's worth testing it in a suitably demanding manner. And though it didn't happen to be on my wrist, I still witnessed a couple of the watches stand up to the test.
That said, I also had a chance to play with the watches (as you can see from the pictures in this article). In fact, the generously long photo session was preceded by an interview with Norqain CEO Ben Küffer and Jean-Claude Biver, whose comments on the watch I'll also share in this article. This hands-on is going to be rather to the point, so if you haven't yet read my introduction article on the Norqain Wild ONE, I'd recommend you do that before reading this. Today, I want to tell you about my experience with the watch. I want to convey what it feels like in the hand and on the wrist. But before that, let's get started with some insights from the Wild ONE's creators.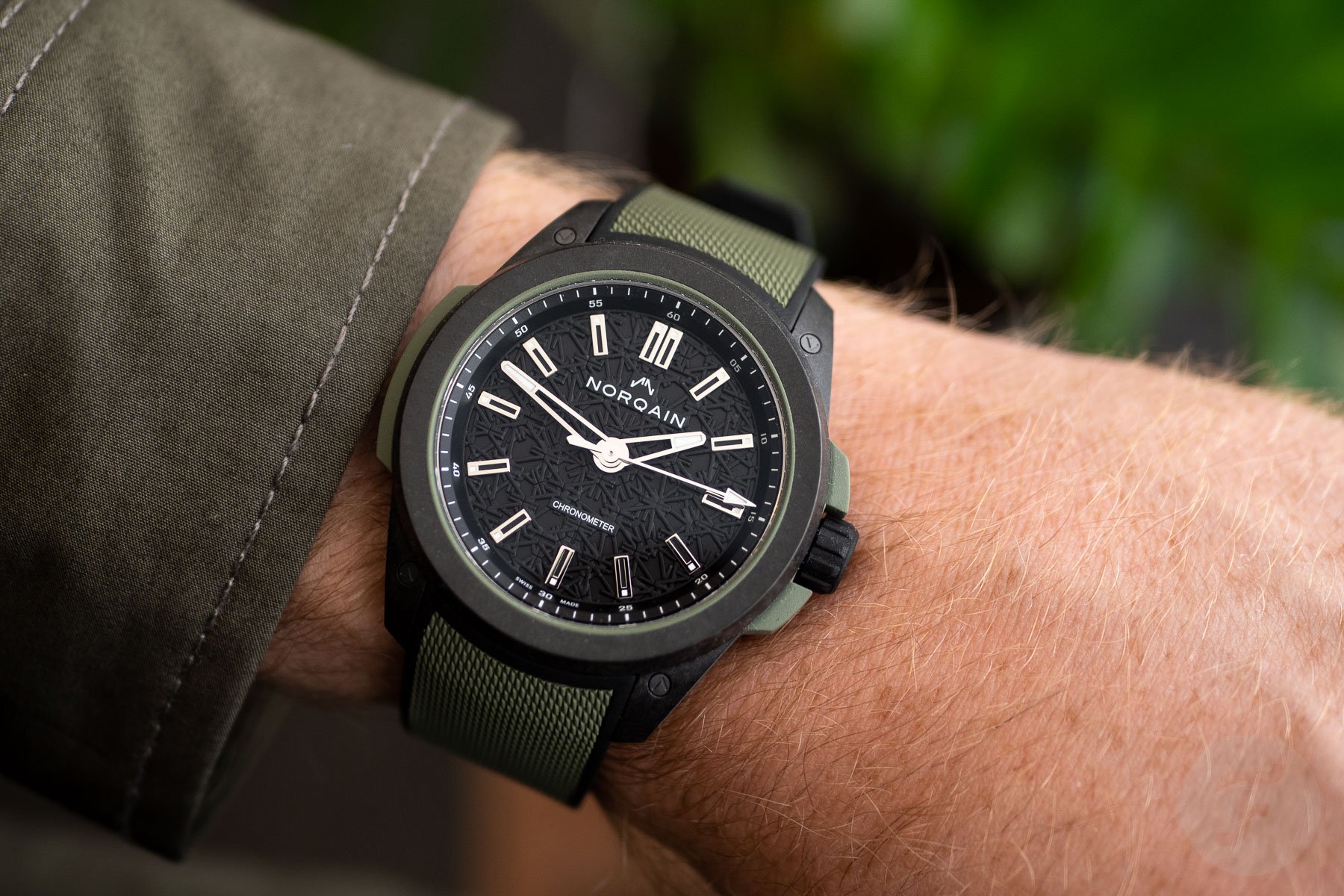 Stagnation was never an option
My first question to Jean-Claude Biver and Ben Küffer was, "In the very beginning of the process leading up to the creation of the Wild ONE, were more traditional materials ever on the table?" Ben looked to Jean-Claude, who replied with a quick, simple "No," a knowing smile, and a pause, teasing a lack of elaboration to a question justly answered. After the pause, he explained that from day one, the idea was to do something different. As such, stainless steel (or precious metal) was never an option. They wanted to use "nothing that existed already". They departed with the "simple" goal of creating a hard-wearing, lightweight sports watch using new materials. Ben complimented Jean Claude's answer by explaining that the most traditional material that made its way into the watch's construction was titanium. It seems that sticking to the norm was never an option.
Ben was referring to the internal structure which houses the movement. This 200m water-resistant titanium capsule sits inside the case's rubber core and holds both the front and back crystals in place. The rest of the case is made of rubber and NORTEQ. This is the brand's newly developed carbon composite. Made primarily of carbon fiber and castor oil, it's the first carbon composite material available not only in black. I asked Jean-Claude about a small detail of the watch that he was especially proud of. We had heard the story of Dean Schneider's limited-edition model, which includes sand from the Hakuna Mipaka wildlife oasis in its rubber core. What was a tangible point of pride in the watch for Mr. Biver? "The screws! They are extremely complicated to create, but I wanted them to be just perfect!" There was no hesitation in his reply.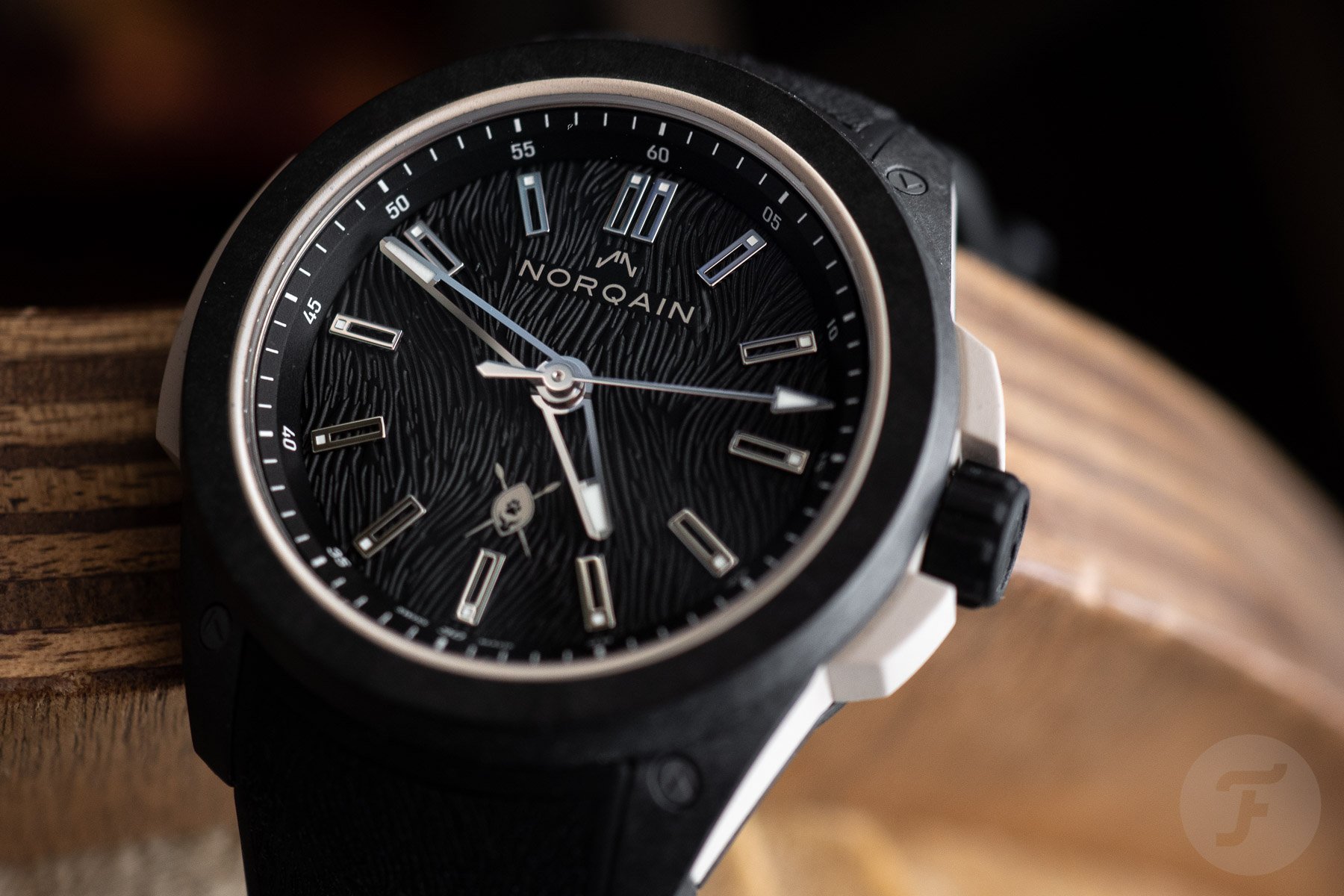 Educating the audience
Sitting in front of Ben Küffer and Mr. Biver, it was clear that the two had driven each other to go above and beyond for this project. They looked like two runners who had just finished a marathon in which hurdles were optional but who had both agreed to jump as many as they possibly could. They had set themselves a proper challenge, and the feeling of pride in their success was in the air. My final question was, "You have both worked together to take on many challenges in creating this watch, but now that the Wild ONE is out and people have seen it, what's the biggest challenge?" Ben was a little quicker off the blocks this time. "The biggest challenge now is for people to understand the watch. They may look at it and make a snap judgment without really understanding what went into it."
"As with anything new, any kind of innovation, the hardest part is to educate your audience," added Mr. Biver. And there's not really a better way to learn than to experience something in person. This is exactly what I had a chance to do with the watch. And I'll be very honest; my first (somewhat skeptical) impression quickly evolved as I became more informed. It wasn't merely learning about what went into making these watches (though that certainly helped). Mostly, it was holding and wearing the watch. Is it light, like a G-Shock? Not really, no. Does it feel cheap? No, it does not. Does it wear thick and large at 42 × 12.3mm? Not really. In truth, the watch feels sturdy and high-quality, and it weighs exactly the same 84 grams as my titanium Breitling Aerospace F65362 on the bracelet.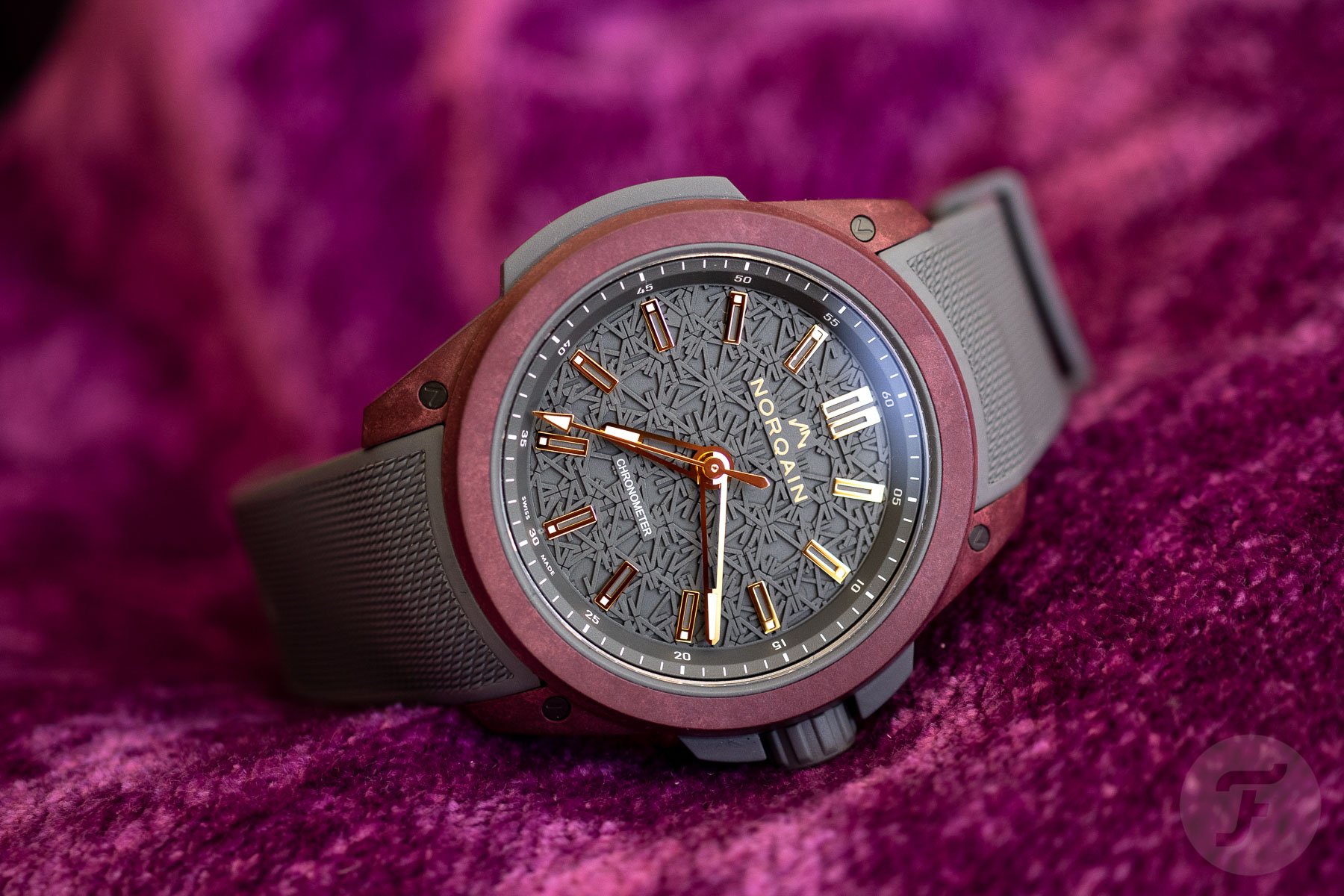 Hands-on with the Norqain Wild ONE
These are things I can only tell you now, having spent time with the watch. Norqain understands that nothing beats hands-on experience.  This is why it's the brand's goal to make the Wild ONE readily available at ADs and boutiques worldwide ASAP. So if you, as I did at first, have some doubts about the watch, you may be able to see one up close and personal soon and then truly make up your mind.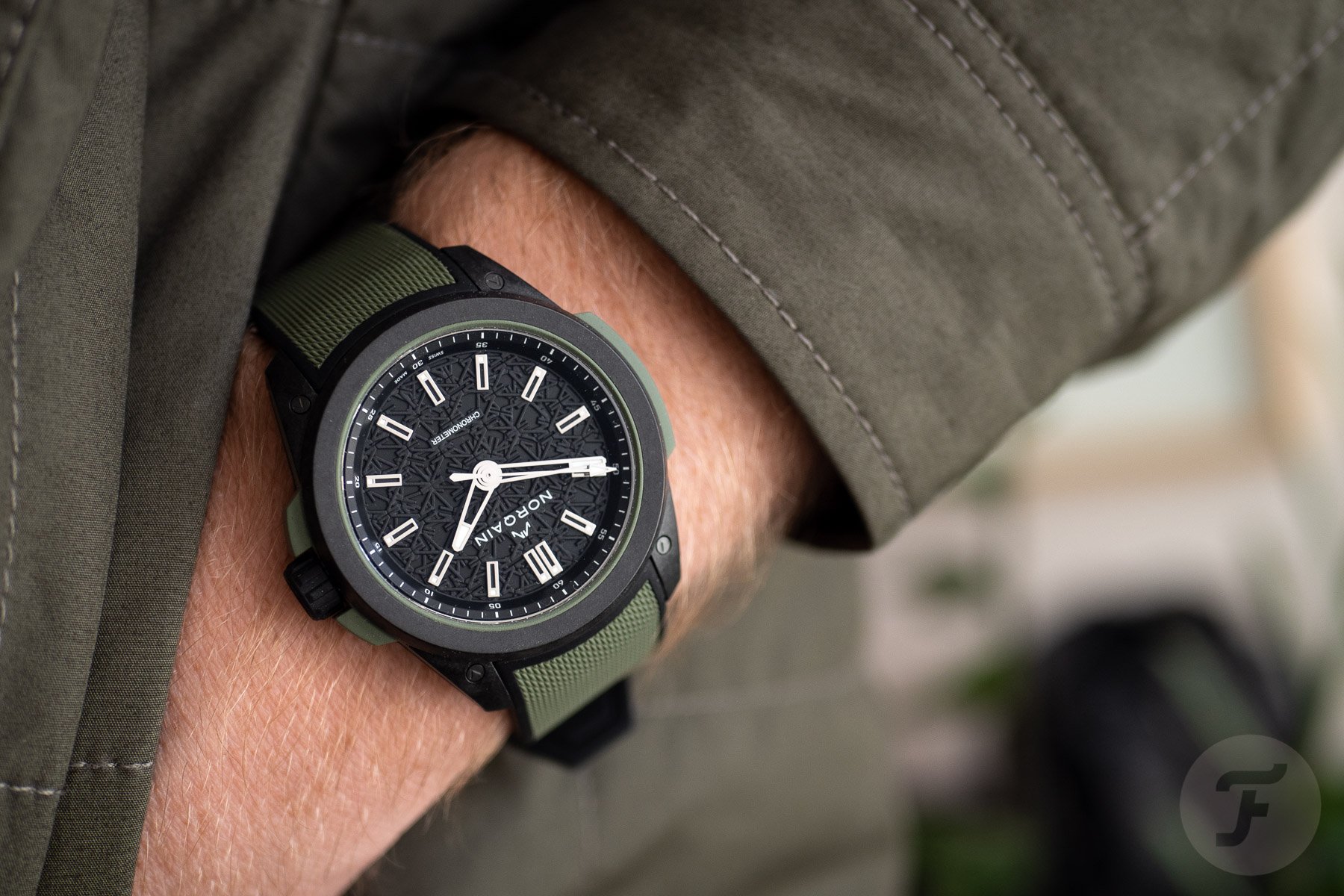 Personally, I can only recommend it. In the end, we're dealing with new materials. So there's no better way to understand how they truly feel than to feel them. Don't get me wrong; this watch isn't for everyone. Just like titanium watches and carbon watches aren't for everyone. The lighter weight, some say, makes them feel insignificant or cheap. I don't necessarily agree.
Sure, I won't always wear my titanium Aerospace, but there's a time and a place when/where you will want to wear something more sporty that can stand up to a proper beating. Mountain biking down a Swiss Alp at 45km/h over rocks is probably one of those times. Though it was the Breitling on my wrist, three lucky others were able to wear the Wild ONE during the outing and reported that it held up beautifully, which is not surprising. The watch is not just beastly in its specs, but it also shrugs off all wear-and-tear thanks to its matte surfaces. The NORTEQ has a uniquely silky texture, with thermal conductivity similar to titanium for that otherworldly feel. The strap and rubber core, which are both made by BIWI, feel and look great. Furthermore, the NORTEQ buckle for the strap speaks volumes about the brand's confidence in the material.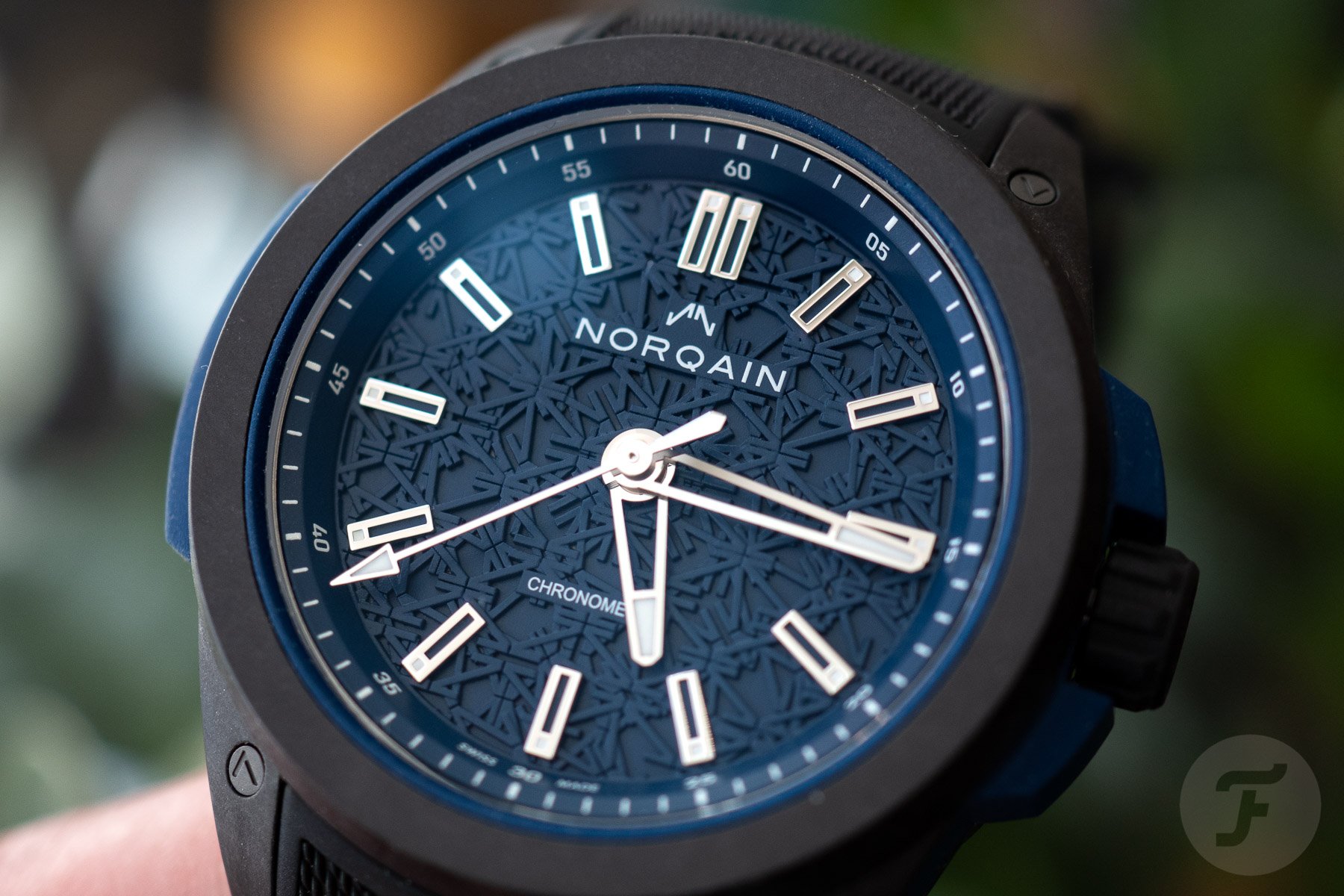 Built for comfort as well as speed
Now, after reading this and seeing some nice pictures of the views up in Zermatt, you may think, "But my life isn't like that every day." And there, I hate to but must admit that mine isn't either, not even regularly. Though I do regularly spend time on my bike, it's a slow Dutch cruiser that I ride to the office and not a top-of-the-line carbon e-MTB. Occasionally, I'll swap it for my rather unremarkable road bike, but that's not the point. The point is that the Norqain Wild ONE is not just a one-trick pony. The watch works just as well over the sleeve of your skiing jacket or wetsuit as it does under the cuff of a casual shirt on the way to work. Especially the Khaki model, which is slightly more subdued than the others, really works in a more casual and less sporty context.
Finally, I'd like to address the matter of the watch's price. This was the main sticking point with commenters on the introduction article. And I understand the reaction. Norqain was never a brand whose watches reached the €5K price level before. However, when you consider the material innovation, design, and intricacy of the Wild ONE, the price (€4,890–€5,290) certainly seems justified. Perhaps you want something in metal for the price. But for those looking for something in a more exotic, left-field material, the Wild ONE is a great option. Personally, I'm excited to see what the future will bring for the Wild ONE as new colorways are introduced and new collaborations take place. For now, though, it's one that I can only recommend you try on your own wrist if you ever get the chance. It may just surprise you as it did me!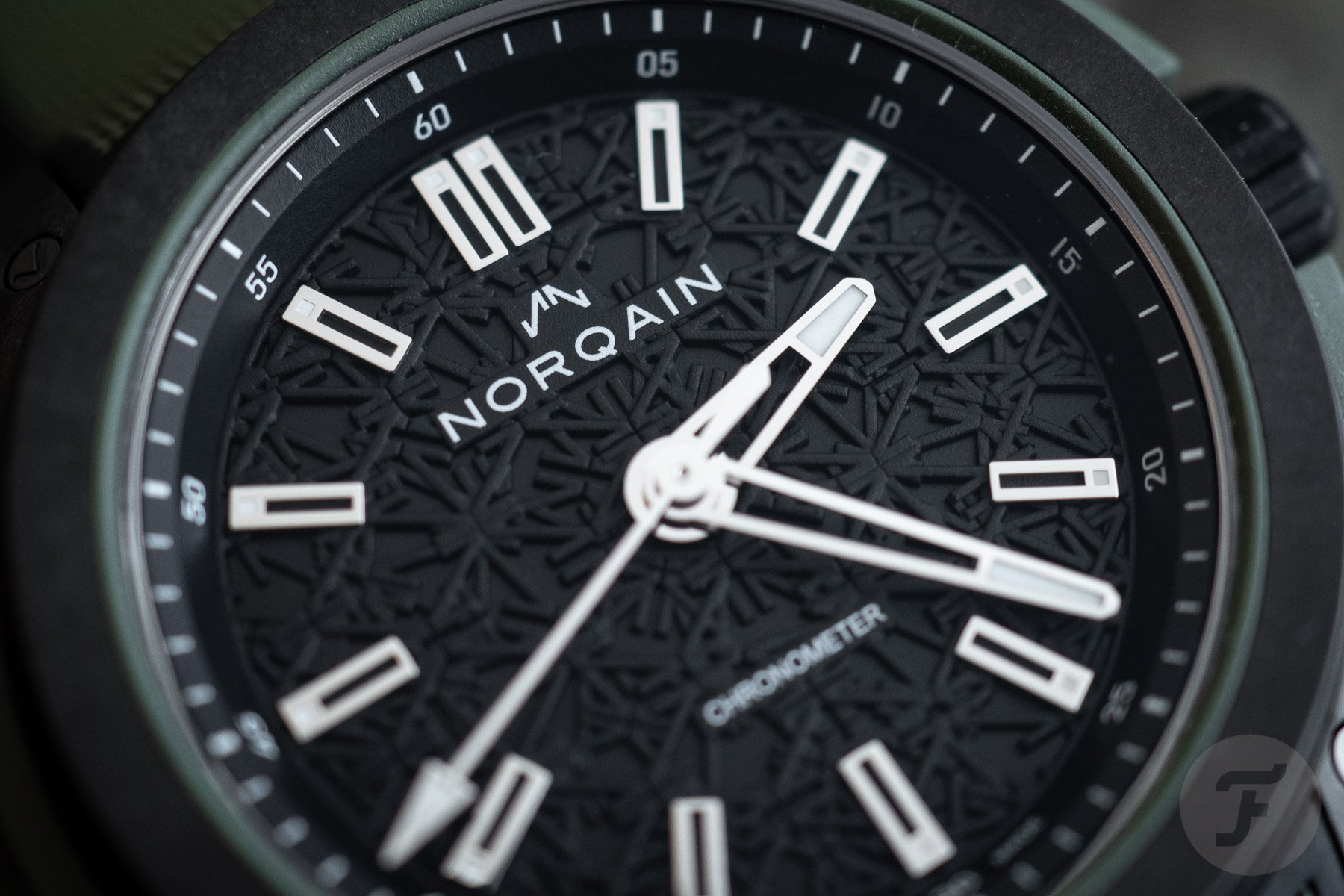 Final thoughts
Today I set out to answer the question: is the Norqain Wild ONE the ultimate modern sports watch? This is clearly quite an idyllic title and one which, arguably, no watch can hold. However, the Norqain Wild ONE certainly takes big steps in that direction and gives it an honest go. Personally, I think that the clean-slate approach to creating a watch that the brand has taken is commendable and one that more brands should consider. Iterative releases have their place in the watch world, sure. But every now and then, it's great to place yourself before a blank sheet of paper and start from scratch. Not only does this allow for a more creative, unburdened approach, but it also often culminates in a truly innovative product and a step toward the future.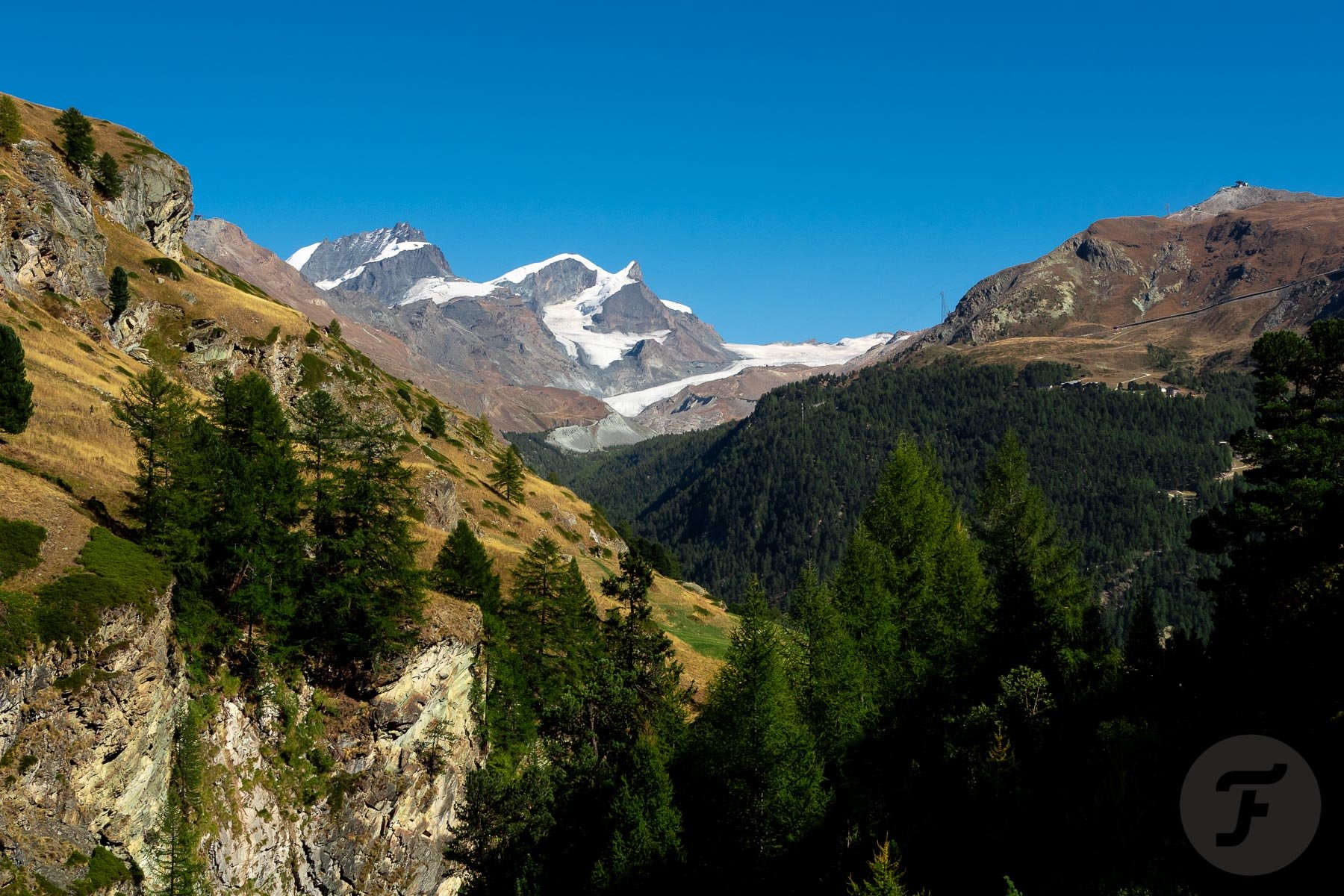 I think at this point, you've heard more than enough from me. So I put it to you: what do you think of the Norqain Wild ONE? Even if you shared your initial opinion when it launched, I'd love to hear your thoughts on it now that the dust has settled.
For more information on the four first models of the Wild ONE, check out the Norqain website.