Hands-On And Beyond The Hype: Furlan Marri Stuns Us With The New Mechanical 2116-A
From meca-quartz to La Joux-Perret with small-cased style and lugs to die for
Yes, I was a fan from day one, and Furlan Marri did the unlikely thing of turning my skepticism towards quartz to love. But, to be fair, the designers wouldn't have managed this without their obsessive eye for detail. Andrea and Hamad created a chronograph that became The Microbrand Hypebeast and deservedly so. They went from fully funded within minutes to quadrupling, even octupling (is that even a term?) their target. Any pop star knows the importance of his or her second album, so will Furlan Marri's hits keep coming? We go hands-on and beyond the hype with the new 2116-A to find out.
Furlan Marri could have been a one-hit-wonder. But the fans have not strayed, and each additional release has sold out like hot cakes, the first meca-quartz series to do so with an additional twist. The Mr. Grey version of the Furlan Marri chronograph won the praise of Patek collectors and a GPHG award. Now the question is, how do Andrea and Hamad top that? And will they keep their audience captivated with a quadrupled price, a power move if I've ever seen one?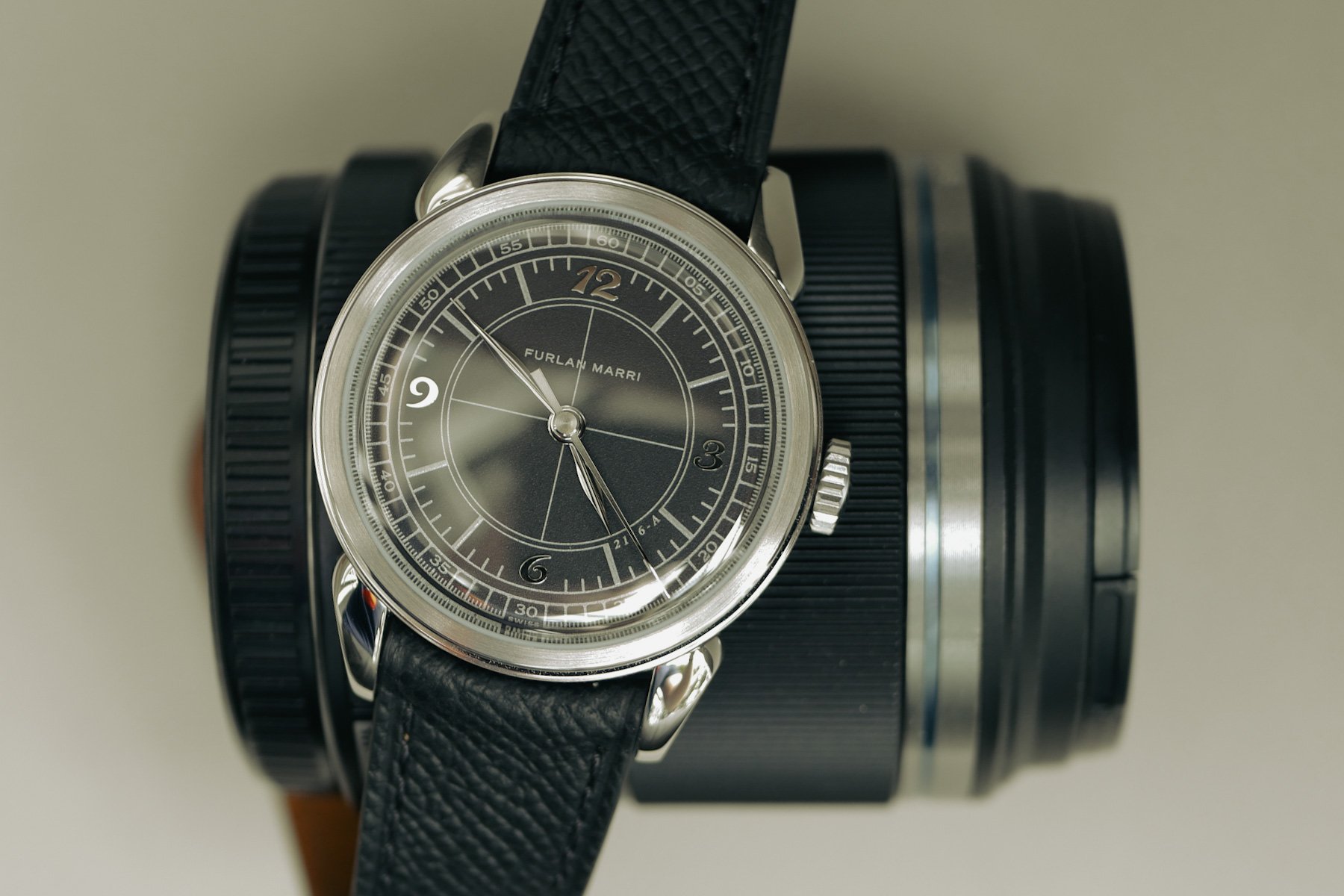 The 2116-A "Black Sector" is the bold dress watch that we didn't see coming
I'm expecting the comments to mention touches of Patek Philippe and Vacheron Constantin in this new Furlan Marri 2116-A. I, however, am choosing a different angle. I'm not doing any googling of references from Patek or Vacheron to find similarities because it is irrelevant. It's irrelevant to what this watch means in its defiant design. How can something many deem as an homage be defiant? Look at the marketplace for vintage reissues. To be a success, you tap the zeitgeist for vintage divers and you're basically safe no matter the price. Swoopy lugs and a busy sector dial are not trendy. Vintage rules, but dress watches do not, so big kudos to Furlan Marri for this 37.5mm sweetheart. Go on, find however many details you want that correspond to a '40s or '50s "Holy Trinity" reference. But in the end, this is simply an elegant, soft-wearing watch with sexy lugs and execution well beyond its price.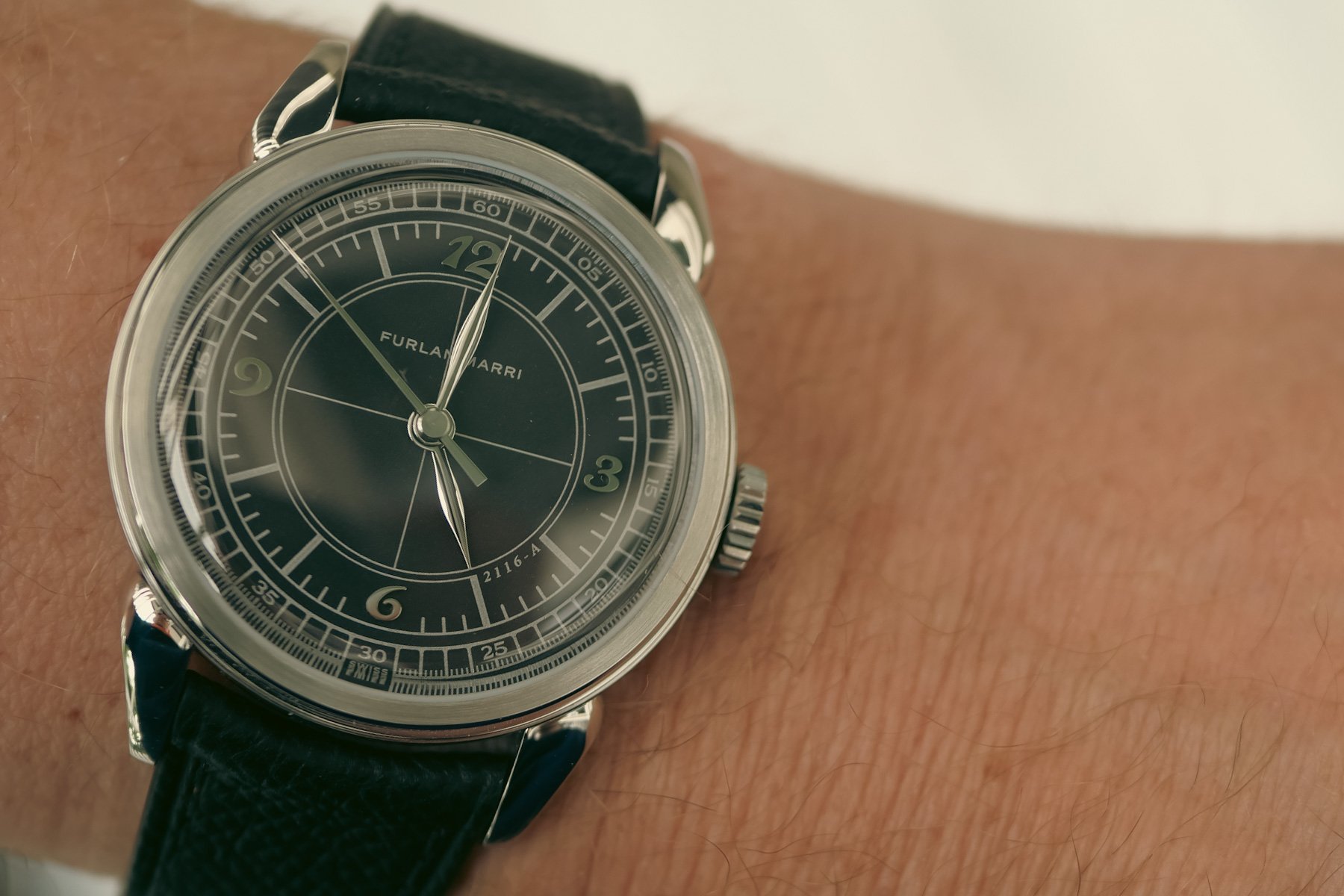 From La Joux-Perret with love
The big difference between this quietly spoken three-hander and the Furlan Marri chronograph lies behind the clean (no brand inspiration mentioned) decagonal screw-down case back. The back itself is elegantly restrained with only a FURLAN MARRI text and a case number. What you can't see is that the insides of both the case and case back have been finished in an exquisite perlage pattern. Unnecessary? Well, yes, but it speaks volumes about the focus on crafted details.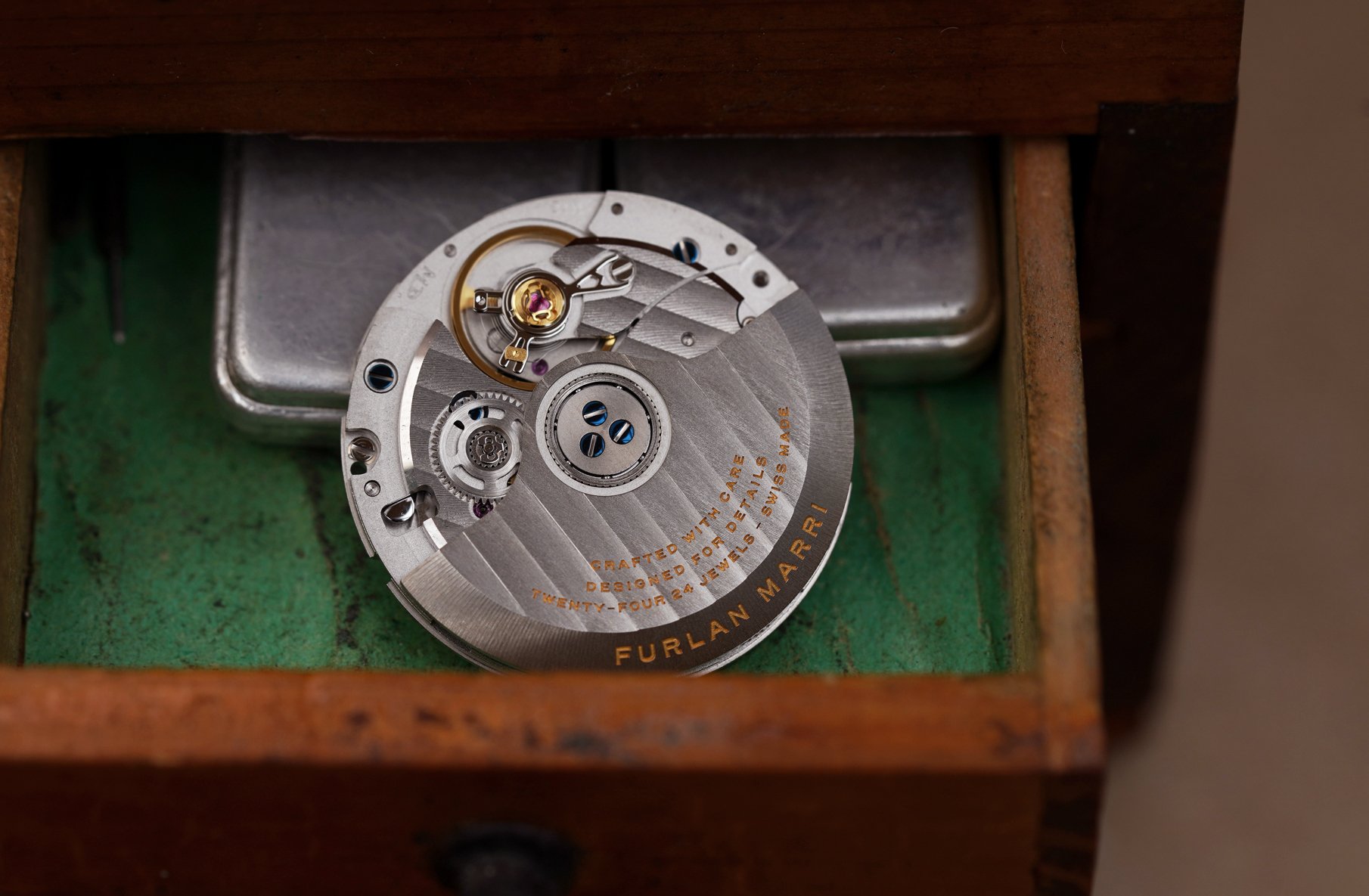 This is all a worthy frame for the La Joux-Perret-manufactured caliber. Frustratingly hidden, this is a 68-hour-power-reserve movement with a full tungsten rotor specially made for this reference with a palladium coating and engravings. The caliber has élaboré-grade adjustments, Côtes de Genève, and snailing on the oscillating weight and parts. So yes, when compared to the Furlan Marri chronograph, this movement is, quite literally, of a whole different caliber.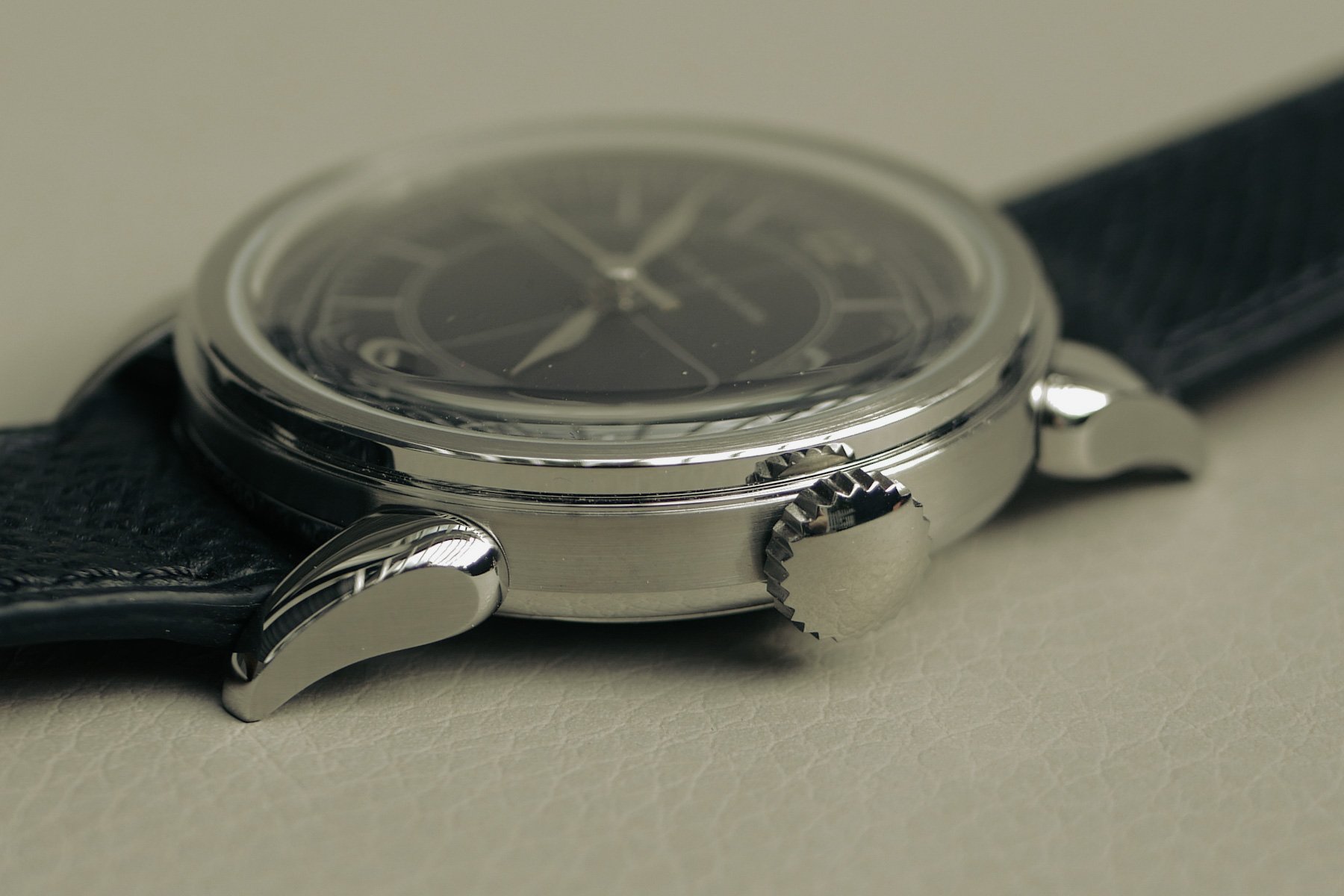 For the love of lugs
I will admit to seeing the rendering of the 2116-A last September, and I was particularly captivated by one detail — those sweeping, sexy Cornes de Vache lugs. These are very time-consuming to manufacture and assemble, and they're also unusual in 2022. It's not that they're unfashionable. Rather, it's more the result of lean, cost-cutting manufacturing and a bias towards the minimal design of sports watches. Yes, this even permeates the dressier end of the horological spectrum, and it's a shame. But these babies have a lopped-off twist with vertical sides brushed softly enough to create a flash of reflection from the polished round tops. The case itself is assembled from separate parts, and the lugs are connected via bridges visible at 6 and 12 o'clock. These are engraved with the production and serial number respectively.
The 10.5mm-thick case itself is smooth and has the brushed case band that we know from the chronograph. Adding to its appeal are two straps — a curved textured black one and a caramel straight-edged one. The expertly made case gives a choice of two lug holes, pulling the curved strap end close to the case body. The crystal is a scratchproof sapphire with no less than five layers of AR coating, and an additional anti-fingerprint coat.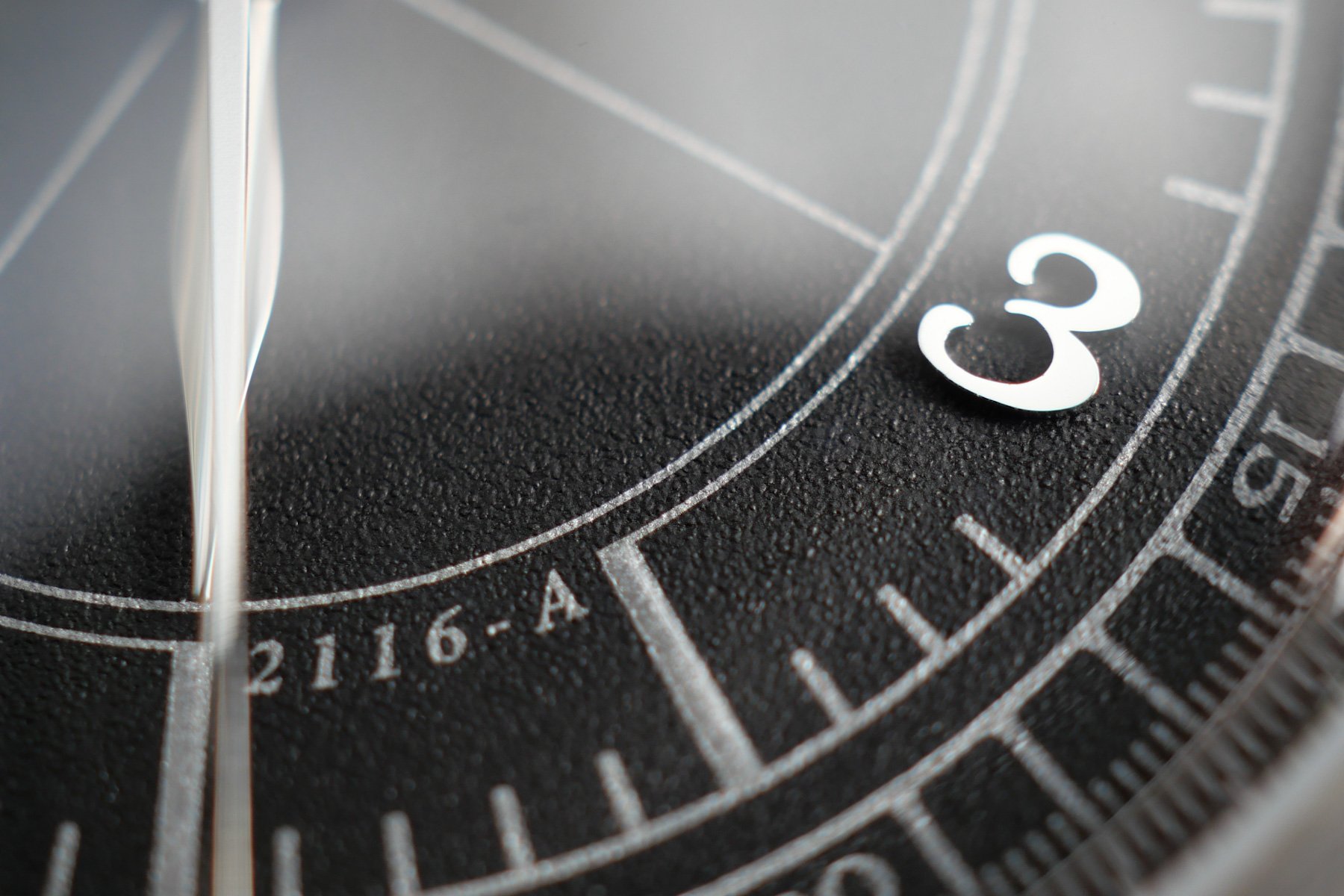 A suave sector dial
We have seen an uptick in sector dials in recent years, sort of, from the affordable French style of Baltic through medium-priced Longines and the silver cool JLC's Master Control. But they're still not remotely "fashionable", and even the aforementioned dials veer towards a contemporary and much cleaner look than their '40s inspiration. Here, we have a maximalist vision in silver over a matte charcoal dial. The silver printing is crisp, and its color matches tonally with the brushed steel on the flat step bezel. Due to the lack of distinct tonal contrasts, at a quick glance, the markings take on the form of the decorative markings of an amulet. The wealth of information infuses the dial with a rich sense of craftsmanship, indicative of how we view watches today. Though they do tell the time, they are not tools anymore. Rather, they are symbols of our own style and interests.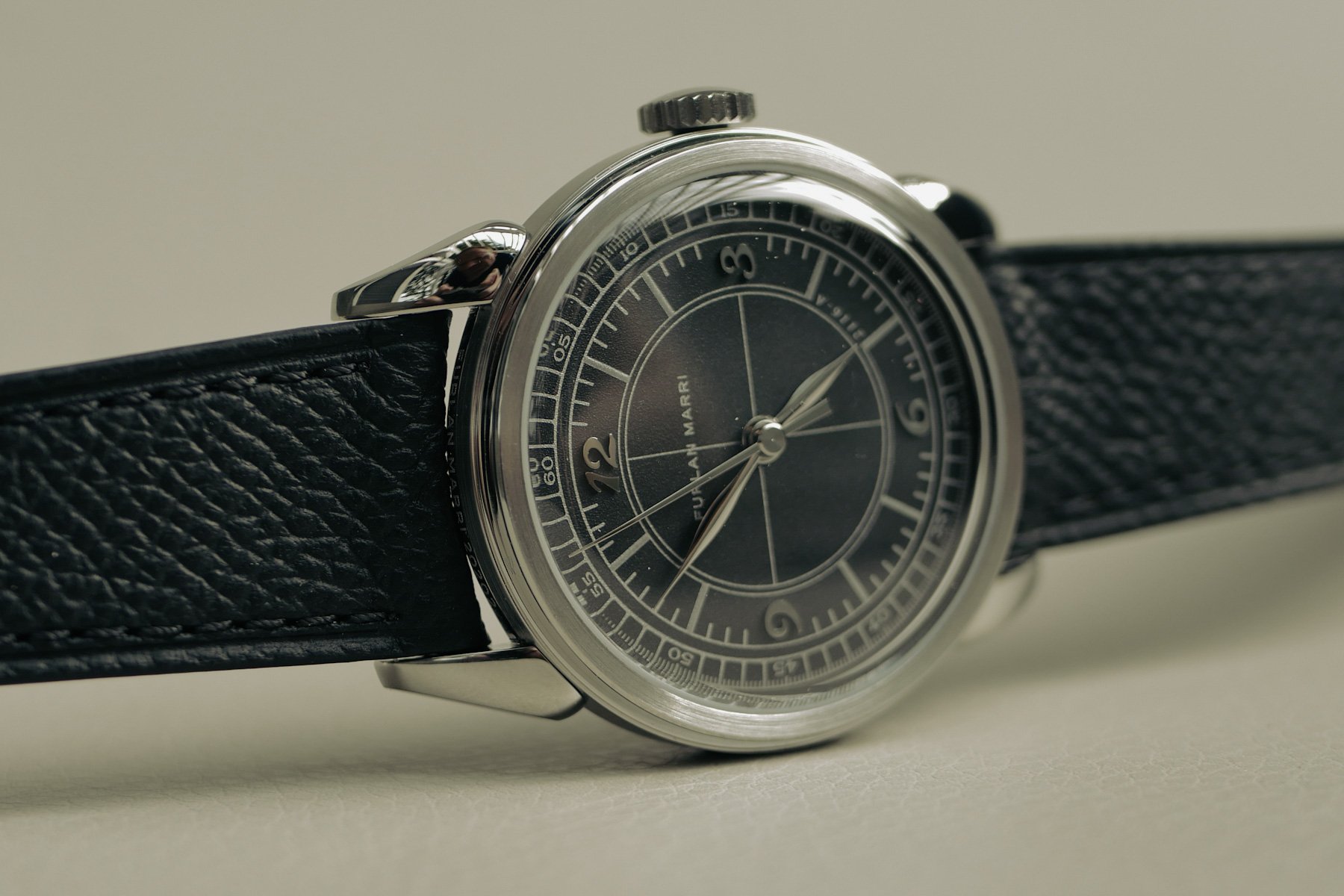 The Furlan Marri 2116-A — My subjective conclusion
For me, this card is an ace, and a more complex, bolder successor to the meca-quartz chronograph than we were expecting. In some ways, its tonal dial even reminds me of a Laurent Ferrier, and come on, how about those Cornes de Vache lugs? Furlan Marri is tapping into a dressier vintage vein than we're used to seeing, and that is all good. I will happily admit to feeling an instant sense of comfort when trying this on for the first time. The 37.5mm diameter sure hits the sweet spot, especially with a 46mm lug-to-lug stretch. My favorite chronograph is a 38mm Vacheron Constantin Heritage 1955 with even more swoopy Cornes de Vache lugs. That might make me a biased judge of lug art, but what Furlan Marri has accomplished here is pretty close to perfect. Andrea and Hamad have all my respect and prove that there is plenty to come after their meca-quartz success. The price of the Furlan Marri 2116-A will be set to CHF1,250.
For more information about the upcoming 10-day pre-order for the 2116-A, visit the Furlan Marri website or follow the brand on Instagram.
What do you think, Fratelli? Did Furlan Marri just hit the vintage nail on the head, or is the step up from the chronograph's success too high?  Let us know in the comments.
Find me and follow me @thorsvaboe