Hands-On IWC Ingenieur Reference 3239 Review
The IWC Ingenieur reference 3239 that I review here was introduced in 2013, IWC's year of the Ingenieur. You have to know that  IWC is restyling an entire collection, every year, to keep it fresh and up-to-date. So in 2013, IWC introduced a number of new Ingenieur models. From a simple straight-forward stainless steel model to a carbon version and a platinum model with perpetual calendar.
Well, if you are a long time reader of Fratello Watches, you probably know that I have a preference for so-called 'purist' watches. I have and have had my share of Gérald Genta designed timepieces, including an IWC Ingenieur of a previous collection. I decided to trade that Ingenieur for another Genta designed timepiece from another brands. However, it had nothing to do with the Ingenieur itself. I bought that IWC Ingenieur 3227-01 in 2008, not long after it went out of production.
When IWC introduced the new stainless steel 'basic' version of the Ingenieur in 2013, the model I review here today, I was happy to see that it was very similar to the reference 3227-01 I had (introduced in 2005). On the positive side, the new IWC Ingenieur reference 3239 was a tad bit smaller (only 40mm in diameter)  and thinner. A no-nonsense Ingenieur like the Ingenieur was meant to be, in my opinion.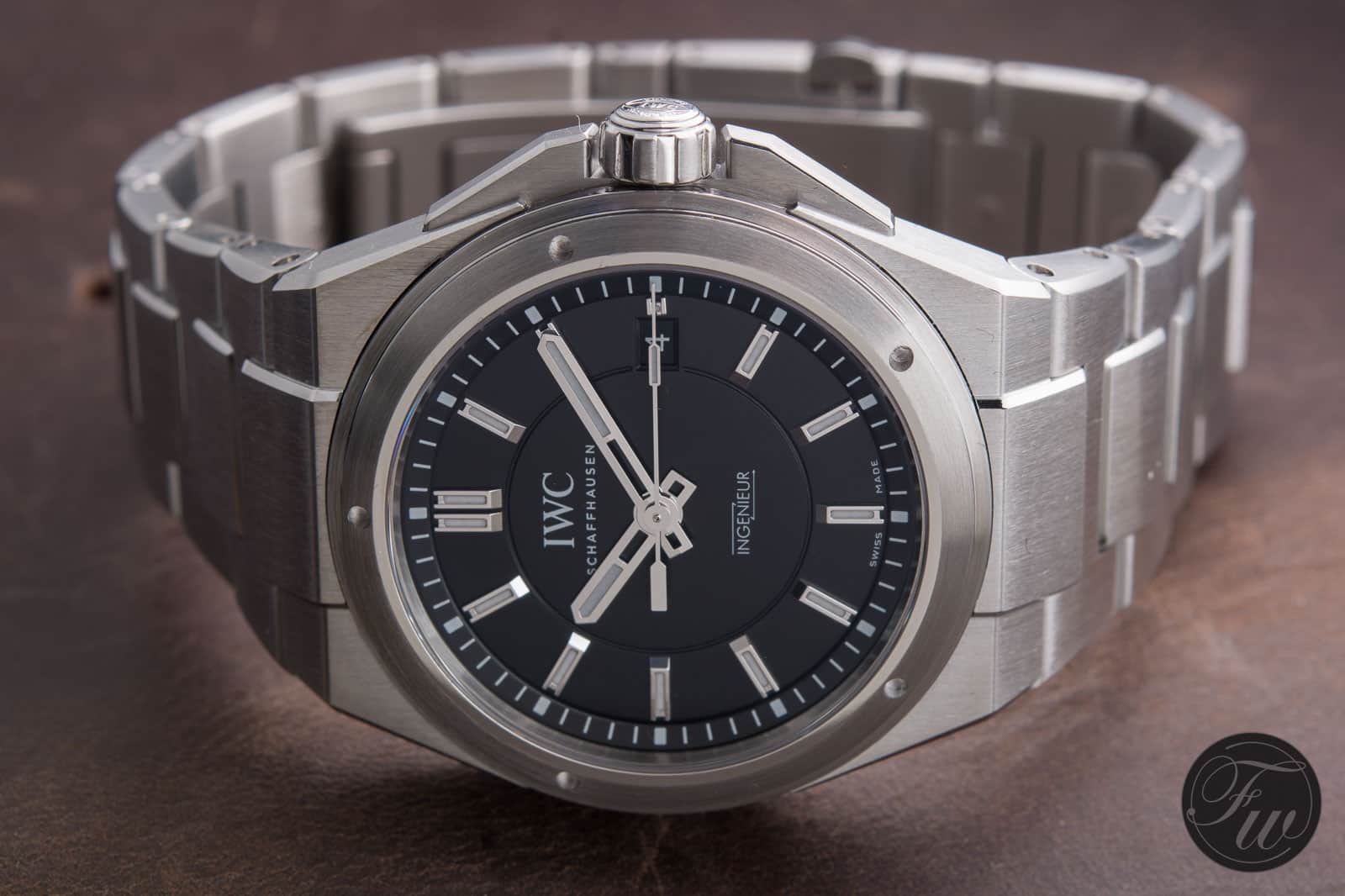 Movement – from in-house to sourced
Let me start by telling you a bit about my initial disappointment about this watch. The original Ingenieur SL1832, was designed by Gérald Genta and in production from 1976 to 1984. It had a IWC caliber 8541ES movement. According to some sources, there were less than 1000 made of these watches. That number somehow tells me that it was not IWC's most successful model. And let's make a distinction between a commercial successful model and what we – purists – like to think as successful. In 2005, IWC revived the Ingenieur with the 3227-01 and similar models and used their in-house caliber 80110 movement. This made the watch a bit thick I guess, but it was an in-house movement with Pellaton winding system. At the time I bought mine in 2008, the list price was just below €6000 Euro.
With this new IWC Ingenieur reference 3239 it became clear that the Schaffhausen company decided to use a Sellita SW200 movement and maintain the list price around that €6000 Euro mark (currently €6250 Euro). At first that was a bit of a let-down, as the previous IWC Ingenieur reference 3227-01 was in the same ball park but with an in-house movement. However, when I gave it some thought, I realized that this was almost 10 years earlier and prices did increase quite a bit over the years (as we all know). If IWC would have put their in-house manufactured movement inside this new IWC Ingenieur reference 3239 the price would have been closer to €10.000 Euro probably, like we've seen on some of their other collections and models.
The IWC Ingenieur isn't also really about the movement – as long as it is mechanical – but about its aesthetics and functionality. The watch was designed to be able to perform in an environment surrounded with magnetic fields (up to withstand 40.000 A/m which equals 500 gauss) due to the use of a soft iron inner case.
That is afar away from the Rolex Milgauss and even much further away from Omega's caliber 8500 family of movements that are able to withstand 15,000 gauss (~ 1,200,000 A/m). Although I am convinced that magnetism is going to play a bigger role in the future, because we all use tablets, smartphones, laptops and so on, I also have to say that I've worked in an IT environment for a couple of years and never experienced any issues with magnetism.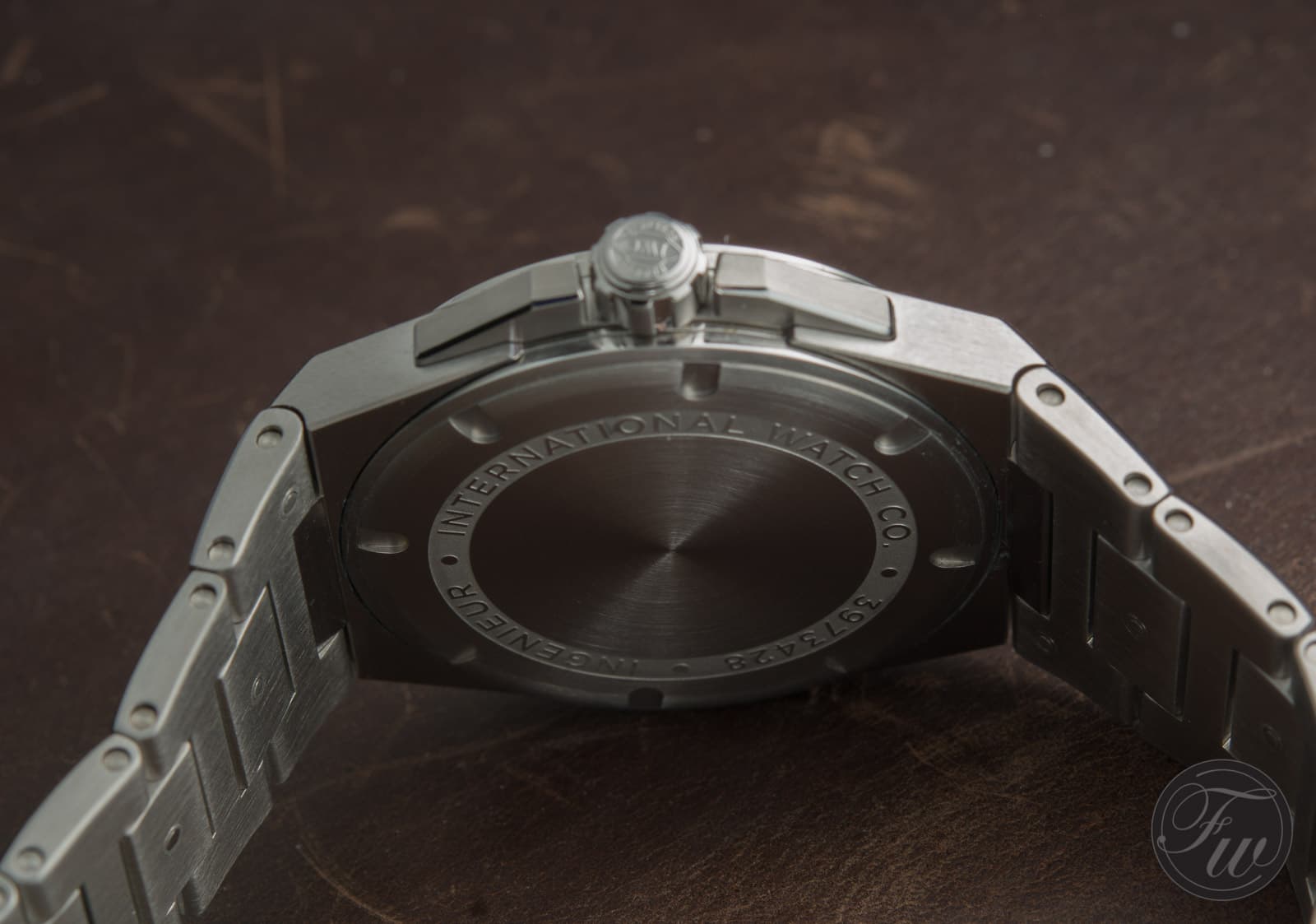 Anyway, the movement that IWC sourced is the aforementioned Sellita SW200 and is based on ETA's 2824-2. A solid movement that performs like a diesel. No transparent caseback needed in my opinion, but that also wouldn't suit this type of watch in any case due to its 'tool' purpose.
Gerald Genta Design
I am a sucker for Genta's sports watch designs in the 1970s, that includes the Audemars Piguet Royal Oak 'Jumbo', the Patek Philippe Nautilus and of course the IWC Ingenieur, but only the purest versions of these watches. When talking about the current models of these Genta descendants, the IWC Ingenieur reference 3239 is that purest version.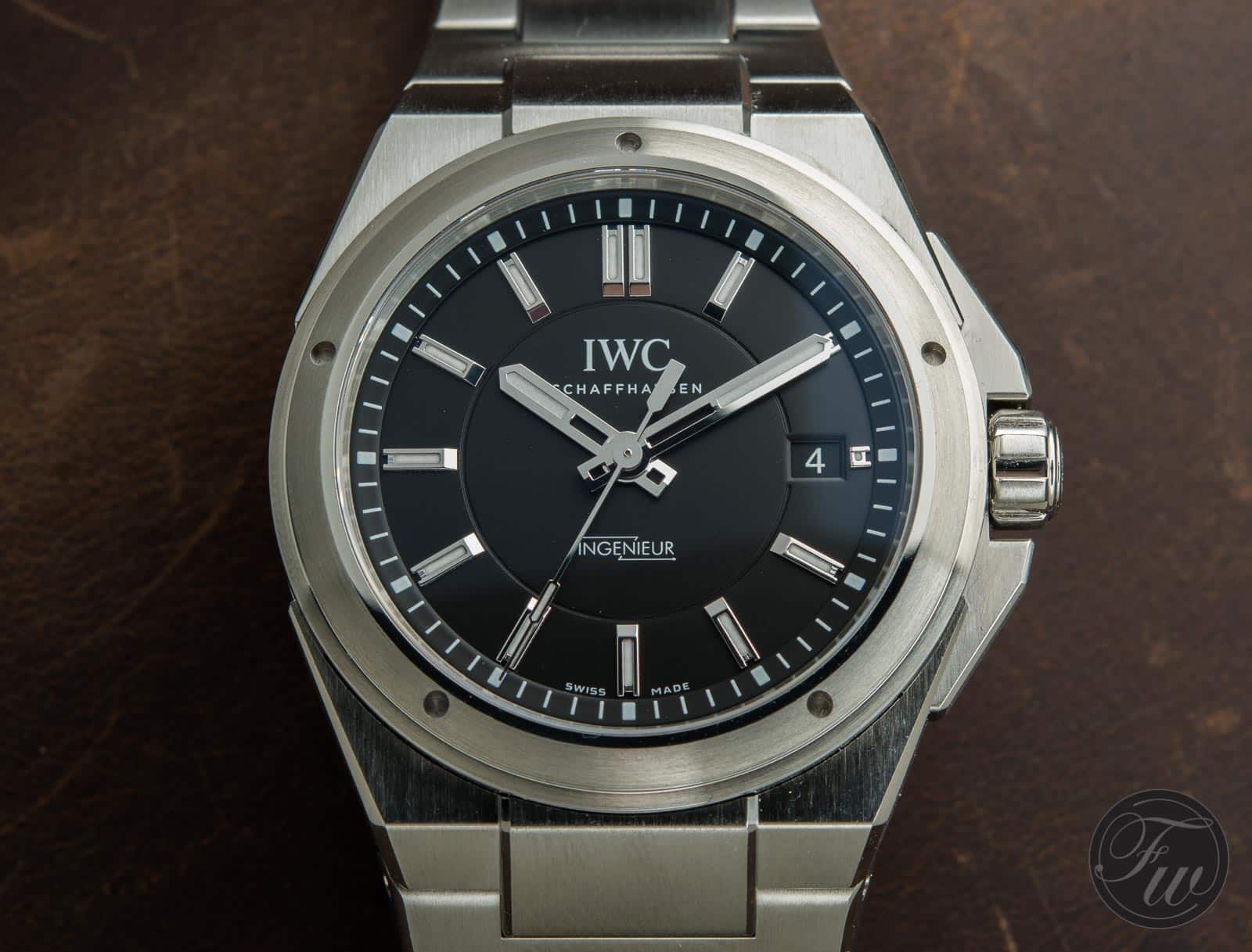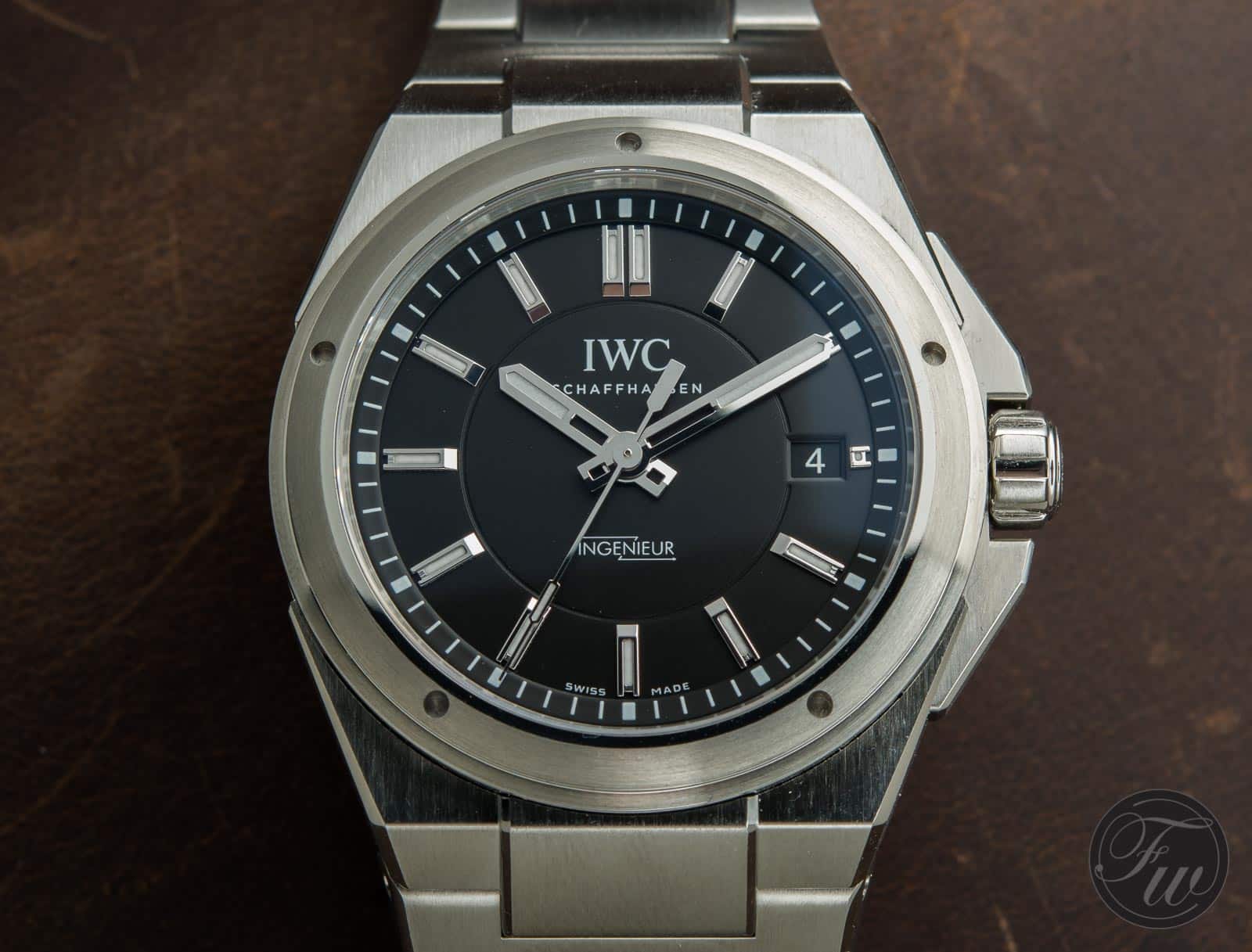 The typical Genta designs like the original Nautilus, Royal Oak and Ingenieur were all stainless steel watches with relatively sharp edges (the Nautilus showing a bit more rounded corners) and beautiful combinations of satin and polished finishing. This IWC Ingenieur reference 3239 is no different from that, especially since the dimensions are close to the original dimensions of those Genta designs. I remember my own Ingenieur reference 3227-01 being quite heavy and thick, which doesn't really match with the original Genta concept. My Royal Oak 'Jumbo' (or Extra-Thin, as they call it these days) is just 39mm in diameter but wears a tad bit larger due to the integrated lugs. This IWC Ingenieur reference 3239 has the same slender feel to it and feels therefore closer to the original Genta designs in my opinion.
The finish of the Ingenieur's case is just sensational. The satin brushed finish is fantastic and all edges have this polished facet, this goes for the case and the bracelet. As everyone knows, there is also a down side about this. The satin brushed elements are bound to get scratched, but perhaps that just adds a bit of character to the watch. Compared to the previous Ingenieur generation (3227), this 3239 reference has a crown guard. Even this crown guard looks very impressive with its sharp edges and beautiful finish.
Another typical Genta element is the integrated bracelet. Later on, others started using the same type of lugs and integration with bracelets or straps (e.g. Hysek with his design of the Vacheron Constantin '222' / Overseas, Hublot and Linde Werdelin with all of their watches). You could say it is the design of the modern luxury sports watch, instead of using a round case with its typical lugs.
The bracelet of the IWC Ingenieur reference 3239 is a solid and relatively heavy bracelet with a hidden clasp with two pushers on the sides. The bracelet can be adjusted by using a clever system with a push button inside the links, that will release the locked pins. The IWC Ingenieur reference 3239 comes with a little tool that can be used to press the push button and then you can just push out the pins. As you can see on the image below, the bracelet also uses half-links, so it can be adjusted to fit your wrist perfectly. However, it doesn't have this micro-adjustment that you'll find on Rolex and Omega bracelets for example, which can be useful during hot Summer days or cold Winter days. In any case, IWC has one of the nicest systems of resizing a bracelet yourself, without the risk of damaging your bracelet (or watch). The same method also applies for replacing the bracelet with IWC's comfortable soft strap or vice versa.
The dial of the Ingenieur is a bit more sober than its predecessors, with that little textured "I" (Ingenieur) motif that gave it so much depth and detail. On this IWC Ingenieur reference 3239, the dial is more 'plain' but still has some layers. On the dial, you will find two tracks (or 'steps'), one for the minutes and one for the hours. The hour hand almost reaches the inner step and the minute hand almost reaches the minute step. The seconds hand is a tad bit longer and crosses the minute track. A very well balanced dial and IWC clearly put some effort in getting this right. We've seen what the result can be if these things are done 'wrong', like the minute hand of the 39mm Rolex Explorer that is simply too short. The hour markers of the IWC Ingenieur reference 3239 matches the design of the silver colored hands perfectly. The date disc is black with white printing and doesn't distract at all. The entire dial is just very clean and there is only little writing on the dial. It doesn't even say 'Automatic'. The Ingenieur is a watch for purists and the dial underlines this.
Verdict on the IWC Ingenieur reference 3239
The IWC Ingenieur is a very versatile watch, despite having this tool-watch origin. It will perfectly match your business suit as well as your casual outfits and activities. Its design is not for everyone, as I noticed when I had an Ingenieur timepiece myself a couple of years ago and still notice when wearing my Royal Oak with similar appearance. If you care about what others think about your watch, there are other watches to buy (also in the IWC collection). However, if you stay true to yourself and really adore the Genta lines and combination of satin brushed and polished finish, this IWC has your name on it. From the entire IWC Ingenieur collection, I think this is the purest version and it actually would be the model I would get myself, even when budget wouldn't play a role. This reference comes close to how it was meant to be by the master.
There are only two minor things that more or less concern me a bit. One of them are the crown guards. The original Ingenieur SL1832 had no crown guards and the 2005 revival of the Ingenieur (3227-01) also did not have them. Which I personally liked to be honest. I always wonder if they really have 'use' for me, as I am quite careful with my watches and have not seen visible damage on the crown guards of any of my watches. So they are not taking any hits and blows. Perhaps it is more or less a 'visual aspect' than really a protective element. Well anyway, the crown guards are on the IWC Ingenieur reference 3239 and it wouldn't stop me from buying to be honest. The other minor thing is the movement. I already touched it in detail at the beginning of this article. Although an in-house developed movement would make this watch (probably) thicker and definitely more expensive, you can debate whether €6300 Euro isn't a bit too expensive for a Sellita SW200 powered watch. IWC has increased their prices quite a bit over the last few years and as long as their is a good demand for their watches, that's all swell of course. However, it seems we are now facing a new period to come where people want value for money again, even when it comes to luxury watches. If this trend is going to persist in the months and perhaps years to come, IWC might have pushed their luck a bit too hard with these price increases. For this kind of money, peers of IWC like Rolex and Omega, are able to offer at least in-house developed movements.
That said, I still believe the IWC Ingenieur has its own group of dedicated fans and followers, who are not bothered by these concerns. It is a timepiece with character, both due its design but also because of its (Genta) history. It is very difficult to maintain an iconic timepiece and keep it fresh every now and then without losing its core (design) values. IWC succeeded in that with this IWC Ingenieur reference 3239.
More information on IWC on-line.