Hands-On: Merci Instruments LMM-01 Everest, Archiwatch, And Nationale
A trio of watches that balance inspiration, style, and function
At the end of November, three new Merci Instruments LMM-01 models were added to the Parisian brand's lineup. At a glance, these may seem like slightly iterative takes on the same theme. But look closer (and read the website), and you'll see that each is carefully designed. And not just designed, as the word here feels like an understatement. These watches are, quite literally, inspired. Each has its own story, conceived upon the wrist of a fictional character that may have existed at a given time in a specific place. Put that aside, and you have three crisp, legible, and eye-catching watches. Add the inspiration and story back in, and you have the new Merci Instruments LMM-01 Everest, Archiwatch, and Nationale.
A lot of the time, as watch enthusiasts, we tend to focus on specs in favor of design. But what happens if you flip that on its head? What would a watch look like if the water resistance, lume, power reserve, and all those other things came second and not first? Well, it may look like any of these three LMM-01 watches. Luckily, Merci Instruments didn't ignore those aspects completely. The brand has created beautiful watches with design as the key focus but without neglecting functionality. I spent quite some time with these watches, and today I'll tell you a little bit about them, as well as what it's like to wear them.
A note on Merci and Merci Instruments
It wouldn't be right to start telling you about a watch, let alone three, without first introducing the brand behind them — especially given the fact that this is its first appearance on Fratello. I believe that it's essential to know and understand a bit about the brand before looking at its products. In broad strokes, Merci is a Paris-based concept store for home, fashion, and lifestyle goods. Looking closer, it's a bit more than just that. In the brand's own words:
The store is run with strong editorial influences, just like a magazine. It presents a view of society – almost a manifesto – which reflects what it cares about. In its back-to-basics approach, Merci combines a deep respect for handmade objects and small producers with references to popular culture in an effort to combat a uniform idea of luxury which is imposed upon us – one that is often ostentatious and lacking in emotion.
Merci Instruments is a brand within the brand, created by the current brand director (a passionate watch enthusiast and collector) to house all its horological endeavors. The store and brand's philosophy is very much alive and well in the watch-specialized division. If you want to know more, I recommend visiting the Merci website. Now, back to the watches!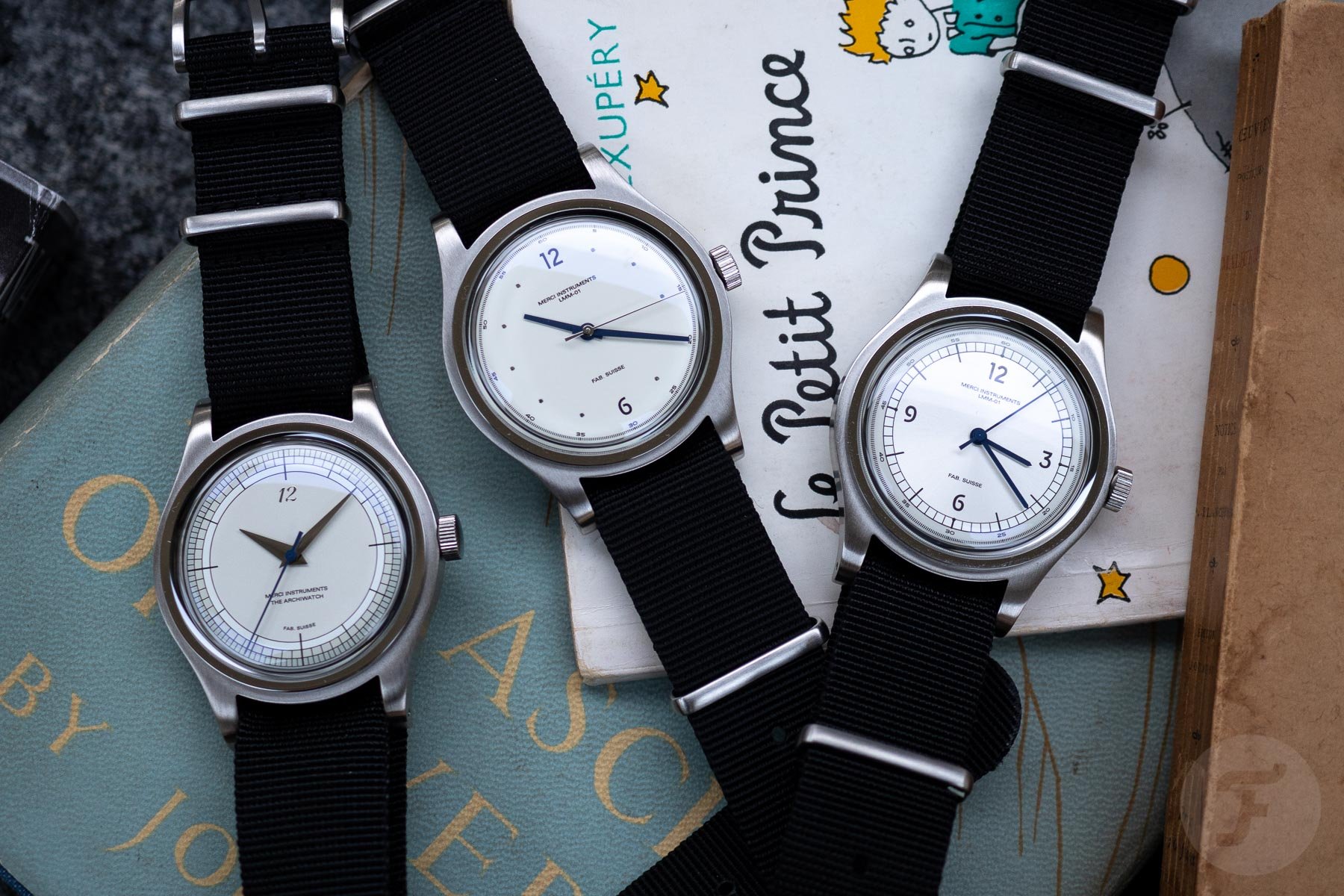 The Merci Instruments LMM-01
Before I tell you all about the design of each of the new Merci Instruments LMM-01 watches, I want to run through the shared specs. The LMM-01s come in a 38mm 316L stainless steel case. Its design is similar to some used in military watches by Longines, Omega, IWC, and other brands in the 1940s. Some of its features include drilled lugs, a closed case back, a polished bezel, and a double-domed mineral crystal. The watch is 12mm tall, including the crystal, and 9mm without. It measures 46mm from lug to lug and has a lug spacing of 19mm, providing a more elegant profile. Despite this, the watch comes on a 20mm black nylon NATO strap with brushed hardware.
To me, this creates a sense in line with the watches' conception as a "contemporary homage to vintage watches" and the Merci brand's philosophy of embracing the charm of lived-in imperfection. It's not hard to imagine the watch having already lived a life before, losing its original strap in favor of an ever-convenient NATO. The prior owner (the brand provides some ideas as to whom that may have been) may have sourced a 20mm strap out of convenience and simply squeezed it into its 19mm lugs. If it bothers you, it's easy enough to swap it out thanks to the quick-release spring bars.
Inside the watch — and the reason for its slimness — is a hand-winding Sellita SW210-1 movement. With 42 hours of power reserve, it's a perfect no-fuss movement for watches that put design first.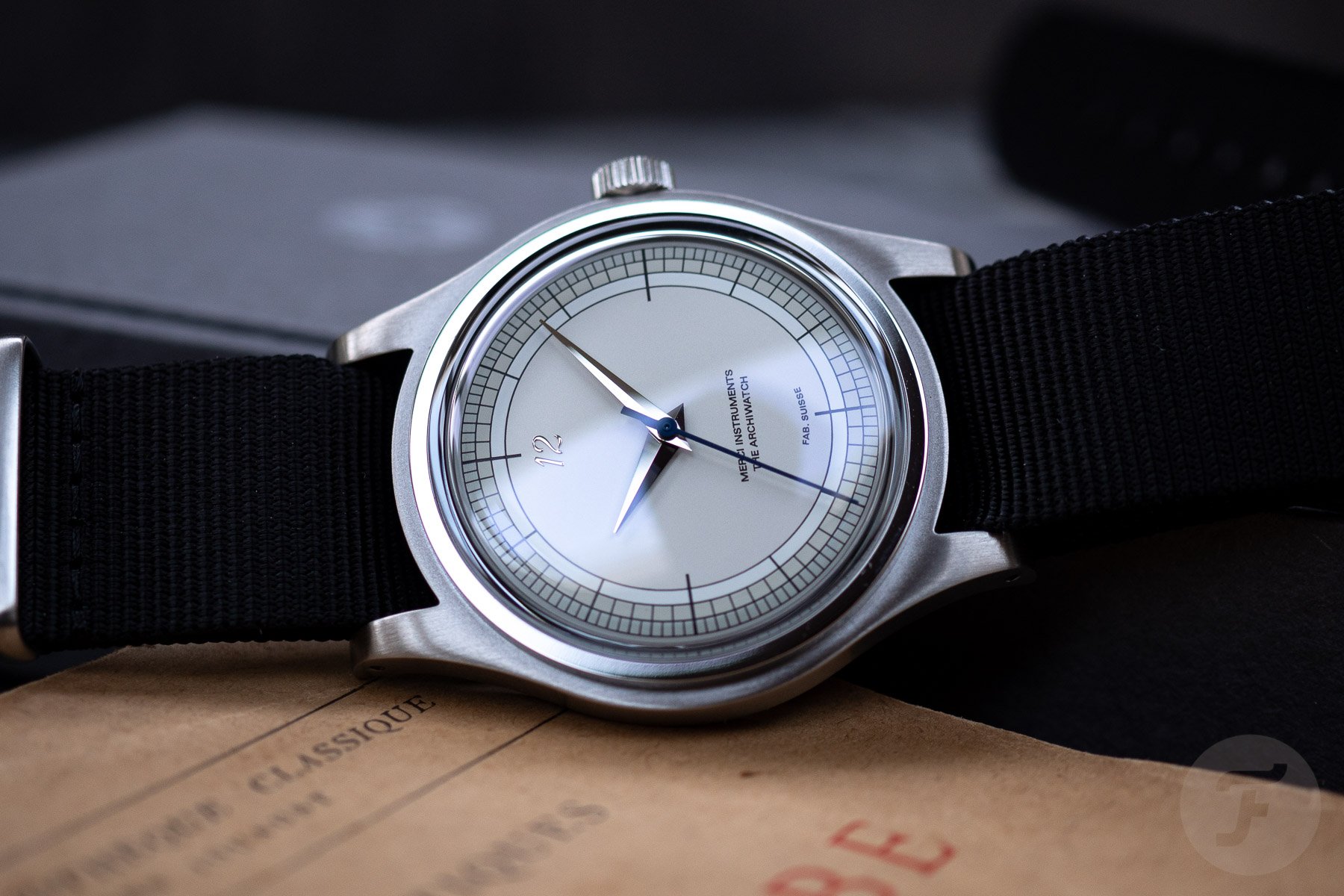 The LMM-01 Archiwatch
The first thing to note is that there's a story to each of these Merci Instruments LMM-01 designs. I'll start with the limited-edition LMM-01 Archiwatch. This model was collaboratively designed with Richard Ménasé of The Archiwatch (a Paris-based dealer of vintage watches). Only 250 numbered pieces will be sold. Its design is inspired by a watch that may have been worn by an architect living in Milan in the '60s.
With subtle shades of gray on the dial, sharp dauphine hands, and a striking blue seconds hand, it's certainly not hard to imagine this watch in the scenario that inspired it. All text on the dial is placed at 6 o'clock, with a polished Breguet-style numeral designating 12 o'clock and a strong, architectural outer track. All of these factors create a subtle yet striking look.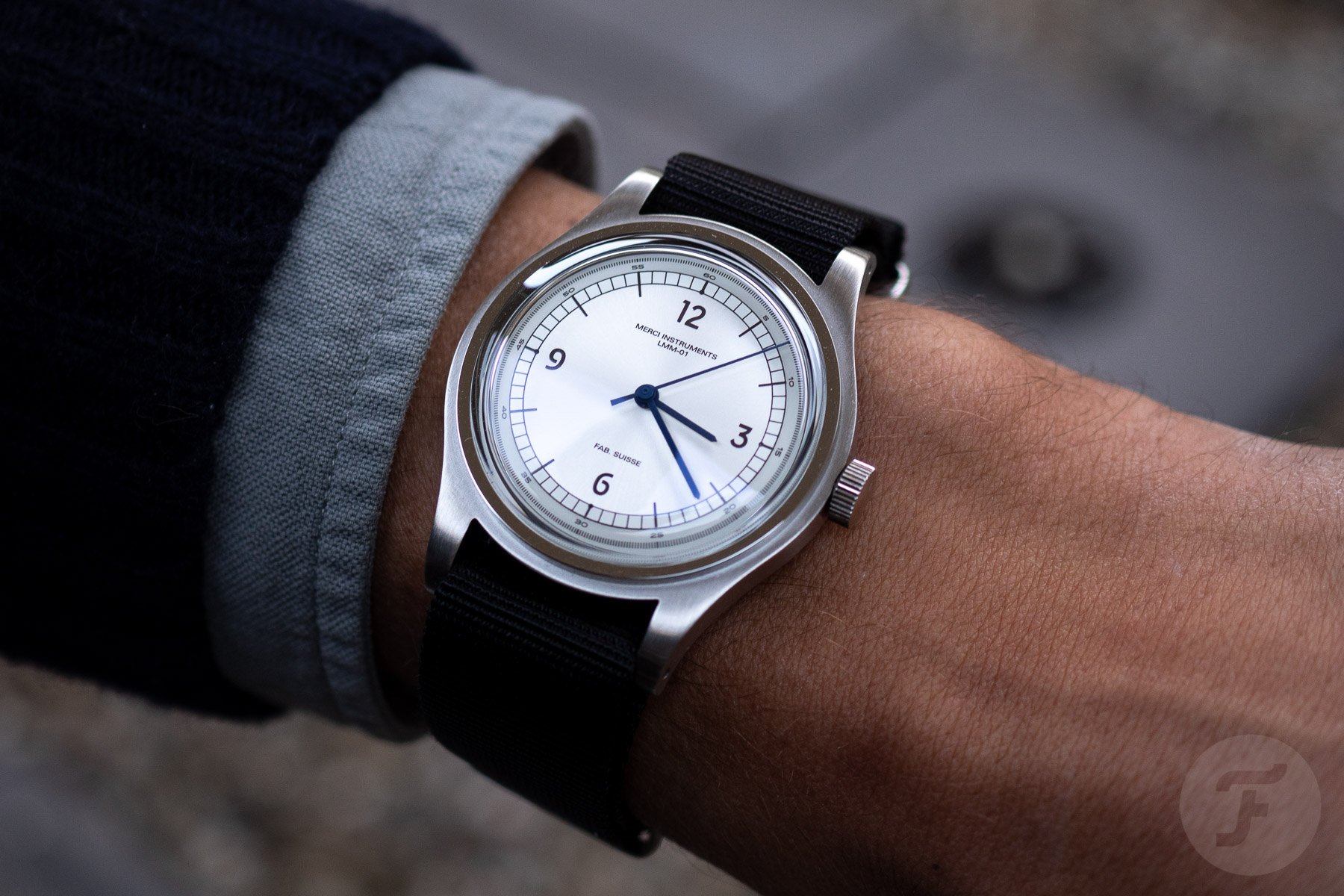 The LMM-01 Nationale
For the Nationale, inspiration came from imagining the watch worn by a fictional chief of staff for the French Ministry of Defence in the 1960s. Such a figure would be a busy man with classic, understated taste and a life demanding punctuality and accuracy above all else. Again, a precise characterization that yields an undeniably appealing design.
Its dial is split into three sections. The center is a silver sunburst with a white minute track and a silver outer edge. Numerals at 12, 3, 6, and 9 o'clock provide a classic layout. A trio of blue hands adorn the dial's center and accurately point out the time. Thanks to these classic style cues and the use of color and texture on the dial, the watch is well and truly versatile.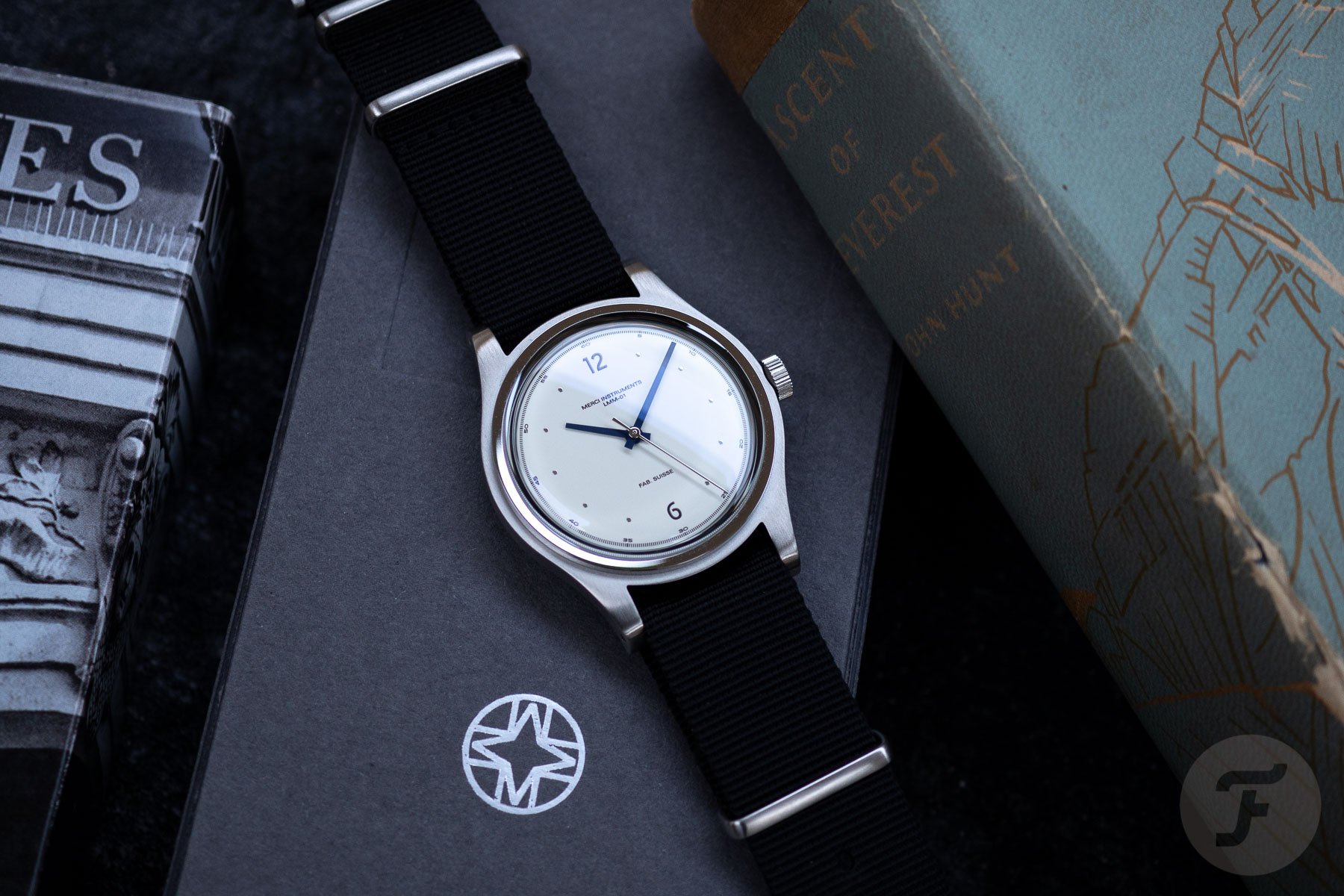 The LMM-01 Everest
Finally, there's the LMM-01 Everest. This is my favorite of the three. Why? I'd say it's due to it having the most striking design. The watch is truly minimalistic. Its inspiration comes as a nod to the watches worn by explorers who took on the world's most daring climbs. Like them, we overcome obstacles in our everyday lives. While perhaps not comparable to climbing Everest, it's still an excellent message to remember every time you look down at your wrist. And this is exactly what I enjoyed about it every time I did so. This was the one that got the lion's share of wrist time. Even on the relatively stiff NATO (which broke in after about a week of wear), it's wonderfully slim and easy-wearing. The ritual of winding it each morning is something I enjoy, as I do with a handful of my vintage watches.
Black dial text is echoed by the numerals at 12 and 6 o'clock. Ten silver dots mark the rest of the hours. The text and outer track are printed extremely small, leaving plenty of room for the icy white dial to breathe — a white expanse filled only by the blue hour and minute hands. The color here is meant to mirror the cloudless sky one sees from the summit. The seconds hand is silver and matches the polished bezel and the silver hour markers. One final thing to note is the use of the Zurich Extended font in all three of these watches. This typeface was popularized by brands like Universal Genève in the 1960s.
Now, two weeks into my honeymoon with the LMM-01 Everest, I have to say that the novelty of the understated design, perfect size, and boatloads of charm shows no signs of wearing thin any time soon.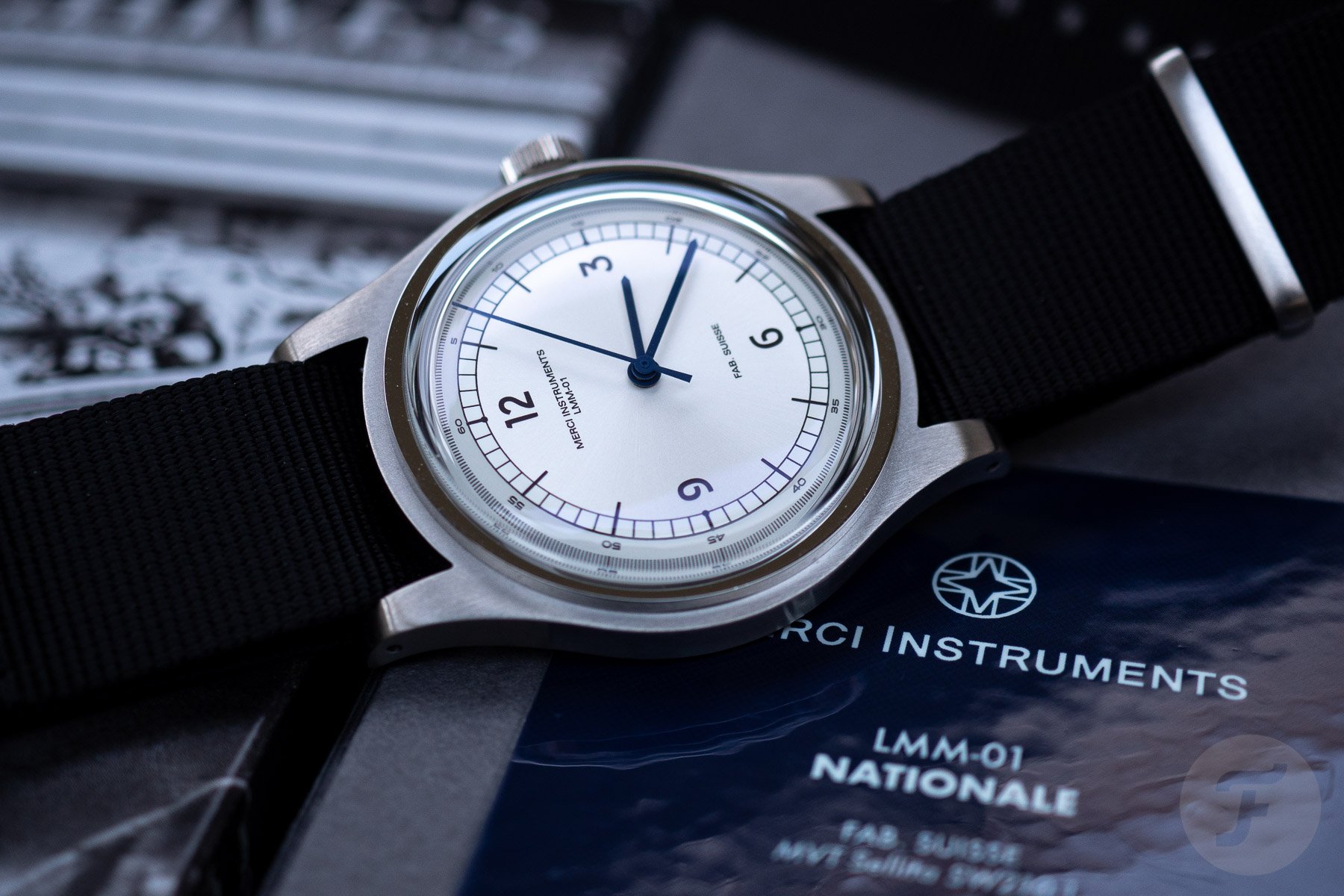 Room for improvement
Finally, I wanted to point out a couple of areas where Merci could improve these watches to make them even more appealing. The mineral crystal and the 50m water-resistance rating are the two things I'd love to see improved. It's a bit disappointing that Merci didn't go with a sapphire crystal. At a €500+ price point, this is usually pretty standard. A couple of years ago, Hodinkee released a limited-edition model (the LMM-H01), which used an acrylic crystal.
This could also be a great option. I just don't love the idea of a mineral crystal. Like Plexi (and unlike sapphire), mineral glass is fairly easy to scratch. Unlike Plexiglass, however, it cannot easily be polished.
And when it comes to water resistance, I think Merci could do better. Looking at my Hamilton Khaki Field Automatic (priced at €35 more than the LMM-01) with 100m of water resistance and no screw-down crown, it would be nice to see the brand improve this, especially if it's only a matter of upgrading the gaskets.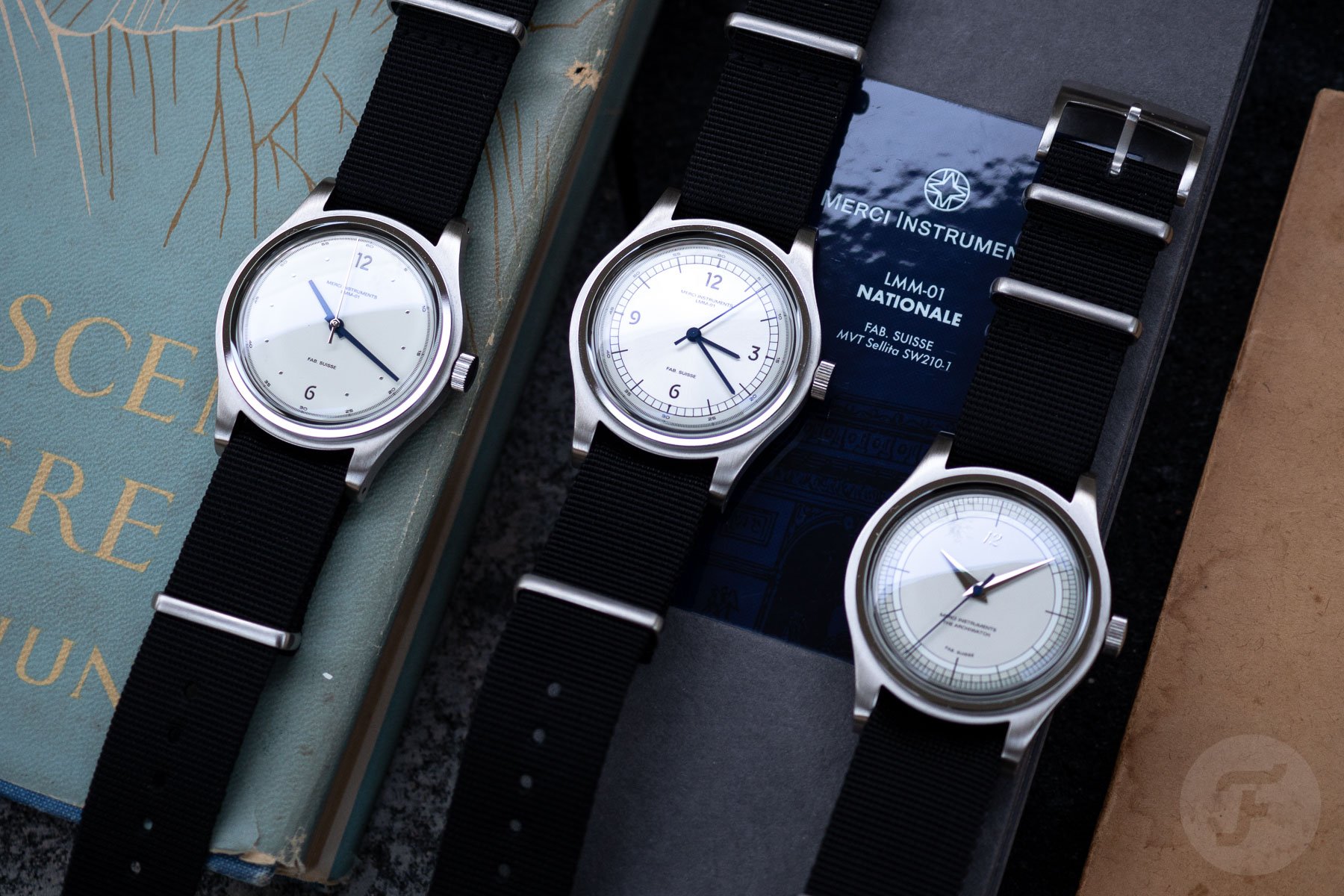 Final thoughts
Some quick notes before I let you run off to enjoy the seasonal festivities. The first thing is the blue hands. These are not thermally blued or lacquered blue. Actually, they're just a lovely shade of dark blue. I'm really not fond of the blue lacquered hands in some affordable watches, so using a matte blue material was definitely the right way to go in my book. Water resistance is not specified on the product page, but as I mentioned, it seems to be 50m. Take this with a pinch of salt, though, as this is based on a post on the brand's Facebook page.
So, what do these watches cost? Merci Instruments lists the Everest and Nationale models for €590. The Archiwatch, being a limited edition, will set you back €650. There is also an option to purchase the watches with an additional strap. To find out more about this, I recommend you check out all the configurations directly on the Merci Instruments website.
And lastly, I'll ask, which one is your favorite? What do you make of these charming vintage-inspired pieces? Love them? Hate them? Let me know your thoughts on the Merci Instruments LMM-01 watches in the comments below.