Synchron Military Diver: Hands-On With A Controversial New Watch Release
Synchron fires the first shot with an homage to a rare diver
Every so often, a watch comes along that shakes up the establishment. Ok, it's a very small corner of the watch world that we're discussing here, but nonetheless… The Synchron Military is here and it's not without controversy.
On our last podcast about vintage dive watches, Balazs and I briefly discussed the brand new Synchron Military and the stir it had already created on its first day of release. We envisioned a "Biggie vs. Tupac" style watch beef complete with posses and tough talk. Frankly, we weren't all that off course. There have been shots fired with Synchron gaining a first mover advantage over a larger related, yet unrelated brand. If you came here just to read a watch review, you're probably asking, "what the hell is Mike talking about? " As the retired wide receiver Terrell Owens once said, "Get your popcorn ready!"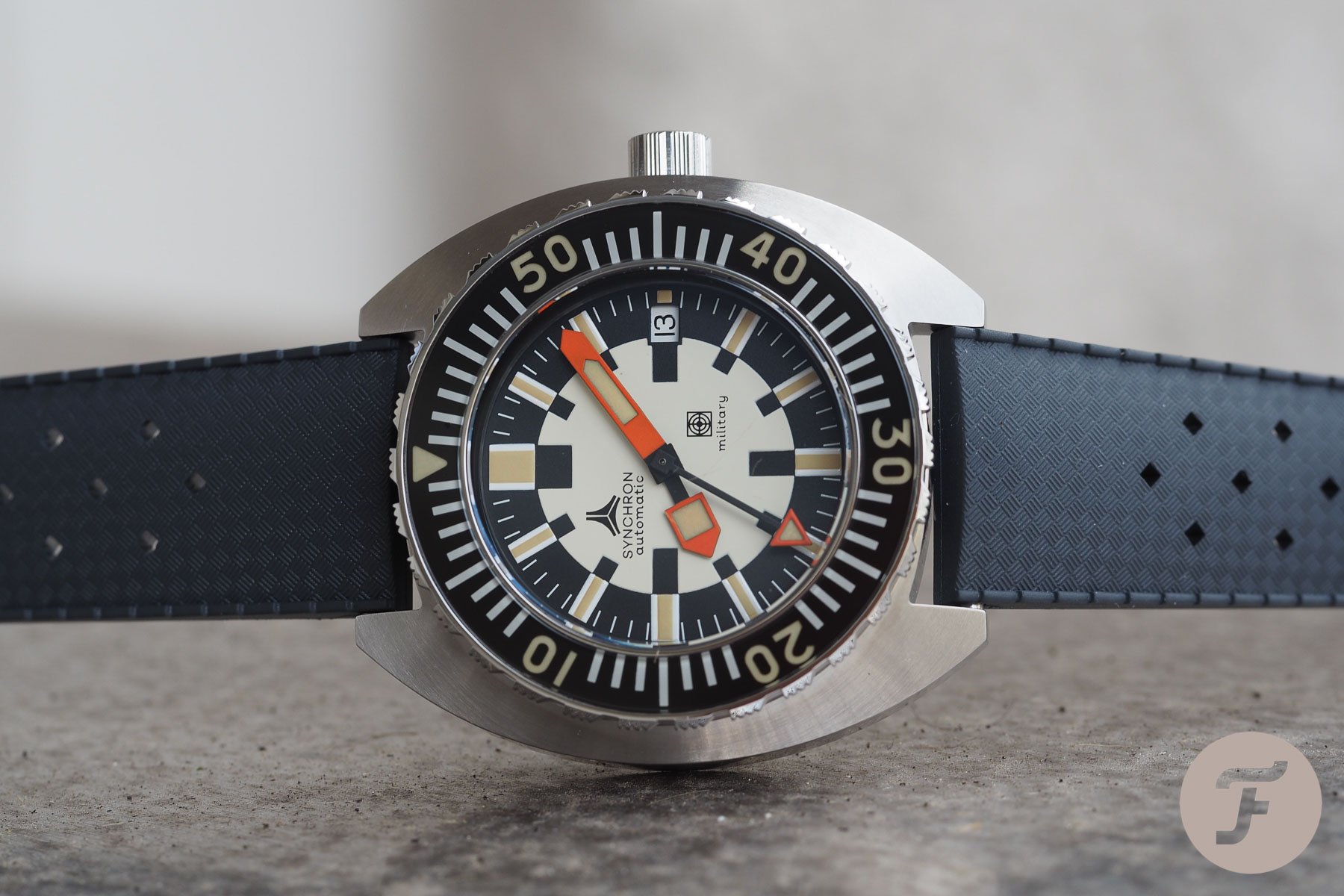 The Synchron Military
Let's get one thing straight from the beginning: the Synchron Military is an homage watch and in most cases, the discussion would simply end after that statement. People tend to be either pro-homage or staunchly against such copycats. The slightly different wrinkle to this story, though, is the watch branding and the person behind the Military. The piece that lent inspiration to this new model is the DOXA Army. That watch is an incredibly rare '70s diver that some assume to be a Swiss military issued watch. A fantastic article on Blomman Watch Report does a great job of disputing this declaration.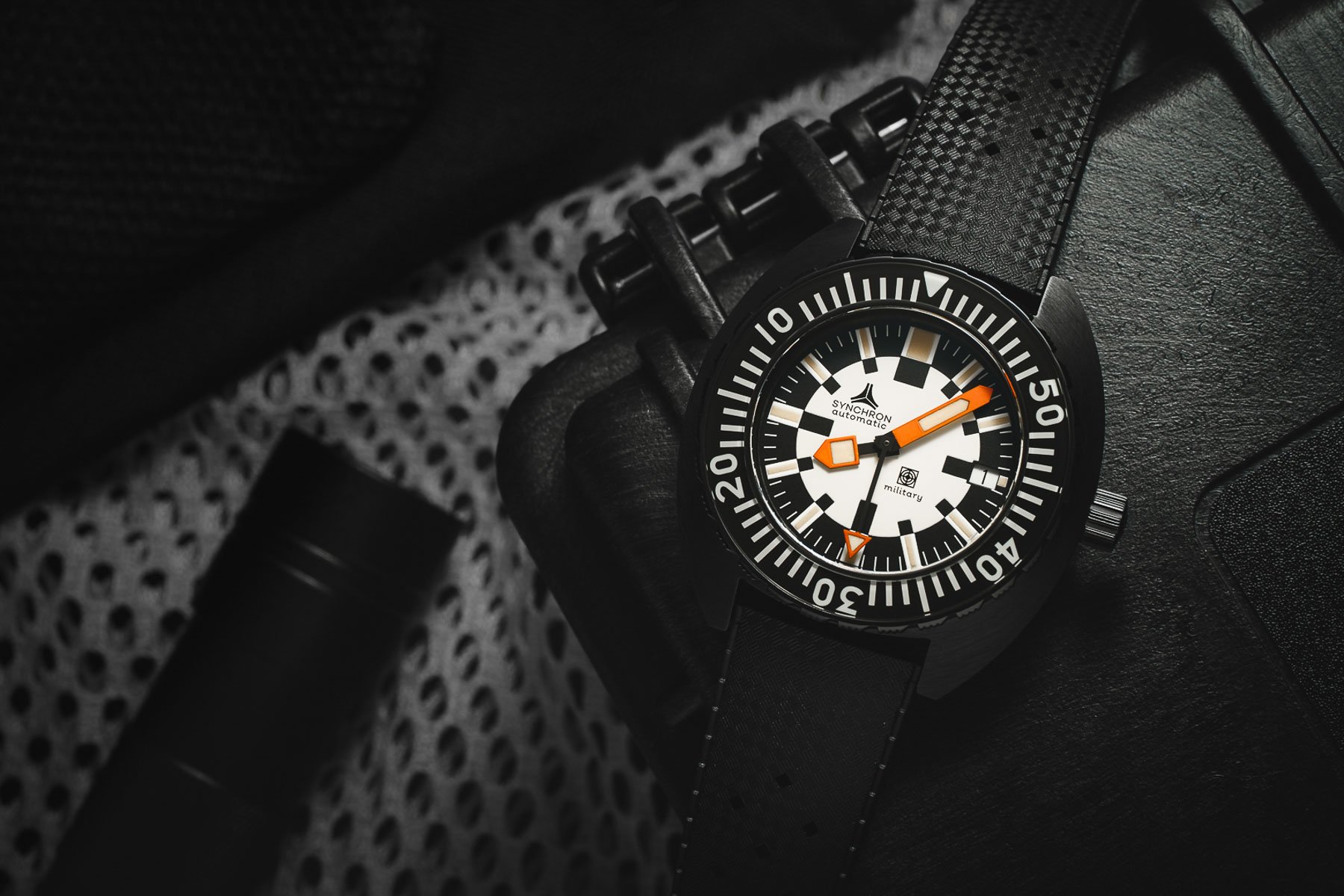 Perhaps the original DOXA Army was meant for the military and things fell through. Who knows, but the result was a highly unique watch with a black coated case in the form of the DOXA SUB 300T. There were changes, though, to the regular SUB with the aforementioned case color, a different bezel, and handset. The black and white dial also brought a completely different look to the familiar case. Finally, the case back ditched the Synchron symbol in favor of a shooting target motif with the word "army." Finding one of these watches is incredibly difficult with most production estimates at less than 100. Also, most survivors have lost their black case coloring — these early attempts at coatings from most brands were fragile at best. There was no easy solution to finding such a watch until now. This is where the Synchron Military enters the picture.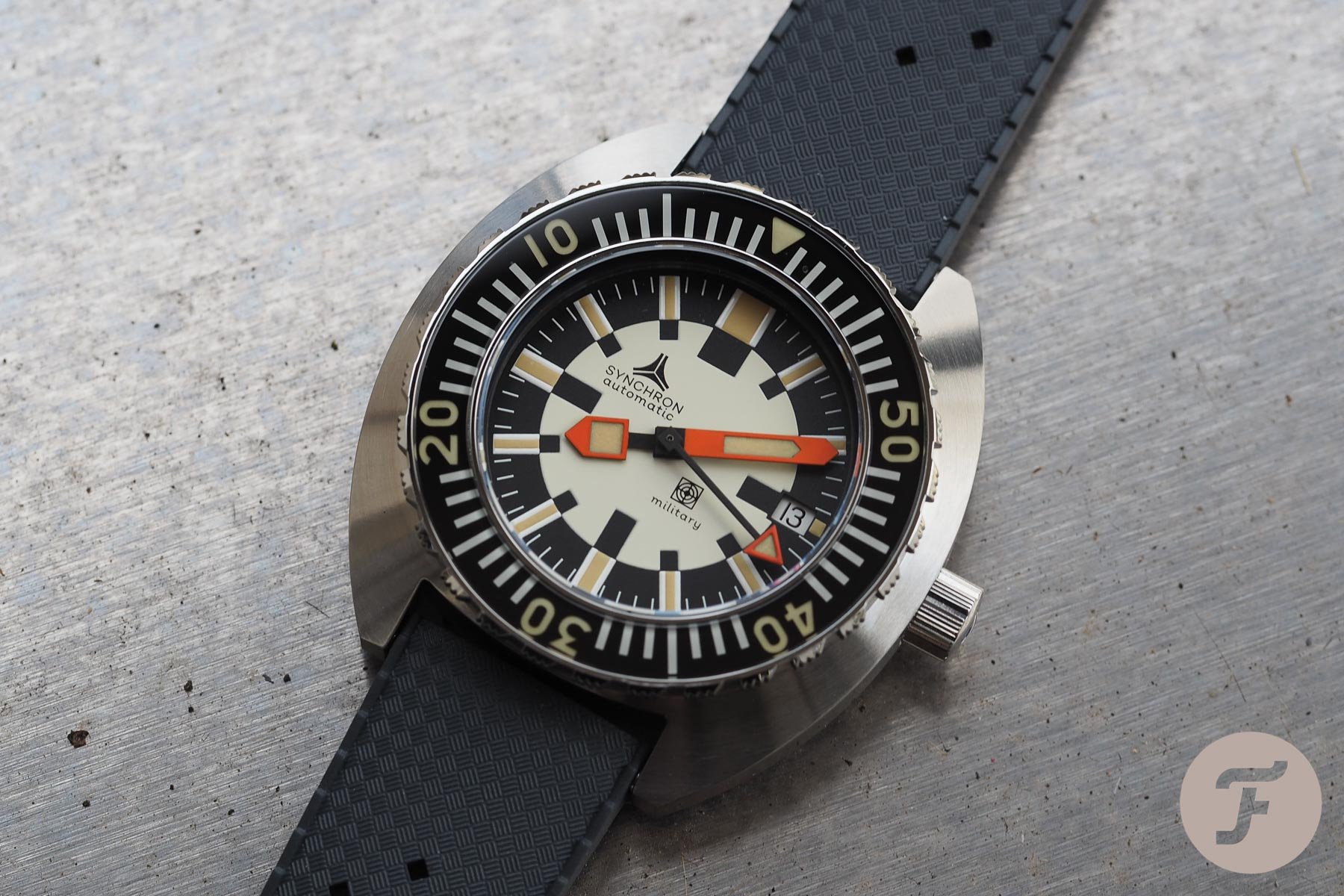 An unofficial family affair
On March 10th, those of us who had previously signed up for email notifications from any of the Synchron brands woke up to something pretty interesting. Synchron, by the way, is owned by Rick Marei and includes Tropic, Isofrane, and Aquadive. The message announced a "Tribute to an Ultra-Rare 1970s Diver" and then we saw it — the 300 meter Synchron Military.
Now, what made this release such an initial mind bender is that Synchron once owned DOXA. The original Army was actually made during the Synchron era. So, seeing the Synchron Military formed a connection. To be clear, though, that link no longer exists. DOXA and Synchron are not affiliated. The other interesting point here is that Rick Marei is behind the Synchron release. Until late 2018, Rick was the general manager of the DOXA SUB line. If you're holding a vintage inspired SUB from a few years ago, he was responsible for it. So, yes, this new release isn't quite your ordinary homage. And what does DOXA have to say about the Synchron Military?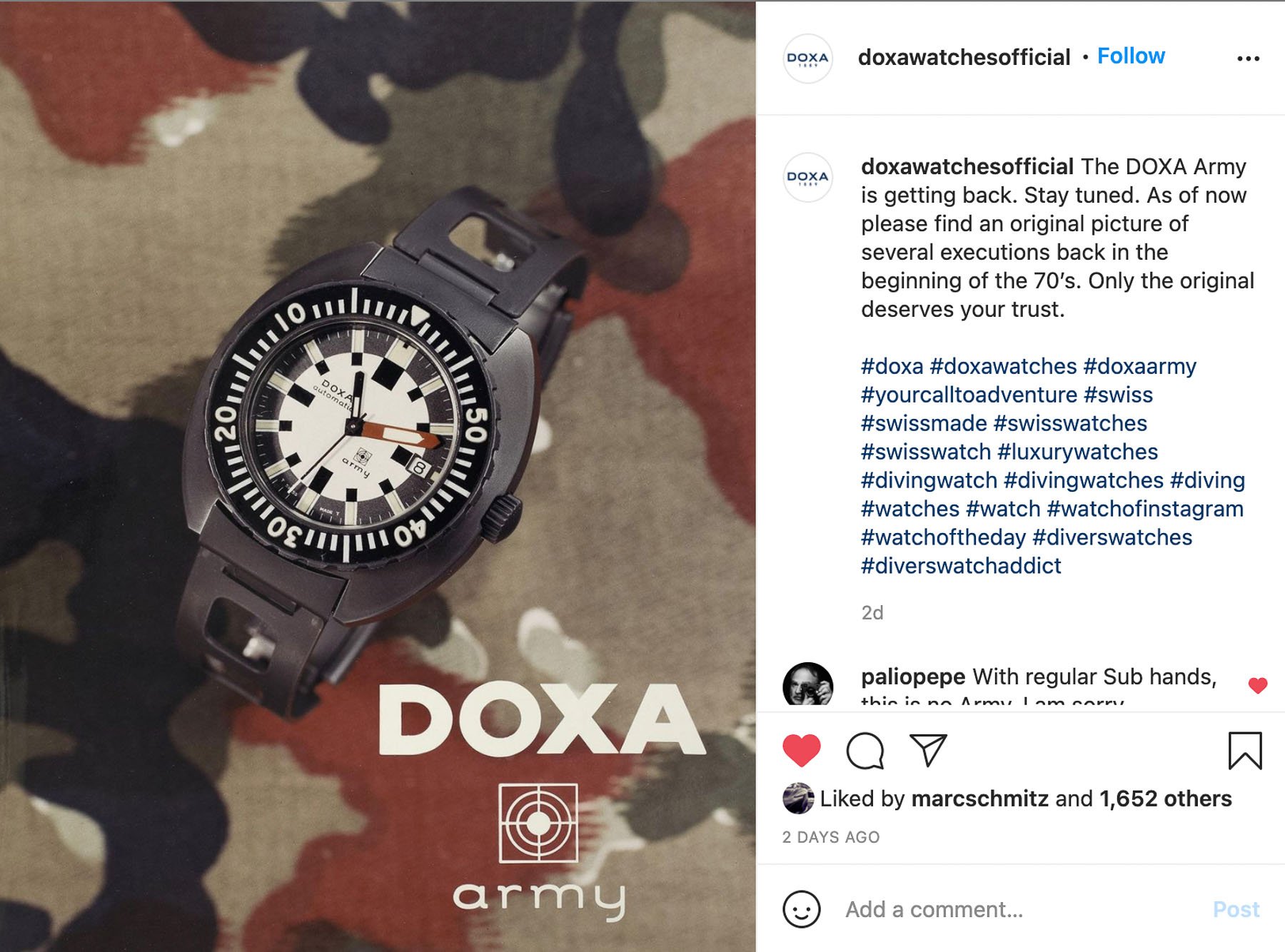 The DOXA response
Later that Wednesday, DOXA posted a vintage DOXA Army on its Instagram account. I say vintage because it had a tritium dial. It was an odd one because it had traditional SUB hands, but the point was clear. DOXA told us that the Army was coming back and that "only the original deserves your trust." While we don't know what was happening in Switzerland that day, some felt that DOXA was scrambling after seeing the Synchron Military. The comments were surprising with a mix of excitement and head-shaking.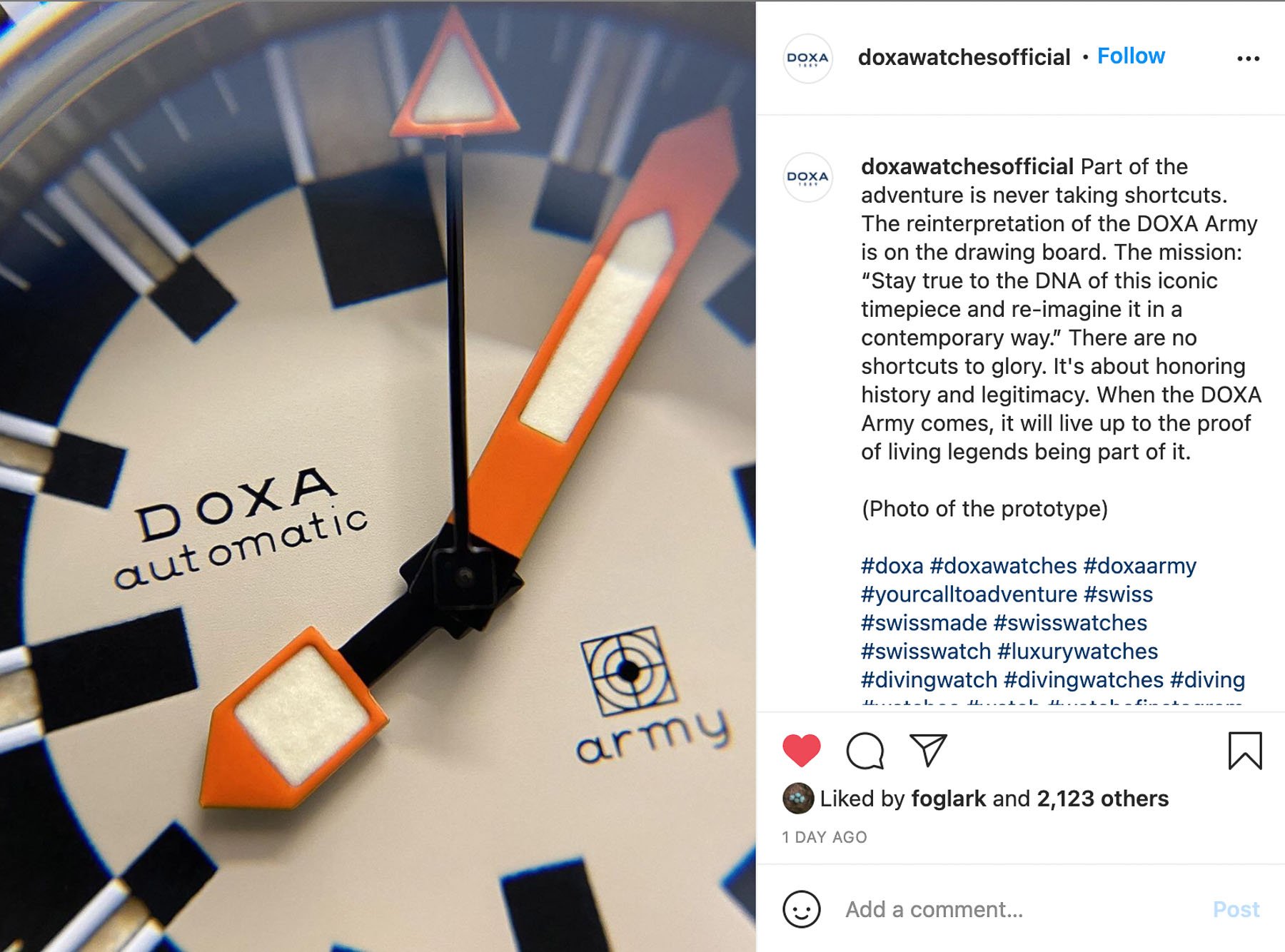 The next day, a macro shot came to Instagram with the correct hands and a closer look at the dial. So yes, there will be two modern versions of a very desirable (and oft-requested) watch and we're excited to see the DOXA.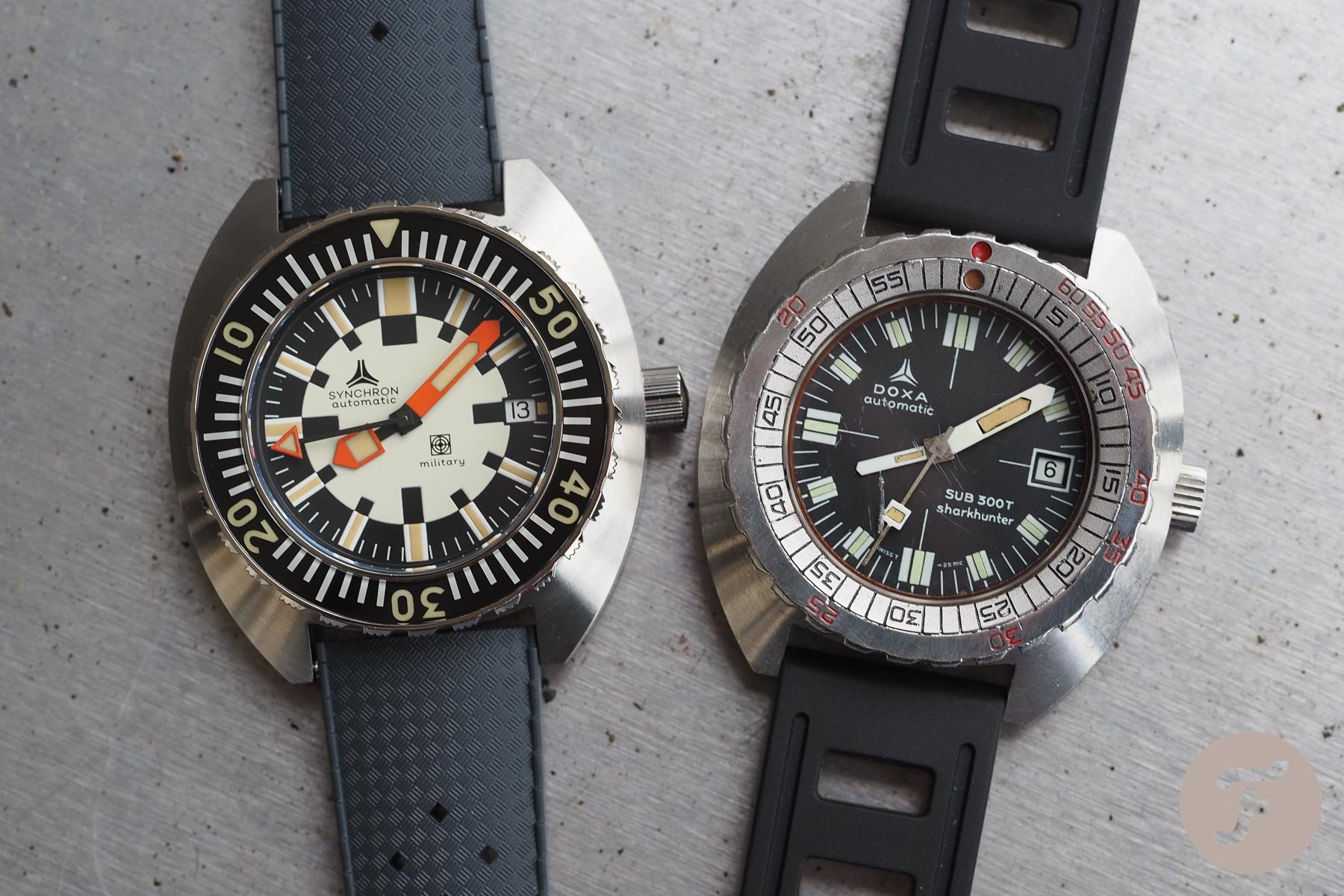 So, how is the Synchron Military?
With the back and forth out of the way, that leaves a far more important question. Namely, is the Synchron Military any good? Thankfully, the answer is yes — it's actually quite good. What we have is a case design that is nearly identical to a Synchron-era SUB 300T. I compared it to my Sharkhunter 300T and aside from a slight difference in bezel diameter, it is identical. This means a 42mm diameter, 45mm lug to lug, and 14mm total thickness. The six slot screw in case back design is the same as the vintage model and even the case back thickness is similar. The only visual difference is the crown. It is signed on the new model and is countersunk to the same depth as the original. It simply protrudes further.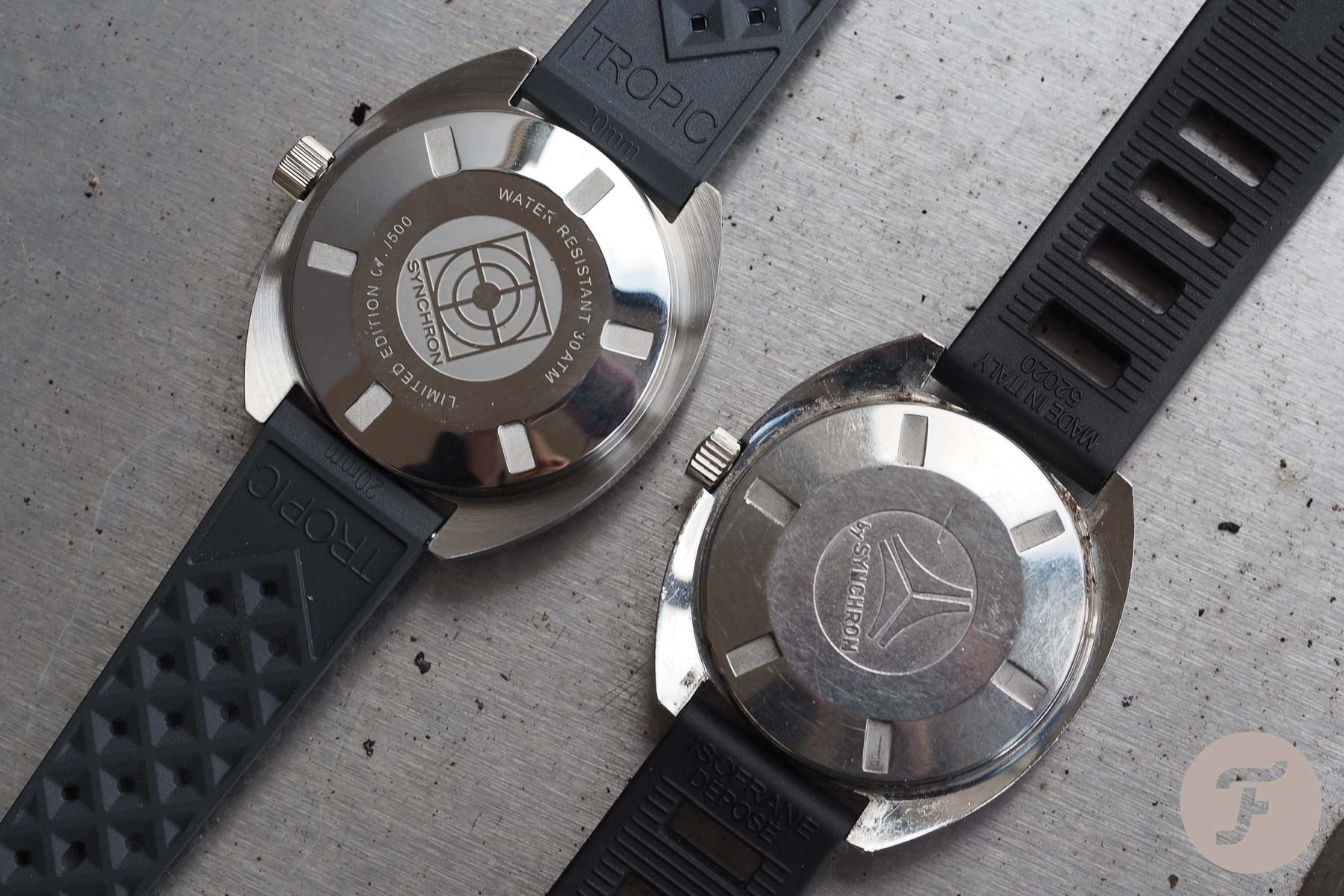 The Synchron Military comes in either a stainless or more historically correct black coated PVD in editions of 250 pieces. (Update: the PVD version shows a different bezel on the site – it will feature aged lume as well.) Each are individually numbered as part of the 500 piece total edition. Regardless of which model, you'll find a 37mm 120-click bezel with luminous sapphire insert and matching sapphire crystal. The bezel has those grippy angled teeth to make turning a breeze.  The bezel action is tight and feels like quality.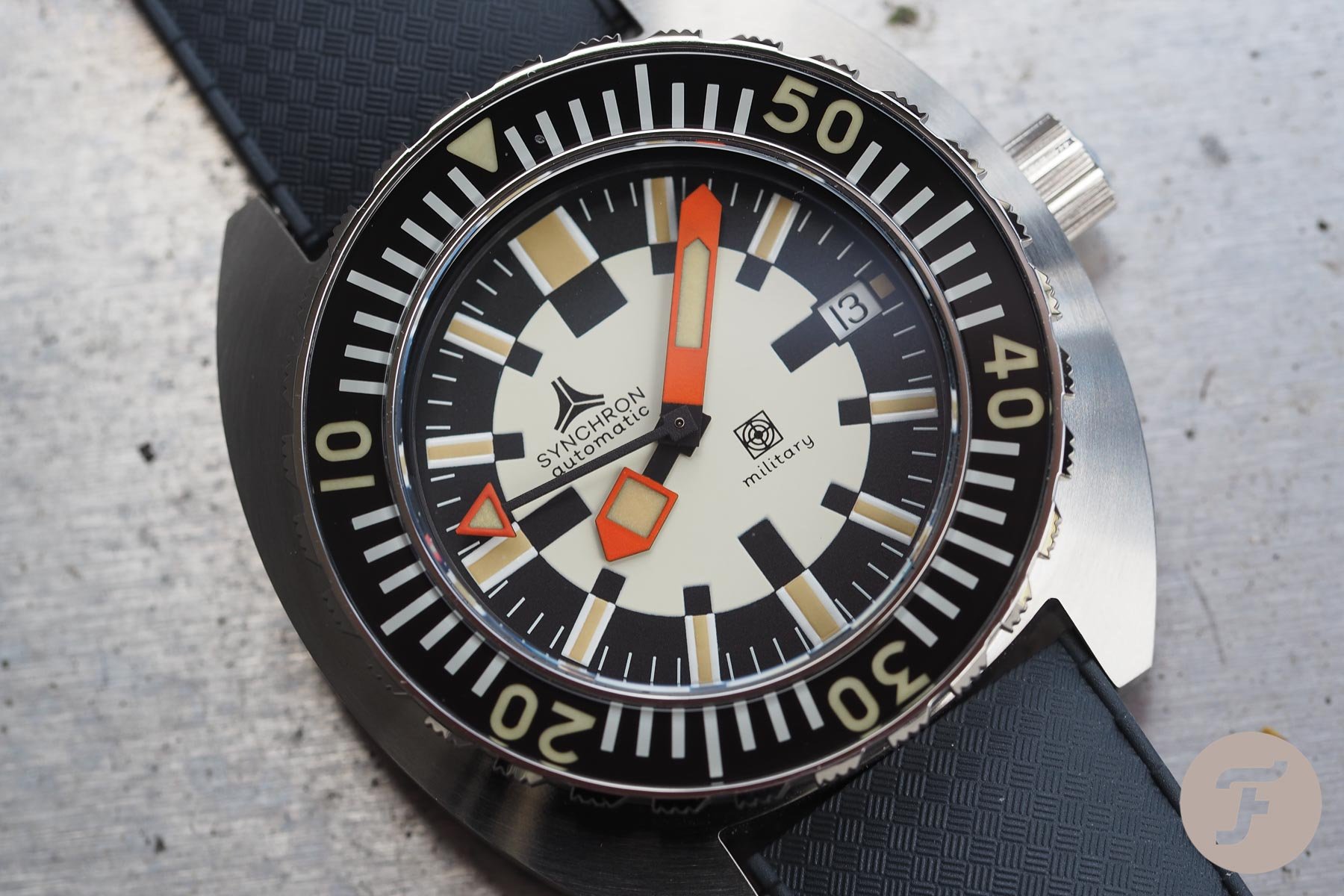 An ETA 2824-2
In what is becoming a tad more uncommon these days, the watches use an ETA 2824-2. Like the original, the date sits at 3 o'clock inside a small window. Rick chose to use aged Super-LumiNova on the bezel, dial, and hands to give it that "found in a drawer" NOS look. Some might decry this, but I think it actually adds some warmth to what would be a pretty stark black and white dial. Plus, this thing is a torch in the dark! Regarding the hands, they look great and there's no paint or lume bleeding "outside the lines." The dial itself is of similar quality with great printing and detailing. That Synchron logo looks perfectly at home at 11 o'clock as well.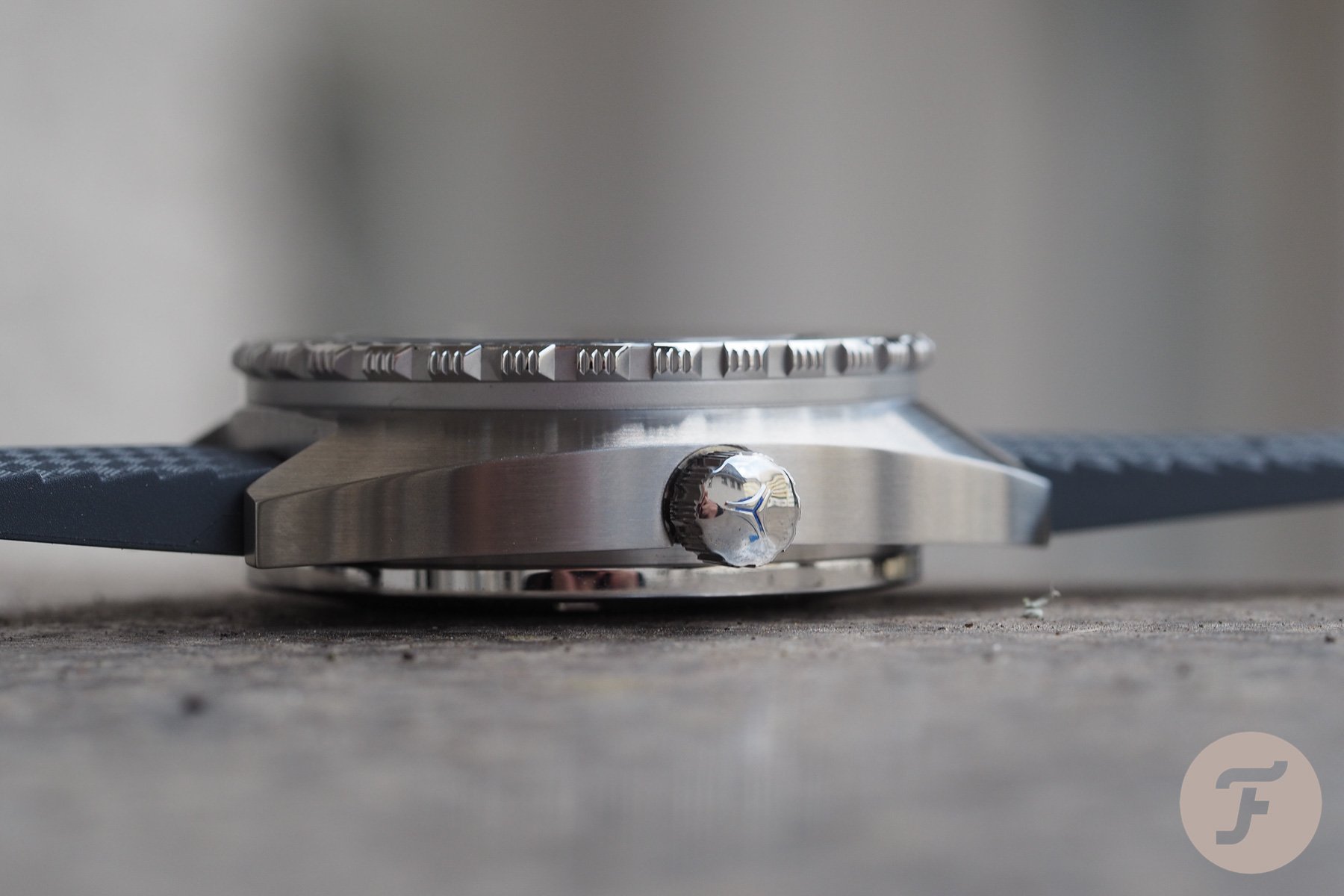 The Synchron Military comes on either a 20mm Tropic or Isofrane strap. My stainless model arrived on the Tropic and I haven't found the need to change it yet. It looks perfect and the fit is, well, just like putting on my old 300T. I guess the vintage Expandro bracelet will fit and perhaps the current 300T will fit as well (someone please let us know if they've tried). These watches aren't small, but they fit most wrists wonderfully. Oh, and that crown? Many have asked about whether it digs into the wrist and I can firmly state that it doesn't. There is some wobble in the crown when it is at full extension. I also had to seat it a few times before the screw-down became smooth. Aside from that, what I can say is that this watch feels like it's of the same quality as my Black Lung reissue from a few years ago.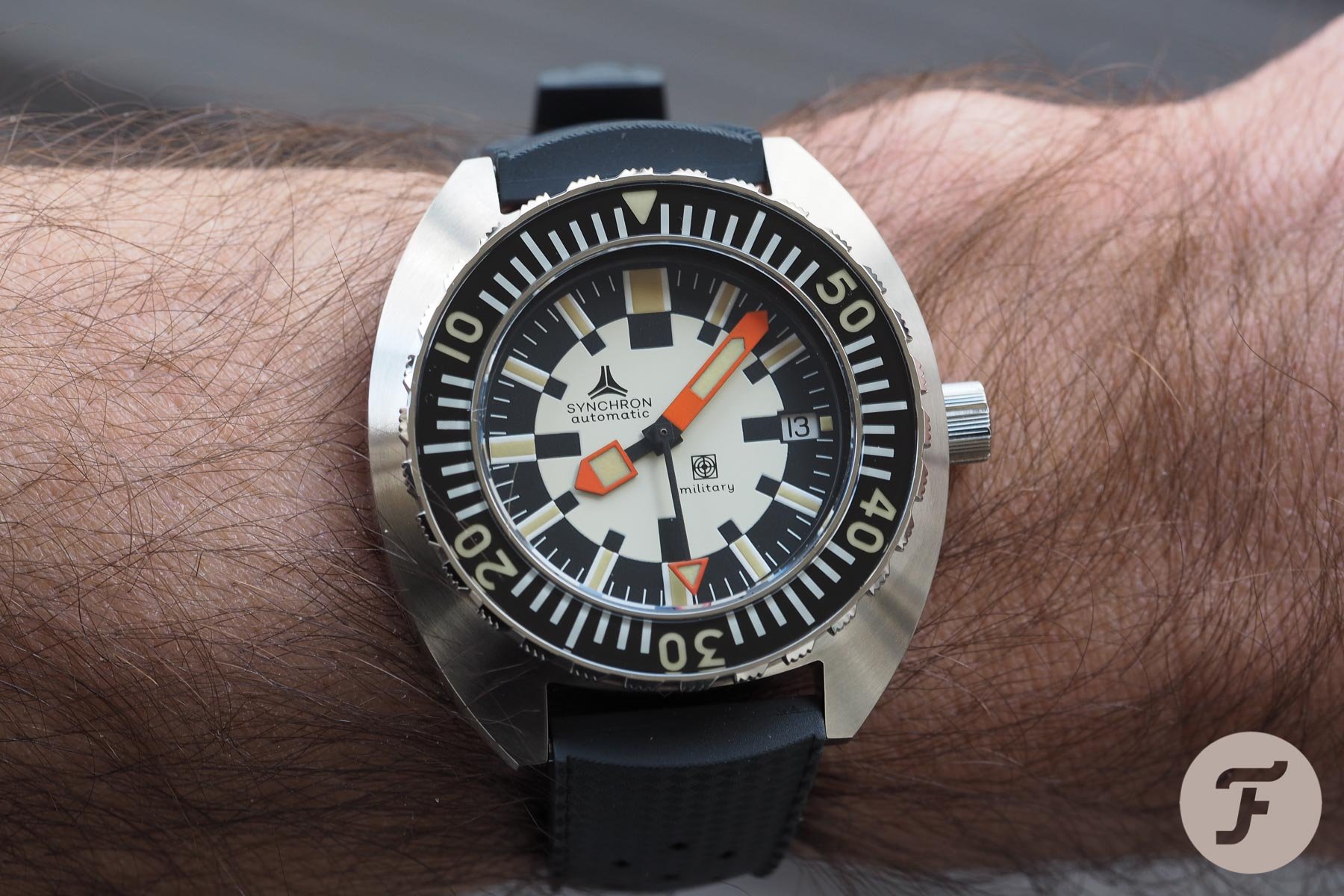 Pricing
The fact that this watch feels so good is fairly remarkable considering its price. The Synchron Military is still on sale for an introductory price of  $990 with deliveries in process. Regular pricing will be $1,290, but the watches won't make it past the introduction (the steel model is sold out). This is great value for such a well executed watch. Now, some people have attributed this to the fact that "Swiss Made" is nowhere to be found on the dial. Despite the fact that it's not widely discussed, non-Swiss parts are typical these days on most of our watches. Yet, many of those watches still carry the "Swiss Made" text on the dial. Rick stated that the assembly and QC are performed in Switzerland, so I'll leave it at that. Finally, in talking to Rick, if you've held a new Aquastar, a lot of the same suppliers are at work here as well.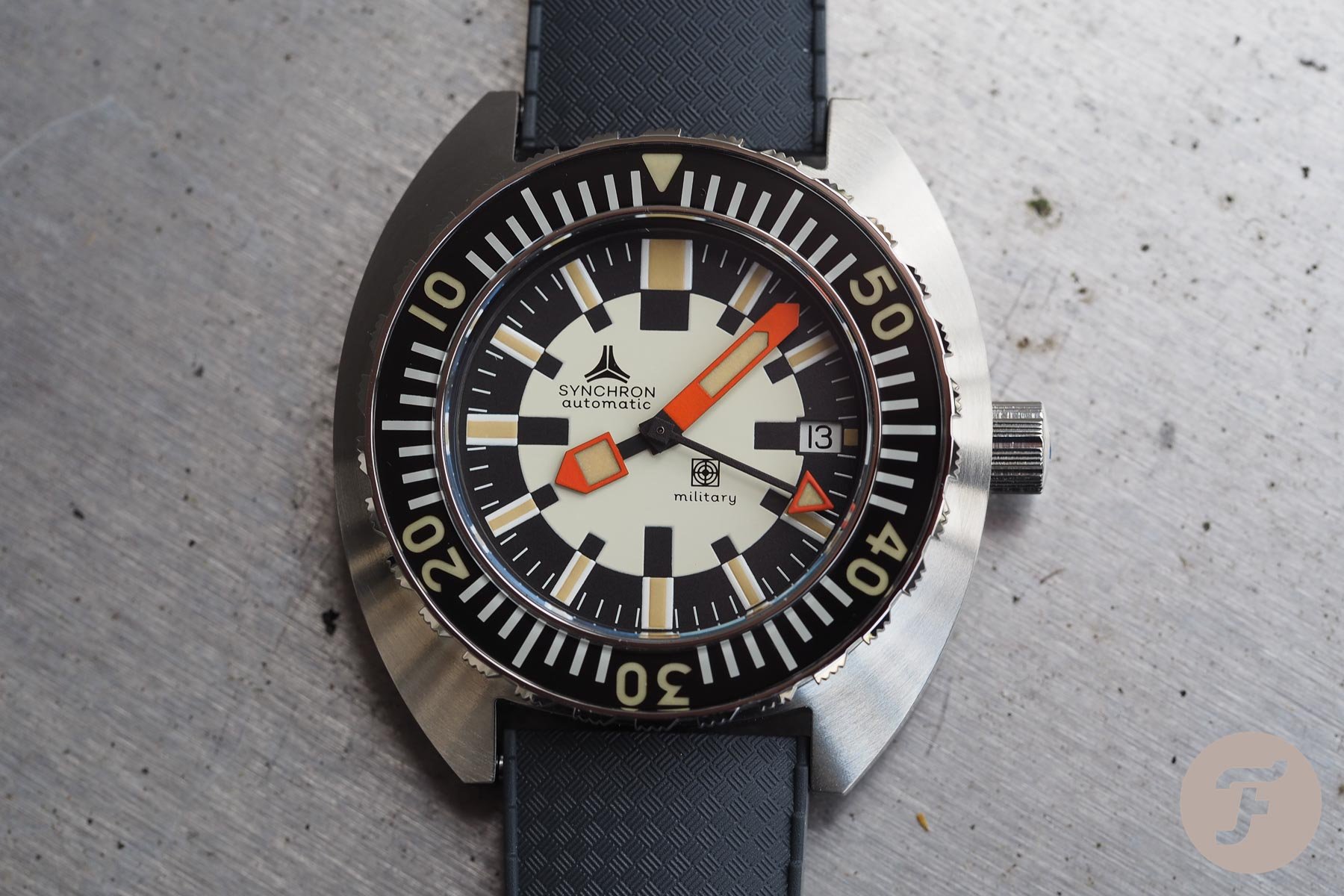 Final thoughts
If you're a fan of vintage DOXA, vintage dive watches, or just cool designs, the Synchron Military feels like a no-brainer to me. I really like the build quality and the watch itself just looks good. The pricing is seriously approachable in a watch world where it feels like a lot of brands would try to charge another 50% or more. Then there's the underlying current of controversy. I find that fun too and because of that, this watch feels like more than a typical homage. Still, let's see what DOXA brings. What I think I like best about the Synchron, though, is that I didn't see it coming. It shows that we can still have some serious fun in this hobby and it doesn't have to be crazy expensive.
Visit the official Synchron site for ordering information on the Synchron Military.
Watch specifications
Dial
Printer with applied Super-LumiNova
Case Material
316L Stainless Steel with Black PVD Optional
Case Dimensions
42mm Diameter, 45mm Lug to Lug, 14mm Thickness, 20mm Lug Width
Movement
ETA 2824-2 automatic with quick set date
Water Resistance
300 meters
Strap
Anthracite Tropic or Isofrane
Functions
Time (HH:MM:SS), date, and 120-click external dive bezel
Price
$990 Introductory, $1,290 regular price
Special Note(s)
250 numbered pieces of each model (stainless or PVD)