Hands-On: Nivada Grenchen Chronomaster Big Eye
One of the rarest of them all gets a new lease on life
Once every six weeks or so, I get a parcel from Nivada containing its latest and greatest releases. If you are a fan of the brand, you might have seen my articles on the Chronomaster, the Paul Newman limited edition, or recently, on the Super Antarctic. I thoroughly enjoyed each watch, but I must admit that the brand's latest timepiece was a real treat. The Nivada Grenchen Chronomaster Big Eye is a funky twist on the classic Chronomaster design. Oh, and did I mention that it comes with a Valjoux 23?
Yes, the new Big Eye, just like the Paul Newman edition, houses a NOS Valjoux 23 movement. But that's not the only reason I fell in love with the watch. Let me spell out all the ways this watch lit my fire.

Big Eye
First and foremost, we need to address the elephant in the room — what is a Big Eye? The Chronomaster is not the only watch with such a nickname. Big Eye watches, vintage or new, are pretty unique pieces. They are primarily chronographs that have one register larger than the other. Think of the Oak & Oscar Jackson Big Eye. In other cases, there is only a single sub-dial, such as the Tissot Navigator ref. 45500 that you may know about. There's even a special breed of Big Eyes, which, despite having two registers, have one painted or finished in a different color — the new Aquastar Deepstar, for example. Asymmetry is a breath of fresh air in the watch industry, where everything is carefully designed and executed to look perfect. The dial of the Chronomaster Big Eye is a significant factor in why I enjoyed this piece so much, even if the size difference between the sub-dials is not that significant.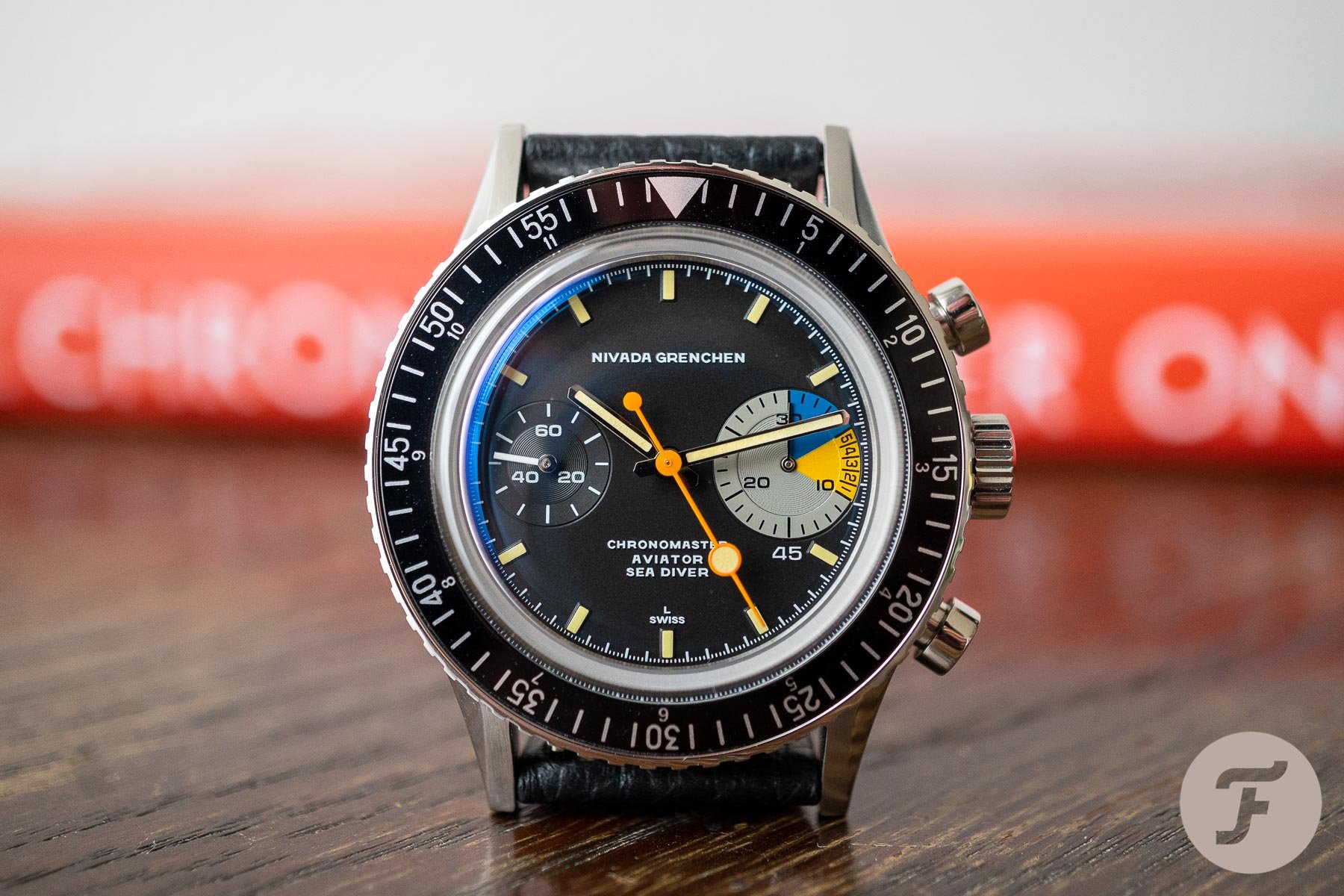 Re-issue
The second reason on my "Why I Love This Watch" list is the simple fact that, like every new Nivada, this one is also a re-edition. Not only that, but it's a very faithful one too. The original model, ref. 85006/3385, also housed a Valjoux 23 caliber. The 30-minute register at 3 o'clock was a tad larger than the running seconds sub-dial at the 9 o'clock position.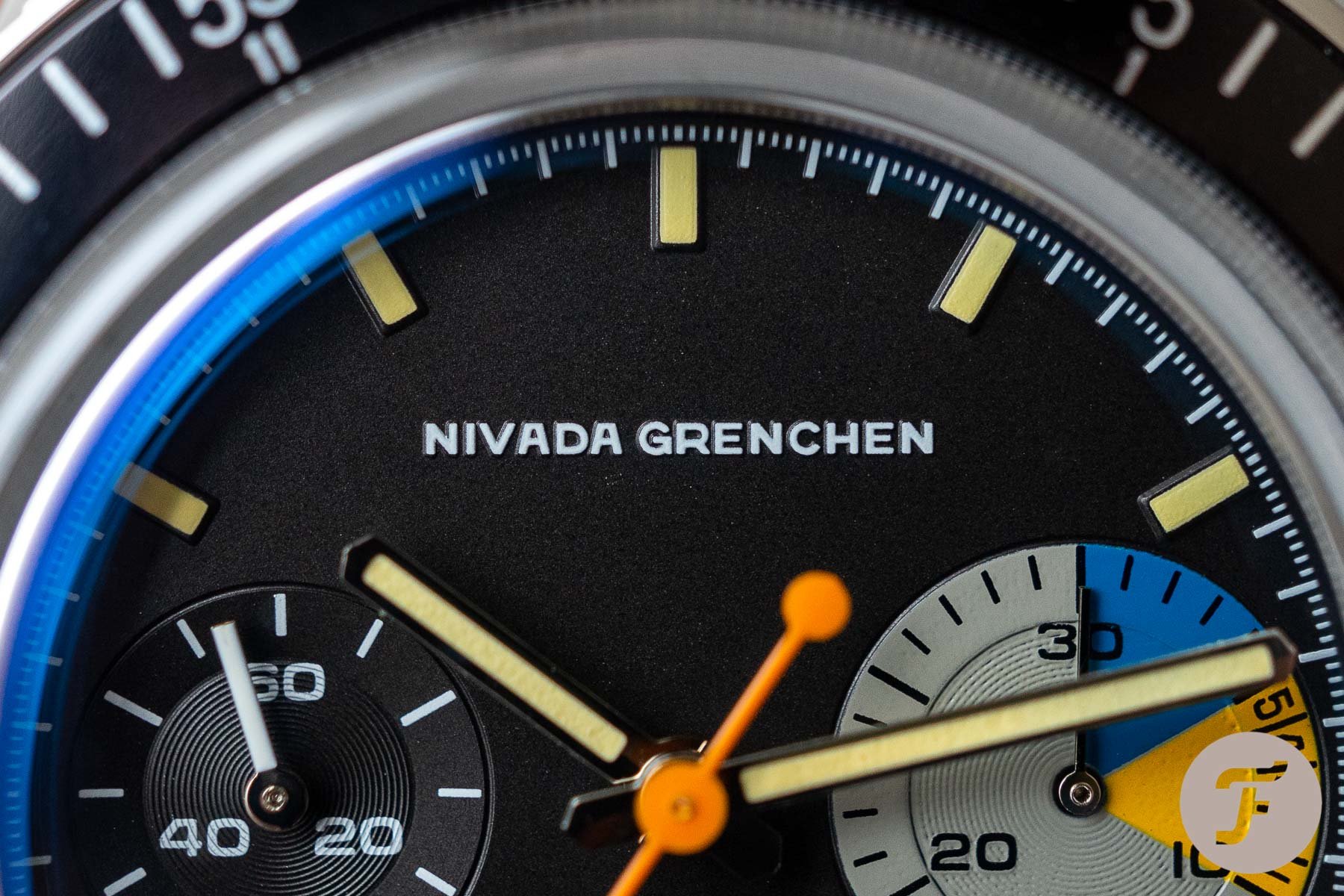 Furthermore, that larger sub-dial was white on a black base dial, and it featured the first five minutes marked in blue and the next five in yellow. The yellow segment also served as a five-minute countdown timer, which is also present on this new re-edition. The original model, just like its modern counterpart, has no tachymeter scale printed on the dial. Aside from the sub-registers, there's only a minute track and large, yellowed baton indices. I've always adored the look of the vintage Big Eye. The new is equally remarkable.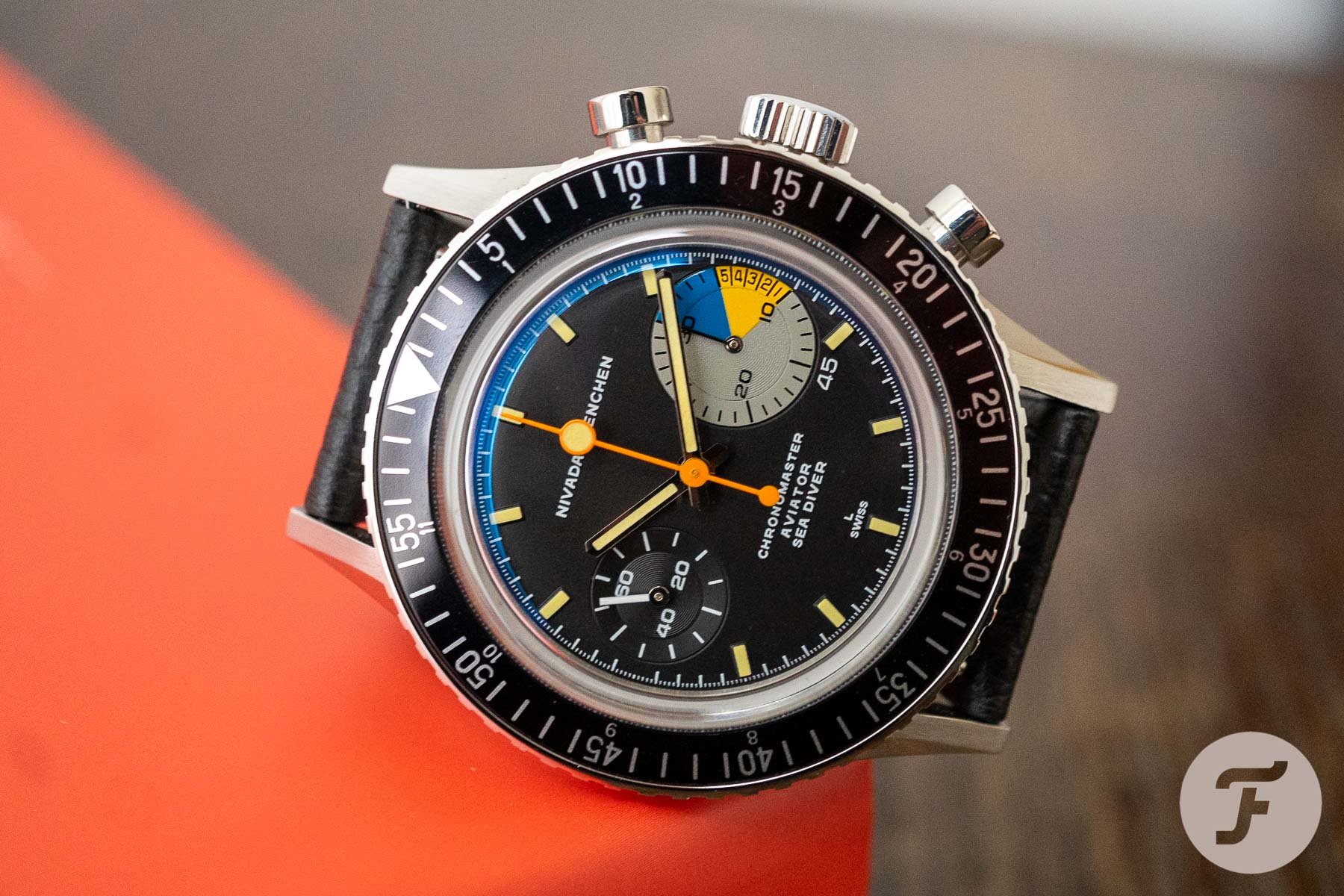 When it comes to size, the Chronomaster is pretty much perfect, given that you don't have the wrist of The Rock. It's 38mm in diameter, 46.4mm from lug tip to lug tip, and 13.7mm thick including the domed crystal. It is effortlessly wearable and comfortable whether you have a large or a small wrist. I've mentioned this many times, but I have a lot of respect for any brand that tries to keep the original size of a model it re-issues. Going up from 36 to 38mm or so is not so much of a problem. But please don't go over 40mm, as the result might be gimmicky. Thankfully, that is not the case here.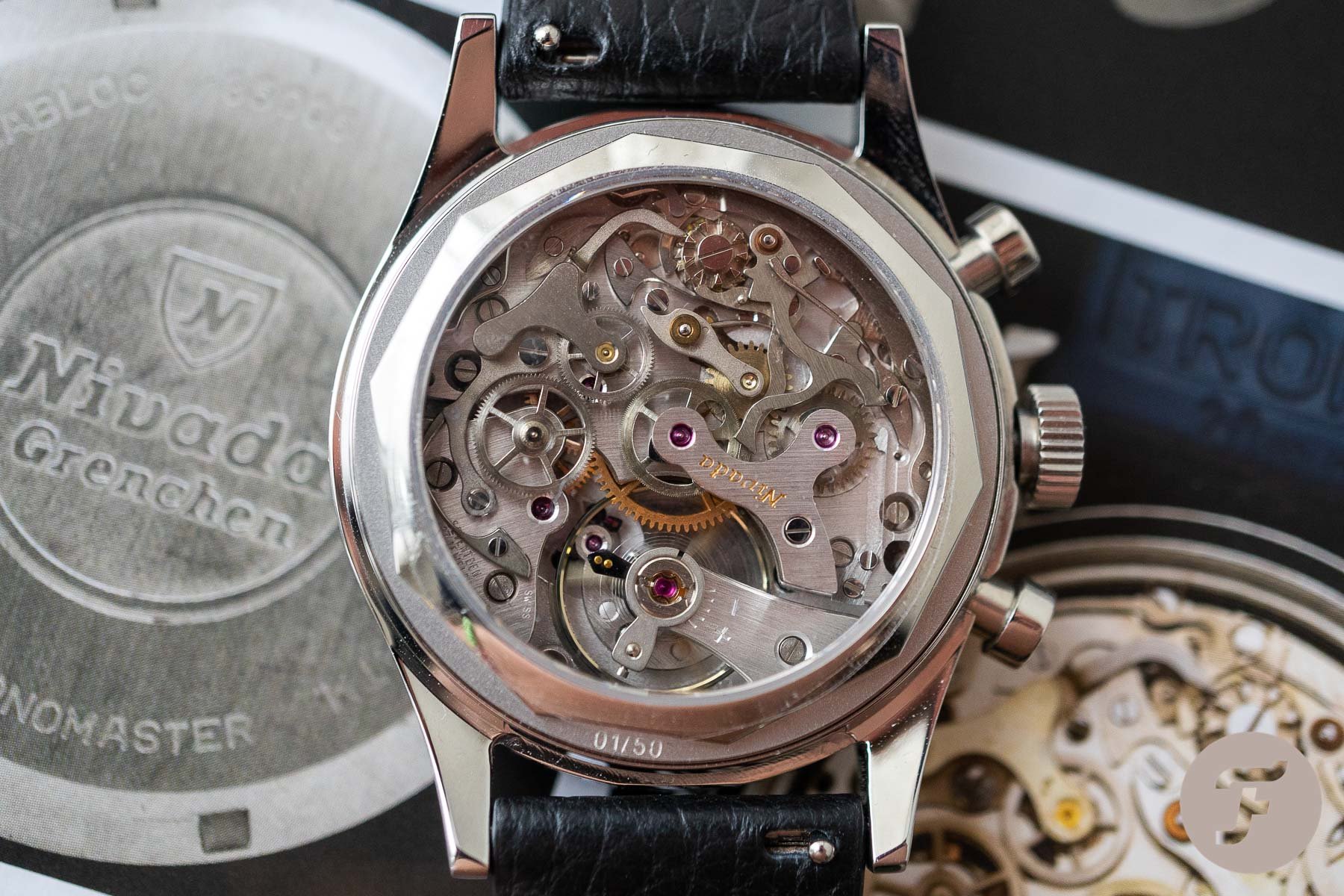 Valjoux 23 VZ movement
In the late '60s, many Nivada Grenchen Chronomasters came out of the factory with a Valjoux 23 VZ (VZ for "Valjoux Zaehler", produced from 1916 to 1974). Around 1966, Nivada stopped making watches with Valjoux 92 movements and switched to the caliber 23. There were other changes too. The typography on the dial received a facelift, and the previously used broad-arrow hands were retired. Simpler, more legible baton hands came into production, as well as the unmistakable lollipop chronograph seconds hand. Thus, the Chronomaster received a much-deserved refresh. While one can lament the necessity or charm of these upgrades, one thing is for sure — the Valjoux 23 was an excellent, robust choice of a caliber. The new Big Eye houses a new-old-stock Valjoux 23, and as such, it not only looks but also feels like its vintage counterpart. That's another reason why I love this timepiece.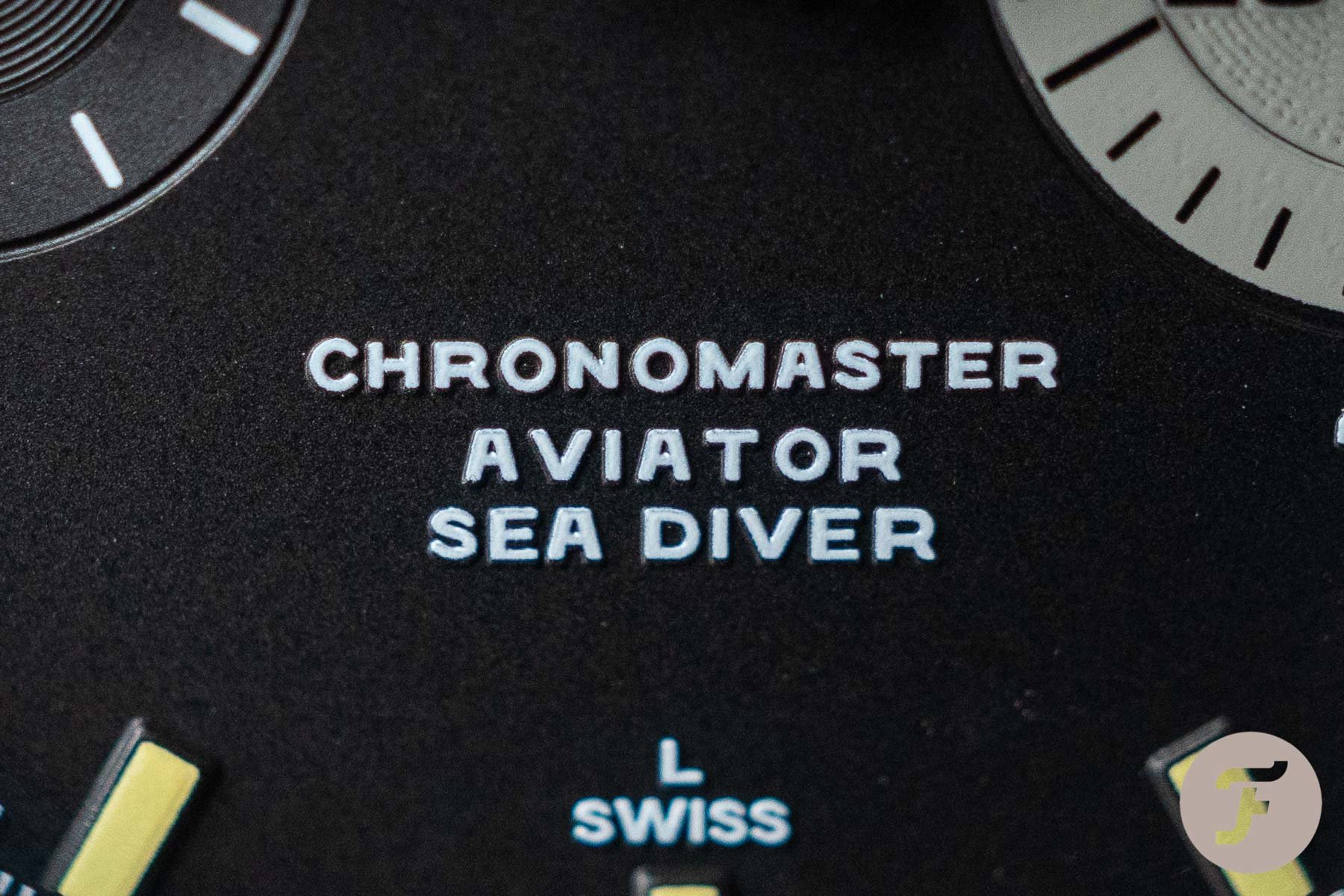 I'm a sucker for vintage chronographs and especially column-wheel movements. Give me a watch with an EP40 or a Valjoux 72 any day of the week over a modern piece, and I'm a happy guy. But there are so many other calibers from bygone eras that are equally iconic. Overused as the term may sound, "iconic" is the best word to describe the movements mentioned above. They went into some of the most important watches of the past, and the Valjoux 23 is right up there. The beautiful display case back might not be historically accurate, but it does let us thoroughly enjoy the "view." I love winding my watch, feeling the resistance of the caliber as I operate it with the pump pushers, seeing the column wheel jump into action. If you know what I'm talking about, you'd love the Nivada Grenchen Chronomaster Big Eye. 

More Yesses
Aside from the three major points that I listed above, there are a few other reasons for my affection. I can't get enough of the drilled lug holes. They're such a cool and understated feature, in my opinion. In terms of strap options, you cannot complain. Whether you are a leather or rubber guy, or perhaps a steel person, Nivada has your back, even if you fancy a Forstner bracelet over the OEM option.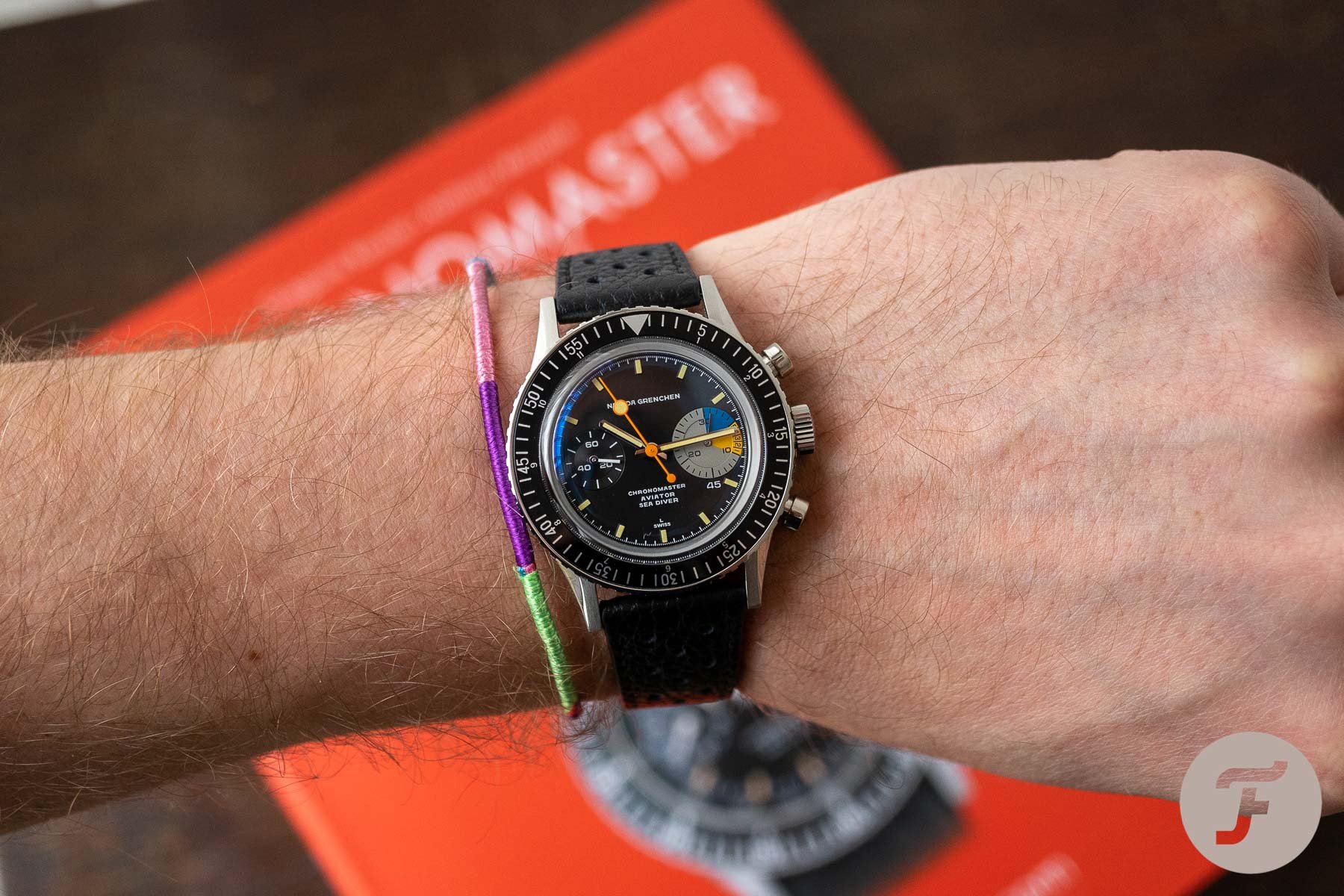 Still, we need to talk about the price, and as you might imagine, the Nivada Chronomaster Big Eye will not be your budget chronograph. Sourcing a NOS Valjoux 23 these days is not an easy task. Even if the components are more or less there, building a watch around it might also be challenging. In the watch industry, a synonym for challenging is "expensive". For all of this, Nivada asks for roughly €4,800. Price is always a subjective issue, but this is a rather expensive purchase for most of us. Is it worth the price, though? If you ask my opinion, I'd say 100%. See it for yourself though, and check out Nivada's website for more details. And as always, drop your thoughts in the comments section below.