#TBT Unusual Black Rider Chrono Tissot Navigator 2160
with a rare Lemania movement
What I like the most about this Tissot Navigator 2160 with the caliber Lemania 1343 movement is that it doesn't look like a chronograph at first glance.
The Tissot 2170 with a Lemania 1341 caliber featuring a 12h counter proudly posed as Mona Lisa for the recent Tissot re-edition that Balazs shortlisted as one of the best 1970s chrono re-editions of all times. Today's vintage gem in question, the Tissot Navigator 2160, is missing the chronograph hour counter. Although it may appear like it is the poor brother of the aforementioned chronograph, let me try to explain its charm to you.
Tissot Navigator 2160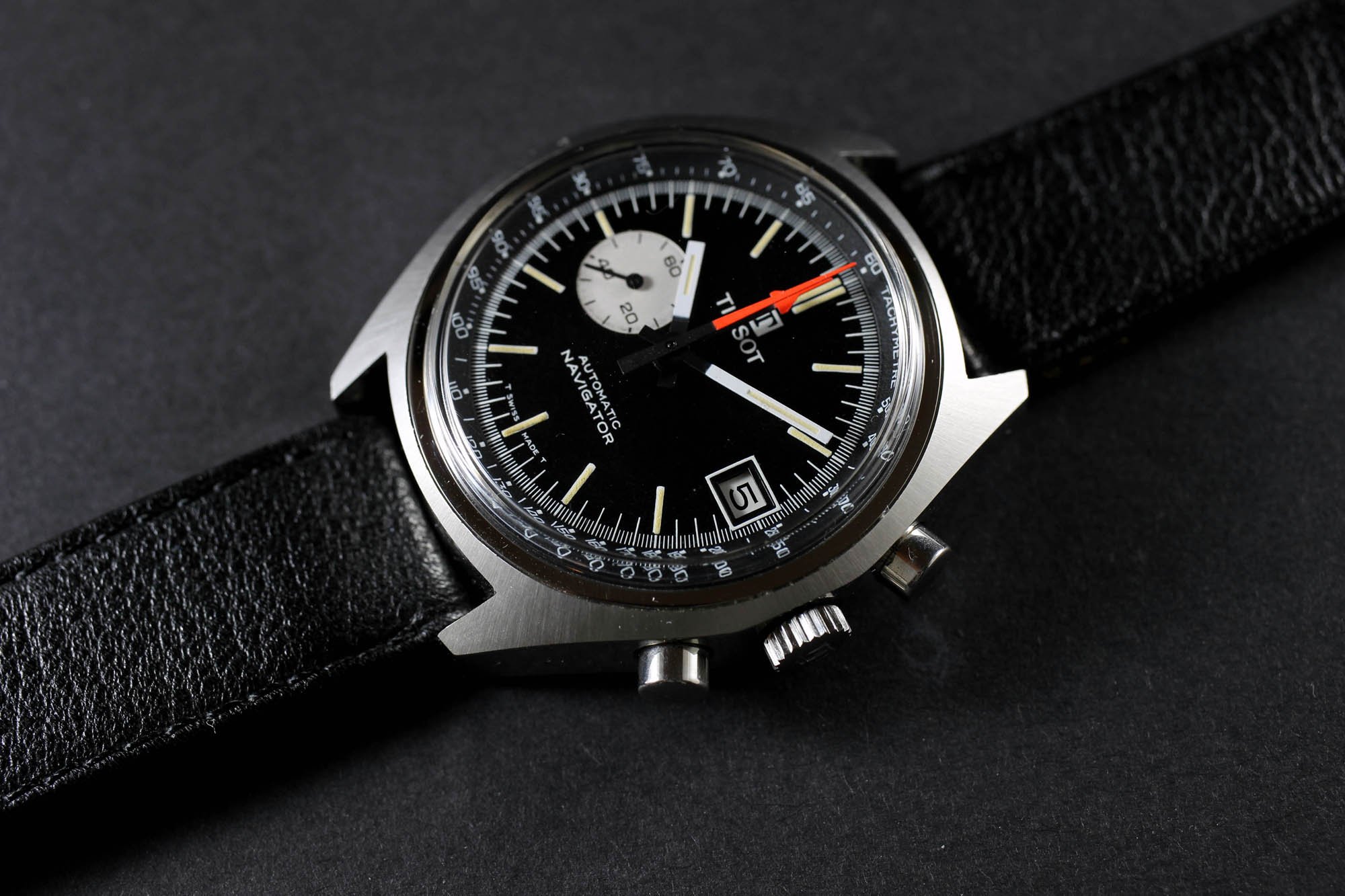 Tissot dress code
Even vintage watch collectors, rare specimens as they may be, are still humans highly influenced by patterns, stereotypes, and shortcuts. Understandably so – shortcuts make life easier. That being said, three sub-registers on the dial instantly mean a chronograph. Two sub-registers equate a weird, excuse my French – 'unusual' chronograph. One sub-register typically makes up for a small second. A brief look at this Tissot 2160 might not make you directly categorize it as a racing tool.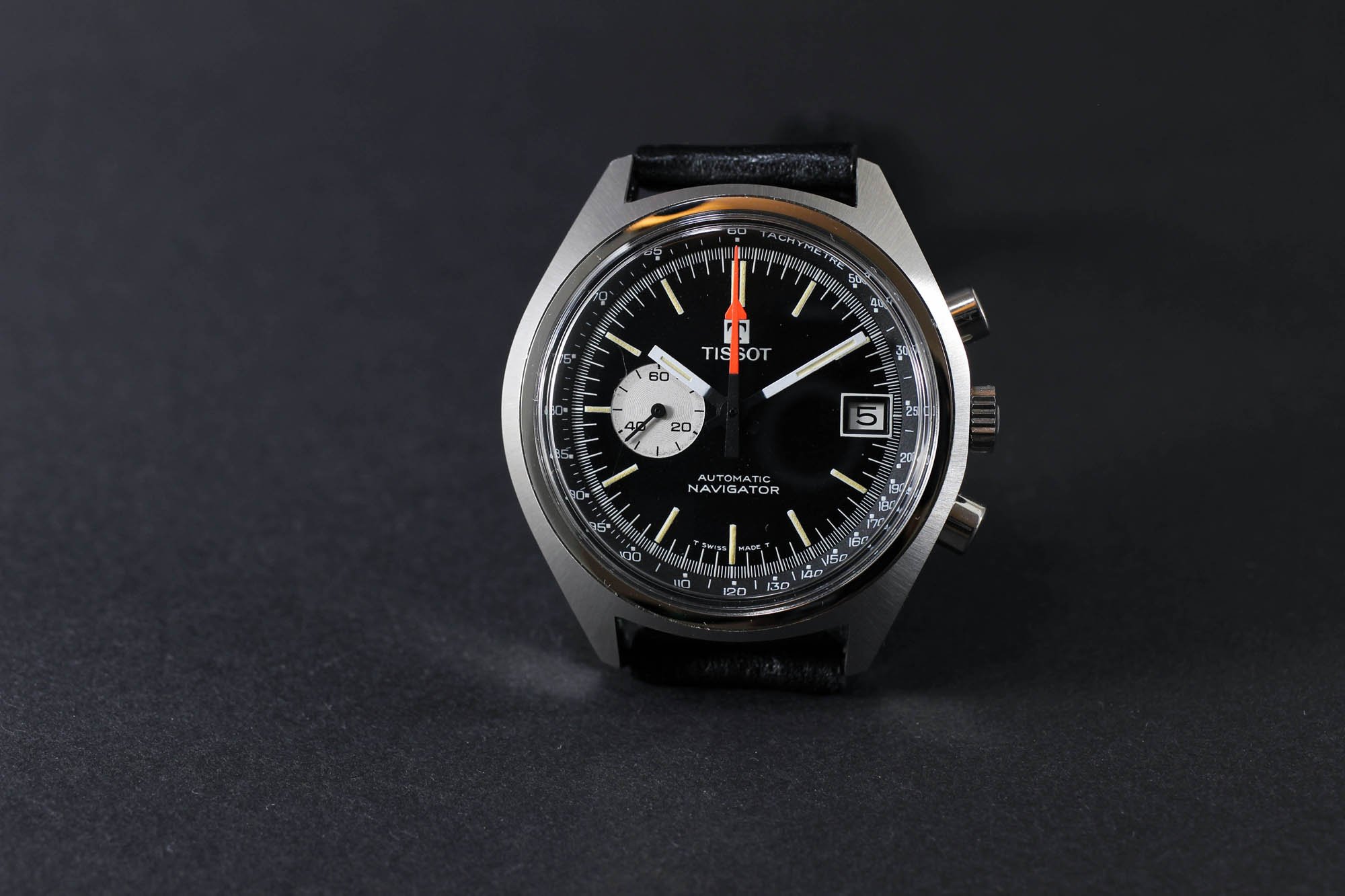 Mido resonance
The Mido Multi-Centerchrono has been on my wish list for quite some time, and this Tissot 2160 chrono reminds me of it. If the chronograph isn't running, you just see an orange – but still subtle – central chronograph hand. Once you press the pusher at two, the hand starts ticking. While the central second-hand passes all the 60-second markers around the dial, the central minute hand with Concord-shaped tip moves exactly to the first minute marker on the dial. It is important to highlight that the minute counter hand moves from minute to minute, not jumps. This is another particular detail I like about this Lemania movement.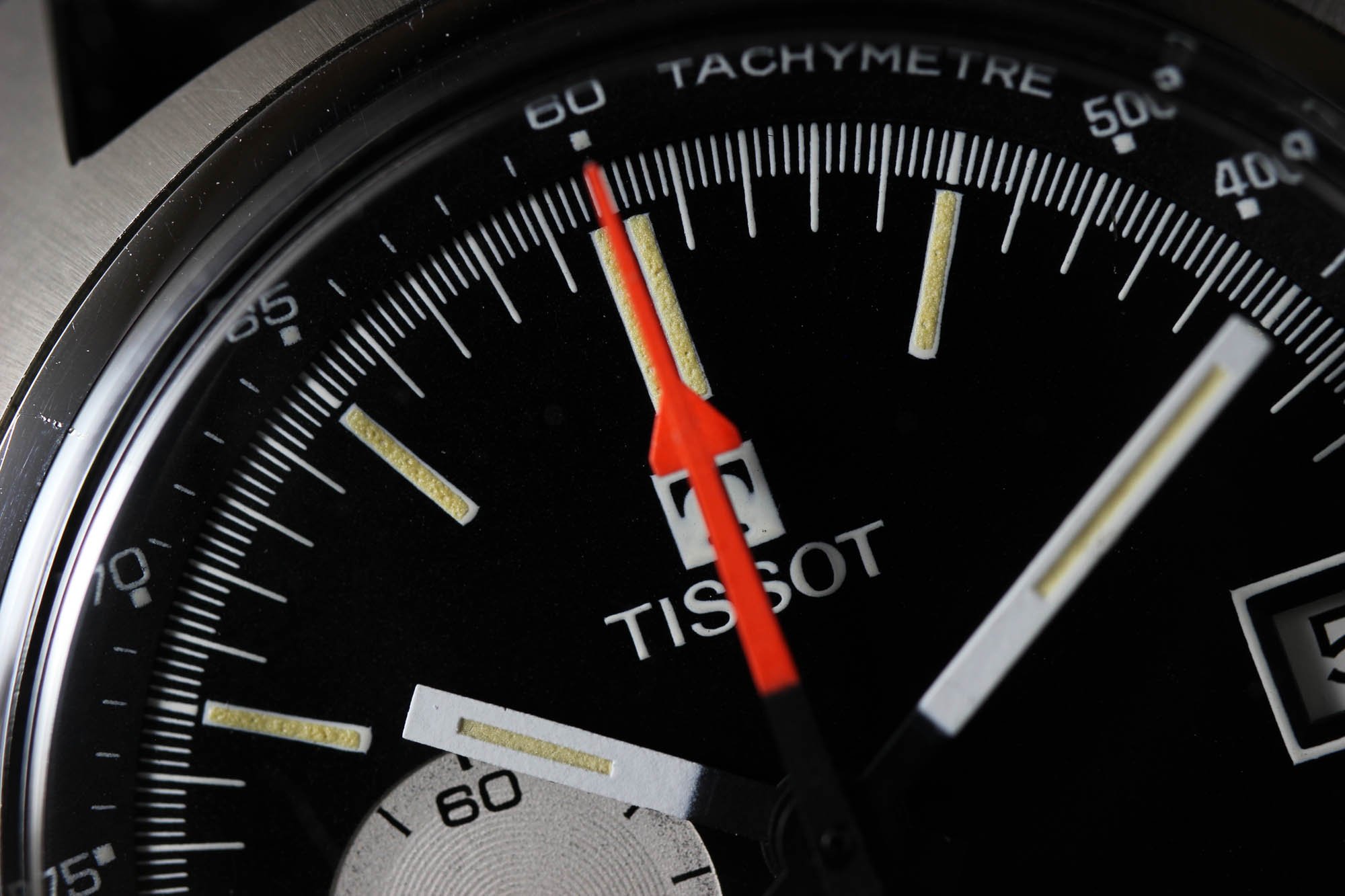 I mentally separated the Tissot 2160  from my other chronographs and created a completely new ball game for it.
60 minute chronograph
If you have had a few chronographs on your wrist, the Tissot 2160 will strike you as a bit disruptive. There is no minute sub-register, but you are able to count the chronograph minutes. It makes you think. If a typical tri-compax chrono is a pretty simple solution, this is actually even simpler. That's why I opted for the Tissot 2160 and not the 2170. The 12-hour counter ruins the purity of concentrating the chrono to the central handset. I've had plenty of 12h counter chronos in my collection, but exactly zero 60 minute chronographs before making this purchase.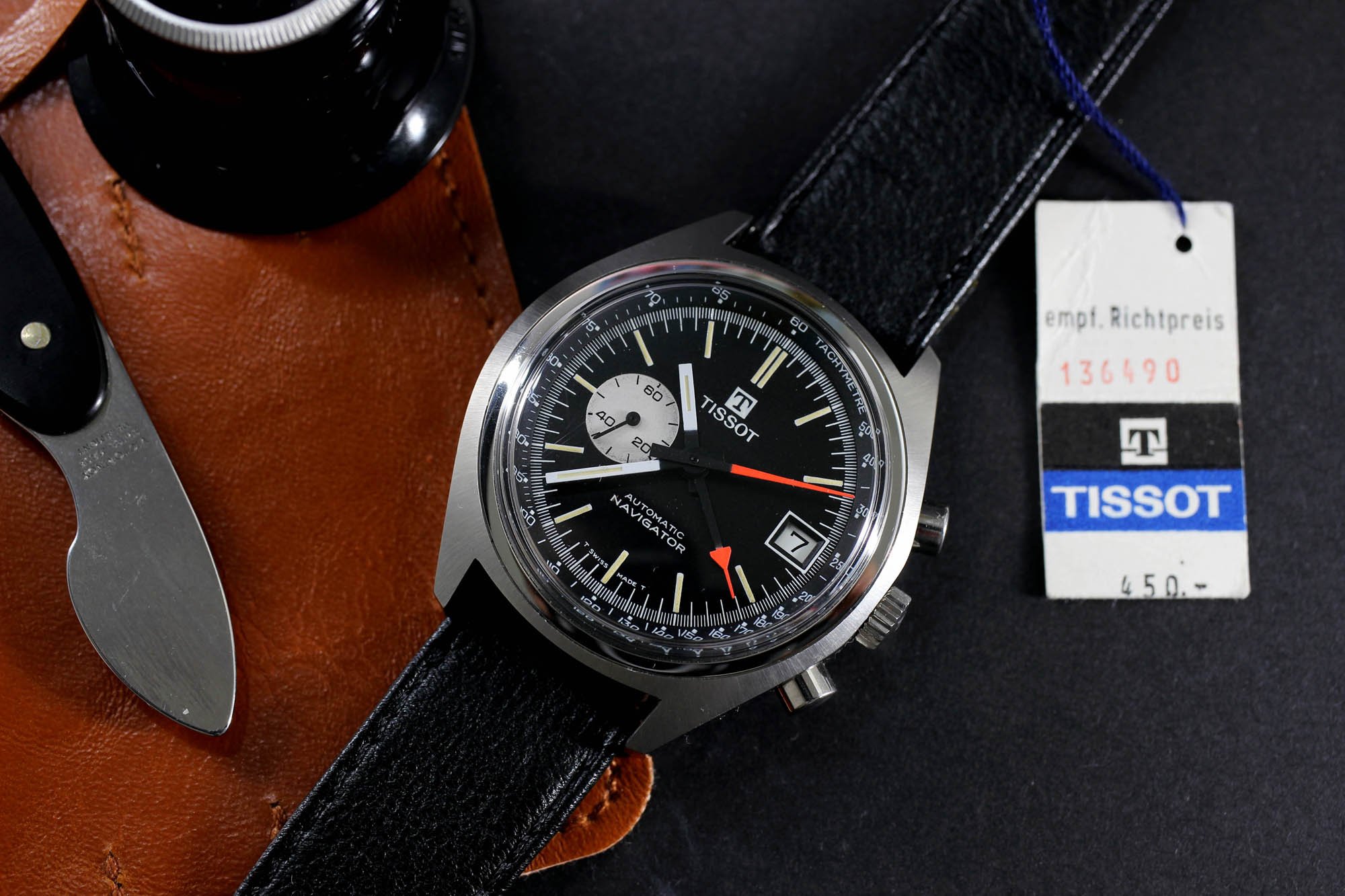 Once you press the pusher at two, the hand starts moving around the dial, leaving a Concord-like orange tip behind at 0.
Movement
It's time to dig deeper into the movement of this Tissot 2160. First of all, it is important to know a bit about chronograph history.  Especially dating back to the time where brands and movement makers were competing for the first automatic chronograph. The Lemania 13xx has never been given much recognition by collectors and has lived in shadow of the Heuer/Breitling/Hamilton-Büren caliber 11, Seiko's caliber 6139 and Zenith's El Primero. The Lemania 1340 hit the market in 1972, but their 5100 was released soon after and got more market penetration shortly after.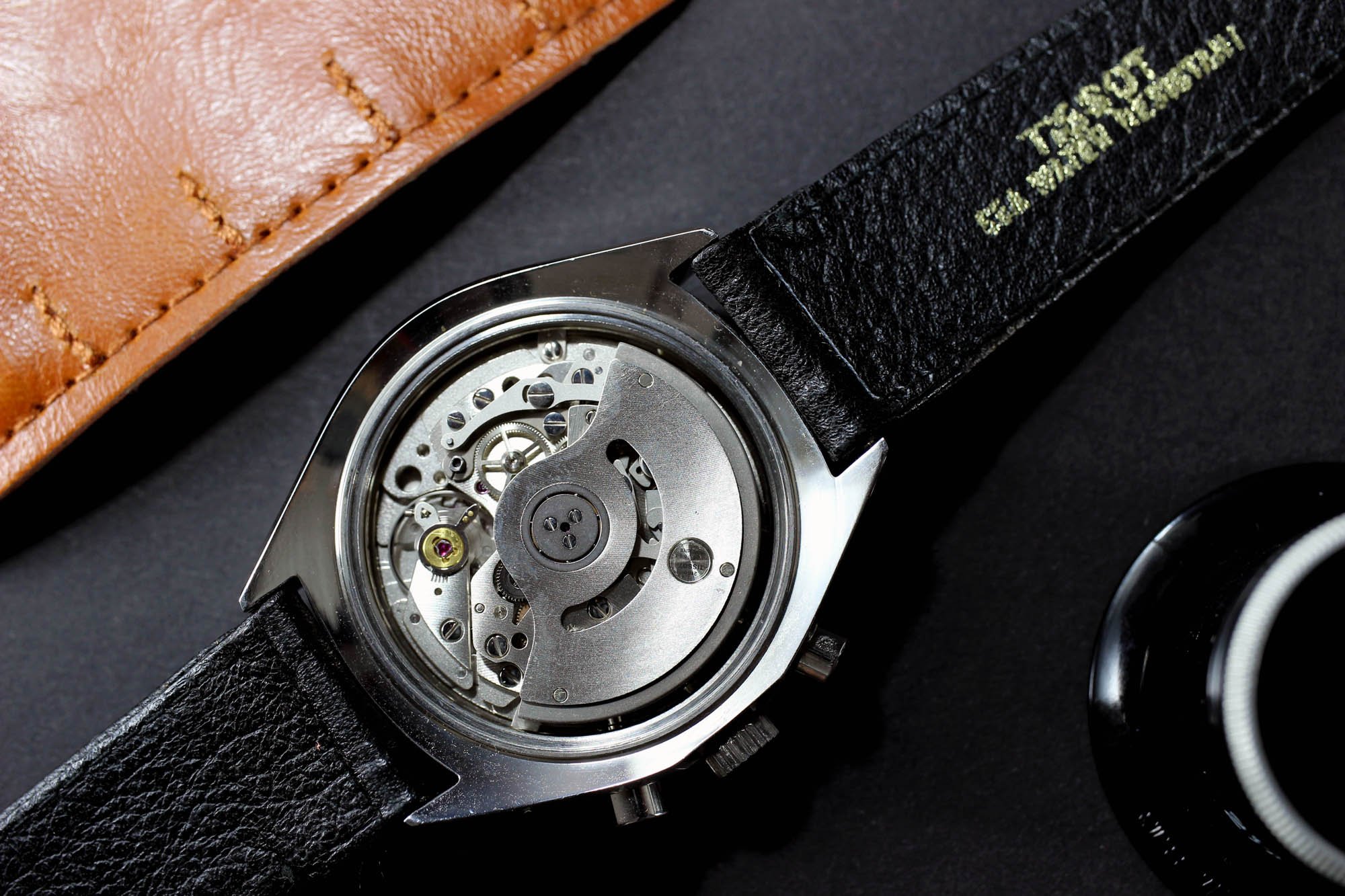 The 5100 used simpler construction methods that lowered production costs. You can find it in multiple brands (Sinn, Orfina, Tutima, Omega, etc.). You can find the early traditional all-steel version of the Lemania 1343 (without a 12h counter) only in this Tissot Navigator. Either in a black dial version like mine or a with white/silver dial. That's it.
One of a kind
I will put this watch among the most responsive and sensitive automatics I have. I can't explain it from the perspective of its construction, but the tiniest movement of your wrist will start to wind it. While some watches ask for particular angling when you want to hear them, no Mexican waves needed with the Lemania 1343. You can hear the Lemania winding all the time while decently turning your wrist while driving. Somebody might consider the sound to be a bit loud, but I call it satisfyingly mechanical.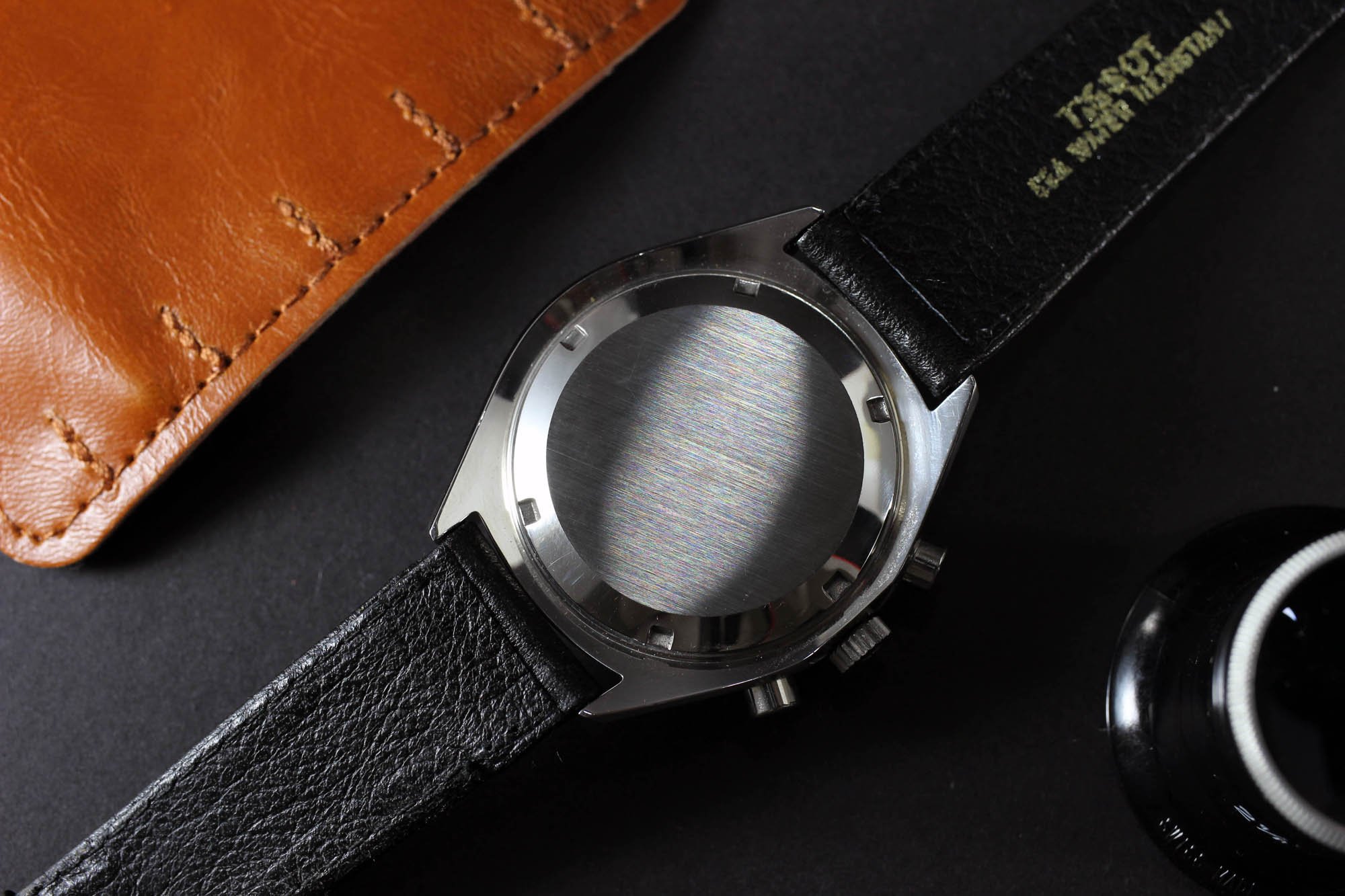 Time for a 1h chrono
When I fly or drive long distances, I always wear one of my classy Speedmasters, the Breitling Chrono-Matic or a flyback Seiko 7016-8000. The top tiers of my 12h chronograph sweet spot are already too crowded so the Tissot would have a tough time getting some wrist time. That's why I – mentally – separated it from my other chronographs and created a completely new ball game for it. I opt for the Tissot Navigator when I have a series of short meetings during the day.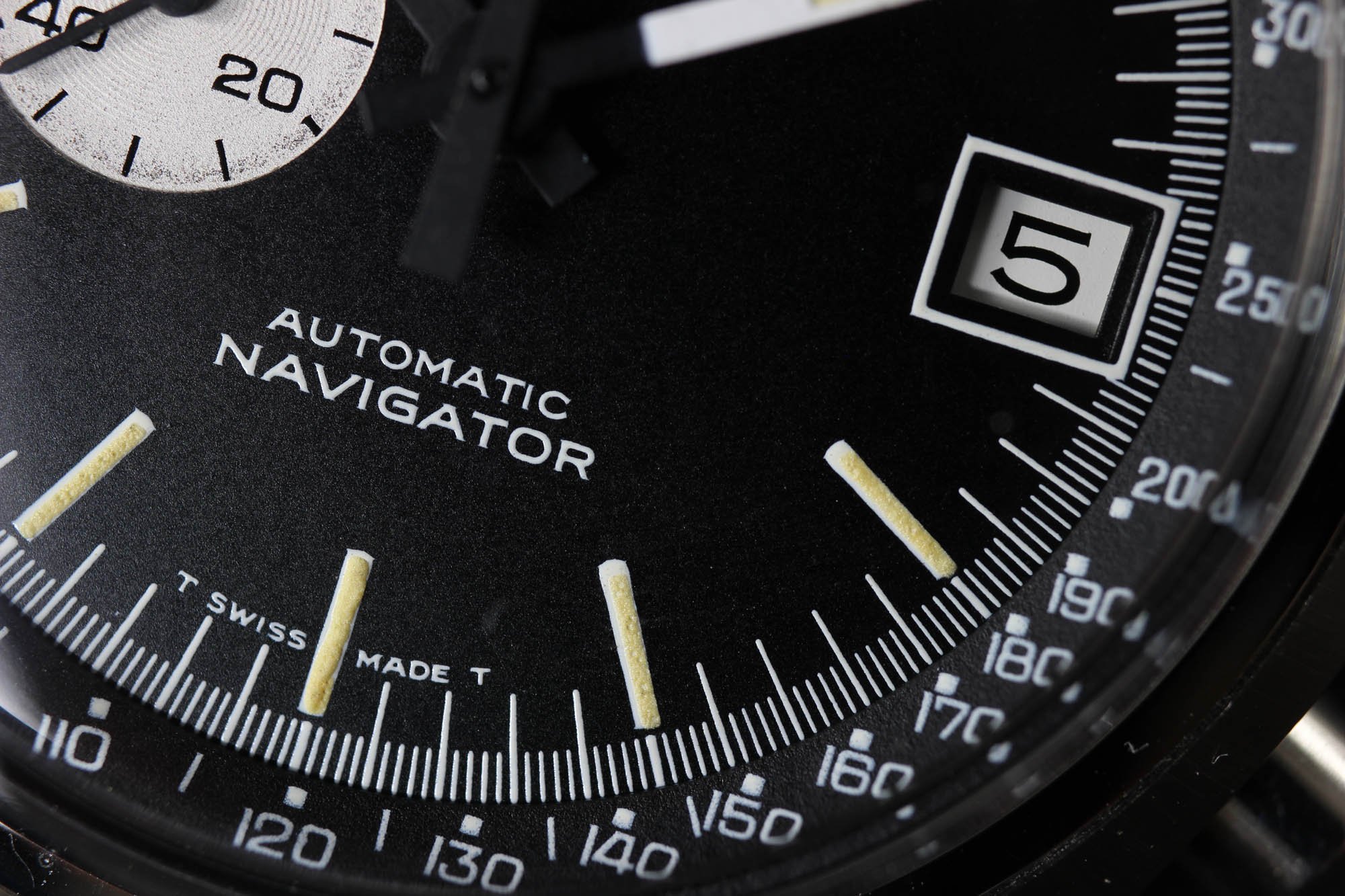 When I cook and need to time the boiling interval, I always get more pleasure out of it when measuring it with this 60-minute chronograph. Don't take me too seriously now, but academically speaking, it is frustrating to use a 12-hour chronograph for timing typical daily short intervals. With the 12-hour hand never moving to the next position, you know… it makes the 12-hour part a bit useless. I think it's primetime for a 60-minute chronograph. Forget about reading sub-registers! All the riveting entertainment happens on the center stage.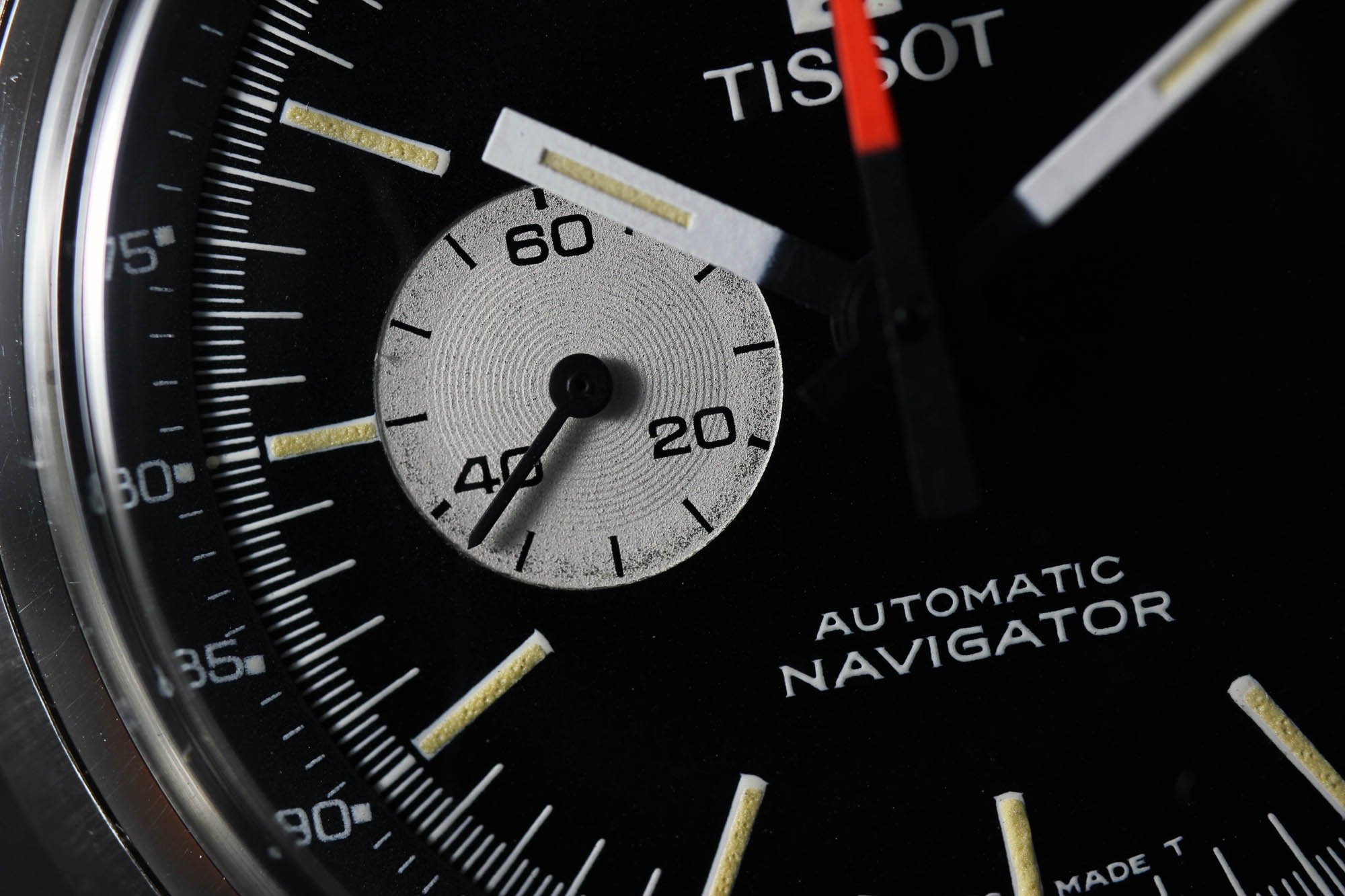 Dial details
The Tissot Navigator 2160 provides an unusual experience when it comes to reading the elapsed time. Both centralized orange chronograph hands look like they float above the charcoal matt black dial. The reason? The inner part of the hands is painted in the same matt black color, making them literally blend in with the dial. My Tissot 2160 is in mint condition, even with an original tag hanging on the original strap. Even after 50 years, the black color tones on dial and hands are still perfectly matching. Well done.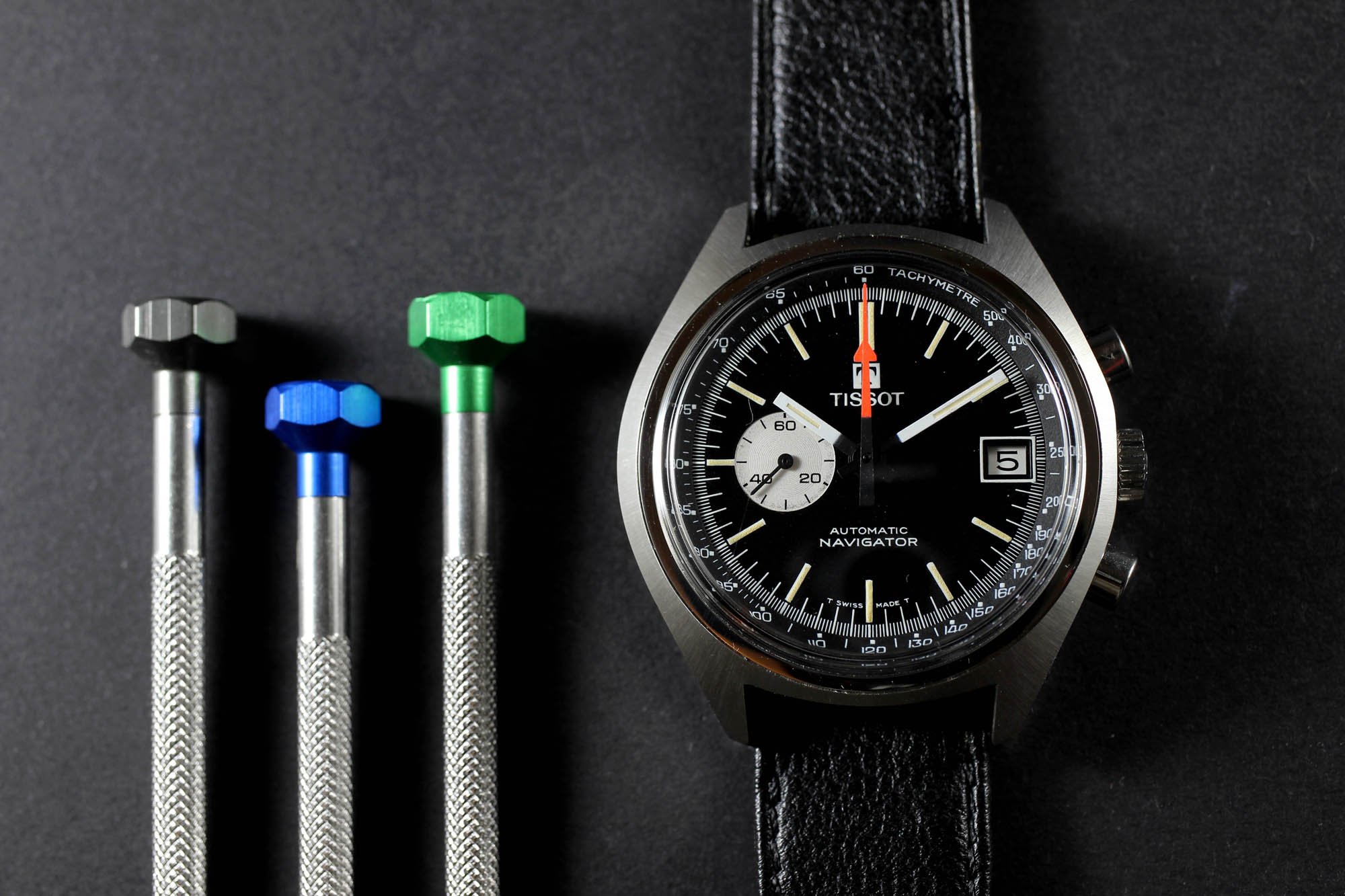 Case challenge
If you decide to go after a Tissot Navigator, you have to be aware of the following: it's heavy. It has been built like a tank. If you look at the Tissot 2160 from the profile, you feel like you need to climb a ladder to be able to spot the dial. As a smaller diameter fan, it took some time before we found common ground.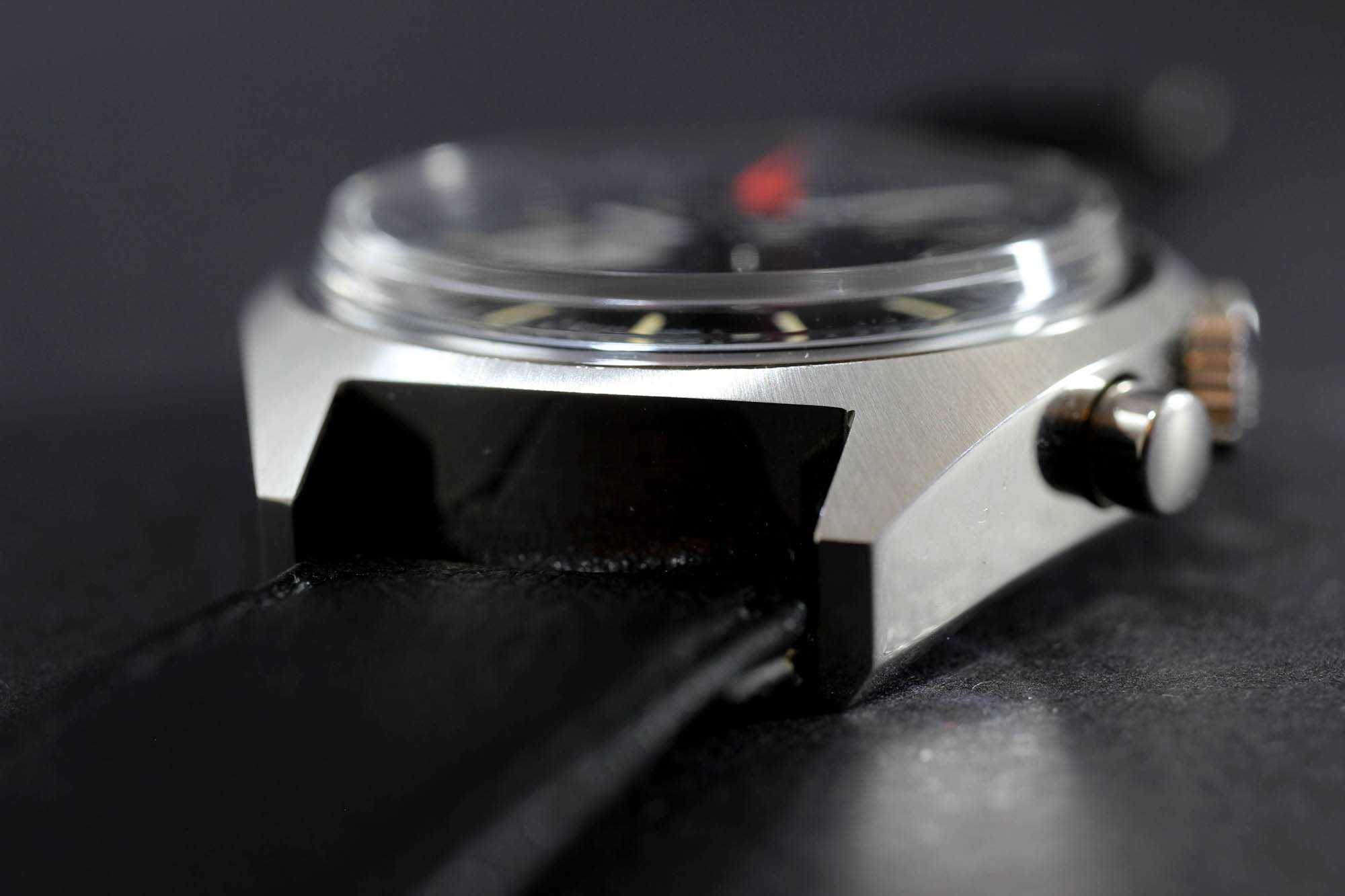 If you look at the profile of the case, you feel like you need to climb a ladder to be able to spot the dial.
Curves dispute
Another significant reason why I reached for the Tissot 2160 is the case. It uses a brushed sunburst effect for the top and a polished finish on the side, identical to the 2170. However, the curving is much slimmer. It doesn't look as big as the typical Tissot Navigator though. I am not a fan of that case style, as I feel like looking at Buzz Aldrin's helmet, not a watch case. Well, I bet Balazs will disagree with me. I think the thinner case along with the dial and clear lugs shape makes the dial stand out more. Whichever you fancy, the fact is that the Tissot 2160 with a Lemania 1343 has a more unique case design compared to its 1970's peers.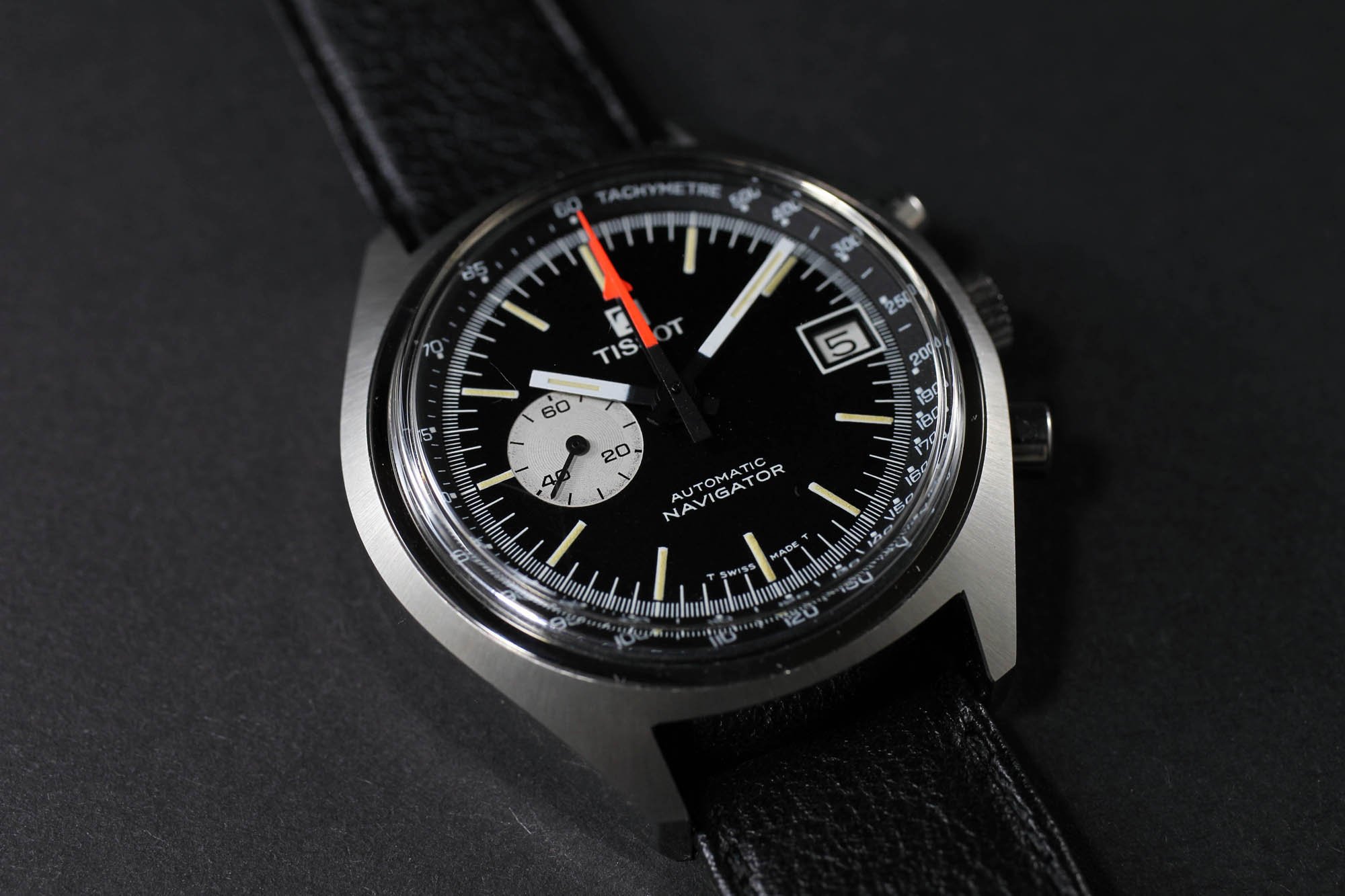 Shotgun notes
I have seen two different versions of this watch regarding the hour/minute handsets. One with straight ends, like mine, and another with an arrow-shaped tip. I believe both are correct but can't confirm based on the catalogs I've seen and studied. The case has a useful cut-out in the bottom half right corner under the crown, making pulling the crown out a comfy task.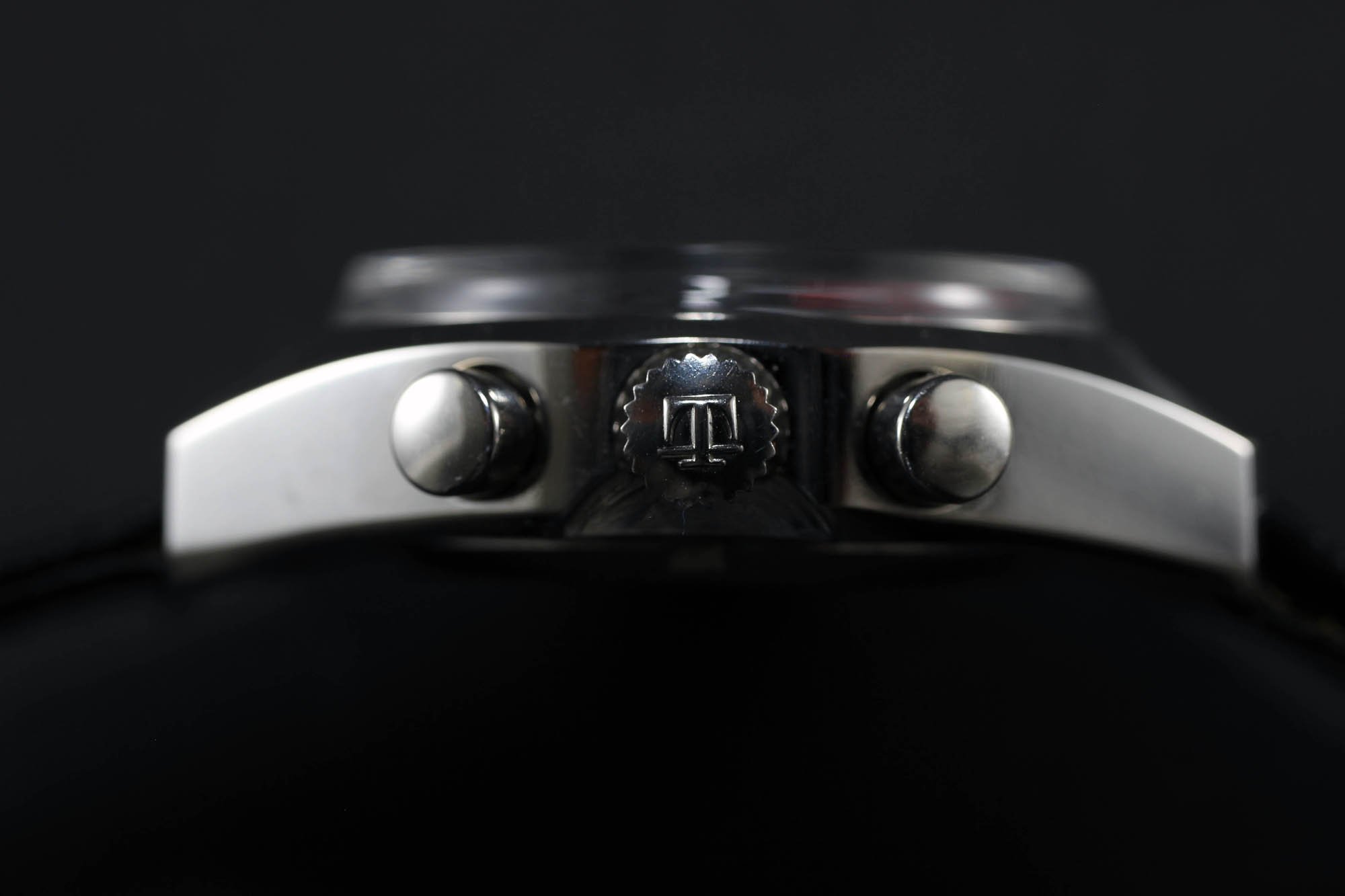 Last thoughts
If you decide to hunt for one, I suggest finding one with crisp edges. Normally, it can be difficult to spot whether a case has received some light polishing, but here the slightest polishing doesn't do the watch any good. You want to see the original sunburst finish on a Tissot 2160. And if you find one of these, don't forget that the movement beating inside served as the base caliber for the modern Breguet Type XX movement 582. Not bad to see the movement of a $1000 – $2000 vintage watch from 1973 being reincarnated in a $10,000 dollar watch with high-end flair.