Hands-On: Omega Speedmaster Silver Snoopy Award 50th Review
The watch that broke the internet on October 5th
Yesterday, Omega announced its new Speedmaster Silver Snoopy Award 50th anniversary watch (click here). The third Speedmaster with the Snoopy theme and the 4th watch commemorating the Apollo 13 mission.
I am lucky enough to own the first two Speedmaster Snoopy watches (2003 and 2015) and the Apollo 13 watch from 1995. But, that's not a reason to blindly buy the next one as well. I need to like — no, love — a watch before I spend that much money on one. Perhaps it would be different if I had unlimited financial resources, but I don't. I need to make choices. Spoiler alert, though: I did order the new Snoopy. The first deliveries will take place in November, we've been informed.
Without further ado, let's have a closer look at the new Speedmaster Silver Snoopy Award.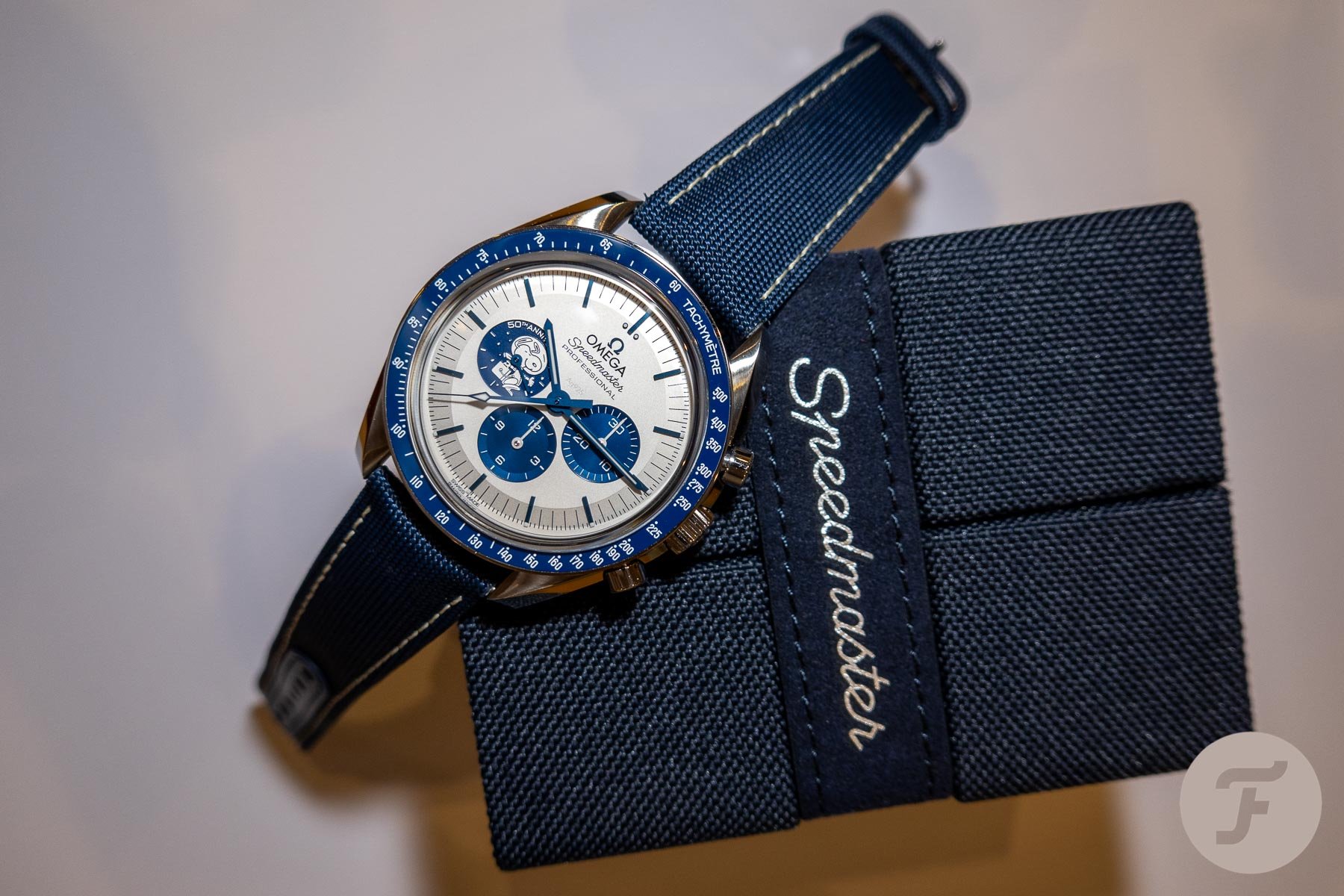 Silver Snoopy Award 50th Anniversary
I don't want to recap the story about the Silver Snoopy Award and why it is of such importance. You can find those articles here and here. This review is about the watch itself, and what I think of it. Although I already gave away my final thought in the introduction, there are a number of things I'd like to highlight regarding this new Omega Speedmaster Silver Snoopy Award.
The third edition
What I like about this third Speedmaster Snoopy, is that it is totally different from the first two. Where the first Speedmaster Snoopy from 2003 is more or less a standard Moonwatch with a Snoopy patch at 9 o'clock and a special case back, the second version was quite different already. White dial, a prostrate Snoopy on the sub-dial, and references to the Apollo 13 movie ("Failure is not an option"), and the "What could you do in 14 seconds?" line in the minute track. So small though, that it is not something you notice when just reading the time.
Omega was also very playful with Super-LumiNova on the second Speedmaster Snoopy from 2015. The case back is where the magic happens though, with the silver Snoopy lapel pin replica on a background of blue enamel. Sprinkled with silver powder. These case backs were hand-made, and that gave them each a unique look. It also took a while before all 1,970 pieces were delivered.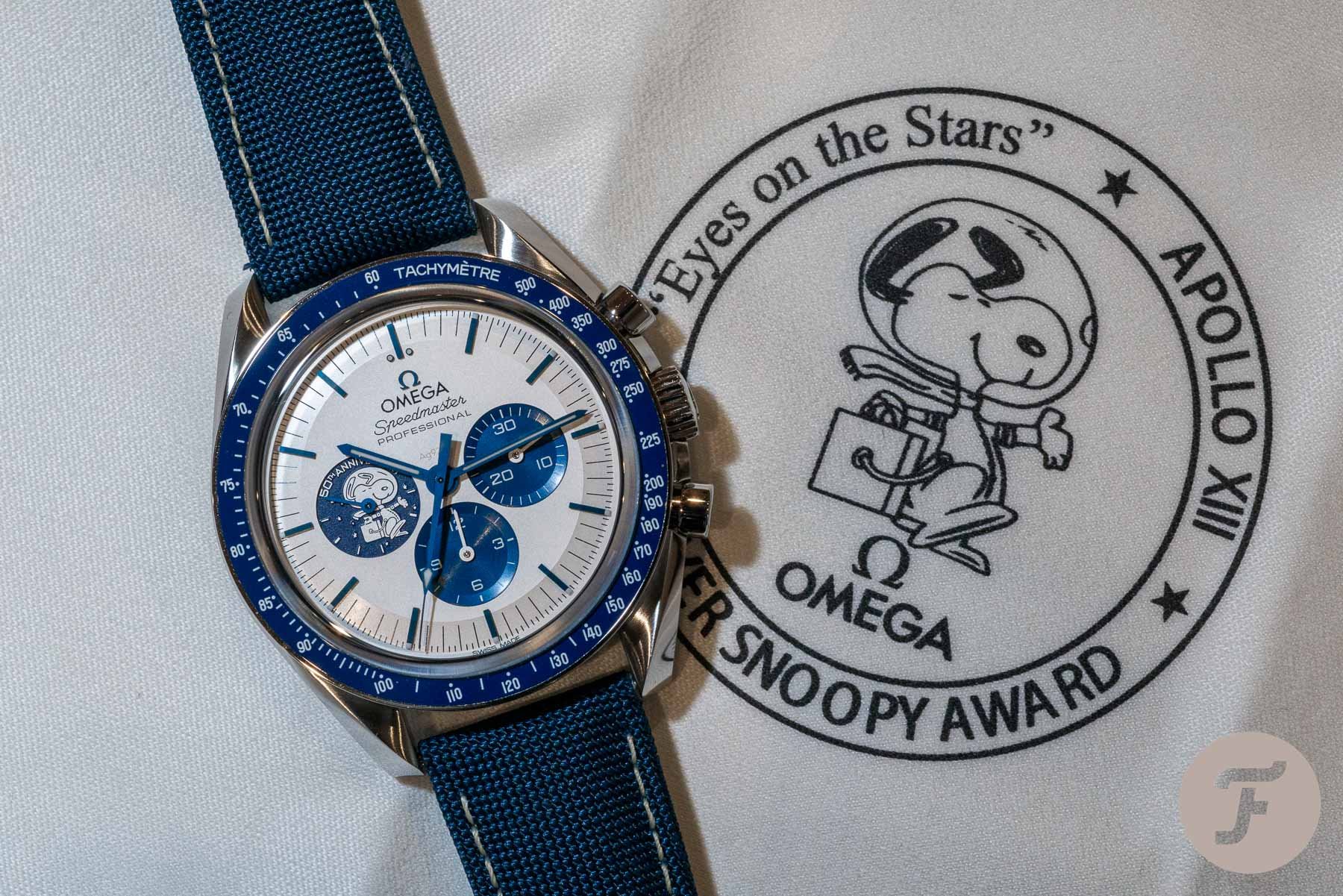 Blue tones
Now, the new Speedmaster Silver Snoopy Award is commemorating the 50th anniversary and should be something extra special. Much like what Omega did last year to commemorate the 50th anniversary of the Moon landing in 1969. Then, we saw two brilliant Speedmaster watches. One was in steel with a few gold elements (click here) and one re-edition of the 1969 gold Speedmaster that was presented to the Apollo astronauts back in the day.
Here, Omega has succeeded once more in my opinion. The new Speedmaster Silver Snoopy Award has a beautiful silver dial, with blue sub-dials, and a blue ceramic bezel. The blue is interesting and looks a bit different in the flesh than it does on the press pictures we shared yesterday. It appears that the blue color can shift from a bright blue to almost black, depending on the light and angle. It makes the Omega Silver Snoopy Award 50th anniversary more "dynamic" than its predecessors.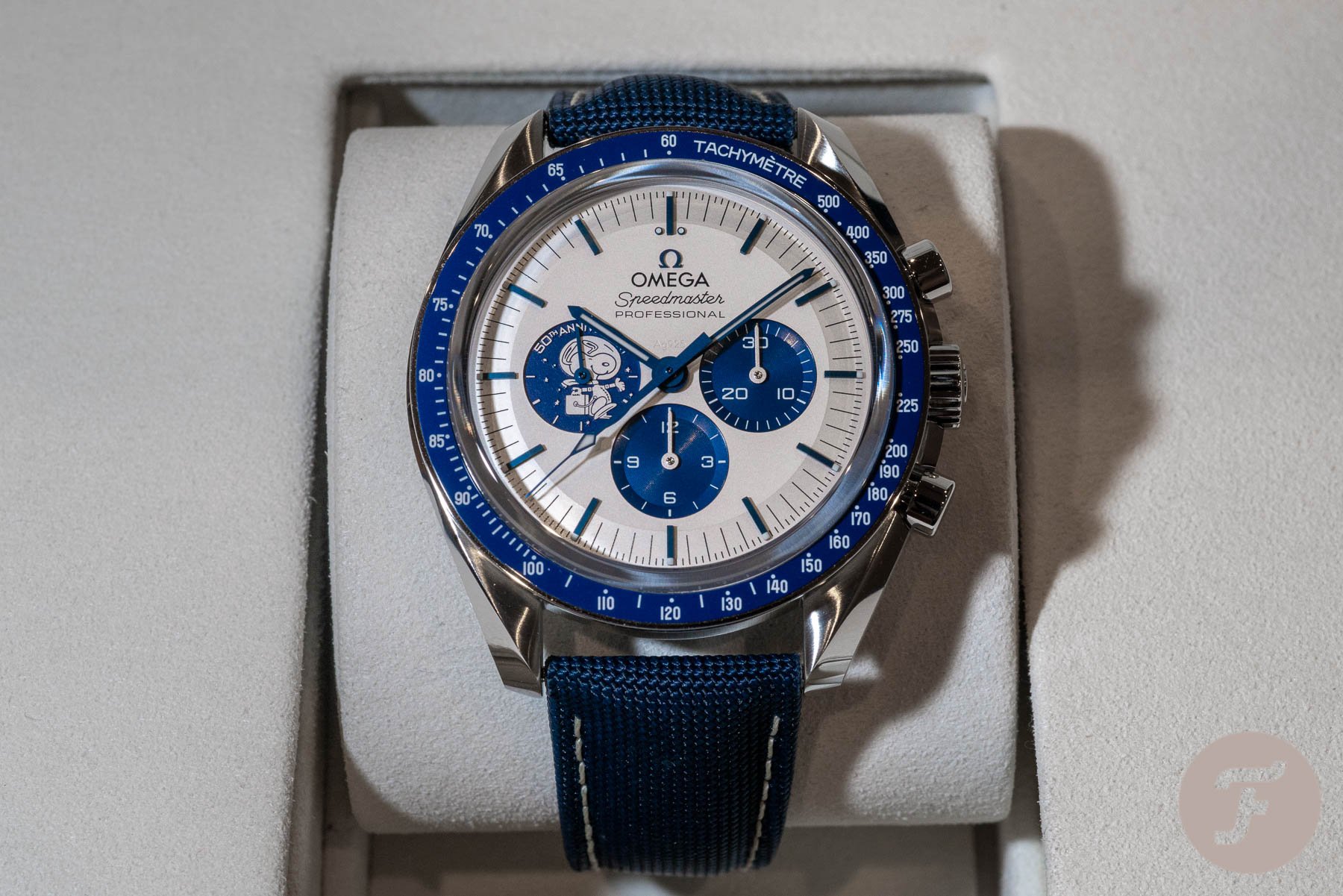 Also important to add, Super-LumiNova is used on the hands and hour markers. No glow-in-the-dark Snoopy this time. Also the ceramic bezel has not been treated with lume.
The thickness of the case
A lot of the comments and questions we received yesterday, were about the thickness of the case. Will the animation on the case back add too much thickness? I did a quick measurement of the Speedmasters I have here right now, and my Speedmaster Apollo XI 50th anniversary measures 13.2mm, the Ultraman (ST2) 14.3mm, Speedmaster Calibre 321 13.8mm, and the Silver Snoopy Award 45th anniversary 14.8mm. The new Speedmaster Silver Snoopy Award 50th anniversary measures 14.47mm. Only slightly thicker than a normal Speedmaster (14.26mm) and thinner than its predecessor. It is, in my opinion, a very wearable thickness (diameter remains to be 42mm, of course).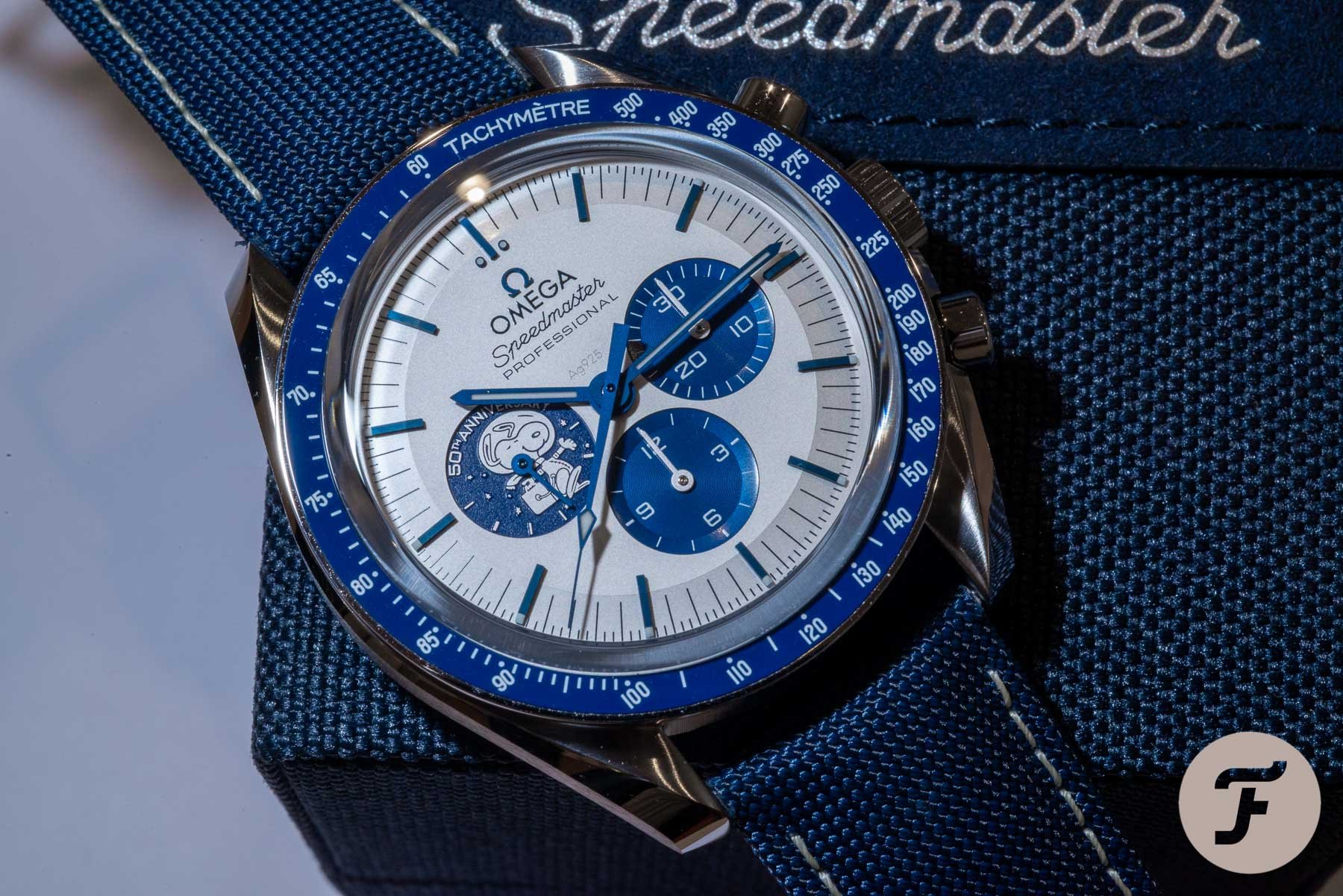 Limited versus non-limited
This has little to do with the watch itself, but Omega chose to make this watch a normal production one. It is not numbered or limited to a certain number. In the past, the Apollo 13 and Snoopy watches were all limited editions. Now personally, I wouldn't have minded another limited edition. I don't get the entire LE vs. non-LE discussion. Or better said, I get it, both have pros and cons, but I prefer watches like this to be limited.
Firstly, I like to have a number on the watch. Also, I like to feel a bit of pressure to obtain a watch like this. If not? The world doesn't end, but I feel bummed out. Like I did on the Apollo XI 45th anniversary. I love that watch, but I didn't get it and that's that. If there's no limited edition, there's also no real urge to order one right away. Like the Seamaster 300M Bond in titanium. I really like that watch, but since it isn't limited, I decided I will get one at some point, rather than right now.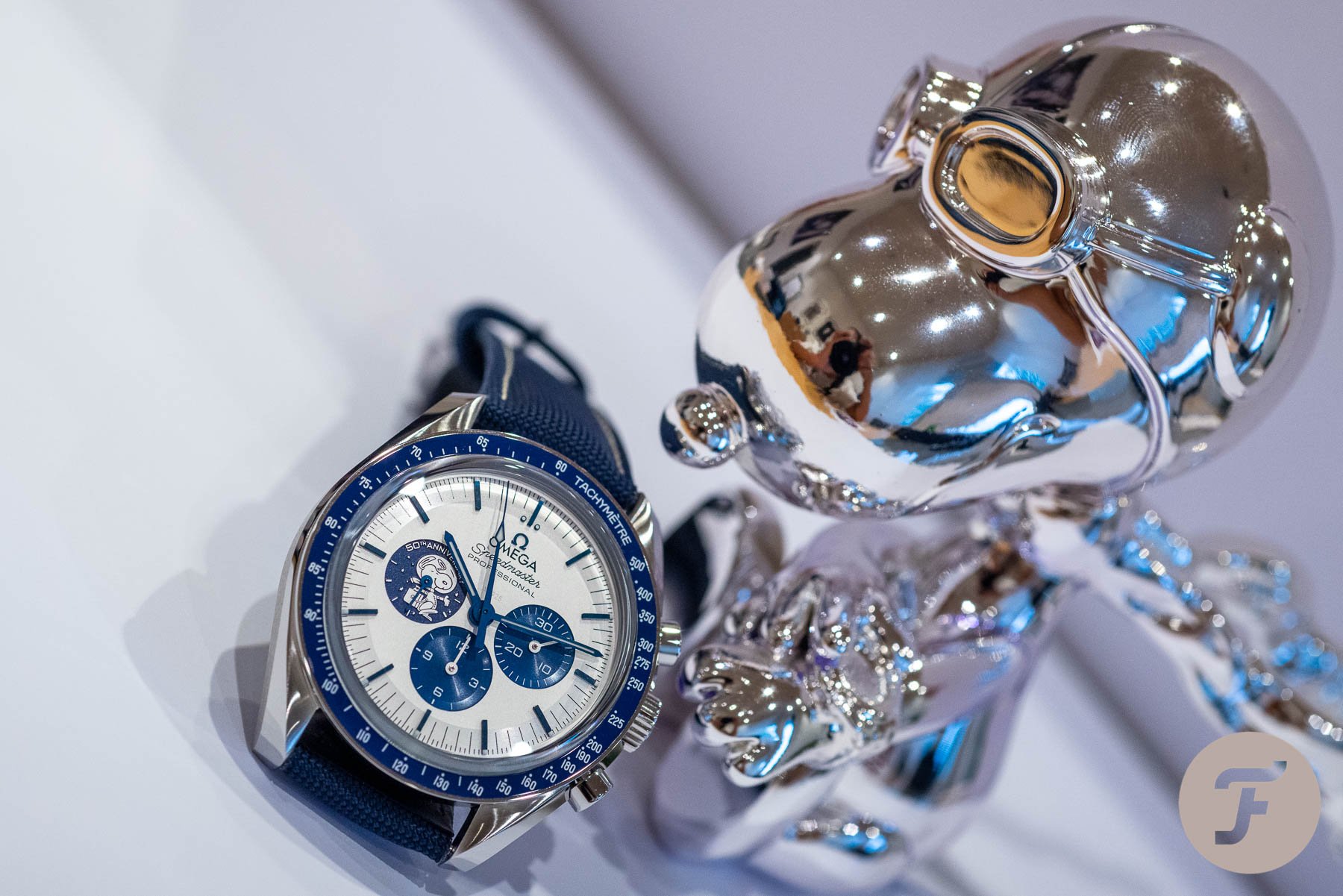 A great test case
This Speedmaster Silver Snoopy Award is something I really love nevertheless, so some of my colleagues and I decided to put in an order. I think it is a great "test" to see whether it really matters in terms of total sold watches whether something is limited or not limited. This needs to be measured over a certain period of time, of course. Omega wants to keep this watch in the catalog for now, so expect the Speedmaster Silver Snoopy Award in next year's collection as well for sure.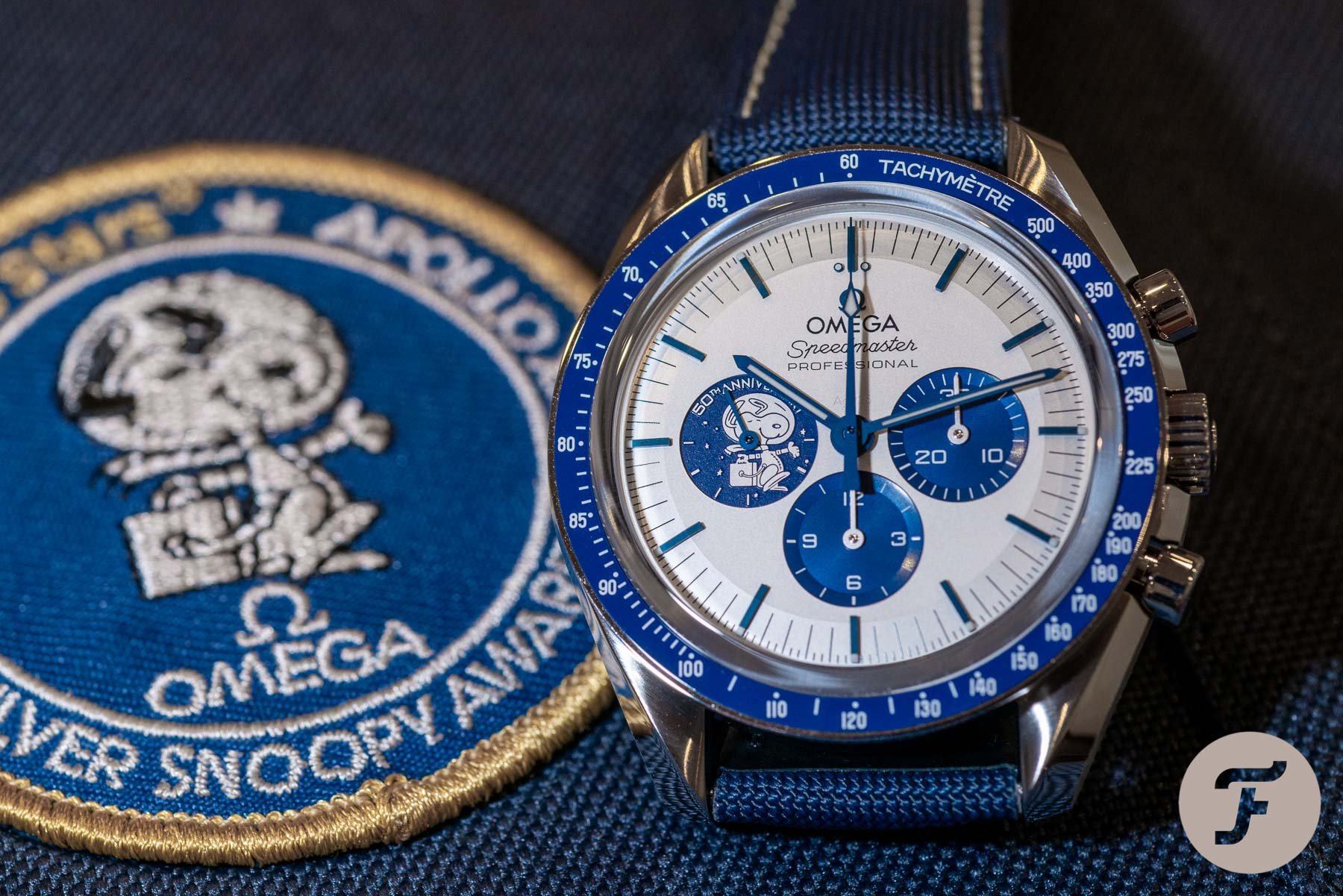 50th Anniversary
On the sub-dial at 9 o'clock, you see "50th Anniversary". So does that make sense when this watch is available in 2021, or 2022, as well? Well, it is introduced in 2020 (50 years) and will be delivered in the coming months. So it is spot on for those first orders. For next year, it makes less sense, perhaps. I asked Omega and the brand indicated that it is about celebrating the milestone of the 50 years of the Silver Snoopy Award in 2020. Does that make it less cool in 2021, or in later years?
I've bought several commemorative watches later on, sometimes much later on even. It is not something that bothers me. The Speedmaster Rising Sun is also an example of how things can go. It marks Tokyo 2020, an event that didn't take place yet, and perhaps it won't in 2021 either. Does that make it less of a watch? No, I think it is beautiful. It may also add to the watch's collectibility in some respects.
Animation on the case back
Back to the Omega Speedmaster Silver Snoopy Award itself. Just like the Snoopy 2, from 2015, the magic is on the case back. And this time, it really is magic! There's a photorealistic picture of the Moon, much like Omega used on their Speedmaster Co-Axial Moonphase watches from a few years ago. Then, there's the earth, connected to the running seconds of the sub-dial at 9 o'clock. It makes one turn per minute. When you press the start pusher of the chronograph, you will see Snoopy appearing in his Command and Service Module (CSM). He appears from behind the moon, passes over the rotating earth, and disappears again behind the moon.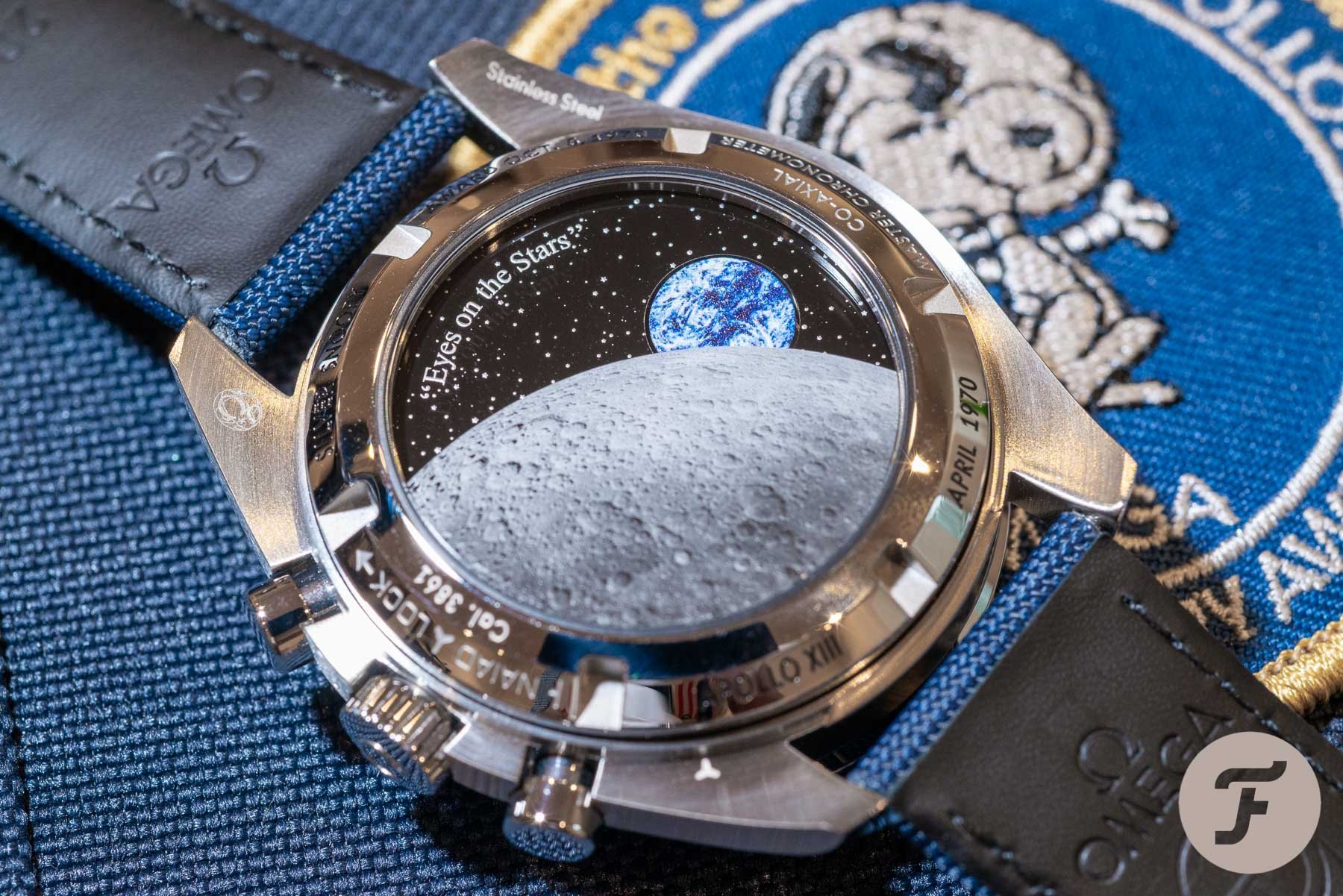 Then, there's also the famous "Eyes on the stars" quote on the sapphire crystal. A beautiful spectacle to witness and not something someone would expect to be on the case back of a Speedmaster. In all honesty, I find myself admiring the silver Snoopy lapel pin replica pretty often when I am wearing the Speedmaster Silvery Snoopy Award from 2015. I can only guess how often I will be taking the new Speedmaster off my wrist to see the animation.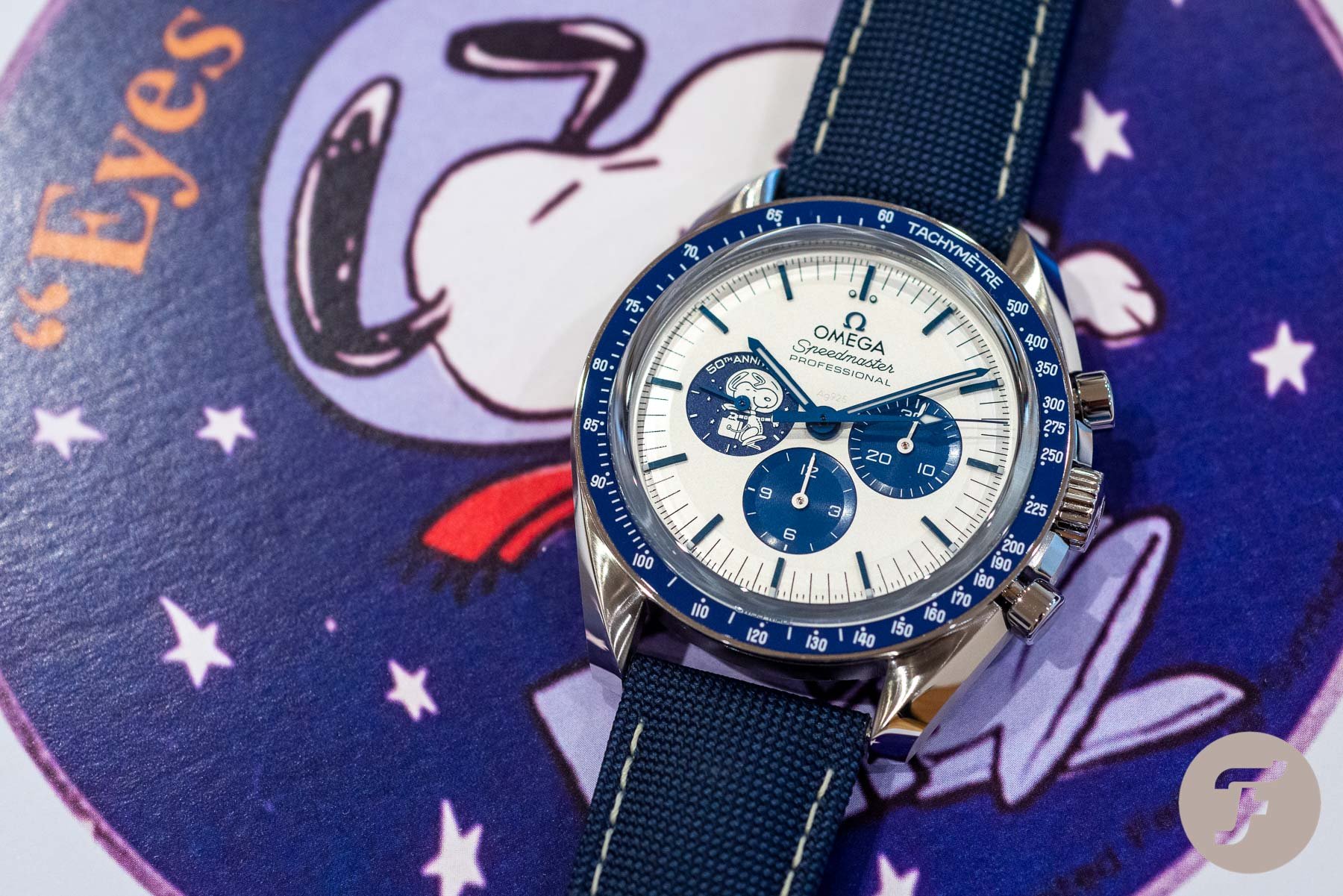 Blue fabric strap
Just like the former Silver Snoopy Award, this watch comes on a nice nylon fabric strap. In blue, to match the blue details on the dial and the ceramic bezel. The strap can be a bit stiff at first, but even though I don't wear my black nylon fabric strap that often, it becomes soft over time. Some people rather would have seen this watch on a stainless steel bracelet. The strap is on a pin buckle.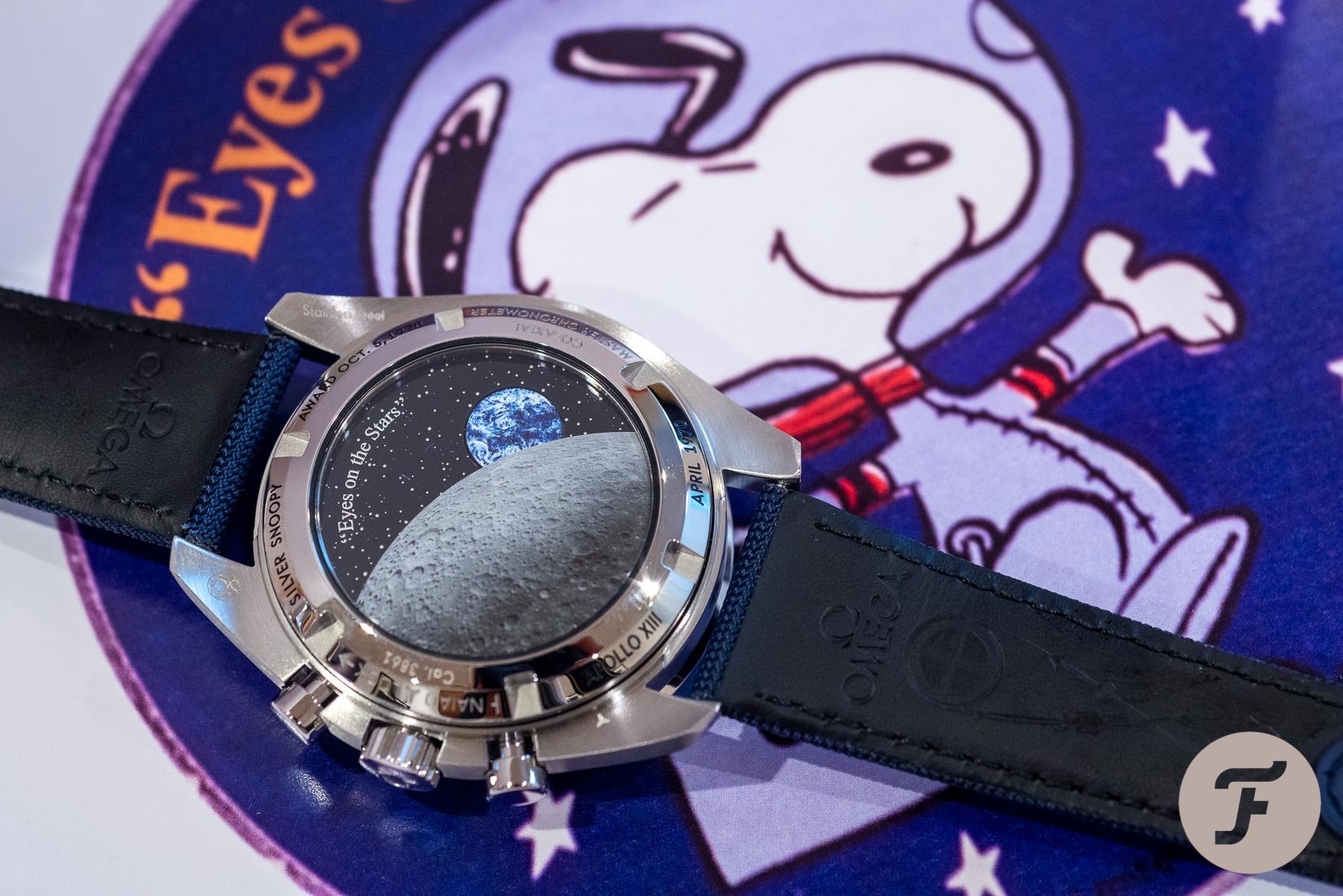 One of the guys in the Speedy Tuesday Facebook group made a mock-up of the new Speedmaster Silver Snoopy Award on a bracelet (from the Apollo XI & Calibre 321) and it looks nice indeed. However, to my taste, it is a bit too metallic. I like the contrast of the blue fabric strap. Whether that's the strap that comes with it, or a leather strap or NATO, as long as it is blue.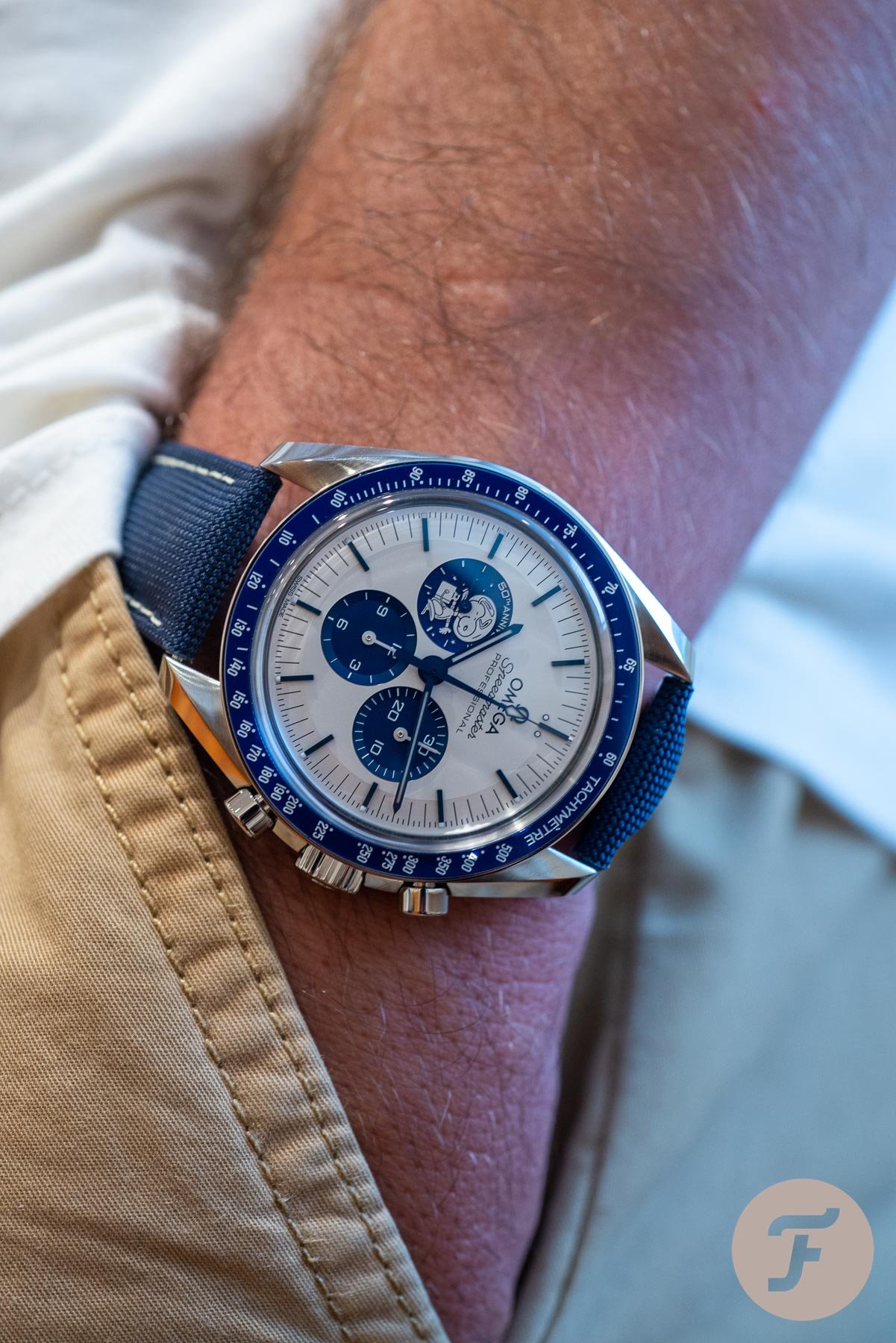 On the wrist
As written above, this watch has similar dimensions to the other (modern) Speedmaster watches. It wears very comfortably on this fabric strap and there are no surprises here if you are already a Speedmaster owner. However, this watch has an amazing presence. Just like the gold Moonshine, Apollo XI 50th, Silver Snoopy from 2015, Mitsukoshi, or Gemini IV models, this watch has a certain wrist presence that makes it awesome. The silver dial combined with the blue sub-dials, hands, and bezel makes it a playful combination. When there's not much (natural) light, the blue turns a bit darker. The printing on the dial is a bit different from what we've seen so far. "Speedmaster" and "Professional" are a bit wider on this dial compared to the standard Moonwatch.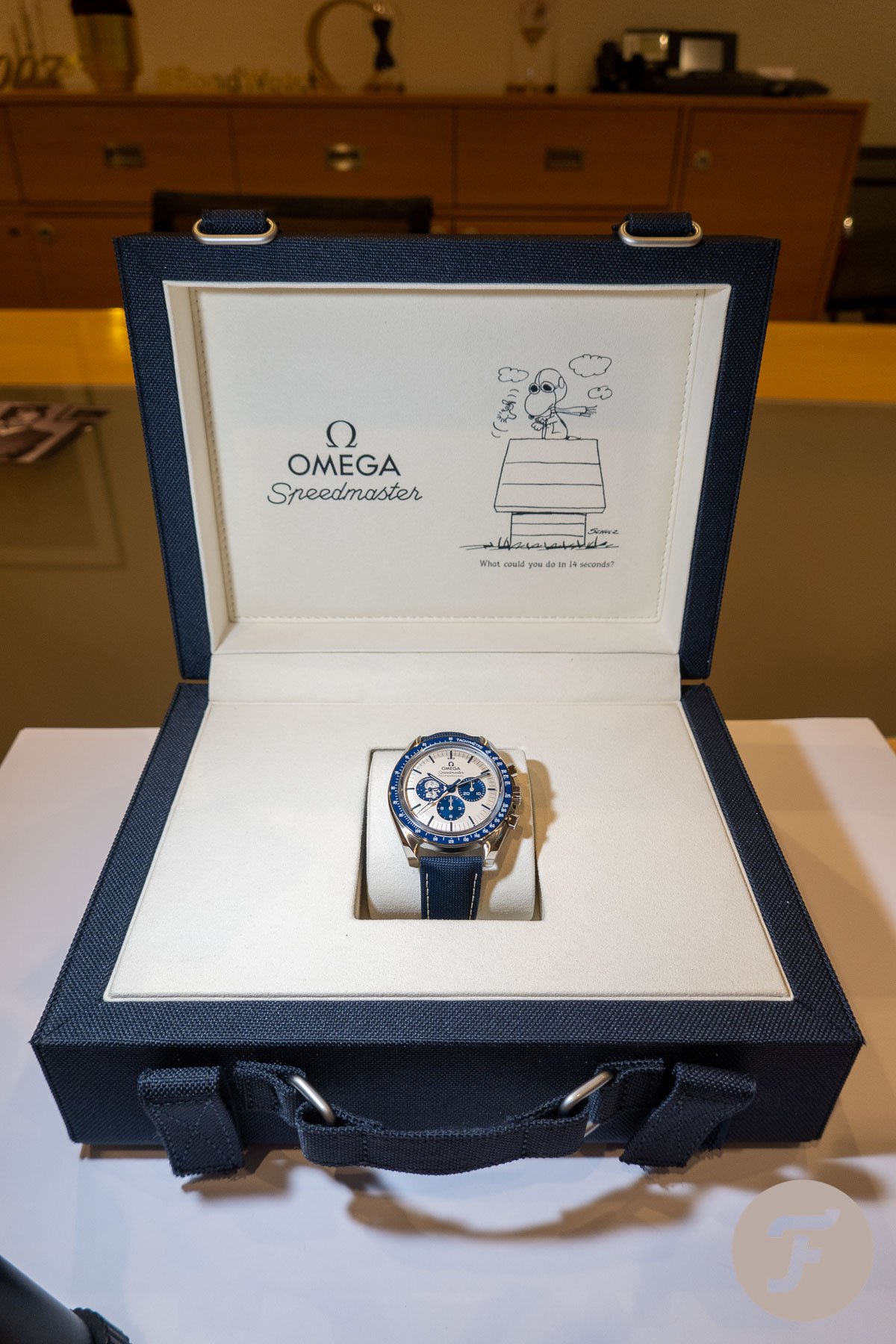 Speedmaster Snoopy Box
The Omega Speedmaster Silver Snoopy Award 50th anniversary comes in a beautiful blue box. A smaller version of the large Moonwatch box, you could say. On top, there's the Snoopy patch, and on the inside, there's a picture of Snoopy on the dog house. It comes with a loupe, pouch, and a soft cloth.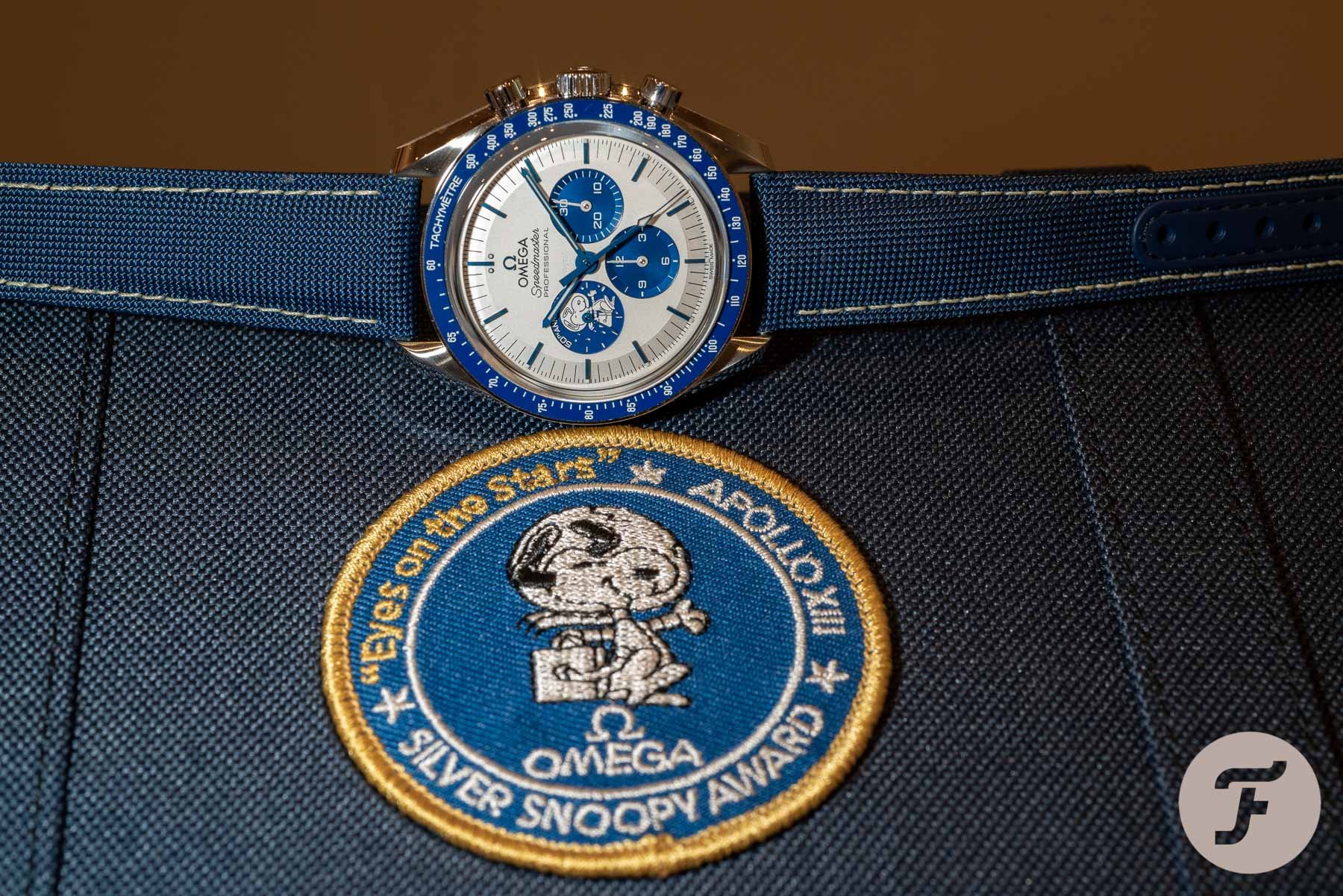 Price and Delivery
The price of the Speedmaster Silver Snoopy Award is CHF 9,600 Swiss Francs, which translates into €9,600 for the European market, depending on the VAT rate (Germany has a 16% VAT which leads to a retail price of €9,160). In the USA, the price is $9,600USD. Look up the price for your local market on the official Omega website. Deliveries will start from November 2020 onwards.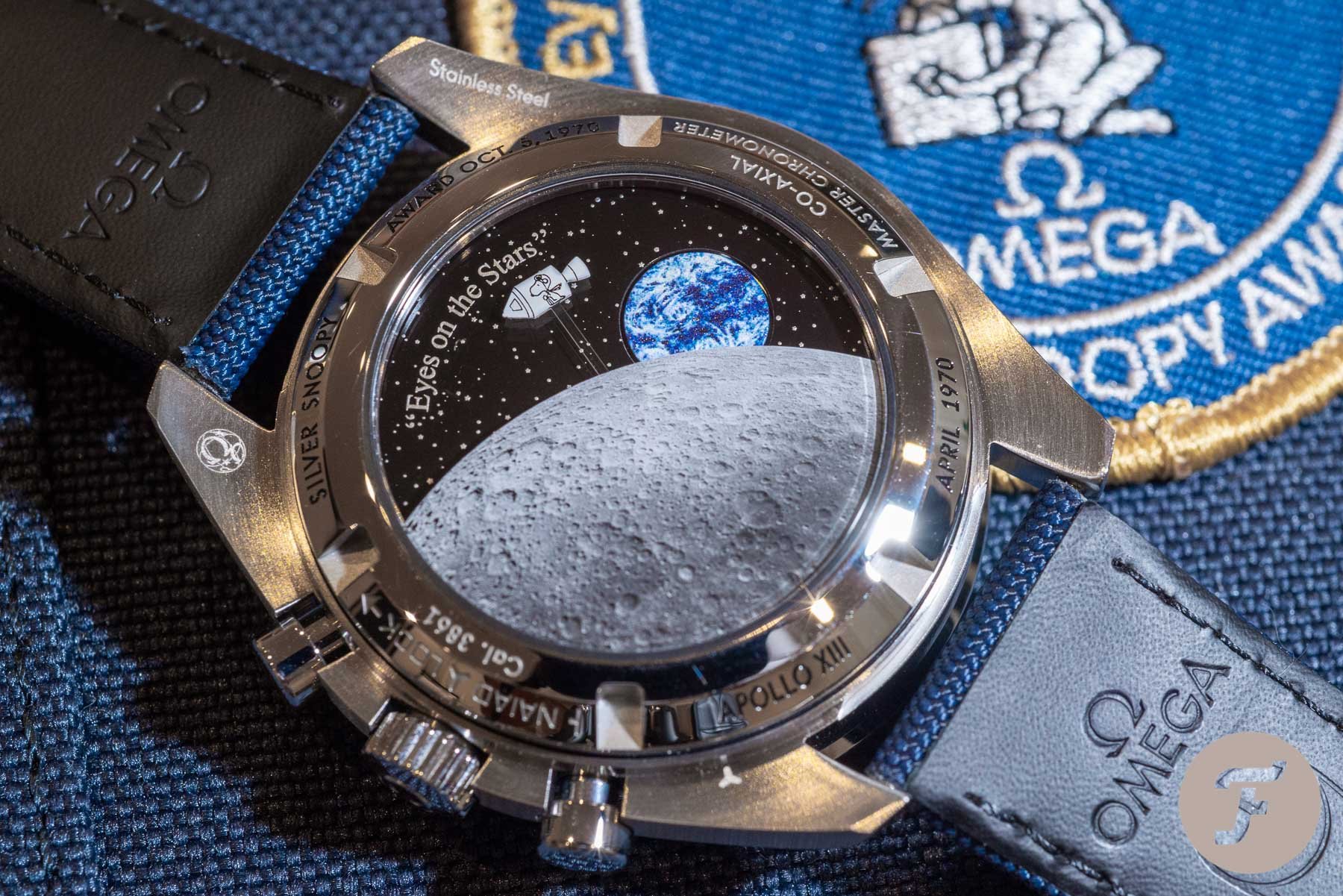 The price has been a topic of discussion, but I feel it is fairly priced if you look at what you'll be receiving. A beautiful Speedmaster Snoopy edition with the new caliber 3861 movement (specs in the chart below), with an additional animation on the case back. Something truly original and unique, in my opinion. But, in the end, you decide if you feel it is worth it, of course. When you do, let me assure you that you'll be receiving a truly awesome watch.
A BIG thank you to our Swiss friend & reporter @nd_graphy for the photography and video and to Omega for making this watch available to us so quickly.
Watch specifications
Model
Speedmaster Silvery Snoopy Award 50th Anniversary
Reference
310.32.42.50.02.001
Dial
Silver (ag925) dial, blue sub dials, Snoopy in the 9 o'clock sub-dial
Case Material
Stainless steel
Case Dimensions
Diameter: 42mm, Thickness: 14.47mm
Case Back
Sapphire case back with mechanical animation of Snoopy in the CSM
Movement
Omega Master Chronometer Cal. 3861, manual winding, Co-Axial escapement with Silicon (Si14) balance spring, 21600vph, min. 50 hours power-reserve
Water Resistance
50 meters
Strap
Blue nylon fabric strap with pin buckle
Functions
Time, Chronograph, Tachymeter scale bezel, mechanical animation
Warranty
Five years international warranty