Steel Omega Speedmaster Apollo 11 50th Anniversary – This Is It!
A Highly Anticipated Limited Edition Speedmaster Celebrates the Golden Anniversary of the Moon Landing
Omega celebrates one of man's proudest achievements with the release of the Steel Speedmaster Apollo 11 50th Anniversary.
In what must qualify as the most hotly anticipated new watch release of 2019, we have the Steel Speedmaster Apollo 11 50th Anniversary limited edition from Omega.  Whether you're an Omega fan, a space geek, or a history buff in general, 2019 was bound to be a big year.  Amongst Speedmaster lovers, the chatter about what could be considered as one of Omega's most important commemoratives began well over a year ago.  And now that day is finally here with the new ref. 310.20.42.50.01.001.  We're excited to show you some live pics that we were fortunate enough to take during the ongoing Time to Move event being held in Switzerland and to get into the details.  But first, let's give a brief rundown on what 2019 has brought for Speedmaster fans thus far.
2019 – A Big Year For the Speedmaster
In early January, Omega got things going in a big way with the re-release of the cal. 321 chronograph movement.  This was a huge piece of news for collectors of vintage Speedmasters and movement lovers in general.  The 321, which found itself on the wrists of so many pioneering astronauts, was a movement that enthusiasts wanted back in production.  Omega granted that wish and we'll start seeing it at some point in limited (only due to the amount of manual workmanship involved) quantities and likely first in a gold case with straight lugs.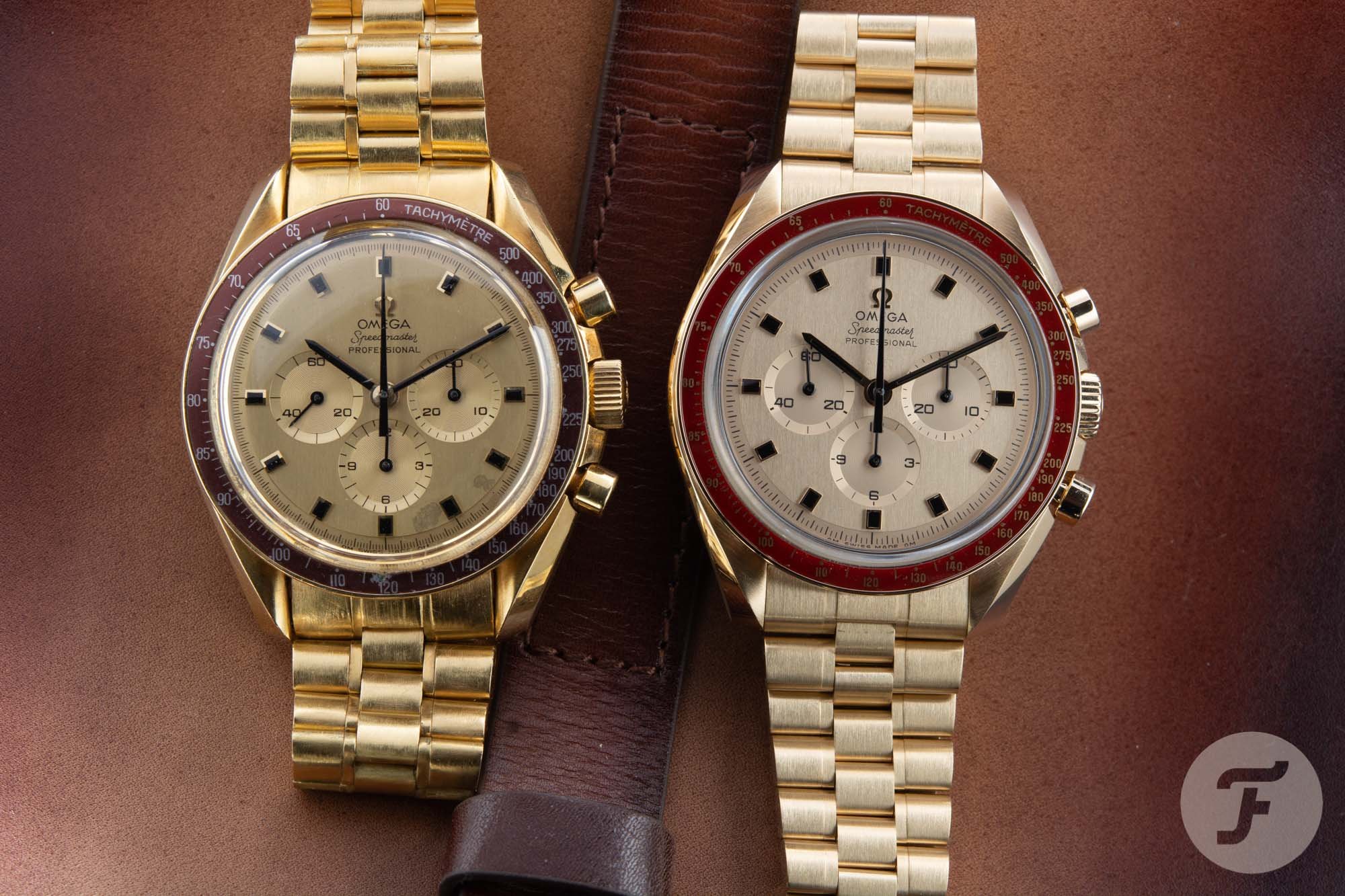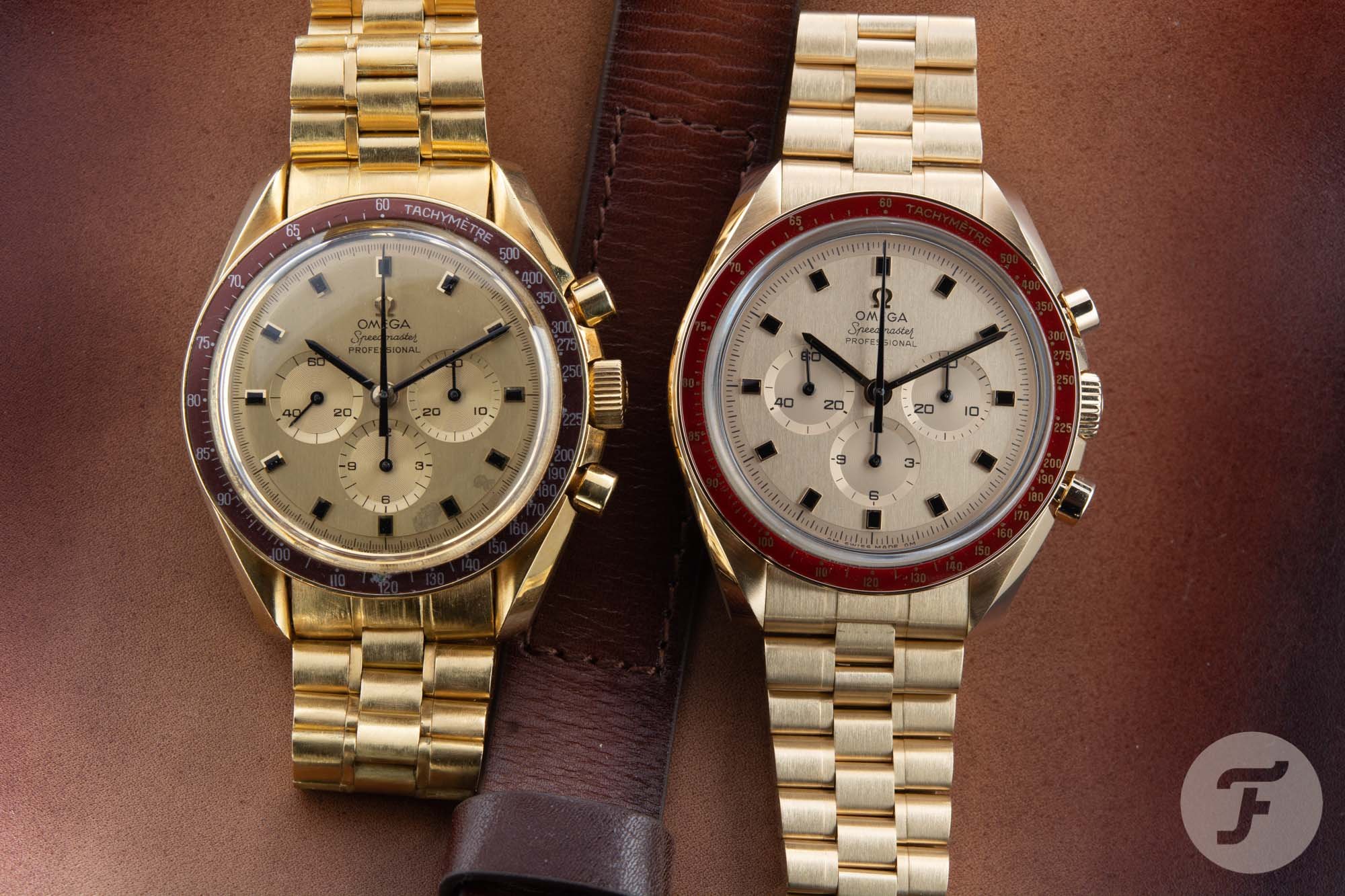 Next, in March – just prior to Baselworld – Omega fired its first salvo in celebration of the Apollo 11 mission with a modern, and limited to 1,014 pieces, reinterpretation of the first gold Speedmaster, the BA 145.022.  The gold Apollo 11 50th Anniversary Speedmaster features a new movement in the manually wound cal. 3861 with a Co-Axial Escapement and Master Chronometer certification.  Materials-wise the case, bracelet, and dial ushered in a new patent-pending 18K gold alloy called "Moonshine".  Lighter in tone than traditional yellow gold, it's also said to resist tarnishing over time.  We were so ecstatic about this watch that nearly half of our team placed orders for this beautiful piece.  But time and time again, we were asked, "where is the Steel Speedmaster Apollo 11 50th Anniversary from Omega"?  Now we know.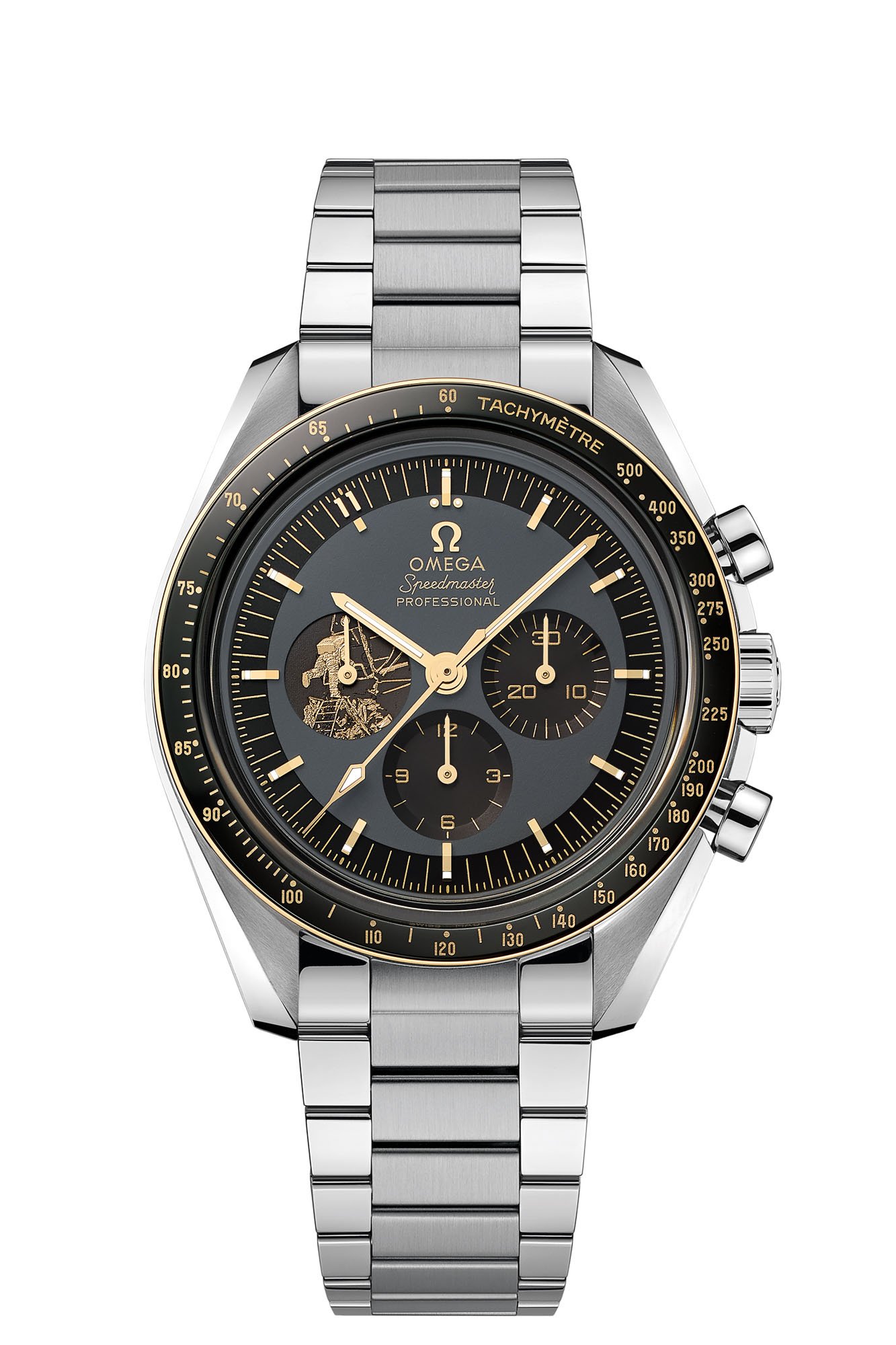 Let's get this out of the way from the get-go, the new Steel Speedmaster Apollo 11 50th Anniversary just might go down as controversial.
Will Collectors Love the New Steel Speedmaster Apollo 11 50th Anniversary?
Let's get this out of the way from the get-go, the new Steel Speedmaster Apollo 11 50th Anniversary just might go down as controversial.  I say this for a number of reasons.  First and foremost, the hype surrounding this piece, the "what-if's", and online wish lists about what this watch could and should be make pleasing everyone an impossible task.  Second, as we go through the details, I'll reveal at least a couple things that just might peeve the curmudgeons – at least initially.  And finally, I'll just go ahead and say it – this watch didn't knock me over on first impact quite like the gold edition did, but a day or so later (and many more images later as well), I'm now firmly a fan.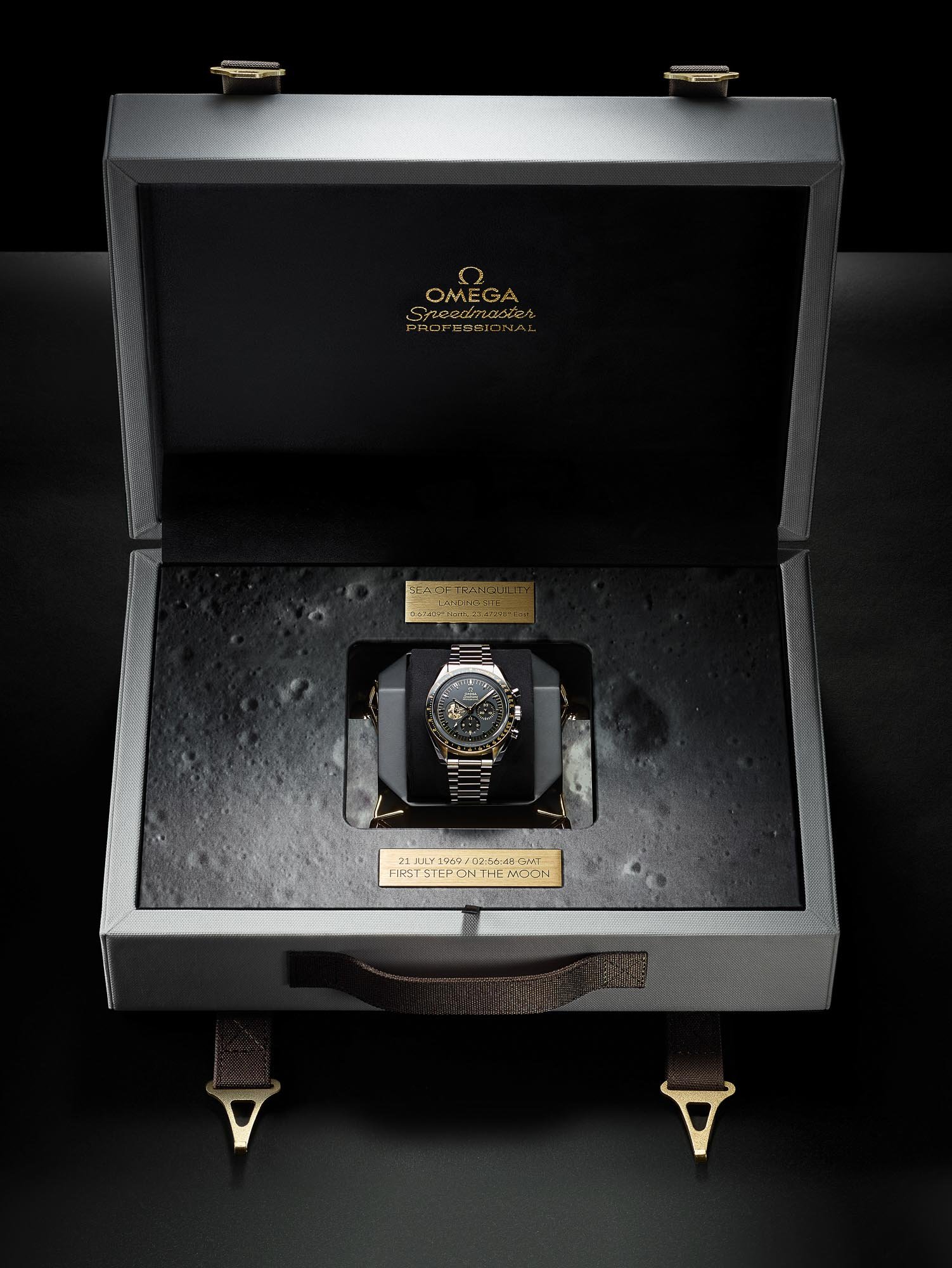 6,969 Numbered Pieces
Let's possibly put one fear to rest.  For those who are already calling their local boutiques because they've have had difficulty in getting any number of the last of the limited edition Speedies, including the SpeedyTuesday watches we know so well, I think you'll be pleased to know that Omega will issue 6,969 individually numbered pieces of the new Steel Speedmaster Apollo 11 50th Anniversary.  And while the watch world constantly surprises the hell out of me, I'd like to think that Omega chose to create a relatively high number of these in order to ensure that as many real Omega fans have a chance to own one.  So, that's a real positive in my book and hopefully, it discourages all sorts of silly speculative purchases.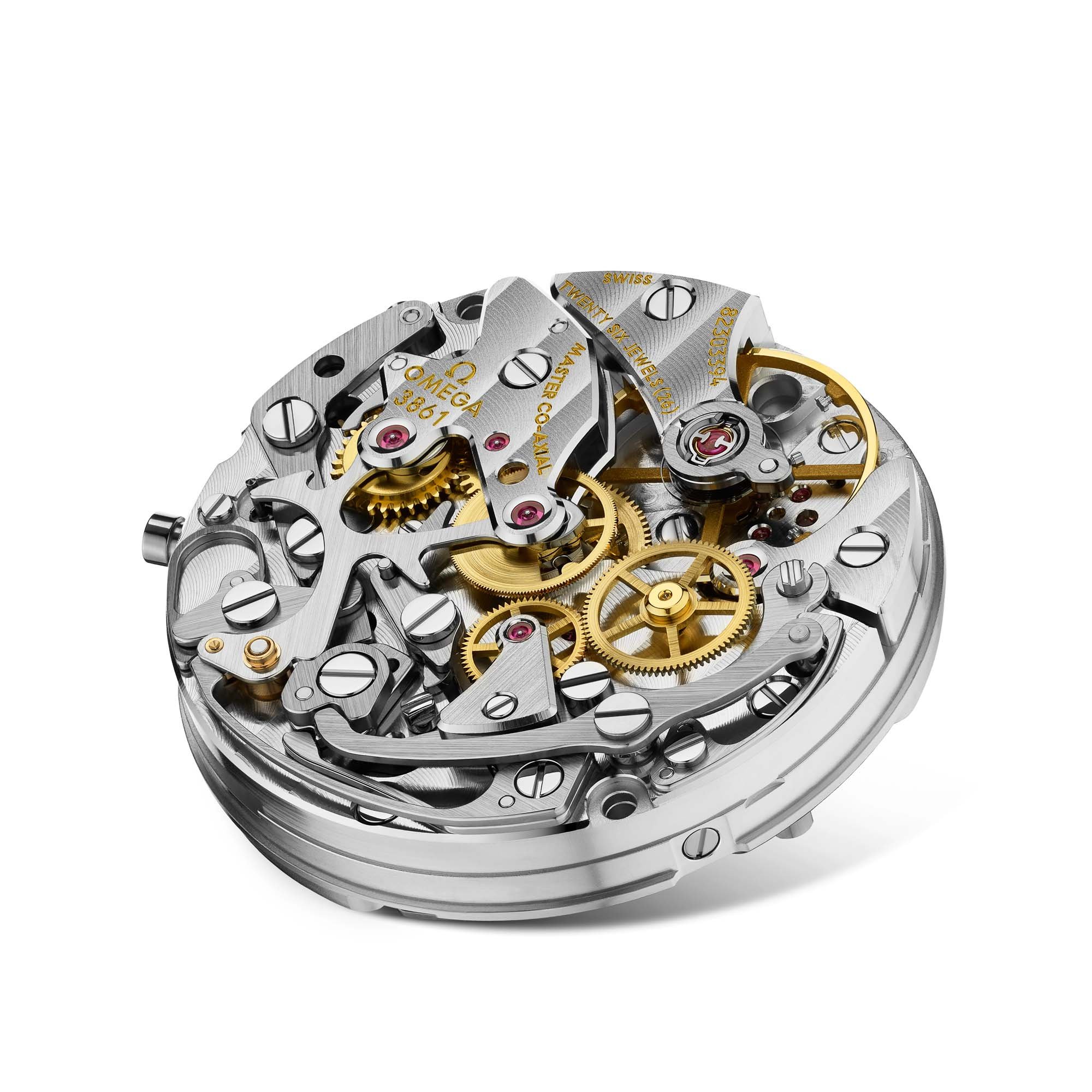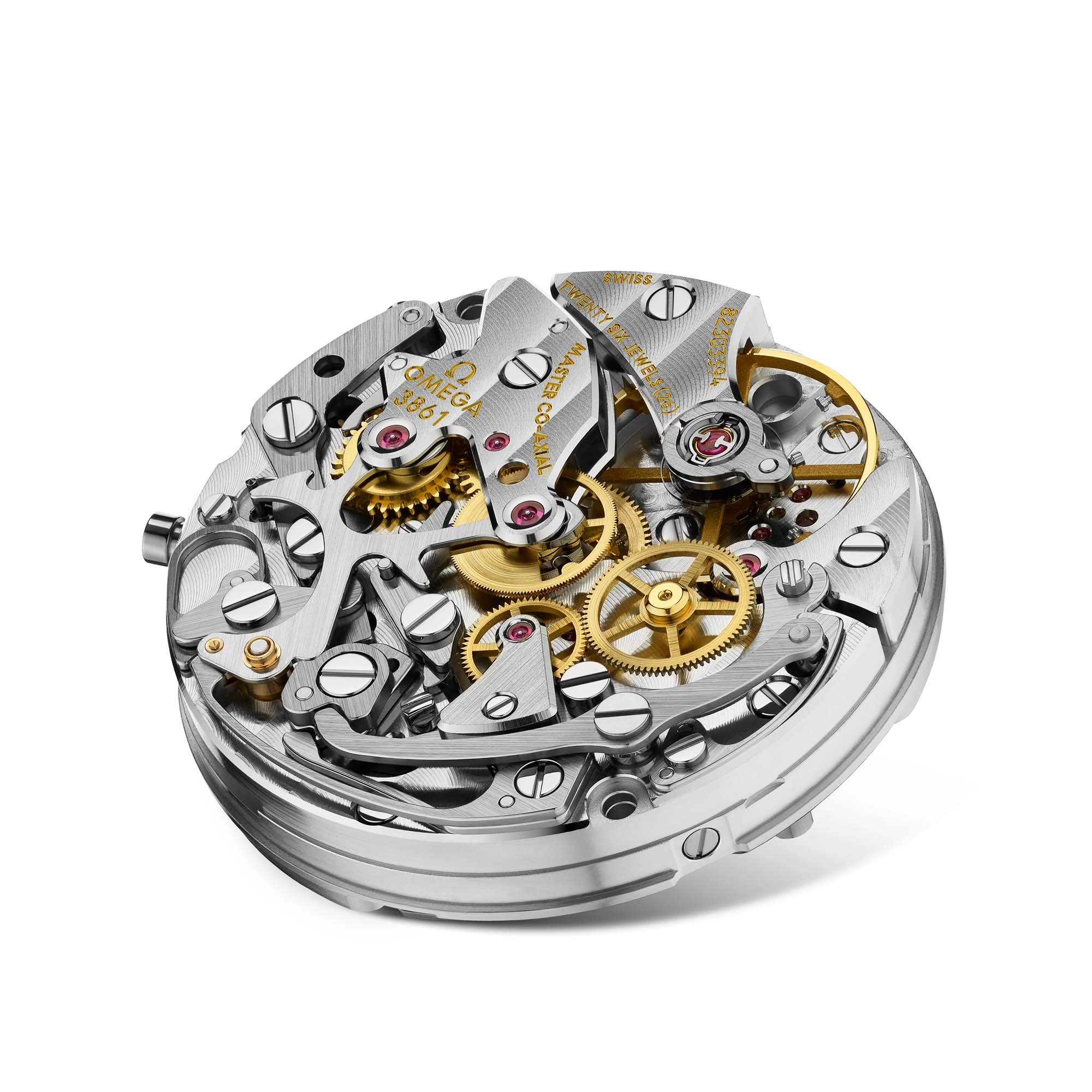 Steel, Moonshine Gold, 3861 and a New Bracelet
Specification wise, the Steel Speedmaster Apollo 11 50th Anniversary comes in the familiar twisted lug 42mm stainless steel case that we all know and love.  Here, though, and in keeping with the gold Apollo 11 and the recent Tokyo Olympics Editions, it brings in a sapphire crystal in lieu of the Hesalite that was on the original Moonwatch.  It also adds the new cal. 3861 that debuted earlier this year (this time Rhodium plating on the bridges instead of Moonshine gold), which means winding one's watch every morning is still required via a signed crown with a vintage logo.  It also means that a Co-Axial escapement is included along with 15,000 Gauss of anti-magnetic properties and a master chronometer certification.  You'll also note the use of a new stainless-steel bracelet that's fashioned to recall the original 1039 used on Buzz Aldrin's ref. 105.012.  This means that it's brushed on its center links and polished on the outer rows.  It contains the vintage Omega logo on its clasp.  Of note, it may look similar to the bracelet found on the 60th anniversary Speedmaster released in 2017, but this is a thinner bracelet overall that should please vintage fans and those who have long complained about the thickness of Omega's bracelets.  We'd love to see it on a normal Moonwatch.  But stainless isn't the only metal to make an appearance…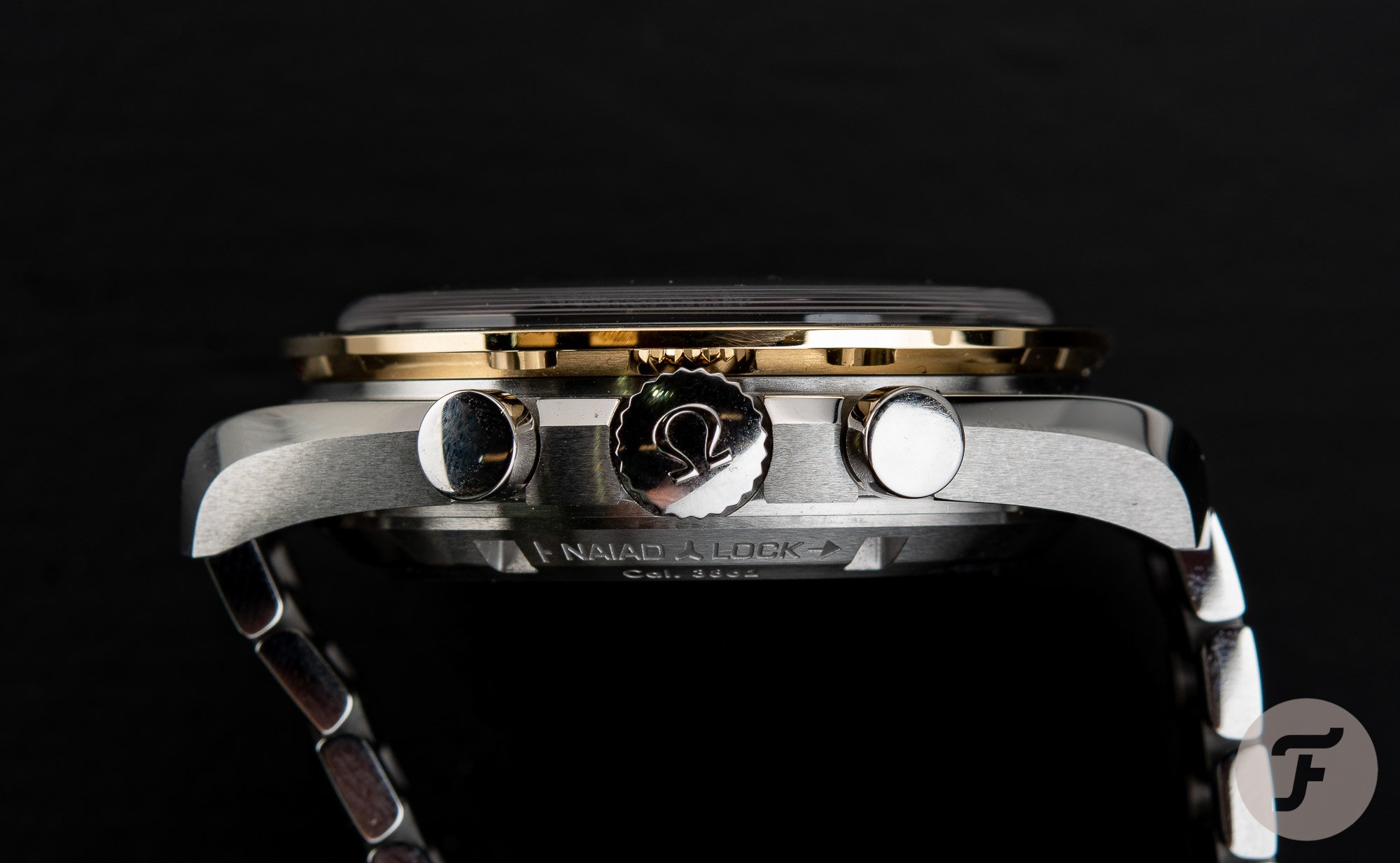 And Ceramic
For a golden anniversary, the material of the same name is bound to make an appearance and I'm pleased that on the Steel Speedmaster Apollo 11 50th Anniversary, Omega has applied it beautifully.  Moonshine gold is used on the bezel, the hands (the central chronograph hand is actually PVD-coated with the material), indices, and vintage logo.  The bezel insert is polished black ZrO2 ceramic with a Ceragold tachymeter scale.  And yes, that "dot" is over the 90.  But how does this gold interact with the dial?  Very well, thank you.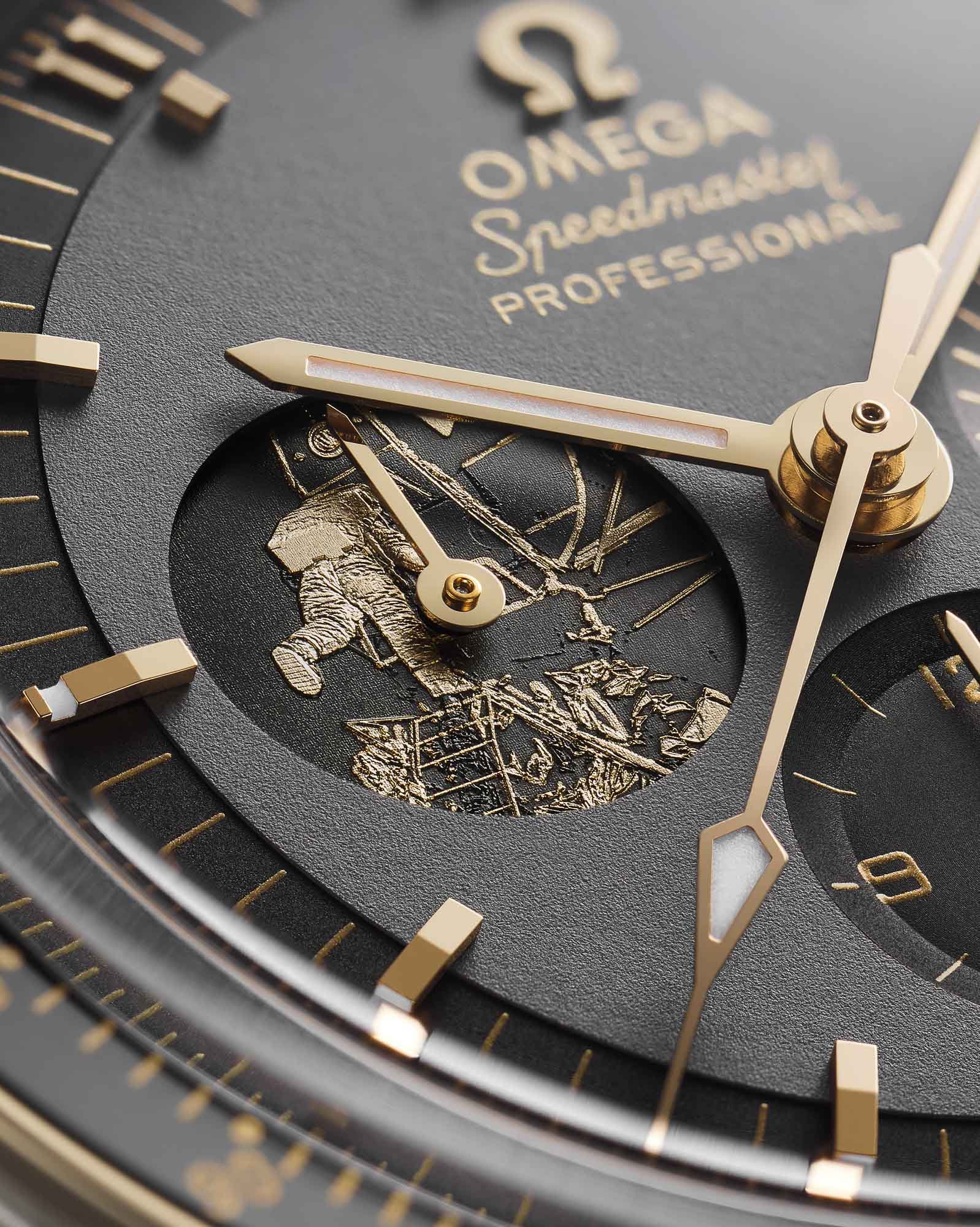 Channelling the 105.012 – With Some Twists
On the Steel Speedmaster Apollo 11 50th Anniversary, Omega chose a vintage-inspired step dial, but shakes things up with the aforementioned applied gold indices and logo.  The dial itself is a varnished grey in the center and the minute track is black.  This contrast doesn't show itself in all photos, but when it does…wow.  Notably, and very subtly in my view, the 11:00 index is actually an applied Moonshine gold "11" to celebrate the Apollo mission.  It's probably my most favorite celebratory detail on the watch – I love how imperceptible it is and, yet, it's there.  Omega understandably paired gold font as well as all the minute markers and sub register hashes with the rest of the gold details.  Finally, perhaps the most noticeable detail is a laser-engraved image of Buzz Aldrin climbing down from the Eagle onto the lunar surface on July 21, 1969 at 03:15:16 UTC.  The inscription is engraved on a Moonshine Gold plate and is something to behold under a loupe.  I'd say that Omega now has its fans used to symbols, mission patches, etc in the left most register.  For me, this is the detail that I am really back and forth on, but you should know that I harbor that feeling with almost all Speedmasters containing anything on that sub dial aside from a measurement scale.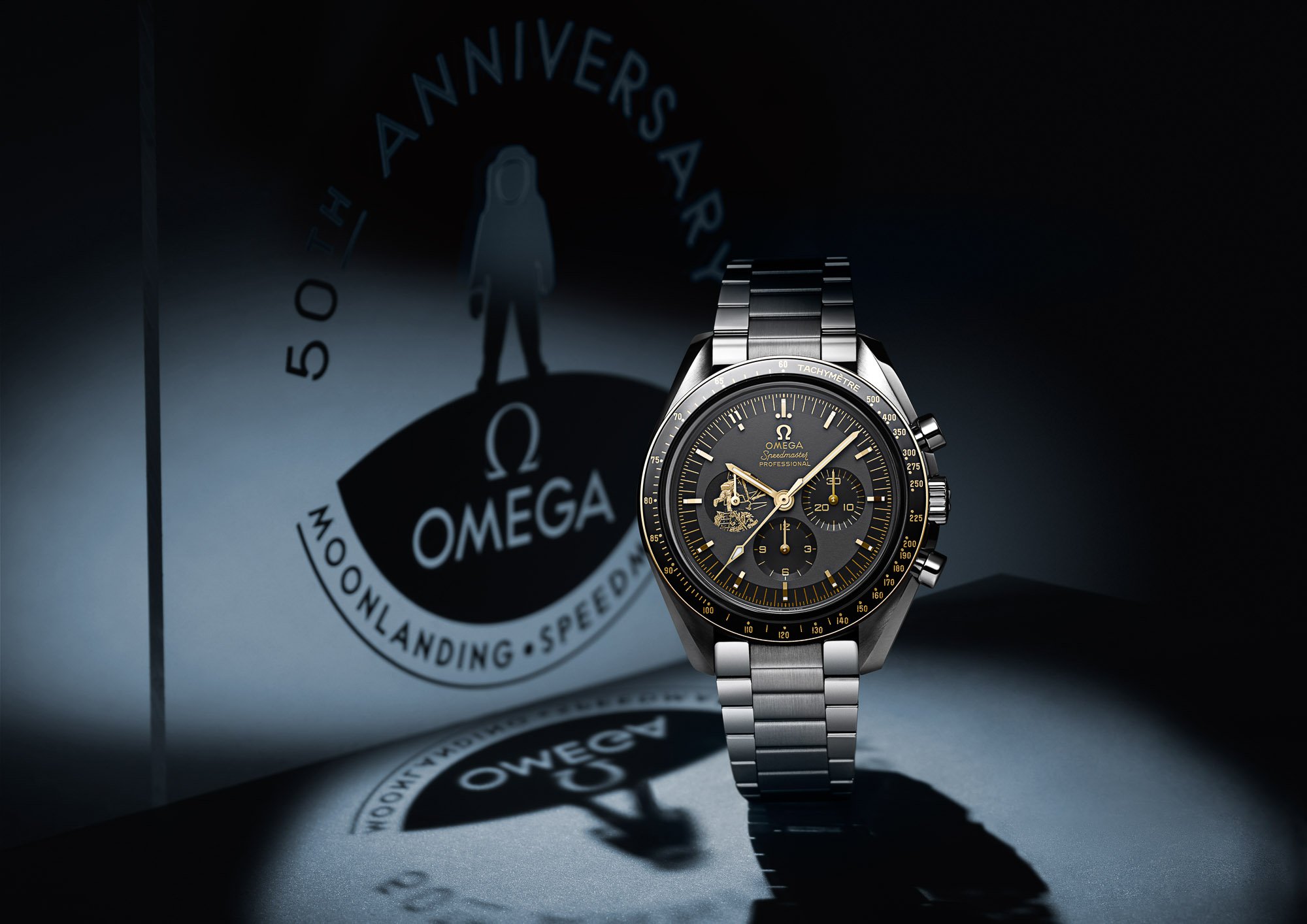 High-Class Finishing, Advanced Materials
Overall, the more I look at this watch, the more I like it and find the composition, especially when taken as a whole, very pleasing.  Yes, there's gold here which some may not like, but the watch looks so distinguished and highly crafted.  Yes, Omega will still sell you the base model Moonwatch, but it seems clear to me that they're now punching in a different weight class with their finishes, movements, and advanced materials.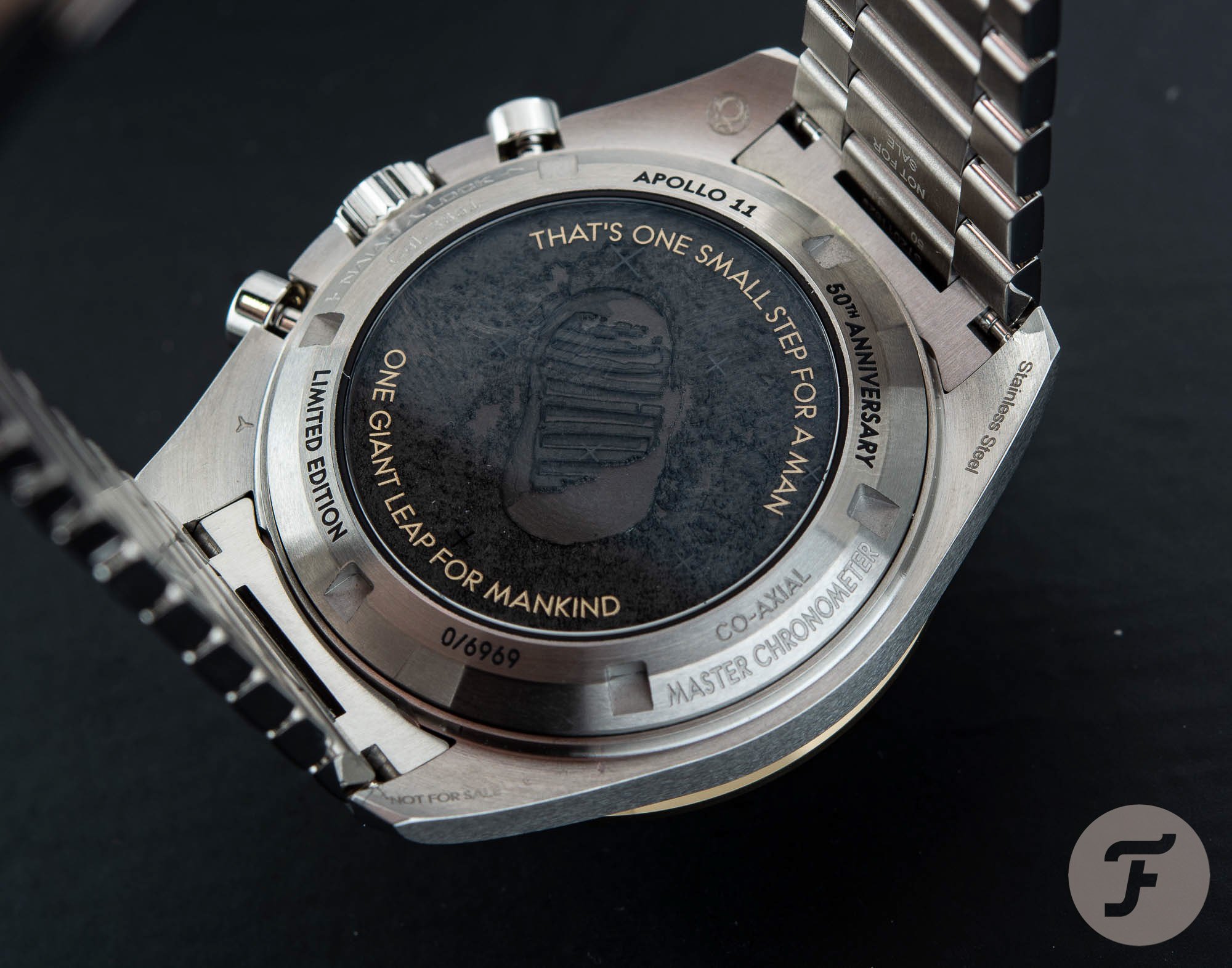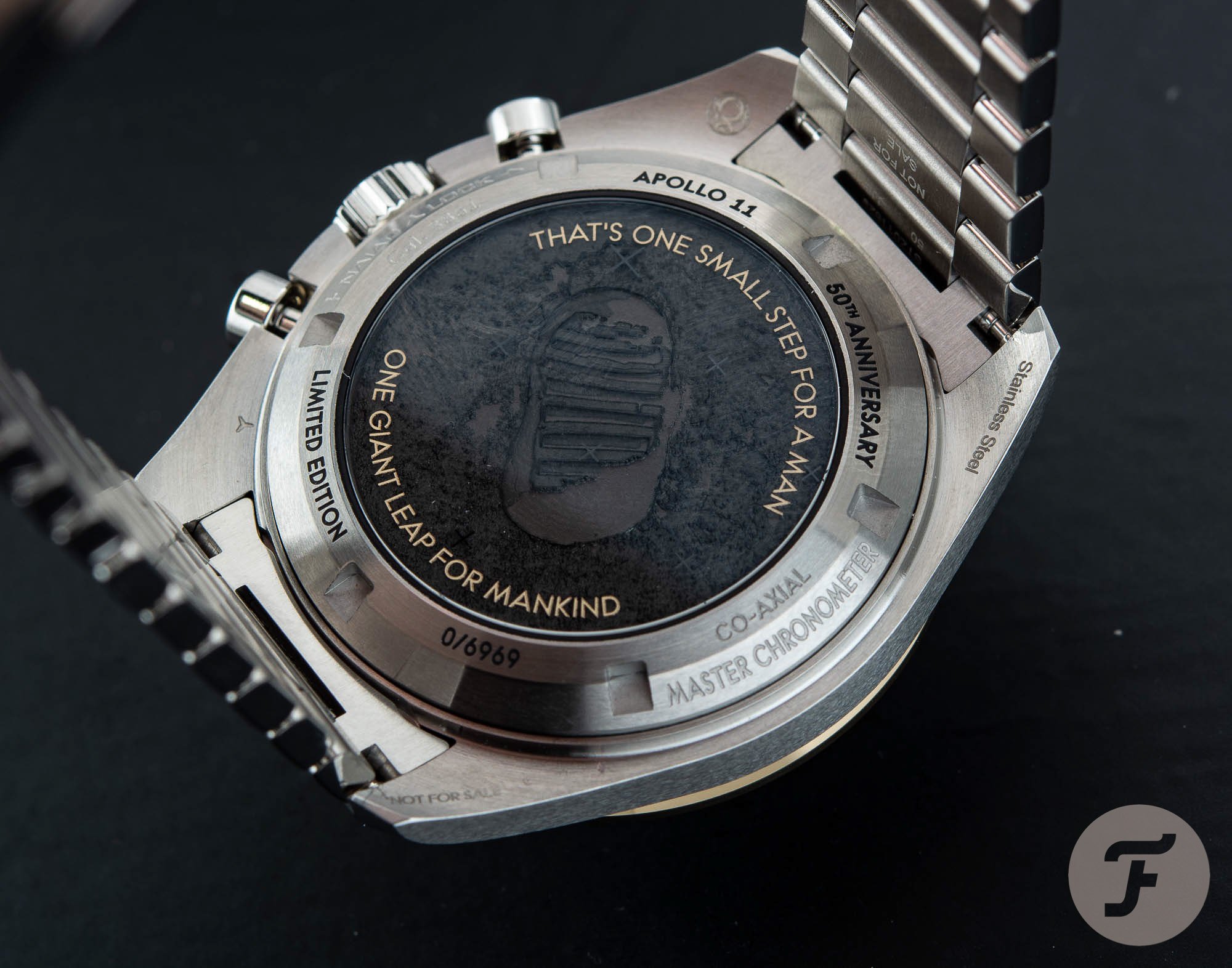 …it seems clear to me that they're (Omega) now punching in a different weight class with their finishes, movements, and advanced materials
Of Course, An Incredible Case Back
But what's a limited edition Speedy without an amazing case back?  And yes, fans, here the Steel Speedmaster Apollo 11 50th Anniversary does not disappoint.  I must admit that I missed the famous footprint on the gold Apollo 11 edition, but the steel variant delivers it in a healthy dose.  The footprint is actually on a brass base, a laser creates the structure, then Moonshine gold is plated on top, black galvanic, and a laser to reveal the gold "One Small Step For a Man, One Giant Leap For Mankind" wording that surrounds.  And the small crosses you see – they're inspired by the original Zeiss lens that took the shot.  I'll make a leap here, but this is probably similar to what's found on the dial of the normal production Dark Side of the Moon Apollo 8 released last year and that surfacing looks awfully impressive in person.  Of course, the numbered edition is on the back as well as several inscriptions including NAIAD lock, caliber information, Co-Axial Master Chronometer, and Apollo 11 50th Anniversary.  It's a neat case back that I think any Speedmaster lover should enjoy.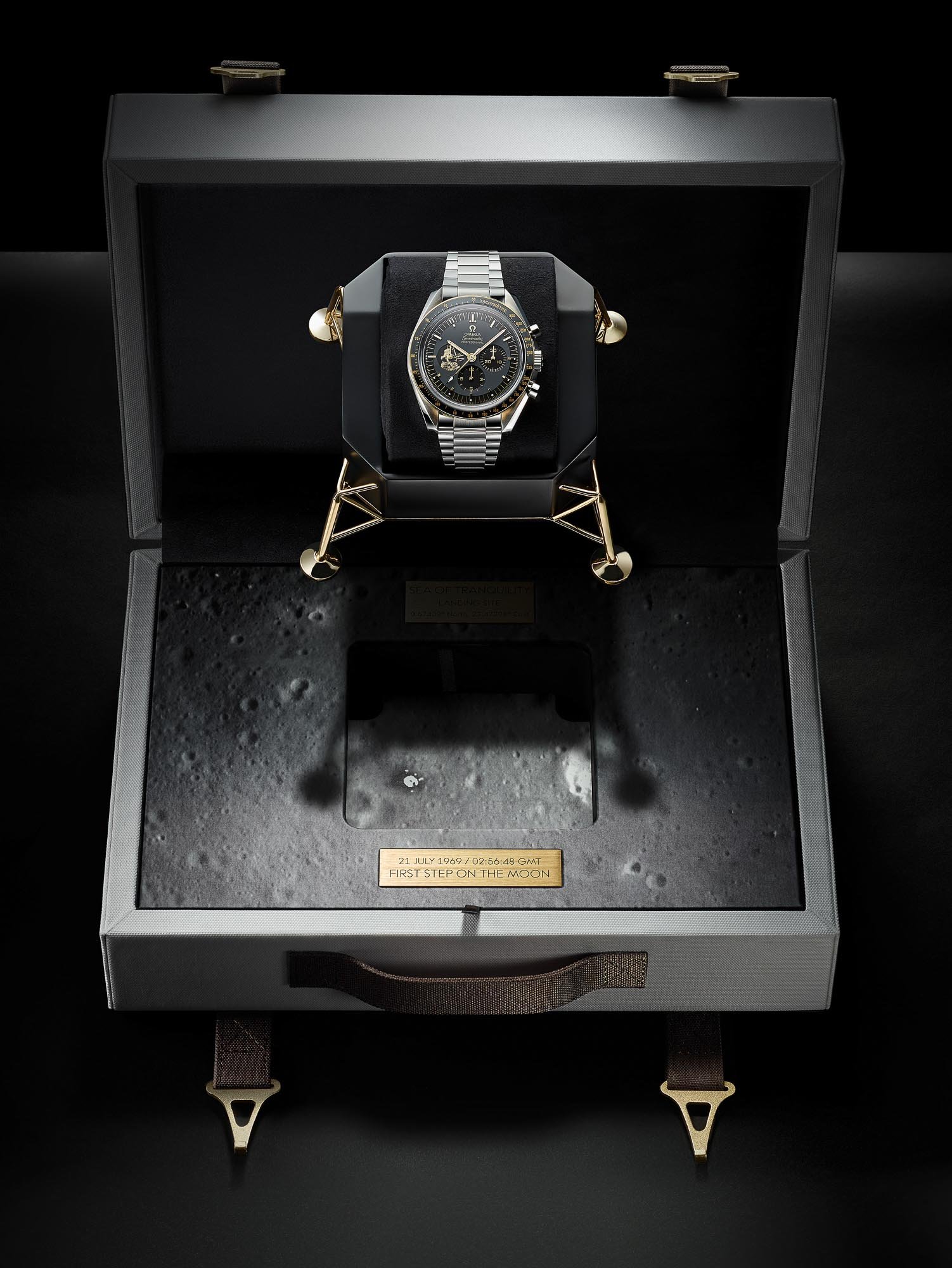 Packaging Rivaling the Ultraman
Omega's packaging has truly surged in terms of creativity and quality over the past several years (remember those old boring red boxes from not long ago?) and the Steel Speedmaster Apollo 11 50th Anniversary looks epic.  The case is a NASA-style box and it looks tactical with its handle and two fastening straps.  Inside, though, things move to the next level with the watch sitting on a removable Lunar Module model.  It's ensconced within a lunar surface that contains two engraved plates – the landing site coordinates and the landing date and time.  The kit also comes with two patches – the Apollo 11 and the 50th Anniversary.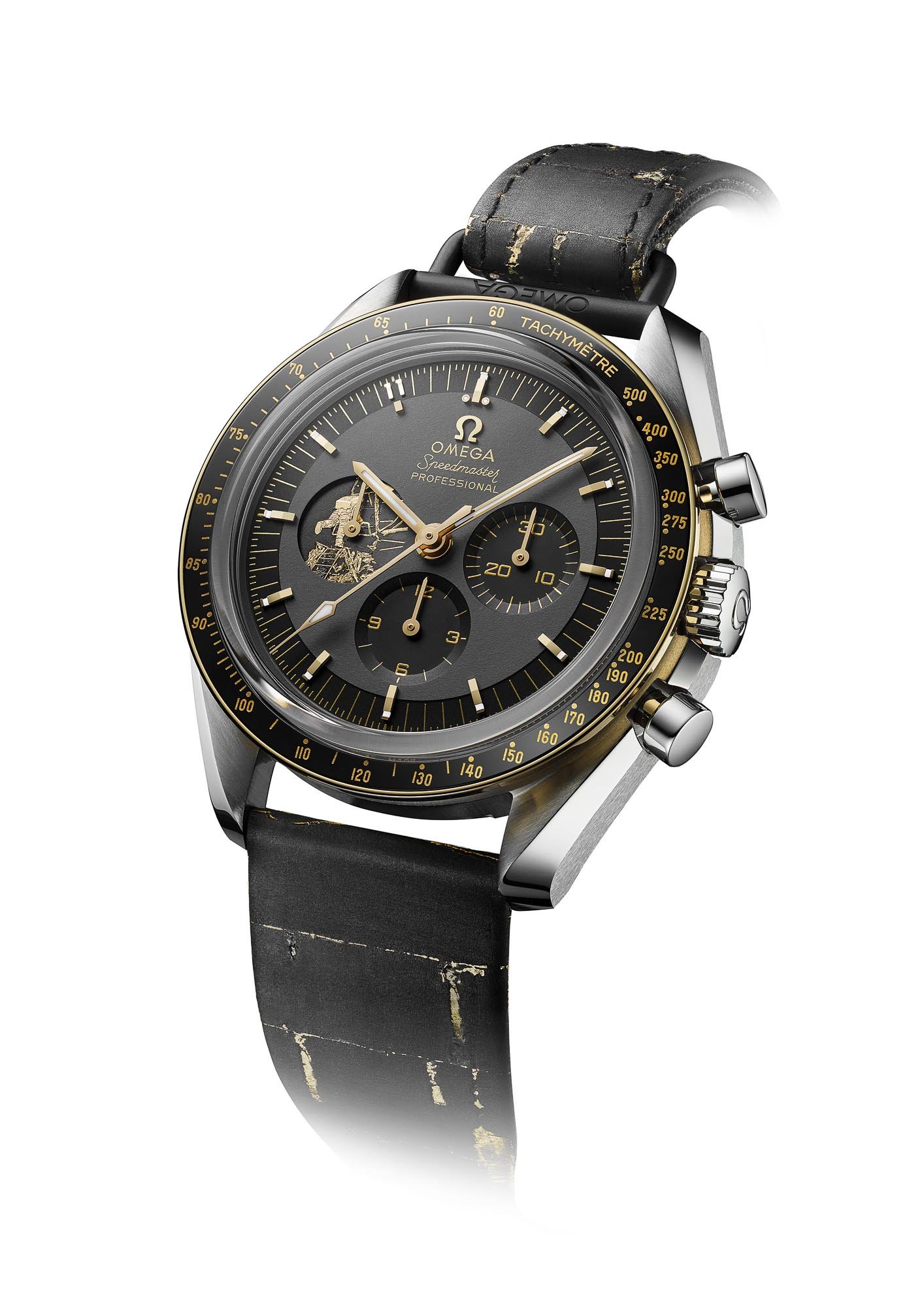 A strap changing tool is included with something seriously cool, a black Velcro strap covered in black cork.  The cork signifies the protective coating used as a boost protective cover during Saturn V launches.  The markings on the cork obviously make each one unique and I'd call it a really thoughtful add.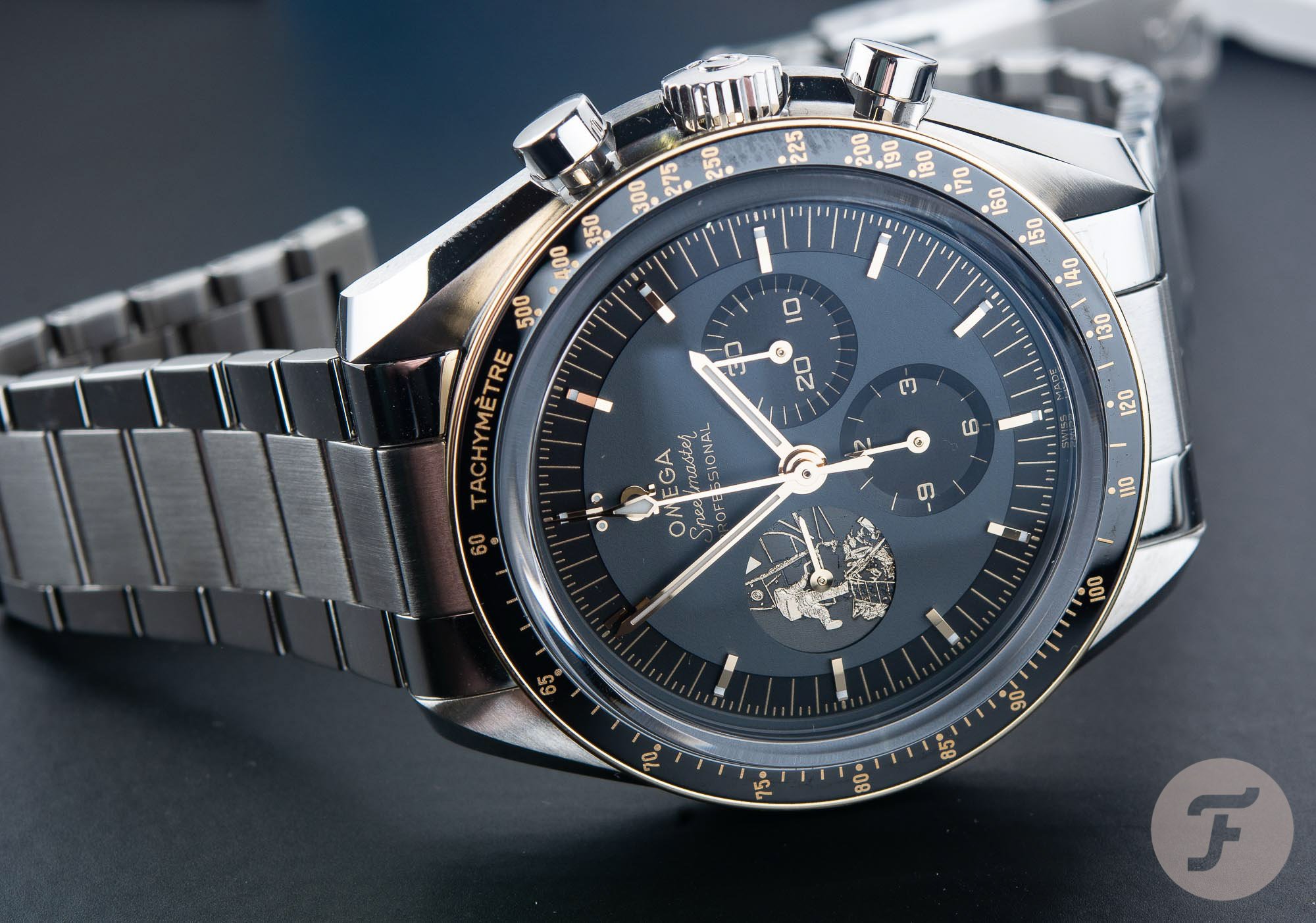 8,900 CHF (ex VAT)
The pricing on the new Steel Speedmaster Apollo 11 50th Anniversary isn't what I'd call inexpensive at 8,900 CHF (ex VAT), but it's probably not a surprise either.  With the addition of gold, a new (far better) movement, and all the details such as the case back and the packaging itself, I don't think it's out of line.  But will the Speedmaster addicts love this watch or will the modern additions make it too clean or less of a down and out tool watch than what was on the market at the time of the moon landing?  Well, one's tastes are simply that – their own, so I think we'll have to measure the reaction.  As I mentioned, I wasn't sure at first, but that was mostly to do with the 9:00 subdial inscription and some photos that didn't show the grey/black dial contrast.  But I've softened my stance and I do like it.  And, yes, I think it would have been a lazy mistake and far too easy for Omega to release a straight-up redo of the 105.012 – there are those who wanted it with a new 321.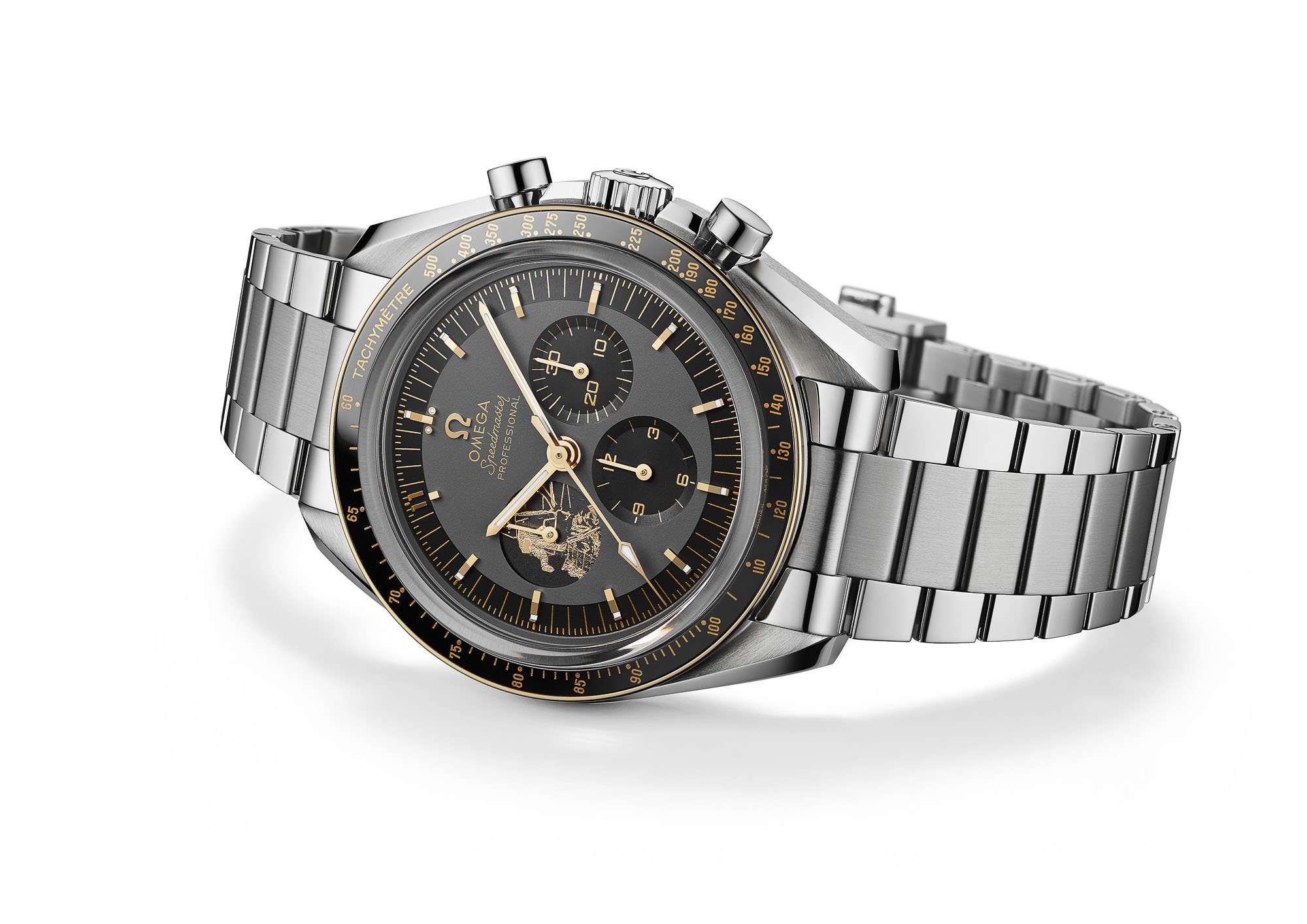 Final Thoughts
The Steel Speedmaster Apollo 11 50th Anniversary edition needed to be different and as much as it is about celebrating the 50th Anniversary of the Moon Landing, I think it's just as much about showing just how far Omega has come in the last 50 years.  This is Omega showing that they can produce a modern Moonwatch with enough nods to the past, but with some incredible upgrades in the area of technology and materials.  And regarding its capabilities?  I don't think there's any question that this watch is so far superior to its ancestors as far as traits like durability or accuracy that it's almost incomparable.  And so yes, for all those who have been waiting, I do think that Omega has given both those brave men who went to the Moon and, honestly, itself a fitting tribute to one of the most incredible events in human history.
The Steel Speedmaster Apollo 11 50th Anniversary will become available in July, 2019 and visit the official Omega site for more information. 
Watch specifications
Model
Speedmaster Apollo 11 50th Anniversary Limited Edition
Reference
310.20.42.50.01.001
Dial
Varnished Grey Center, Black Minutes Track, Applied Indices and Logo in 18K Moonshine Gold
Case Material
Stainless steel with stainless steel pushers and crown. 18K Moonshine gold bezel with black ZrO2 Ceramic Insert featuring a Ceragold tachymeter.
Case Dimensions
42mm diameter, 47mm lug to lug, 14mm thickness, 20mm lug width
Case Back
NAIAD Screw-Down
Movement
Omega cal. 3861 manual wind chronograph movement, 26 jewels, Co-Axial Escapement, Master Chronometer Certified
Water Resistance
50 meters
Strap
Stainless Steel Bracelet, includes a Black Velcro Strap with Black Cork Covering
Functions
Time, Chronograph with seconds, 30 minutes, and 12 hours
Special Note(s)
6,969 Pieces