Hands-On REC P-51 "Mustang Watch" Review
P-51 rang a bell with me, as I read a lot of Buck Danny comic books when I was younger and I have a dad with a huge interest in WW2. However, when Jonathan Kamstrup (CEO of REC Watches) told me this watch had a dial made of a metal sheet from a 1960's Mustang car, the use of the P-51 type confused me a bit. According to REC Watches though, the designer of the original Ford Mustang car compared the sleek profile of that 1960's car with the North American P-51 Mustang plane. It was because of this that Ford's lead designer at the time, John Najjar Ferzely, proposed the 'Mustang' name for the first concept car.
REC P-51
So, please meet the REC P-51 watch, with a dial made of a 1960's Ford Mustang. In fact, the watch that we had here from REC Watches is a REC P-51 with the dial of a 1966 Mustang. The dial features a little tag that shows the original VIN (vehicle identification number) of the Mustang that was used for this specific watch. Not only the metal sheet and VIN refers to a Ford Mustang from 1966, also the sub dials are clearly inspired by the dashboard of a 1960's Ford Mustang.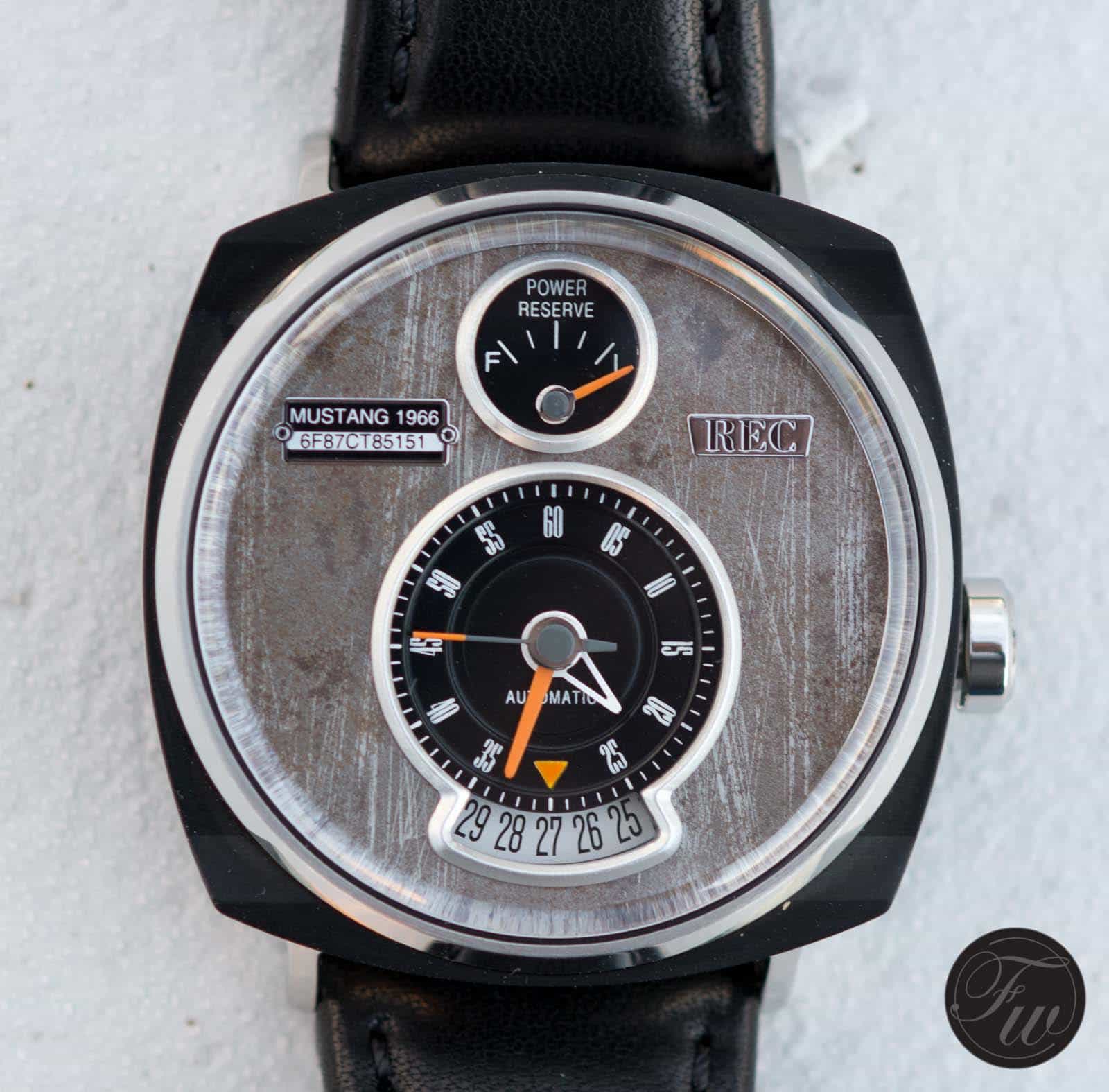 "RECOVER, RECYCLE, RECLAIM"
Danish watch company REC has a very clear concept: Recover, Recycle, Reclaim. Their collection of watches has been designed and manufactured by this very principle, by salvaging classic cars and icons, and transforming them into watch components. Before this REC-P51 was brought to life, they already did 3 different collections based on the famous Mini (Cooper) cars. Actually, the selection of a classic is done in a very democratic way, by having a poll on their website. Currently, they are making you pick between a Hippie Van (VW type II), a Porsche 911 (<1989) and a 1st Gen Dodge Charger (1966-1974). So in case a Ford Mustang doesn't tickle your sentimental or nostalgic senses, you can also opt for one of the other offered classic cars.
Although I am a fan of nice cars, the Ford Mustang is – like American cars in general – a bit of black box to me. I know them from TV as you don't see them often here in The Netherlands, where we laugh at US gas prices (or perhaps weep). With prices as high as €1,80 a litre of gas (octane 95) not too long ago, there is not much fun in driving these V8 machines. So what I know about them, I know from Brandon Walsh or the Mustang page on Wikipedia so I am not going to bore you with quotes.
Mustang Dial
Let's have a closer look at the unique feature of this watch, the dial. Not only is it made of a metal sheet of Mustang car, the dial has design elements from its dashboard as well.  Black clocks with orange needles, like the one I am reviewing here, the REC P-51-01. This indicates that there are more versions and that is correct. There are three different REC P-51 watches, each with different case materials and color schemes.
As you can see on the images above and below, the dial of the REC P-51 has a number of interesting details from the original Mustang's dash. The speedometer has been used as input for the main dial with the hour, minute and second's hand. The little mileage counter below the Mustang's speedometer transforms into a date aperture on the REC P-51 for example. At 12 o'clock, the REC P-51 watch has a power reserve indicator, that looks like a Fuel indicator.
The most notable feature of the REC P-51 is the dial of course. The material with its corroded look, scratches and brushes, looks simply amazing and play nicely with light. All dials of the REC P-51 will have a unique look to them of course. The sub dials for the power reserve indicator and the time indication are quite 'deep' and have a nice brushed rim to them as well. So there is actually a 'layer' on top of the Mustang steel dial as well as a part that's below the surface. This gives the dial a lot of depth or a 3D view as you wish. Now, I am not a typography expert like our colleague Teun is, but the numerals on the dial look very much alike the ones on the speedometer of the Mustang. A nice detail!
The hands on the watch – or markers on the dial – or not lumed, for some people this might raise a red flag when it comes to buying watches for everyday use.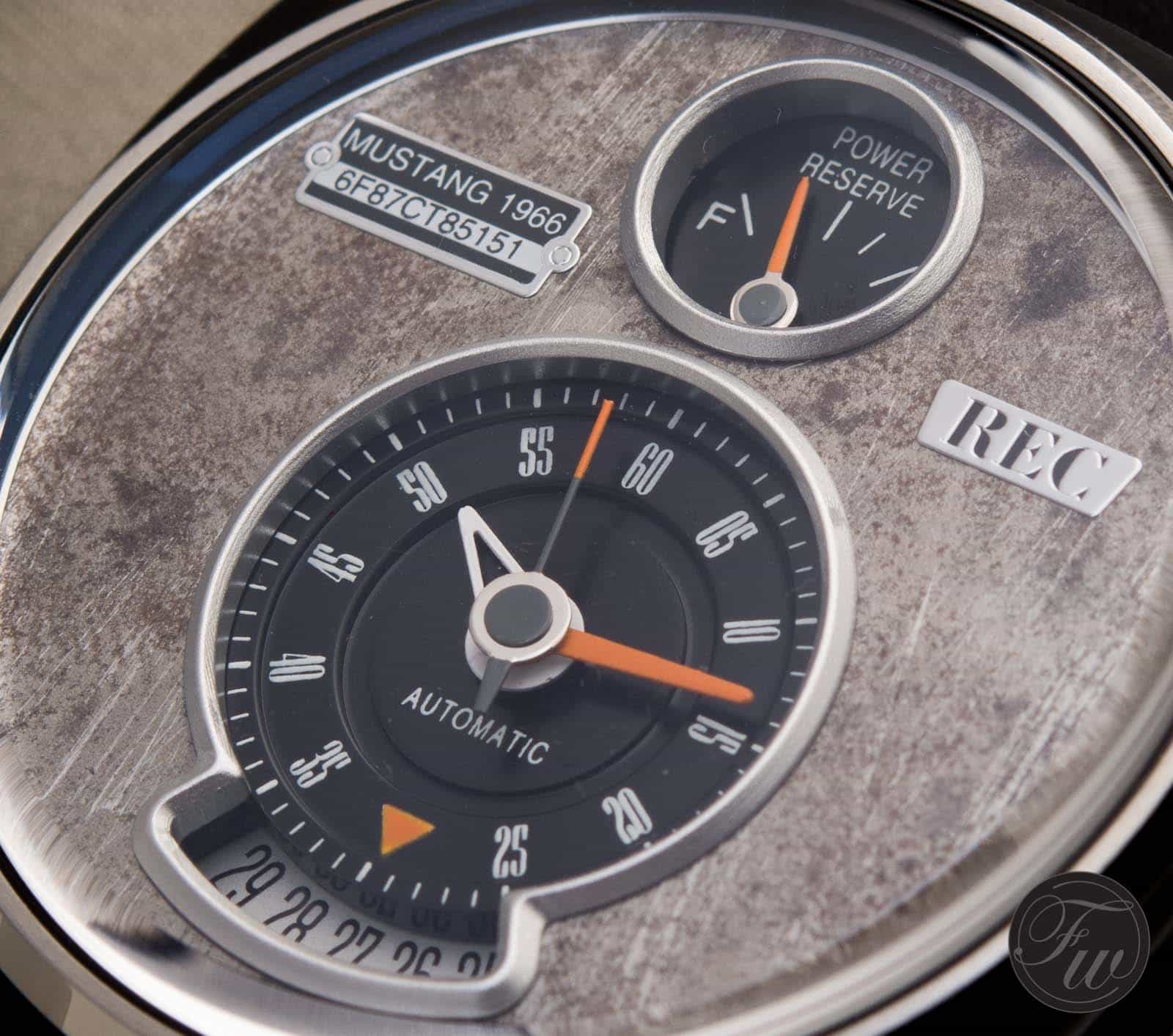 Case
There more to a nice watch than a stunning dial of course, although my guess is that there will be a quite a few people who ordered this watch just because of the dial. For me personally, there more to it and I find the case and movement to be just as important. So looking at the case, with 'mature' dimensions (44mm W x 44mm H and 10.8mm thick) it isn't a very small watch. I've found the watch to be very comfortable on my (medium sized) wrists though. I normally sport watches between 39mm and 42mm – with some exceptions below and above – myself and I didn't find this watch to be too big or clunky. The stainless steel case has a black PVD finish and a steel bezel, but if you fancy an all stainless steel case with black PVD bezel or a black PVD case with a rose gold (plated) bezel, you can go for those combinations as well with the REC P-51 Mustang watch.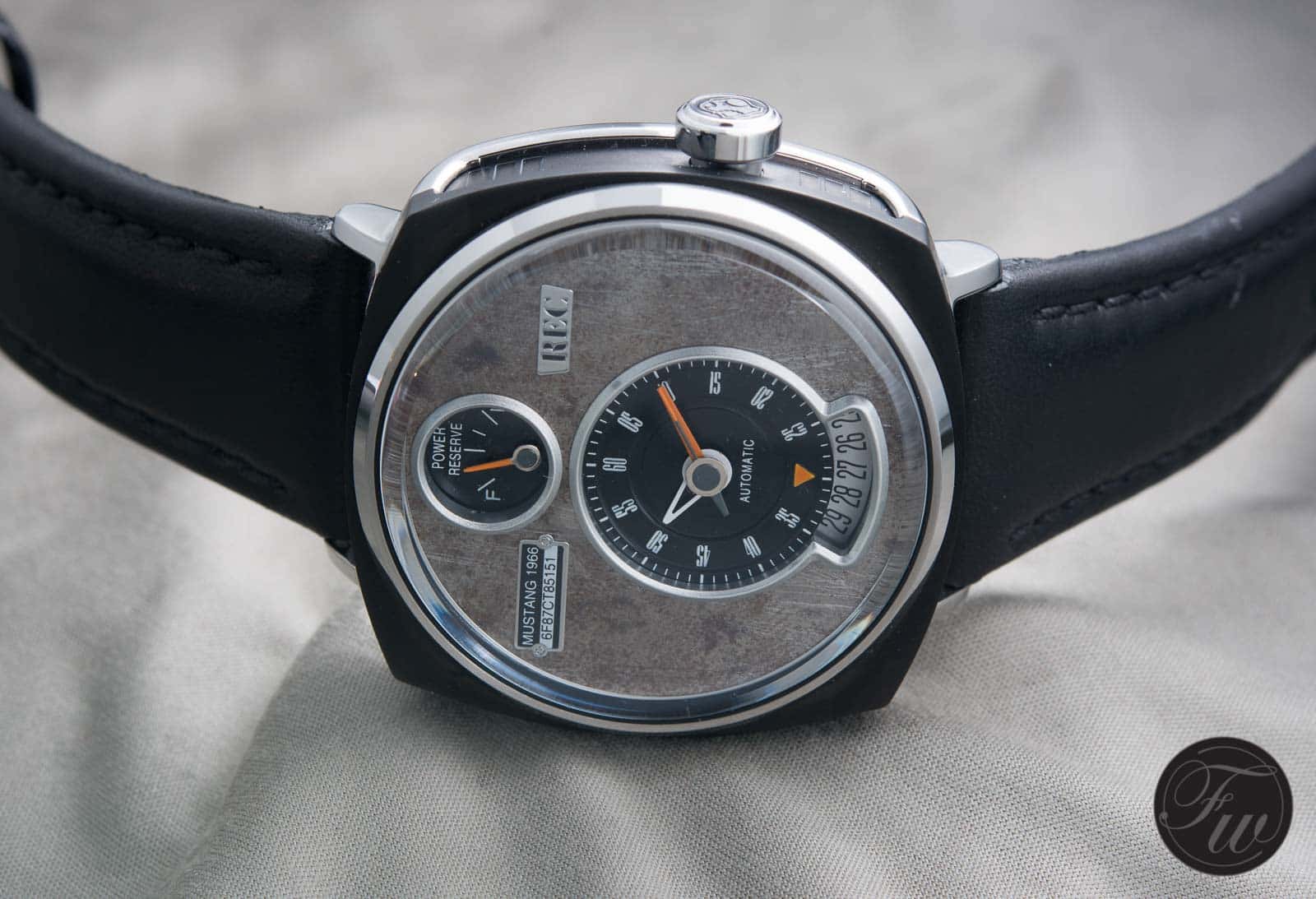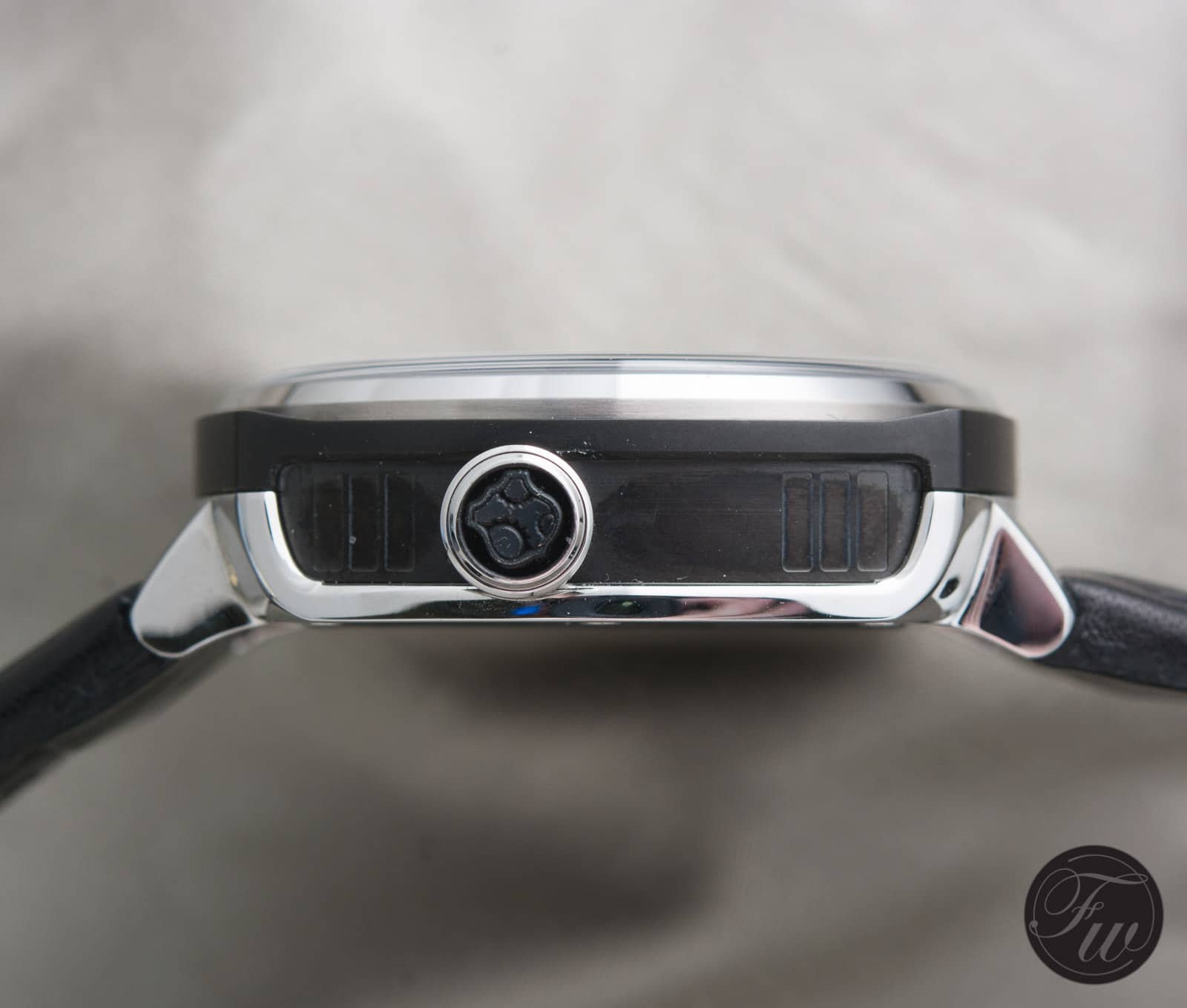 The case band of the REC P-51 reminds you of the back of the Mustang car, with three lights on each side. I've read some issues with the crown, mainly that it was kinda hard to grasp and use. Although it is certainly not an easy crown to get a hold of, I am not that concerned with it since it is has an automatic movement. Would it be a hand-wound movement, I would have expect a crown that was a bit more user-friendly. The crown features the REC Watches logo.
Movement
Like many microbrands do, REC Watches also chose for a self-winding movement from Miyota. The Miyota caliber 9130 has a 48 hour power reserve, an indicator of such and of course time and date. The REC P-51 is actually the first mechanical watch of REC Watches, the former projects (Mini based) were all battery operated. Nothing wrong with that, as long as the price is right, but true watch passionates will be more excited about a mechanical watch. This work-horse movement is partly visible through the caseback of the watch. The strange thing is that the power reserve according to the specifications is 48 hours, while the case back mentions a power reserve of 'only' 40 hours.
Strap
The strap on the REC P-51 watch measures 24mm between the lugs and tapers to 22mm at the buckle. This thick black calf leather strap is quite soft and comfortable. I am glad that there is a regular buckle and no folding buckle. The thick and wide strap would make it quite a clunky piece and thus making it uncomfortable (for me) to wear.
Price and Verdict
The REC P-51 "Mustang" watch is available for pre-order using the Kickstarter crowdfunding system. There are different programs you can join, but the P-51-01 that I talked about here is available for just €811 Euro (after the Kickstarter funding the price will be around €1350 Euro). By backing this project, you are thus being rewarded with a good 40% discount on the final price.
I've seen similar projects in the past, watch brands using parts of cars, planes, ships (Titanic) etc. to make the watch unique, or sort-of unique. In some cases, it isn't about the production numbers, but about a unique appearance, like – for instance – meteorite dials. The same goes for this REC P-51 watch that has a dial made of metal from a Ford Mustang car. A very neat idea, although the Mustang as-such doesn't appeal to me as much as – for instance – a Porsche 911 (one of REC's upcoming possible projects). But that's just me and I guess there are a lot of people who actually love these Mustangs. Aside from the Mustang story, the dial looks just awesome and even if you aren't a die-hard Mustang fan, you could fall in love with this industrial looking dial very easily. The overall quality and finish of the watch is nice and makes up for the full price of €1350 but certainly for the Kickstarter "backers" price of just €811 Euro. One could say they'd prefer a Swiss made movement, but other than the geographical location of the movement manufacturer I am not sure what an ETA 2824-2 or SW-200 movement would add to this watch to be honest. Those kind of discussions are mainly nice over a beer or to have on the dedicated forums to have such talk, but in real life the difference is only between your ears.
As soon as they start using parts of a nice BMW 3.0 CSL car I am down for one, especially if they will be as nicely made and designed as this REC P-51 Mustang watch.
Mustang lovers go here for more information on REC Watches. The Kickstarter crowdfunding process for the REC P-51 watch is live for a few more days, click here.