Hands-On With The Funky Little Anicorn × M/M PARIS 2HAPPY Art Watch
A charming little fella with oodles of character
It takes something a little bit different to really catch the eye these days. I'm known among the Fratello team for having a somewhat "eccentric" taste in watches, but I'm OK with that. I'm the guy that liked the yellow ceramic Hublot Big Bang Unico. That tells you a lot. So, my interest was piqued when the guys behind Anicorn got in touch and asked for my take on their latest watch. This highly unusual watch gave off strong vibes, reminiscent of my favorite French designer. So, let me take you on a little tour of the oddball that is the Anicorn × M/M PARIS 2HAPPY.
Let's be frank, this really is a little oddball of a watch, isn't it? I knew that from the start, but I couldn't help but be instantly charmed by the whimsical "fun" of it. Those large 3D numbers looked delightful, and despite being a simple time-only watch, I knew I simply had to see this one in hand.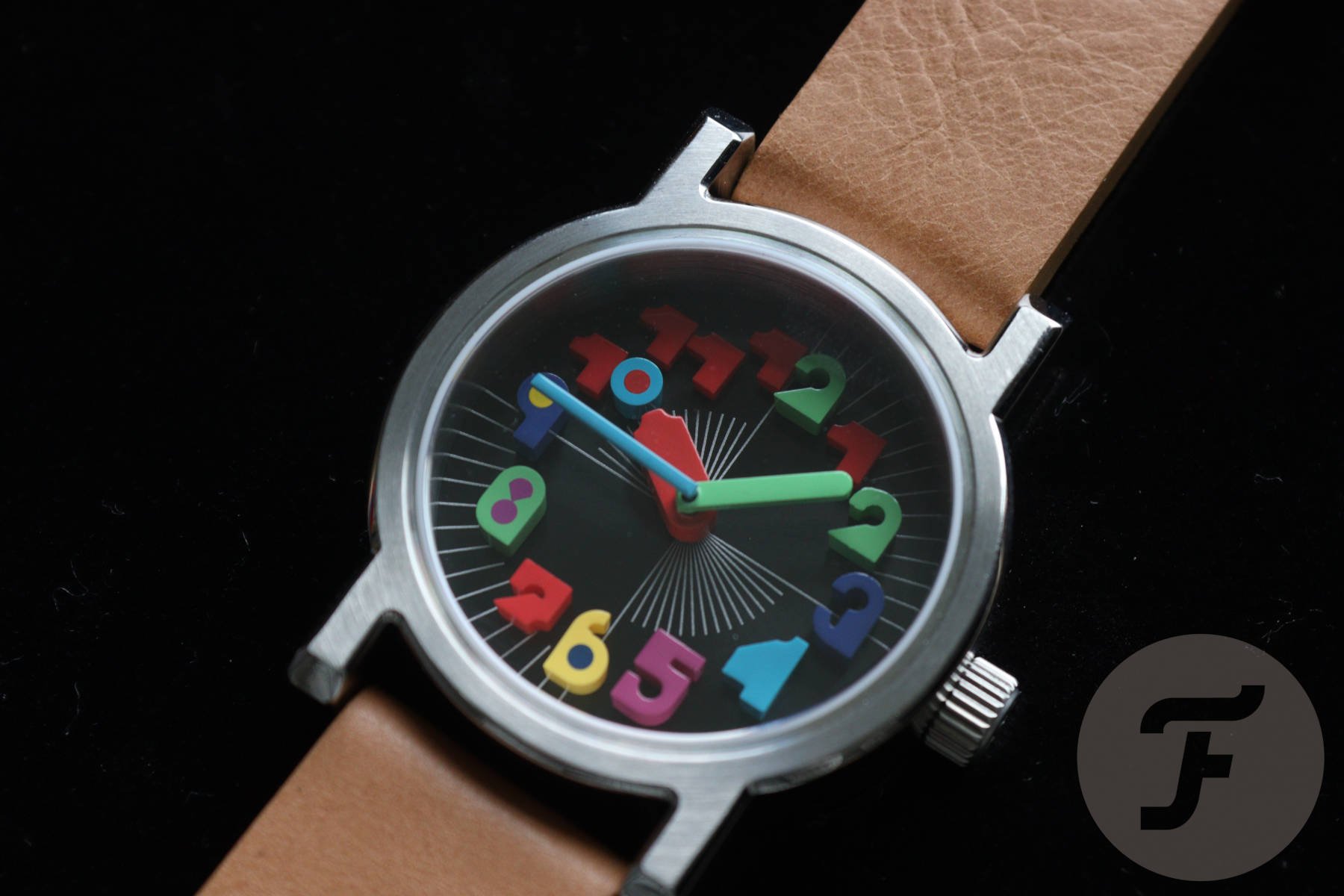 Who or what is M/M/PARIS?
So, first things first. This watch is a combined effort between Anicorn and the French art and design duo M/M PARIS. I find that these artistic collaborations can go one of two ways. Either the match is a good one, and the end product encapsulates a harmonious dual effort, or the end product is a piece of junk that feels forced. In the end, with any collaboration, even the ones that Fratello undertakes with our partners for the Fratello Shop, the project needs to be organic. The design conversation needs to flow both ways.
OK, who is M/M PARIS? Well, they are more commonly known as Mathias Augustyniak and Michael Amzalag. The duo is best known for its art direction and collaborations with musicians, fashion designers, magazines, and other contemporary artists. They started working together in 1992 and are still going strong 30 years later. M/M was initially influenced by post-punk aesthetics and the strict Swiss School of Graphic Design, producing highly visual, expressive, and fashionable works. However, the collaboration with Anicorn marks the duo's first foray into the beautiful world of watch design!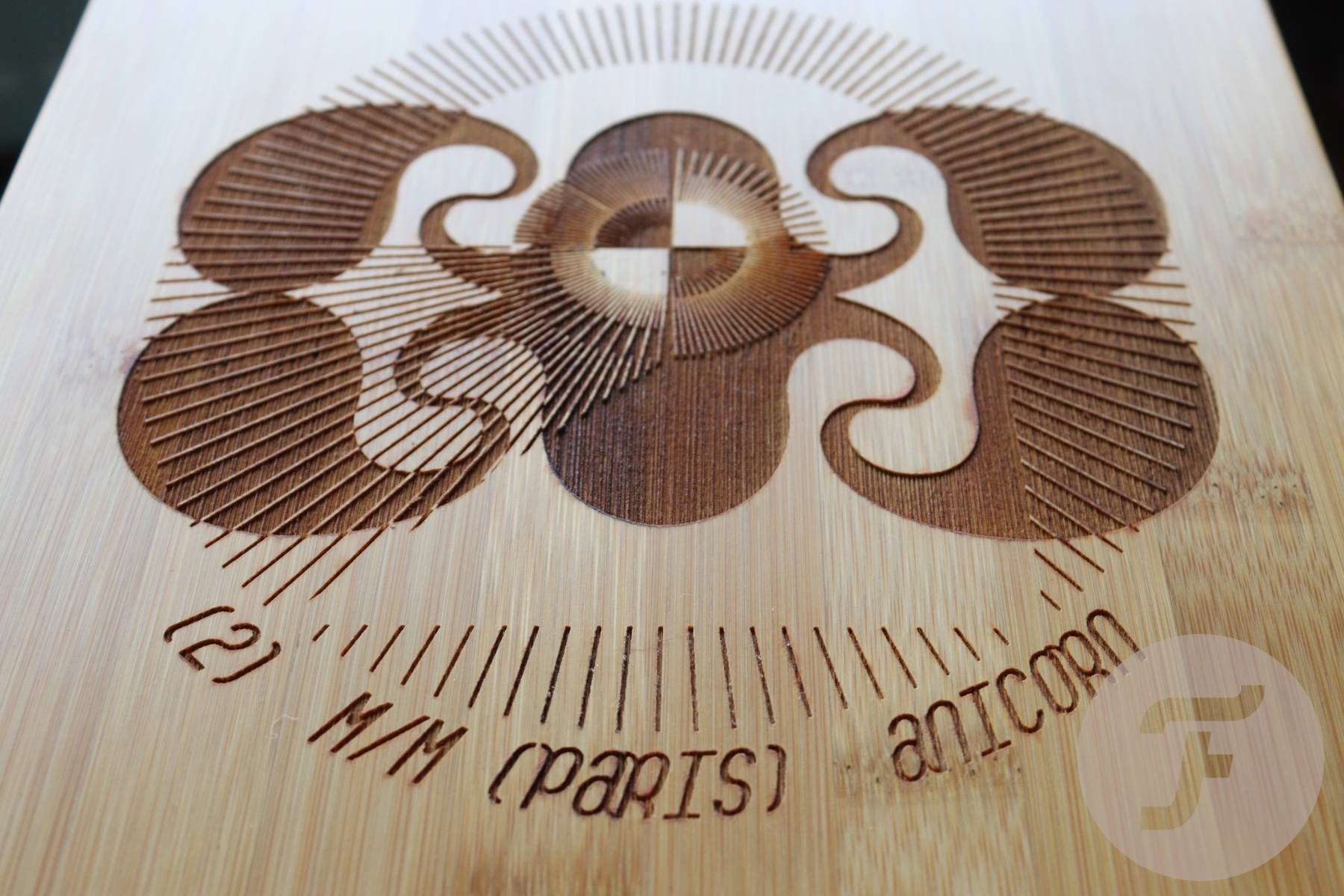 Anicorn provides an enjoyable unboxing experience
I wouldn't usually make much of a song and dance about packaging. Even though it's the first interaction you have with a watch when it arrives on your doorstep, the packaging is usually, and understandably, not of much interest. I probably should have been expecting something a bit more special, just like this, from a watch designed by artists. The box was larger than I'd expected, and when I stripped back the FedEx outer bag, a beautiful wooden box with a bright, colorful sleeve met my gaze. At this point, I knew it would be a fun unboxing.
Beneath the colorful cardboard sleeve, a wonderfully etched bamboo box opened up to display more goodies. Not just the watch, but two gold coins/tokens and a little booklet tied up with ribbon. The two coins/tokens (or whatever you want to call them) turned out to be 24K gold-plated, and the cool little silhouettes represent the two Ms from M/M. Stuff like this can all too often be quite gimmicky, but this felt kinda cool. I wasn't put off at all. The coins are fun little objects covered in weird little symbols. I know some people like carrying objects like this around in their pockets as a totem or a good-luck charm. These are perfect for such a whim. Opening the booklet gives the reader more info about M/M PARIS and shows some images of previous works and installations.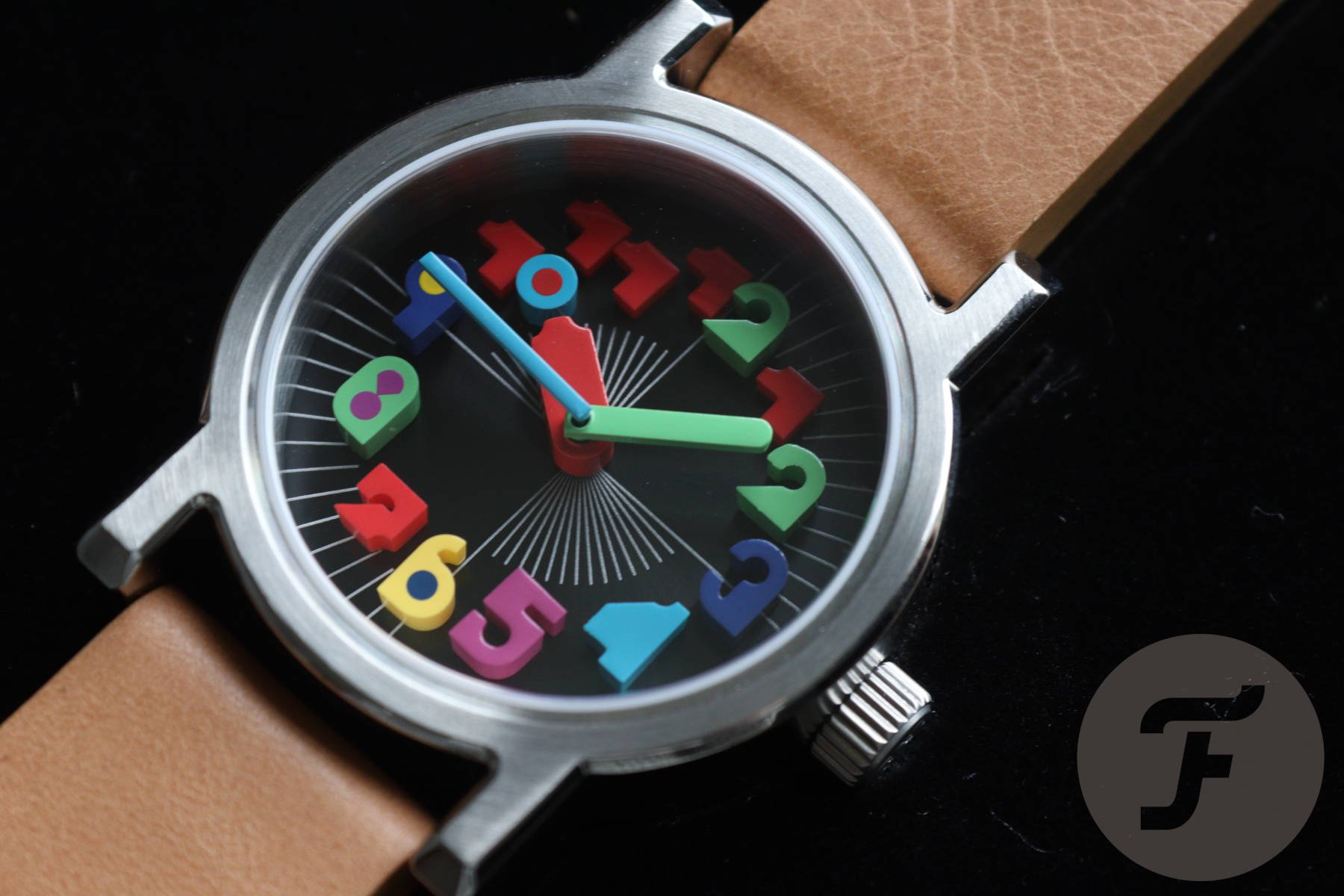 Perhaps a touch of Silberstein?
OK, OK, I know that the majority of us really want to know about the watch, the funky little fella that was the reason we're all here. When I took it out of the box, three things immediately struck me:
1. The strap was super thick but somehow felt supple.
2. The watch was taaaaalllll… I'm talking NBA-player tall.
3. That dial was mesmerizing.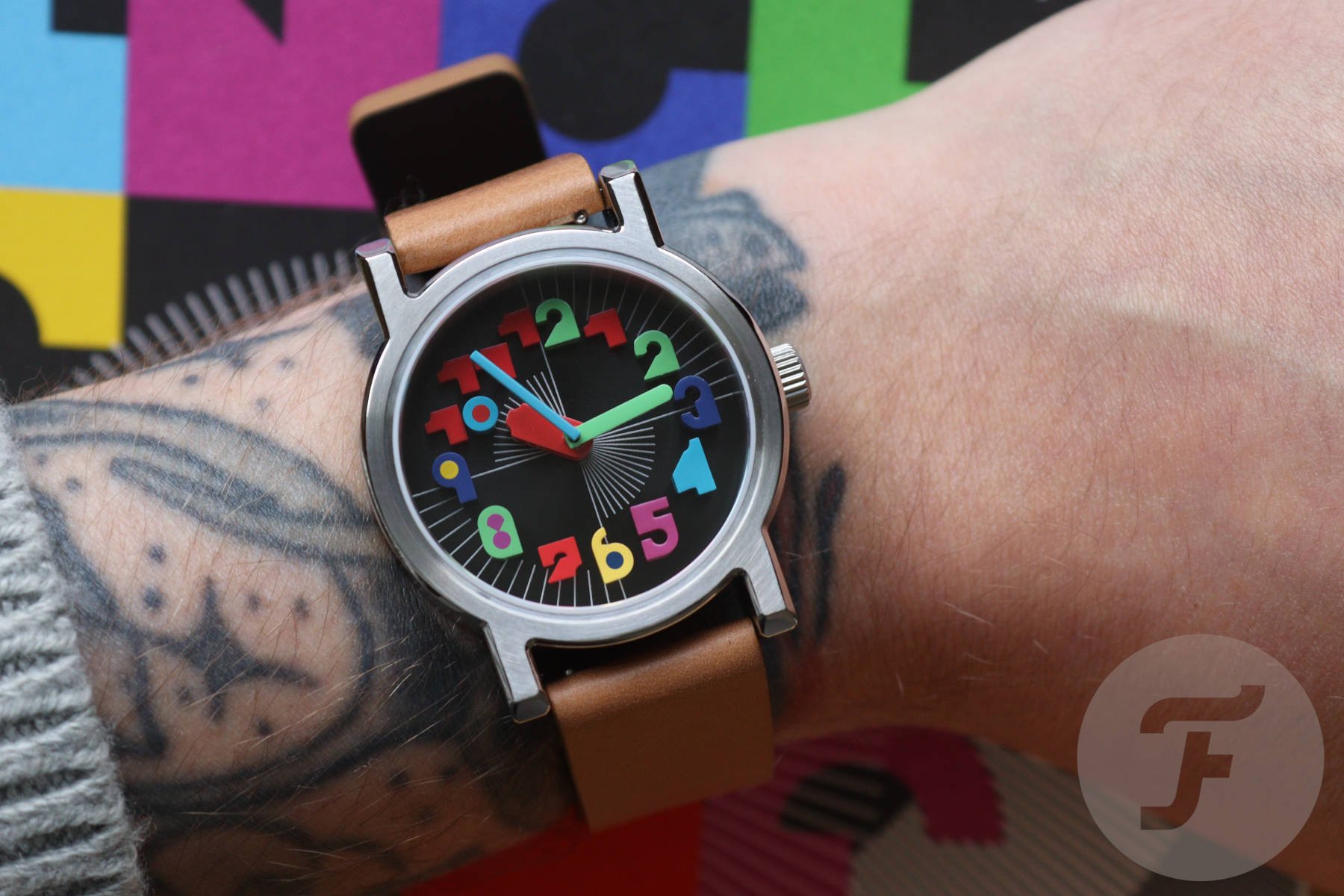 Let me focus on point number 3, and I will circle back to the other two later on. Let's be honest; it's the dial that caught my attention and, most likely, yours too. When I first saw the press images of the watch, I was instantly in love with the concept of the large, colorful 3D numbers. It reminded me of the wooden number blocks I'd play with as a child. Despite the fact those blocks did very little to advance my mathematical genius, the nostalgia was warming. The combination of colors and the different hand shapes also reminded me of the works of the great Alain Silberstein. If you're not familiar with his works, check out these articles, or take a moment to Google him and take a look. His style is something you'll either love or hate. It's pretty polarizing, but I love it. It's weird, quirky, and very "me".
Set on a matte yet subtly sunburst black dial, the numbers tower above, creating a real sense of depth. Speaking of those numerals, M/M PARIS chose a quirky font for them. I haven't the foggiest idea how to describe this font. If you can help me out, let me know in the comments! All I can say is that "2" and "8" are my favorites. The hands of different shapes and thicknesses then rise above those numbers to allow for clearance. If you're like me and enjoy depth to a dial, you can find it here in swathes.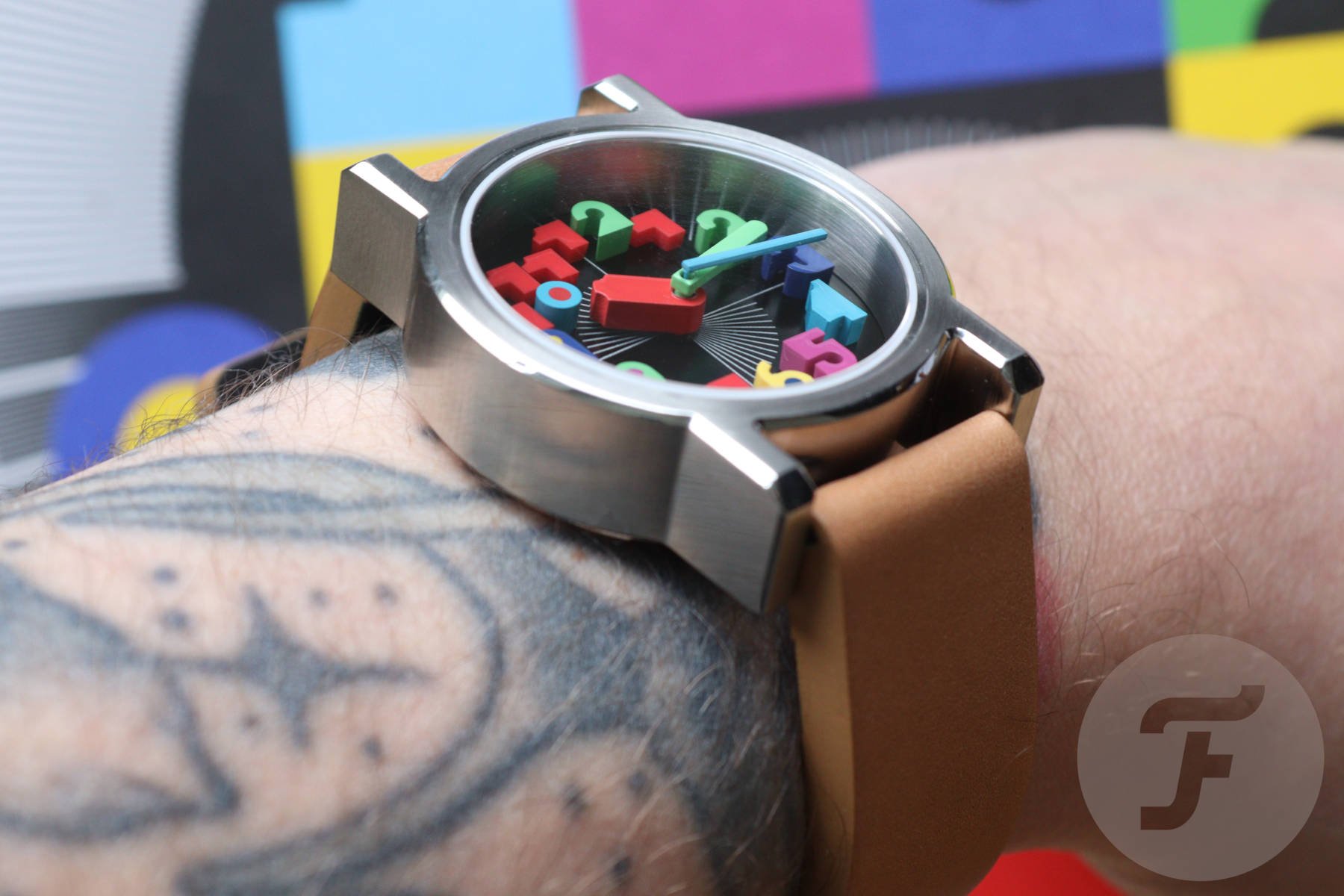 Next stop, Slabtown
All this dial depth comes at a price. The case is towering. It measures 13.5mm tall, which isn't the thickest of measurements in the grand scheme of things, but it is visually dominating due to the case shape. The case sides plummet downwards, and the lugs are the same height as the case itself. Now, this is technically a little unnecessary, but this is art design, after all. Conventional watch design tropes go out the window in the name of expression. The almost industrial, slab-like case does allow the focus to solely go to the dial, though. The case diameter of 39mm doesn't offset the visual impact of the height as much as you'd think it would. I believe that the lugs accentuate it in an almost celebratory way. They embrace it and encourage it to be a proud part of the watch's character.
I'm still undecided about the height. It's important to remember that this watch will not be an everyday wearer. It's as much of a fashion statement as it is a timepiece, but it's a watch that wants to be noticed and start a conversation. I am a watch enthusiast, though, and I cannot help looking at a watch and thinking about what I may have tweaked. I'm not saying that my tweaks would have been "better" per se, as that is largely subjective.
Still, I would have reduced the case height by a few millimeters and then angled the tops of the lugs down a bit more to reduce the visual impact of the case height. Now, I know that the height is necessary because of the extra-tall canon pinion, so I'd have used a boxed sapphire crystal to offer that required internal height boost. The added benefit of the box sapphire crystal is that you'd be able to see some of the hand stack and numbers from the side view. I think that might have been quite cool.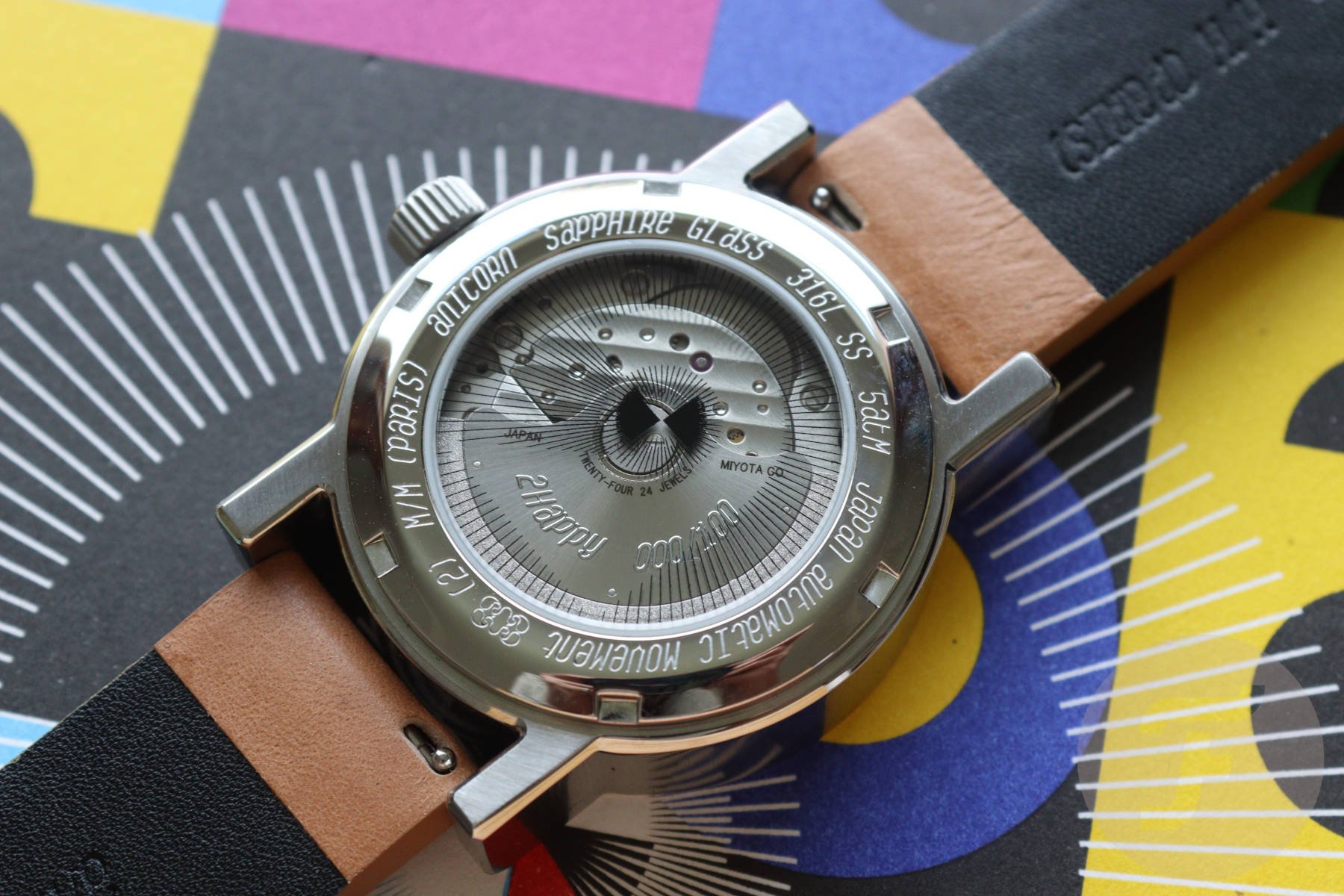 Keep your focus on the front
The movement inside the 2HAPPY is the humble Miyota 9015. Yes, the 9015 is a movement with a date, so there is indeed a phantom date position. I'm not sure why Anicorn went with the 9015 instead of the 9039. Phantom date positions are annoying and offer an additional potential point of failure, despite the chances being slim. You can find a simple display case back showing the movement when you turn the watch over.
I'm a firm believer that display case backs have a place in the world, but only when there is something worth displaying. In this case, the Miyota, while a workhorse movement and all, is a run-of-the-mill caliber. Let's hide it behind a nicely decorated closed case back and move on. The case back is the only part of this watch that I actively don't like. Not because of the display case back part, but because of the printed graphic on the glass. The design has a focal point that's not quite in the center of the glass. It's not misprinted; that's just how the design is. But because it doesn't line up with the center of the rotor, it looks visually jarring. Thankfully, the case back is not something you look at too often. Therefore, in my opinion, it's not a dealbreaker.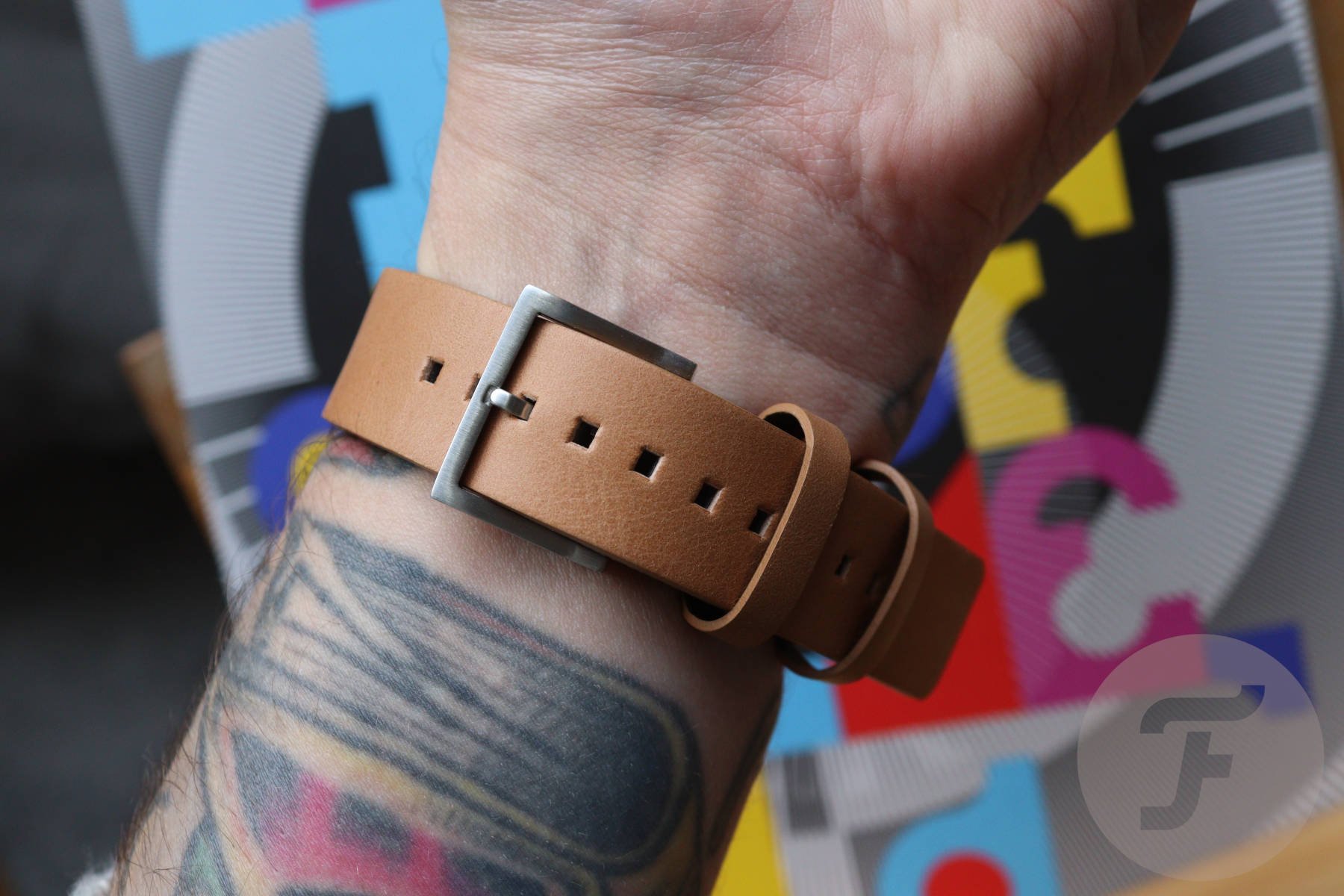 Anicorn's surprisingly lovely leather strap
The final piece of this colorful little puzzle is the leather strap. When I first saw the watch sitting in the box, I was a little concerned. I could immediately see how thick this strap was. It was thick. It's just shy of 5mm thick. Obviously, I couldn't tell that by looking at it; I measured it after the fact. Either way, it was thick. Maybe I should call it "thicc"? I don't know; I'm not down with the cool-kid lingo. Anyone who has come across a thick leather strap knows how tough and stiff these things can be. Think rigor-mortis stiff.
However, when I picked the watch up, expecting a rigid leather strap, the suppleness I felt left me aghast. It was comfortable on the wrist from the first time I put it on! I mean, I have no idea how. It looks like leather, it feels like leather, and it even smells like leather. I'm not saying it's necessarily the highest grade of leather, but it's comfortable and feels nice enough. After expecting to have complaints about it, I was happy to have none. That's a win in my book!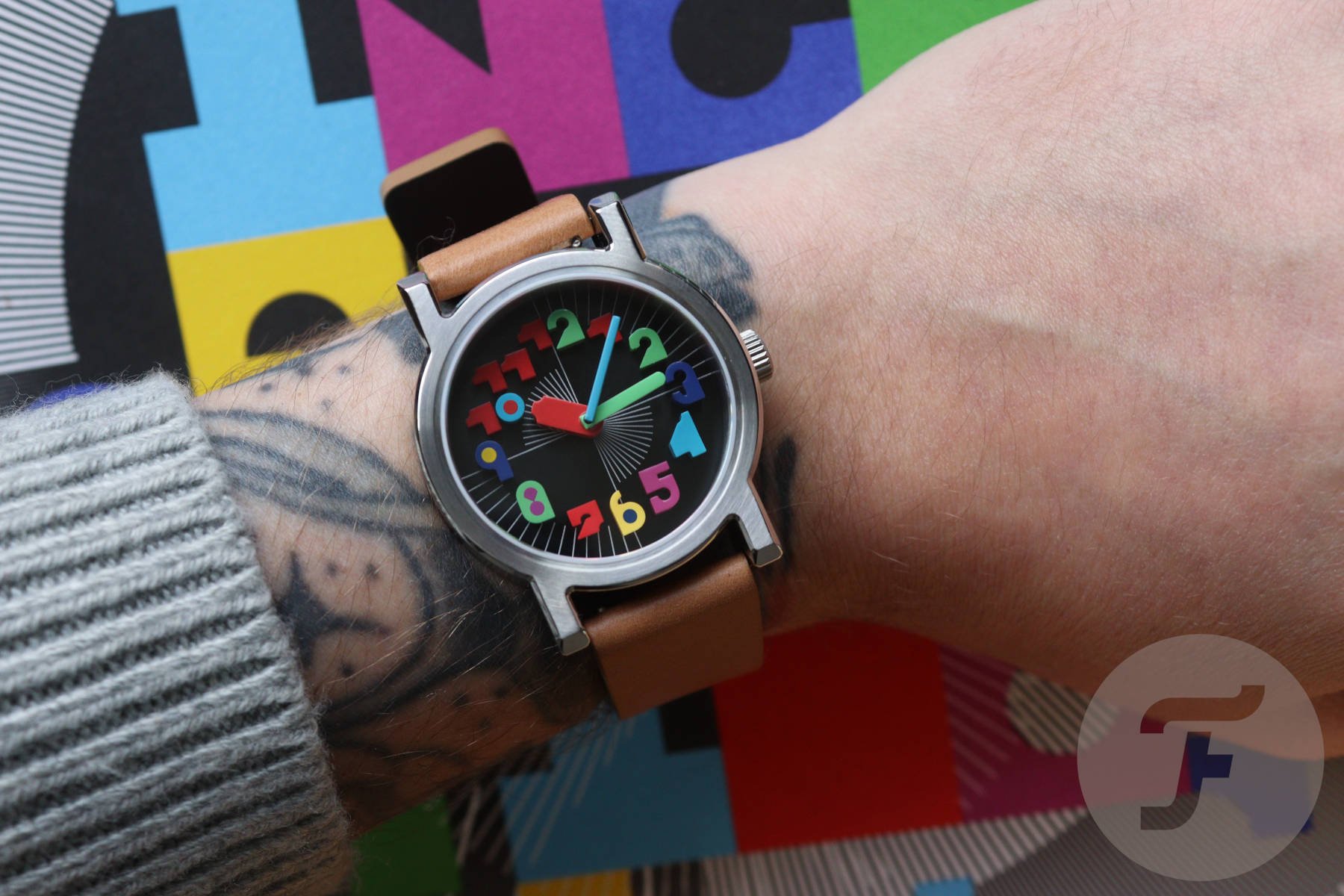 Anicorn × M/M PARIS 2HAPPY price and availability
I'm still somewhat taken by this cool little watch. I like it and think it's an exceptionally fun little thing. Would it get loads of wrist time? No, probably not, but it would get some. It's not an everyday watch. It's one to make a statement. I mean, you could wear it every day, but I think that'd make it lose some of the charm and intrigue. As a watch, it's well built and functions perfectly. Your wrist-mounted art will serve you well for many years to come!
If you're interested in the Anicorn × M/M PARIS 2HAPPY, it's a limited edition (those dreaded words), but at the end of the day, most microbrand offerings are. In the case of this watch, Anicorn has made 200 pieces, but there are two other versions of the concept that could be worth taking a look at too! The watch costs $930 USD, and you can find more information on the Anicorn website. Feel free to drop your thoughts about this watch in the comments section too!
Follow me on Instagram: @davesergeant | @fratellowatches