Hands-on Review: Christopher Ward C65 Sandhurst and C65 Cranwell
A clean shot of the Dirty Twins
It's a hard choice to pick just one of the two military novelties from Christopher Ward. Do you prefer the smaller 38mm C65 Sandhurst or the 41mm C65 Cranwell?
Tough as that decision is, it could have been tougher. You see, Christopher Ward introduced three military watches at once. To spare you from unnecessary pre-purchase overload, I dropped one of the three models immediately. More specifically, the C65 Dartmouth bearing the Royal Navy's Naval crown on its backplate. Let's say it is too Christopher Ward Trident and not as novel as the other two models. From the remaining duo, it took me just 10 seconds to arrive at the conclusion that I like the bigger Cranwell more. Yet I continued leaning more towards the C65 Sandhurst because of its smaller diameter. The only way of settling my inner fight was to have both watches in for a side by side review.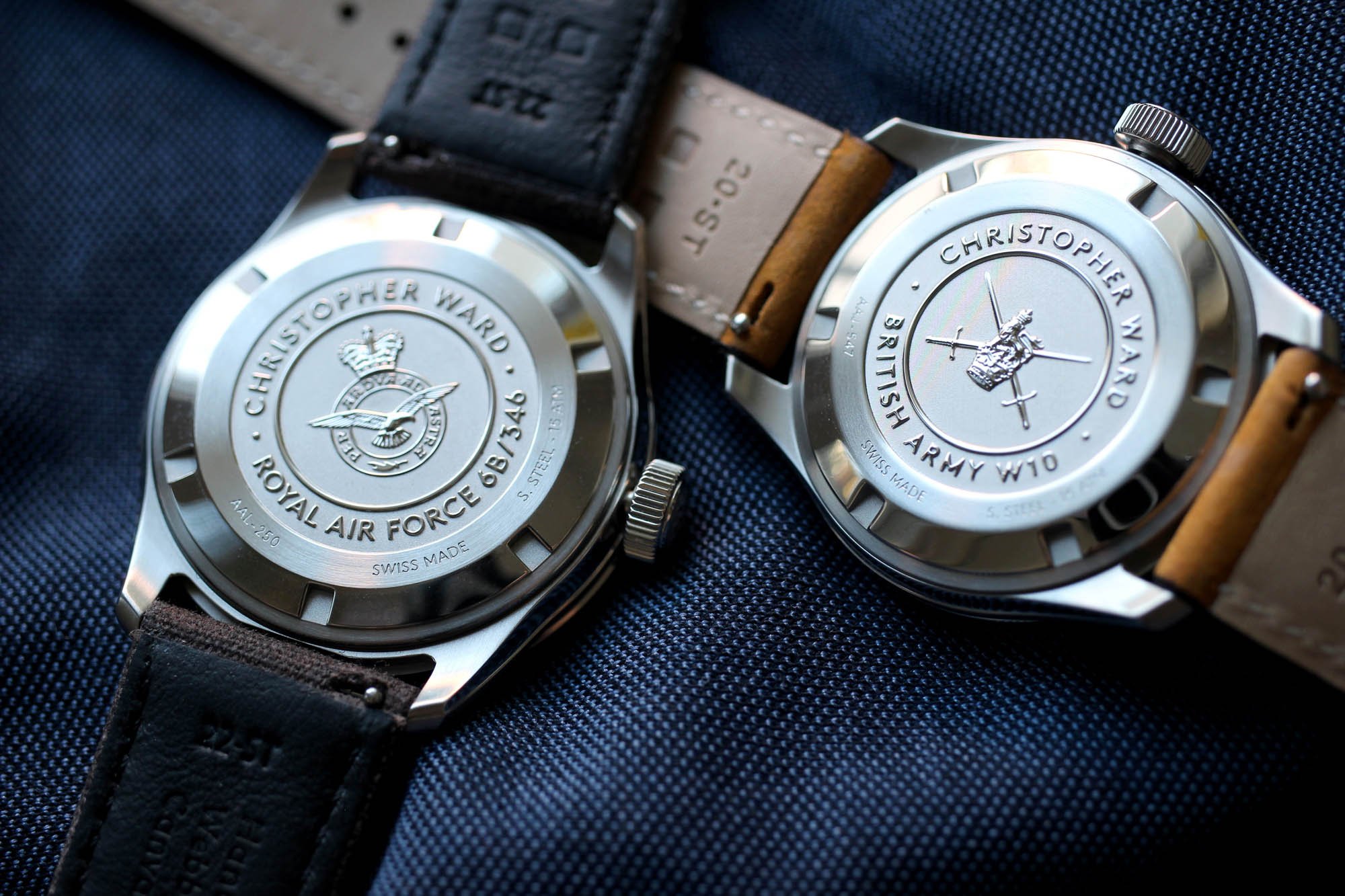 Sandhurst and Cranwell names
It's impressive that it only took Christopher Ward 10 years to build a reputation strong enough to get a shot at producing watches stamped with such beautiful and prestigious insignia. I believe this more than the other idea of it being a smart marketing move by the Ministry of Defence attempting to popularize the Royal Navy, British Army, and Royal Air Force in the eyes of the general public. As I never pursued an education in the land of Harry Potter, learning about the famous UK military academies was an education. The C65 Sandhurst, inspired by Smiths W10, represents the British Army and Royal Military College at Sandhurst, while the C65 Cranwell represents the Royal Air Force and Cranwell College. The mystery of the watch names is solved! You're more than welcome.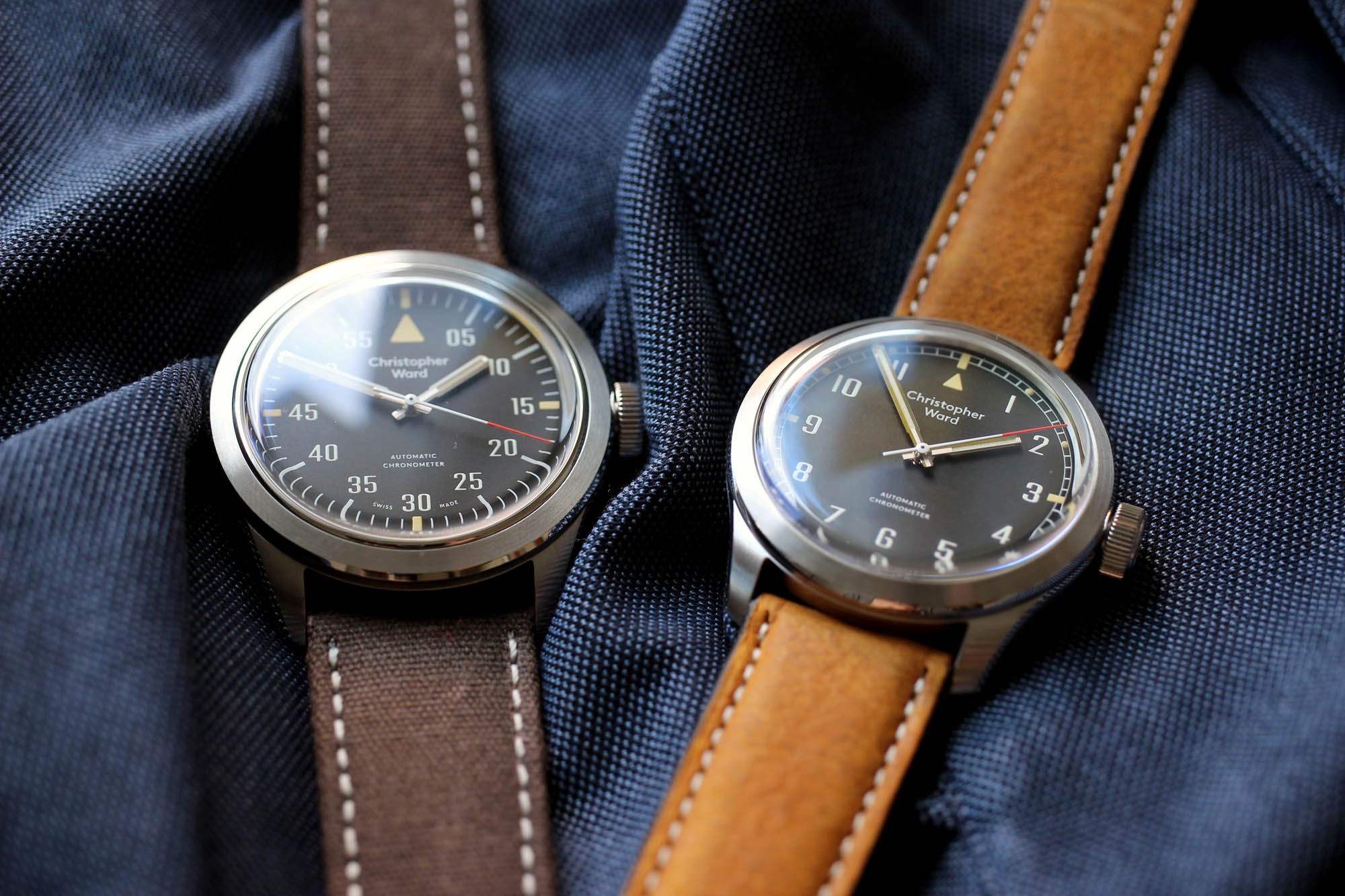 Unboxing Sandhurst and Cranwell
As an editor, I love it when this happens. Just three minutes after freeing a watch to be reviewed from its fancy packaging, I am so full of ideas, opinions, and insights, that I'm ready to put pen to paper straight away. First impression relates to size. Usually, smaller diameter watches feel bigger on the wrist. Well, the 38mm Sandhurst feels just like a 38mm. Not a micron more. On the other hand, I was happy to see that the 41mm Cranwell doesn't feel chunky at all. In fact, the opposite is true. For a guy who feels best with 37-39mm steel, this was a great news. Both watches are highly wearable.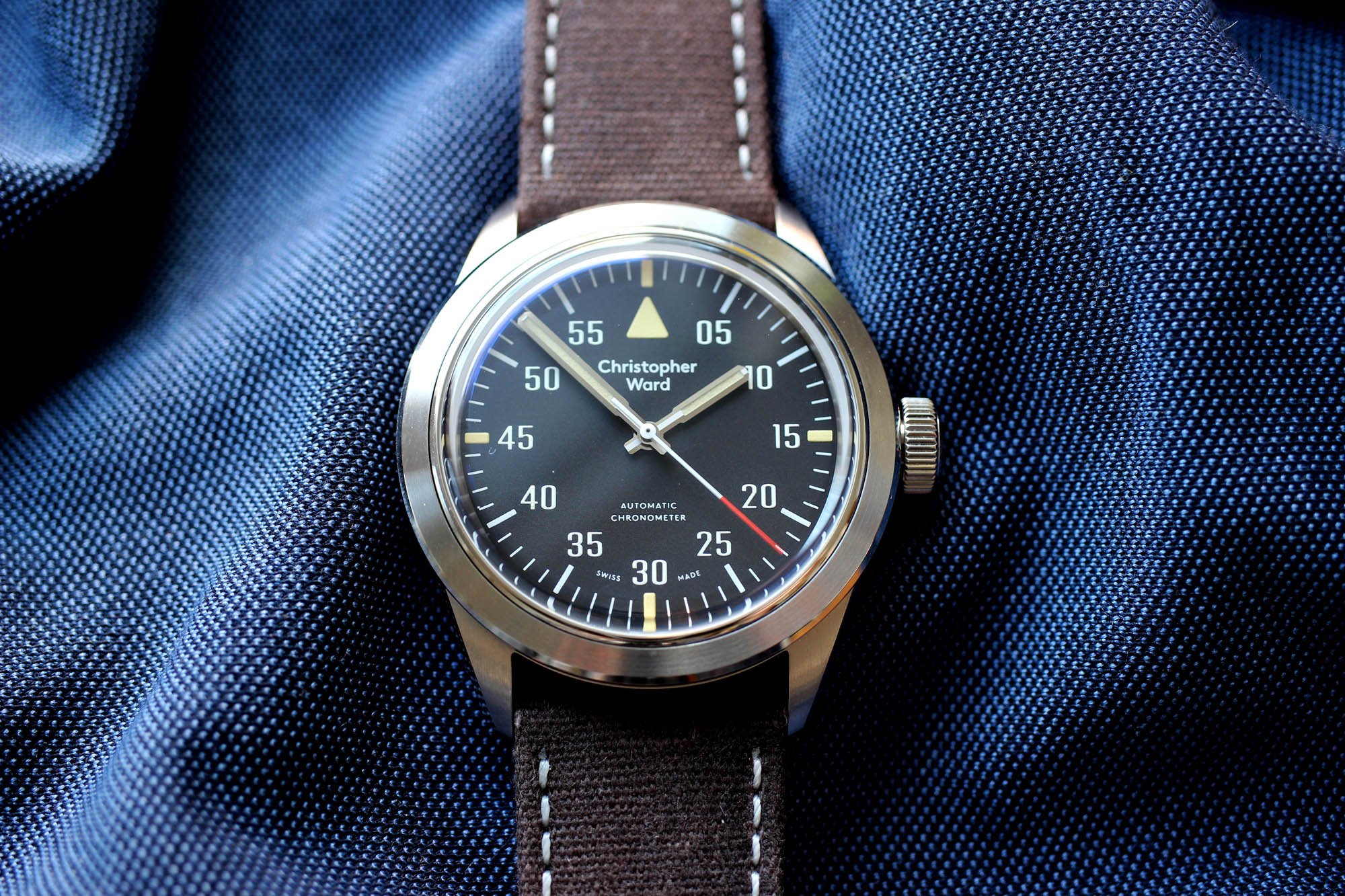 Chronometer specs
I don't know how adventurous your life is, but I am sure both watches with 15 ATM water resistance will make it through the swimming lesson of my seven-month-old daughter next Monday. Thanks to the 26-jewel Sellita SW200 with chronometer specs I am sure I will be there on time. No kidding — the €995 killer price tag made me hide my wallet every time I strapped the Sandhurst or Cranwell on.
During a review I often put on both watches, wearing them side by side. They are different, yet clearly a family. I first thought the cases are identical, just different scales. The cases are in fact similar in structure and stepping, but you will find differences, mostly when looking from the side. Up to this point, I'm still not sure, which one would I make a purchase call on.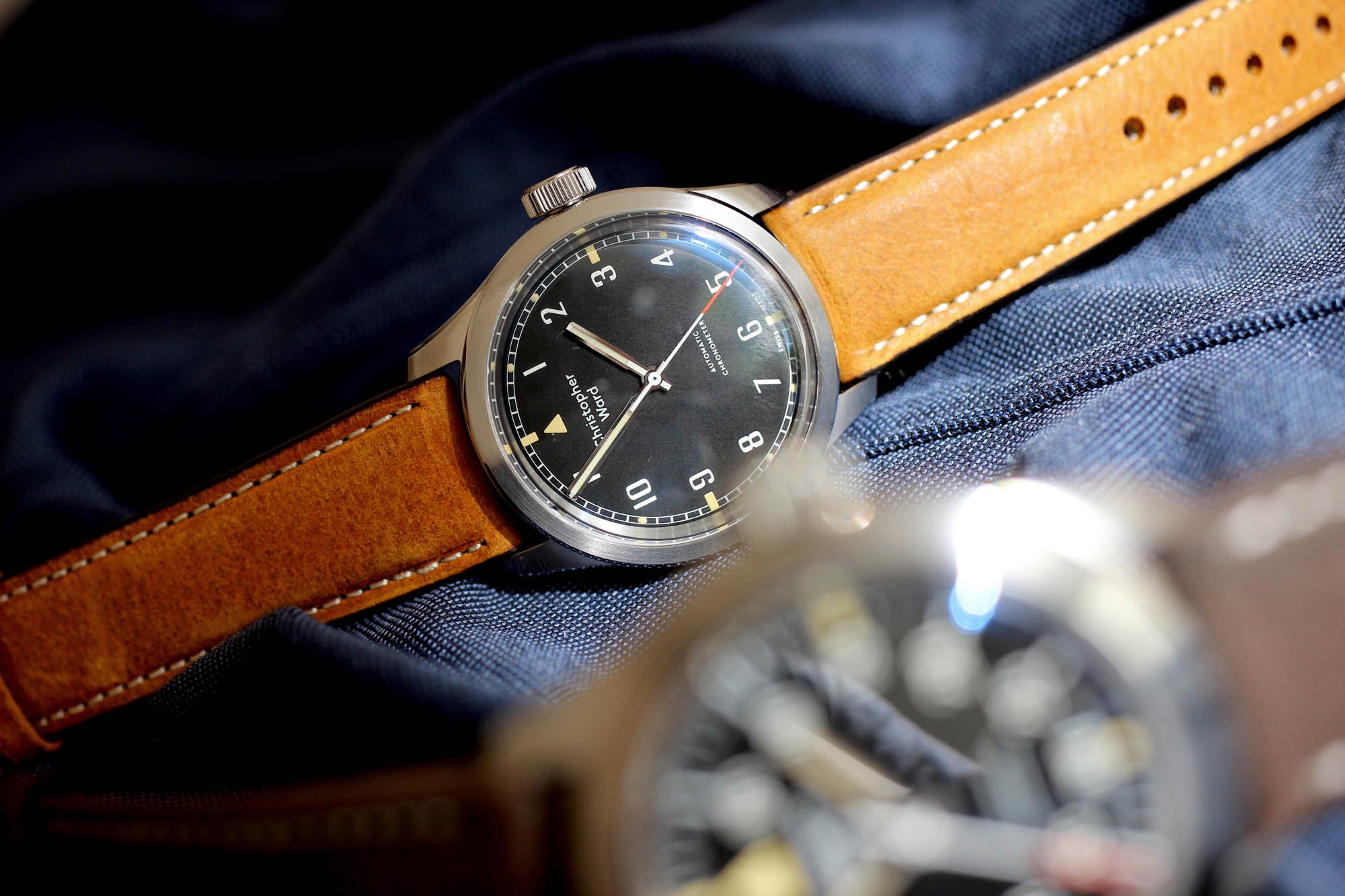 Sandhurst vs. Cranwell feelings
In comparison to the Sandhurst, the C65 Cranwell has more warmth and playfulness. It feels more lively. Meanwhile, the Sandhurst has a sporty spirit and is more elegant.
I don't know if it's only my petrol head, but I can't unsee old classic car dashboard instruments in the Cranwell dial. It reminds me of the Junghans Meister Driver Handaufzug or if you want a modern take, let's say the Tag Heuer Carrera. This particular dial style combined with long minute indexes and quite a wide steel ring around the crystal makes the overall design very compact. The result is pretty interesting. Owners in need of a spacious case get that with the 41mm of steel in diameter. At the same time, it still has the look and feel of smaller military watches of the post-war era.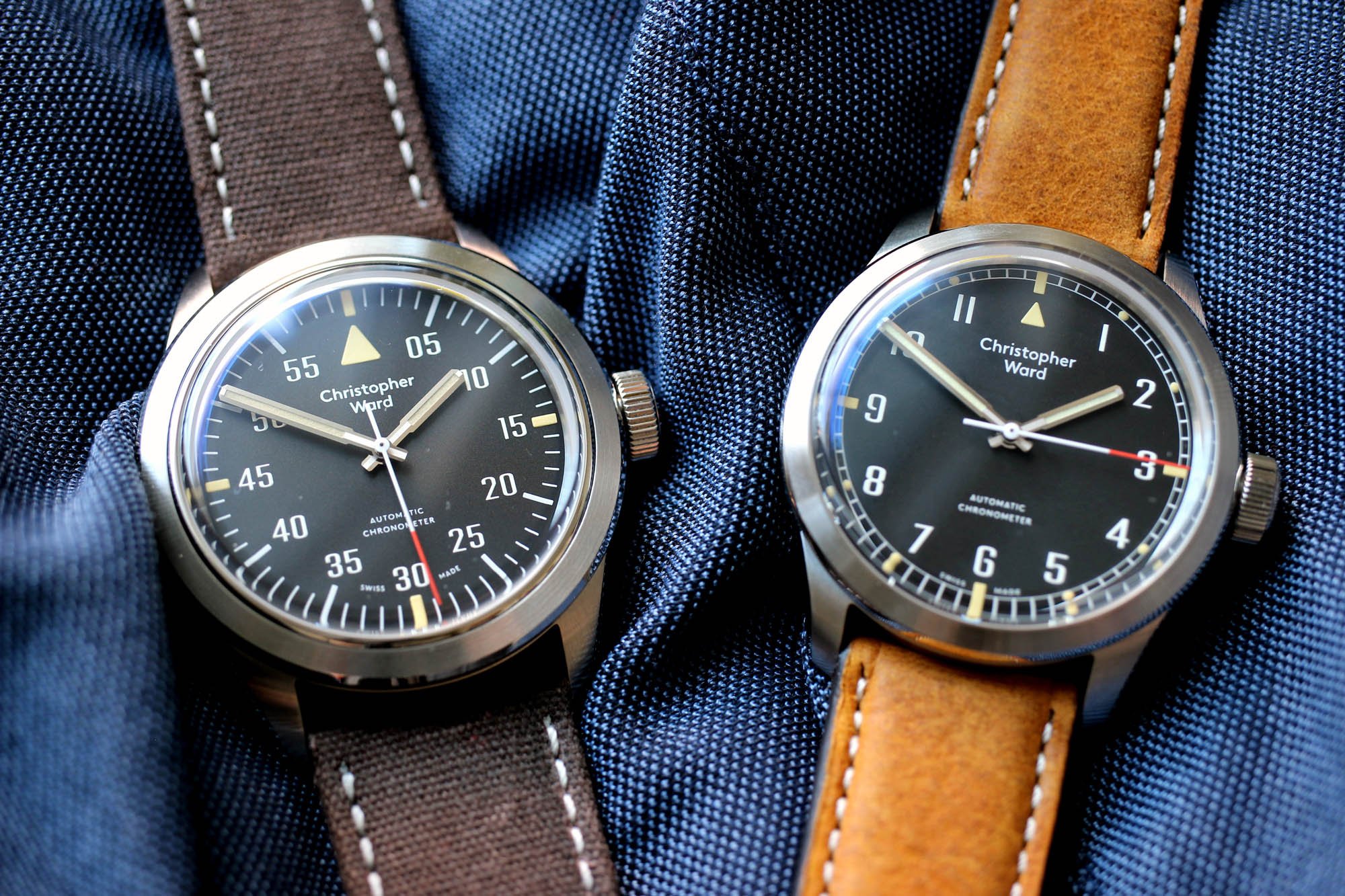 Hands off the hands
For quite some time I could not make my mind up about the hands. Maybe you remember my recent take on the truly amazing Christopher Ward C65 Trident with an in-house movement and power reserve. In that article, I really started to consider the hands directly. During the first few days with this military duo, I found myself thinking about what other hand styles would fit them better. I felt as if the smaller, more characterful Sandhurst deserved something more tailor-made. But at the end of the day, I stopped making a fuss after I realized that CW didn't want to make a re-edition. The hands ooze brand DNA (which is less messy than it sounds). That's more important for these clean and sensible models than making a forced statement.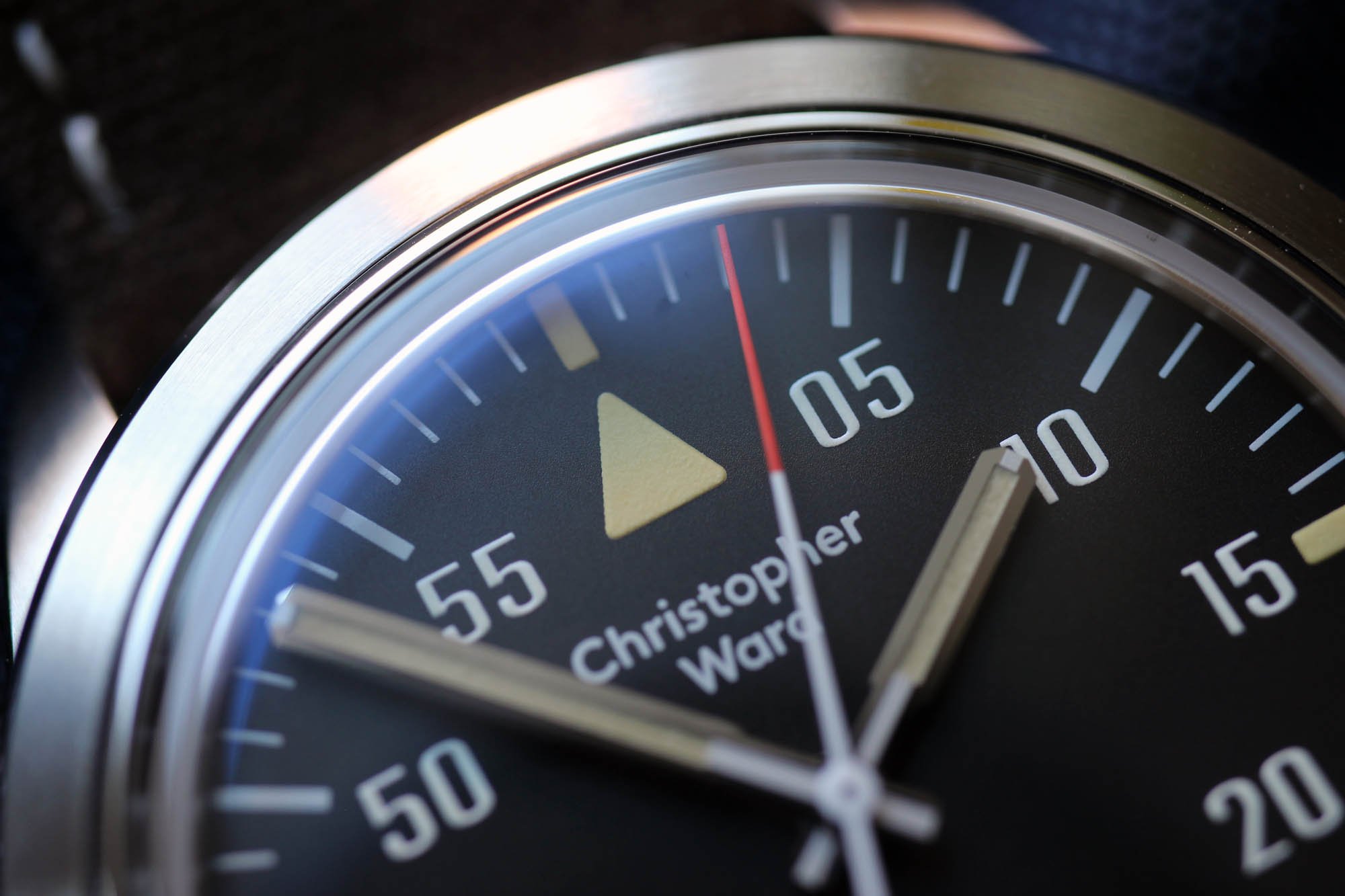 Serving under the crown
If you've ever held a Christopher Ward and tried to wind it, you have to love the crown. In terms of the shape, I like that Christopher Ward don't do any useless artsy exercises. The crown looks simple, I dare to say even boringly flat, but your fingers will love it. One little detail worth pointing out that you can't notice when looking at pictures online: Both crowns have a thin bright color ring around the twin flag emblem. I'm not sure how it will look like after five years, but, right now, I like it. The Sandhurst has a red ring, perfectly matching the central second hand. Red tips are usually much shorter, but I like that both the Sandhurst and Cranwell have the red tips almost reaching to the middle. The light blue ring on the Cranwell crown seems a bit off and would have looked better in red in my opinion
Strap it on
I wouldn't judge if you ordered the Sandhurst or Cranwell on a bracelet. I just feel it doesn't belong to these watches and wouldn't even offer the option. That's why I ordered the Sandhurst on a vintage finish leather strap with a hand-sewn whip stitch. Thumbs up for the patina. I had to check if I really hadn't already been wearing it for a few weeks. The canvas webbing strap that came with the Cranwell looks as good as it does on pictures. The leather strap is pleasantly soft, but the webbing strap is a bit too sturdy for my spoiled wrist. I would also like to see a special vintage-inspired buckle instead of the standard stock, although I appreciate that it might bulk-up the currently-attractive price.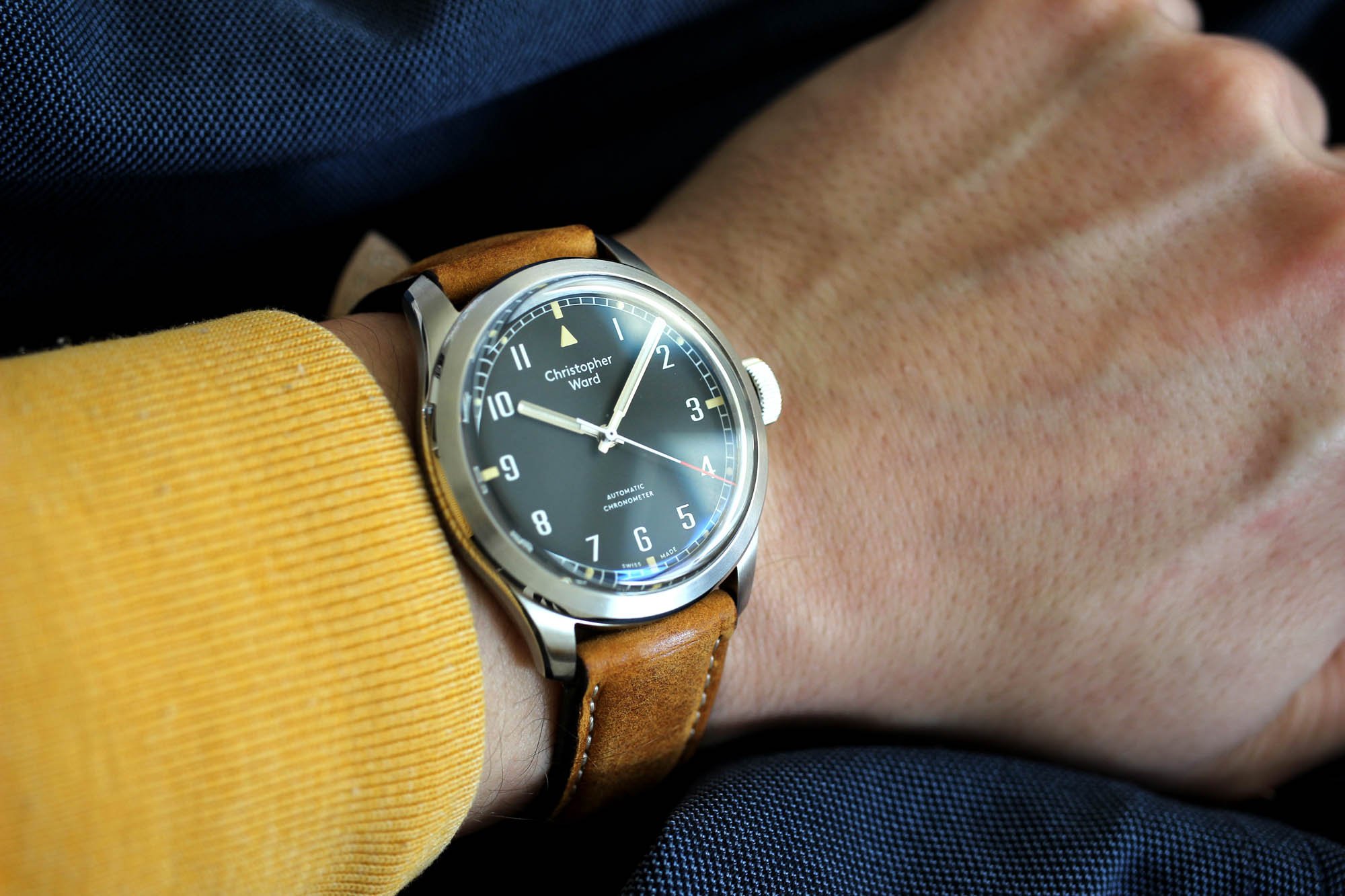 Last thoughts
The fauxtina lume is to my liking. The glowing numbers are fun to look at, especially with the Cranwell. The finishing is also excellent for this price point. In the under €1,000 range you may also want to look at the Dirty Dozen Timor Watch Company or the CWC.  I consider both the Christopher Ward C65 Sandhurst and Cranwell as watch releases that have been done right. They boast a fine balance between traditional and young. All I need now is a bit more time to pick my favorite… Learn more about Christopher Ward here.
Watch specifications
Model
C65 Sandhurst Series 1, C65 Cranwell Series 1
Dial
Lume: T-C1 and Old Radium Super-LumiNova, White seconds hand with red tip,
Case Material
Brushed and polished marine-grade stainless steel case
Case Dimensions
Diameter: 38mm / 41mm
Crystal
"Glass box" sapphire crystal
Case Back
High Definition British Army Heraldic badge screw-down backplate (Sandhurst), High Definition Royal Air Force Heraldic badge insignia screw-down backplate (Cranwell)
Movement
26 jewel self-winding mechanical chronometer with 38 hour power reserve
Water Resistance
15 ATM (150 metres)
Strap
Vintage finish leather strap with hand-sewn whip stitch and quick-release pins for easy changing, Premium quality canvas webbing strap with Christopher Ward buckle and quick-release pins for easy changing or Bracelet (for premium price)
Functions
Hours, Minutes, Seconds