Hands-on Review – JetPilot JP1 Chronograph
One of the most important attributes a Watch Idiot Savant needs to have is passion. Passion for watches: to understand them, to know where they are coming from, God forbid, passion to create your own brand. Yes, your read it right. This article will be about a brand that has no history in the watch world, yet. The man who gave birth to it chose a totally different profession. By looking at the time pieces he produces you can guess which profession is that. He is Captain Miklós Varga, airline transport pilot, former Boeing 737 test pilot and watch company owner and his brand is:
JetPilot
This product ticks so many boxes on my list of things I would like to have in a watch. First and foremost it is mechanical, it has a number of complications and it bears a bit of that vintage touch to it. The price is more than friendly and safe to say it plays in the affordable ball park. But let's talk a bit more about the beginning. I came across the brand on the interwebs and decided to get in touch with Mr. Varga.  After all, we are coming from the same country and share the love for watches. When I met him in person I understood that he is a very passionate man. The way he talked about the start, how he was sourcing for the parts, designing the case, all showed me the aforementioned passion he has for his brand. I asked him what made him come up with his own watch he said: 'I wanted a watch but nobody did it the way I wanted it done. So I had to do it myself.' Though this may sound a bit bold, but I totally understand where he is coming from. He wanted to combine the style of a bygone era in watchmaking with the technology of today. So he took his own money, sacrificed his own time and started JetPilot. Up to this day, the brand is pretty much a one-man show. There are no investors behind it, no huge conglomerate of watch brands, just a man and his vision. It sounds very romantic but trust me it is true to the last words.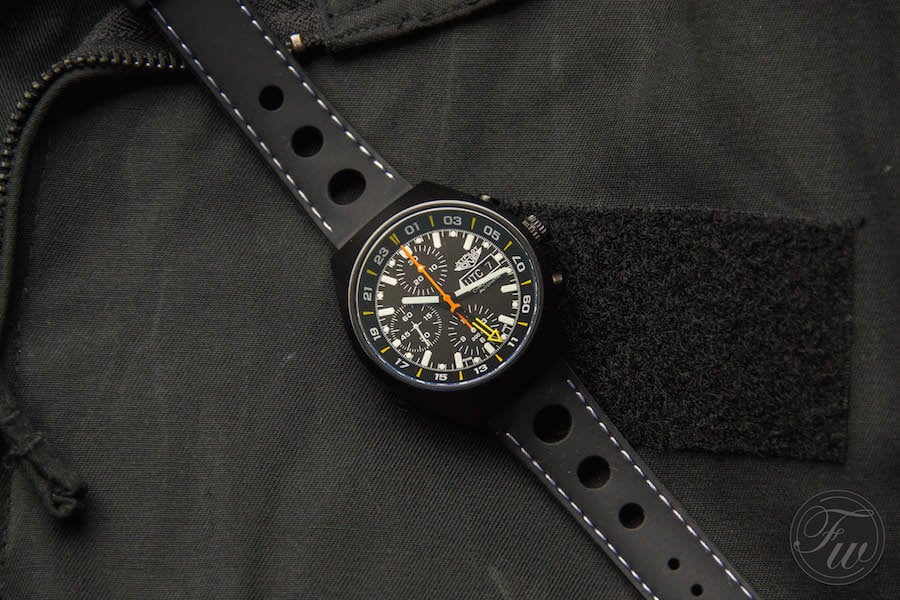 JetPilot JP1 UTC Chronograph
Now let's take look at the watch we are reviewing today: the JP1 UTC Chronograph. The JP1 Automatic Chronograph and the JP1 UTC Automatic Chronograph are actually based on the same design; the only difference is the movement and the added functions this would bring to them. The JP1 chronograph has an ETA/Valjoux 7750 inside with all the characteristics of the well-known caliber; day-date display, 44 hours of power reserve, 28 Jewels, Incabloc shock protection and so on. The JetPilot JP1 UTC (or GMT) chronograph's heart is the ETA/Valjoux 7754. This only has a date display – plus the GMT functionality – but with all the other features I mentioned above for the 7750. My review watch is the UTC (Coordinated Universal Time) version in a black DLC (Diamond Like Carbon) case. As both models are cased in the same housing there is no difference regarding size or weight. The case is 42mm wide, 15.8mm thick, weights around 80 gramms and takes a 20mm strap.
Mr. Varga took inspiration for the cushion-shaped case design from the chronographs of the late 1970's and early 1980's. There are numerous brands that produced watches in similar style from the Omega Speedmaster Mark II to the Heuer Pasadena, Tutima Military, Sinn 142, LeJour just to name some. It is an enteral design where watch companies do come back to even today (just think about the Sinn 240 ST from this year). The case is made of titanium and comes either with or without DLC coating, the crown of course if screw-down and the watch is water resistant to 20 ATM (200m). Crystal is scratch resistant sapphire with anti reflective coating but only on the inside. That makes it a bit hard to check the time from certain angles, a deficiency I'm sure will be cured.
There are 3 types of bracelet options for the watch; my version had the silicon strap. It looks like a big-hole rally strap with riveted linen, beige stitching and – finally – deployant buckle. The strap is pretty thick but since the case is big enough it does not look bad on it. That is the strap option Mr. Varga suggests buyers should order for the JetPilot as it's the most durable yet comfortable among all the other options. Leather strap as well as a titanium bracelet is also available if you fancy something else. I have to be honest though, after a few weeks I changed the strap to a 20mm vintage Tropic Sport diver strap and I couldn't be happier with the result. Not because I did not like the one it came with but because I love Tropic Straps and thought the DLC case with be a perfect match for my 20mm Tropic Sport.
Hands-On with the JetPilot
I have been wearing the watch for about a month now with a big smile on my face every time I strap it onto my wrist. It is a lovely piece, a great sports watch alternative with crazy lume. According to the specifications the chronograph hands are painted with Phosphorescent Non-Radioactive SrAl2O4. This material is usually pressed onto the hands (to apply the paint faster) but because on these chronograph hands it is painted, the layer is much thicker hence the light is stronger and longer present. This gives about 12 hours of lume, which should be enough for whatever you use the watch for under low light conditions.
For the JetPilot JP1 Chronograph a number of different dial variations are available. Beige, green, black blue and yellow/black two-tone are the options buyers can choose from. The JetPilot JP1 UTC chronograph comes only in black but with 2 types of GMT bezel, either the one you see on my version where the black bezel has white indices for the 24-hours with yellow bordering lines or a Pepsi-type version where the black of the bezel is swapped for blue on the upper part of the circle and red on the bottom. I'd love to have the Pepsi-type in the titanium case without the DLC coating one day. That is a great looking watch.
Aviation
The watch has been around for quite some time now but until recently it was only available for people working in aviation not for the public. As it even says on the site "For Airline Crews, Airport, ATC & Airline Staff also for Navy & Military Personnel 8% Discount will be Applied". Nice gesture and worth for anybody whom the above applies and on the market for a trusty work watch.
The most appealing is of course the price. As I have already mentioned it is in the affordable category at €990 for the chronograph only and €1790 for the GMT-chronograph version with titanium case. There is a limited option for stainless steel cases, which are even cheaper (€900 and €1650). Just for comparison: brands on Kickstarter with Seiko movements are charging roughly the same for their watches. The JetPilot JP1 UTC Chronograph is a better alternative than those any day of the week, I guarantee. JetPilot also offers you customization. Since it came alive because of aviation names, ranks, company and airline logos can be engraved on the case back and even on the dial. Anybody can have their watch customized with his name and/or blood type for instance. Just make sure you get in touch with them prior to your order and clear the details.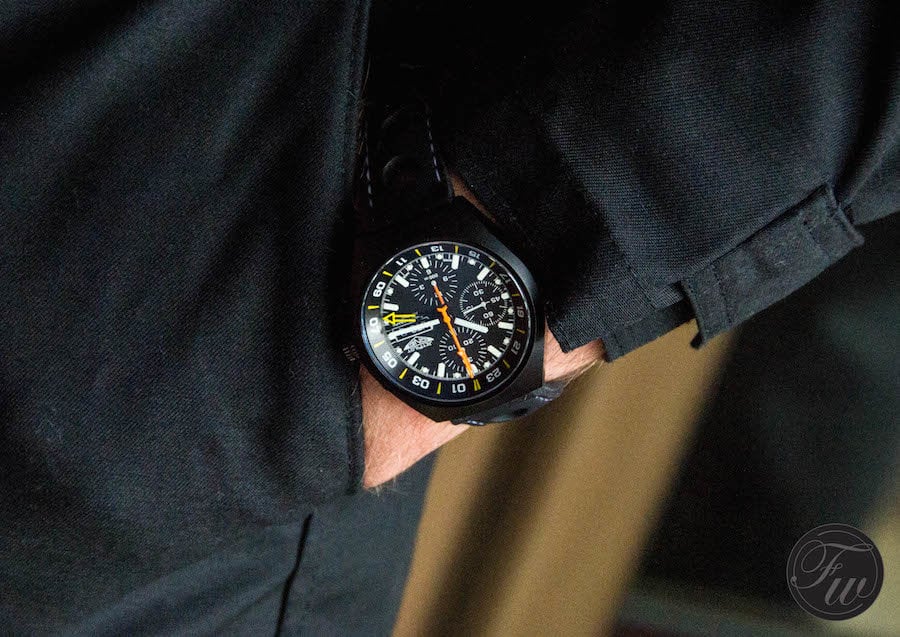 The number of watches in this price range is enormous. But if you add up all the features, the Swiss made movement, the titanium case the chronograph function and put a price tag of €990 next to it all of a sudden it shrinks tremendously.
JetPilot is not an established brand yet, or more precisely, it is an up-and-coming brand. You never know if it will ever going to be a big hit or disappear in the long history of watchmaking. I think they have a place to stay for sure. They produce great watches for people who live active, who would like to use it as a tool not as a statement. As you can read on their site "This is not simply a watch, this is rather an instrument…Remember? You have to trust your instruments" This sum of the core essence of this brand and what they are representing. As far as I am concerned they are doing it really well.
For more information on the brand please visit their website.