Hands-On With The Sinn 104 — A Fan Favorite For Good Reason
How does it fare ten years after its introduction?
The Sinn 104 is a watch that is near and dear to the hearts of many collectors and aficionados. I know that for many of them, it was their first and/or only foray into higher-end watches. I considered buying one many years ago too but never got around to it. So I am ashamed to admit I had never handled one. I felt it was about time that I see what the fuss is all about, so I asked the folks at Sinn to lend me one, and they did. I have spent some time with it, and I am happy to share that experience with you.
In short, the Sinn 104 lives up to its promise. Join me to have a closer look at the 104 ST SA I, the black-dial version with stick indices.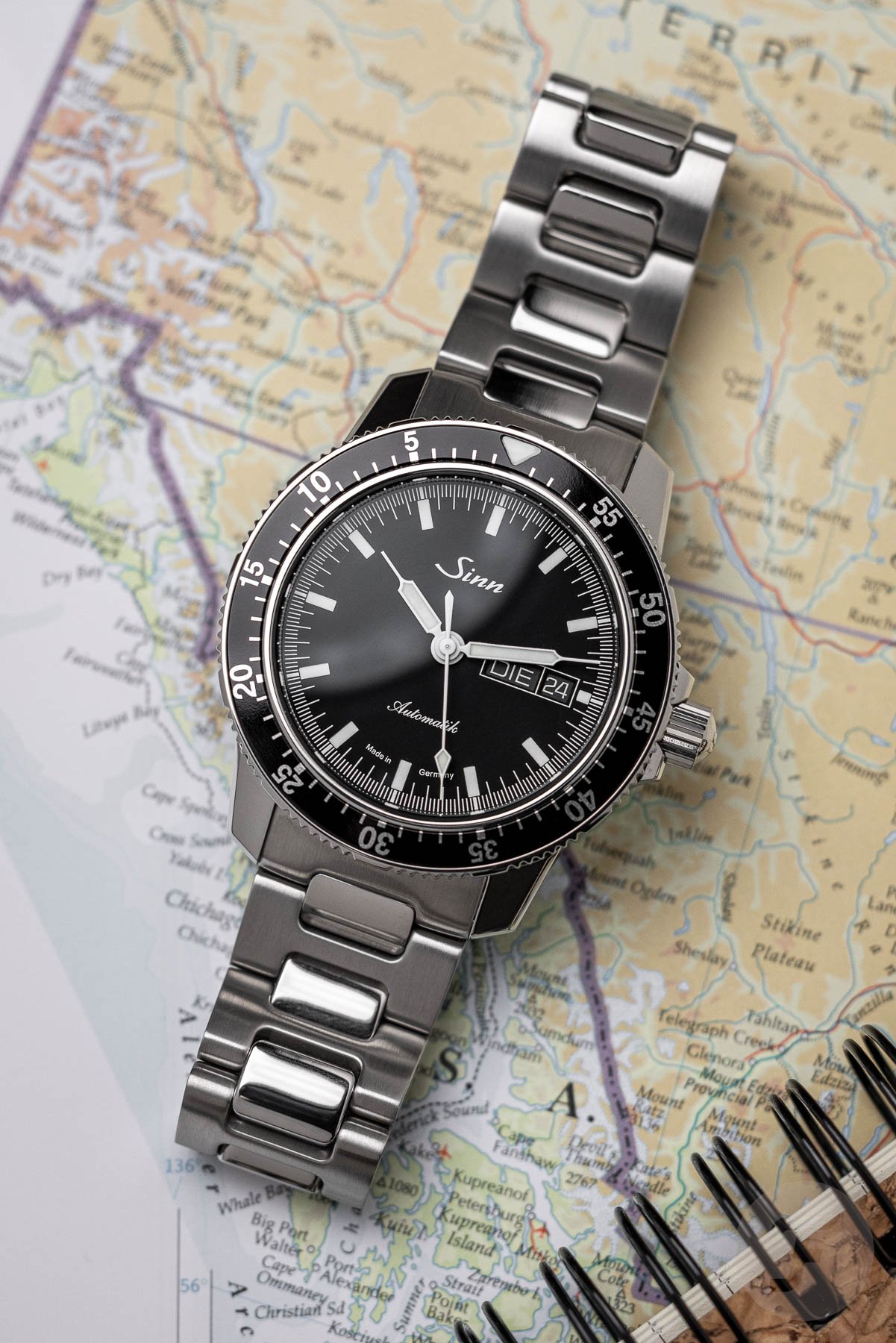 The Sinn 104
The Sinn 104 was introduced in 2013, so you can consider this something of an anniversary review. The early models were fitted with ETA 2836-2 calibers. Today, they come with the equivalent Sellita SW220-1. This means the caliber specs like the 28,800vph beat rate, 41-hour power reserve, and day-date complication remained.
The case, with its brutalist lugs, is instantly recognizable. Sinn uses the shape on several different models, such as the EZM 3 (in destro guise), 103, and 105. Here, it measures 41mm across, 11.9mm thick, and 47mm from tip to tip. You will find sapphire crystals on both sides. The top one has an AR coating on both sides and is ever so slightly domed. The screw-down crown is flanked by crown guards.
The Sinn 104 is water resistant to 200 meters. It is also low-pressure resistant, as it is positioned as a pilot's watch. The bidirectional 60-click countdown bezel is fully graduated with numerals at the five-minute intervals. It is of the captive design, held in place with tiny screws. You can get the 104 on a wide selection of leather and rubber straps, as well as on the pictured bracelet or a fine-link alternative.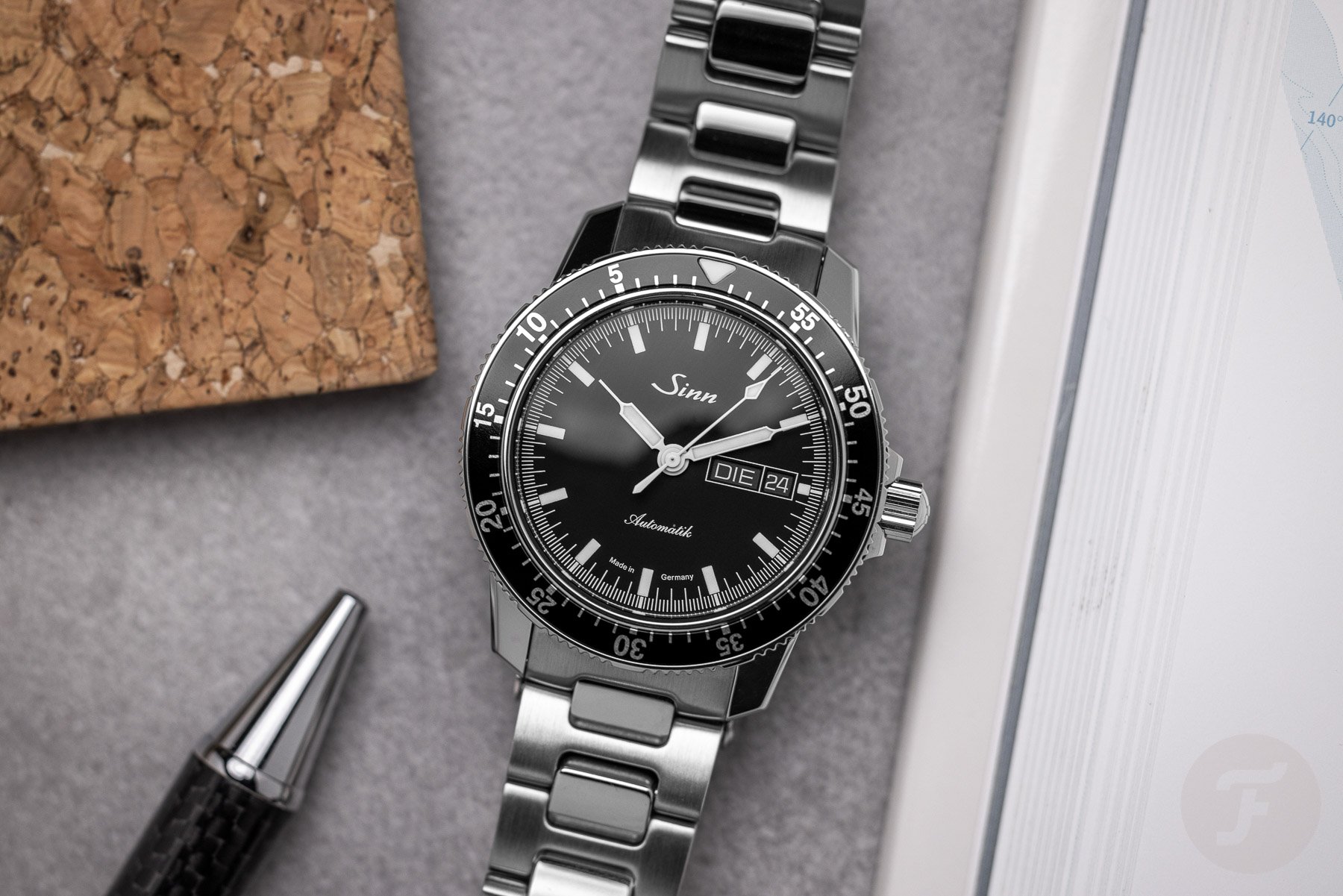 Simple and solid
When I first took the watch out of its packaging, the simplicity and solidity jumped out at me. The case is completely polished and simply shaped. But Sinn clearly understands the art of getting the basics right. This 104 feels pebble-like in its solidity. And I will take a simple, solid watch over something complicated and delicate any day.
The bezel is equally solid. It confidently clicks in both directions. It has that captive-bezel precision, tightly snapping into position without any back play. The aluminum bezel insert suits the style of the watch.
The H-link bracelet is nice, but it is not as tight as I would have expected in comparison to the watch. It is solidly made, with thick hex screws in the sizing links, but there is some lateral play. Don't get me wrong; it is more solid than most at the price point, but it is just a "feel" thing. I am sure it will survive years of hard wear without breaking a sweat. The H-links are brushed, with polished center links tying them together. The simple clasp features an extension for use over a flight jacket/suit.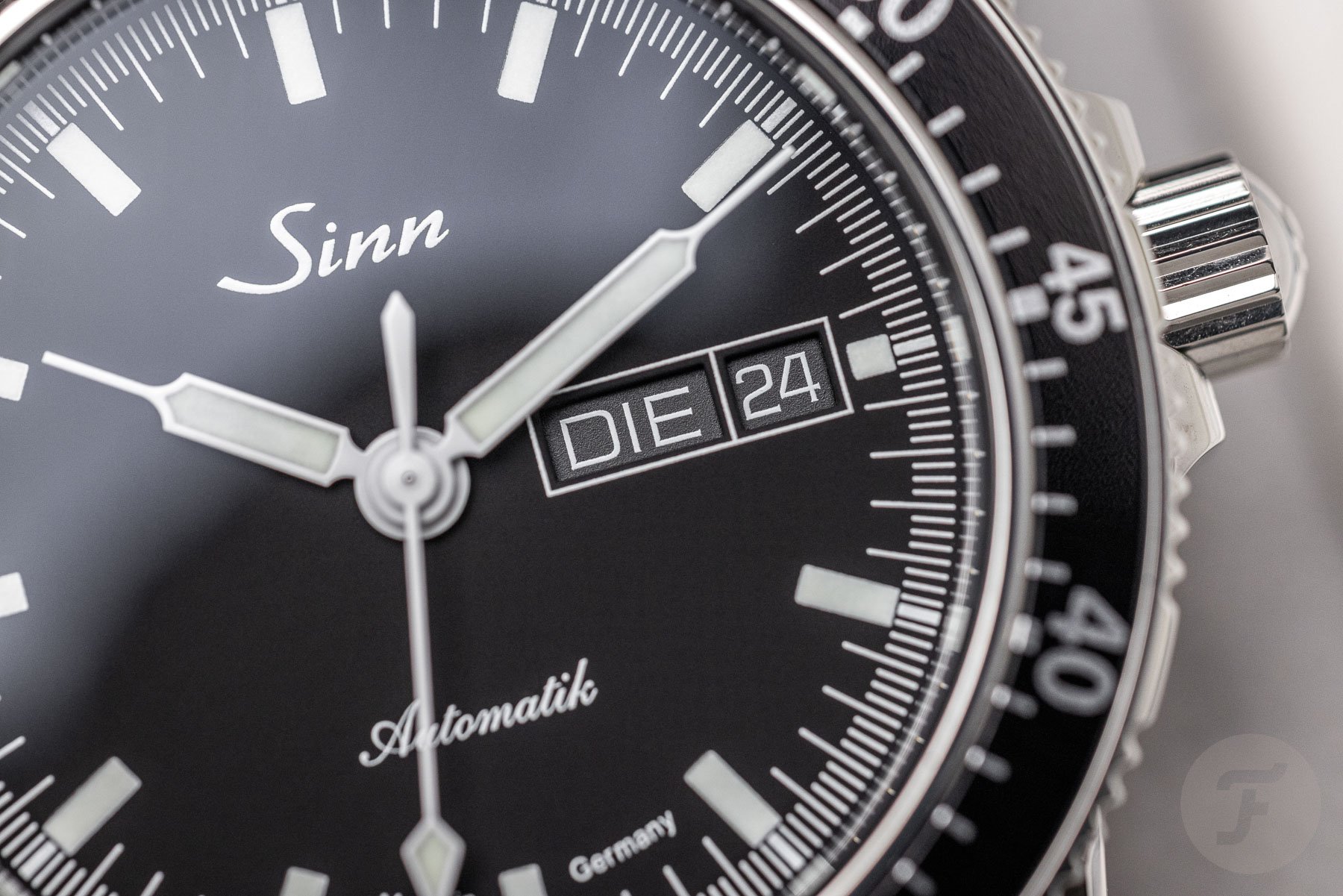 The Sinn 104 dial
The dial of my sample is matte black with white painted details and lumed indices. You can have your pick of stick markers (pictured) or Arabic numerals. Sinn offers a range of colors now, including sunray gray and blue, vignette beige, white, and green.
The dial is nicely made and super legible. I do have one gripe stylistically; the syringe-style handset and "Automatik" font are a bit too classical for the rest of the watch. They don't quite come together with the modernist font of the day wheel, for instance. To me, it is a bit of a style breach. It does provide the 104 with a little more classical elegance than your typical Sinn watch, but it could have been executed more cohesively. The 104 isn't quite as unapologetically tool-like as its diving brother, the EZM 3. Then again, it does make it a pretty neat GADA (go anywhere, do anything) option.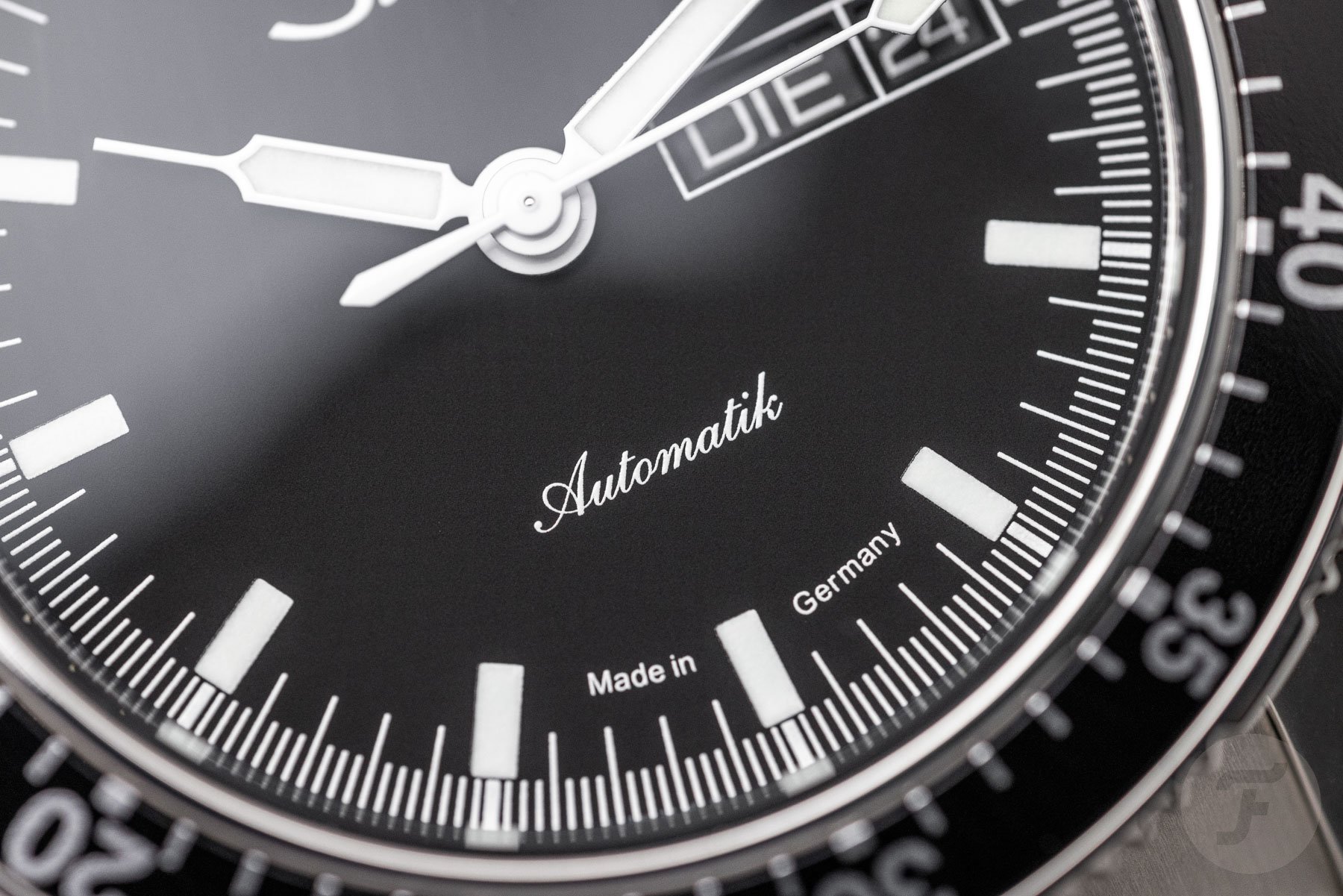 You do see a degree of perfectionism from a functional point of view. Everything has great proportions and spacing for optimal legibility. And little details, like the "Made in Germany" signature not breaking up the minute track, are done just right.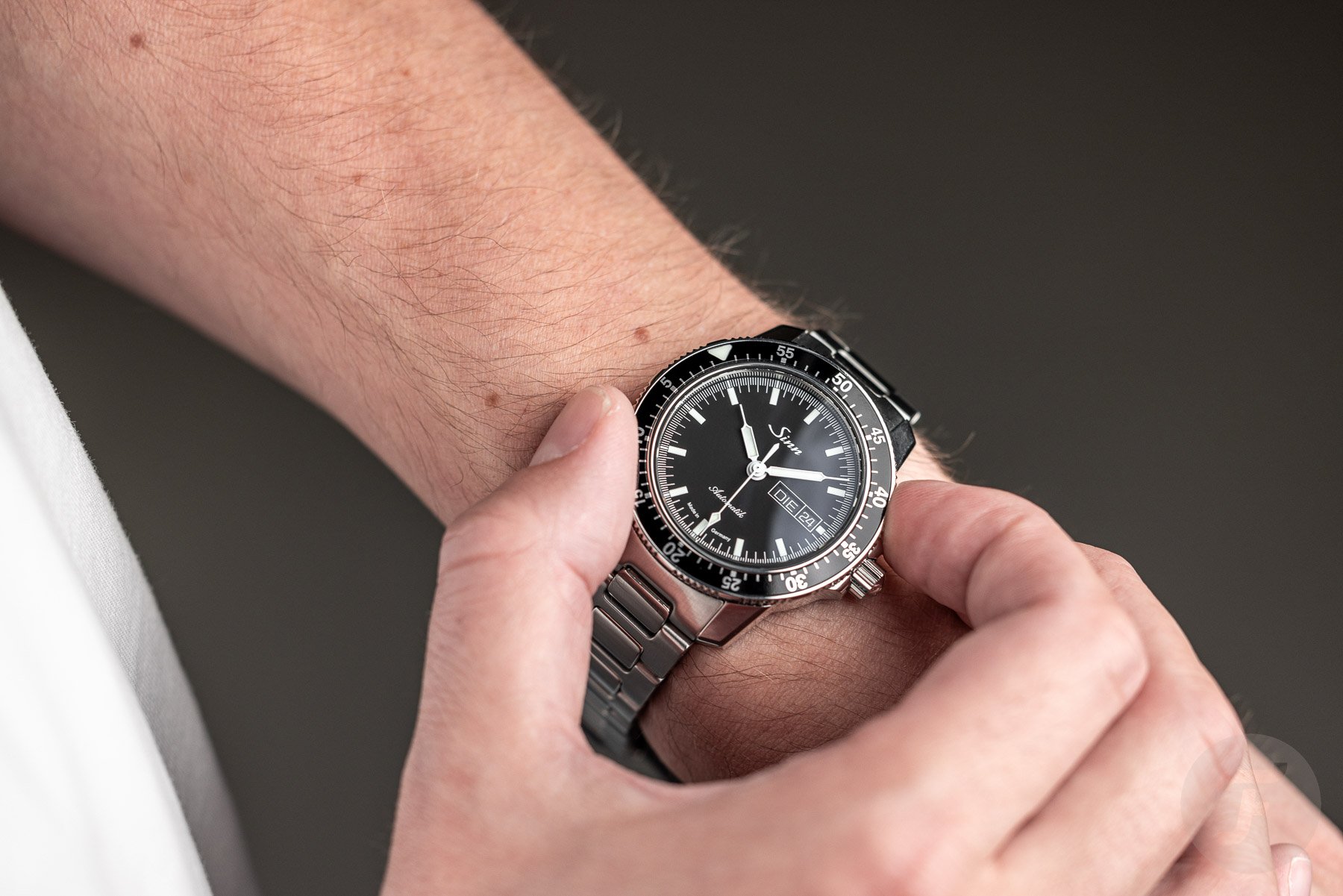 Wearing the Sinn 104
The Sinn 104 wears really well. Its modest lug-to-lug length and height make for a comfortable stance on the wrist. The 41mm diameter isn't small, but then it is a pilot's watch. If you see it as a do-it-all watch, perhaps it could be a hair smaller in 2023. Nevertheless, it is presented as a pilot's watch, and it is a well-proportioned one at that. It works very nicely on my smallish 17cm wrist.
The 104 is something of a slow-release charmer. When I first put it on, I was a bit underwhelmed. It felt a tad boring, to be completely frank. But every time I gazed at it, I liked it more. It is that simplicity, again, that grows on you. That is not unlike the wearing experience of a Rolex Explorer. I am not quite sure why simple watches sometimes have this quality, but I like it. The Sinn 104 is no exception; I like it.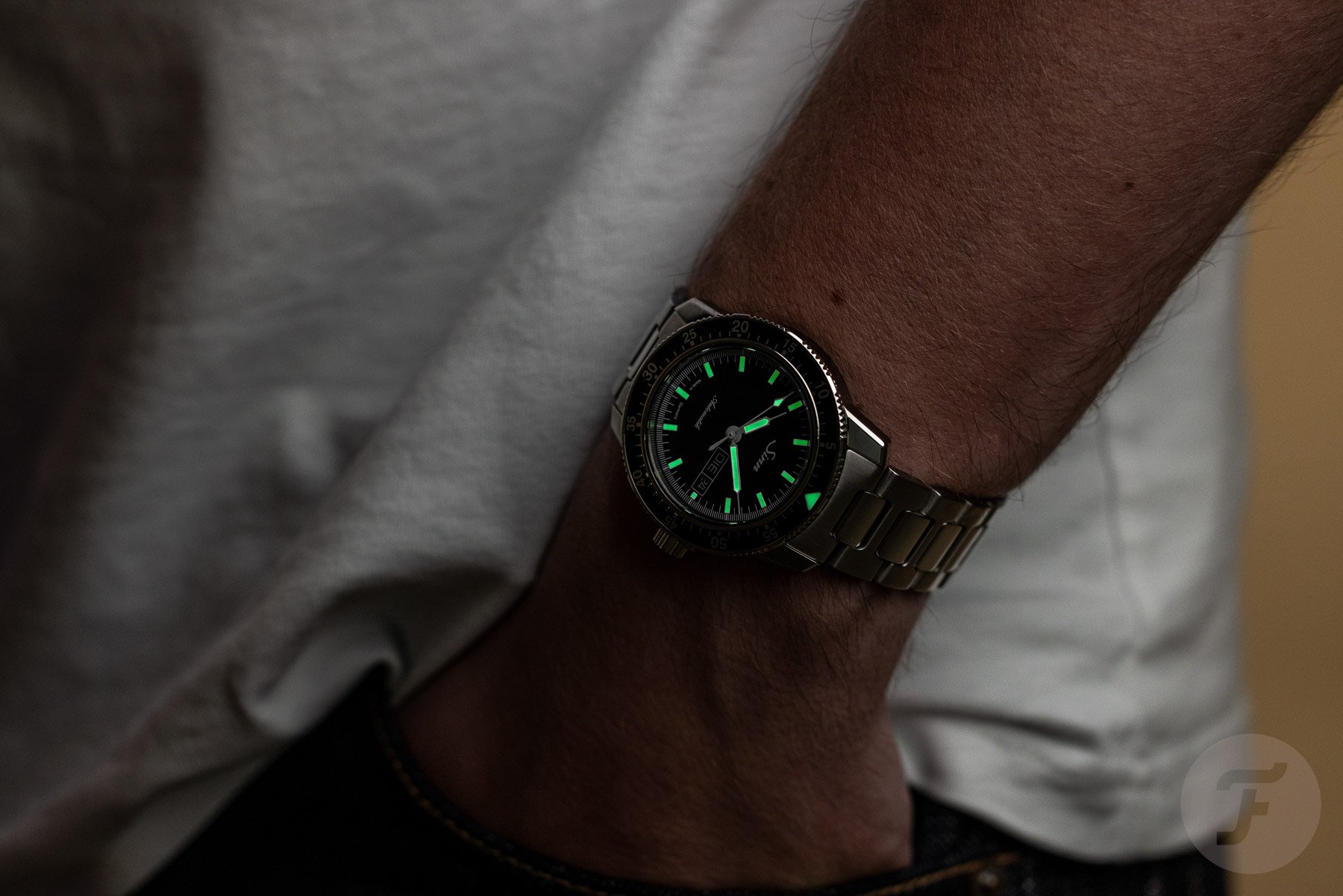 The watch looks great on pretty much any strap. Like a Speedmaster, you can highlight different qualities of the watch with different straps. A rubber strap underlines the tool vibe, while a crocodile strap emphasizes the more classical, elegant elements. I particularly enjoyed it on a ribbed tan NATO. It would be great if Sinn could add a quick-release mechanism to the bracelet, precisely because the watch works so well with straps.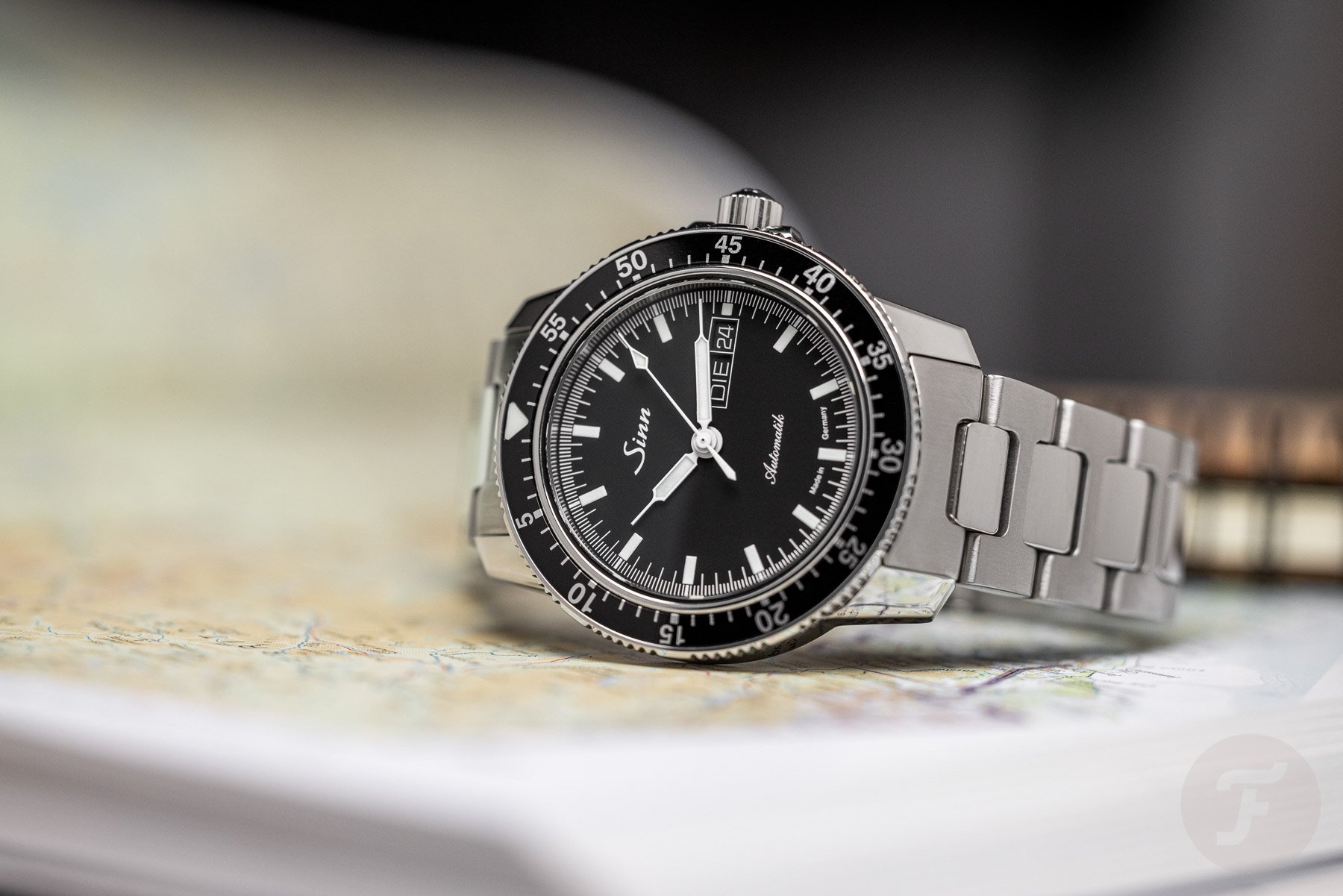 Closing thoughts
I fully understand why people love the Sinn 104. I also get why it can be an end-game watch for some. It is one of those watches that makes you wonder why you would aspire to anything more. For €1,750 in the configuration seen here, you really do get all the build quality, specs, and flexibility you could ever need. And the fact that it is a bit of a left-field choice only adds to the appeal. When you see someone wearing one, you know they are into watches. You don't accidentally end up with a Sinn 104.
The watch hasn't changed much in the ten years it has been on the market. How has it aged? Well, very elegantly I would say. Perhaps you would get some extra features if it were released today. Things like toolless micro-adjust and quick-release are appreciated in the segment nowadays. But, then again, Sinn doesn't put that on any of its watches.
The above may be at odds with what I like about the watch. It is precisely the fact that it is so basic but well done that makes it attractive. It is what makes it a no-brainer recommendation too. This is a watch you cannot really go wrong with. It does as it promises on the tin, and it does it well.
What do you think of the Sinn 104? Let us know in the comments below. And to check out the full lineup of 104 models, visit the Sinn website.