Hands-On: The Longines Record Heritage Chronograph — Is It A Lancia Delta Integrale?
Or is this just a middle-of-the-road hatchback?
Let's have a look at the Longines Record Heritage Chronograph. You'd be forgiven if you forgot, but Longines was one of the absolute kings of chronographs back in the day. As such, when the brand does a new one, it is like Lancia building a new road-legal rally car. You expect a mud-slinging beast of a car with a bonkers design — a Stratos or a Delta Integrale. But I would be scared that modern regulations, market analysis, excessive layers of management within the group, and "design by committee" would result in a dull, lifeless, and obese dilution of a rally car. So what do we have here? A revival of what made Longines great in its heyday or a bloated family hatchback of a watch?
You might feel that I am setting the bar a bit high for this Longines Record Heritage Chronograph. But to be fair, it was Longines itself that set that standard. Since this chrono unapologetically harkens back to the brand's heritage, we may have to start with a bit of history.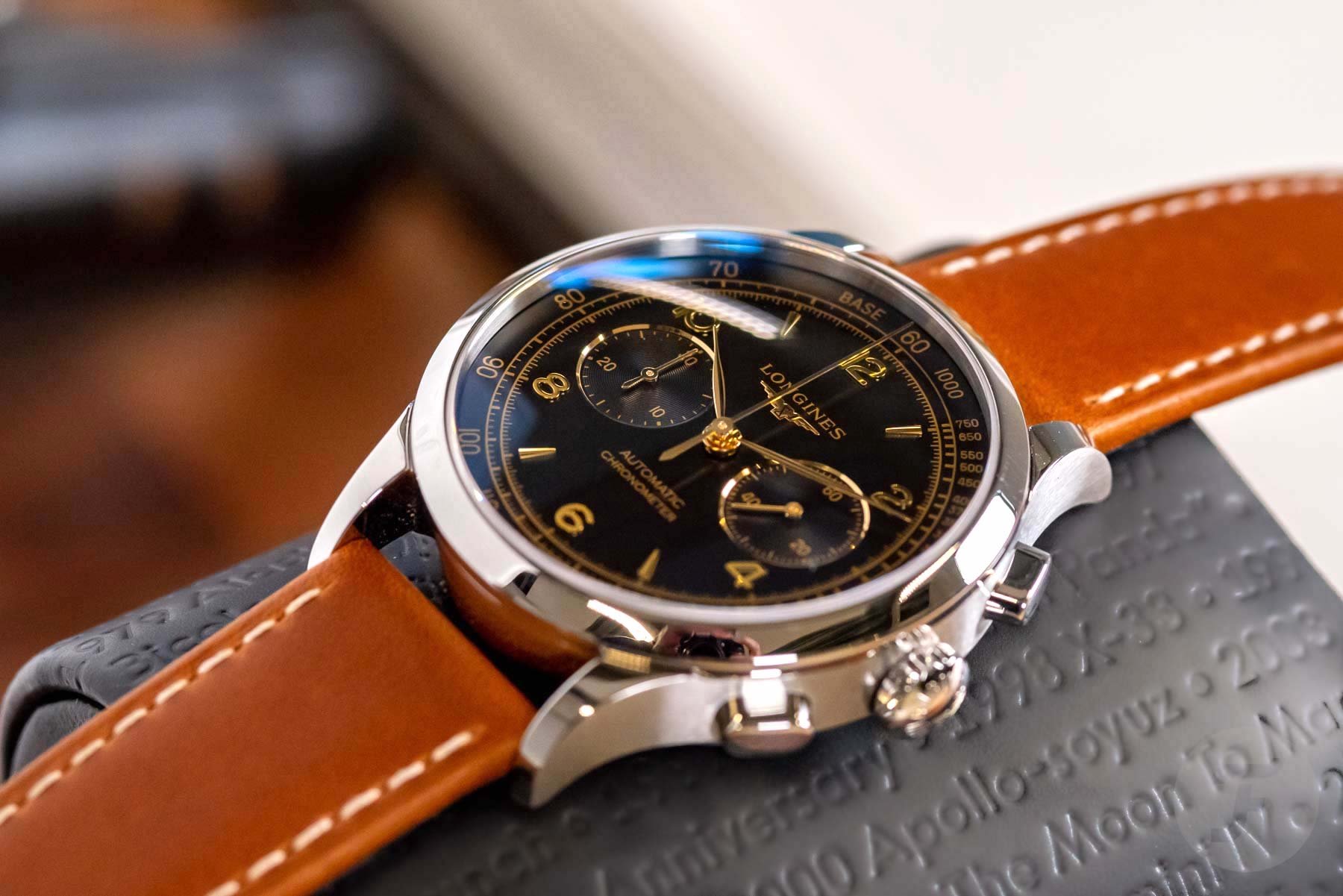 Longines chronographs
Let me take you back to the early 20th century. At this time, Longines is one of Switzerland's prime watchmakers. The house even develops its very own chronograph calibers. The result is the 13.33Z caliber and later the 13ZN, both absolute beauties. In fact, Longines was right there among the very first to develop dedicated chronograph movements for wristwatches. As you can imagine, the miniaturization involved required a thorough redesign of the technology of the day. Remember that this is decades before computer-aided design or even the mass production of parts.
Longines fitted its impressive calibers in equally impressive watches. You will find examples in steel and gold cases measuring between 34 and 38mm. A host of dial variations were produced, among which were stunning enamel and gilt examples.
Longines introduced the new 13ZN caliber in 1947. This remained in production until the early 1970s. Again, you will find a flurry of fantastic watches housing this movement. The theme remained the same from the 1920s until the 1970s — true in-house, beautiful chronograph movements, fitted in seriously stylish watches.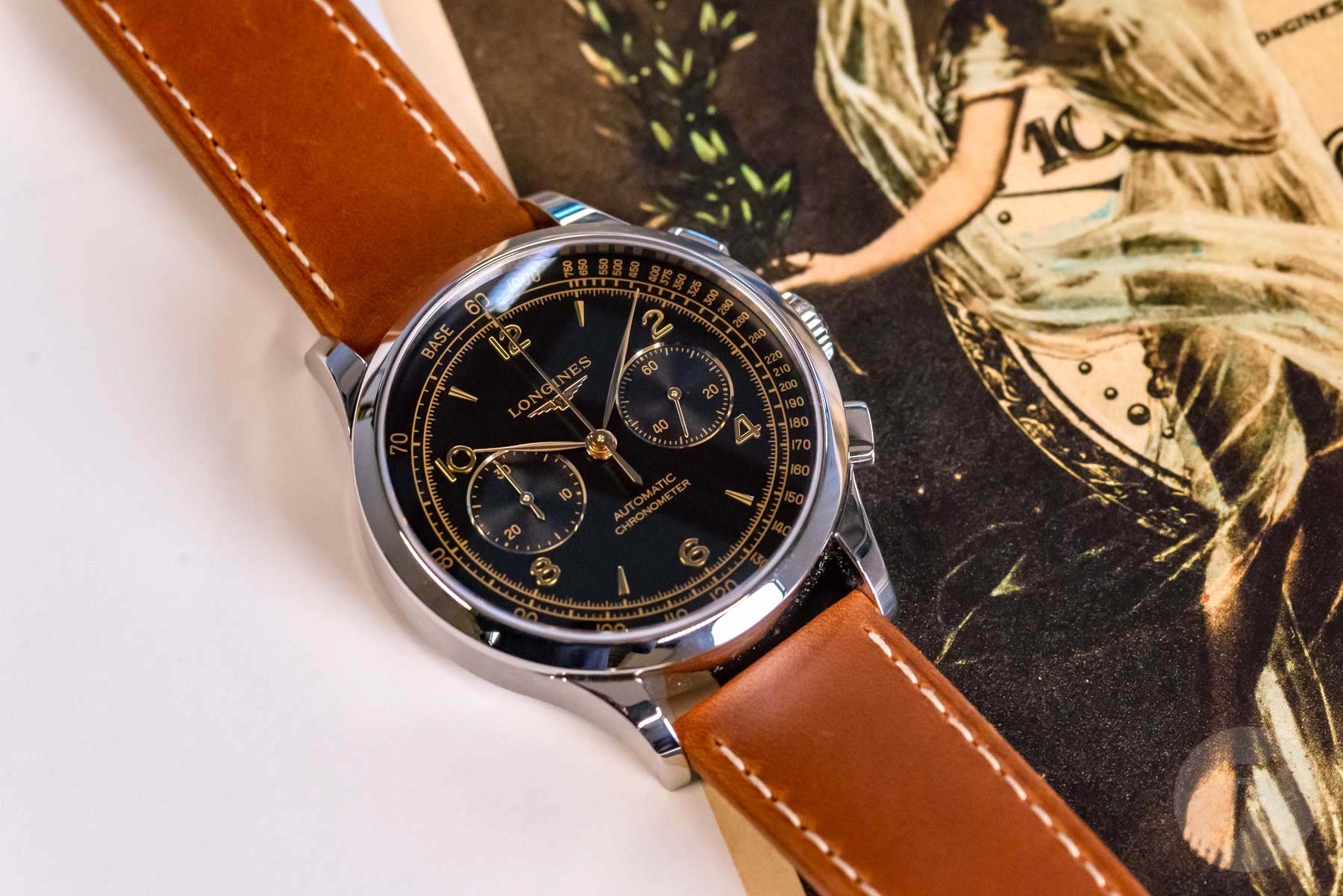 Does the Longines Record Heritage Chronograph continue the legacy?
Okay, so that is the background against which we have to view this current Longines Record Heritage Chronograph. Just as Lancia built awe-inspiring, genre-defining rally cars, so did Longines reign supreme in the chronograph business.
The question is: does this new chronograph live up to its own heritage? Before I sink my teeth into the details, the simple answer is no. The Longines Record Heritage Chronograph is a decent watch. I would not criticize anybody for choosing one. It is well-made and looks quite nice. But it does not feel like the evolution of the 13.33Z, 13ZN, and 13CH watches of yesteryear. I am afraid this has become more of a middle-of-the-road hatchback than a Delta Integrale.
This makes sense, considering how Longines is positioned to cover a specific market segment. Within that segment, a classical design and a carefully chosen price point are more important than horological prowess. And I am afraid that shows in this watch.
Specs of the Longines Record Heritage Chronograph
What we have here is a 40mm steel automatic chronograph. It comes with a black dial with gold printing and applied gold-tone features. There is a version on a cognac leather strap as well as a version on a steel bracelet to choose from. I had the one with the leather strap in for review, so I cannot speak to the quality of the bracelet. The leather strap is of good quality, but I would swap it for something a bit softer if it were my watch.
The case has a lug-to-lug length of just over 49mm. The height is 13.8mm, in part due to a domed sapphire crystal with an anti-reflective coating on both sides. The lug width is a crowd-pleasing 20mm. If you look at the side profile of the watch, you will see that the pushers and the crown are not aligned. This is due to the modular nature of the movement inside.
Longines opted for the chronometer-rated caliber L895. This is a Longines-exclusive adaptation of a base ETA A31.L01, which is indeed a time-only caliber. The chronograph is a separate module on top, explaining the high positioning of the pushers in relation to the crown. The movement is COSC-certified, hence the "Chronometer" signing at six.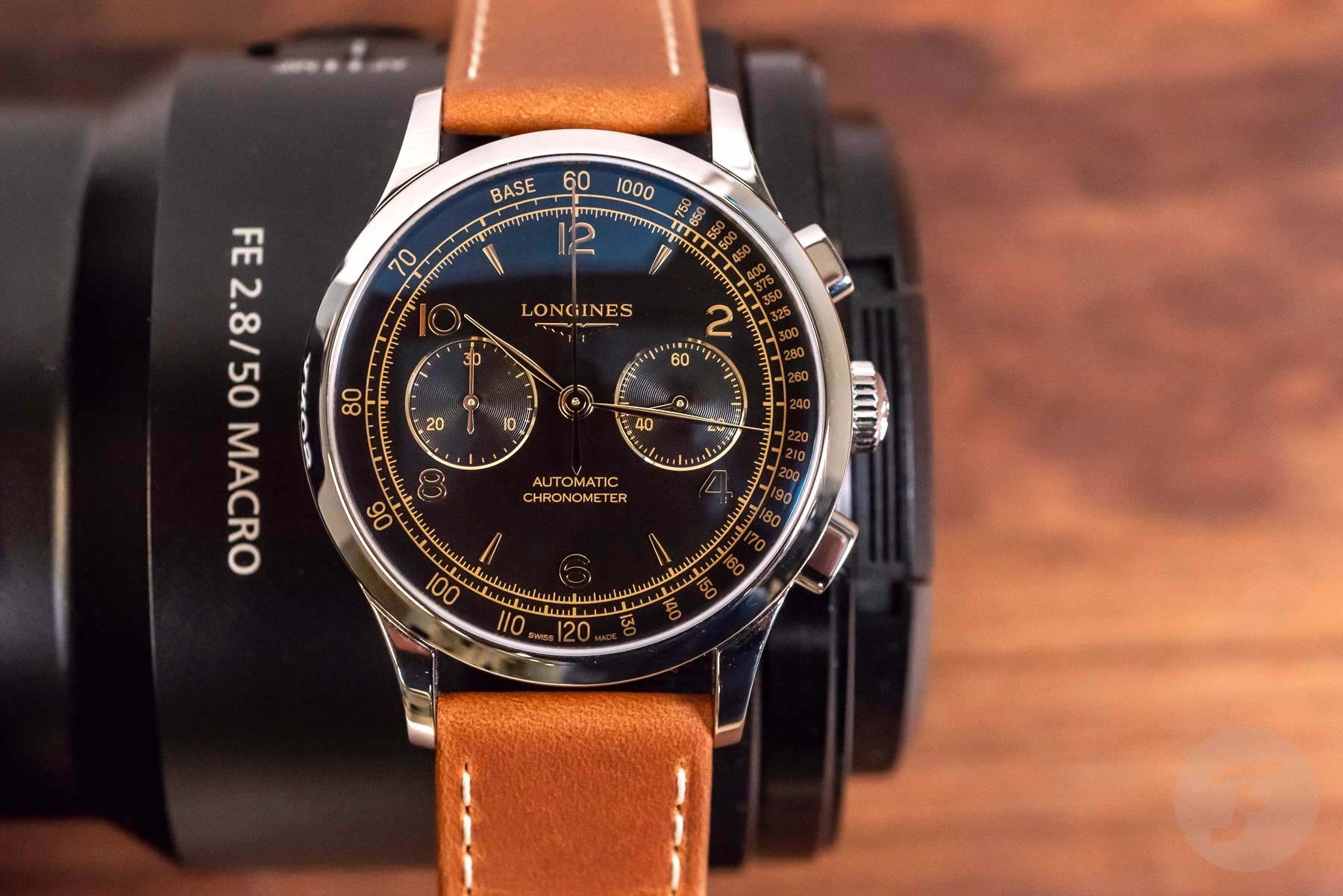 The dial — "gilty" as charged
There is just one dial version, which is clearly inspired by old gilt dials. A matte black surface is adorned with gold printing, shiny applied gold-tone Arabic numerals, and a polished gold-tone handset. And this is problematic since readability is terrible. I found myself having to tilt my wrist to find the right light. At the wrong angle, the hands appear black and visually disappear. There is no lume, but that is understandable in a classical design like this.
Of course, this is not actually a gilt dial. Those dials were made by applying the dial printing in clear lacquer to a blank brass dial. The entire dial was then electro-plated in black. Since the clear lacquer was non-conductive, it would remain clear. The printing was, then, exposed brass in black lacquer. Under magnification, you would see the text was lower than the surrounding black. The dial we see here is black with gold-colored printing on top of it.
True gilt dials are sought-after today. The process is a lot more time-consuming than just printing in gold-tone paint. A major added benefit of the old way is that the text actually has a metallic shimmer. This results in a perfect match between the printing and the gold hands and applied features. That is not the case here. In the right light, as Gerard has professionally provided while doing photography of this watch, it looks good. Under changing light, however, the tachymeter can look almost mustard-toned, not matching the rest of the dial.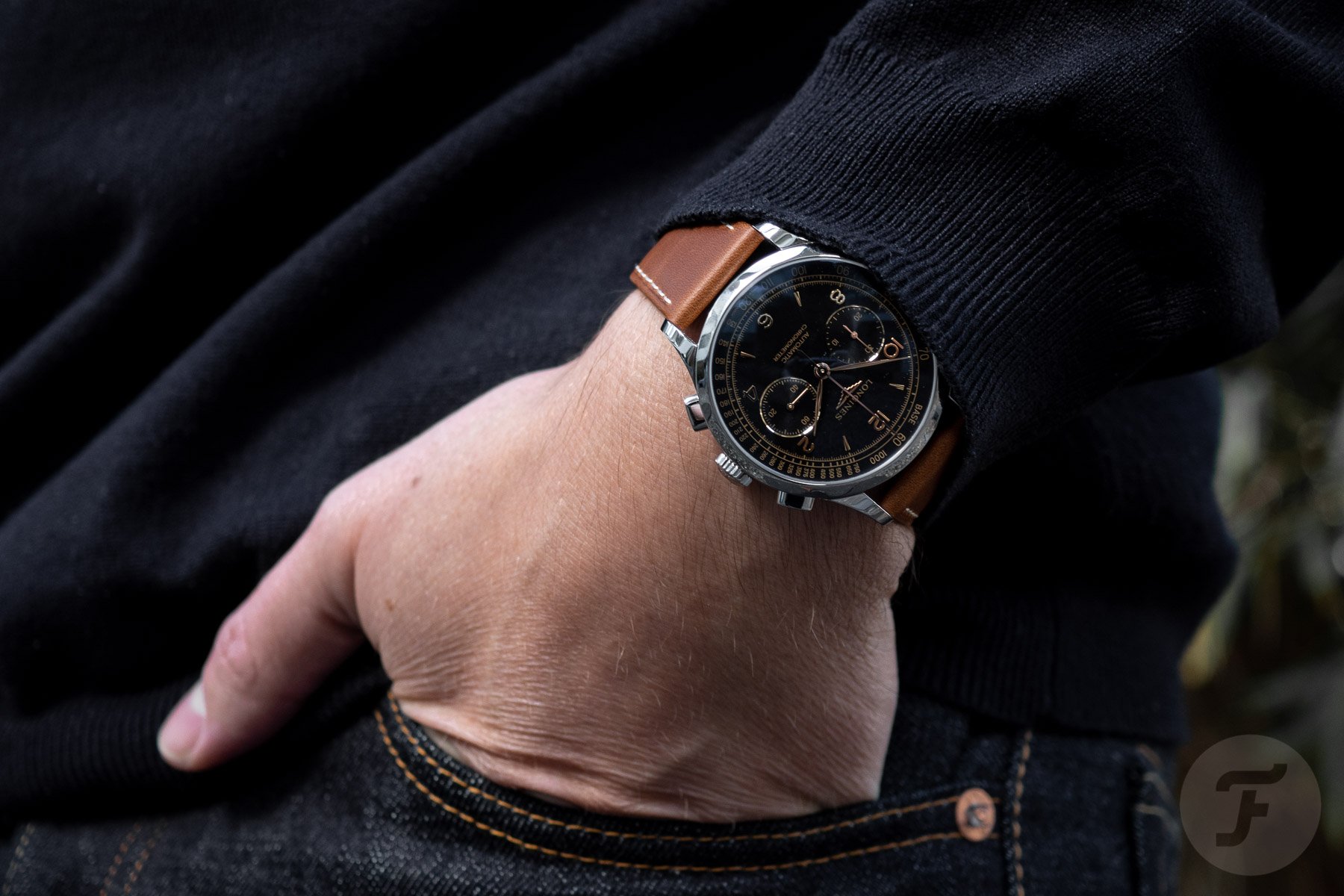 Wearing the Longines Record Heritage Chronograph
I have spent a couple of days wearing the Longines Record Heritage Chronograph. I know some of you will roll your eyes, but I cannot get used to the size. To me, a chronograph with such a vintage aesthetic just looks strange at 40 × 49 × 13.8mm. It sacrifices its elegance and, frankly, is a bit cumbersome to wear. Still, many bigger brands tend to release watches like this in a 42mm diameter, so this is relatively good. Yeah, I am looking at you, Tissot! And granted, the Record Heritage does not look oversized on an average wrist.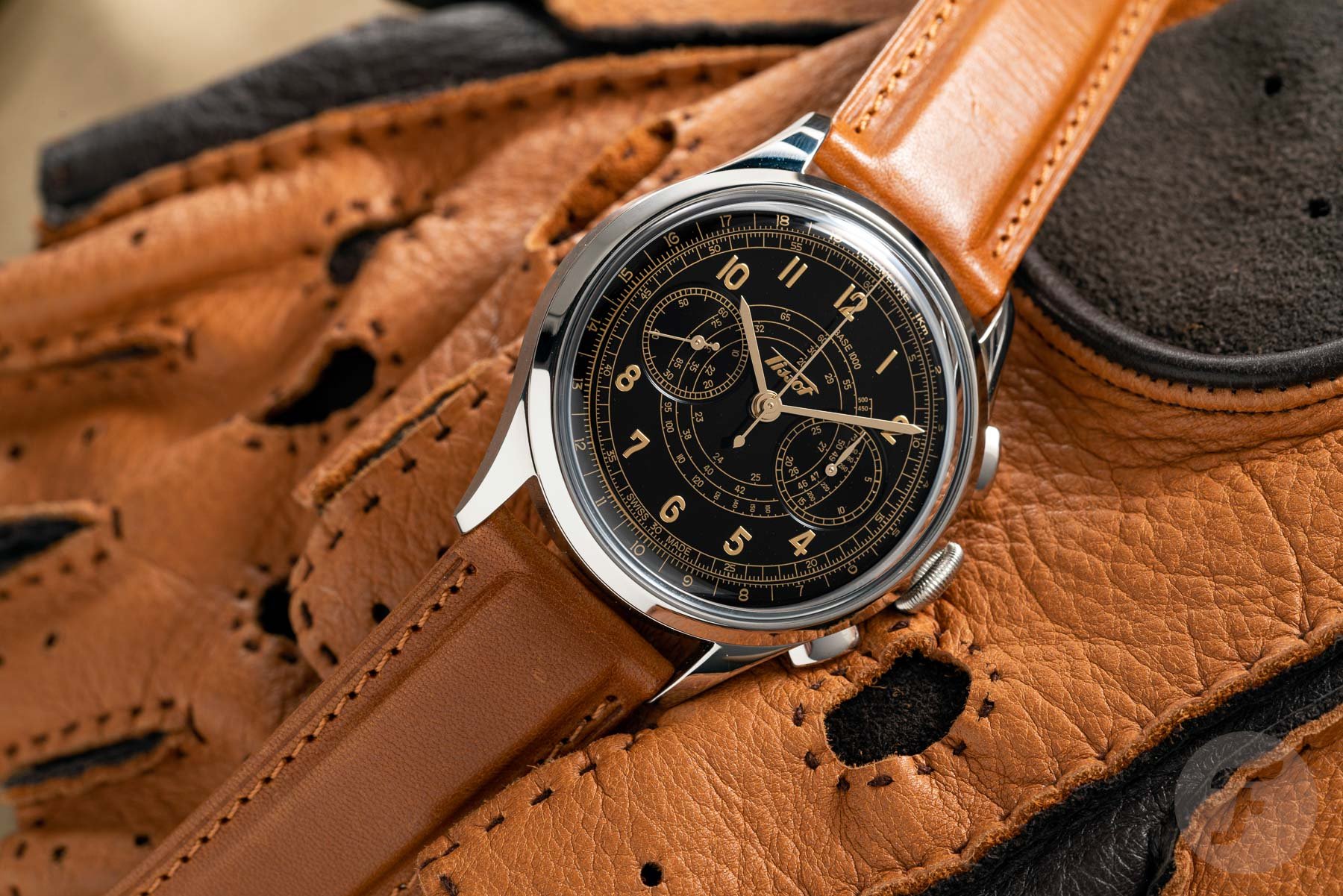 I would happily trade the rotor for a thinner profile. Those legendary Longines chronographs I mentioned earlier were all hand-wound. I think that would have been perfectly fine for a vintage-style chronograph — preferable to a thick case, in fact. Regardless of the type of winding, I am sure the chronograph module also results in a thicker profile than an integrated chronograph would have.
It might not sound like it, but I did enjoy wearing the Longines Record Heritage Chronograph. The watch has a lot of old-world charm thanks to the black and gold dial. It is a watch with a distinct style, and I can surely imagine people falling for it.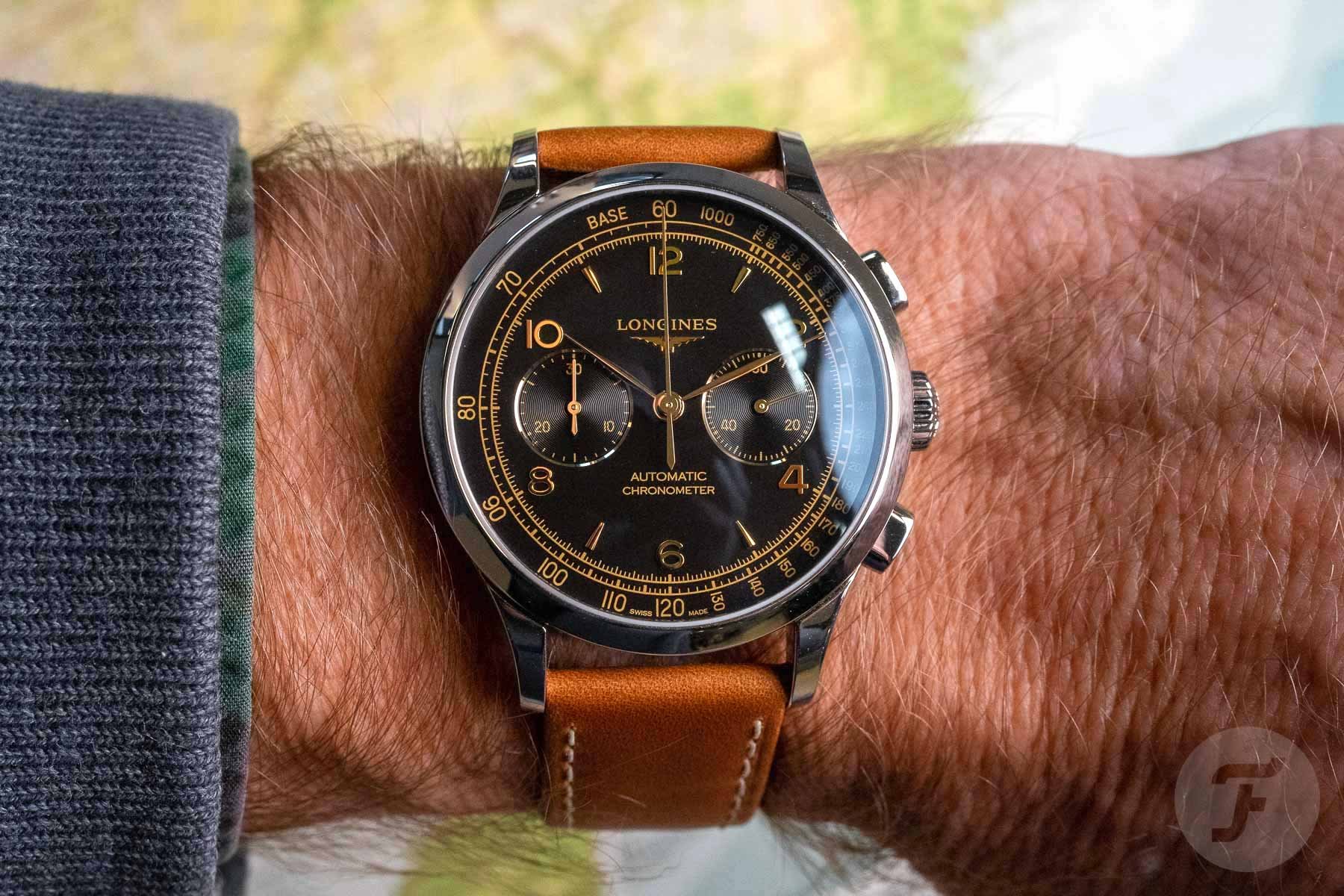 Closing thoughts on the Longines Record Heritage Chronograph
I do feel that Longines is slacking a bit on this watch, though. I am not feeling that this is a labor of love and devotion. Rather, this is a product designed in a boardroom, not a watchmaker's atelier. Longines has the bad luck that I recently handled the upcoming Lebois & Co chronographs. Those exude a level of attention to detail that signals someone has put a lot of love into them. Longines will surely sell a lot more of these, but, as a watch lover, I would have the Lebois all day.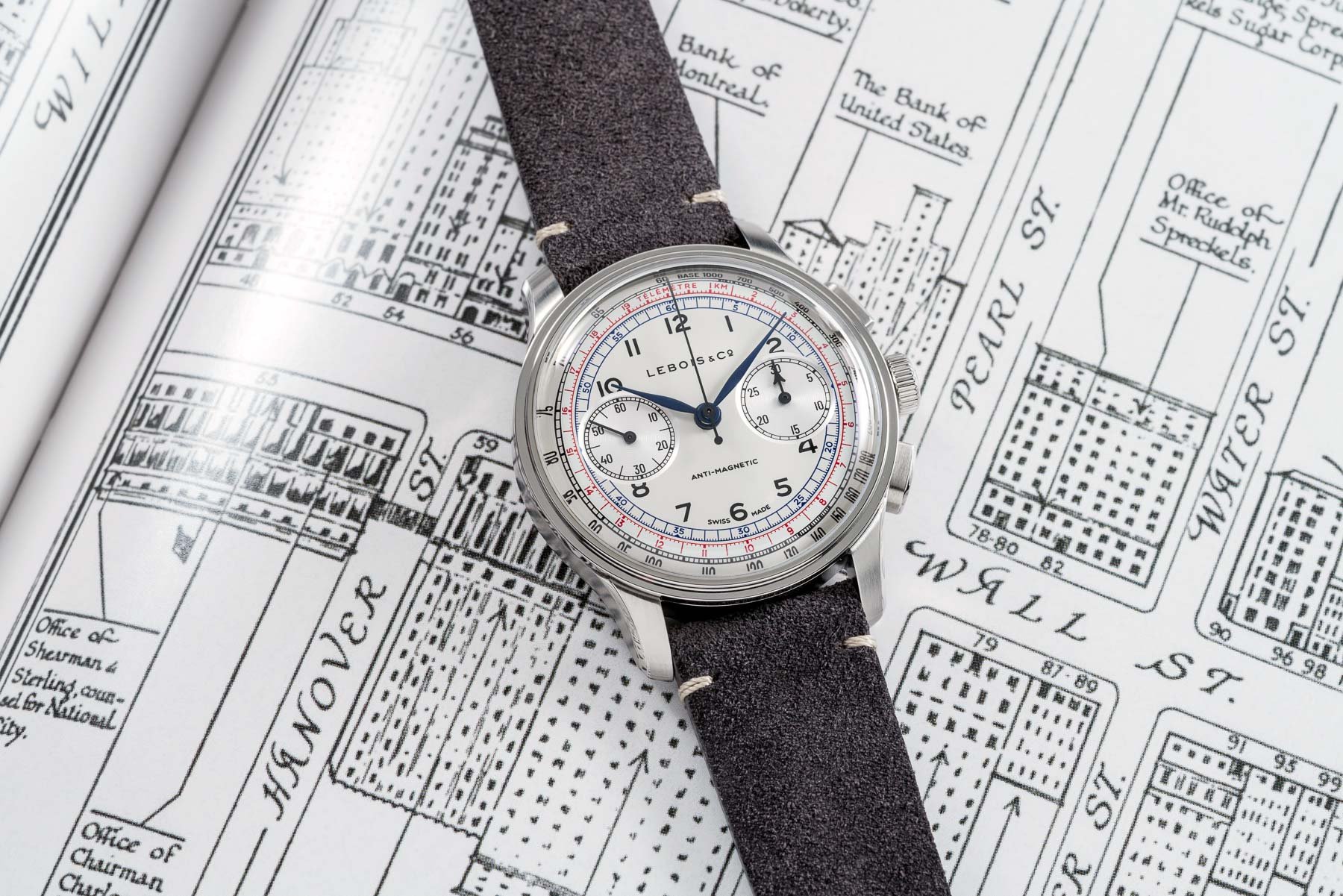 I hope it shows that my criticism actually comes from a good place. I want to see Longines win. A century ago, the brand was absolutely amazing. I want to see it get back to that form. The Spirit collection and the Big Eye chronograph show that Longines can do it from a design perspective. The Record Heritage Chronograph, however, is not quite up there. I am afraid I will have to accept that Longines chronographs no longer come with mesmeric in-house calibers. But in that case, at least the design should be spot on.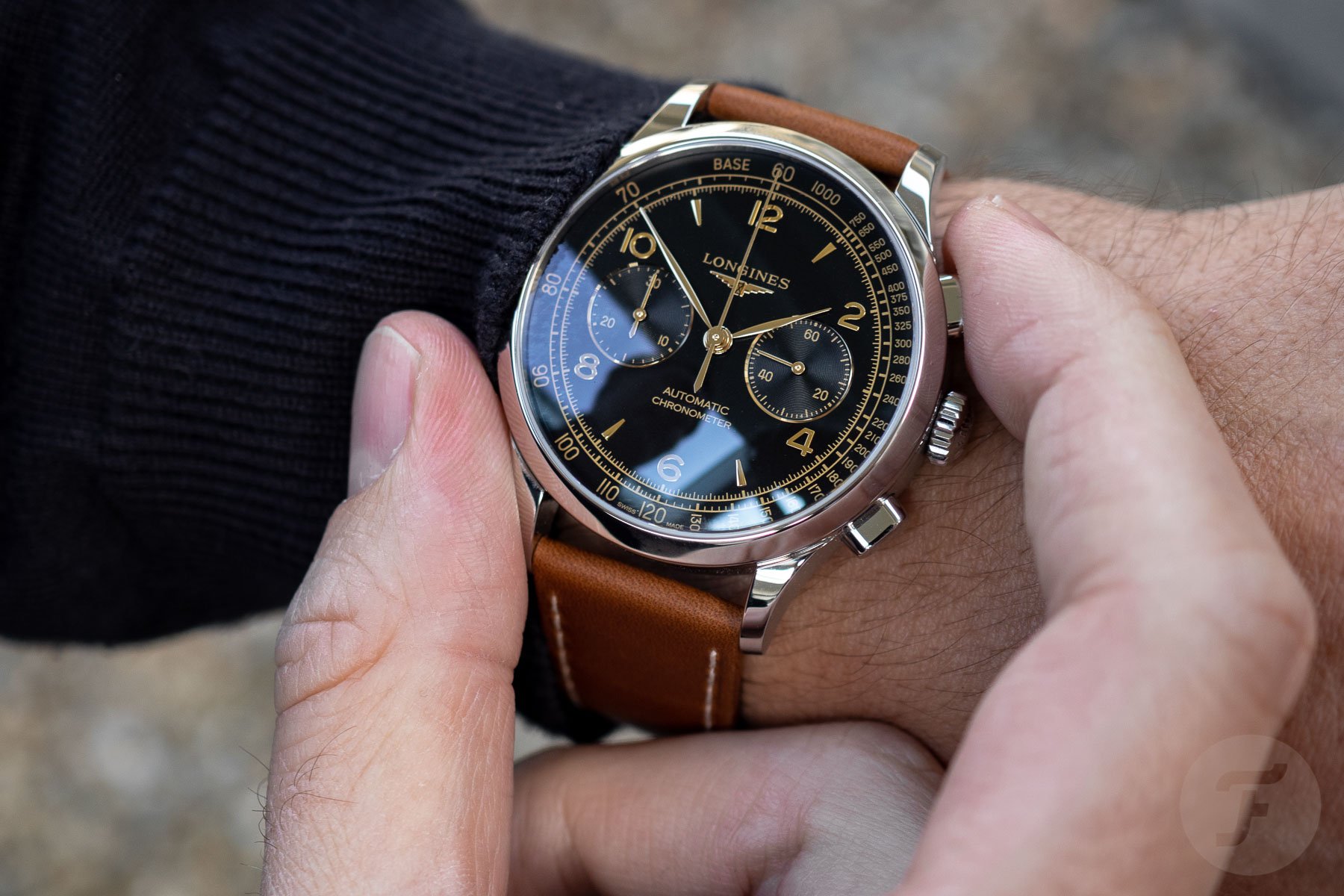 What do you think? Am I overly harsh? Or should Longines ditch the shareholder-first attitude and strive for horological perfection once more? Let me know in the comments.
You can also find and follow me on Instagram: @time_travelers_journal