Longines Starts 2021 Strong With The Avigation BigEye Titanium Watch
The BigEye gets a colorful, titanium facelift. It's the watch we didn't know we needed!
Longines has been killing recently. I mean it! The brand from Saint-Imier had a pretty good 2020, and it seems pretty intent on keeping that momentum going in 2021. The well-received Spirit collection knocked it out of the park and won plaudits from across the industry. The Heritage line of watches also saw a bit of a makeover with some stunning results. Longines was on a roll! Now, as we enter into the second month of 2021, Longines has dropped another winner onto us. A watch we possibly didn't know we needed: enter the Longines Avigation BigEye in titanium.
The Avigation BigEye is an instantly recognizable watch from Longines, and it has enjoyed a successful few years since its release. Now, we see it receive a facelift that I don't think any of us saw coming, but boy is it a good one!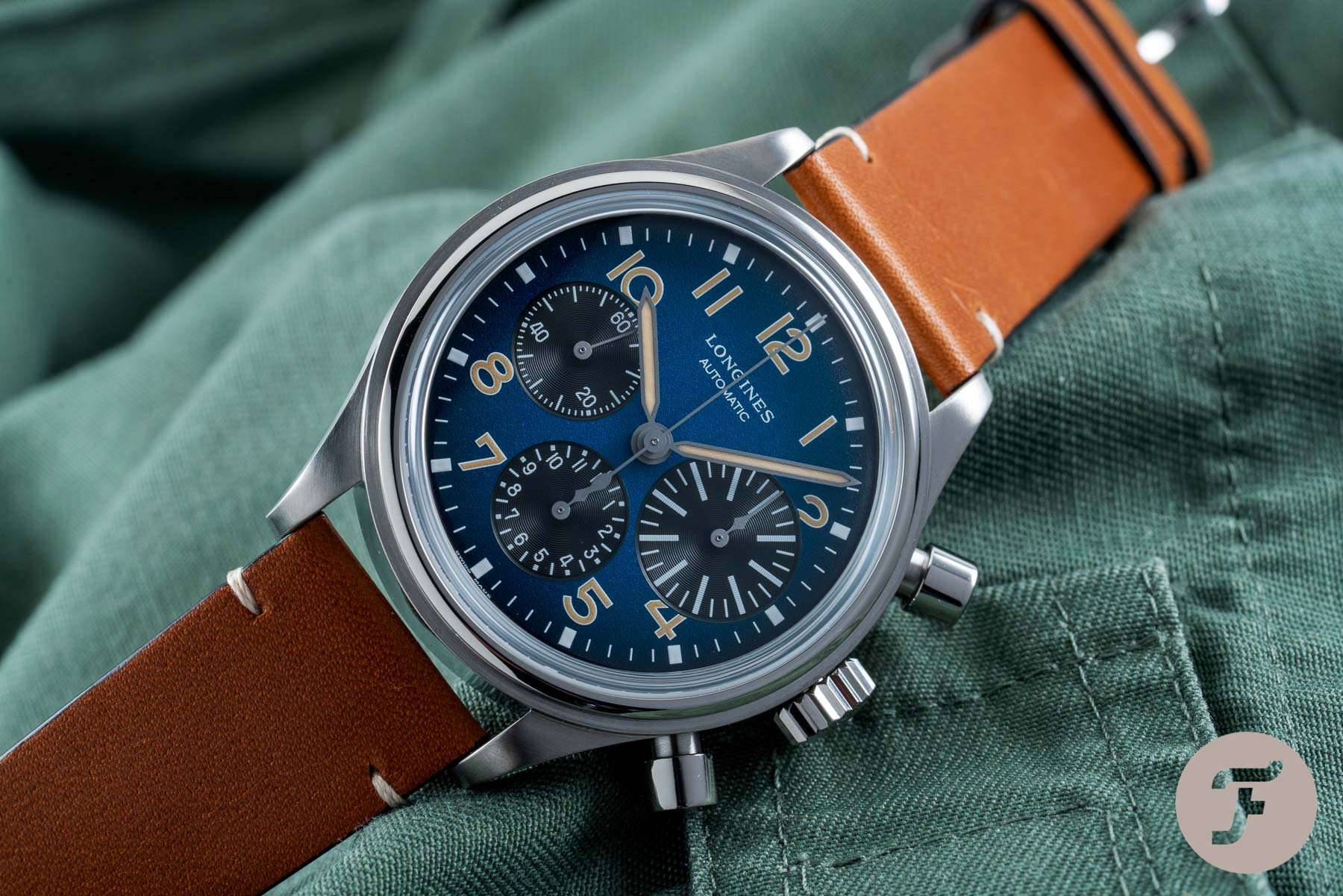 A hazy history
Now, the story behind the Avigation BigEye Chronograph is anything but straightforward. The basic design is based on a 1930s pilot's chronograph that was missing from the brand archives until a collector showed it to the Longines Museum. It naturally raised a lot of questions. Where did this watch come from? Was it a genuine Longines design? If so, was it a prototype, and from what year? Many of these questions remain unanswered to this day, but none of that changed the fact that this was a handsome watch nonetheless. Where some brands might be hesitant to act on such an unknown and unquantified watch, Longines had the guts to discard their doubts, recognize the potential, and do something with it.
…oversized minute counter proving the star of the show.
At Baselworld 2017, Longines presented its Heritage-based Avigation BigEye. It was a military-inspired pilot's chronograph with a tri-counter layout, classic luminous Arabic numerals, and that oversized minute counter proving the star of the show.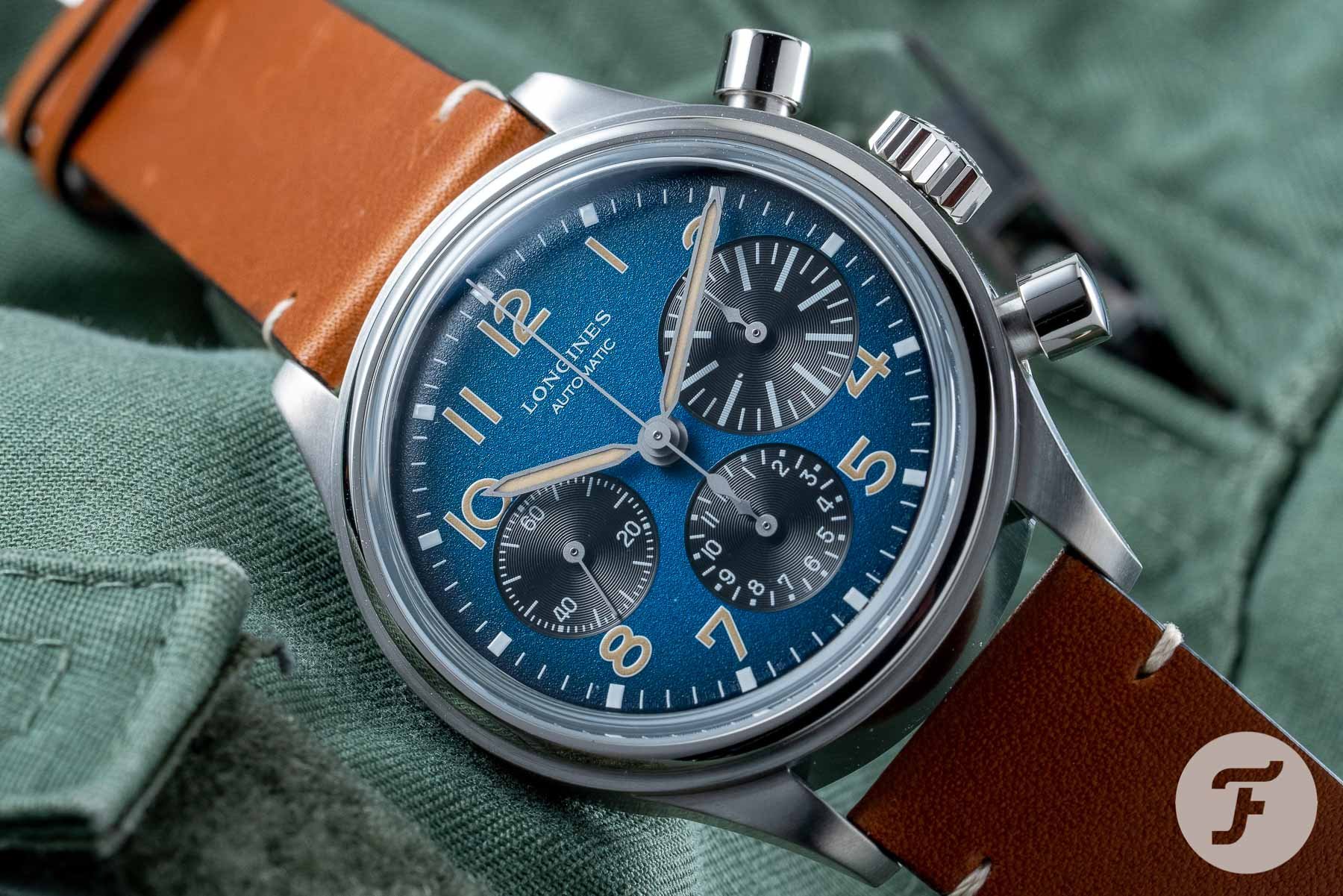 What's new, pussycat?
Well, actually, there's not a whole lot of updates in terms of the raw design here. Quite rightly, Longines kept the key elements the same as the stainless steel BigEye from 2017. After all, these were a big success for the brand. As such, the watch still measures 41mm in diameter, 50mm lug to lug, and about 14.5mm high. These are very wearable sizes for a pilot's chronograph. Many other comparable watches quickly get to over 15/16mm thick, making for a very different wearing experience.
The case has a typical military chronograph shape, with a flat, coin-edge bezel and oversized pushers and crown. This is all in keeping with the original intent of making sure pilots can operate it while wearing gloves. It is topped by a rather gorgeous box-shaped sapphire crystal.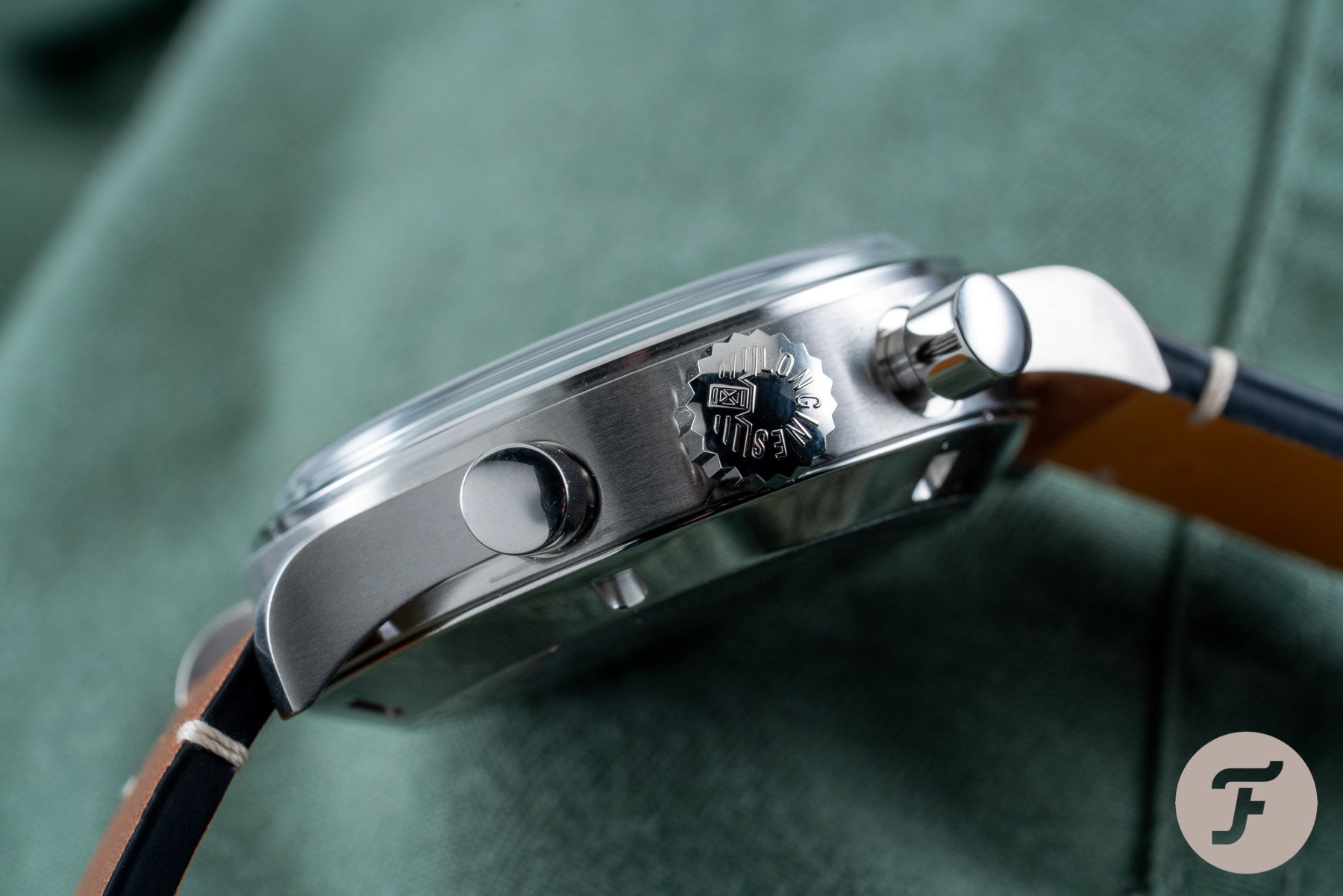 Lightweight titanium
What is new, however, is the material used to make the case. Still featuring a combination of brushed surfaces and polished accents, gone is the stainless steel used for the 2017 version, and Grade 5 titanium takes its place. The use of lightweight titanium undoubtedly increases the comfort and wearability of what is already a well-proportioned watch. The titanium case back completes things and has the same plane engraving as the stainless steel BigEye.
The resultant alloy increases strength…
I've had people ask me before about the differences between titanium grades, which is a fair question. What does" Grade 5″ actually mean? Well, for watches, the most common forms used are Grade 2 or Grade 5 titanium. Grade 2 is "commercially pure" titanium and provides lightweight and corrosion resistance, but it isn't as strong as titanium alloys. Grade 5 titanium is titanium alloyed with 6% aluminium and 4% vanadium. The resultant alloy increases strength, as well as heat and corrosion resistance. Nice!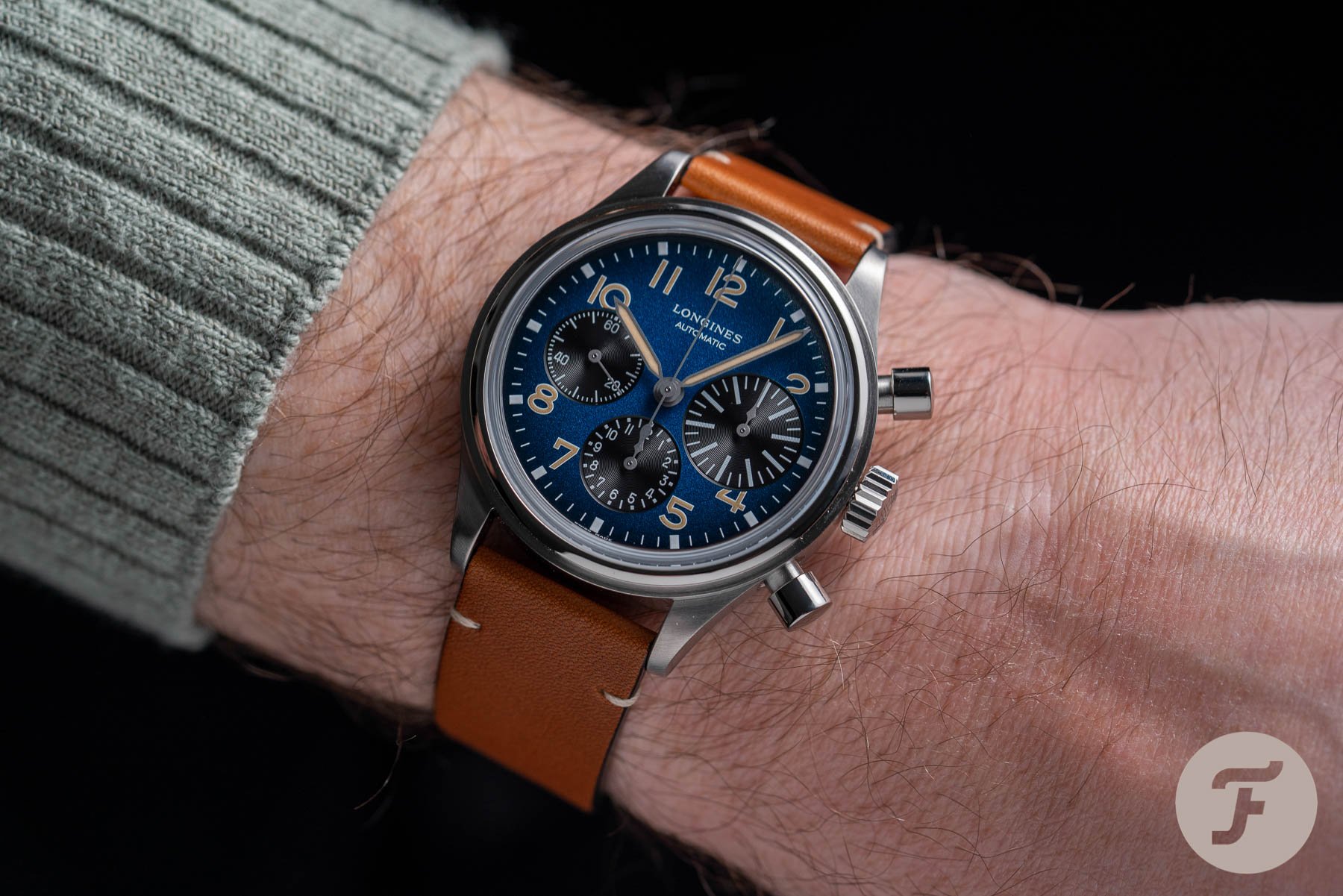 The star of the show
It's gotta be that dial. I stopped in my tracks when I first saw this dial in the press images — I mean, damn! I like a dial with a bit of texture. Going back to the Spirit collection last year, the granulated texture used on the dials was sublime. Enough to be eye-catching, but not so much as to look tacky. It was a perfect blend and a real highlight for me. Well, I am thrilled to see this texture being used again. Not only that, it's been paired with a stunning degradé color. The blue in the center of the dial nicely darkens as we get towards the perimeter. Degradé dials have been 'en vogue' of late, and I have no problem with that.
…as if it were some kind of bloodcurdling battle cry.
There is one thing with the dial which I don't love, but it's purely subjective; the lume. Now I am definitely not one of those keyboard warriors who love any excuse to jump down a brand's throat for using brown lume, exclaiming "FAUXTINA!" as if it were some kind of bloodcurdling battle cry. I respect this as just a color choice. In the case of the BigEye titanium, though, the blue degradé dial comes across as a more modern take on the vintage pilot's chronograph. I believe that a simple white lume would look better. Again, this is purely subjective, and I'm not saying the brown lume doesn't work; I just think I'd prefer a more modern white lume. Simple as. Do you agree or disagree? Let me know in the comments unless you're going to just shout "fauxtina" at me. Ain't nobody got time for that.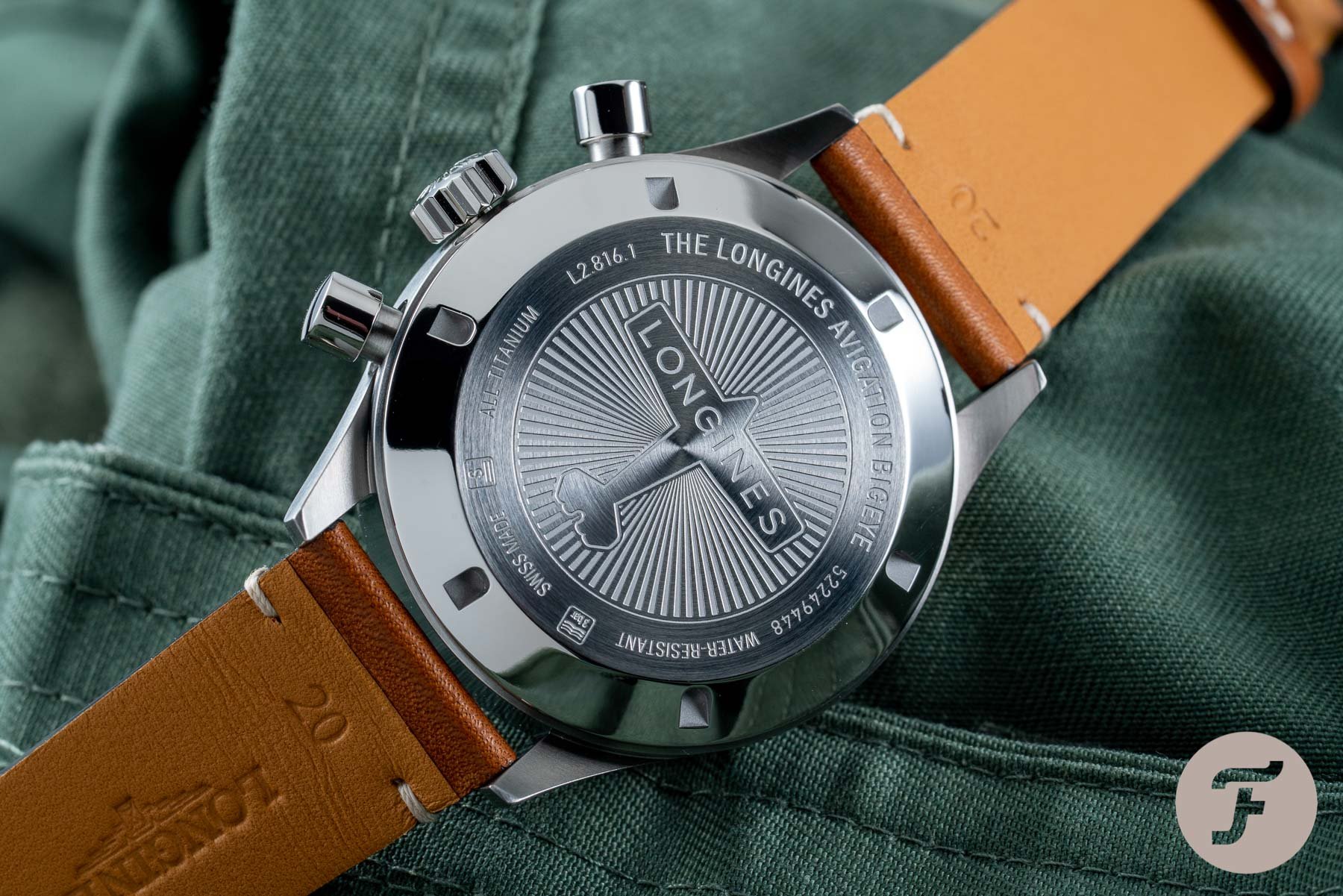 The BigEye's Caliber L688.2
Ticking away on the inside is Longines' automatic L688.2 caliber, based on the ETA A08.L01. It's a heavily modified Valjoux ebauche that incorporates a column wheel for smoother and more accurate operation of those oversized pushers. It has 27 jewels, beats at 28,800vph (4Hz), has a Nivachoc shock protection system, and a 54-hour power reserve. The escapement is also equipped with a silicon balance-spring for enhanced resistance to magnetic fields. Pretty impressive stuff! The one potential downside for some? This movement has a date. Now that's not a bad thing in itself, and I find myself regularly using dates on watches. Nearly all of my watches feature a date complication. The only slight snag with the date in the case of the BigEye becomes clearer. Have you noticed it? Yeah, there's no date window cutout on the BigEye dial.
… I'm paying for a complication I can't use.
This means we have a phantom date change at midnight. Now, in the grand scheme of things, it's not a big deal. The number of times wearers will be up at midnight, wearing the watch, and notice the phantom change will be negligible. But, one wonders if maybe this is a little bit lazy? There's ample space to have included a subtle date window cutout at 6 o'clock. The sub-dial that would be affected by such a decision is the hour counter, so not the most vital. Despite this, I understand the decision — the dial remains cleaner without the cutout. I would still feel like I'm paying for a complication I can't use.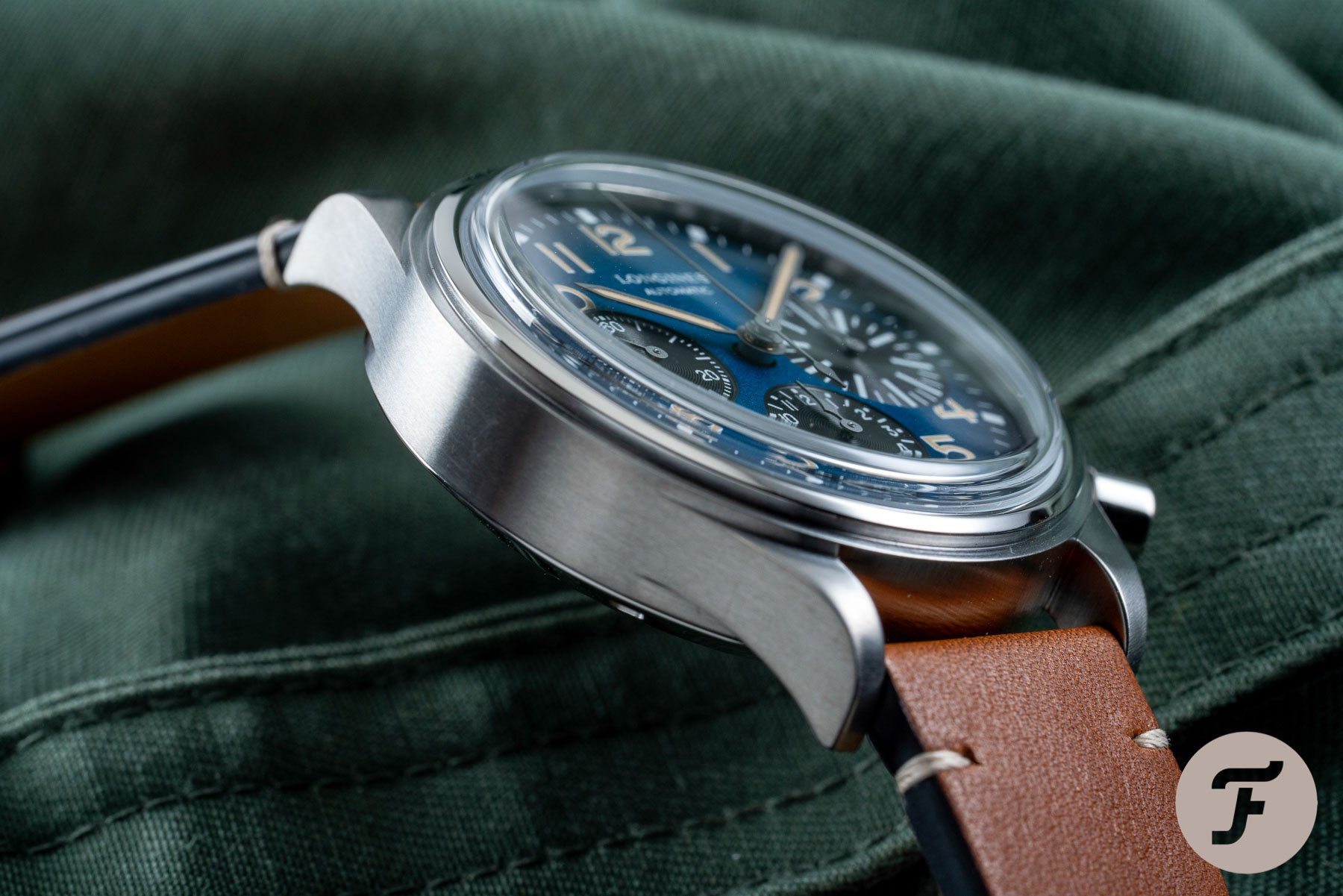 Vintage or modern?
Finishing things up is a natural brown smooth leather strap with a titanium pin buckle. Now, as I previously said, this watch has much of a modern vibe to me, thanks to that gorgeous dial. As such, a vintage style brown leather strap feels wrong. Thankfully the strap is probably one of the least important factors in reality. Most of us swap straps and mix things up even when we love the stock straps that come with the watches. For me, I'd put this one onto a sailcloth strap and maybe try to match the stitching to the blue in the dial. But that's just me…The brown leather strap looks pretty nice for what it is, and, to be fair, it nicely complements the lume too. My complaint is the epitome of #firstworldproblems.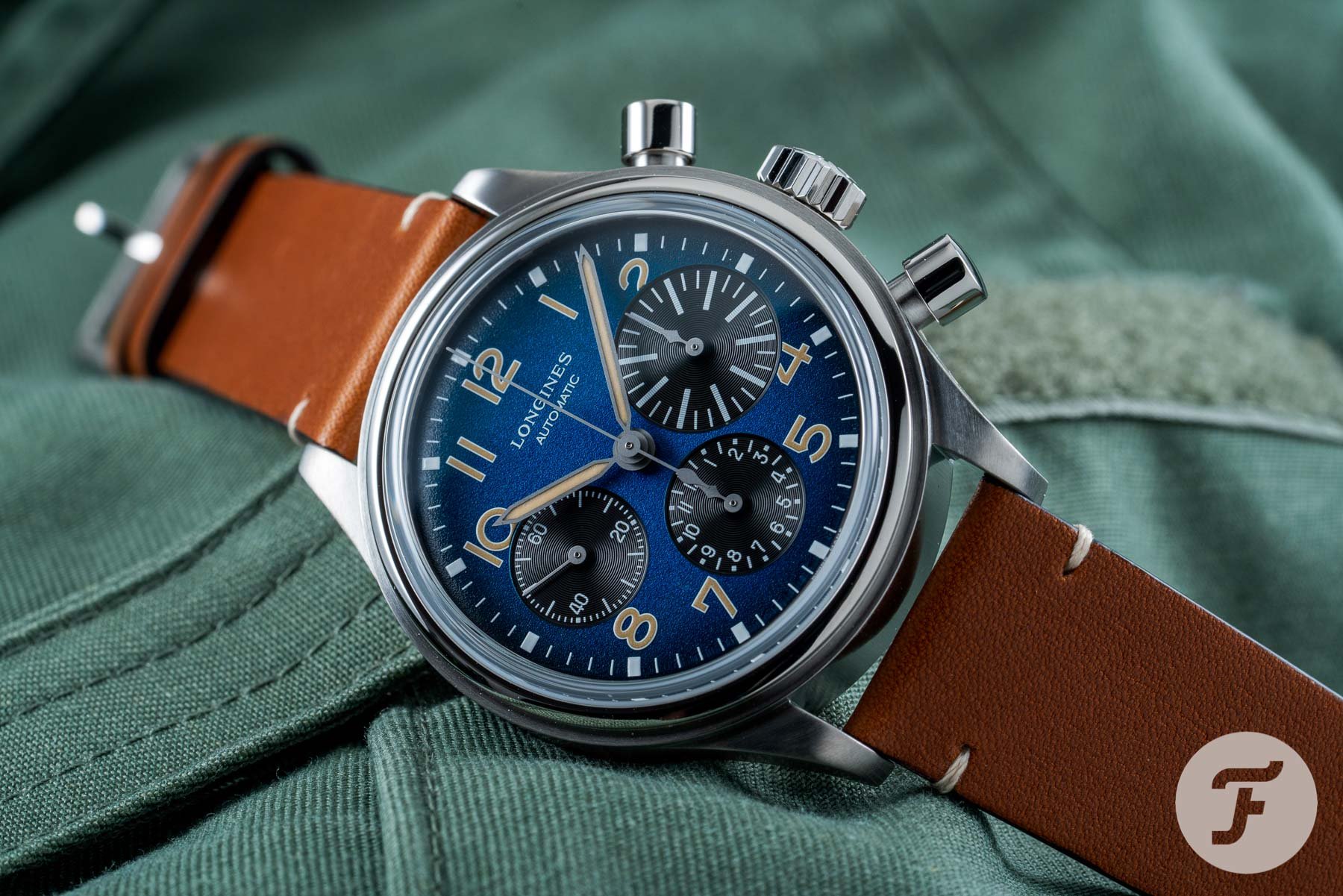 Closing thoughts on the Avigation BigEye titanium
This is a good watch. Longines has taken their already successful Avigation BigEye and added a new twist on it. Is it perfect? Not quite, but that's wholly subjective and a matter of personal taste here. There's nothing inherently wrong, and all design choices clearly have a reason behind them, and I appreciate that. It's that kind of smart design that goes a long way in my eyes. I totally expect this will be a home run for Longines. To date, the reception has been all positive in the circles I run in. Shout out to the RedBar Manchester (@RedBarMCR)1 crew — we discussed this watch this week. Everyone agreed that it was a real looker.
Will I buy this watch? Well, I am not looking to add to my watch collection right now, but when I am, it's one that may well be put into the pot of contention. This is a watch with mysterious and interesting heritage, innately wearable dimensions, and a dial to die for. Winner!
Prices for the Longines Avigation BigEye in titanium start at €3,230, and you can read more on the Longines website.
Watch specifications
Model
Avigation BigEye Titanium
Dial
Blue/black degradé granulated textured dial, with arabic numerals and brown lume
Case Material
Grade 5 titanium
Case Dimensions
41mm x 50mm x 14.5mm
Crystal
Scratch-resistant sapphire crystal, with several layers of anti-reflective coating on the underside
Case Back
Closed screwdown with plane engraving
Strap
Natural brown leather with titanium pin buckle
Functions
Hours, minutes, seconds and triple-register chronograph