Hands-On: The Updated Wolbrook Automatic And Douglas Professional Skindiver Models
Reworked crystals, bezels, and crowns, plus improved water-resistance ratings and shock resistance
It wasn't even four years ago that a passionate team of watchmaking veterans resurrected the watch brand Wolbrook and its sister brand Douglas. Mainly known for their Skindiver models, after 50 years, these brands' tool watches are now once again assembled in France. Wolbrook watches had a reputation for their sturdy construction and good accuracy. They featured moderate prices and rugged reliability, and all movement parts were standard and interchangeable.
This was also true for the resurrected models of 2019, assembled and regulated in France, housing off-the-shelf Japanese Miyota movements. Still, Wolbrook found a few points on which to improve its first new models. This article, first and foremost, is to inform about those updates and improvements. Furthermore, to test it in real life, I wore the new Douglas Skindiver Professional on my last motorbike trip through Spain and will share my experience with that watch.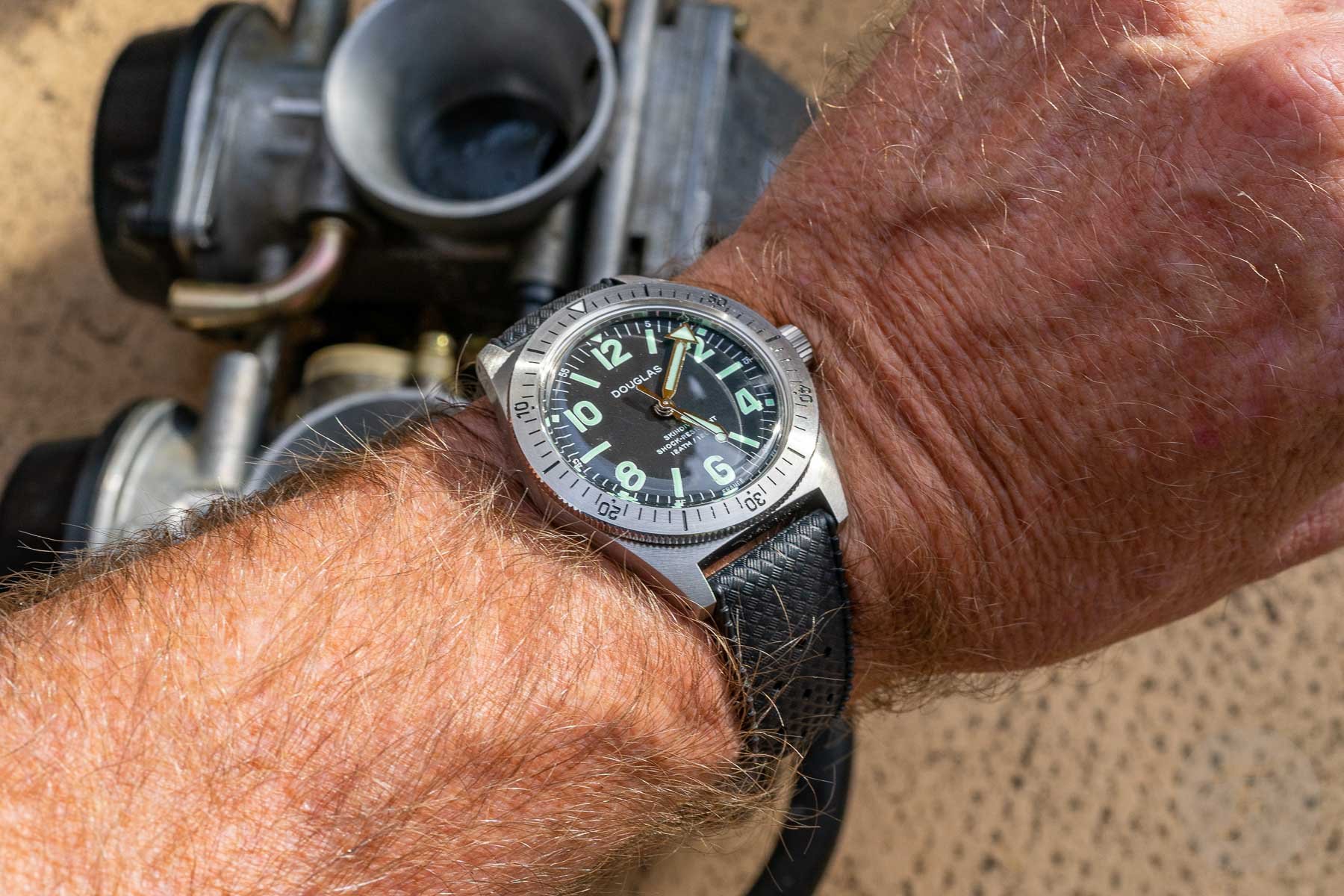 Wolbrook Automatic and Douglas Professional Skindivers
For now, we're looking at the regular Skindiver models, not the famous Worldtimer variations that Balazs wrote about in January 2020. Currently, only the common Skindiver models have received the updates, but I can imagine the Skindiver Worldtimer model will follow.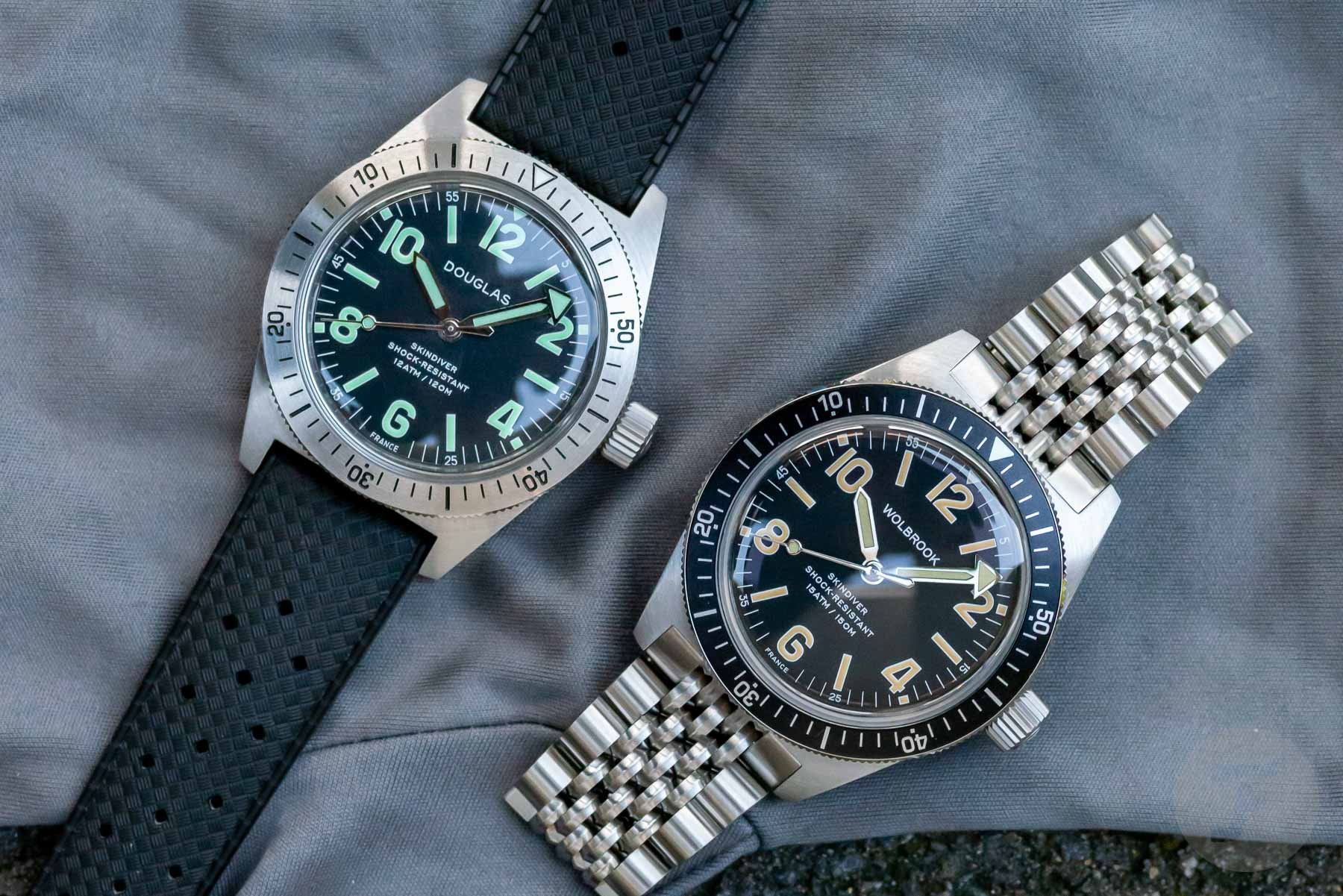 Let me first explain, in short, the differences between the Wolbrook Automatic and Douglas Professional Skindiver models. The watches are very much equal, but there's something that could make all the difference to you — the crystals. All Douglas-signed Skindivers sport a Hesalite crystal and are named Professional. The Wolbrook Automatic Skindiver, on the other hand, sports a box sapphire crystal with an anti-reflective coating on the underside. And as a result, I guess, the Wolbrook is rated 15 ATM / 150 meters, while the Professional Douglas has to settle for 12 ATM / 120 meters.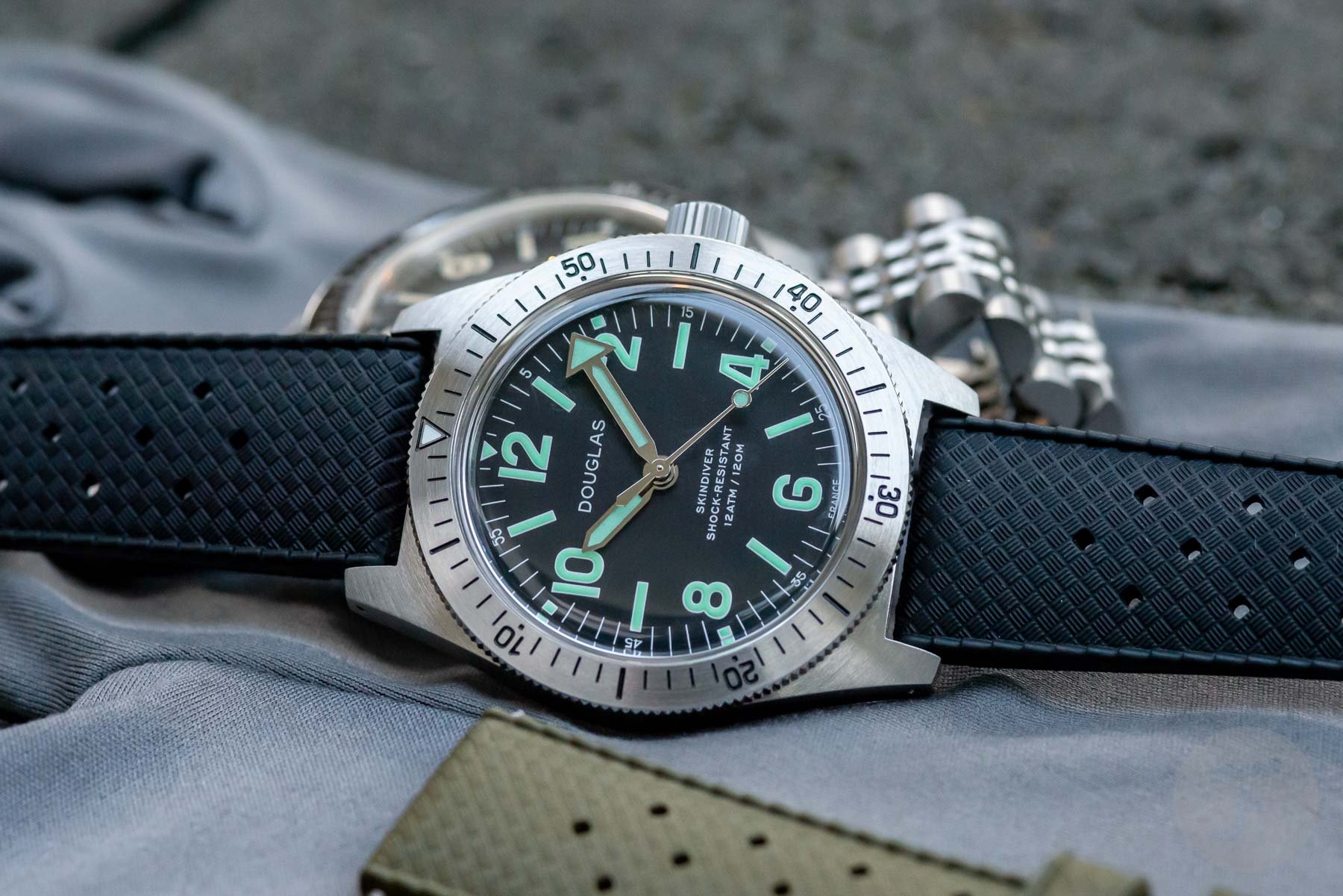 Countdown bezel
What is the first difference you notice comparing the old and new models? Probably the bezel. While, until now, the uni-directional bezels were numbered like any other dive bezel, the reworked bezels have countdown numerals. In the 1960s, the reference 673B was equipped with a countdown bezel, while the 674A had a regular count-up dive bezel. Countdown bezels follow the "plan the dive, dive the plan" ethos, where you want to follow timed steps after timed steps. In that spirit, a countdown bezel makes sense. Additionally, the new bezels sport a BGW9 (blue-ish) Super-LumiNova triangle at 12 o'clock.
Two things here ignited my curiosity. Generally, a count-down bezel — sometimes nicked a pilot's bezel — is bi-directional, while regular divers bezels are uni-directional. The count-down bezel on the new Wolbrook and Douglas Skindivers remains uni-directional, like the former model with a diver's bezel.
Secondly, the lumed triangle has a blueish glow, which is nice. However, the color of the lume triangle or pip differs from the lume on the hands and in the dial. Often, the lume color on the triangle or pip matches that of the minute hand, which it's supposed to work with.
I must admit that both the uni-directional countdown bezel and the absence of a matching lume color have not bothered me in any way during my two-week hands-on experience. So let's not make it seem any more important than it is and just leave my nit-picky observations behind us. On with what has been updated on these Skindivers.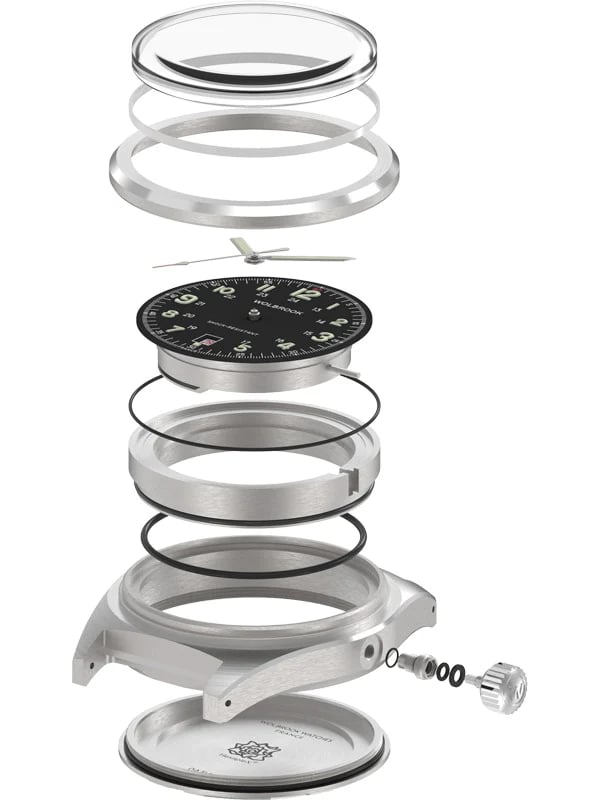 HexapleX
Googling the word "hexaplex", you'll find a medium-to-large sea snail of the family Muricidae. But, of course, that's not what I'm writing about here. In 2020, designers and engineers were working on a new case architecture that would provide additional protection to a watch movement. A year of R&D later, the result was embodied in HexapleX®. Wolbrook, obviously, registered the name to indicate the enhanced shock-resistant construction.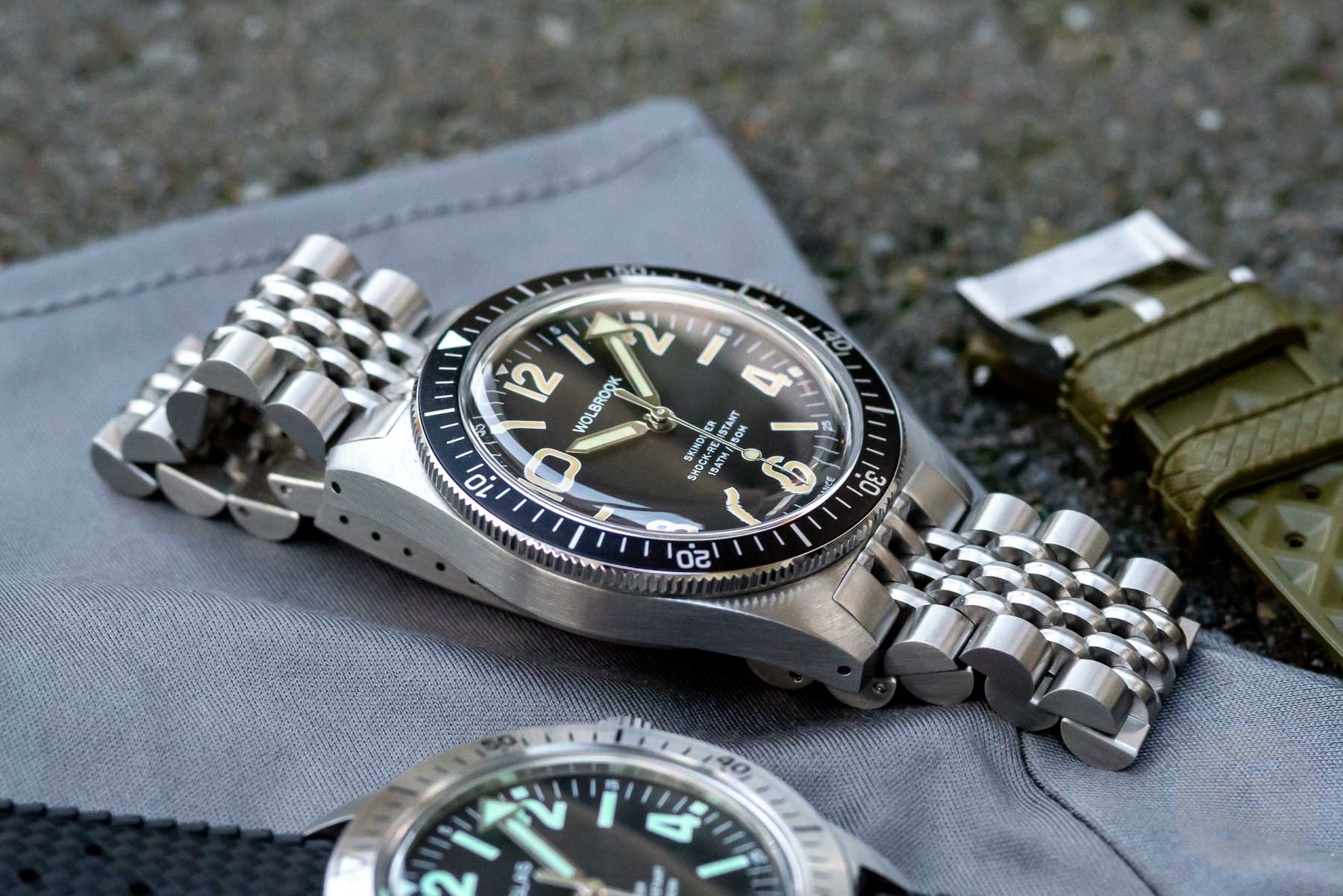 Though less visible than the countdown bezel, the new Skindivers are now equipped with the HexapleX case architecture. It delivers enhanced shock resistance via 3D rubber shock absorbers strategically placed in the movement holder's front, back, and side. The movement is in a floating configuration and effectively shielded from both large and small impacts to the watch case. The new Skindivers, equipped with this case construction, are the most impact-resistant and accurate timepieces Wolbrook has ever manufactured. Watches sporting the HexapleX architecture are marked with a laser-engraved seashell logo on the back of the top-right lug and the inside of the case back.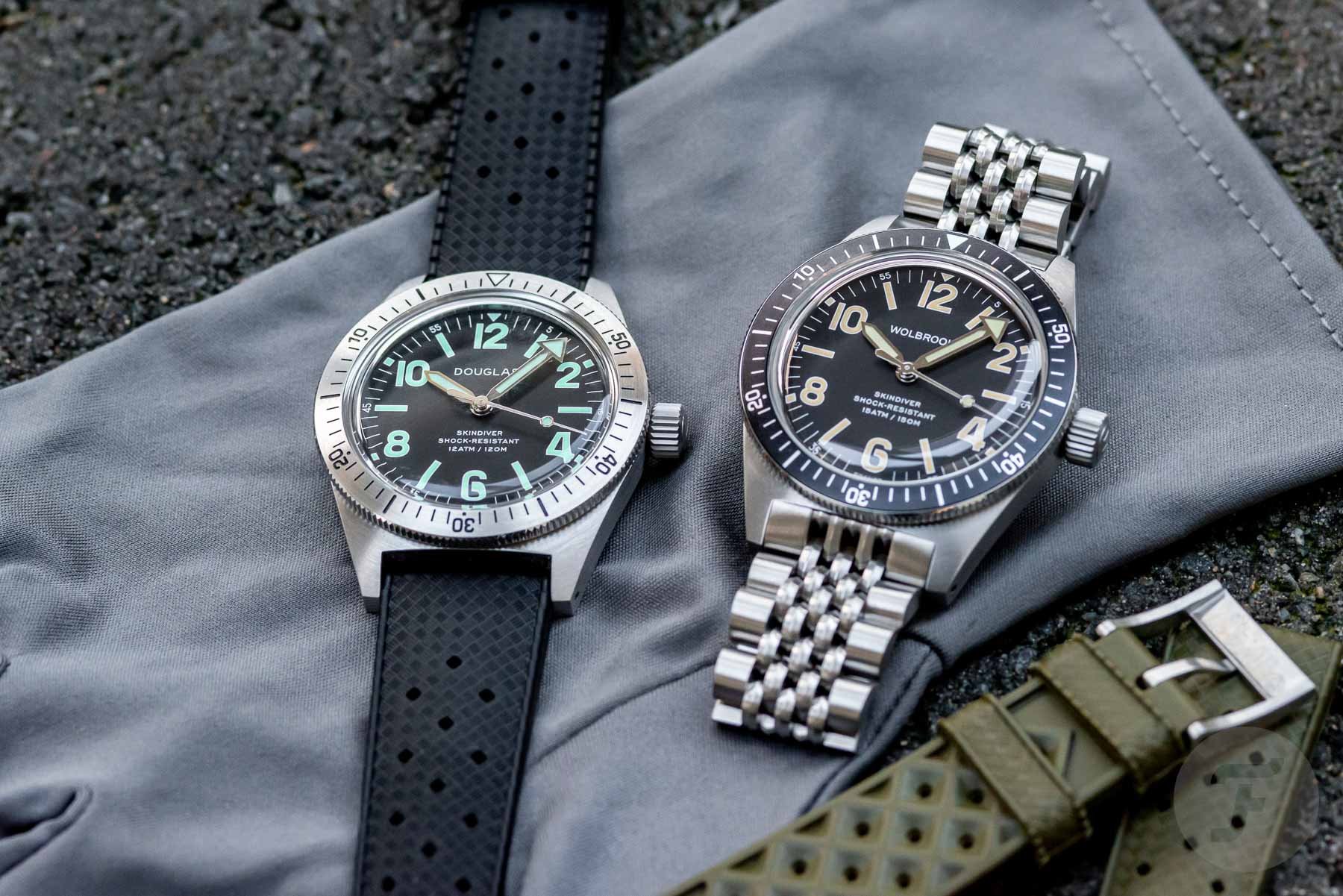 Enhanced water resistance
The water resistance of both models has also been improved. Formerly 10 ATM / 100 meters, the pressure rating has now gone up to 12 ATM for the Professional model and even 15 ATM for the regular automatic. One might think that this still isn't excessive for a diver's watch, but the truth is that — and Wolbrook exuberantly reminds us of it — ISO 6425 standard for diver's watches only requires a rating of 10 ATM. Of course, the ISO standard requires many other things than just 100 meters of water resistance, and we have no information about if the Wolbrook and Douglas Skindiver's comply entirely. But, to be honest, upon first inspection, I don't see a reason to think that they would not.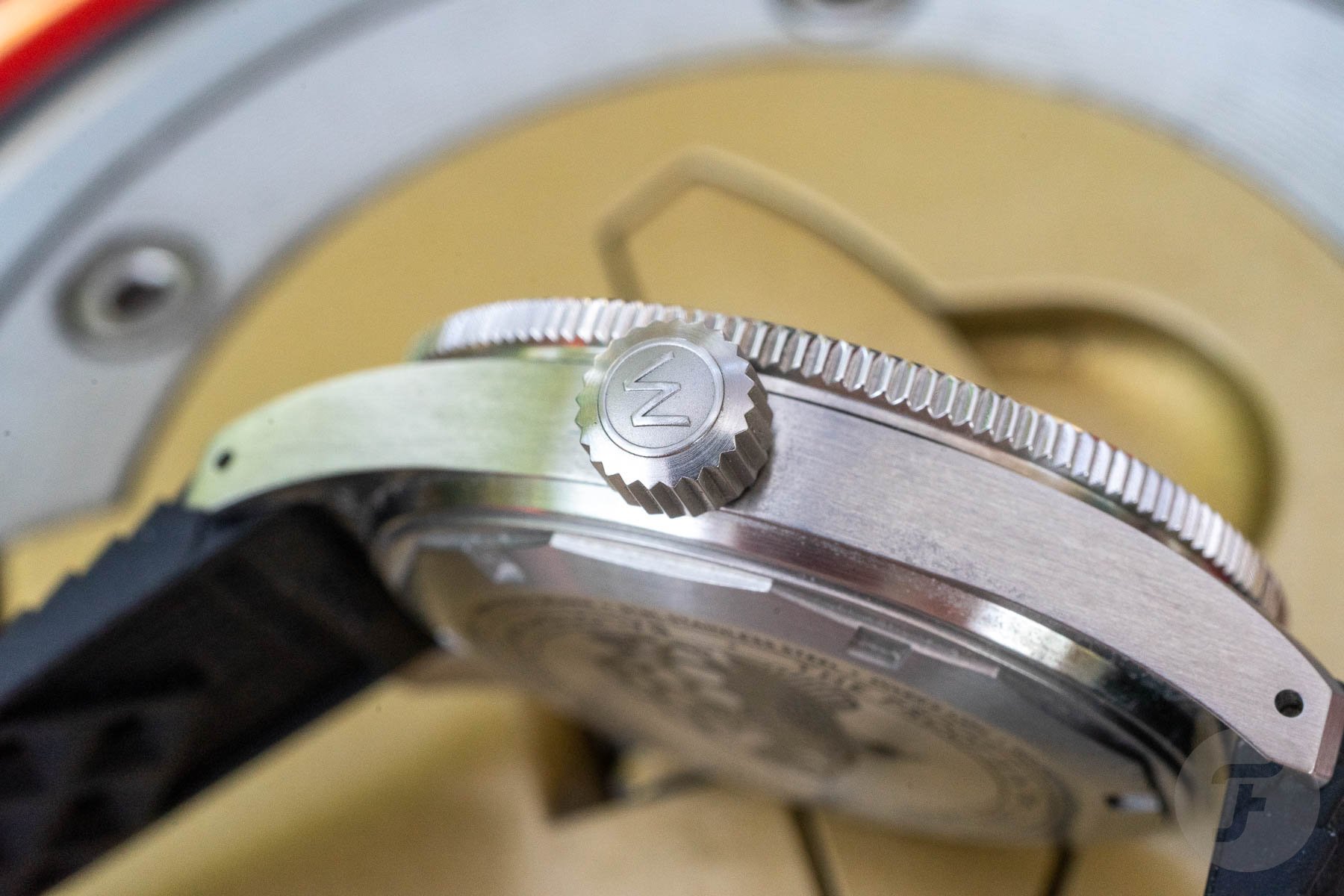 Dial and general appearance
The dial opening is now slightly smaller to allow for a more compact visual feeling, and the case and bezel profile have been slightly reworked. Furthermore, to match the historical Skindiver ref. 673B from the 1960s, the font of the numerals at 10, 8, and 4 o'clock markers has been changed accordingly. The screw-down crown is now a bit bigger, having grown from 6 to 6.7mm. The Wolbrook and Douglas models show an encircled embossed W on them.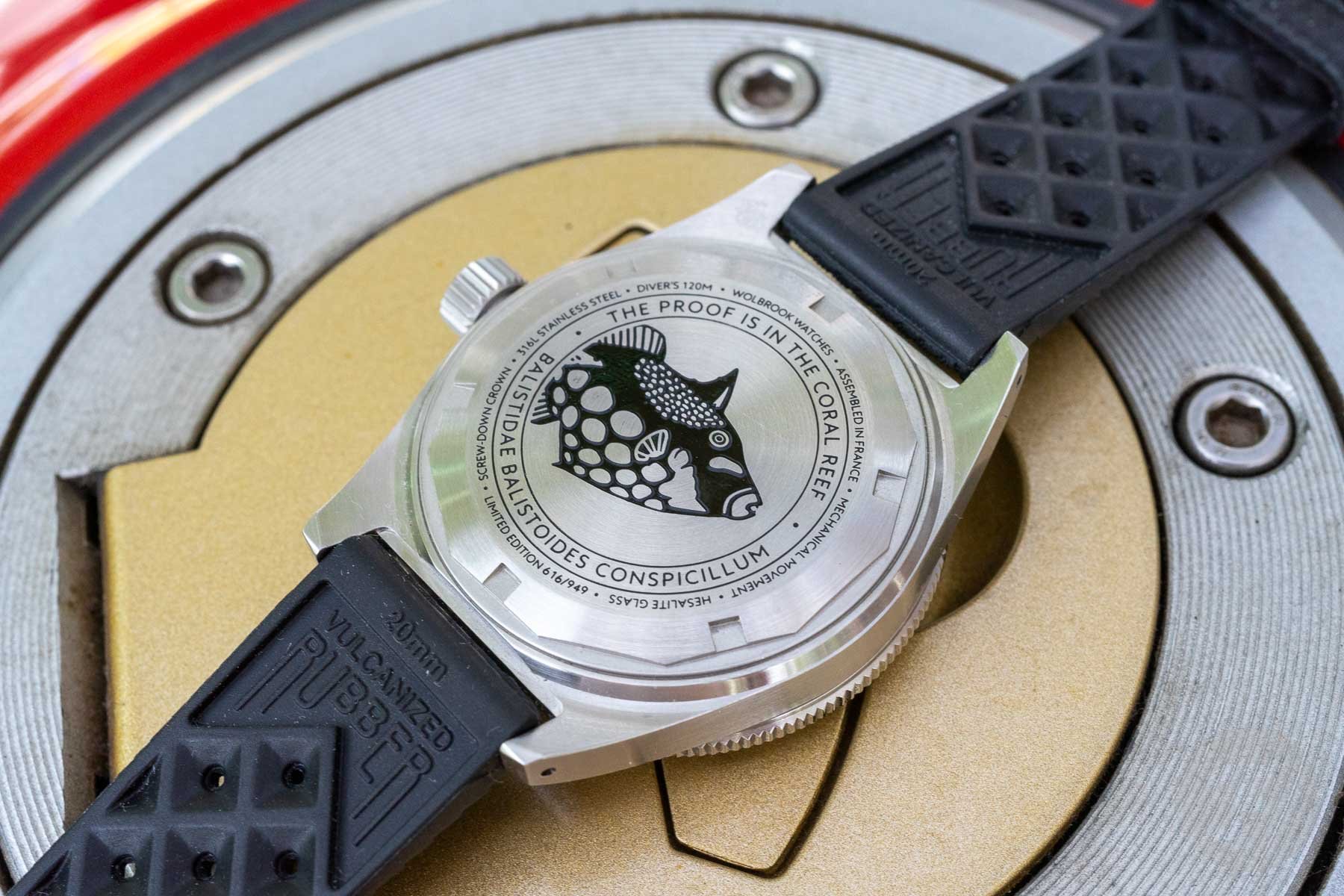 Both the Skindiver Automatic and Professional feature a secure screw-down case back. The first 949 pieces — a tribute to Wolbrook Watches establishment in 1949 — come with a limited-edition case back. These case backs each bear individual numbers and feature a deep engraving with enamel of the proverbial motto "The proof is in the coral reef" and a clown triggerfish.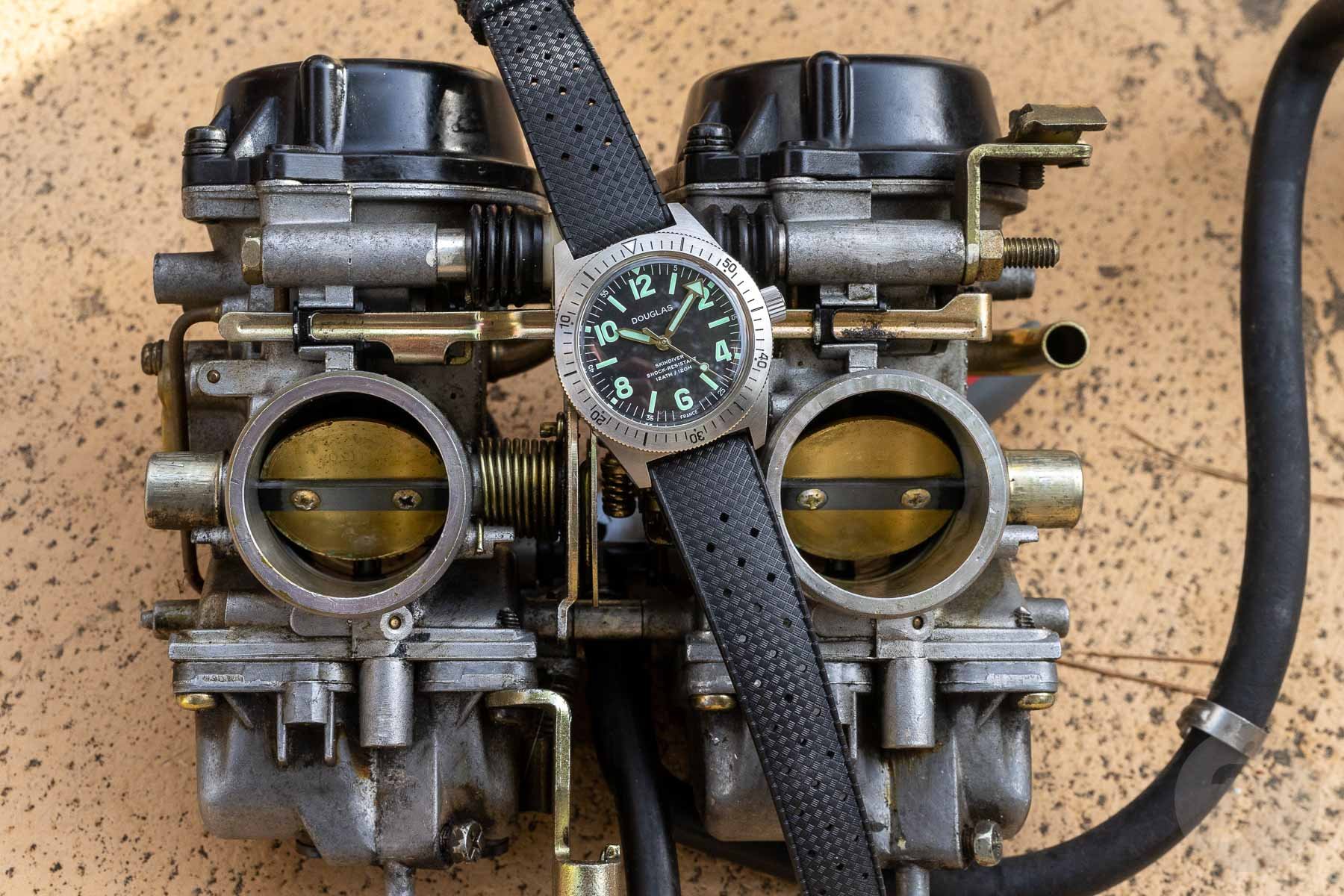 Movement and straps
There are no changes to report in the movement department. It is good to know, however, that the Miyota 8315 has no date disc (the date position of the crown still exists, though) and is adjusted in France to an accuracy of ±15 seconds per day. The 21,600vph, 21-jewel, automatic caliber is manually windable and sports a hacking seconds hand. What also hasn't changed are the excellent Tropic-style rubber straps that Wolbrook supplies. A steel beads-of-rice bracelet is also available. Although I'm a great fan of this type of bracelet, finish-wise, the one that Wolbrook uses doesn't fit the watch as excellently as the rubber straps. But this might be just a personal hangup.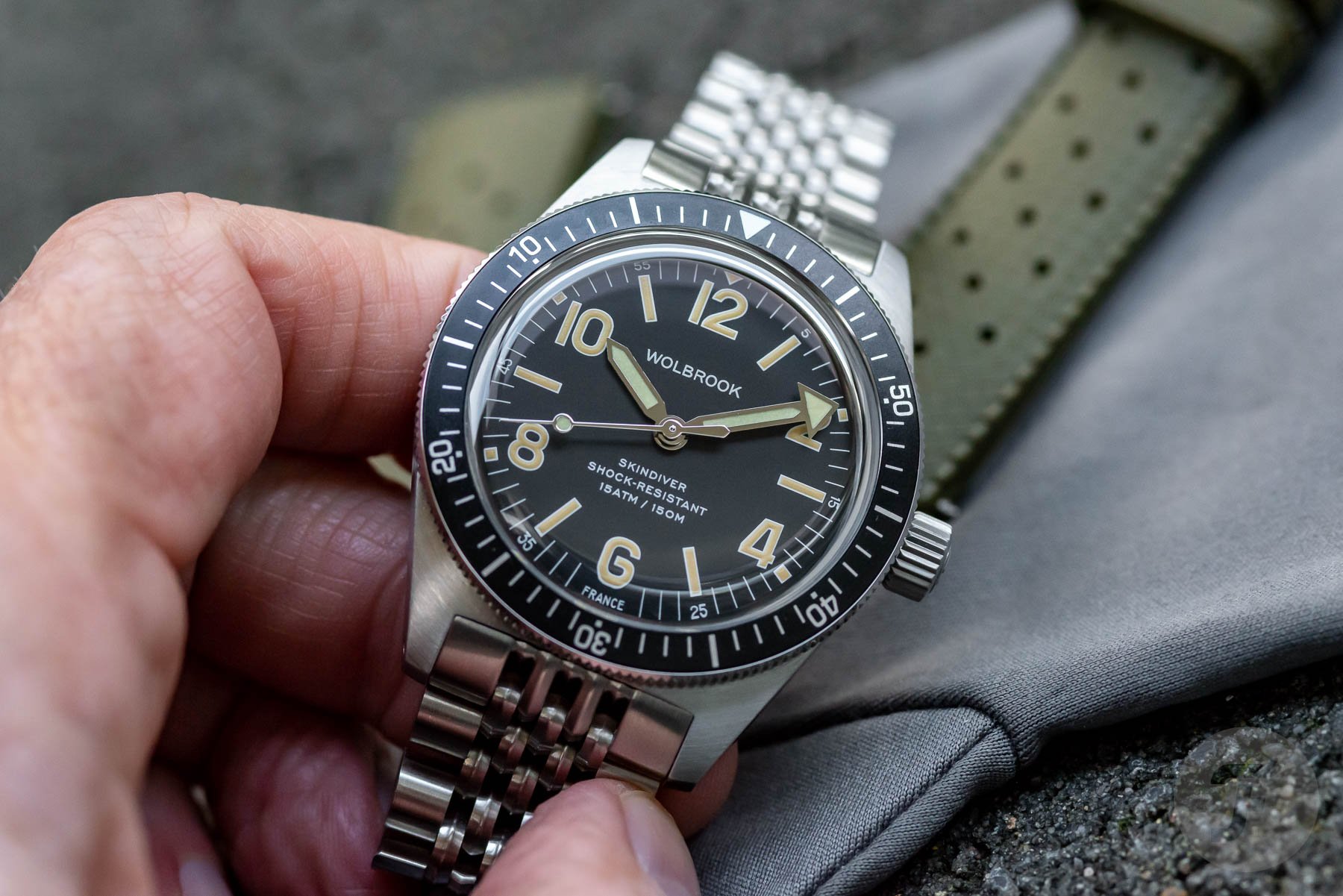 Conclusion
Wolbrook definitely enhanced the Skindiver Automatic and Professional models. They are now even more attractive watches that have more-than-adequate specifications. It's hard to believe that they're available for less than €400. I'm sure many people will prefer the Wolbrook Skindiver Automatic models with their box sapphire crystal and inner anti-reflective treatment. I, however, prefer the Hesalite Douglas Skindiver Professional, which was reworked for better visibility at different angles, by the way. And of course, it's not the only €20 difference in price that makes me choose the Hesalite. I just think it suits the vintage appearance of the watch better.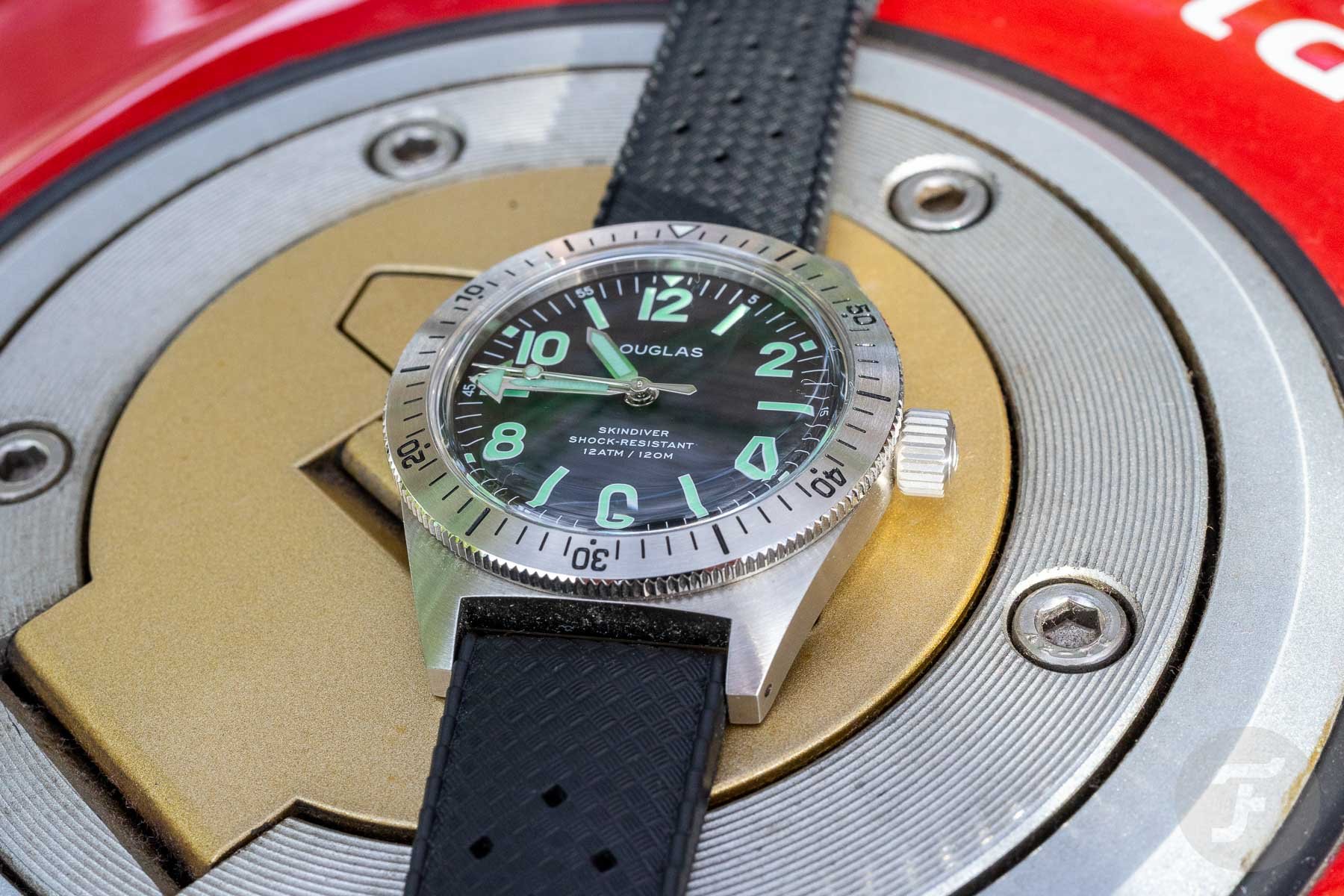 On my motorcycle trip, I enjoyed the watch very much. For me, it could have been one or two millimeters smaller in diameter, but that, of course, is just a personal preference and is related to my 17.5cm wrist. And I must admit, it seems that the HexapleX construction is pretty adequate to eliminate the effects of impacts on the watch case. After many kilometers on my Ducati, the watch remained very accurate.
Watch specifications
Model
Skindiver Automatic and Douglas Skindiver Professional
Reference
22-SA-001-BOR-STL-LE1 and 22-SP-001-RB1-BLK-LE1
Case Material
Brushed 316L stainless steel
Case Dimensions
40mm diameter × 48mm lug-to-lug × 13.5mm thickness
Crystal
Hesalite (Douglas Professional) / Box sapphire (Wolbrook Automatic)
Case Back
Dodecagon-shaped screw-down case back with a clown triggerfish. Individually numbered to 949 pieces.
Movement
Automatic Miyota 8315 — 21,600vph, 21 jewels, hand winding possibility, hacking seconds. Adjusted to +/- 15s/day in France.
Water Resistance
120 – 150 meters
Strap
20mm width, Tropic-style rubber strap or stainless steel beads-of-rice bracelet
Functions
Hours, minutes, seconds
Price
€379 – €449 including EU tax