Hands-On: Putting The New Tudor Pelagos FXD Through Its Paces On Florida's Emerald Coast
And a look at the US Navy heritage inspiring the brand's latest model
On the surface, this new Tudor Pelagos FXD model may appear to simply offer a new colorway. But as any diver worth their salt knows, it's what's below the surface that's truly worth seeing. To highlight the deeper significance of this launch, Tudor flew a select group of journalists out to Panama City Beach, Florida. That's far from Fratello's home in The Hague and Tudor's Le Locle HQ. But this coastal outpost on the edge of the Gulf of Mexico is a special location as it hosts the Naval Support Activity Panama City (NSA PC). Here, you can find the US Navy Experimental Diving Unit, the US Naval Diving & Salvage Training Center, not to mention the nearby Tyndall Air Force Base. These institutions' presence should come as no surprise. Looking out from the hotel balcony, the only things visible when looking south were water and sky.
This slice of white sandy coastline is rich in the history that Tudor looks to pay honor with this release. A hub highlighting this heritage is the Man In The Sea Museum, which was the location selected for the unveiling. After walking through the Sealab I habitat found in its parking lot, we were ushered out of the thickly muggy Florida air into its relievingly air-conditioned depths. Even in the dim light, we could immediately make out countless artifacts from military, scientific, and recreational diving history. In the middle of the room, we gathered around a table for a brief introduction co-hosted by Cole Pennington from Tudor and Bill Jebb, a retired commanding officer of the USN Underwater Demolition Teams in the late '60s. After some of Mr. Jebb's incredibly interesting stories, a short movie played, and the new Tudor Pelagos FXD was unveiled.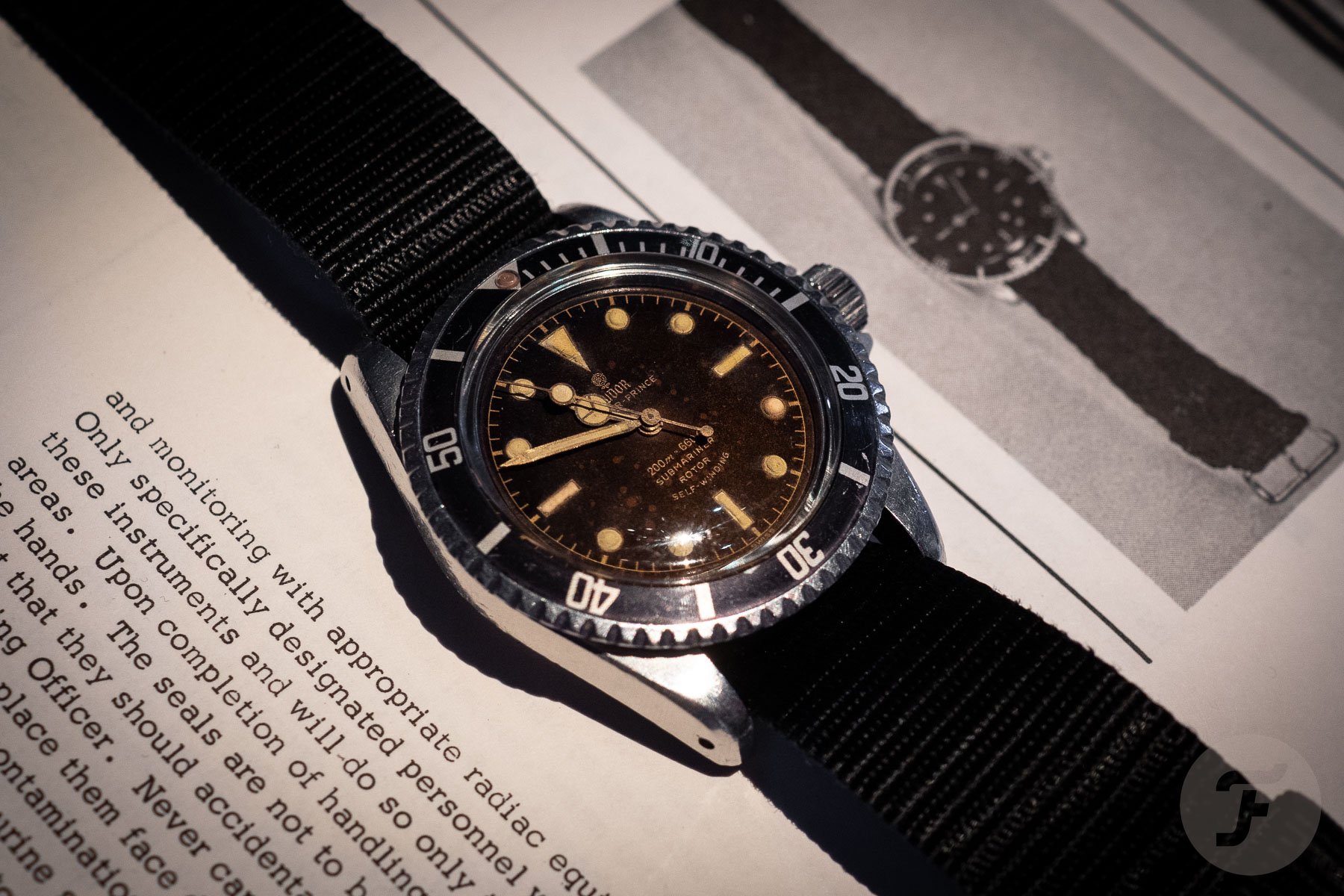 Mil-spec heritage
Here at Fratello, we've certainly discussed Tudor's military heritage but perhaps no further than at the surface level. Few sources have done the digging required to accurately highlight the fruitful relationship between Tudor and many of the world's military forces, including the Marine Nationale and United States Navy. None have done a better job at doing so than Watches of Espionage. For a more in-depth look at the topic, I'd highly recommend you check out his article on Tudors of Espionage. I'll keep this section brief and quickly move on to my experience with and feelings about the watch itself. In essence, Tudor's collaboration with the US Navy dates back to the mid/late '50s. It was in 1958 that the USN began officially issuing Tudor wristwatches. Due to a lack of engravings and other demarcations found on other military watches, these are tricky to positively identify.
Today, Tudor continues to contribute watches to select military outfits. As you might expect, the brand does so rather stealthily, without publicly communicating about the creation of these watches. In fact, as Watches of Espionage explains in his article, the new FXD is not so much a new watch as it is new to civilian adaptation and availability. The watch was designed in direct collaboration with the US Navy's SEAL Team Six. The version released last week was adapted from the two-line military-spec model (also available in an LHD configuration). A similar philosophy was followed with the MN-inspired FXD, with issued watches featuring engraved case backs and slightly different dials. For me, the highlight of SEAL Team Six's input is the "unidirectionalization" of the 60-click bezel. That said, the forest-green and red colorway of the textile strap comes in a close second.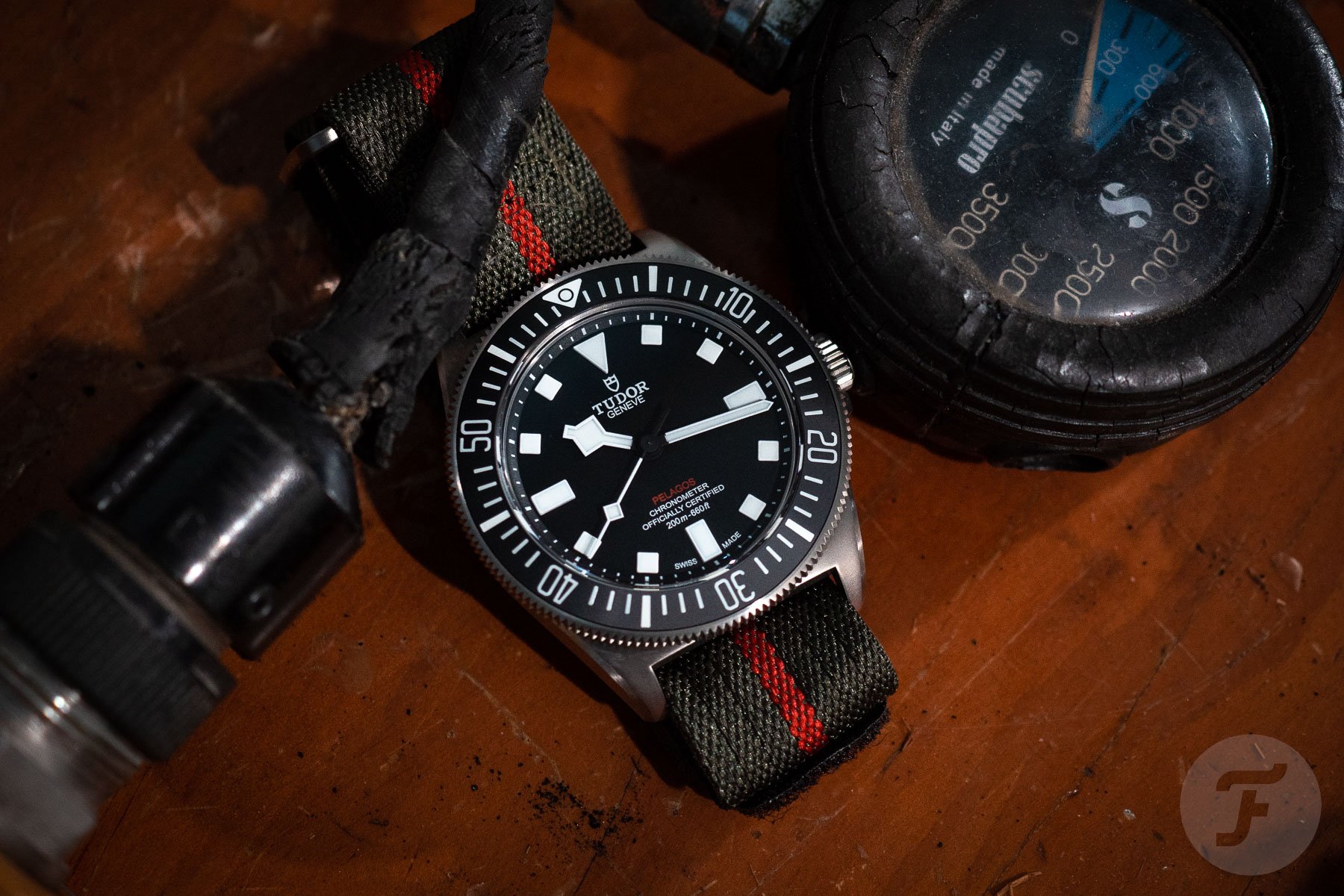 The Tudor Pelagos FXD "USN"
In writing, this latest Pelagos looks to the 1960s Tudor Sub reference 7016 for inspiration. However, the modern Pelagos FXD's features more broadly inform its design. We may not live to see a factory-fresh Tudor bear the name "Submariner," but for all intents and purposes, the Pelagos and Black Bay families scratch the itch under different nomenclature. To those of us who enjoy, appreciate, and admire this side of horology, the sight of a MilSub-inspired Pelagos FXD was far more than just a new colorway. In the end, it's not about sword or snowflake hands, broad arrows, Olongapo bracelets, NATO straps, or special engravings. It's about the people who wore these watches, what they did, and how their actions shaped the modern world and continue to do so today.
This compelling aspect of specific brands' and watches' history appeals to many collectors out there. It's also an aspect that should not be treated as a gimmick. Tudor certainly did not but, rather, handled it in the respectful fashion that you'd expect with the new Pelagos FXD. Besides a re-engineered bezel and new colorway for the watch and accessories, the Pelagos FXD sticks to its original formula. And it's no wonder why since it's one that's hard to fault. Inside the fully brushed 42mm case, you'll find the robust, reliable, chronometer-certified Tudor caliber MT5602. The watch has a water resistance rating of 200m, and its newly formulated bezel complies with the ISO standard 6425:2018.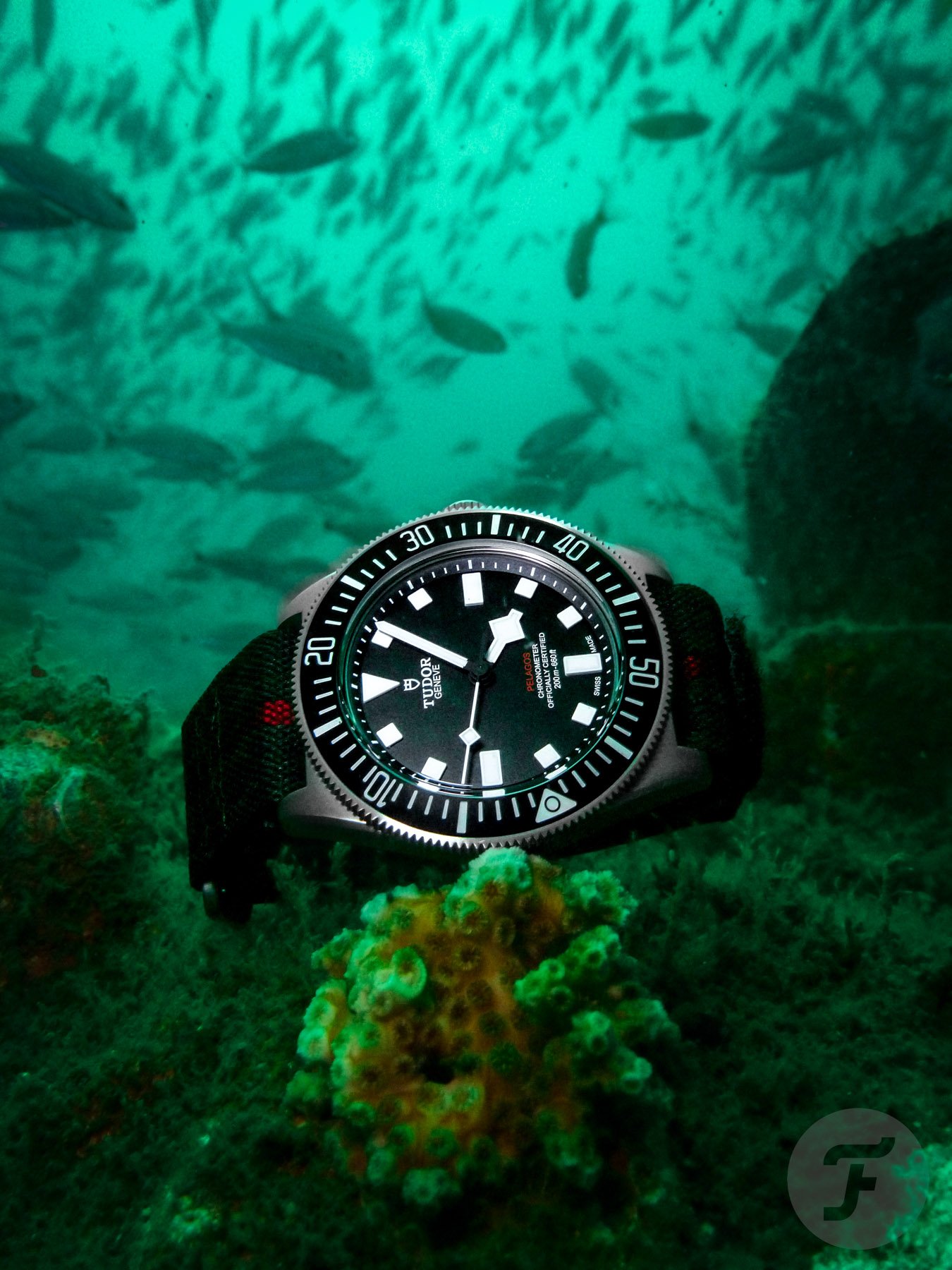 The diver's test
After taking the opportunity to educate us all during the launch, Tudor "issued" each of us a watch and shuttled us off to a local dive shop called Diver's Den. There, 15 of us happily signed our lives away before being kitted out and put on a boat. Though the Navy SEALs have already been testing these watches for about a year, it was still a fantastic feeling to test them mere minutes after the official launch. After a short briefing, we buddied up and jumped into the emerald-green waters that give this coast its name. Dodging jellies on the way down 20 meters of rope, we made it to the corner of the JEFF-A LCAC/hovercraft. Sunk in 1995 to serve as an artificial reef, the large chunk of aluminum remains reasonably intact, still shimmering silver without too much evidence of decay (for almost three decades in salt water).
An overwhelming bait ball of fish swarmed around it, shifting in all directions, twitching as a symbiotic unit when one of the larger predatory fish would attempt to pick one off from the bunch. Now and then, a shadow emerged from the mass. In sharky waters, that can be an unnerving prospect. Each time, a diver would appear, with the largest smile one can produce with a regulator in their mouth. On the wrist of each of them was a trusty Tudor Pelagos FXD. Diving down to a military wreck in the same waters where the USN divers trained, timing the dive on the unidirectional bezel of the new FXD seemed like the best way to appreciate and pay tribute to the heritage that went into this watch.
First and second impressions
Trying to look through the fog, I still couldn't help but form quite a positive impression of the watch. To me, two elements firmly place it as my favorite FXD model released so far. The first is the new unidirectional bezel. The subaquatic navigation aspect of the first FXD's bidirectional countdown bezel tells a great story. It also has the credibility of having been a request of the French Navy. But from a purely functional perspective, I couldn't wrap my head around it. I also prefer the black and white colorway with a subtle hint of red on the Pelagos name. Finally, let's talk Velcro. The new strap, with a red stripe on a forest-green backdrop, is also lovely. The watch wears as well as you'd expect. Its relatively slim 12.75mm case sits nicely on the thin textile strap, which can be adjusted for a precise and comfortable fit. Thanks to the hook-and-loop material, adjustment is limitless.
These are just personal preferences, but they genuinely take this new Tudor Pelagos FXD into the concise list of watches I'd seriously consider spending my money on.
The watch is accurate, legible, well finished, and has a history to it without outwardly expressing it. This point is one that some have complained about, but I can only see it as a positive thing. Inspiration can be expressed in a broader overall design and storytelling. I don't need an engraving to tell me this is a USN watch (because this watch isn't one). It will be one for the person who buys and wears it. The unmarked case back and lack of logos leave the watch a blank canvas onto which its owner to paint their story. Thankfully, I didn't scratch the one I was entrusted to borrow. Sadly, though, I had to place it back into its box after jumping off the boat. I'll save the scratches and the stories they tell for one I can call my own.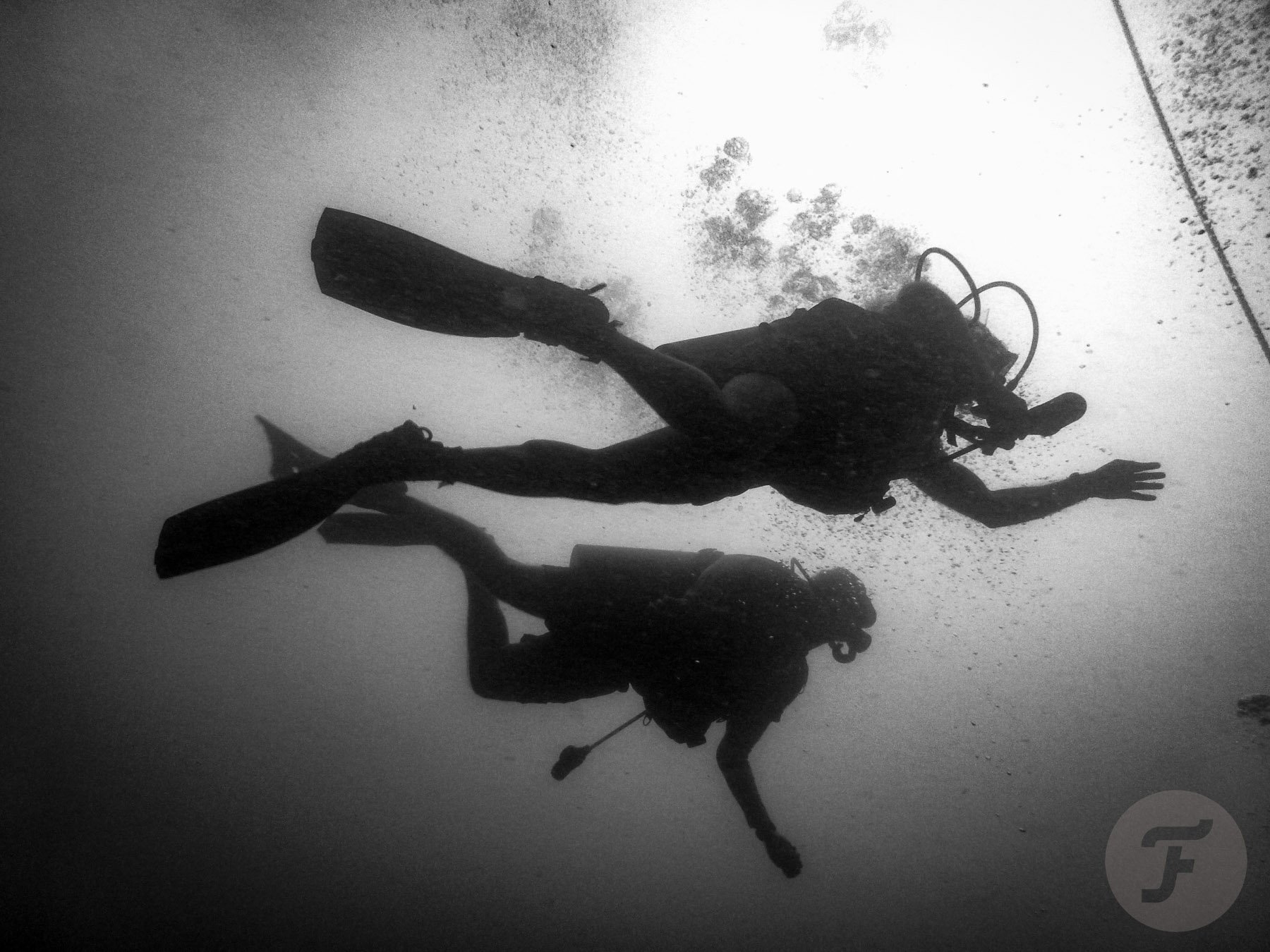 Final thoughts
Many brands' reissues or heritage-influenced watches often fall somewhat short of being truly exciting. Tudor, however, has managed to create a formula for leveraging its past into new designs that are equally attractive to standard consumers as they are to seasoned enthusiasts. I struggle to name more than a handful of brands truly nailing this, and I fail to think of a single brand that does it better than Tudor. Newly created product families like the FXD masterfully distill brand DNA and manage to create a solid platform for hosting both heritage-inspired models as well as unabashedly modern takes (in colors, collaborators, and materials) on the very same model, such as the Pelagos FXD Alinghi Redbull Racing.
The versatility achieved is seriously impressive. Furthermore, the respect paid and taste shown in highlighting the associated history that inspires said products is impeccable. The watch we see here is a perfect example of this. It's something that Tudor and the brains behind its designs and marketing don't get nearly enough credit for. But I don't think this will be the case for long. All of this, and it still feels like there are many more aces up the brand's sleeve. As I said to someone on the day the new Pelagos FXD USN launched, I think it's a slow burner. Sure, when compared to what people might have dreamed up to expect, it may not have been received as the most exciting launch. However, I can't help but feel that this watch — in many ways, mirroring the brand's current state — has a hell of a lot going for it.
Watch specifications
Dial
Black with matte finish, applied indices with Super-LumiNova X1
Case Material
Titanium, stainless steel case back, ceramic bezel insert with Super-LumiNova X1
Case Dimensions
42mm (diameter) × 52mm (lug-to-lug) × 12.75m (thickness)
Case Back
Stainless steel, screw-in
Movement
Tudor MT5602 — automatic winding, 28,800vph frequency, 70-hour power reserve, COSC-certified chronometer, silicon hairspring
Strap
Green/red fabric and black rubber one-piece straps (22mm width)
Functions
Time (hours, minutes, central seconds), unidirectional 60-minute dive bezel (60 clicks)