Hands-On With The Omega Ladymatic Watch
The most underestimated ladies' watch made by Omega
A new addition to my collection is Omega Ladymatic. But this model is not the first time I've encountered the range, of course. I wore the yellow gold version on my wrist during the photoshoot for Omega Ladies Club in New York. I'll admit, it wasn't love at first sight…
I never thought that such a wild and unconventional design could be for me. However, I found myself dreaming of a statement-making timepiece more than ever before. Why? There is an uncompromising sensuality to the design of the Ladymatic that I couldn't forget. In steel, more so than in gold, the strength and sensuality of the piece are apparent.
Why don't more people feel this way about the Omega Ladymatic?
All I wanted was a sexy and feminine timepiece with a mechanical movement. After I made my mind up, just one question has lingered: Why don't more people feel this way about the Omega Ladymatic? Is this beauty possibly Omega's most underestimated ladies watch?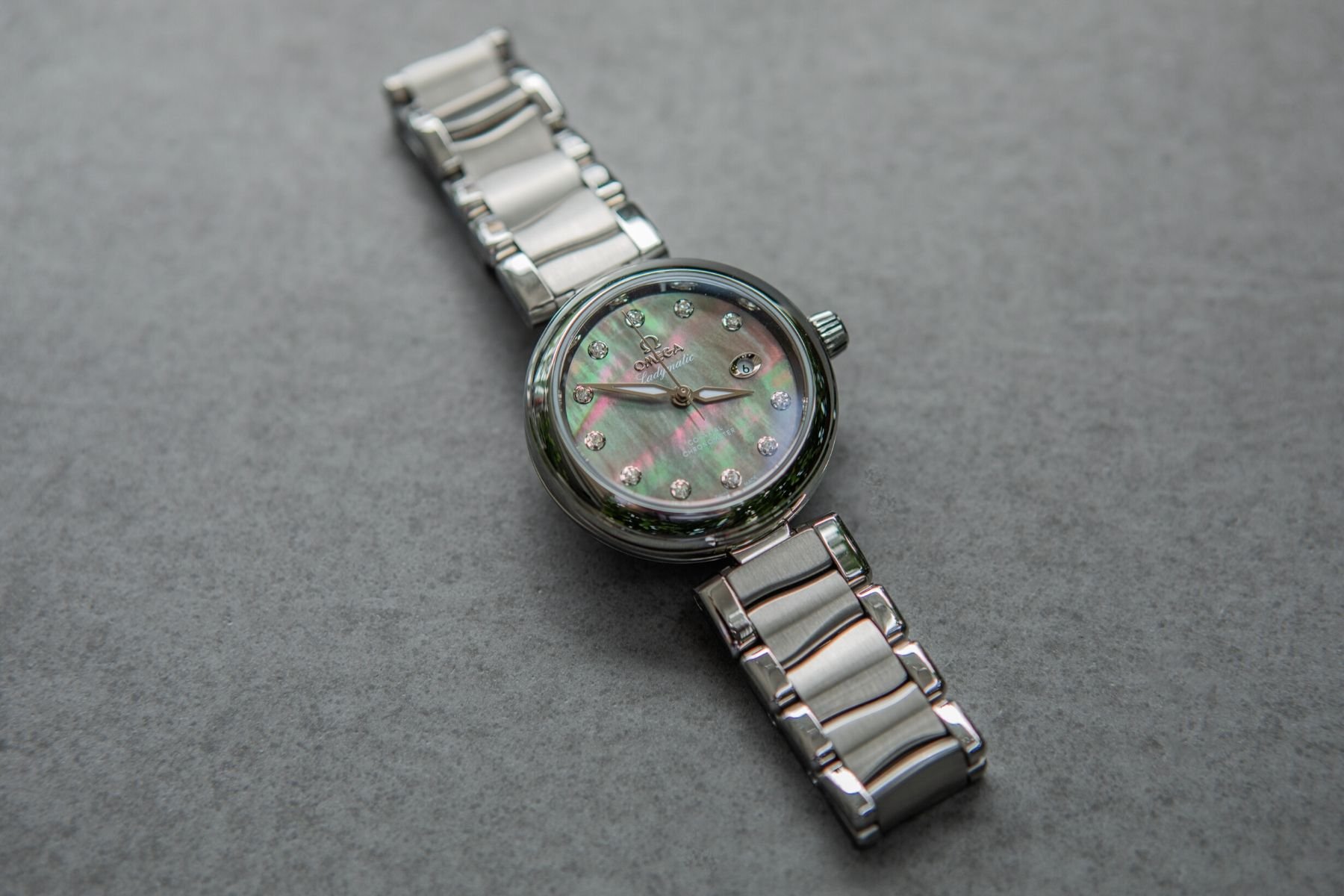 A modern take on the Omega Ladymatic
Back in 1953, Omega made a rotor-equipped movement the centerpiece of its ladies' models. Caliber 455 was designed especially for women's timepieces. Two years following its debut, it was fitted into the very first Ladymatic. Always ahead of its time, Omega came up with an exceptional campaign to communicate the new creation. 
Omega went against the grain…
In the 1950s, sexism was rife in advertising. That was no less true for luxury brands (it was perhaps even more prevalent). Omega blew women's minds by paying close attention to key aspects women were attracted to — complications. This emerged at a time that most players were portraying women as unambitious marriage-hunters. Omega went against the grain, marketing its new product to the conscious, empowered woman. That kind of foresight has a tendency to echo down the ages.
Almost six decades later, in 2010 the Swiss brand introduced a modern take on Ladymatic. Nevertheless, the new design is just a tribute to its predecessor. In my view it visually resembled the vintage timepiece in terms of its determined femininity, and its mechanical movement.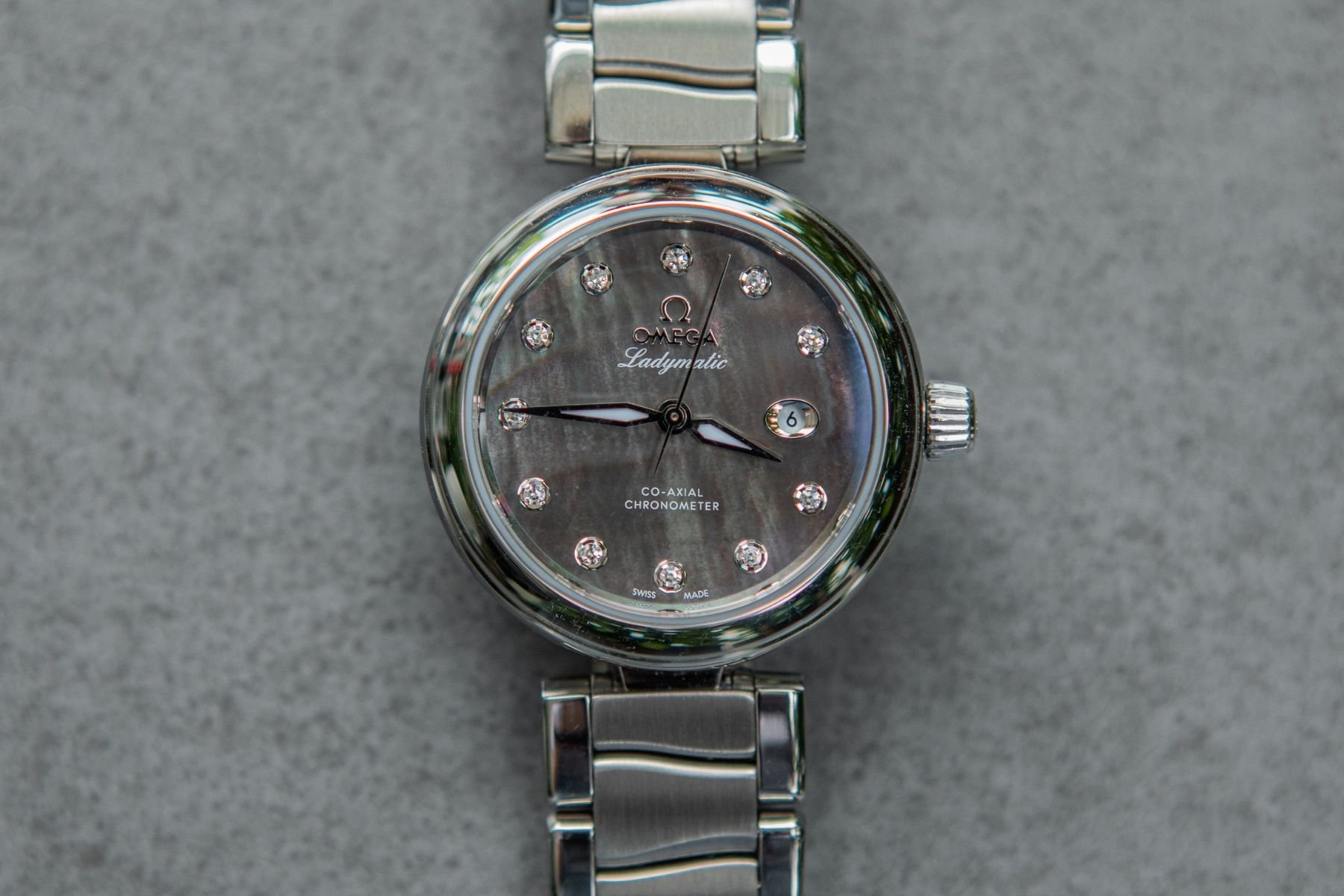 Time to shine
What strikes me most in my Ladymatic is its delightful vintage-inspired nod to modernity. The classic design blooms with its intricate Tahiti mother-of-pearl dial, with diamonds and alpha-shaped hands. And that's certainly something which brings to the fore the temperament of the watch, giving it unexpected detail and dimension. Moreover, my beloved dial is transforming itself into unique color combinations at certain angles, or in different lights. From ashy during cloudy days to metallic pastel pink and green during the magic hour.
I love it so much!
This diamond-set Tahiti MOP dial absolutely takes center stage here. I love it so much! The only thing I would change? The tiny date window at 3 o'clock. I would replace it with another diamond in a heartbeat. I think that would hammer home the dazzling aesthetic even more.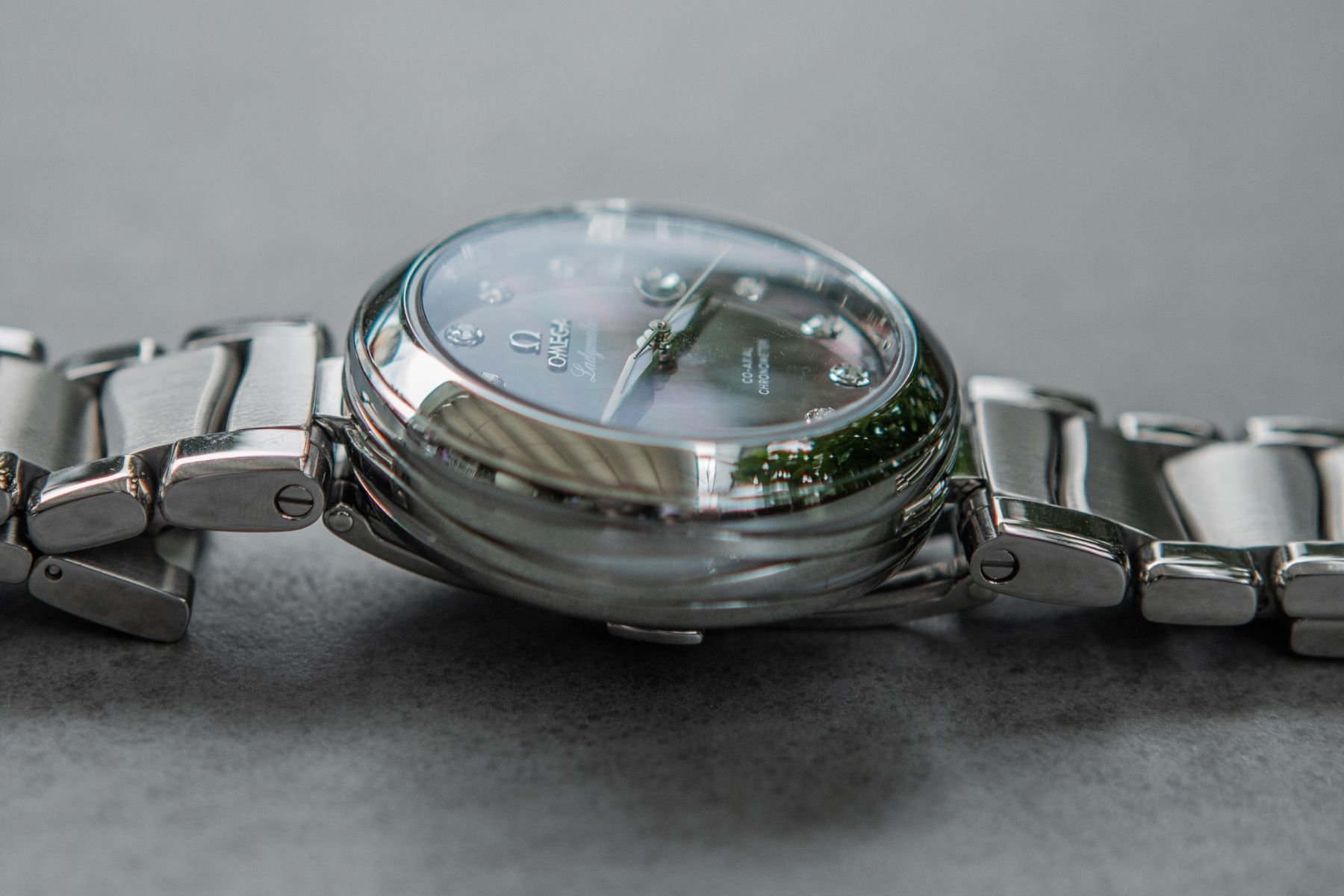 Seductive case
A twin wave motif backed by white ceramic decorates the flanks of the 34mm stainless steel case. This design breaks up the austerity of the steel case. The ceramic adds a good deal of warmth to proceedings. The dimensions of the case and bracelet provide a perfect wrist presence.
It suits the design very well…
Additionally, the weight of the watch head is pleasantly balanced by that of the bracelet. I might only wish for a diamond-set crown (available only for Ladymatic with a diamond-pave bezel). However, the Omega-branded crown is satisfactorily minimalist. It suits the design very well indeed.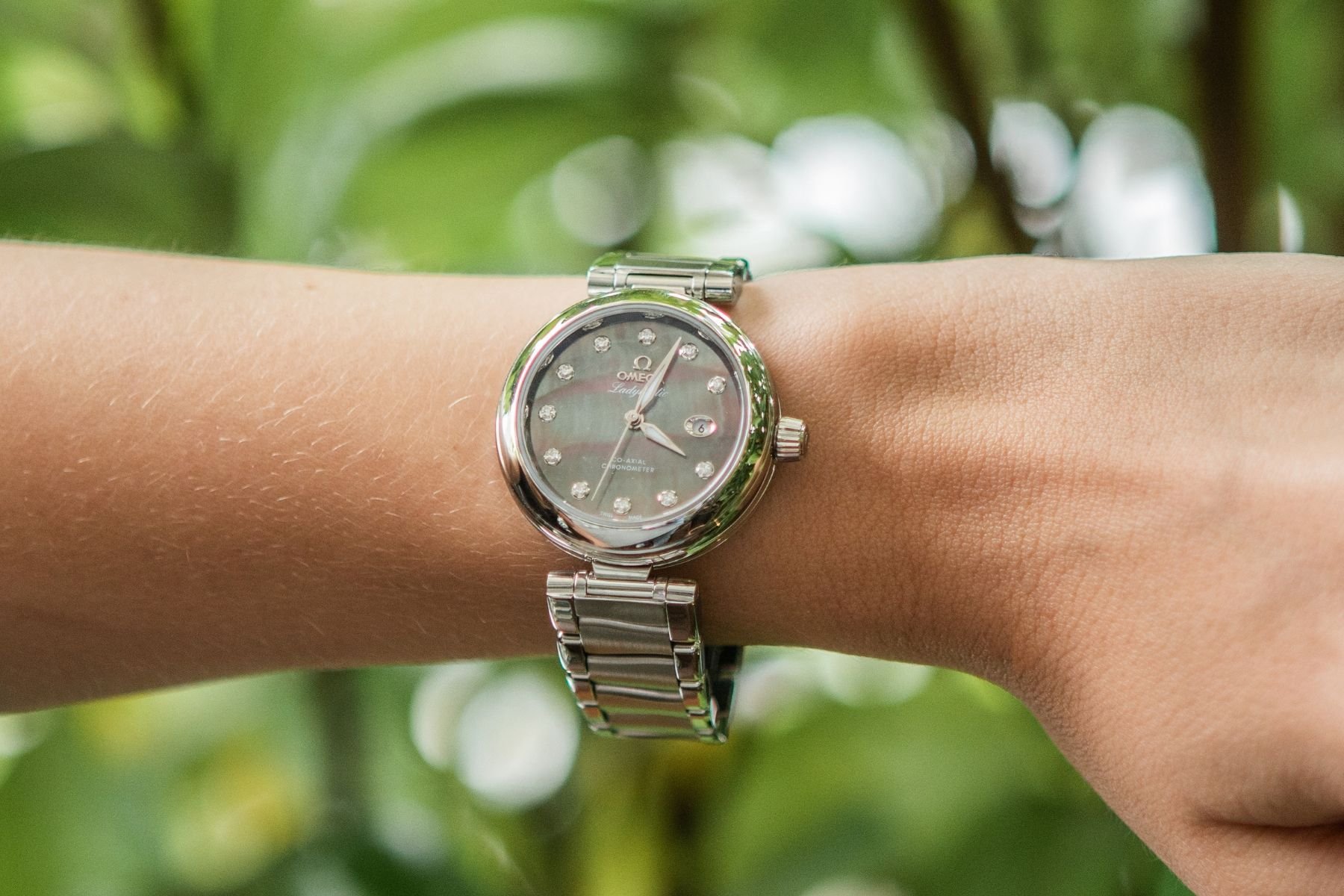 Candy land
I'm obsessed with watch bracelets. In my opinion, this one is entirely on point. It harmonizes with the case and completes the design. The beautifully elegant wave pattern on the case body is repeated in the flowing links. The butterfly clasp caps things off. It is comfortable and provides a secure fit. Furthermore, the design means it doesn't interrupt the continuous lines of the design.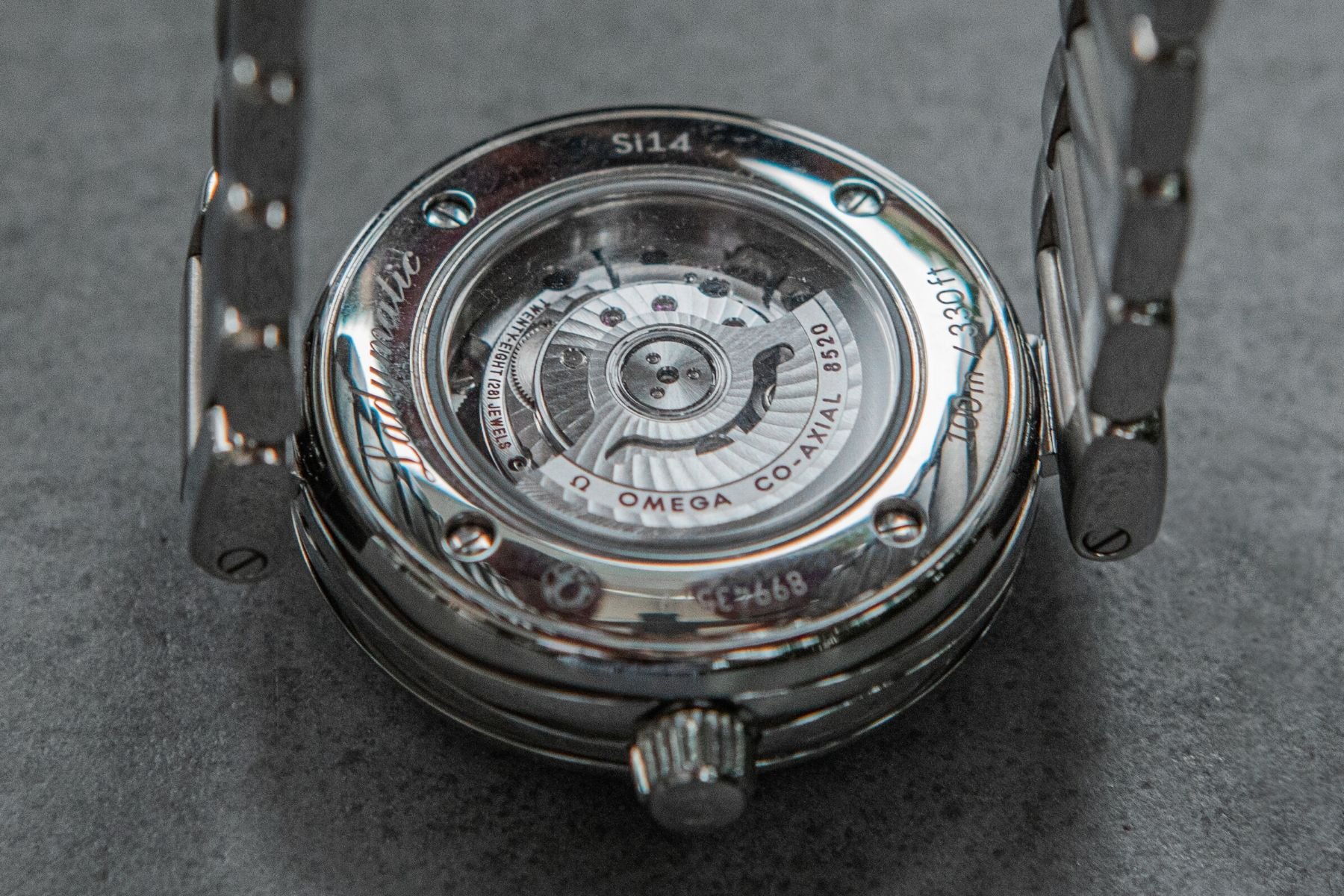 Movement
Driving the Ladymatic is the stunning, self-winding Co-Axial Caliber 8520. It is visible through the transparent case back — something I love. This caliber is no slouch. With a reliable 50-hour power reserve and a Si14 silicon balance spring, it is resistant to external shocks and environmental disturbances.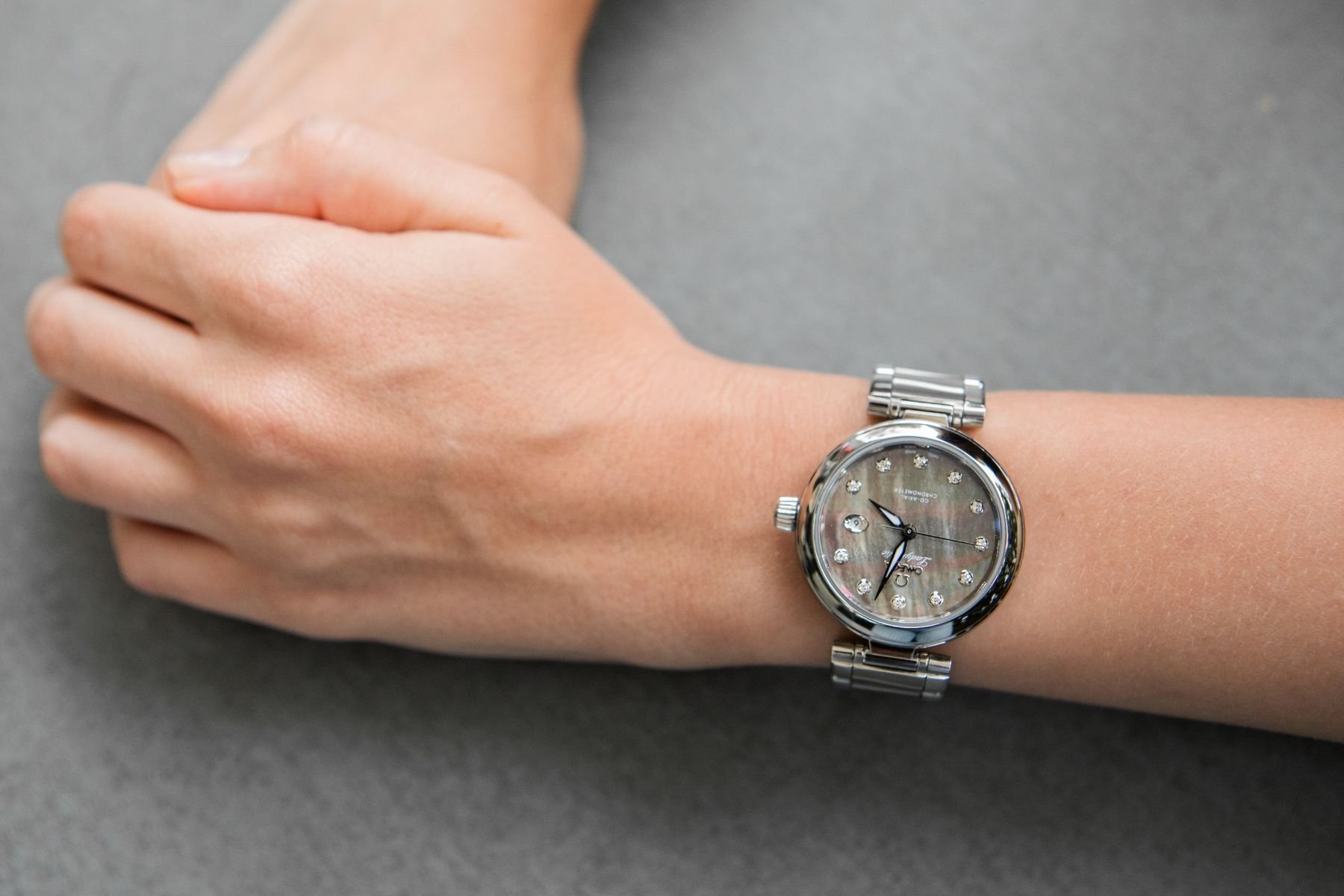 A watch for a new generation?
Each aspect of the Omega Ladymatic speaks to my style and personality. I'm glad I took the risk of betting on a more eccentric aesthetic. And if you think I'm struggling to wear it on a daily basis, nothing could be further from the truth. I can wear it with anything I want. From black minidresses with oversized victorian sleeves to leather jumpsuits. Subjectively, I consider the Ladymatic a disruptive spirit that brings an unexpected twist to any outfit. It's a luxury and timeless watch for anyone looking for something that breaks the mold. And believe it or not, I've never been more excited as a female watch enthusiast by any of the other watches I own.
…the Omega Ladymatic represents a fresh take on watchmaking.
As a phenomenon, Ladymatic could easily become one of the most important watches for the times in which we live. As we speak, the online visibility of Ladymatic is slowly making its mark. In my view, unlike so many jewelry timepieces, the Omega Ladymatic represents a fresh take on watchmaking. But what it needs now is a strategy aimed directly at the next generation of customers who represent the future of Omega. Discover the Omega Ladymatic collection here.