Hands-On With The Eye-Catching Roue TPS Chronograph
A guest post by Vincent Deschamps
Roue is a Brazilian independent brand that you may not have heard of. The brand came onto the scene in 2017 with a collection of tonneau-shaped watches ranging from three-handers to chronographs well under $500. The founder, Alexandre Iervolino, comes from a family of car collectors and grew up developing a passion for utilitarian German design, notably Braun clocks and radios. All of the models that Roue has released thus far have a heavy racing undertone. That includes, of course, this TPS model, which is part of the brand's second and most recent collection.
Meca-quartz chronographs are all the rage these days (should I say these past couple of years?) and there is no short supply of brands to choose from. For between €100 and €500, there is something for everyone on the market. How much you will pay greatly depends on the originality of the design and of the quality of the finish — not the movement, as we will see later. The TPS may make you think of the Autodromo Prototipo which Balazs put next to a vintage Heuer back in 2014 or the Brew Metric that Thor talked about earlier this year.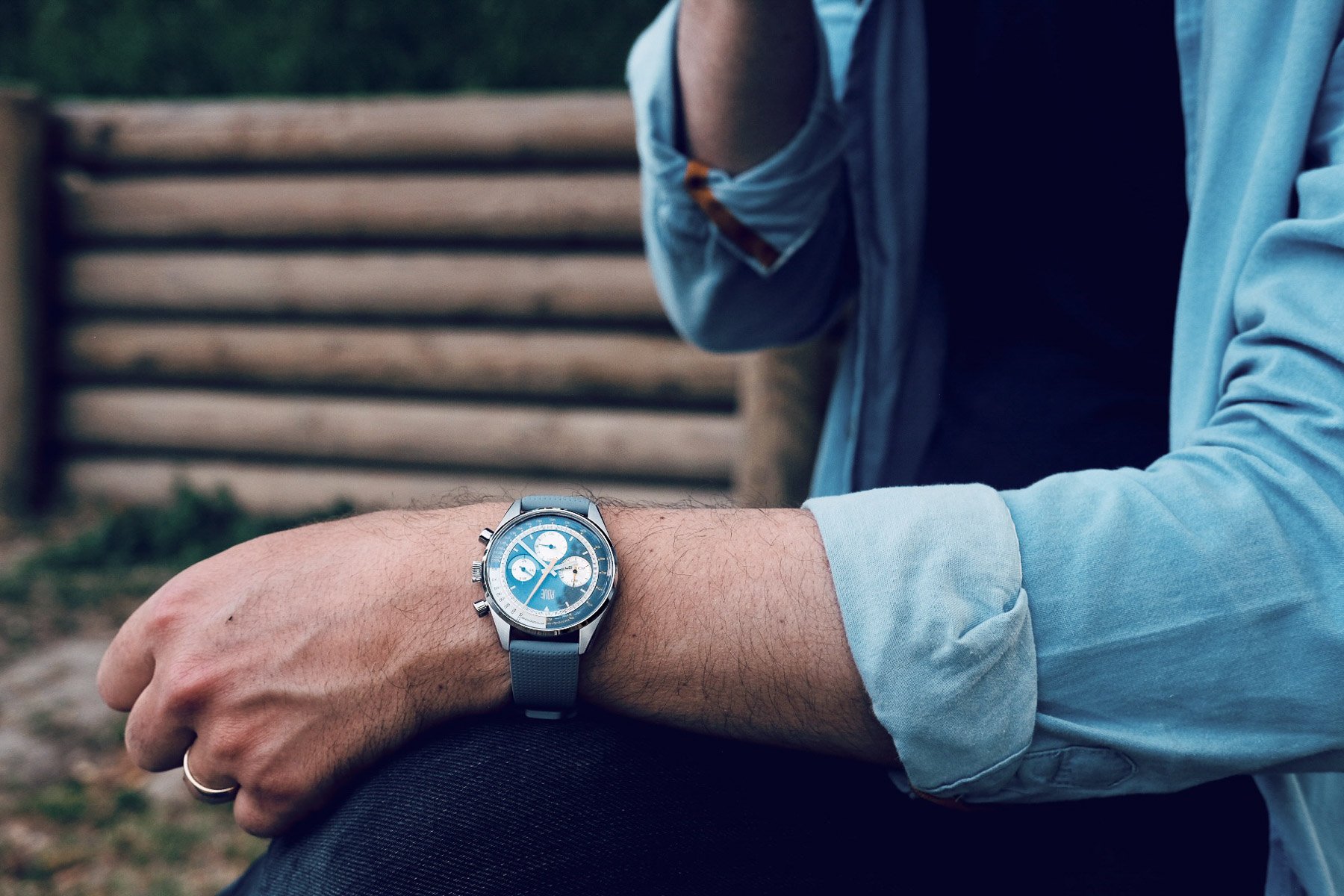 The Roue TPS is a masterclass in design
Think what you may about the TPS, you've got to agree that it's a fun-looking piece, especially this blue version. The TPS comes in six color combinations, but my eye was drawn to this version for its matte blue color and popping yellow accents on the chronograph hands and the pulsometer/tachymeter scales. Yes, there are two scales on the outer portion of the dial. I doubt many people use a tachymeter nowadays, and I'd bet that even fewer people use a pulsometer. Even though the scales are not useful on a daily basis, they add to the vintage charm of the TPS, a watch that is all about the design.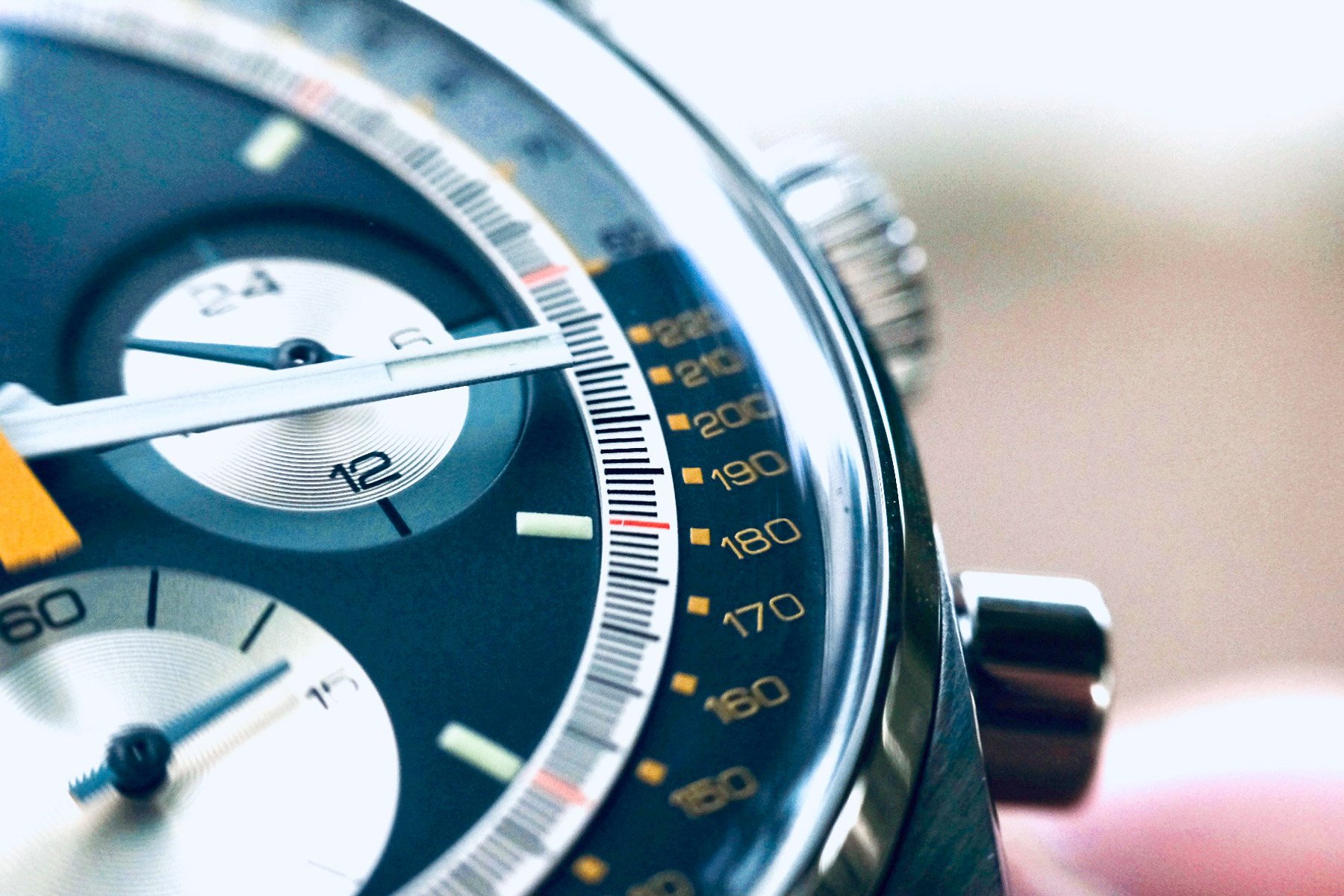 The features and complications of the TPS are actually beside the point for me. What Roue tried to do here is to bring us back to the 1960s and the world of iconic cars and races. The TPS is a tribute to the Porsche 910 that won the Nürburgring 1000km race in 1967. As such, it has a representation of the car embossed on the case back. The TPS itself is an amalgam of various chronographs of that period and carries the racing spirit that we can see on several other chronographs in that price range.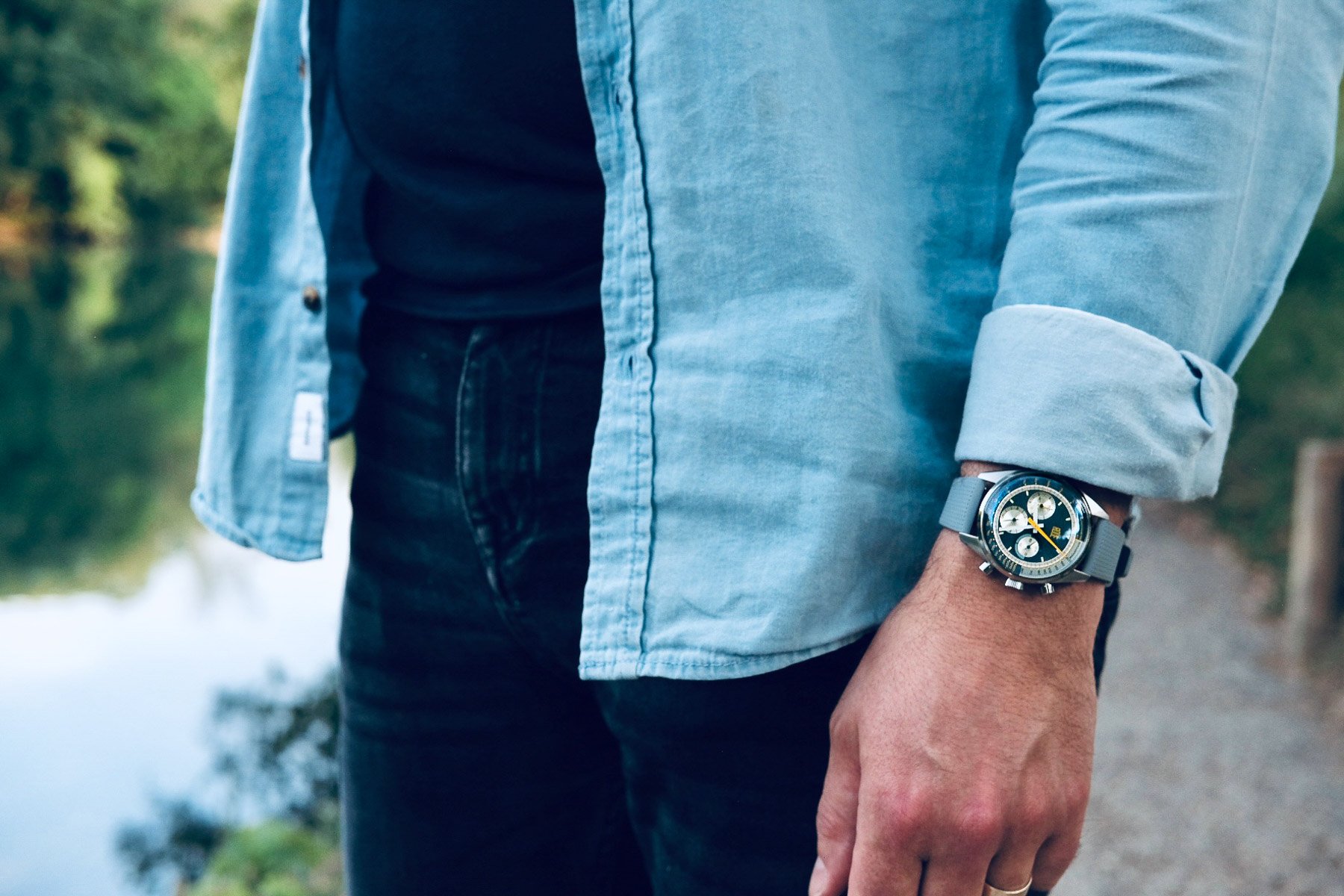 A quick confession
Before we continue, I have a confession to make: I am new to the world of chronographs. In the past couple of months, I've gotten my hands on different types of chronographs. And while I'm normally a diver-type person, I personally find that timing something is easier with a chronograph than it is with a dive-time bezel. So even though the TPS displays a lot of information, I've found myself both reading the time and using the 60-minute chronograph quite a lot. You never know what you need to time on a daily basis or how many things are fun to time using a chronograph.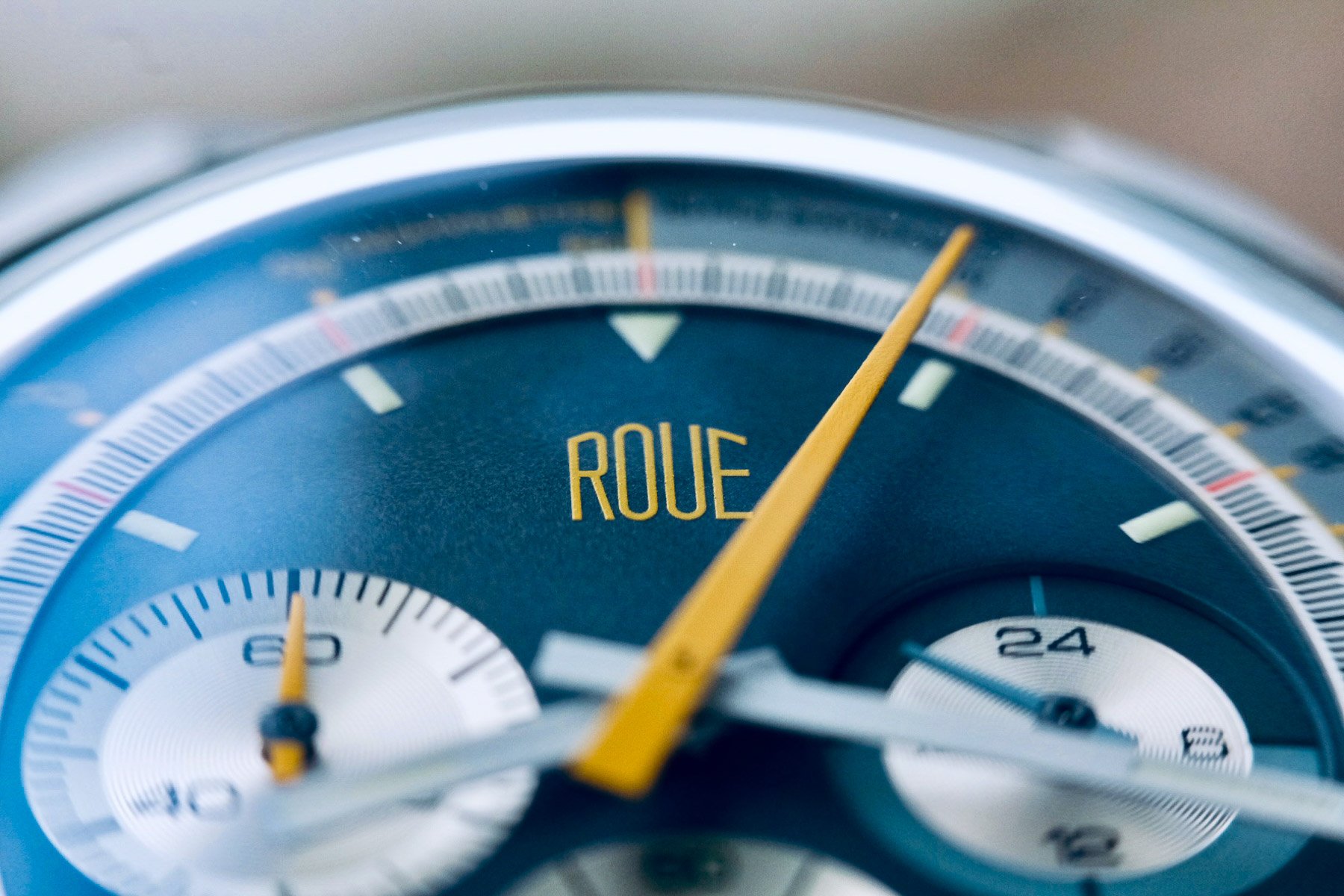 Chronographs have a lot of information to display and need a larger dial to do it well. The dial on the TPS is spacious and requires a case of a certain diameter. While 40mm is not massive, it does command a certain presence on the wrist. This presence is further accentuated by the watch's 48mm lug-to-lug and thickness of 13.4mm. Even though it's a meca-quartz piece, the TPS is this thick because the dial was designed in multiple layers, as you can see above. If the dial had been flatter, the watch would have been slimmer. But because it is a quartz, the watch is rather light and comfortable to wear despite its dimensions.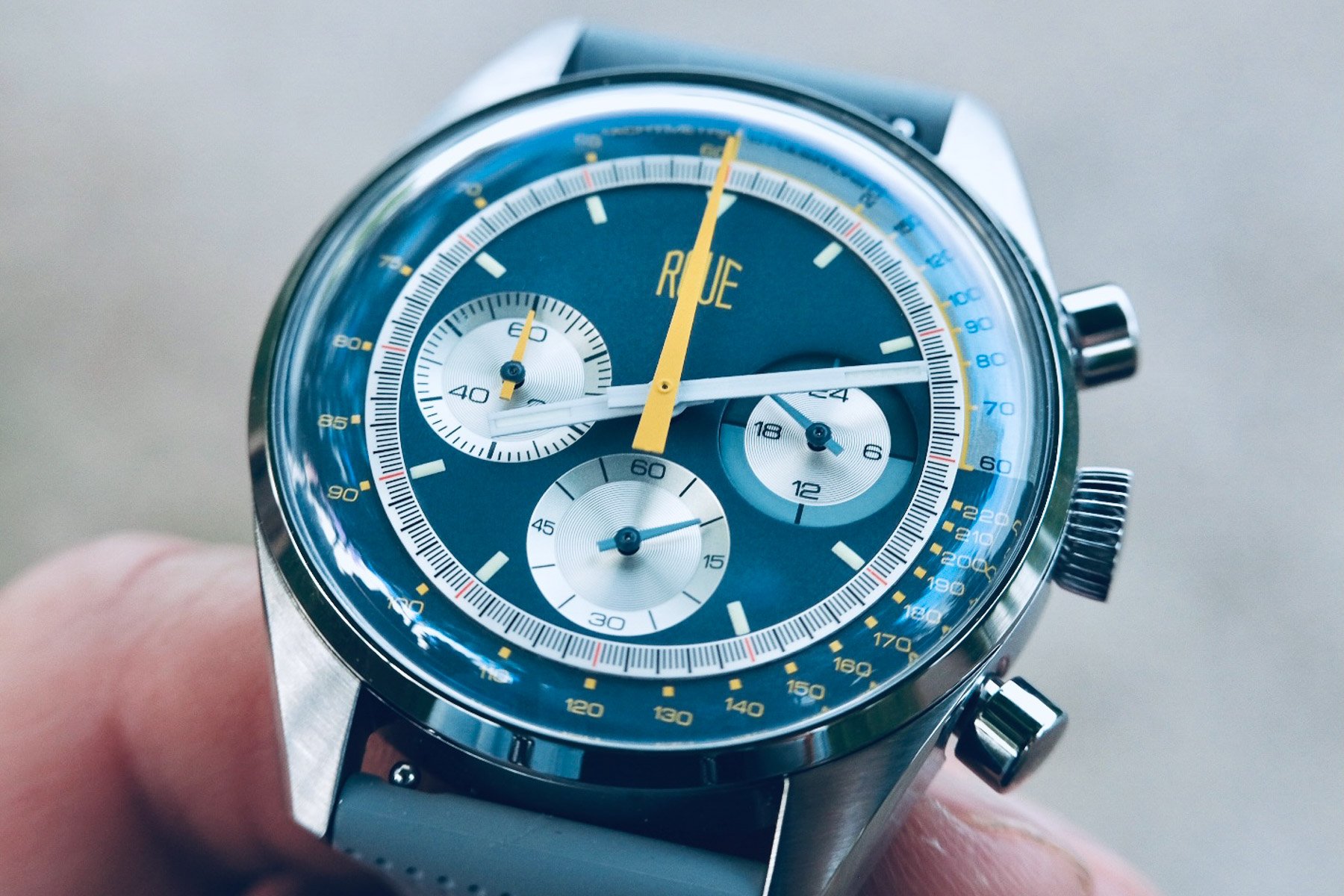 More specs
As we've seen, many chronographs under $500 use a meca-quartz movement and particularly the Seiko VK63. This is also what ticks under the hood of the TPS. This movement comes with a running seconds sub-register at 6 o'clock, a 24-hour indicator at 3 o'clock, and a 60-minute counter at 9 o'clock. There's no date complication on this one. Another common feature of these types of chronographs is the use of a double-domed K1 mineral glass with an anti-reflective coating. The Nivada Grenchen Datomaster Mecaquartz also uses this type of crystal.
The lume is Super-LumiNova of some kind, although the brand doesn't specify which blend exactly. And while the lume is present, it is a little shy, to say the least. Sure, a chronograph doesn't need super-bright lume like a diver does. However, it feels that Roue could have gone the extra mile by adding a few extra layers of lume on the TPS. All in all, the specifications are good for a watch that retails for approximately €285. For this price, you get two straps — a gray silicone one and a brown leather strap — both with quick-release pins.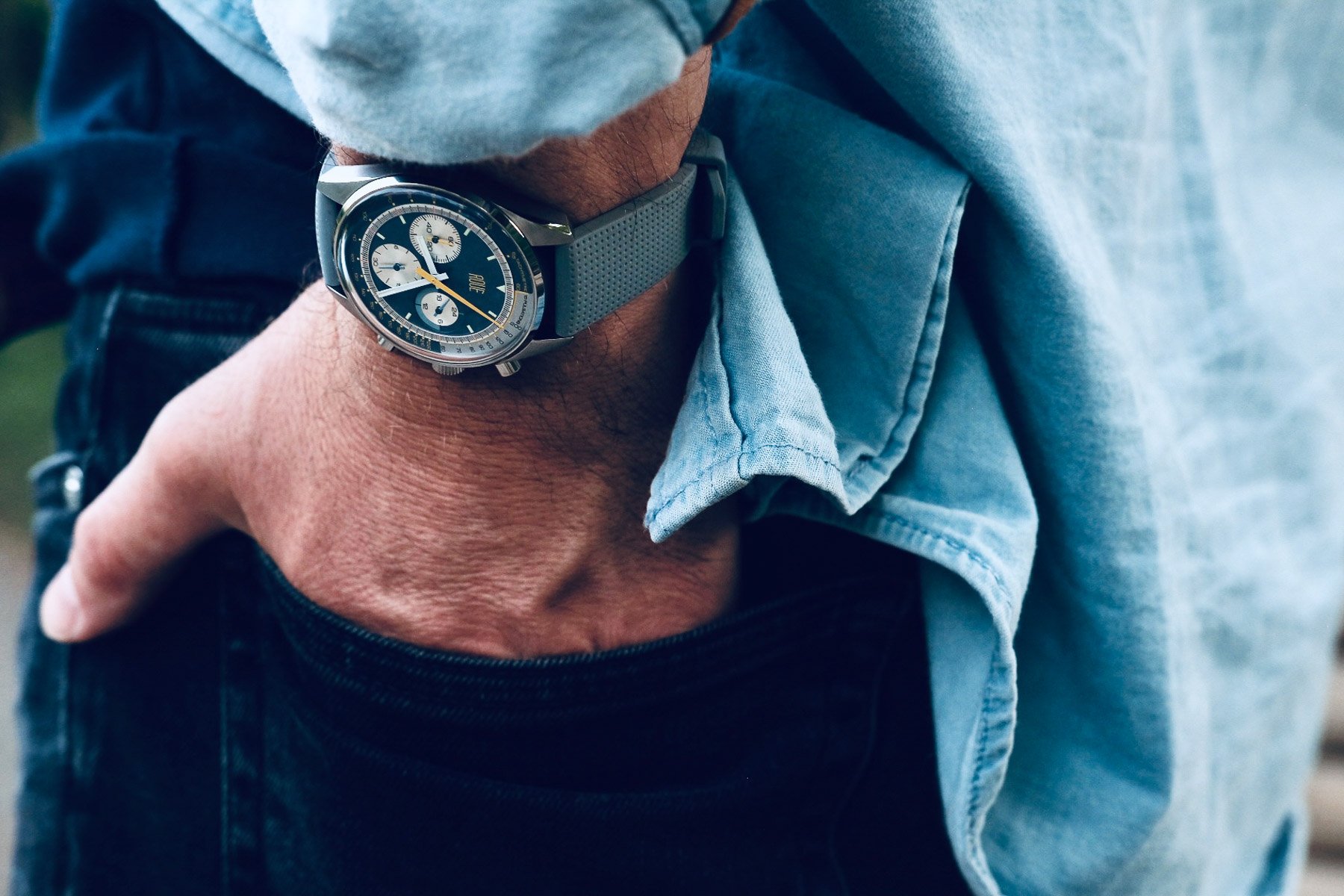 Room for improvement and suggestions
I have this general pet peeve with sub-€500 meca-quartz chronographs, and that's the movement they use. As I mentioned, the TPS houses the Seiko VK63 movement, which powers a plethora of chronographs in that price range. This makes sense because it's inexpensive, accurate, and has the sweeping chronograph hand that we love to see running across the dial. However, it has a 24-hour indicator, which I don't find particularly helpful. It would have been great to see a 12-hour chronograph sub-register instead, which would have made the watch more useful. While I don't like this movement, I suppose many brands use it because they don't have many options to choose from.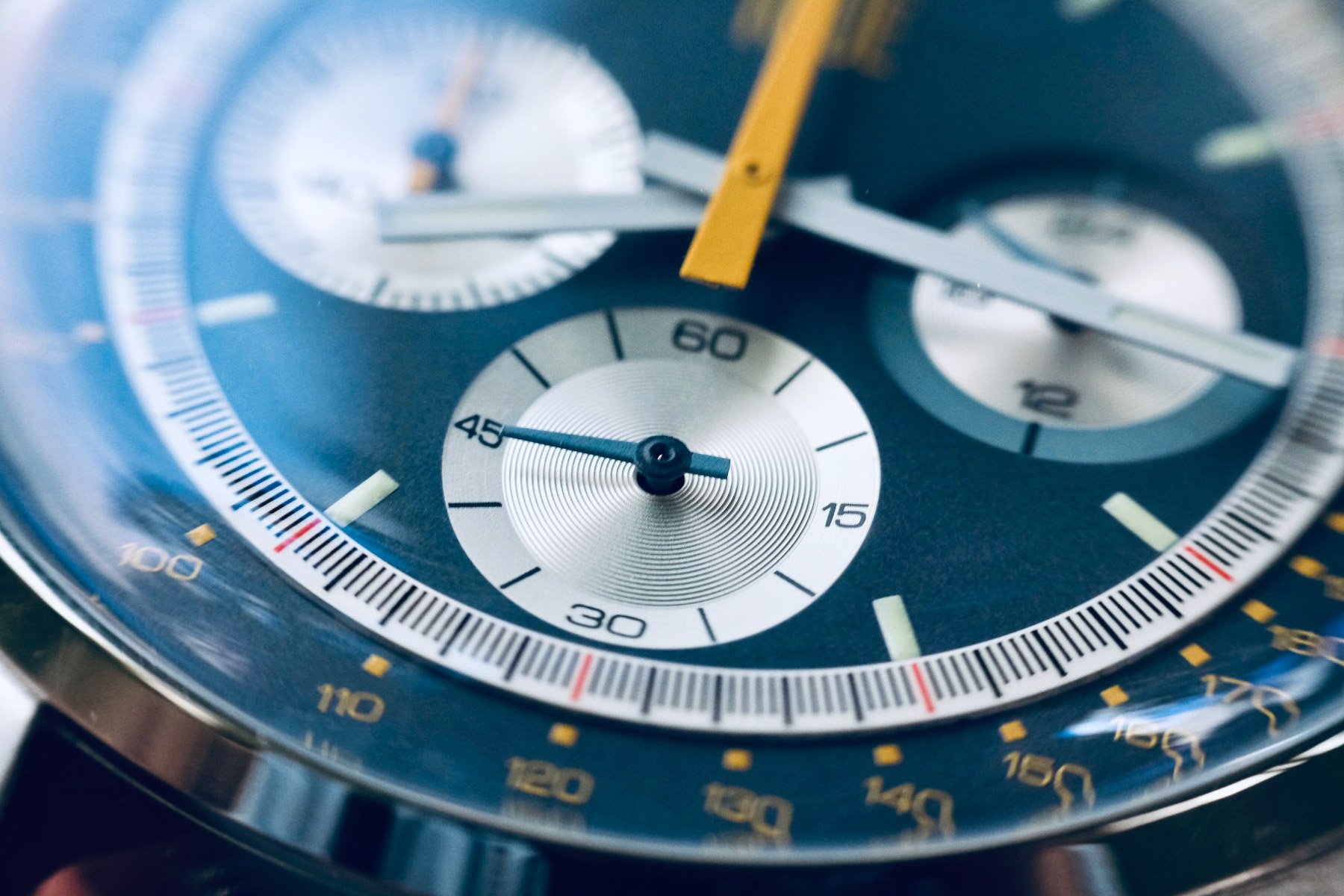 Feel free to enlighten me in the comments section, but it seems that brands are stuck with whatever configuration the movements come in. What I mean is that a small, independent brand can't ask Seiko or Miyota to customize a movement by adding a date window and switching the 24-hour indicator for a 12-hour chronograph register, for example. They're basically stuck with the configuration of the hands and registers as they are. There are, of course, other movements to choose from, but visually, they might not have worked for Roue and the TPS model. I'm thinking of the Miyota 0S80, for example, with does have a 12-hour sub-register but also an alarm — maybe a downside for many.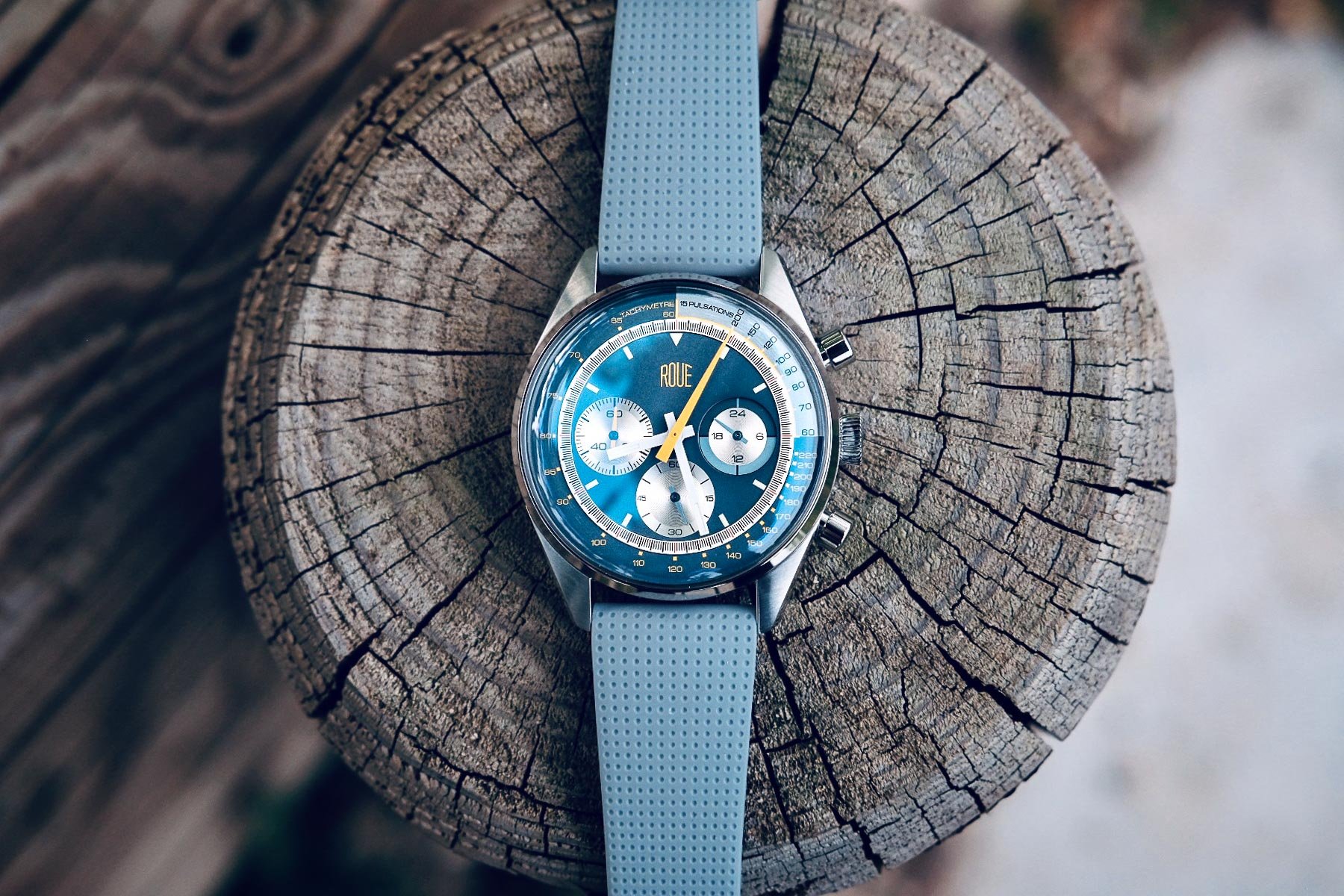 Final thoughts 
Whether or not you are into revivals of certain time periods and iconic things like race cars or certain schools of design, I think it's fair to say that the Roue TPS is a fun watch to wear and look at. It comes with a solid build, good proportions, and a reasonable price tag. The Roue TPS is one of the several good options novices of chronographs can choose from to get into this genre of watches. You cannot go wrong with a meca-quartz chronograph for under €300. Check out the Roue website for more information and to see the six different colors available.
What do you think of this TPS? Would you go with a meca-quartz as a first chronograph, or would you prefer to get a hand-wound mechanical movement like the ST19? Please leave your comments below.