Hands-On With The Limited Edition Seiko 5 Custom Beatmaker SRPH19K
A contest, a winner, and the aftermath
For several months between October 2020 and January 2021, Seiko held an online contest where anyone could submit a potential design for a future limited edition Seiko 5 model. Over 48,000 entries came, 16 watches were chosen for voting and a watch emerged as the winner. The Custom Beatmaker SRPH19K is that watch.
Seiko makes a lot of limited edition watches. Hardly a week passes without an announcement of some new color variant on any one of the hundreds of models made by the massive brand. The Seiko 5 lineup leads that initiative. When these watches first debuted a couple of years ago, there were something like 26 unique colorways. I declared that this watch already felt like the brand's "Swatch-like" platform. Seiko has seriously made good on that premonition because there are tons of variants today. Models based on anime characters, funky dials, and wild case finishes are just some of the current options. Chances are that if you can dream it, Seiko 5 has already done it! One of the latest models to join the fray is the Seiko 5 Custom Beatmaker SRPH19K.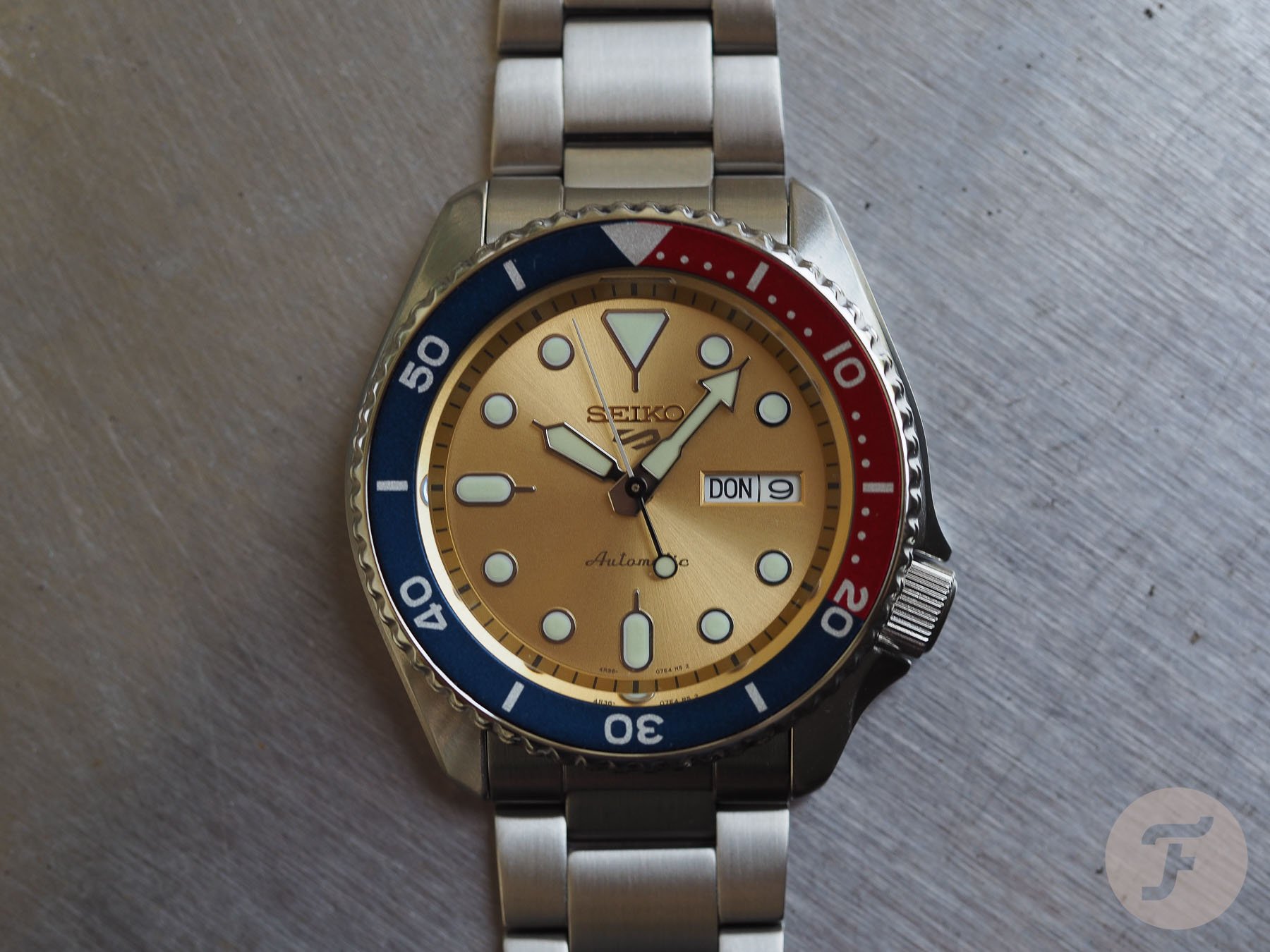 The Seiko 5 Sports Custom Beatmaker Contest
I'll be honest, I can't really recall if I went on the Seiko 5 website and submitted my own design during this challenge. What I can tell you is that I completely missed the whole voting process. It seems that over 16 million people did not and the watch that gathered an astounding 8.5 million votes is the limited edition SRPH19K.
Like so many of you, I saw the press release via email and other media outlets sometime in July. The SRPH19K jumped out of the screen because of its light champagne dial and colorful Pepsi bezel. I read through the info quickly and saw that this was a boutique-only release. Therefore, I shot a note to our local Frankfurt location. The response was that this watch would only be available online on boutique sites. Seiko launched a pre-order with shipments set for sometime in August. I checked the site and there it was for €290, so I completed the transaction and, frankly, forgot about it.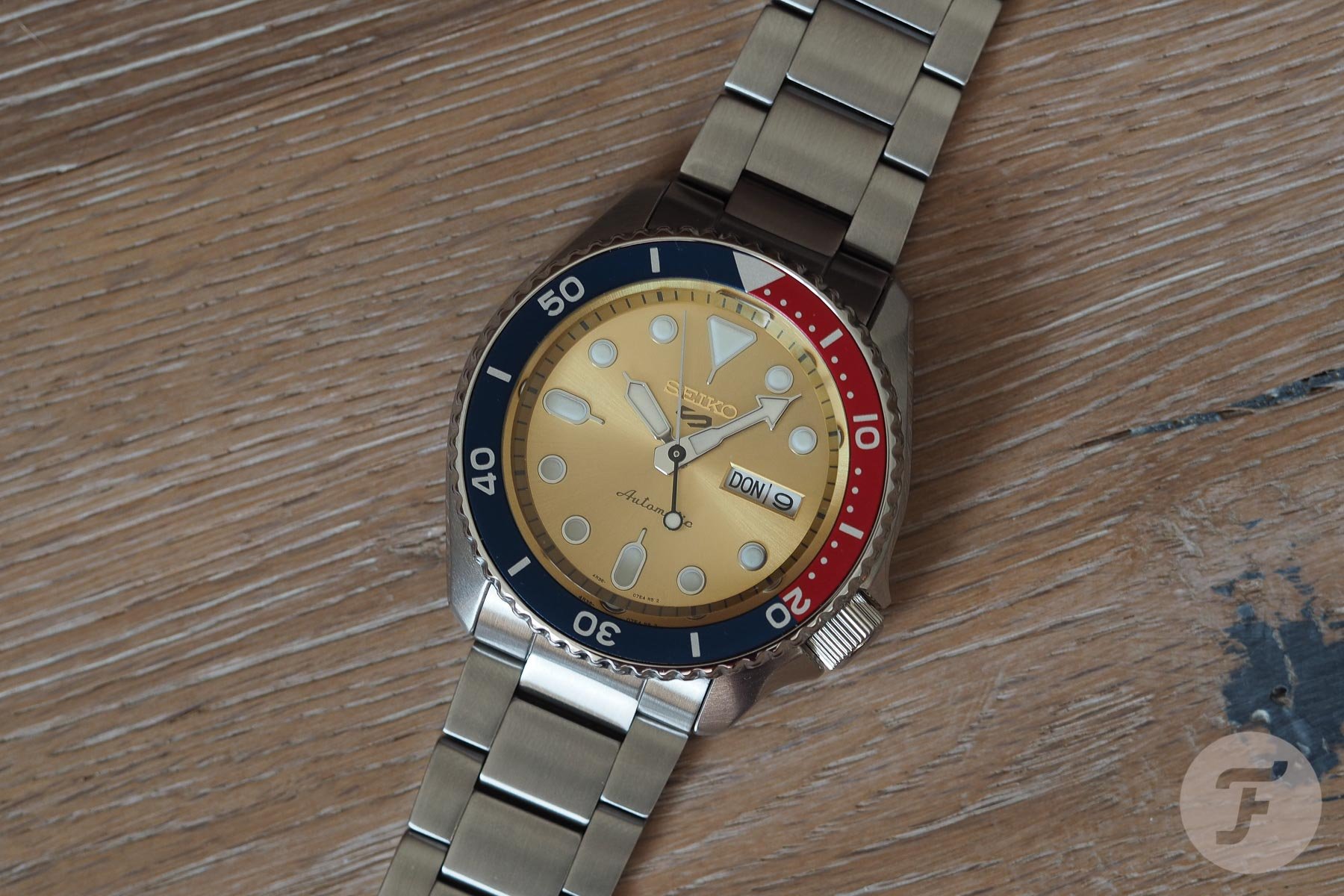 Receiving the SRPH19K
A couple of weeks ago, there was a knock at the door and a courier handed over a small box. After some fumbling, I came upon the typical white Seiko box. Opening it revealed the SRPH19K and my first impressions were really positive. There's a reason that Seiko has used various shades of yellow in combination with a blue and red bezel. It doesn't seem like it should work, but it really does. I wasn't in the mood to size the Oyster-style bracelet, so I put the watch on an older 22mm rubber Seiko strap. Fun, just good clean and relatively inexpensive fun…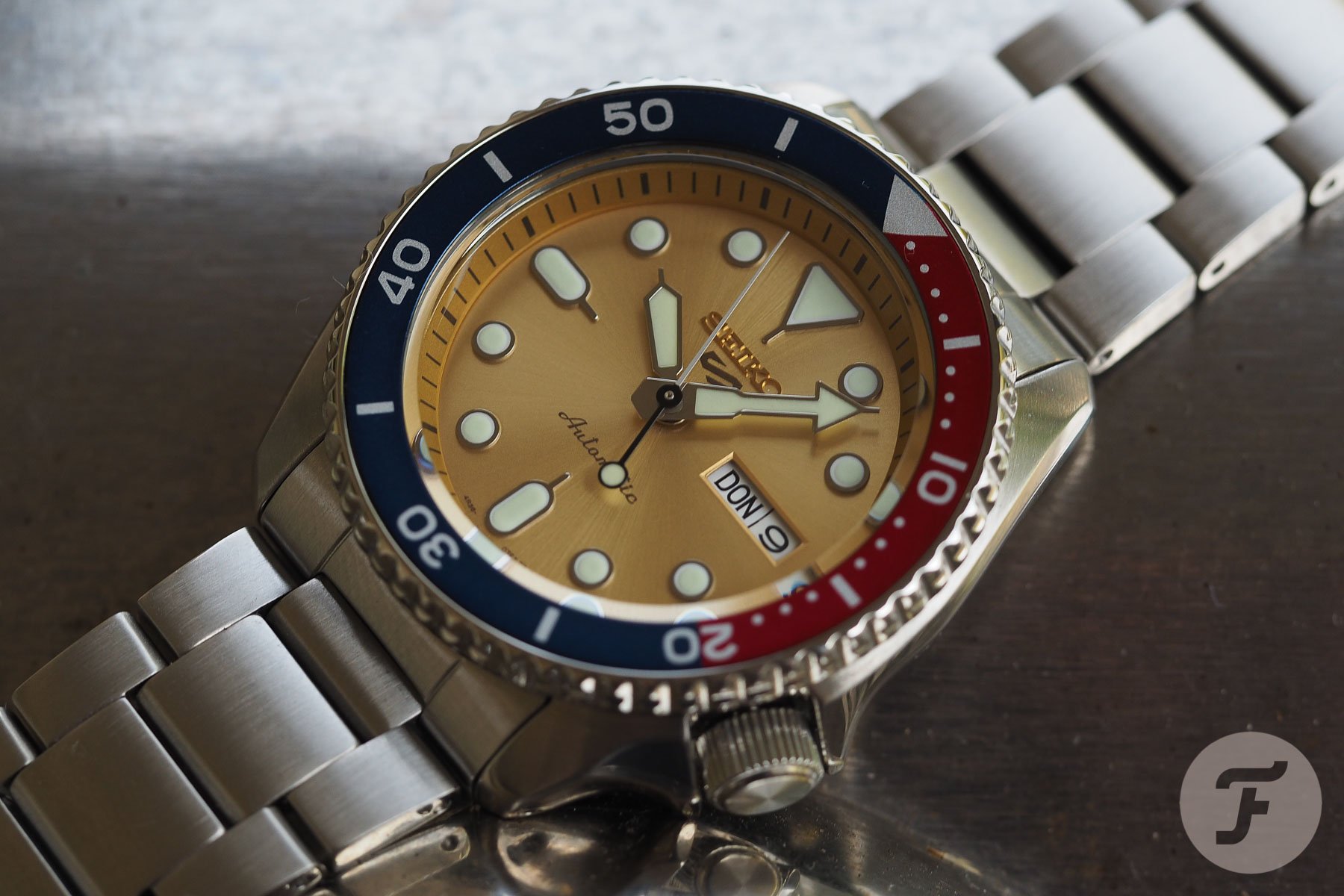 Some details
There's not too much to add about the SRPH19K that hasn't already been said. It rides on the familiar diver-style platform and that means a 42.5mm stainless case with a unidirectional crown. The watch uses the 4R36 automatic and it's visible through the display back. Seiko has individually numbered each of the 2,021 pieces in this release. The Oyster-style bracelet is easy enough to size via some push pins, but it's not my favorite accompaniment. There's no tapering and it sadly wears a bit like a clunky cuff. That's a shame because the finishing is actually pretty nice.
Another item worth noting is that the "Seiko" script on the dial almost disappears against the sunburst dial at some angles. Also, rejoice, because the rehaut is perfectly aligned on this model! The second hand is also a bit odd with its black end. I would have opted for red, but it's inoffensive regardless.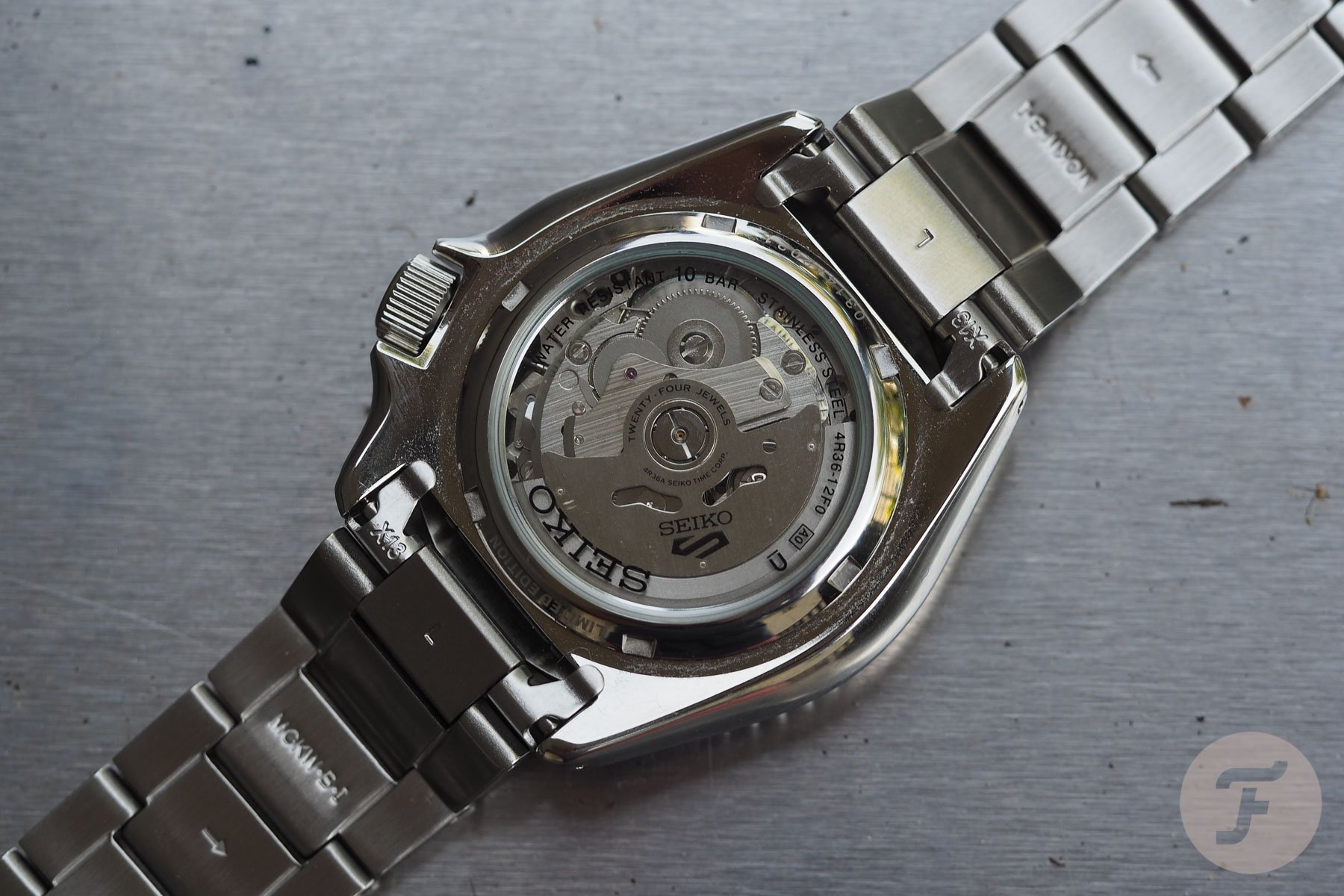 Social media…
Later that day, I did what I normally do with a new watch and threw the SRPH19K up on Instagram. I mentioned that the very lightly toned dial actually reminded me of a very different retro Japanese diver, the "ana-digi" Casio AMW320D. A friend had one of those in high school and that's what I thought of immediately. It was and still is a sort of nerdy "off-color" for a dial, but it brings me back to another era and I like it. Soon after uploading my image with these thoughts, though, something happened…a certain forum decided to chime in with a bit of a lesson.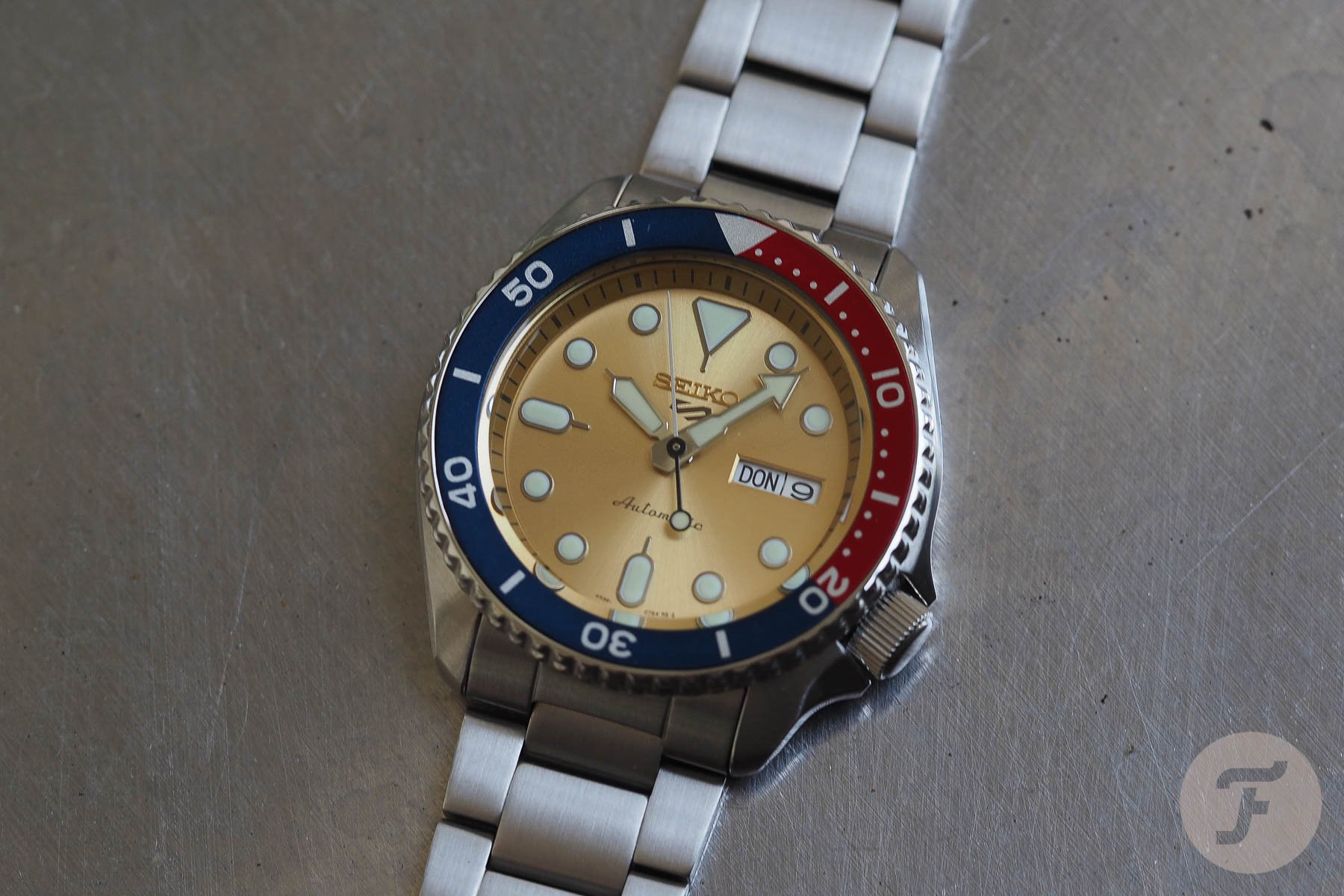 L'elefante nella stanza
Earlier in this article, I stated that I completely missed the voting period for the whole Beatmaker contest. Clearly, some did not. It turns out that there is a Seiko forum in Italy called "Gruppo 1881". The club claims that it actually submitted the design which would go on to become the SRPH19K and then galvanized its membership to vote repeatedly for the model. Seiko refrains from attributing the design to a single submission and plenty of others have stepped up to say that they also turned in a similar design. So, that's a point of contention, but what seems certain is that this club wore out some mice or trackpads to put the SRPH19K on the podium. In this contest, one could vote endlessly and the millions of votes from the Gruppo prove that.
In terms of sealing a victory for the SRPH19K, I think it's fair to congratulate the Gruppo 1881. Ok, clicking away wouldn't be my form of recreation, but I guess most of Europe was mired in a lockdown during this winter period. So, credit is given where credit is due. The aftermath is the part that is slightly off-putting. Now that people are receiving these watches, owners are excited about them, and they're posting pictures online. Plus, other sites have written articles about the watch and contest (especially when the results were announced in July). The reception is positive, but then something almost always happens (watch our comments section).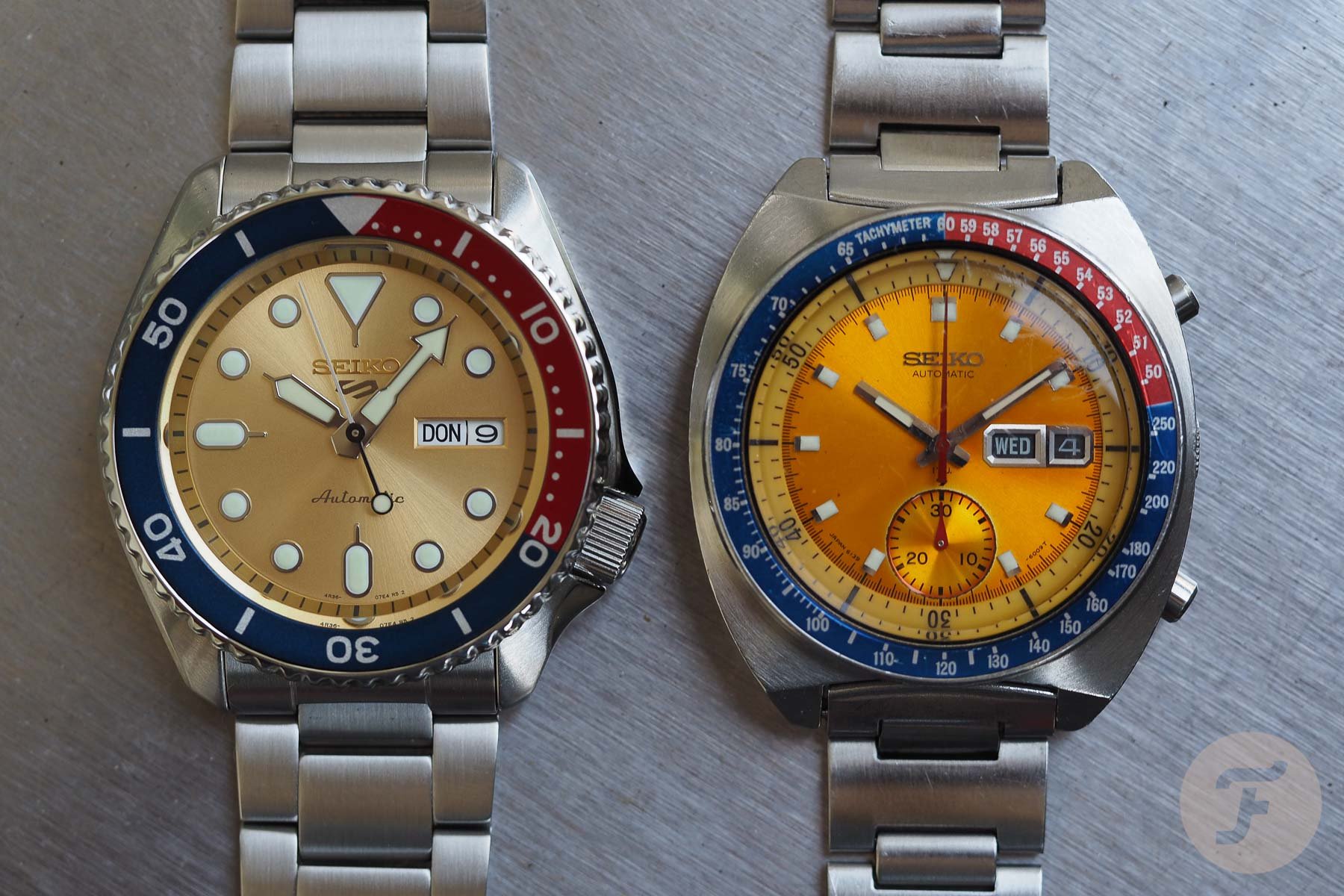 Piccoli moscerini
An overwhelming percentage of folks posting these watches call out one historic watch and one watch only as the inspiration for this piece: the Seiko 6139 "Pogue" (or any of the 6139 models with a yellow dial). That's a truly famous watch with a yellow dial (albeit brighter) and a blue/red bezel. The connection makes sense, but this is where it all starts to get a little "icky." No matter where an SRPH19K hits the internet with a Pogue reference, the "Gruppo" magically appears and corrects your error. You see, they're policing the internet because they feel that this is their watch, their design, and they get to dictate the inspirational details. Disagree at your peril, person (or site) with so little Seiko knowledge!
The Gruppo repeatedly tells people that this watch was inspired by the 6309-836B, an early '80s Seiko 5 Sports model that is unknown to all but the most studied Seiko nerds (and even then…). They also mention a relatively obscure Pulsar(!!!) and a 7A28-7030 as sources of inspiration. So be it. Hearing about these oddball pieces was sort of fun the first time around (it would have been more fun if the messages were delivered in a less condescending tone), but now it's old. Seiko doesn't stand behind any of this, so why should anyone else? Then, there's the bigger issue: NO ONE CARES! With so much pedantry, this group of tifosi seems bound and determined to take a fun story and transform it into something uninclusive.
The future of the SRPH19K
The SRPH19K is a cool and fun watch. Will it go down in history as an all-important limited edition from the mighty house of Seiko with massive collector potential? I doubt it. These days, Seiko makes a lot of limited edition models and attention spans are short. People move on to the next hot thing. That's kind of sad, but it seems to be working for most right now.
As far as pure collectibility, the other detractor arises when I line this watch up next to my 7002 or SKX011. The Seiko 5 Sports watch is nicely made, but it still grates on me that this piece is a bit of a pretender. The lack of a screw-down crown just annoys me. Do I need it? No. Do I wish it had that small bit of technical credibility? You betcha…
When the Seiko 5 SRPH19K began shipping, they were listed on various secondary sites for nearly three times the retail price. Things have cooled down a bit to roughly 2x and we'll see where they ultimately land. I don't think I would go much higher than retail, but that's because the underlying watch isn't as capable versus, say, a proper Prospex.  Looks-wise, though, this is one of the cooler limited edition Seiko 5 Sports models (it's the only one I own) for me because of the retro colorway. Regarding my little soapbox discussion about the forum that pushed this to victory, let's hope they're not too mad. With any luck, next year's Beatmaker contest will turn into some sort of forum war where all kinds of folks obsessively vote and accelerate their carpal tunnel syndrome.