Hands-On With The MING 27.02 Guilloché Gradient Dial
Worth the wait for those 200 lucky buyers
We've been fortunate enough to spend some real hands-on time with the new MING 27.02 and now it's time for a proper review. Before we get to that…
As this review kicks off, I am sure there are quite a few of you who are asking, "why do a review on a watch that no one can buy anymore?" Yes, when the MING 27.02 was announced in January with a list price of CHF 4,950, the 200-piece run sold out in mere minutes during two subsequent offerings. So, again, why write this article? Quite simply, it's the third MING watch that I've held and, therefore, I'd like to give my impressions.
More importantly, though, there are 200 people out there who put their money on a watch they won't see until at least November this year. I hope to give them a closer view at what will arrive later this year and to make them feel good or bad about spending that lump of cash (hint: you won't be disappointed). Finally, there's interest in the brand that figures to build on its current success and release more models in the future. Who knows? You might be able to buy one of those when the time comes…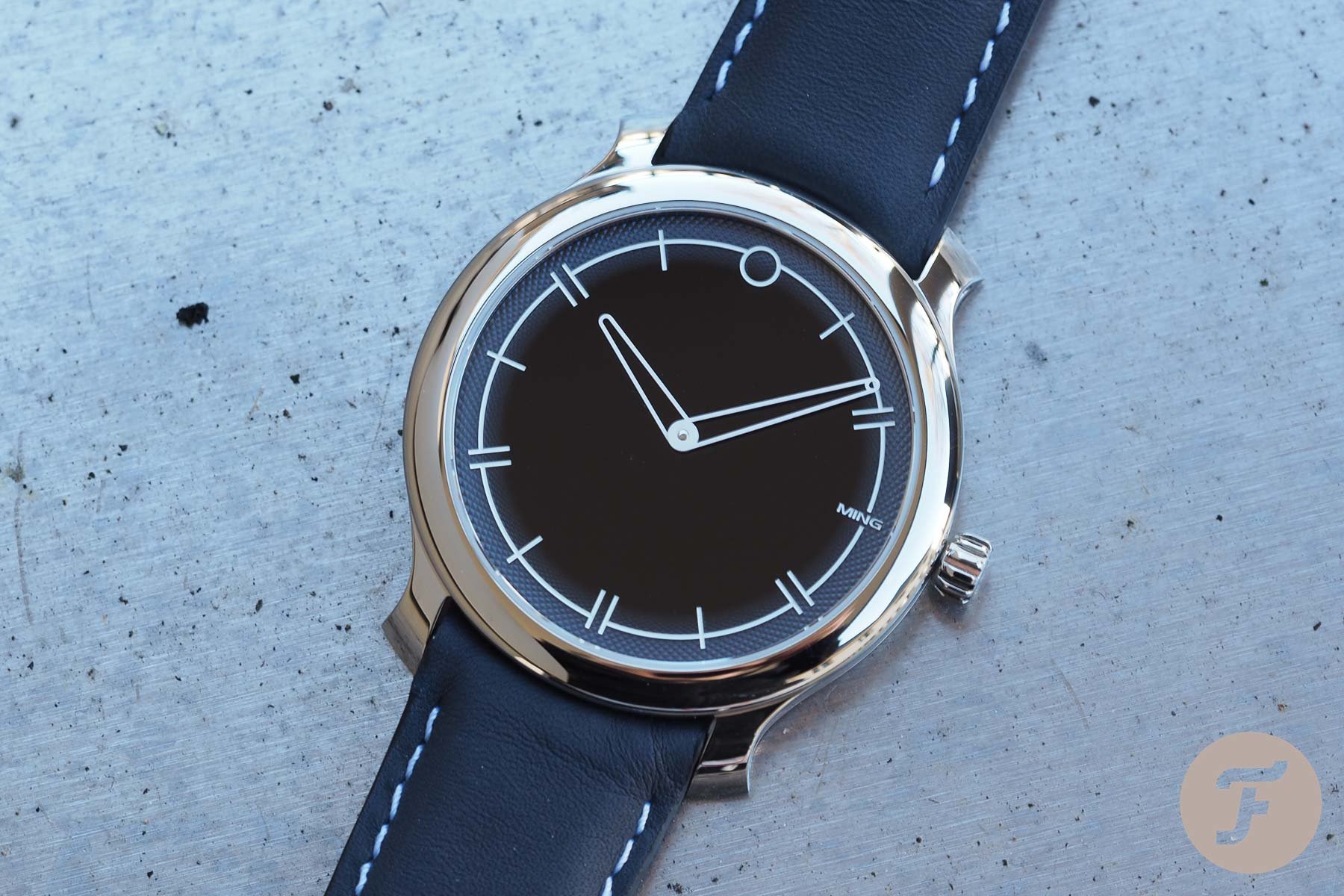 The MING 27.02 makes three
As I mentioned, the MING 27.02 is the third watch from the brand that I've physically held and worn. All this kicked off with the excellent, and incredibly affordable, MING 17.06 Slate that I should've bought. Then, I was fortunate enough to wear a prototype version of the MING 18.01 H41 diver and ordered a production version. Then, based upon how much I liked the previous two watches, I purchased the 27.02, sight unseen. It was a touch-and-go decision because, as seen above, this watch certainly didn't sell for throwaway money. Plus, would I really wear a dress watch? Would the guilloché treatment be to my liking and stand out enough? I'll attempt to answer these questions and provide even more thoughts.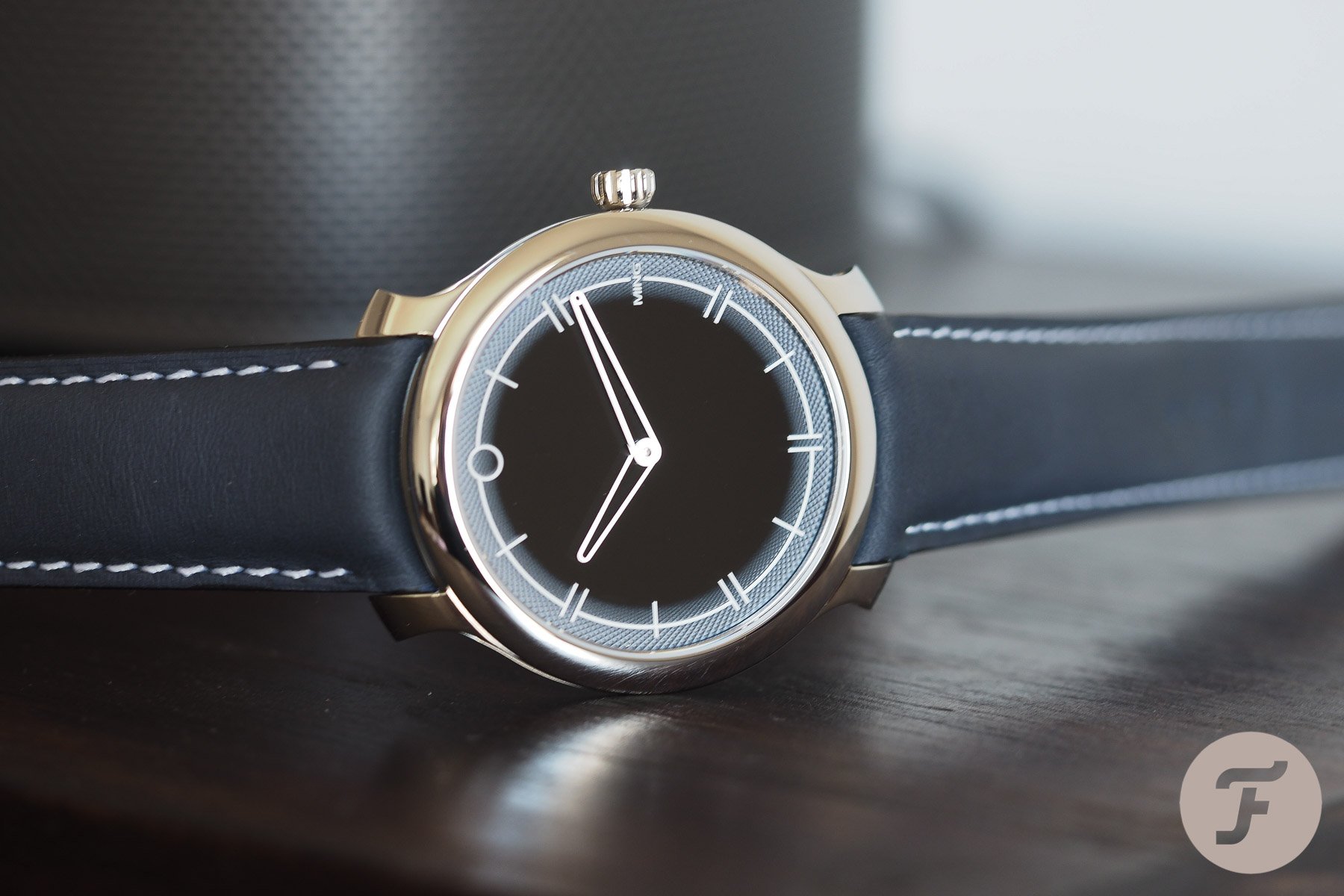 Photographing to catch that guilloché pattern
Now, there's one disclaimer when it comes to the MING 27.02 and that's regarding the photographs. I'm no shutterbug like Bert, but I think I take the occasional decent shot when natural light is playing in my favor (that's all I use anyhow). This watch is a tricky beast due to its flat crystal and some of the polished surfaces. Also, my sole complaint about it is that it's a dust magnet — especially during this cold, dry winter period. What I tried to do was catch this watch in all sorts of different angles and lights in order to expose (some may say overexpose) that guilloche ring. So, yes, some of my shots were purposely a bit off in order to catch one major detail. Now, with all that out of the way…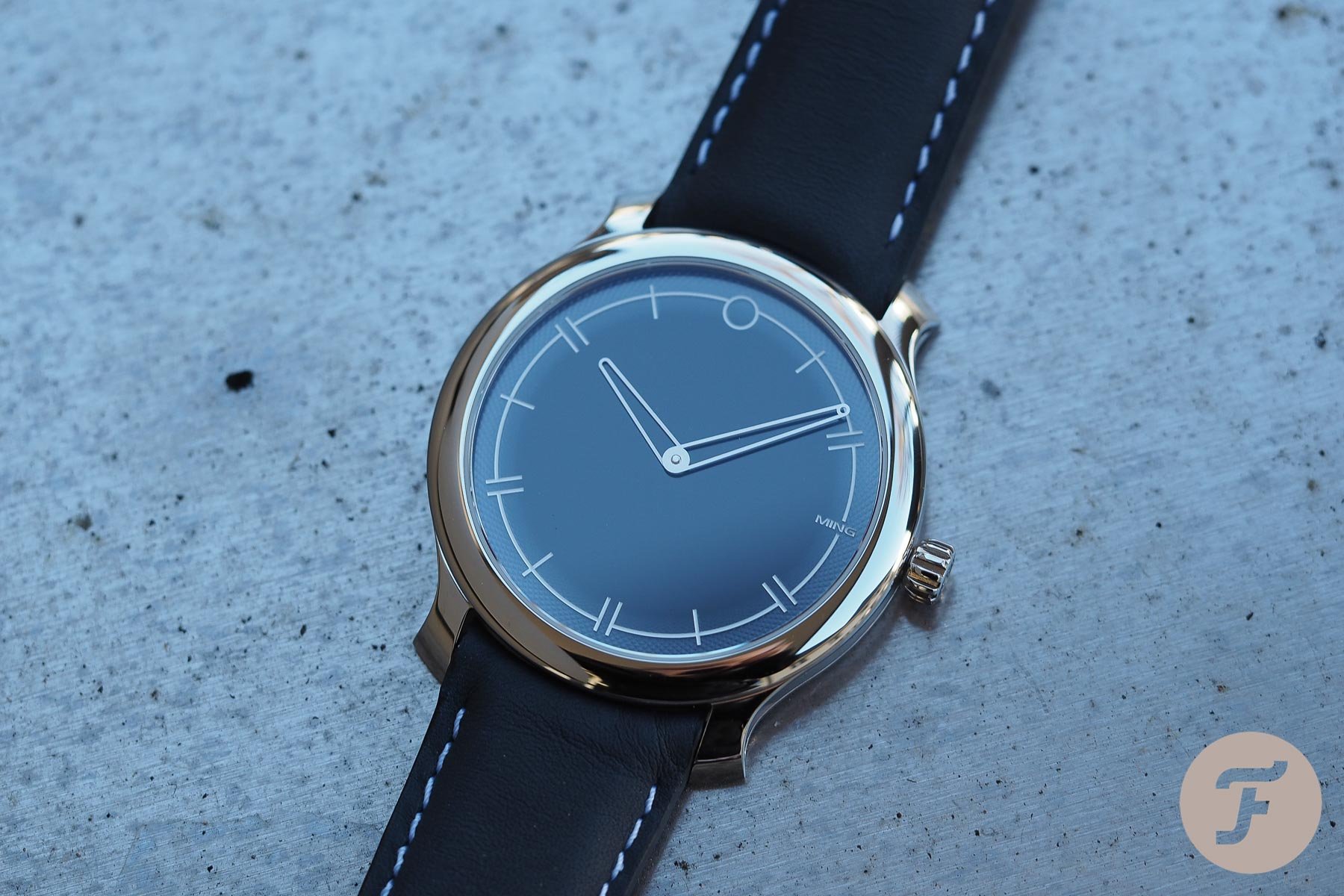 Here's a hint — I liked this one
I'll just go ahead and say this, the MING 27.02 is an extraordinary watch. I don't own a jewelry store, but compared to most people, I take hold of a lot of watches. I always tell people that almost all new watches are fantastic when you first take delivery. They're novel, they're untouched, and generally speaking, they're pretty well made depending on the price range. However, a huge percentage of these watches become forgettable for me after a week or so and I'm not crying when I schedule a DHL return. There's nothing against the watches, but they just don't stand out for me. This new MING, though, is an entirely different ballgame.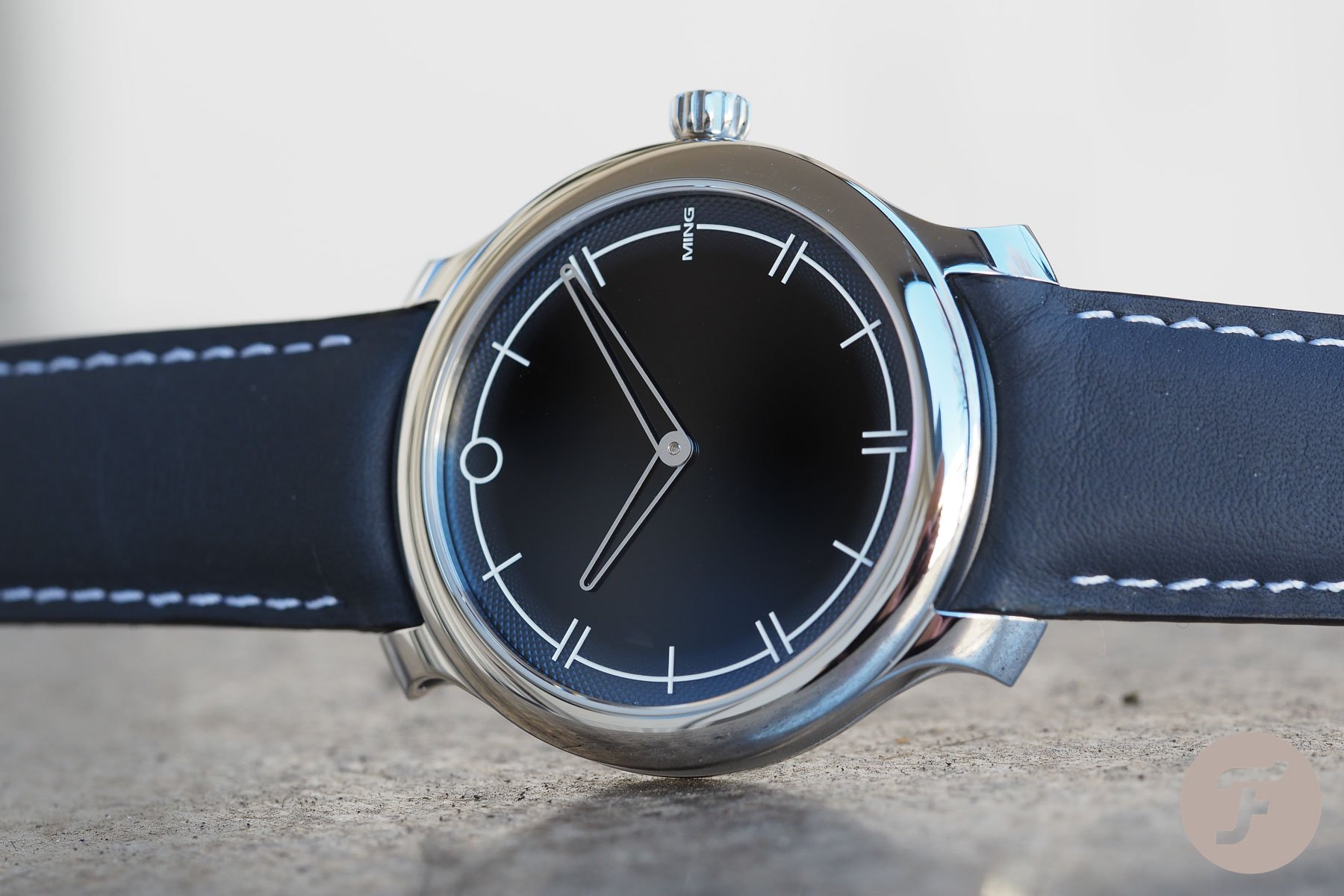 Unboxing and savoring the moment
Hype aside, there's something about unwrapping a MING. The slipcase, the leather pouch, and then the watch — everything is just so well designed and simple. There's no oversized box, stickers, or extraneous crap. It's really all about the watch. And, wow, what a watch the MING 27.02 is. Keeping in mind that the previous two examples from this brand were less expensive, you can tell right off the bat that this piece is cut from a related, but more elaborate cloth.
I was in my office when I unboxed the MING 27.02 and whenever I get something that I'm truly excited about, I always make myself wait a good 10-15 seconds before allowing myself to actually see it. You only get to do that once, so I try to revel in it a bit — yeah, that's some seriously geeky stuff…so you should try it! From a quality perspective, the thing that hit me right away from within its pouch was the quality of the case surfaces. Everything looked perfectly delicate and flawless.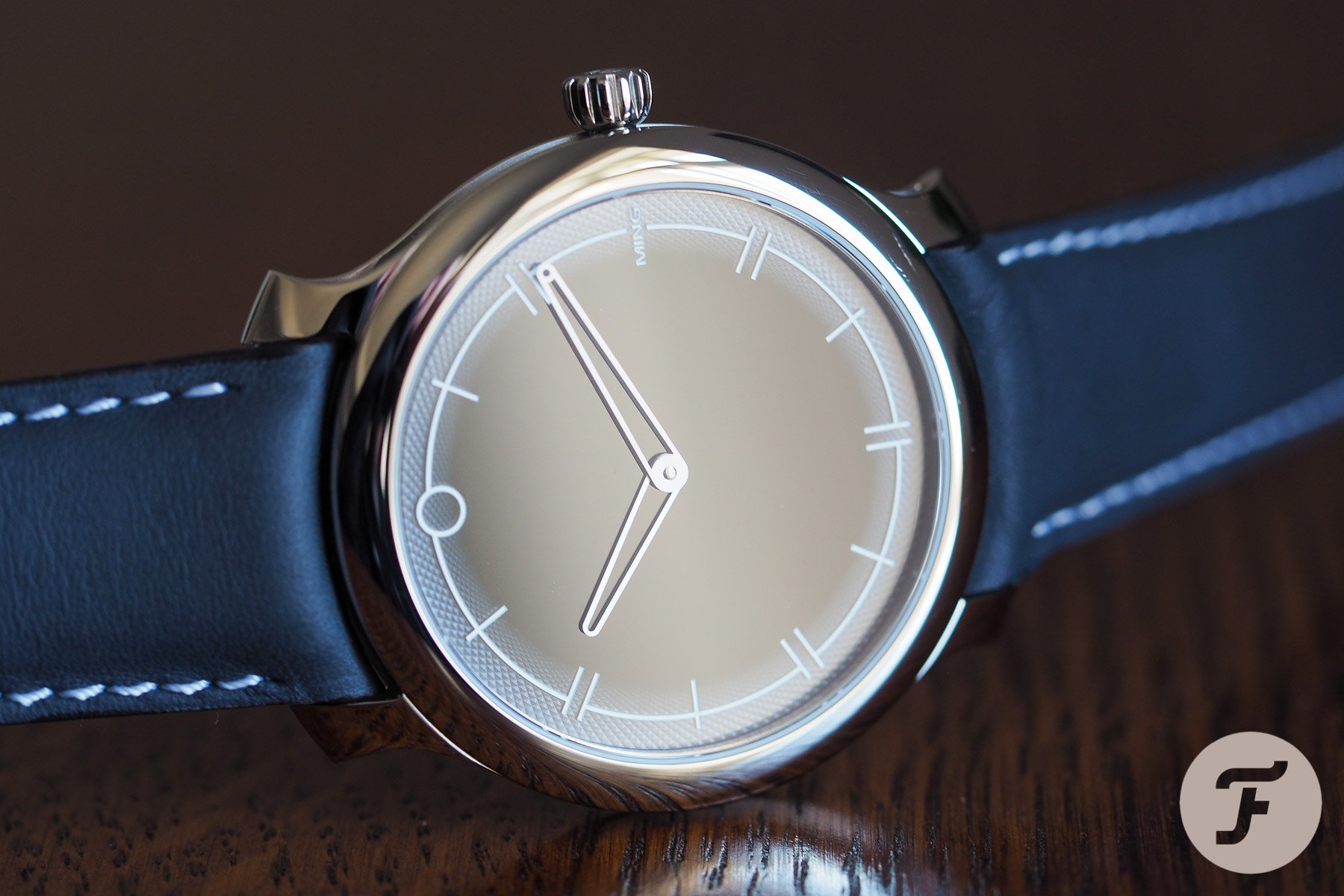 This watch deserves good lighting
The other thing that I noticed about the MING 27.02 was something that I couldn't really notice. Where was the guilloché gradient ring at the edge of the dial? Under those yellowy fluorescent lights in the office with the watch in its black pouch, the textured ring wasn't shouting at me. Thankfully, pulling the watch out and bringing it over to the window exposed the whole reason for this watch's being in a more pronounced manner.
Let's get one thing clear — at no time is the guilloché ring on the MING 27.02 ever shouty. It's pretty damn subtle, but when you hit the lighting just right, it's ridiculously good. The black sapphire dial is essentially clear at its edges and this allows the ring to shine through. As the eyes move inwards, the ring slips away. How quickly it disappears really depends upon lighting and it's truly at its best in the natural stuff.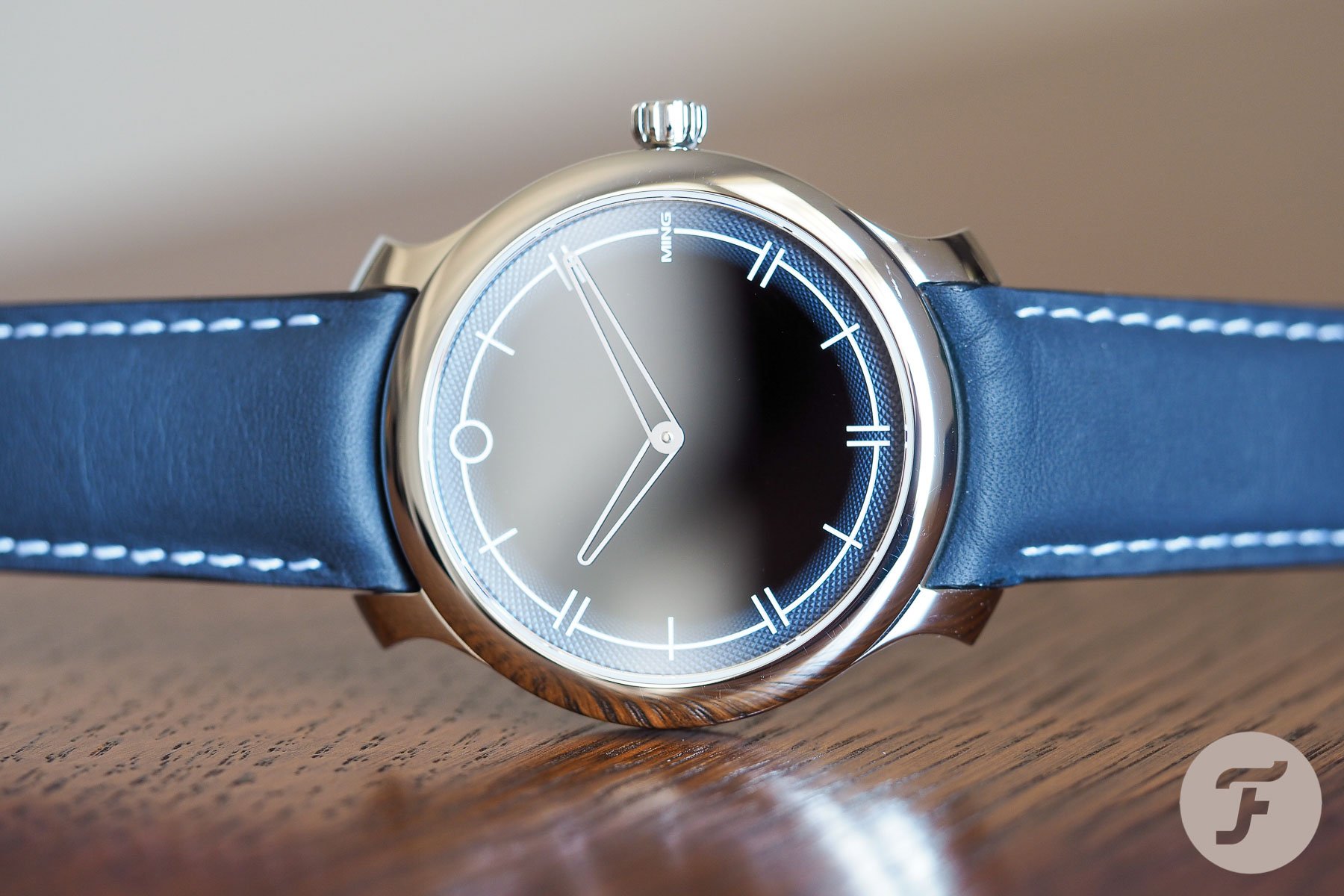 The dial is a chameleon
Some shots I've taken show that if you performed a cross-section on the ring, it would look like a semi-circle. In fact, it would be a brass arc with a surface of stamped little squares that are colored in blue. This is what gives us all that texture and fade. Another detail to note is the etched-and-filled white dial detailing. At a distance, it looks pretty normal, but up close the detail work is pretty special.
I mentioned that I was a little concerned about buying a dress watch. I rarely dress up these days and even without the current work-from-home environment, business casual is my norm. Still, there's something about a slim, well-crafted dress watch and I'm thankful that the MING 27.02 doesn't disappoint. It's truly slim at just 6.9mm thick and it feels thin. However, once it's on the wrist, it also surprised me. This watch could easily pair with a suit. However, the wild thing is that it also works with a pair of jeans and whatever button up shirt I've been wearing untucked when I do go into the quiet office.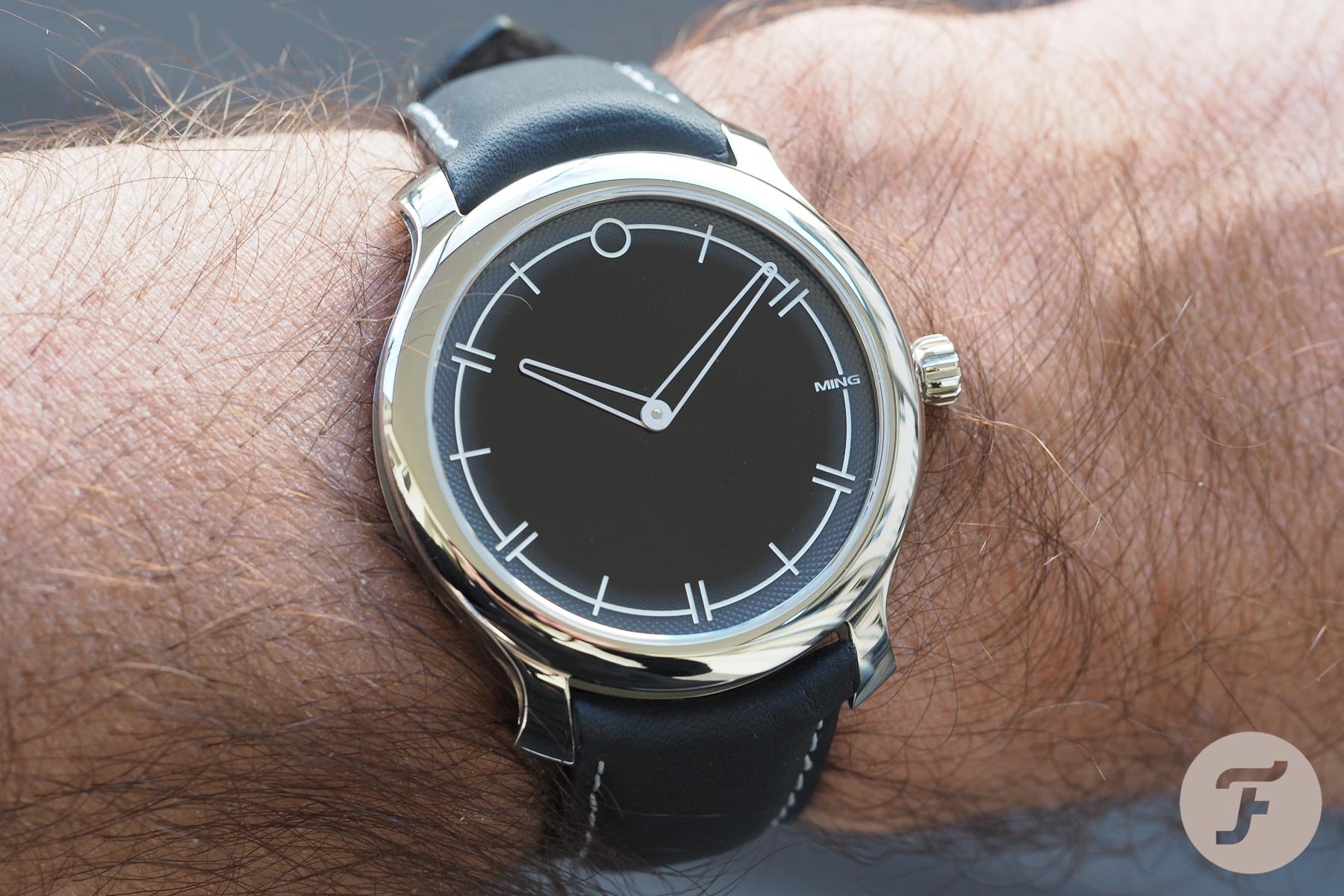 Thin yet substantial and well built
As slim and beautifully finished as the MING 27.02 is, it is also substantial. I wouldn't call it heft because it isn't heavy. I'd just say that it's quizzically possible for something to feel delicate and sturdily built all at once. Chalk a bit of that up to two things. This watch comes in at 38mm, but the short lugs along with the slim bezel make it look large. Compared to my MING diver at 40mm, this actually looks larger because of that bezel difference. The other factor at work is the grey-blue Jean Rousseau strap. It has curved ends that snuggle right up against the case. I think that adds to the visual weight of the watch. In the end, what I'm saying is that this watch could conceivably be an everyday wearer. That is not something I expected.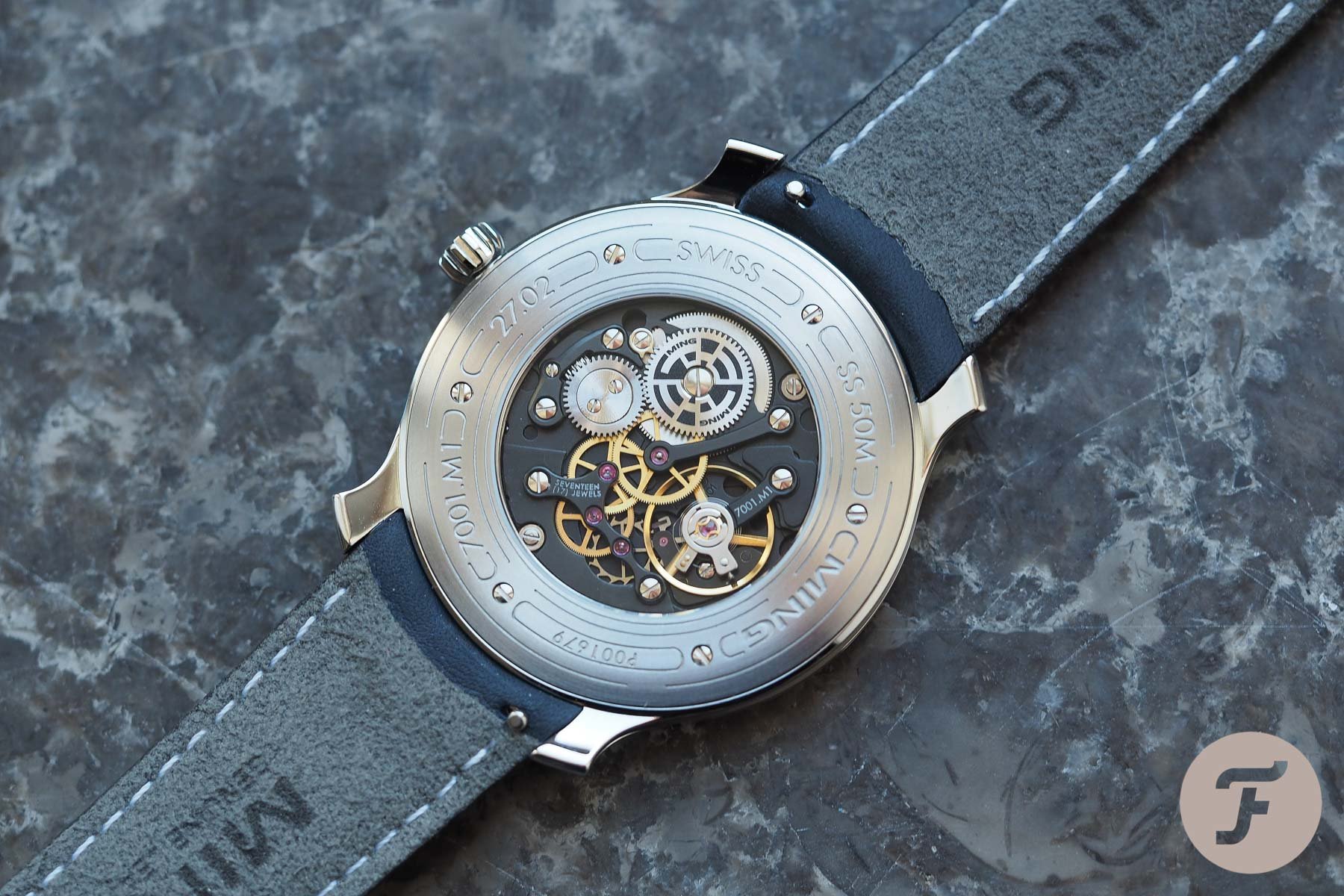 The movement — get over it
A bit of an incessant bitch out there relates to the choice of movement. The MING 27.02 uses the ETA 7001 manual wind caliber. While that's nothing exotic in itself, Schwarz-Etienne works their magic here and basically modifies all the plates and adjusts it to five positions. The boo birds out there calling for a bespoke movement at this price with this level of finishing are asking for a bit much in my view. The movement is on display through the case back and in my eyes, it lives up to the rest of the watch.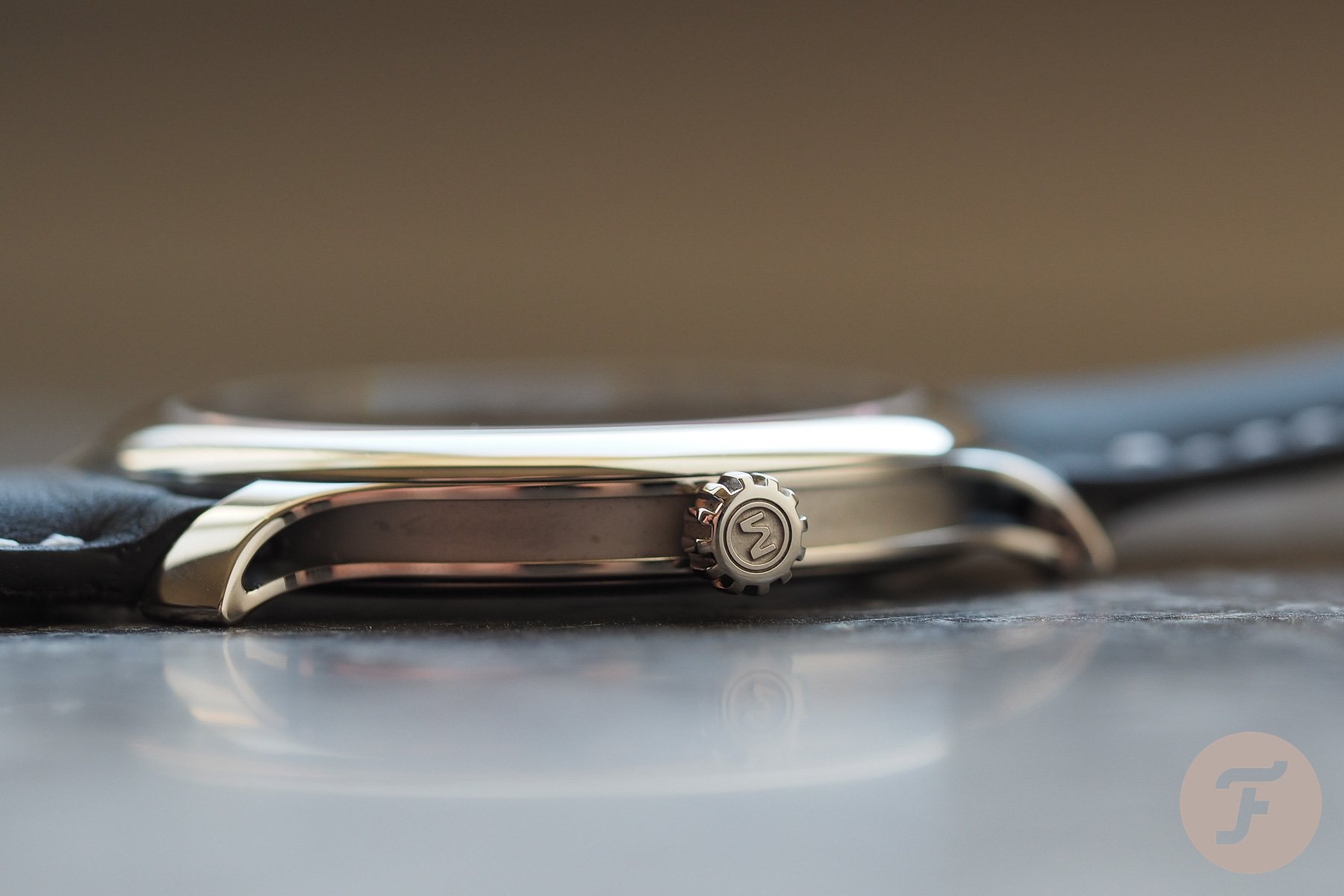 Details and demerits
There are other details that I enjoy about the MING 27.02. The "flying blade" lugs are exceptional. It's funny because most of the press images for this watch don't reveal them, but they add an even more modern touch to an already modern-looking watch. I even pulled out a loupe and investigated the lugs to see how the curved spring bars attach to the case.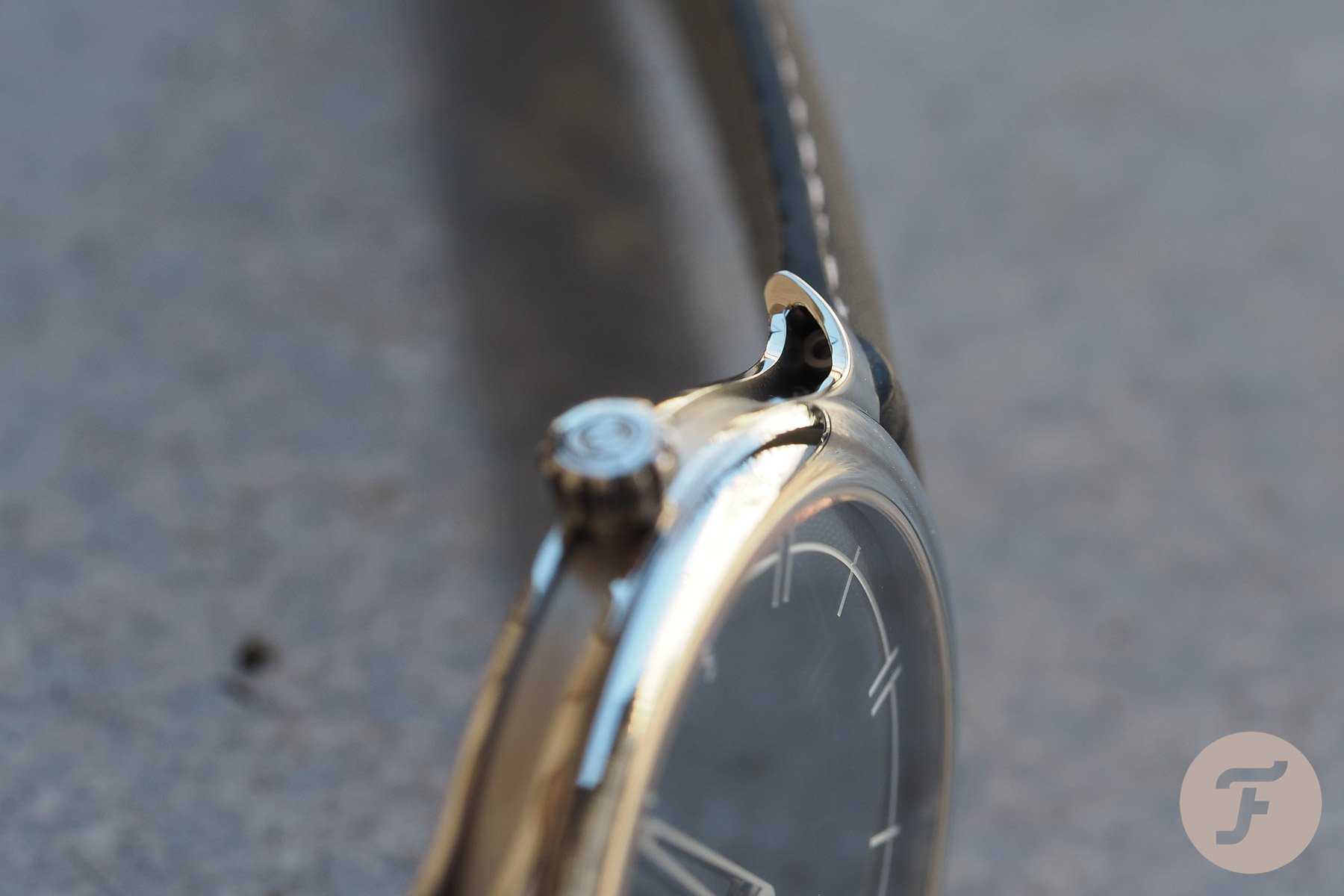 It turns out that there's a little tube in there — neat stuff! The other detail that I enjoy is the pin buckle. Normally, this isn't a big deal, but this buckle replicates the lugs and is hollowed out on the sides. It all comes together to show great attention to detail.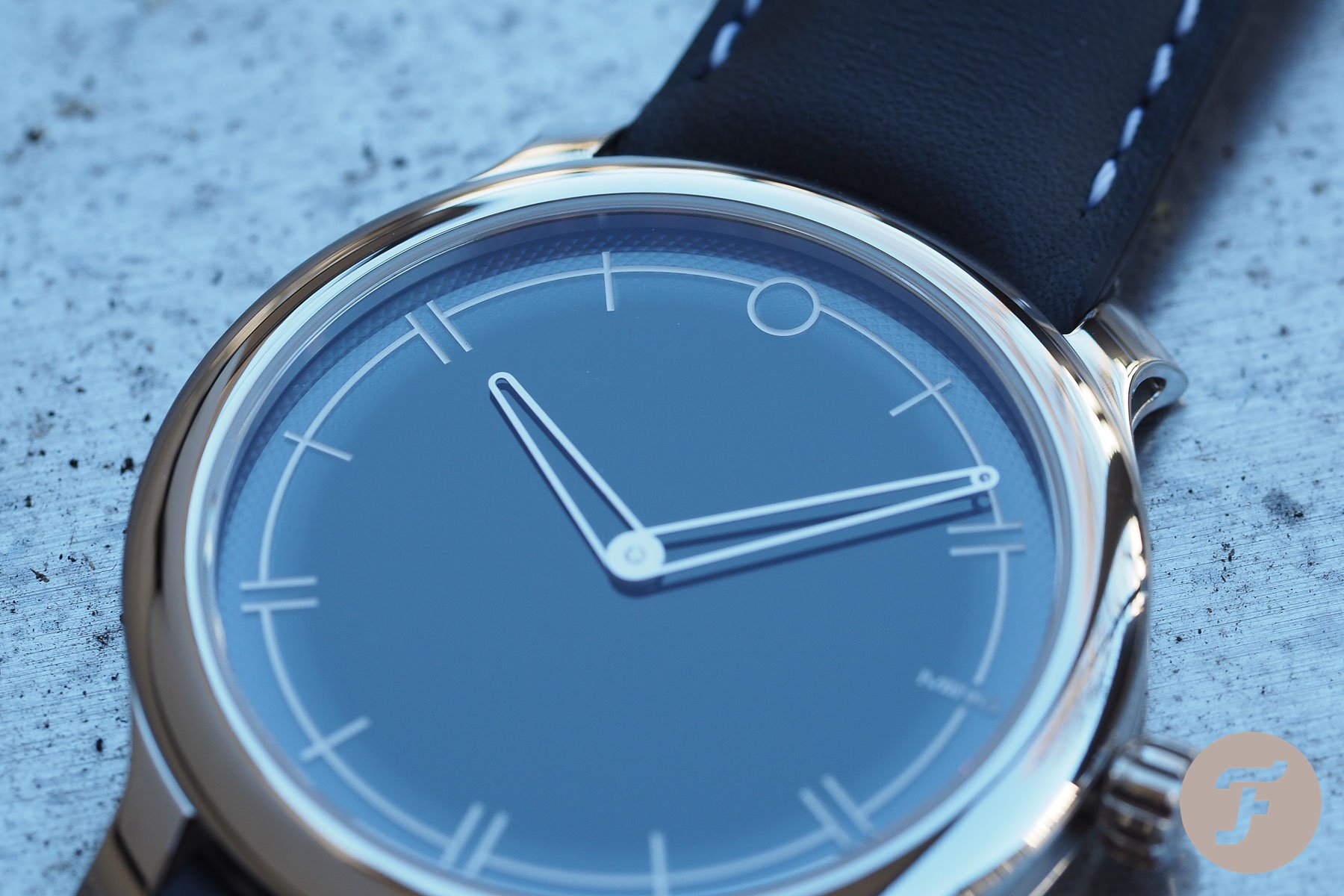 As far as demerits, I really don't have many. I mentioned that the flat sapphire crystal is a dust magnet. Perhaps this is no different than other watches, but it's highly noticeable against the inky bottomless dial of the MING 27.02. When things warm up a bit and my skin is no longer alligator like, maybe things will improve. The other detail that struck me as unusual was the matte finishing on the hands. They contrast against all the polished surfaces on the bezel, the dial, and even the crystal. It's not really a dislike and I don't think that a polished handset would work, but I did notice them.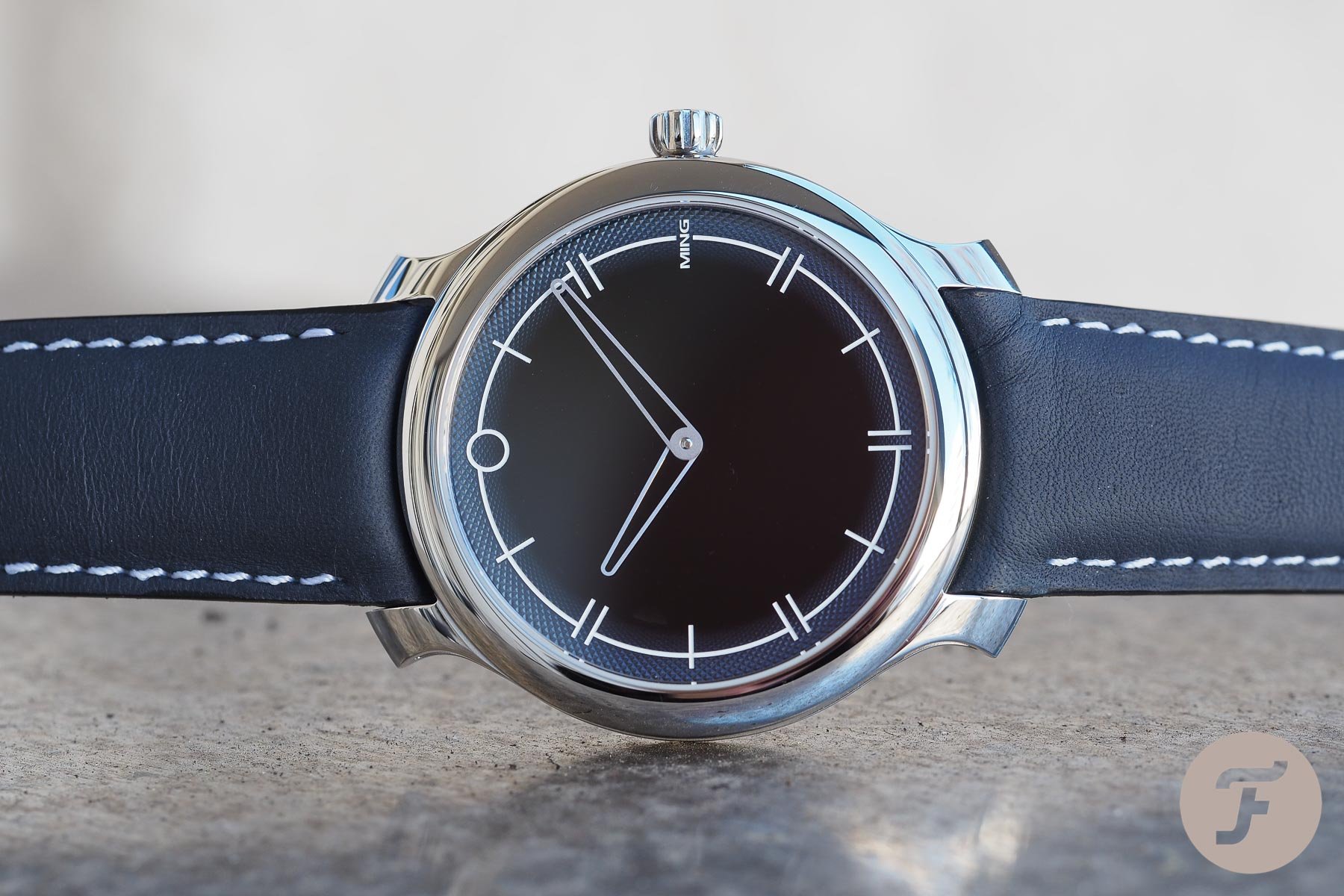 Final thoughts
I'm an unapologetic fan of the MING 27.02. I love the way it looks and I really do think that the vast majority of those who ordered one will feel the same. For those who are watching from afar and trying to figure out all the hype, all I can say is that they feel really well crafted. Plus, whether you like the brand's aesthetic or not, Ming is sticking to its guns with a common theme that the designers manage to freshen with each release. If you can't tell already, this will be one of those cases where I'm unhappy to see DHL. November is a long way away…