Hands-On With the New Ming 18.01 H41 Diver
The prototype that hasn't left my wrist
As a follow-up to our new release article on the MING 18.01 H41 diver, we go hands-on with one of the very few prototypes.
When we broke the news on the MING 18.01 H41 diver, you may recall that I was waiting on a prototype version to arrive. Customs apparently had other ideas and the watch made its way to me nearly a week later. Had it arrived on time for the reveal, it would have been exciting. But in retrospect, I'm glad it was late because I can now give you some more informed opinions. I'll also try to address the questions and concerns I've received via Instagram. And I've also added loads of pictures in the gallery, but ask questions if you have them. Shall we dance?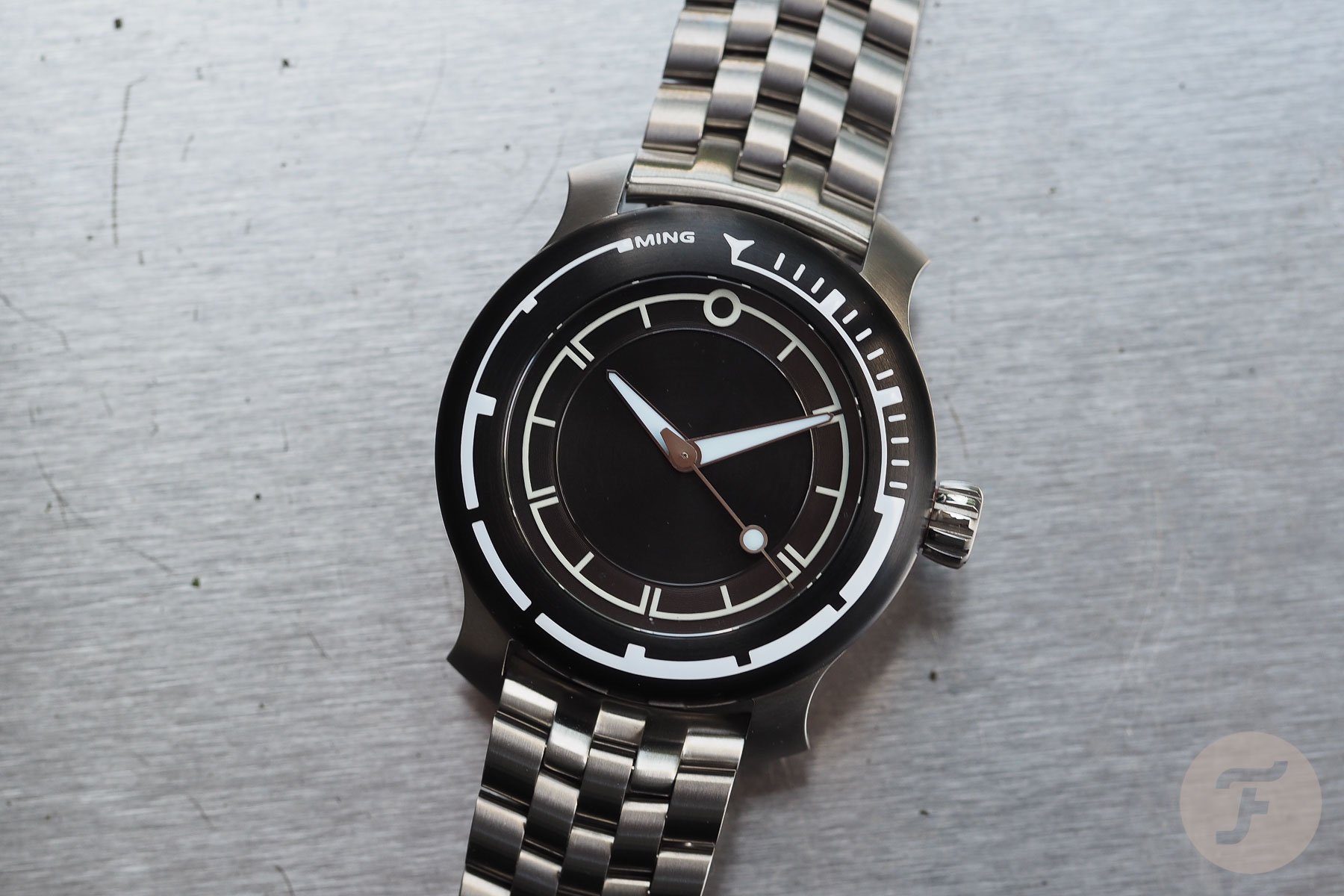 The MING 18.01 H41 is a very different watch
I won't spend a lot of time recounting the particulars, but here they are in a nutshell. The MING 18.01 H41 is the brand's first serial production dive watch. It follows last year's 18.01 Abyss Concept and, by and large, it doesn't stray from that design. It's a 40mm by 46mm by 12.9mm diver made from Grade 5 titanium. The case is available in either bare or black DLC. The unidirectional 60-click bezel is DLC-coated stainless steel with a Super-LumiNova scale. The watch has a screw-down crown, screw-in case, and a 3.5mm thick sapphire crystal with anti-reflective coating. It's water resistant down to 1,000 meters.
The MING 18.01 H41 uses a top-grade ETA 2824-2 automatic that has been modified and adjusted by Schwarz-Etienne to 5 positions. It hacks and the date "stop" has been removed. A newly released bracelet is available on the bare model while both case variants can be paired with new rubber straps.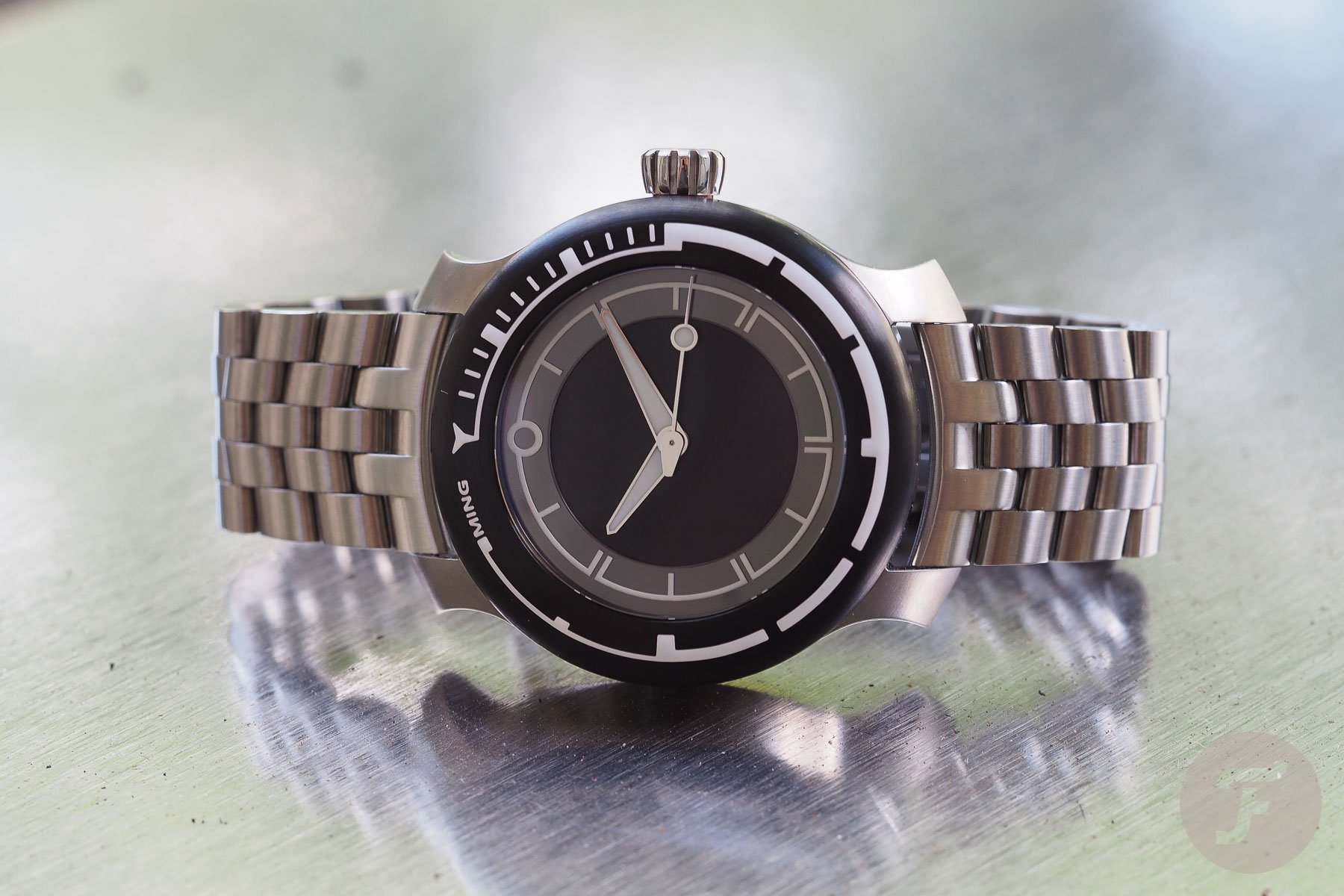 The MING design language on a diver
Ever since going hands-on with the 17.06 Slate, I've been an unapologetic fan of the brand, their design direction, and dedication to the details. I'm fortunate to go hands-on with a lot of watches and I can avow that they box well above their weight class in terms of finishing and overall value. I also like that they've carved out a unique and recognizable style. But how would this design language translate onto a very un-MING like tool watch such as a diver? The MING 18.01 H41 has given us the chance to find out and my take is that it does very well indeed.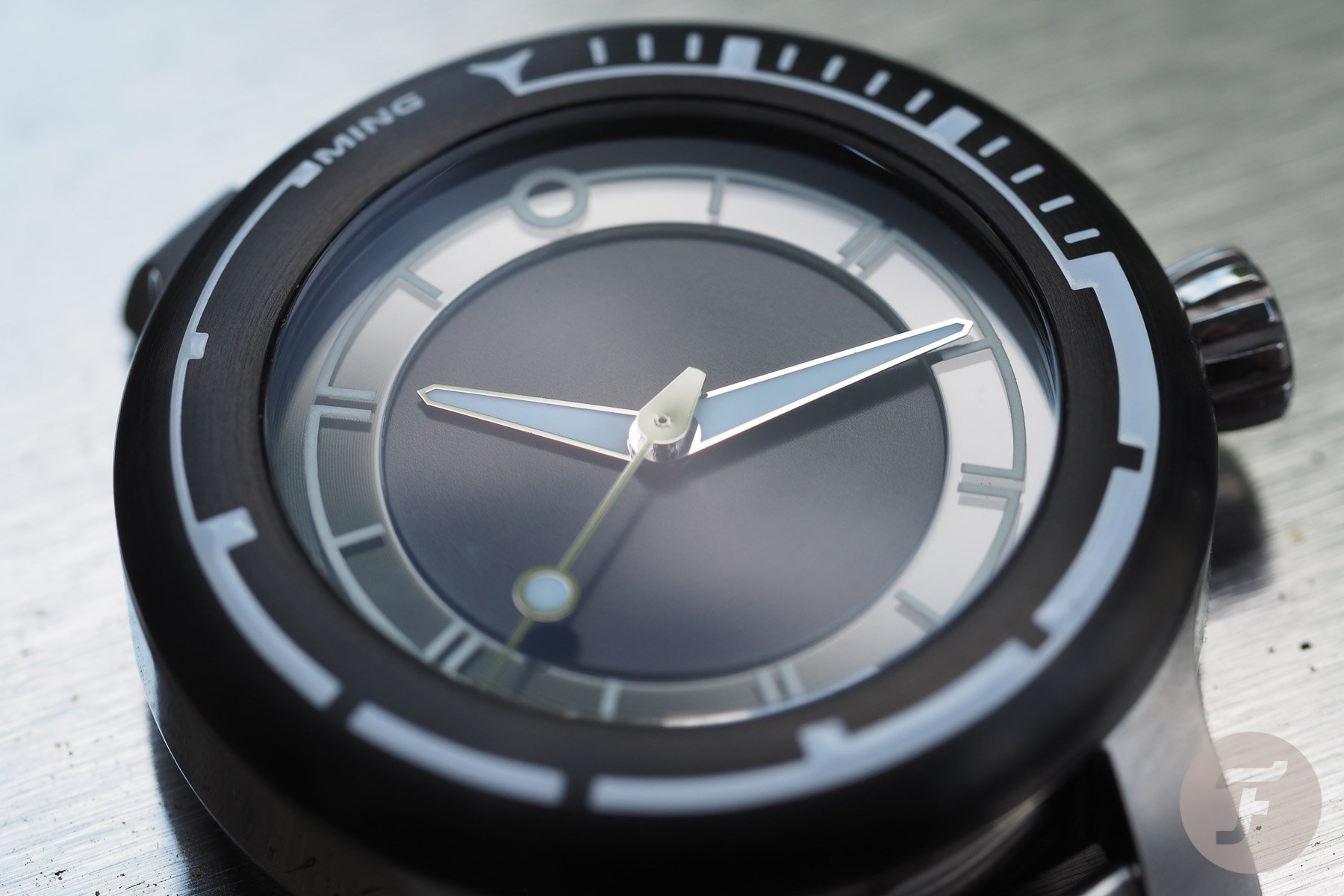 Not your average dive watch
I'm clearly into different divers these days. You'll soon see a review on my newly acquired Breitling Superocean Heritage 57. That's a rather unorthodox diver that I'm in love with and — spoiler alert on this article, it along with the MING 18.01 H41 has an amazing bracelet. Are watch companies finally getting their bracelet game in order? But I digress… The MING 18.01 H41 is truly an outlier amongst typical dive watches style wise. If you performed some sort of root cause analysis on the why, you'd find that the bezel is the primary culprit. Note: I think that the IWC Ocean 2000 is the only semi mainstream watch that comes close in the styling department.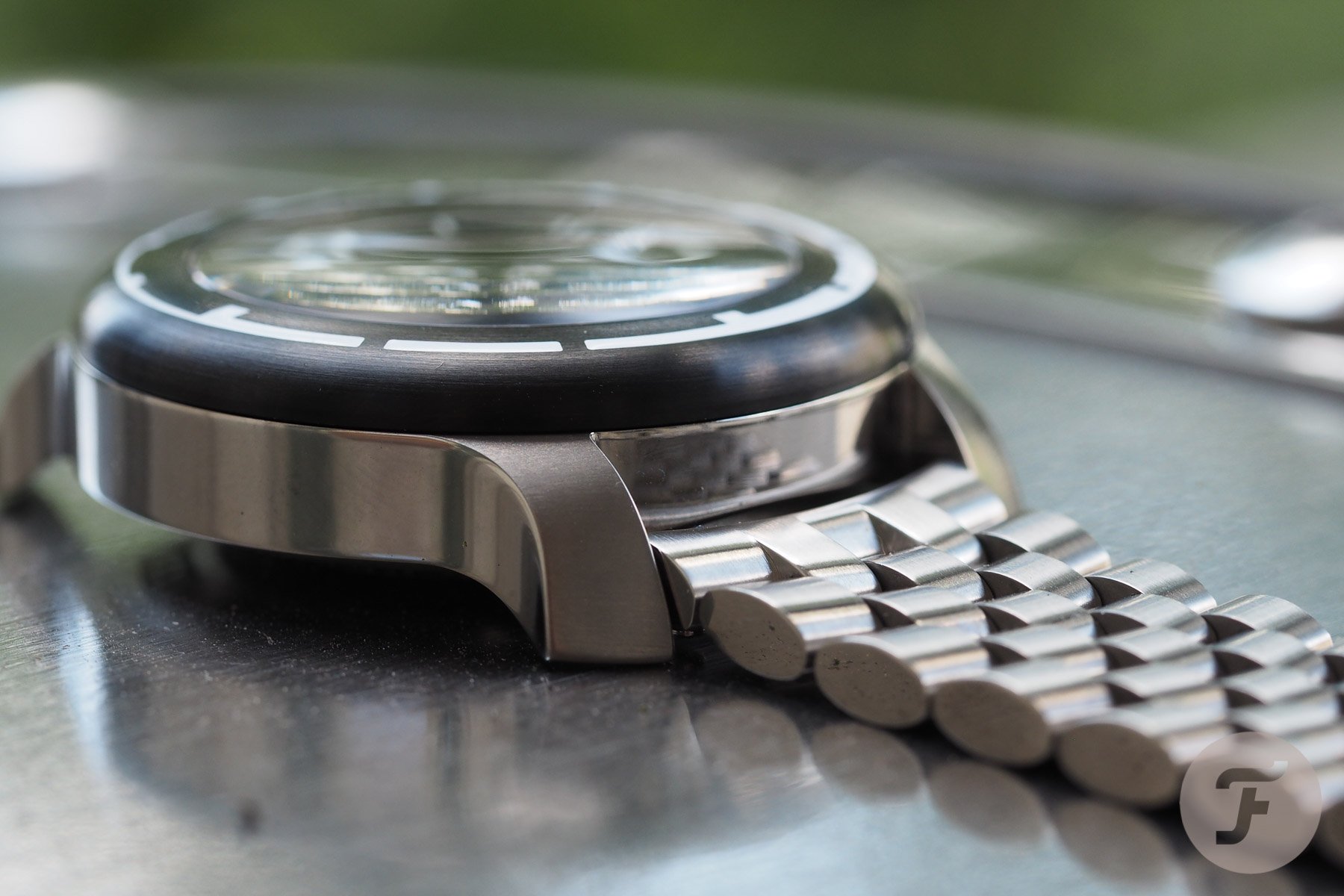 The DLC-coated stainless bezel on the MING 18.01 H41 remains consistent with all other watches made by the company past and present. This means that it's rounded and does not overhang the mid case. I can tell you that whether in pictures or on the wrist, this creates a bit of mental confusion. We've become so accustomed to seeing dive watches with a case dominating bezel complete with grip-aiding knurling that this just seems wrong. And without obvious grip, it also creates a gripe that the design is impractical.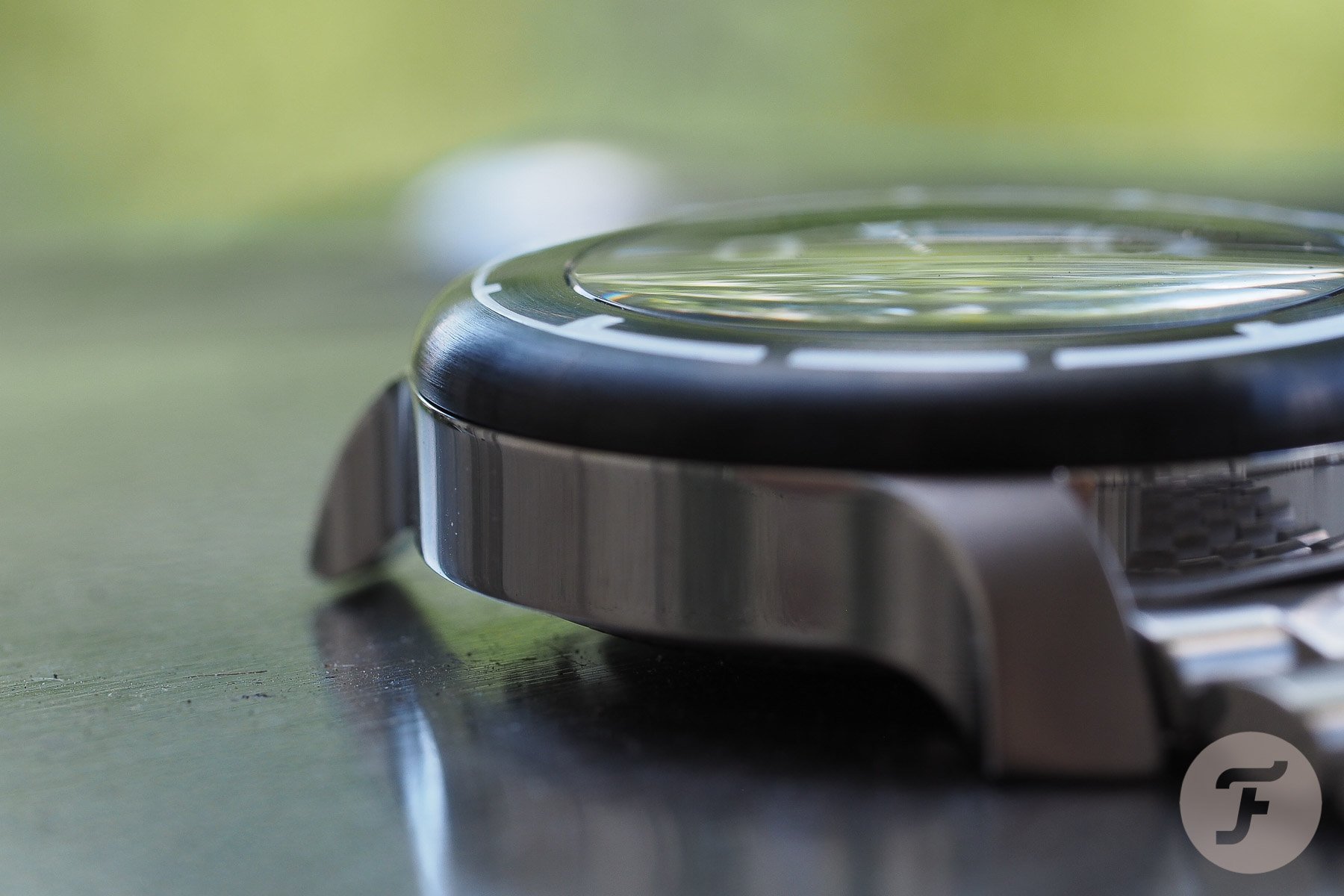 Functionality on a controversial bezel
I'm no diver and, therefore, I don't know what a dive watch bezel truly needs in order to satisfy underwater explorers. However, people have asked if it's easy use. In a word: yes. The bezel on the MING 18.01 H41 has an underlying matte finish and I think that helps one's fingertips get ahold of the bezel. Also, the tension feels like just enough to make turning tactile, but it's not at all loose. There's zero slop here either and the markers line up perfectly. The scale also seems logical to me despite the lack of numbers. Here again, having to do some mental calculations at depth could be a challenge. On the other hand, if I go back to the Ocean 2000 reference, that watch also does without numbers.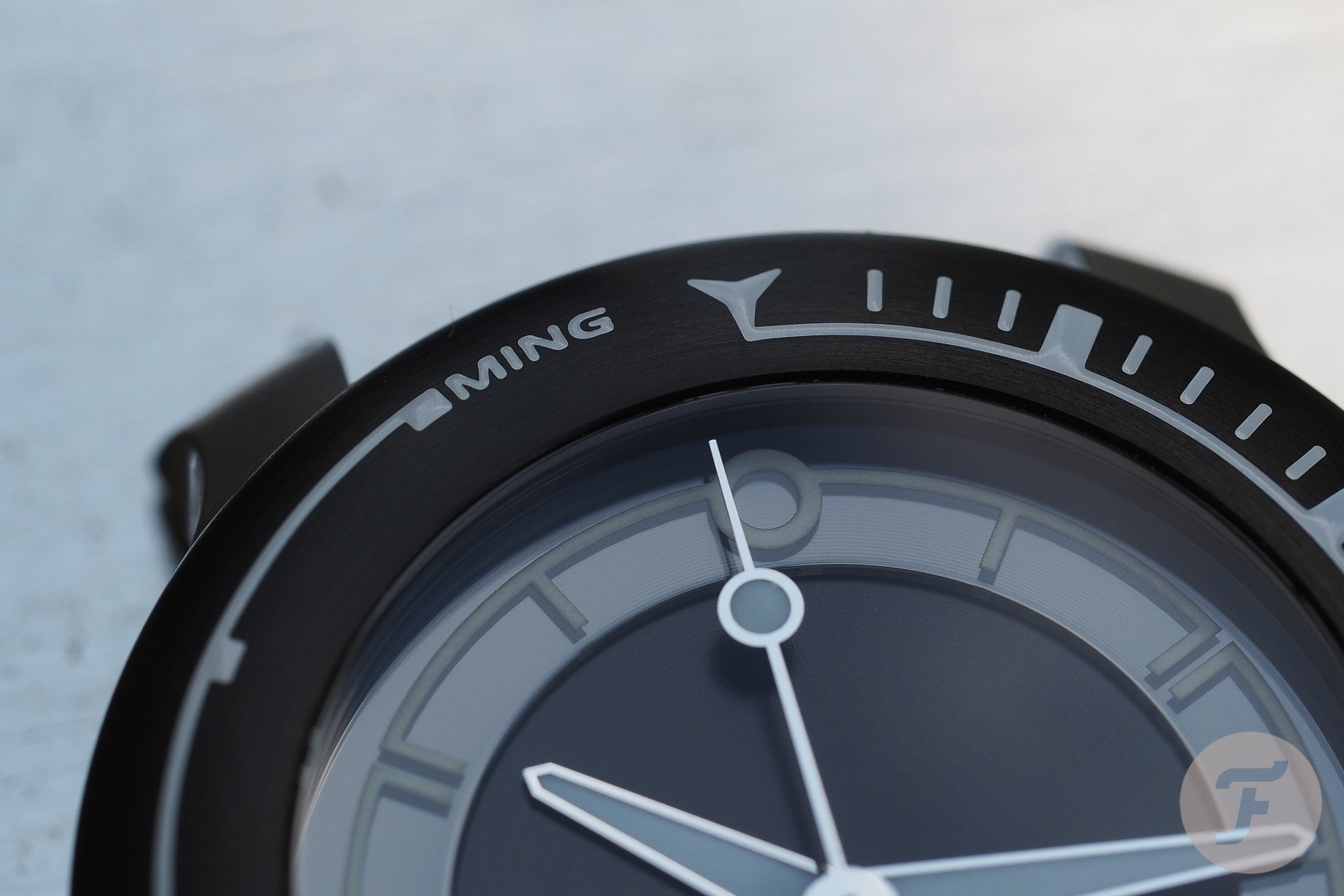 Sorry for taking so much time to discuss the bezel, but I really do think that it, along with the case design, is why you're here reading this. I asked the MING team why the 18.01 H41 has a stainless bezel and why they moved away from a ceramic inlay. Simply put, they wanted the bezel to be a one-piece affair. They felt that at depth and pressure, a separate inlay could pop out. MING also feels its DLC will be as scratch resistant as ceramic. Ditto on stainless versus titanium for the bezel itself. The underlying unidirectional mechanism is steel and using titanium would have created a two-piece design. And then I asked about a bare titanium bezel with lume. I was told it looked good, but that the contrast between the lume and the metal wasn't good enough.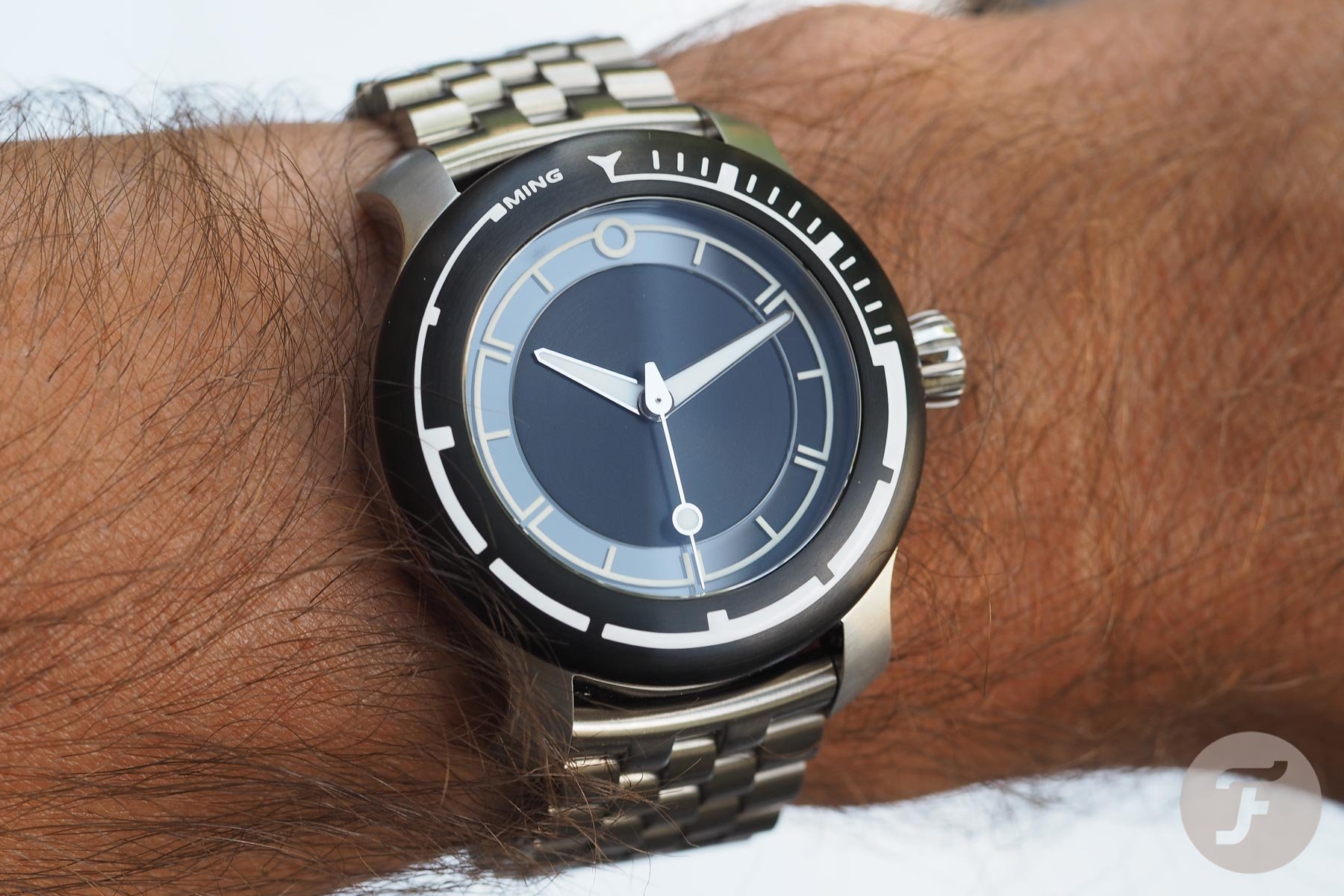 Proportions unlike most divers
I'm not done yet with the bezel. On traditional divers, the bezel has a way of making a watch look larger than it actually is. Obviously, if the bezel extends past the case, this is why. The other reason is that bezels usually lie flat or slope downward away from the crystal. This also tricks the mind into thinking a watch is larger than its number might suggest. With the MING 18.01 H41, you have the exact opposite scenario. The fact that this element is rounded towards the dial makes it appear as smaller than 40mm. I didn't measure the diameter of the dive scale using the outer edges of the lume, but I'd guess it's around 36mm. And visually, 36 – 38mm is how this watch appears. And to be fair, you'll need to decide if that's something that works for you or not.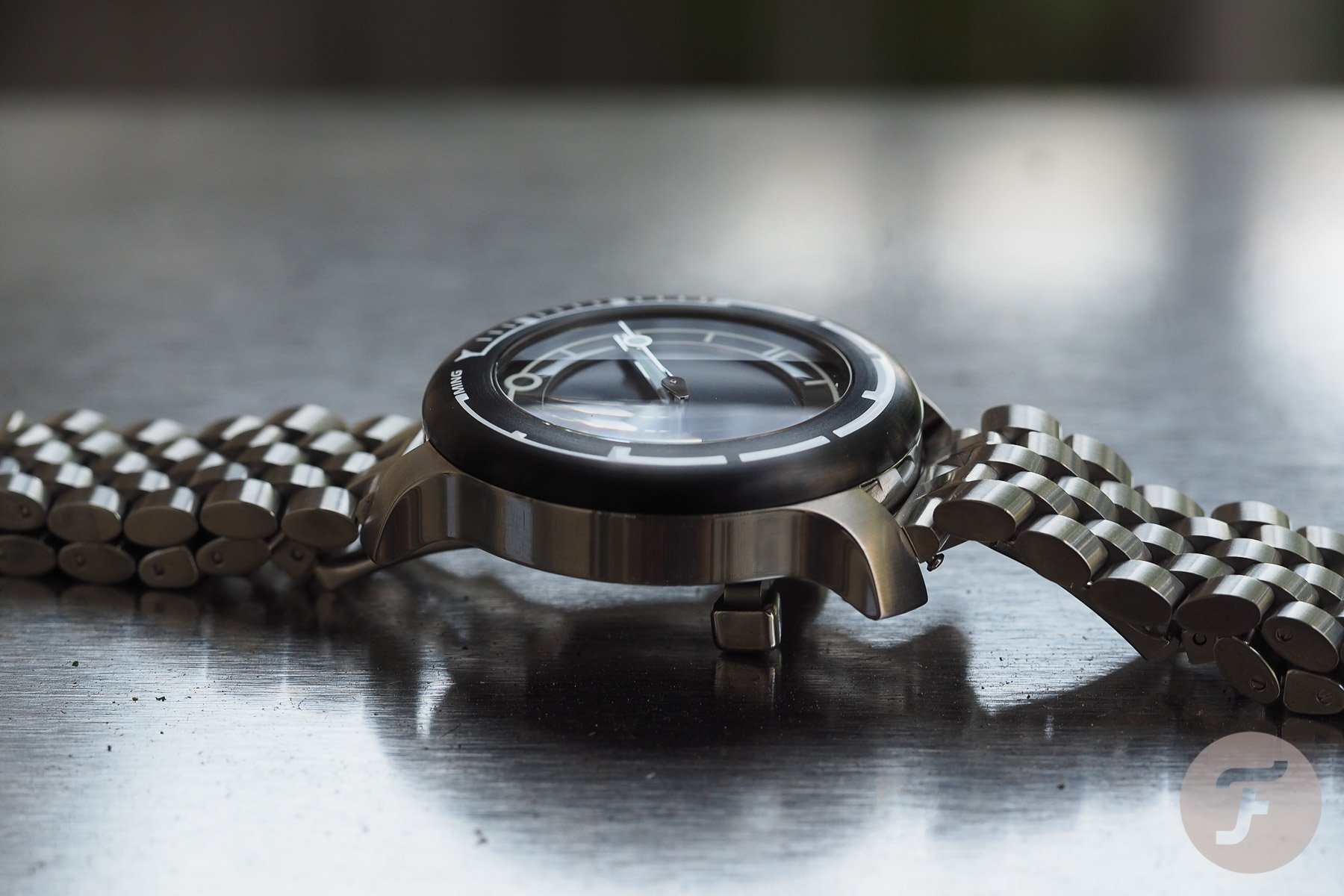 A case that surprises
When we come to the Grade 5 titanium case on the MING 18.01 H41, I have a number of thoughts. Firstly, I've never really warmed to titanium. As much as I like the use of advanced materials, I find that the metal often possesses a plasticky feeling. I'm also not a huge fan of the grayish hue it takes on with a bit of oxidation. With this watch, the sides are polished to a mirror shine and it seriously looks like steel. Even the matte polished lugs have kept from looking like battleships and it's not for lack of me sweating in it (side note: Germany has been disgusting over the past couple weeks). I was worried when the team chose titanium over steel, but it's no issue whatsoever.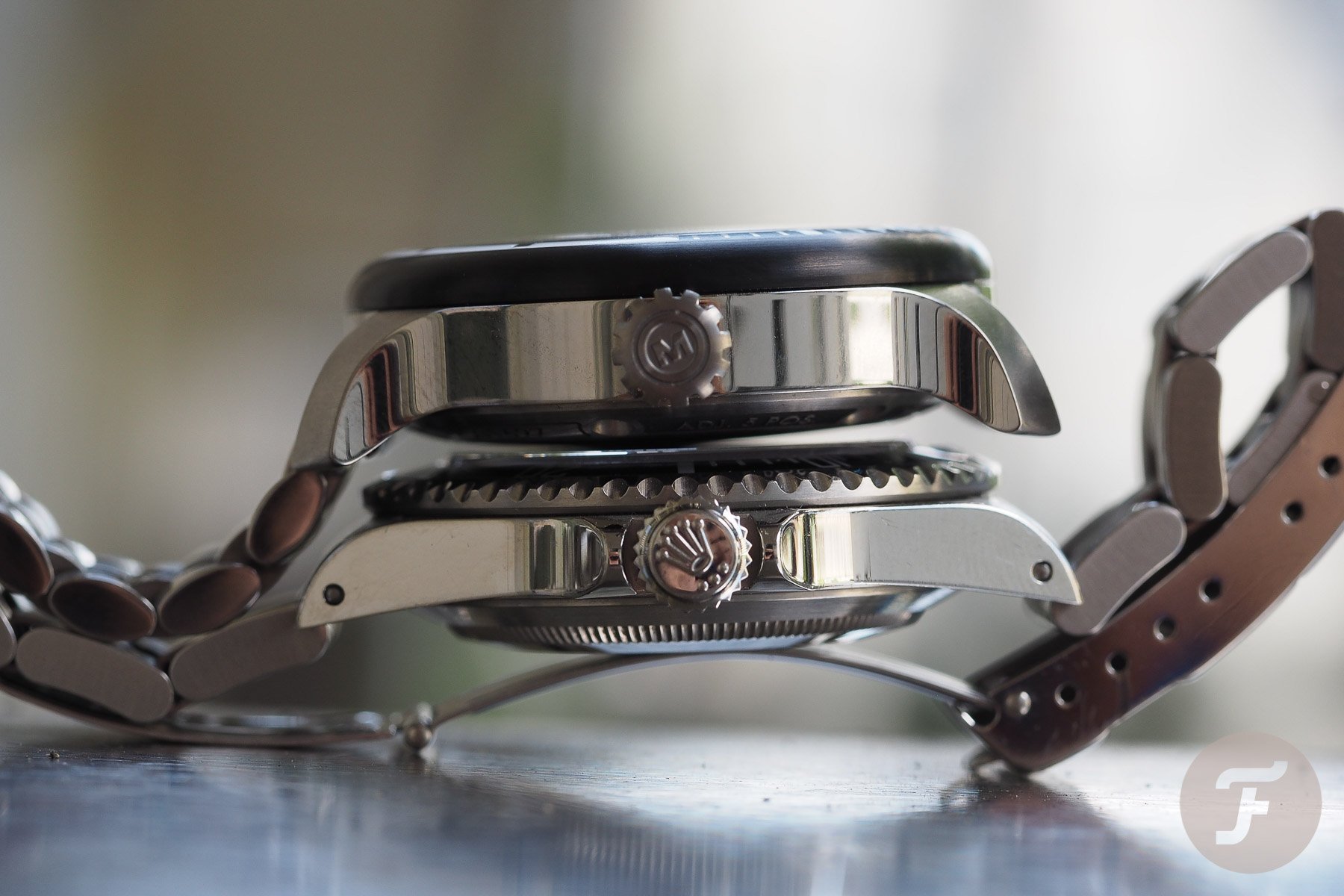 Next, the side view of the MING 18.01 H41 is not without controversy. I've had some Instagram commenters call it inelegant and thick. When compared to a Submariner, perhaps the mid case is thicker, but the tally still comes to only 12.9mm. Some, in conjunction with its minimalist dial, say the whole thing looks sci-fi and very "of the moment". And it's true that without a bezel to provide some shade, the mid case seems to occupy a large expanse.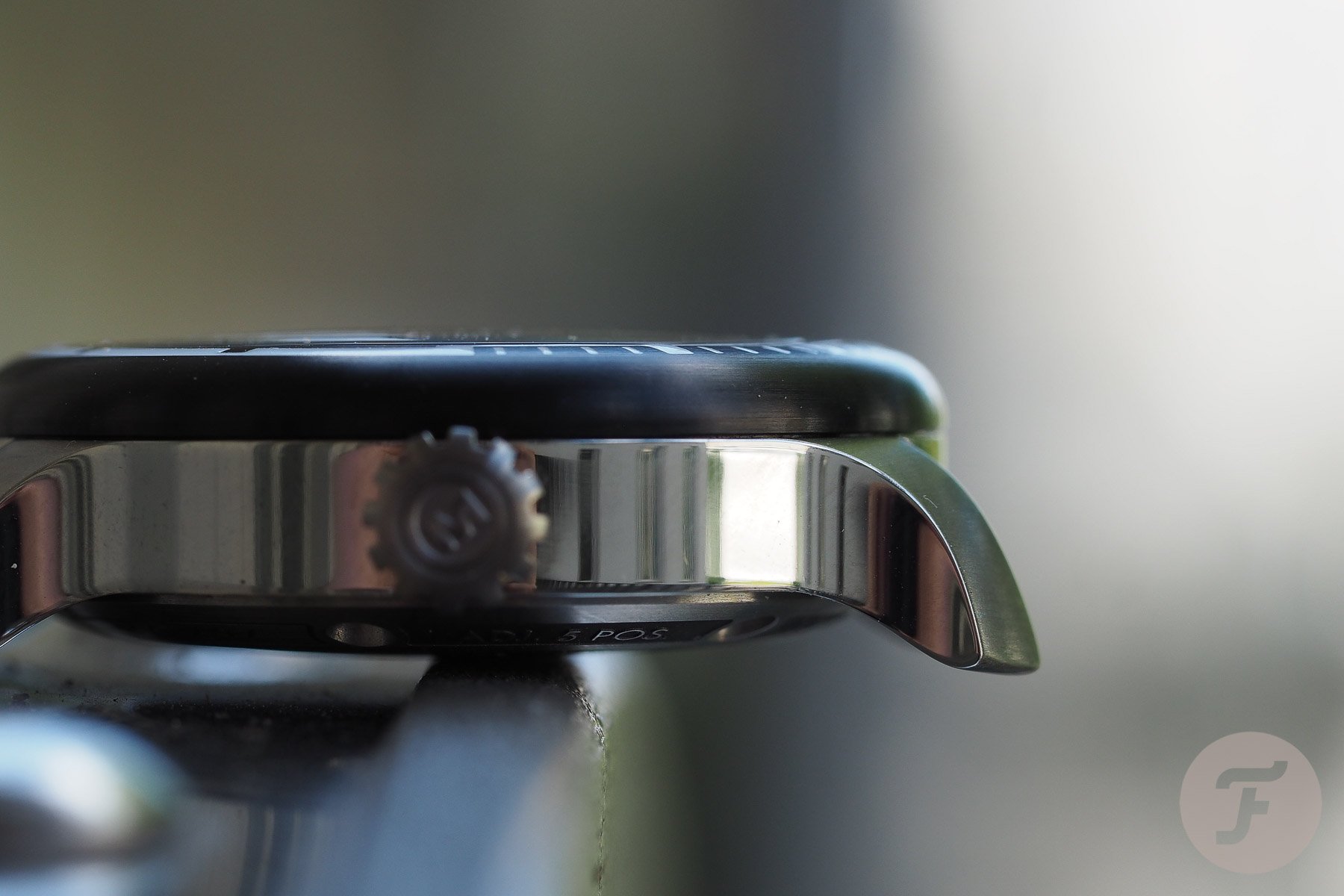 Adding to this optical illusion are lugs that seem to drop vertically. I'd agree that it's a severe look. And with that, I suppose that the MING 18.01 H41 would still work pretty well on a larger wrist, but it absolutely rocks on my smaller wrist. Yes, it comes off as and taller than the specs, but it's simply not.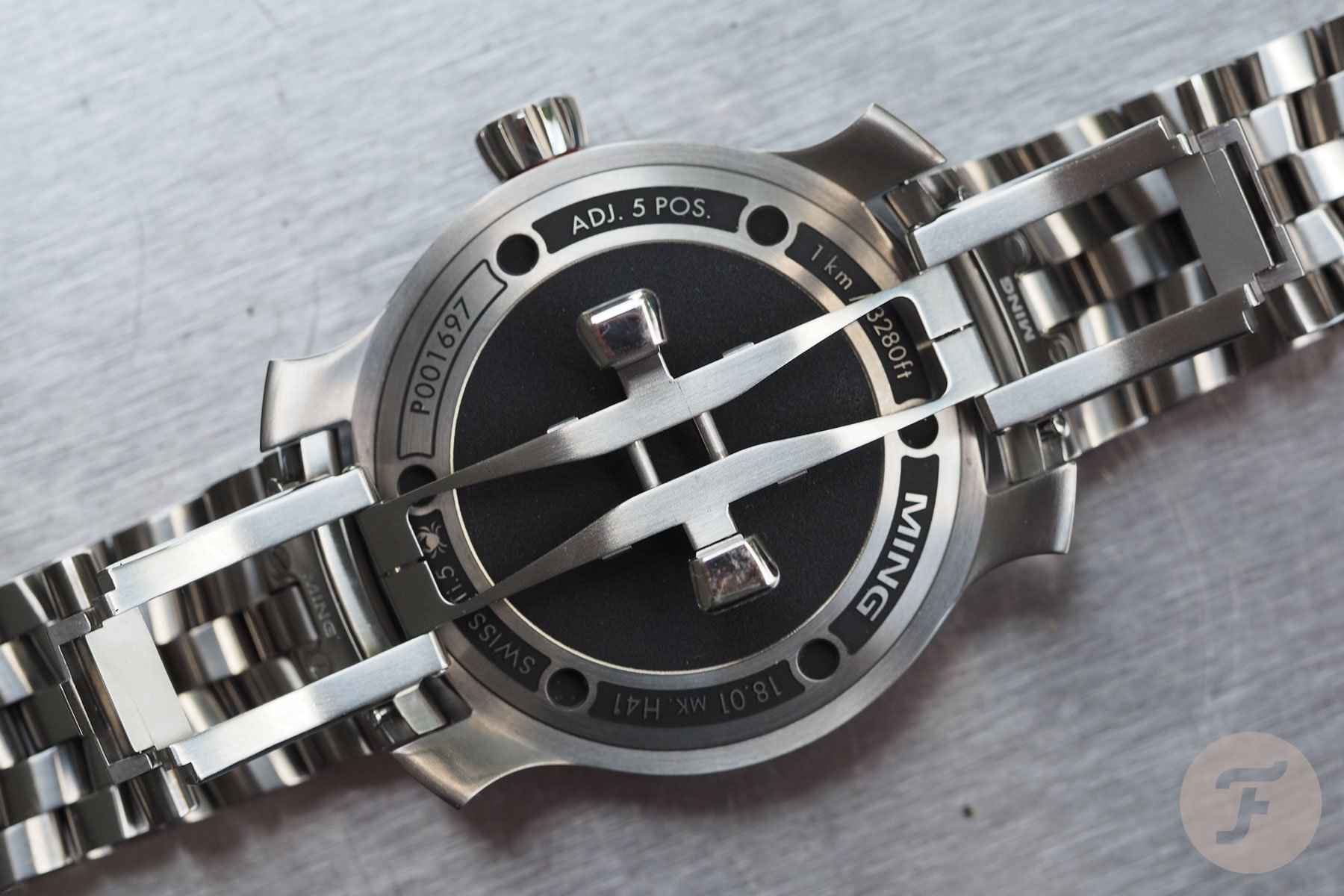 A detour to the bracelet
I mentioned that the MING 18.01 H41 wears well and this is due in no small part to the new bracelet. MING released a new titanium bracelet and it is fabulous. The bracelet uses a matte multi-link design that feels like a modern take on the traditional "beads of rice" style. Here again, it's an odd thing because it would pair with a stainless watch without looking like a different type of metal. The links articulate 180 degrees and the finishing is buttery smooth. That includes the mirror polished outside edges. The only other shiny bits are the two release buttons for the slim butterfly clasp.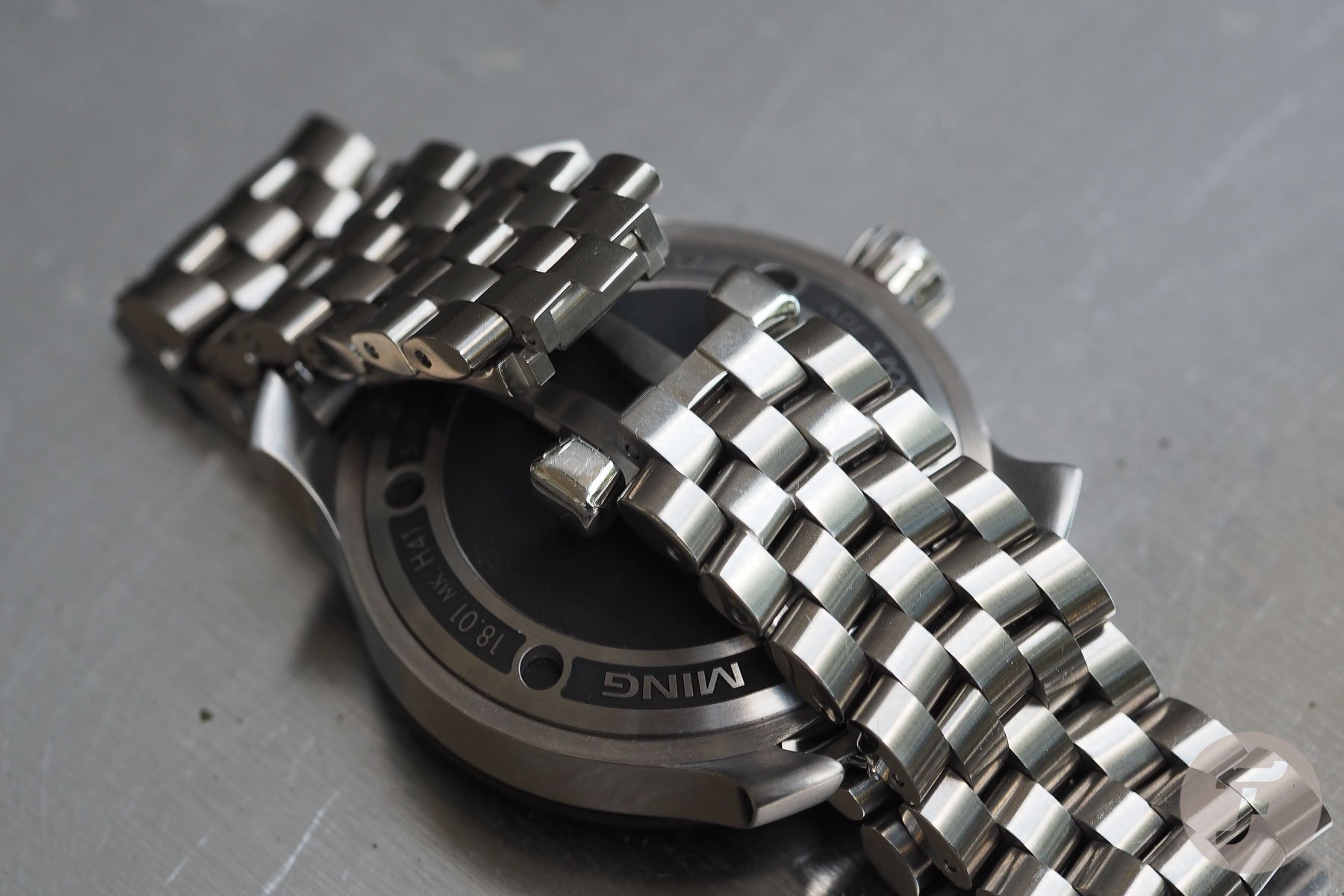 Interestingly, the clasp on the MING 18.01 H41 can only be secured one way. One side has an integrated "lip" that fits over the other side. Think of it as a camouflaged version of the current Rolex Jubilee where only the logo shows. Opening and closing is a secure high quality experience — a statement only watch nerds would understand. The links are secured by single screws, which made adjustment simple.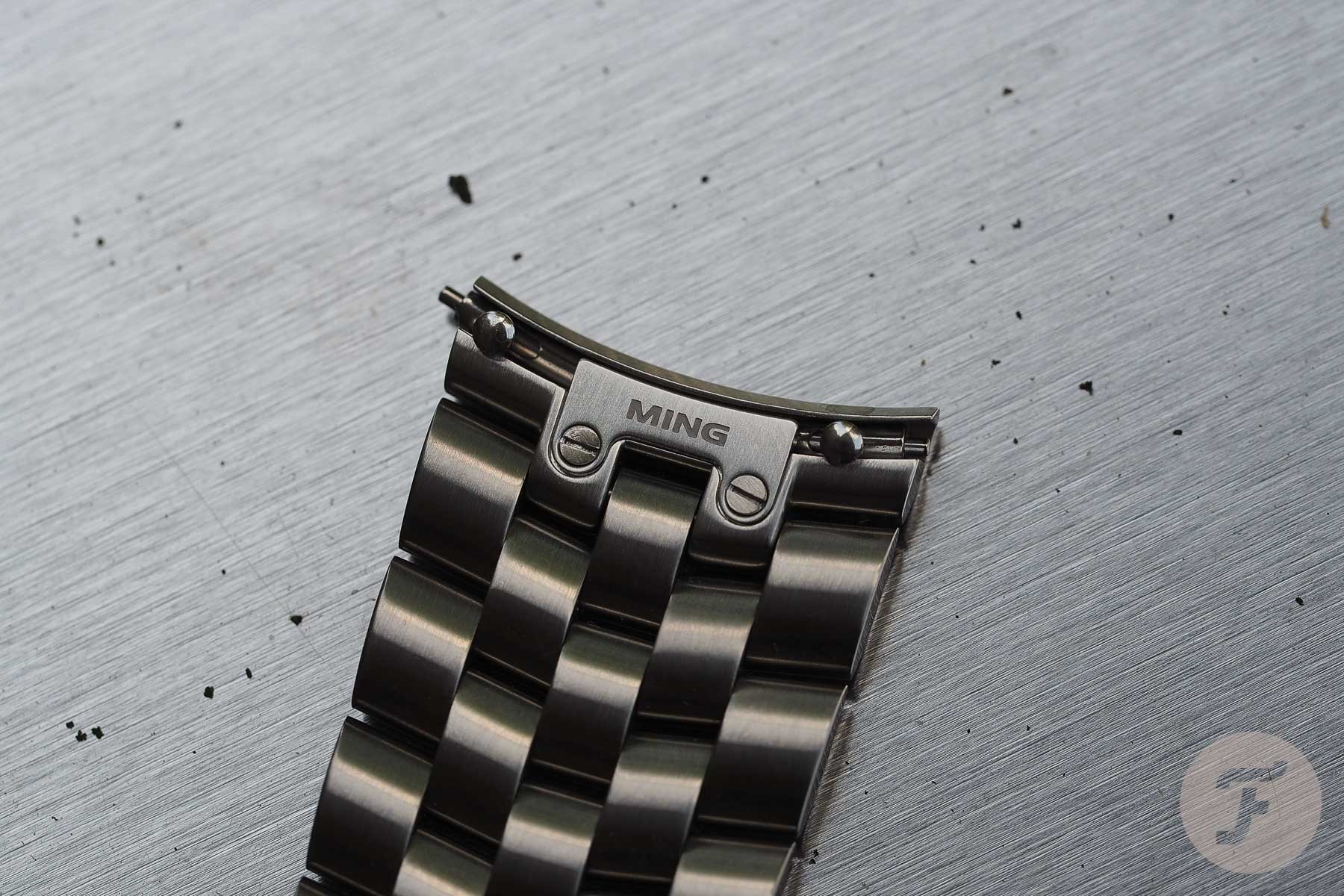 Addressing bracelet concerns
Two concerns arose about the bracelet on this MING 18.01 H41 variant. Firstly, it lacks any type of wetsuit extension or micro adjust. This is true, but MING designed it to fit on any of the brand's watches and, therefore, it's available for separate order for just CHF 500. The other thing is that it can be removed very easily via two quick release pins. This also makes adding either the separate rubber or whatever other strap a breeze.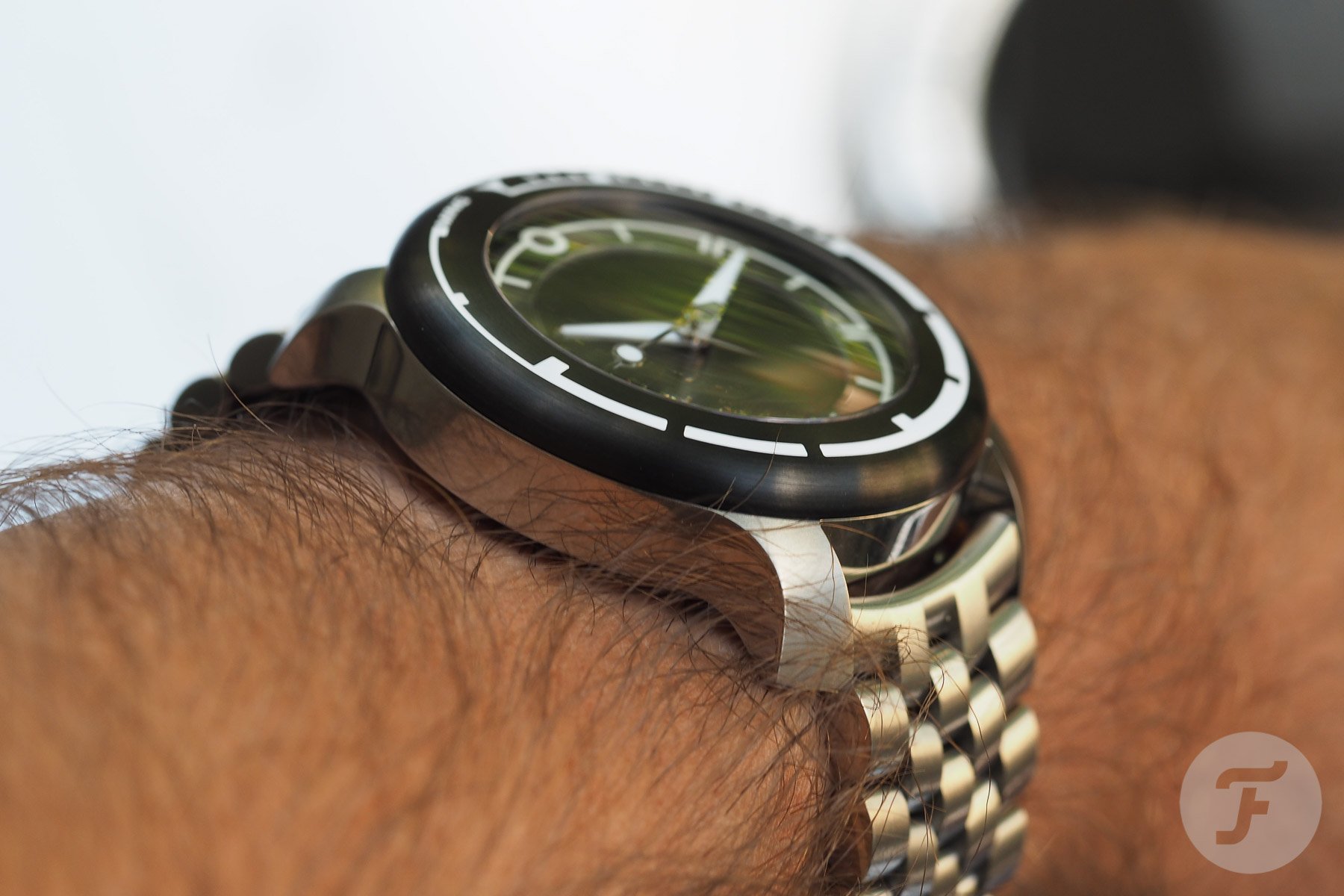 The other concern is that the curved end links create a gap with the case. Founder Ming Thein mentioned that they chose to do this to allow for a universal fit across all of its models. More importantly, the design allows for complete rotation of the end link. (As an aside, I think that solid end links would have proven clunky and could have ruined the case aesthetics.) This means that it conforms perfectly to even the smallest of wrists. I can attest to its comfort and appreciate the fact that nothing "sticks out" from the lugs of the MING 18.01 H41. Oh, and if you were wondering, I've experienced absolutely no wrist hair pulling.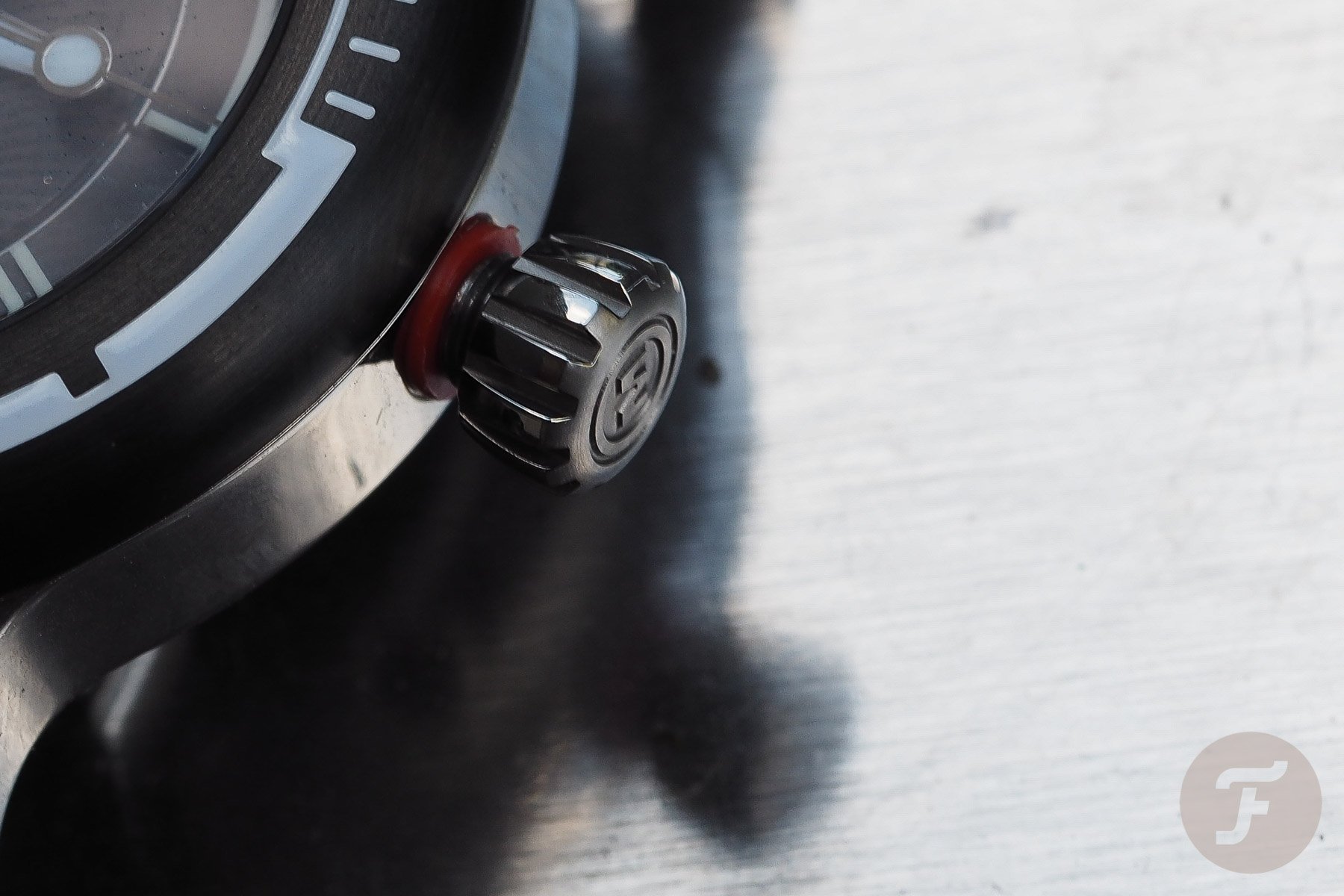 Other neat details on the MING 18.01 H41
The screw down onion crown on the MING 18.01 H41 is well sized and tactically nice to use. The threads feel substantial and there's no wobble when the crown is extended. I also like the red ring that shows when the crown is not closed. Like the rest of the watch, the crown ridges and logo are finished to a very high standard. There's simply none of the cheesiness that often plagues micro brands on these finishing touches.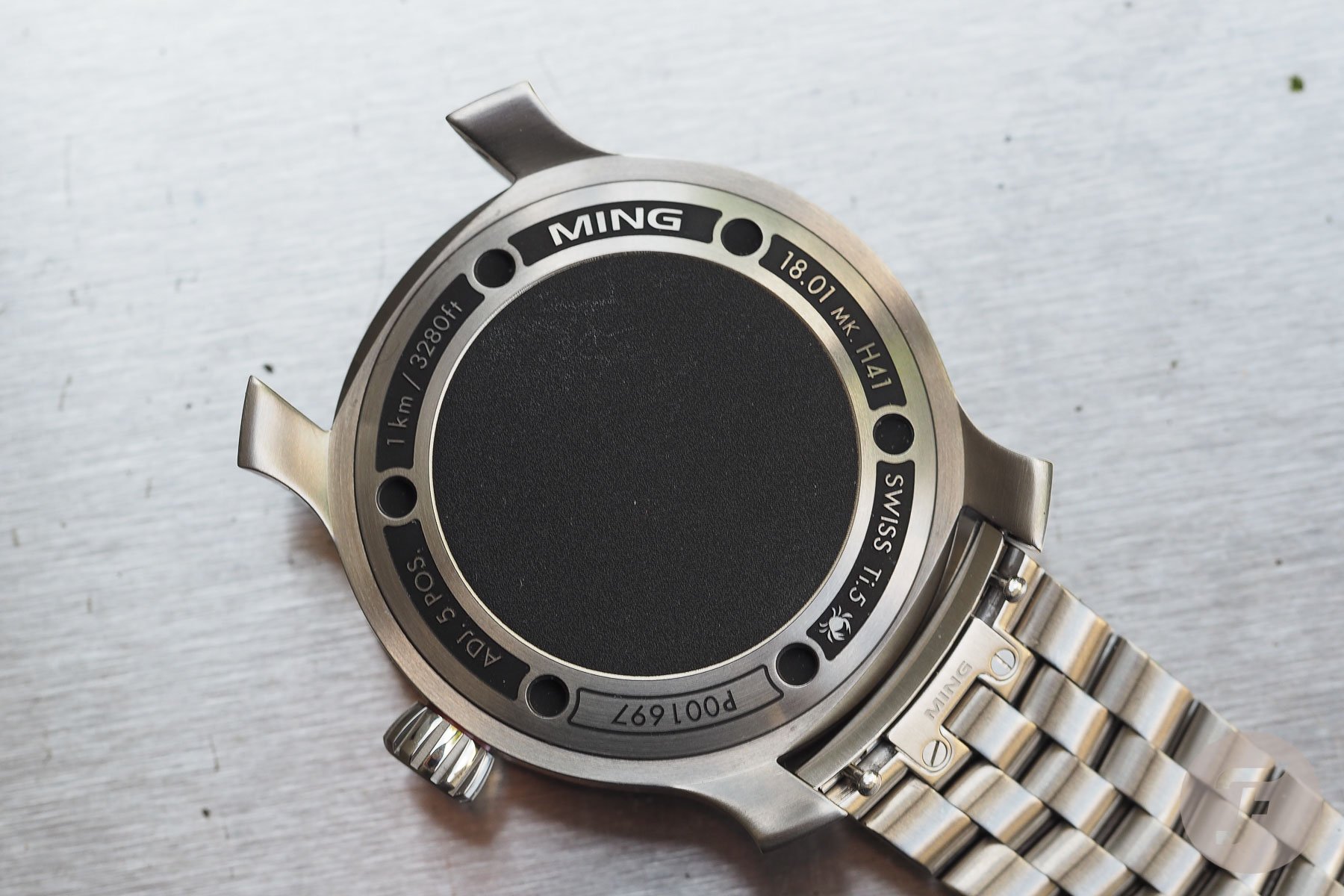 The case back is another good example of this dedication to detail. The center is DLC finished with a barely rough finish that's said to help grip when it comes into contact with a wetsuit. It's not noticeable against the skin. The other details I like on the MING 18.01 H41 are the "1 km" depth rating and the high quality industrial font work.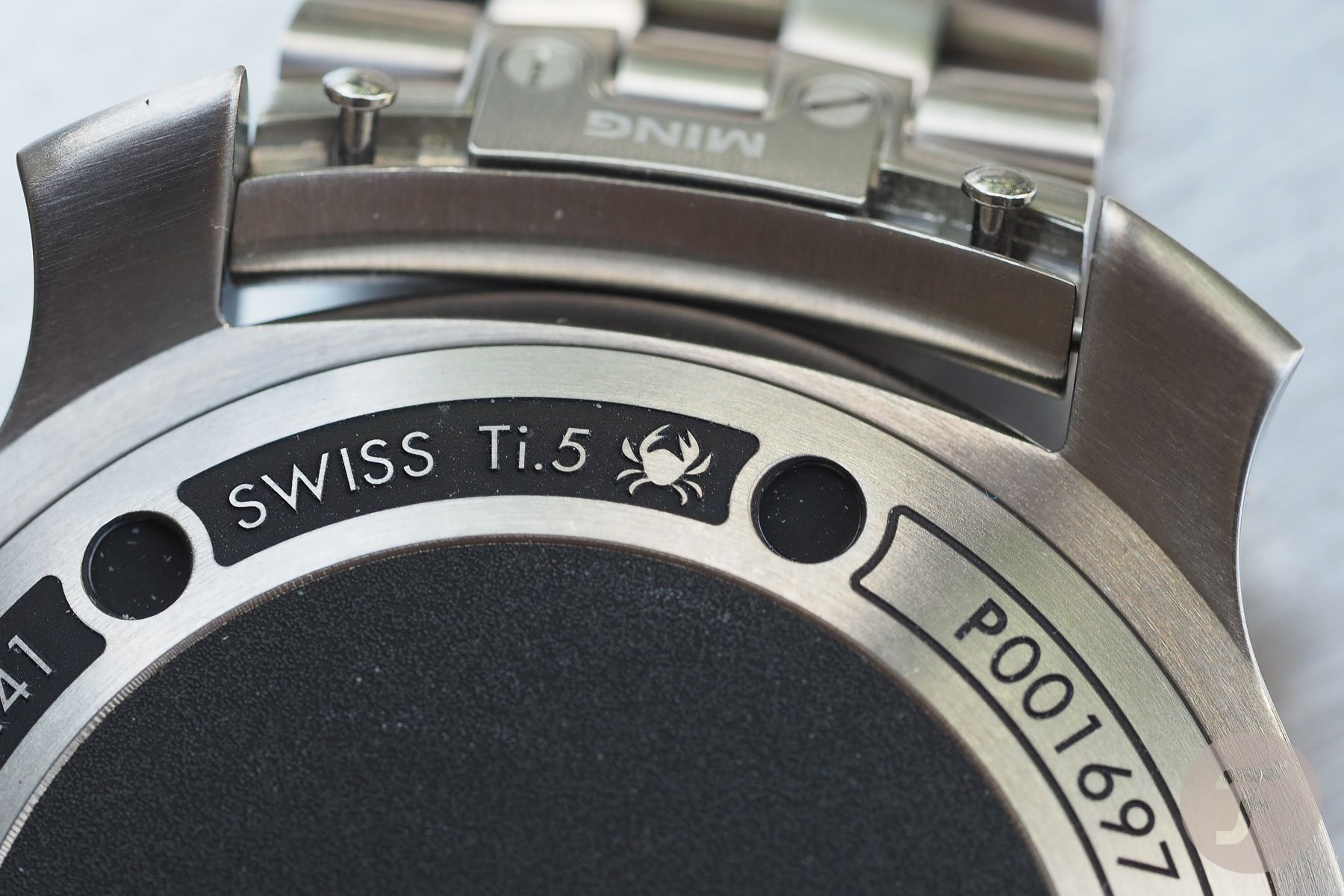 Of special note is the little crab who shows up to the party. Upon closer inspection, this little guy even has one larger claw, so it's likely a male fiddler. Detailed enough?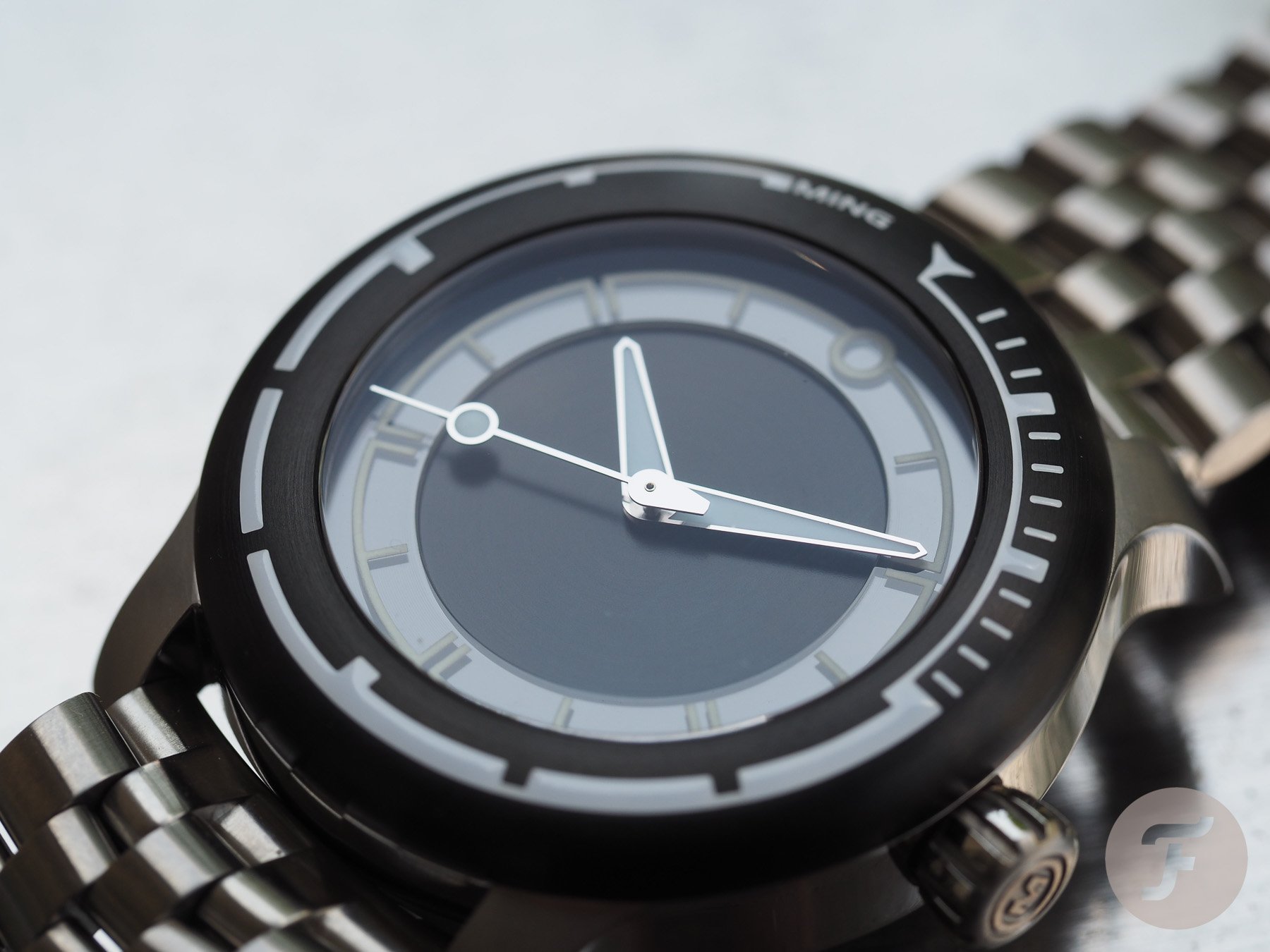 The dial
It's odd to address the dial last on a watch, but I'd actually say that's the most "expected" part on the MING 18.01 H41. It truly mimics the rest of the brand's watches aside from the fact that it contains a luminous seconds hand with a neat counterweight. The lume on the sapphire hour marker ring and hands is incredibly bright. The overall design is legible, very easy to read at a glance and takes on different looks depending on the light. Sometimes, the whole dial looks black and sometimes the sapphire ring looks quite gray.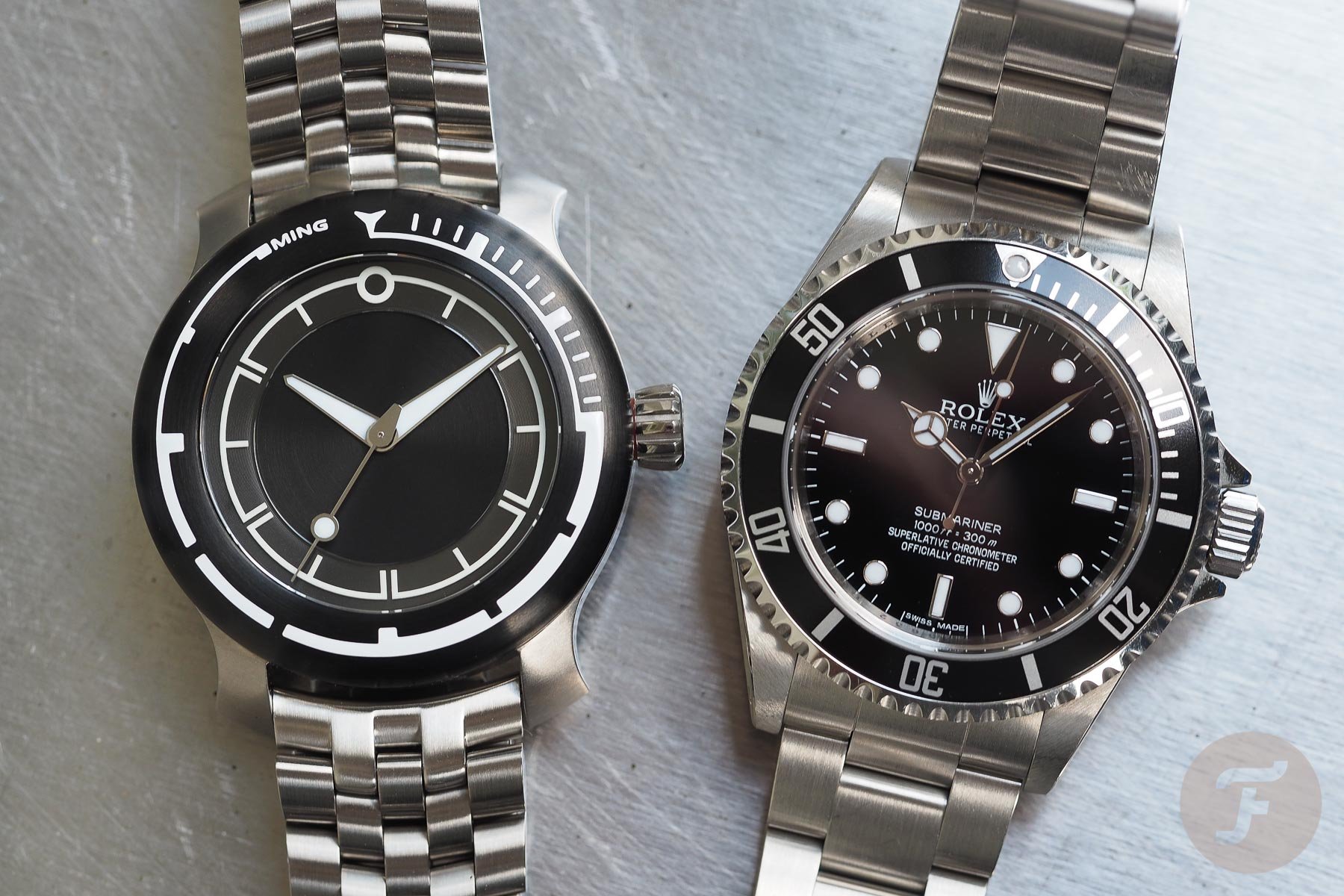 Competition for the MING 18.01 H41
With such low production and different styling, the MING 18.01 H41 circumvents traditional competition. That being said, with pricing between CHF 2,950 and 3,250, it is priced within the realm of a lot of popular dive watches. I've even received questions about this watch compared to something like a Tudor Black Bay 58. I don't own one of those, but you can see it next to my 40mm Submariner 14060M. Their intent is the same, but wow do these watches offer highly contrasting means to a similar end.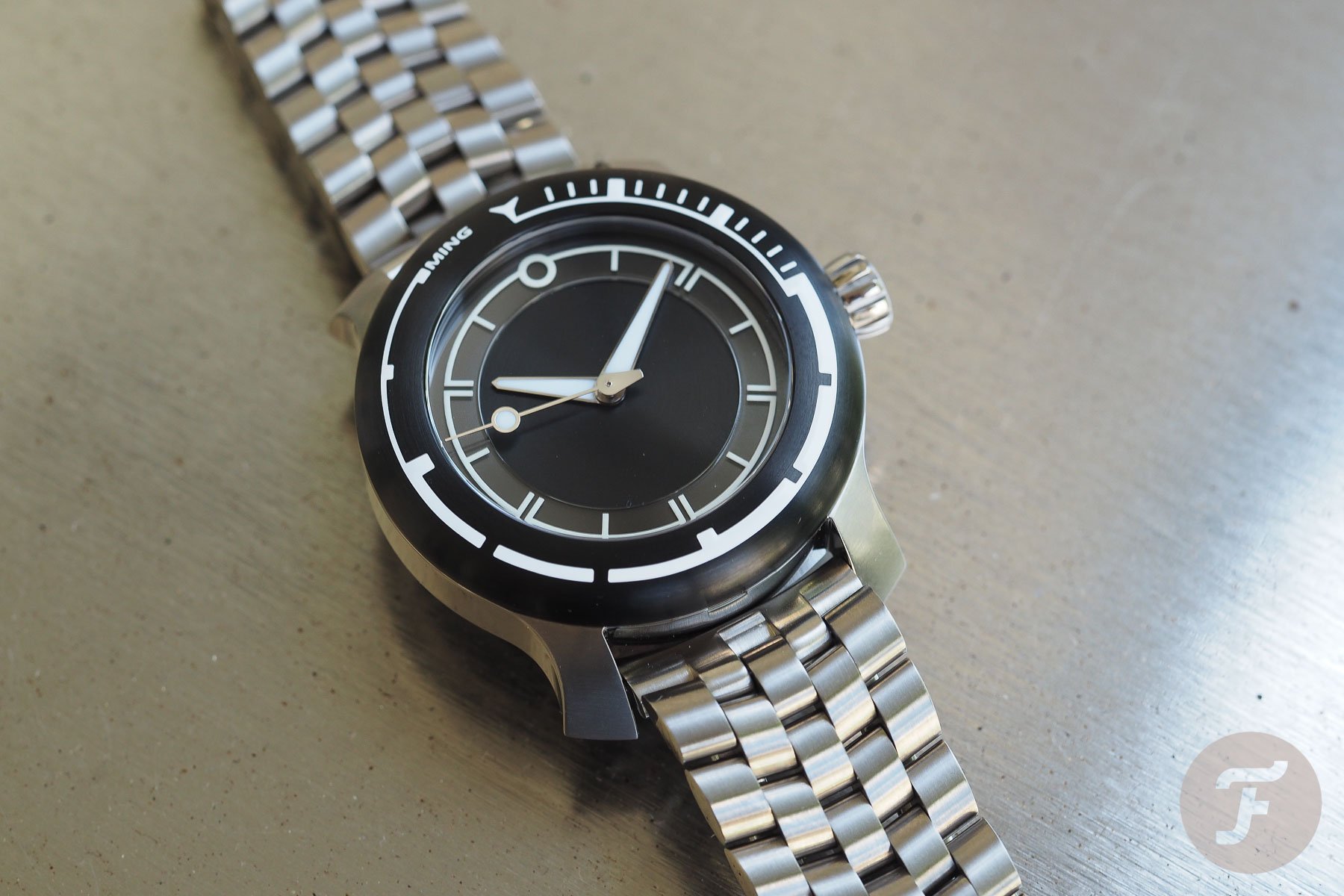 Final thoughts on the MING 18.01 H41
The MING 18.01 H41 watch really is something unique and, therefore, I can appreciate that not everyone is a fan. It took Ming and company something like three years to create a watch that was technically adept and stylistically consistent enough with its lineup to release. In the end, I think it's a real success. This is a highly capable diver that combines innovation and amazing finishing at a price that's actually attainable — sort of. We know that MING watches typically sell out for quickly. I was fortunate enough to order one of these and I look forward to receiving it in November. The good thing is that there is a second tranche of watches coming up for sale here on August 22nd at 2am GMT time.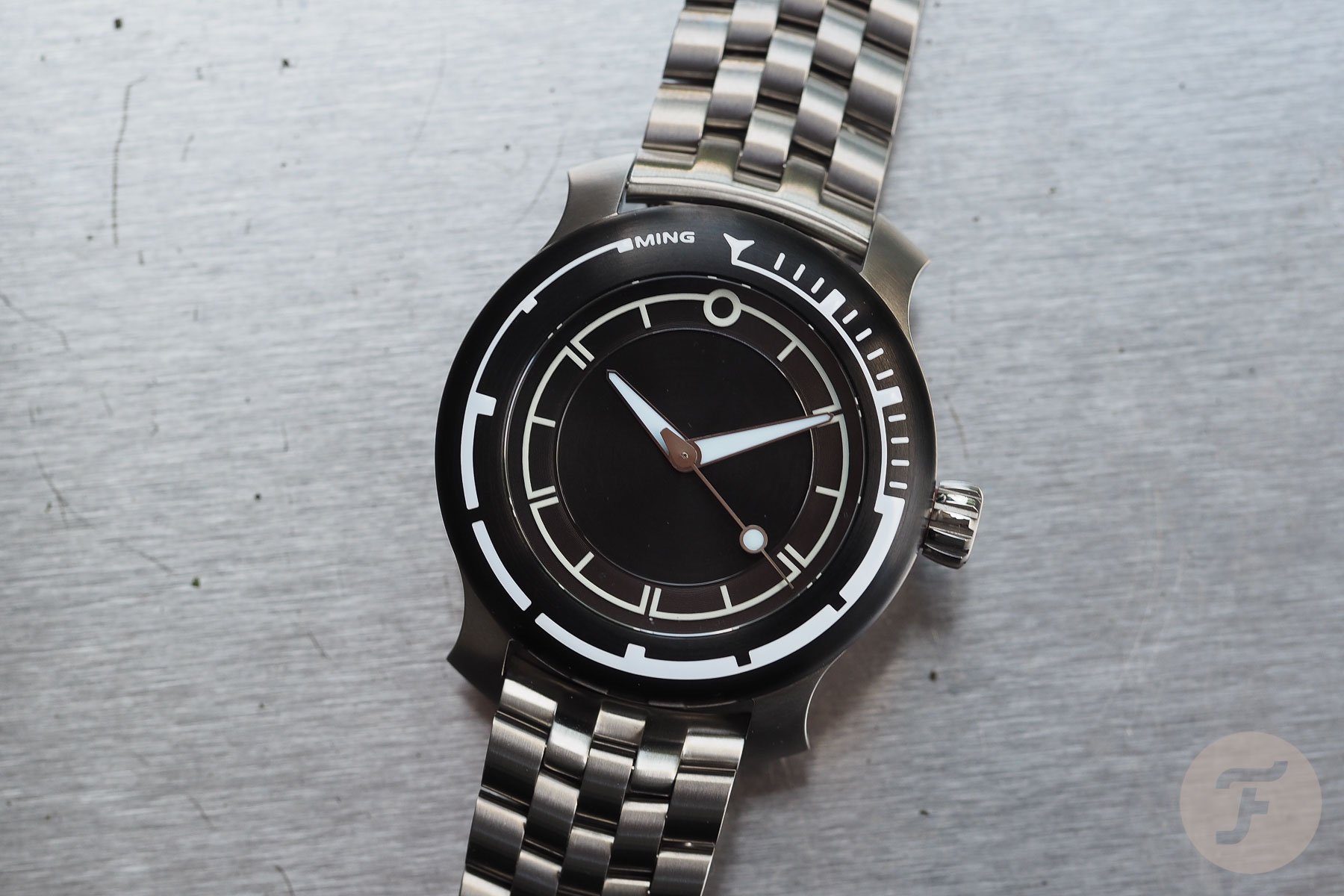 Do I have any other thoughts on the MING 18.01 H41? Well, I liked the playful blue color on the original Abyss, but black is probably more versatile. Let's see if additional colors come our way next year. If we're addressing the tall "looking" case, I'd be curious to how a 300 meter version would look. After all, 1 km is awesome for bragging rights, but just a little overkill otherwise. But like I said, I look forward to taking delivery of my own example later this year. And this time without an article deadline, customs can take its sweet time.
Watch specifications
Dial
Two-part composite dial with ceramic HyCeram Super-LumiNova X1 fused to sapphire
Case Material
Grade 5 Titanium, bare or black DLC coated. Black DLC coated stainless steel dive bezel filled with Super-LumiNova X1
Case Dimensions
40mm Diameter, 12.9mm Thickness, 46mm Lug to Lug, 20mm Lug Width
Crystal
3.5mm thick sapphire crystal with antireflective coating on both sides
Case Back
Screw-in solid case back
Movement
ETA2824-2 automatic modified by Schwarz-Etienne for MING, adjusted 5 positions, date function removed, 28,800 vph, hand winding, hacking, 40 hour power reserve
Water Resistance
1000 Meters
Strap
Black rubber Jean Rousseau strap or Grade 5 Titanium bracelet
Functions
Time (HH:MM:SS), Unidirectional 60-click dive bezel
Price
2,950 CHF two-tone on rubber, 3,250 CHF two-tone on bracelet, 3,250 DLC on rubber
Special Note(s)
Shipping November 2020