Hands-On With The Monta Skyquest — A Capable Daily Wearer With A Fantastic Bracelet
When a small independent makes a truly competitive watch...
The Monta Skyquest entered its second generation earlier this year with some light updates. We've been following the brand since its inception in 2017 and are excited to once again go hands-on with a new piece. The Skyquest is a 24-hour watch with a rotating bezel. Sound familiar? We'll see how it ranks versus its competition!
Yes, it's been quite a while since we've gone hands-on with a new watch from Monta. As one of the original Fratello members who met the brand in 2017 at Basel, I raised my hand when a new one was offered for trial. Monta has provided high-quality watches since day one, so what will this new model bring? Let's find out…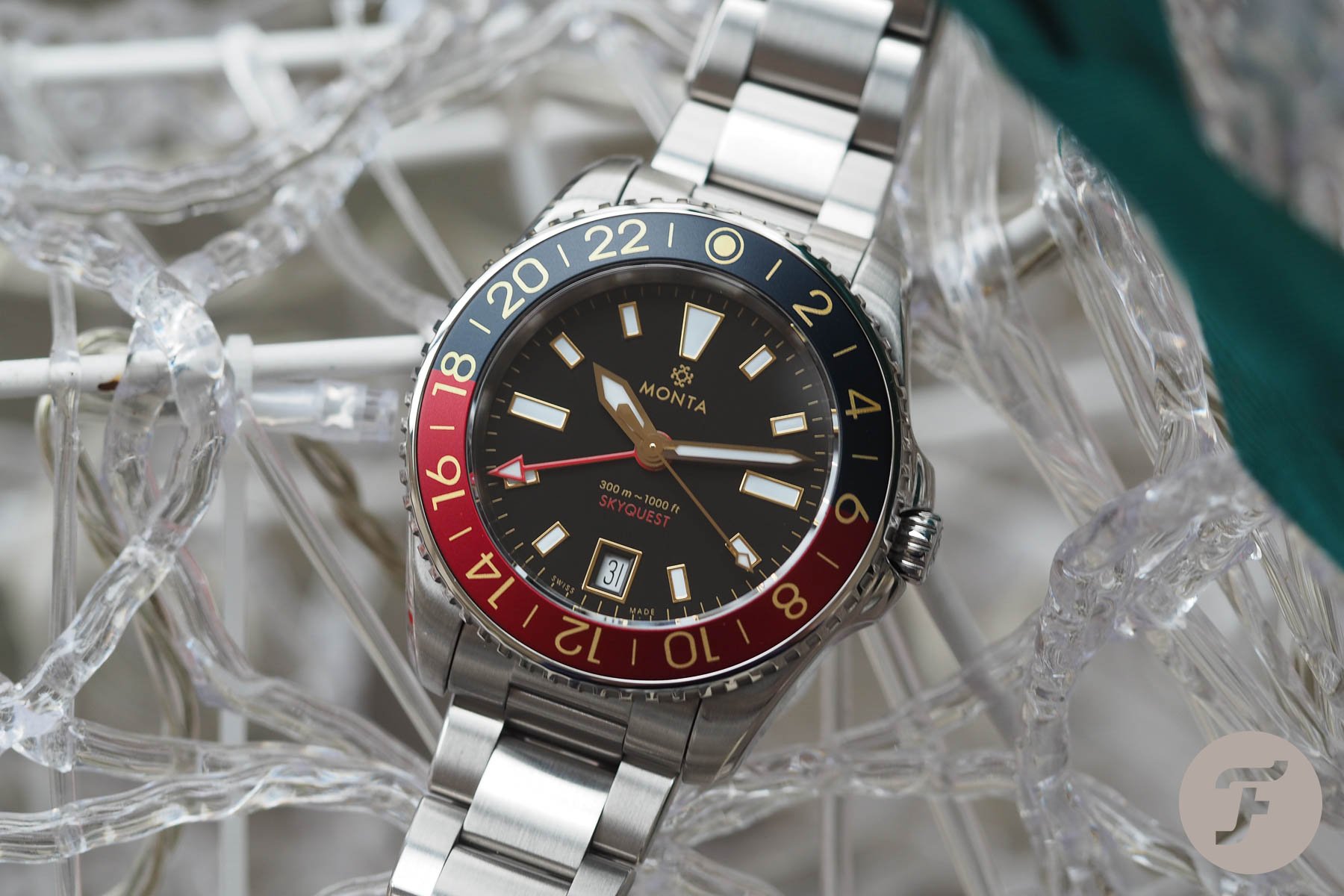 The Monta Skyquest
The Monta Skyquest first debuted back in 2018, and it was well received. The 40.7mm watch came with a Sellita SW330, a rotating 24-hour bezel, and an exciting arrow hand with a characteristic bend. For 2022, the watch looks similar, but the indices are larger and more modern looking. Ditto for the screw-down crown. Notably, the arrow hand is now straight, and if I'm being honest, I welcome the cleaner look. The date window remains at 6 o'clock, but it's now more integrated into the design and is the same height as the indices. Monta also added some width to the bezel and made it bolder. The case size remains similar at 40.7mm × 47.4mm × 11.8mm.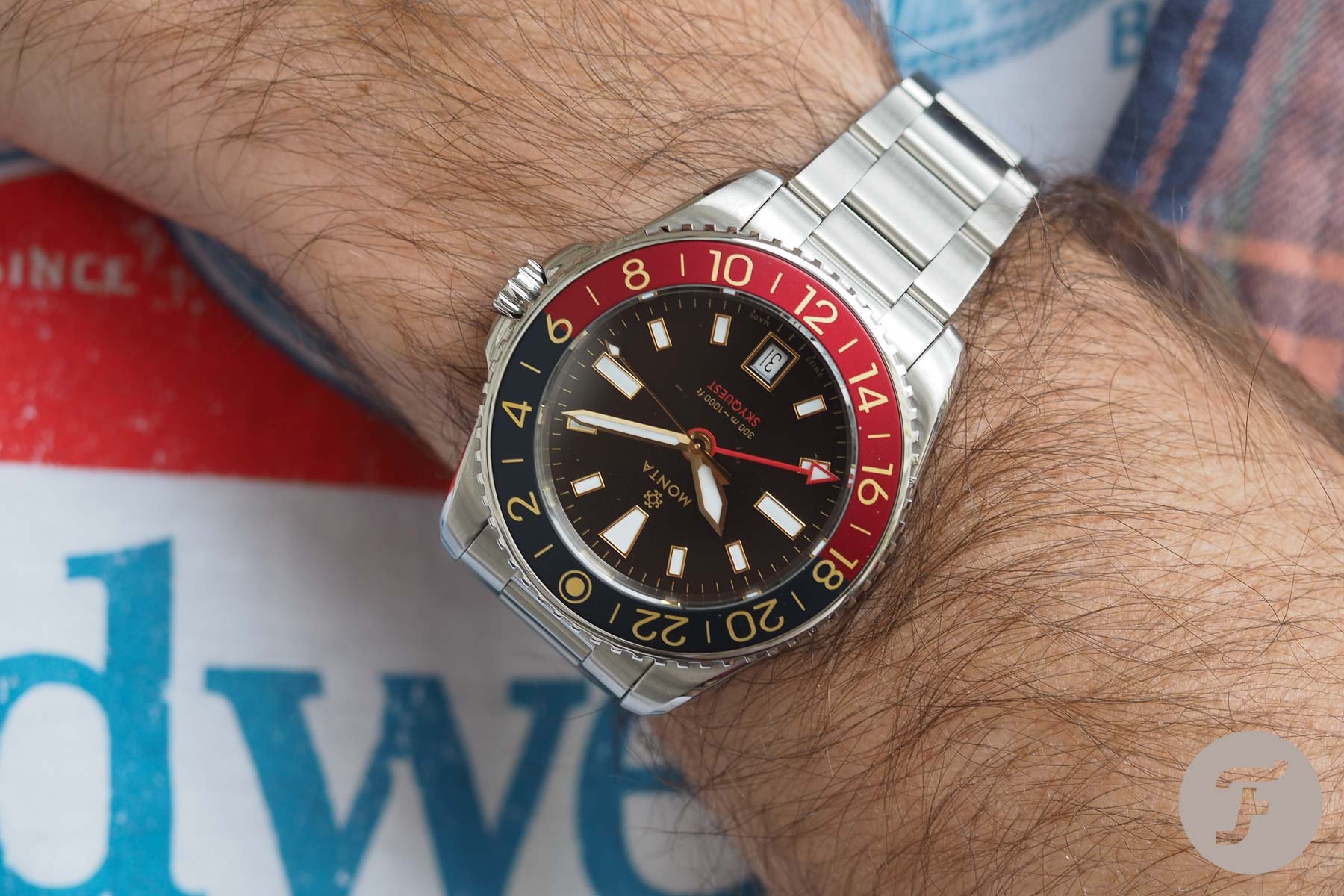 Cutting to the chase — this watch wears beautifully
It's an unkept secret that the folks behind Monta also happen to own Everest Bands, the premier maker of aftermarket straps for Rolex among other brands. Therefore, it's safe to say these folks "get" how a watch should wear. As a result, it's no surprise that this new Monta Skyquest wears beautifully.
Now, I normally save my notes on the wearing experience for the end of the article, but I think the way that the Monta Skyquest watch coexists with its owner day to day makes it the headliner. Perhaps it's because I have a smaller wrist that I am so sensitive to watch weights, thicknesses, and so on. However, I also think that it's because I'm no longer in my early 30s, and that means that my body swells and retreats a lot more due to what I'm eating, the temperature, or travel. Because of all of these factors, I now rarely wear a blocky, ungainly watch unless it's for a specific event.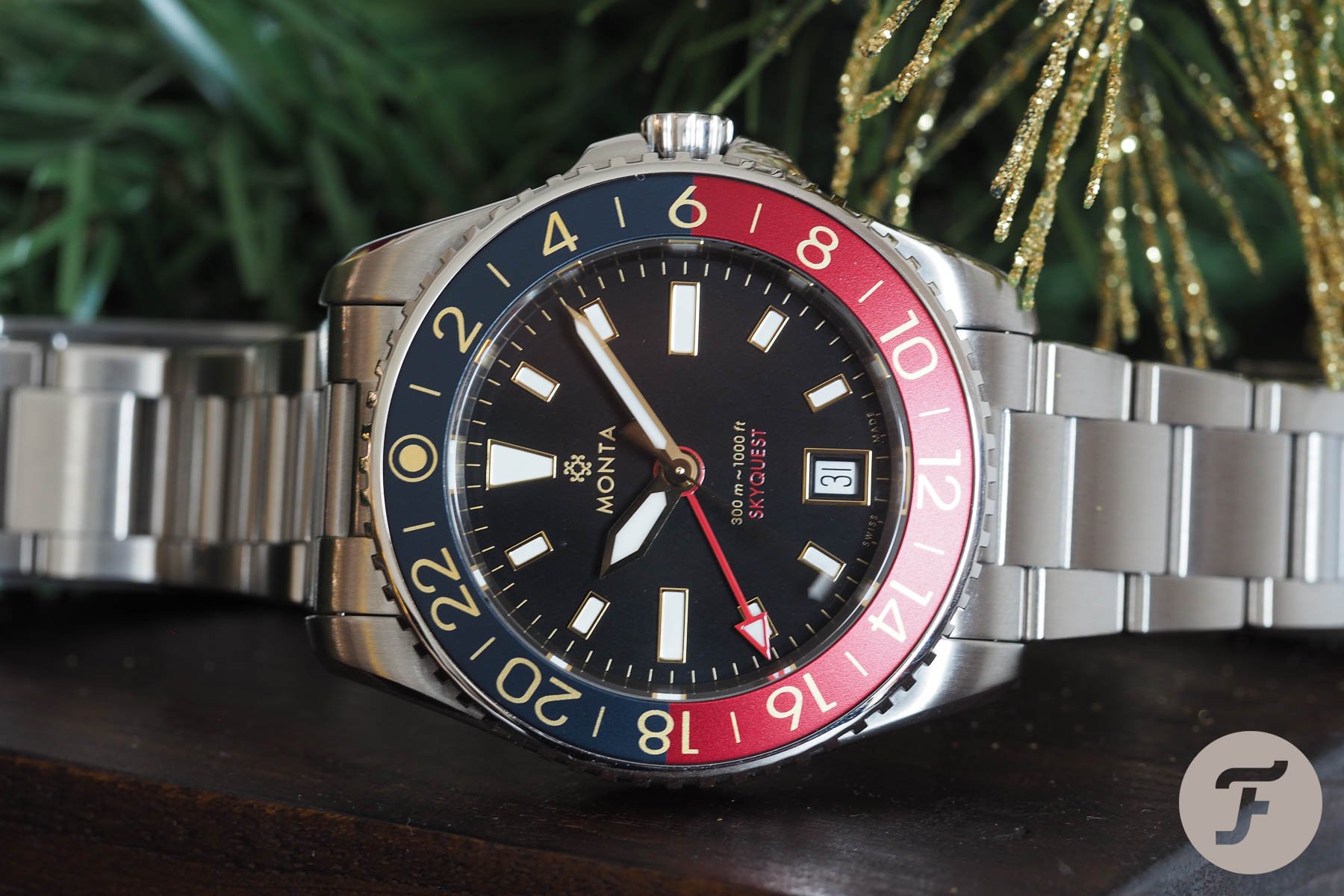 Make no bones about it, the Monta Skyquest wears like a Rolex before the brand's days of solid end links with "male" protrusions. Monta chose a Sellita SW330, which allowed the designers to draw the thickness down to under 12mm, a magic threshold in my mind. More importantly, though, they have designed a bracelet that is pure magic. The articulation of the links is damn near 180 degrees, the end links allow for "full droop," and the finishing obliterates anything within double the price. Yes, the bracelet is that good, and, in turn, it makes the watch a true companion.
When a watch company spends on the bracelet
The bracelet is fantastic, but the Monta Skyquest also features a clasp worthy of mention. The clasp is beautifully finished and contains a safety lock as well as a simple, lift-and-slide quick-adjustment system. The underlying folding bits are polished to a mirror shine and do a good job of embarrassing the likes of other brands (ahem, Seiko). Note the circular cutout in the deployant portion. I will state that it can be a tight fit to snap its counter-locking piece. Then again, it brings real solidity, and perhaps it will loosen a touch over time.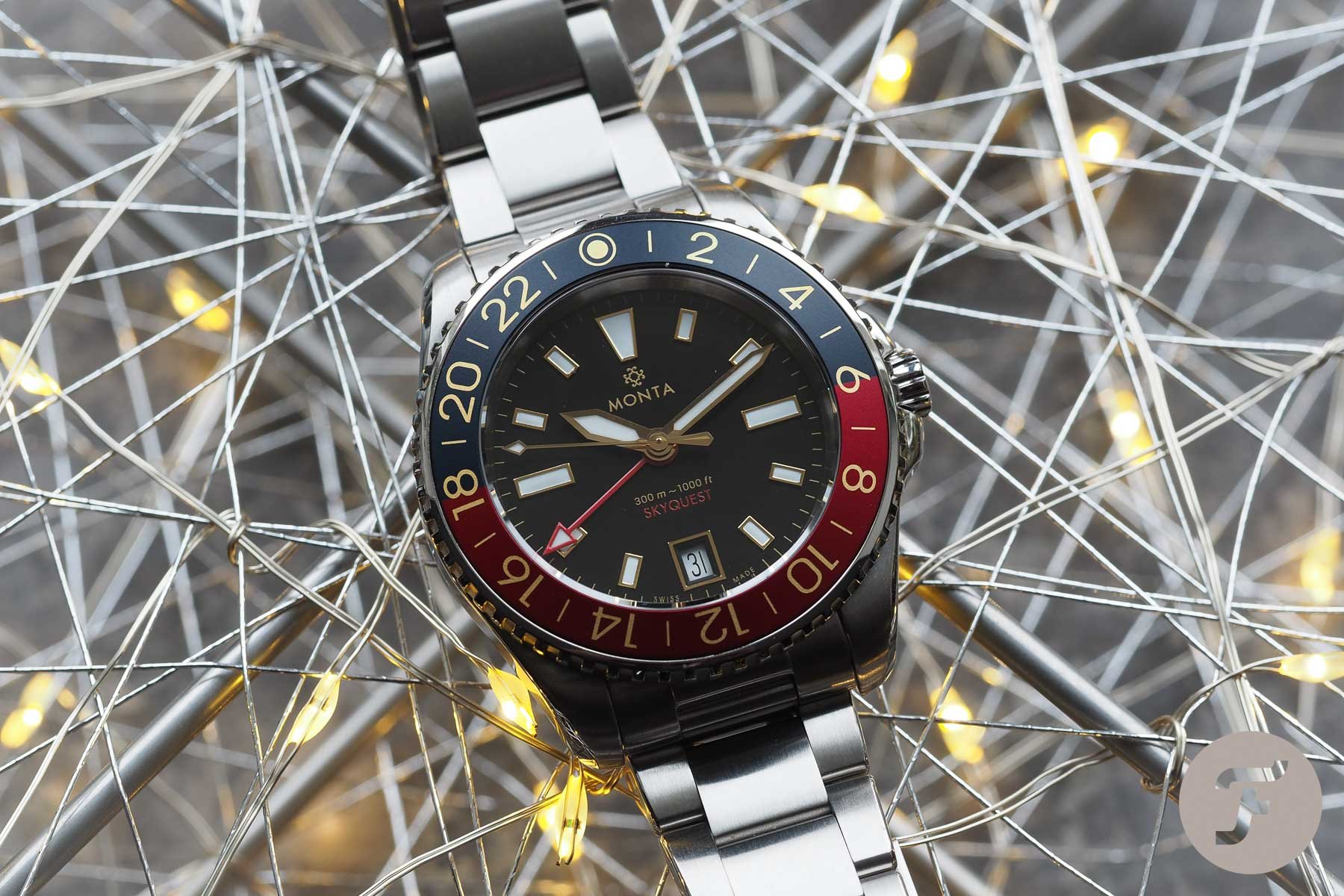 The watch itself
There's no denying that the Monta Skyquest bears a resemblance to another GMT with a bicolor bezel. That being said, details such as the handset and the overall dial design keep it original enough for some level of separation. The model I received for testing is known as the gilt version due to its gold details. A typical "Pepsi" variant is also available alongside a black version.
After wearing the watch for a couple of weeks in a row, I'm happy to declare that it's a real looker on the wrist. I wasn't sure about the gold details in the beginning, but they grew on me and do add a dressier vibe to this decidedly sporty watch. More than that, though, the watch looks and feels like a high-quality piece.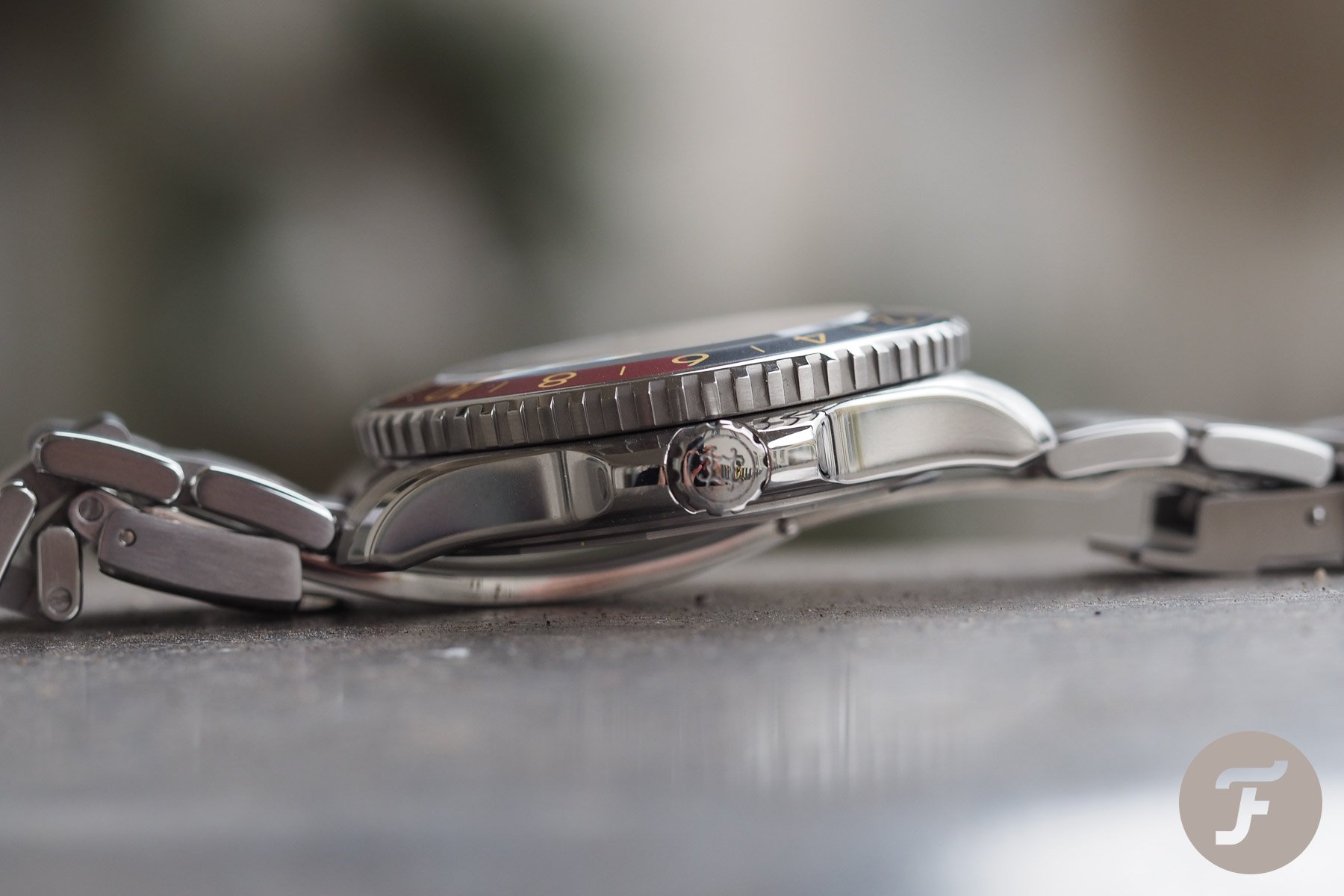 Quality abounds…
The dial on the Skyquest is wonderfully made, and the BGW9 Super-LumiNova is like a torch at night. It's easy to read, and, if you know the brand, it looks like a Monta. Furthermore, the supporting characters stand up well. I'm a huge fan of the bold bezel, and I actually applaud the use of aluminum versus ceramic. This bezel will age with the owner, and it doesn't have that glossy, plasticky look. How does it turn? Fantastically well, thank you very much. There's even a patent pending on the system. The crown, with its smooth threads, also feels like it could stand in on a far more expensive watch.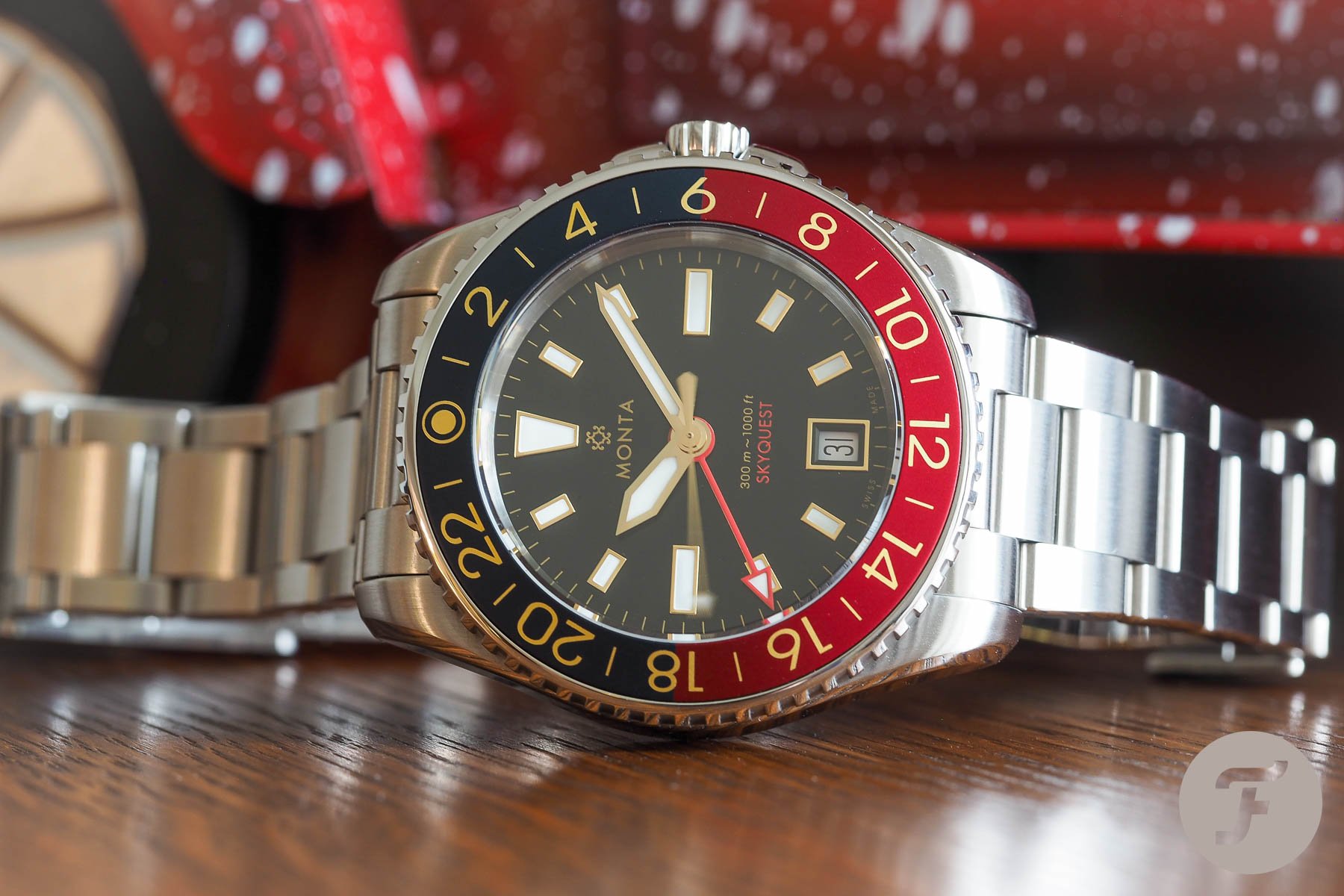 I'm tired of the "caller vs. flyer" argument — this works!
As mentioned earlier, the Monta Skyquest uses the Sellita SW330 automatic movement. Folks, this is a so-called "caller" movement, which means that the 24-hour hand can be adjusted via the crown. This is in contrast to a "flyer" GMT, whose 12-hour hand can be adjusted to jump upon landing in a different time zone. I can understand a preference for one over the other, but I honestly feel that this is the 2020s version of the "in-house vs. third-party movement" argument. Who cares? And again, the deity of all GMTs from Rolex didn't become a "flyer" until the GMT-Master II 16760 came out in 1983. All I'm saying is that it's okay to use the bezel to track another time zone.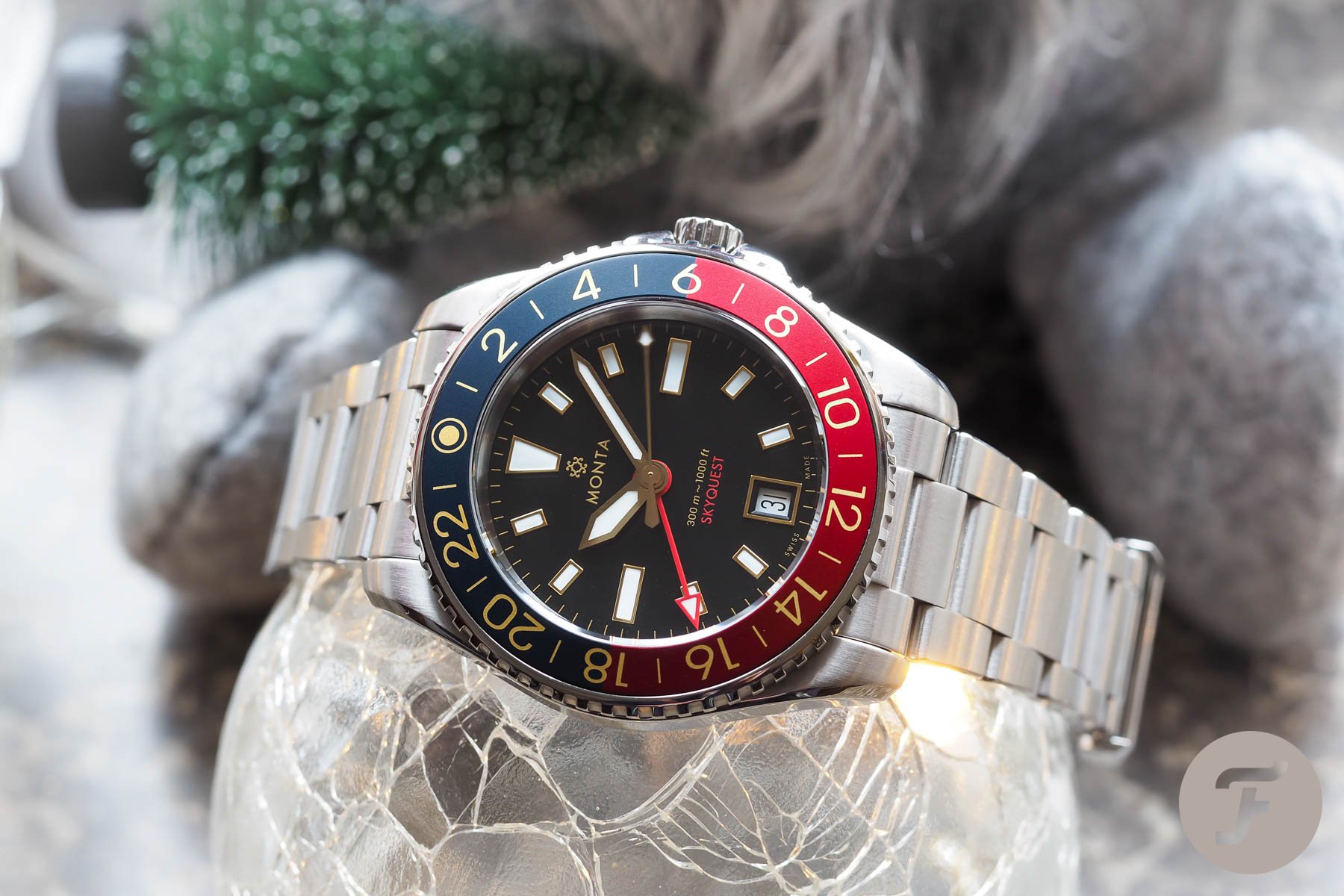 Final thoughts — who is this watch for?
The Skyquest is available directly from Monta and retails for $2,435 in the USA (pricing in other countries automatically shows when you access the brand's site). That's not a small sum, but this watch easily stands up against its competition. As long as you're not a movement snob, it should also prove to be a reliable daily partner. I did some checking, and the Swatch Group makes some compelling choices. Longines has the Zulu Time and Mido has the Ocean Star GMT as interesting offers. They're "flyers," but they also eclipse 40mm in size and are much thicker.
To me, the Monta Skyquest isn't the only choice, but it is definitely worth considering. Finally, don't forget that this watch comes with a 300m water-resistance rating, which should satisfy the spec-meisters out there. Is this watch a replacement for a Rolex or Omega? Probably not, but not everyone has that type of money to splash on a watch. The Monta Skyquest is a real watch from a consumer-friendly brand that an owner should feel proud to wear.
Let us know what you think of the Monta Skyquest in the comments!