Hands-On With The Omega Speedmaster 38 in Gold
Is it just for Ladies or should it be considered the new "Reduced"?
A little watch review for this week's Speedy Tuesday topic! Once upon a time, the Speedmaster Reduced enjoyed existence within Omega's collection. Those days are past. In its place is the Speedmaster 38 collection. Omega doesn't feel it necessary to explicitly define this as a gent's or a ladies' watch, and we're just fine with that. For some wrists, this unusual addition to the range will be exactly what they've been searching for…
My wife owns two Speedmaster watches. One of which is a Moonwatch model (42mm) and the other one is this Speedmaster Lady model in 38mm. She got it in 2013, and it was clearly marked as a ladies' model. Last year, my mom bought herself a Speedmaster 38 "Cappuccino" with the oval dials we see in today's subject as well. So I am somewhat familiar with this watch, but today's Speedmaster 38 is in 18-carat gold whereas my mom has the bi-color version.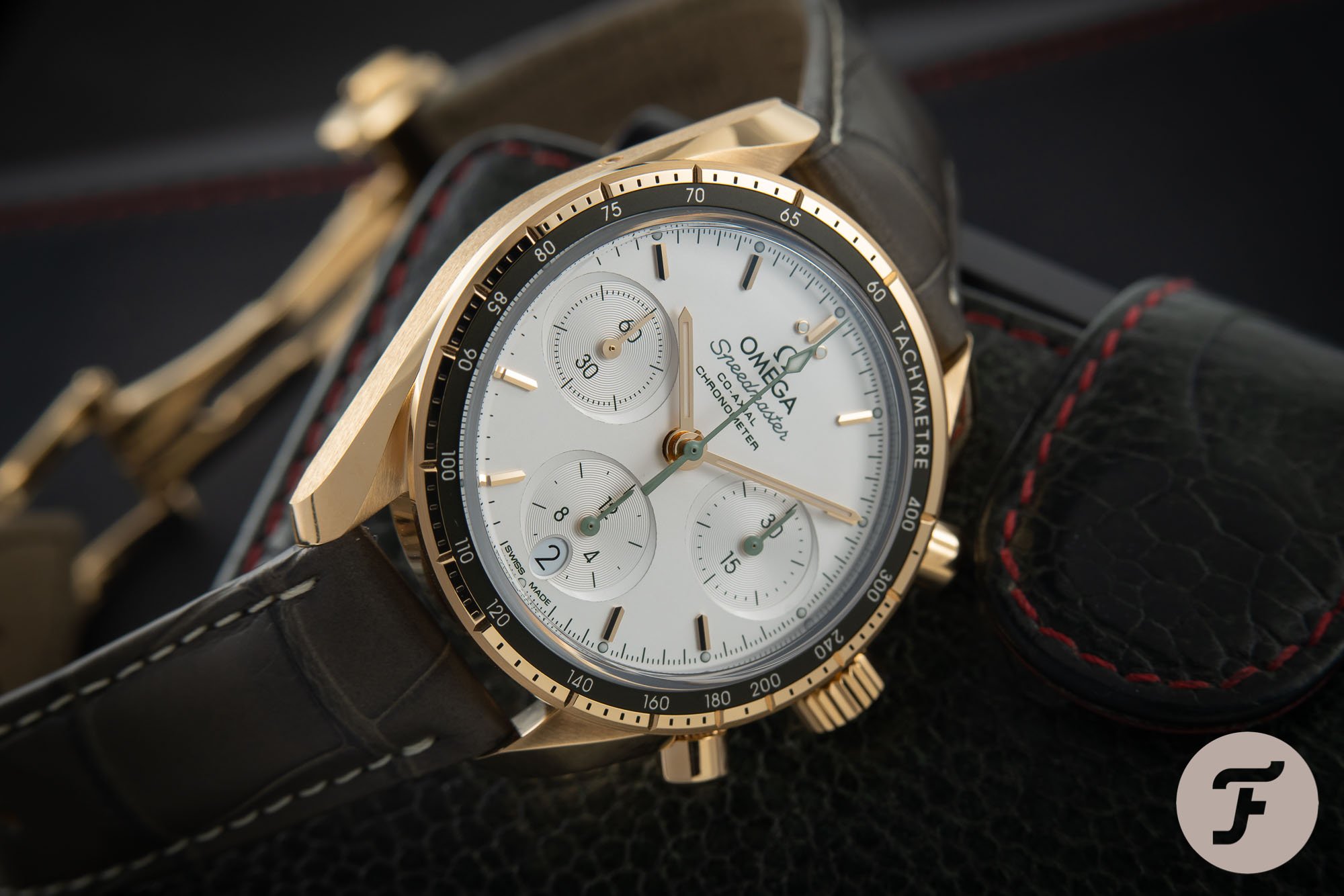 Speedmaster 38
To be honest, it never occurred to me to give my wife's white Speedmaster a try myself nor to try on my mom's Speedmaster 38 "Cappuccino". It is not so much the size that doesn't appeal to me, but the color schemes of the watches. There is a  Speedmaster 38 that I wouldn't mind trying, which is the 324.30.38.50.01.001. It looks masculine and I think it is a model that would fit men and women.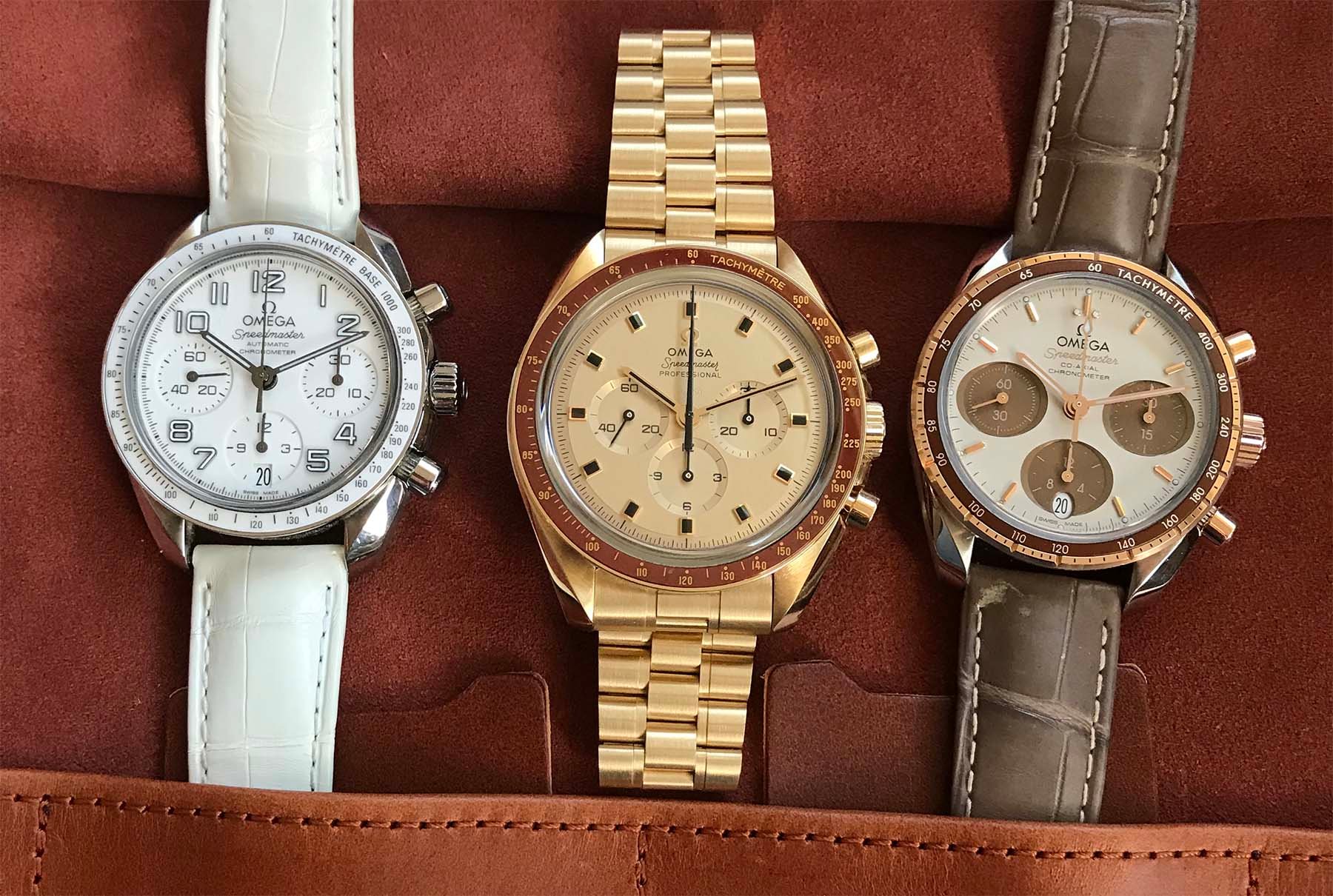 Besides writing down some thoughts about the gold Speedmaster 38 324.63.38.50.02.004 that I have here, and leaving the specifications in the spec sheet below this article, I also will give you my wife's feedback on this Speedmaster 38. As an owner of both a Speedmaster 38mm and a 42mm Moonwatch, she has a decent insight of the pros and cons of each.
Green
Using green has a been a thing in watches for a while now. Heck, we even have a green watch in our own webshop as we like it so much. In the case of this new Omega Speedmaster 38 reference 38 324.63.38.50.02.004, you will find green on the bezel, hands and, of course, the strap. It is a great combination and not so common on Speedmasters.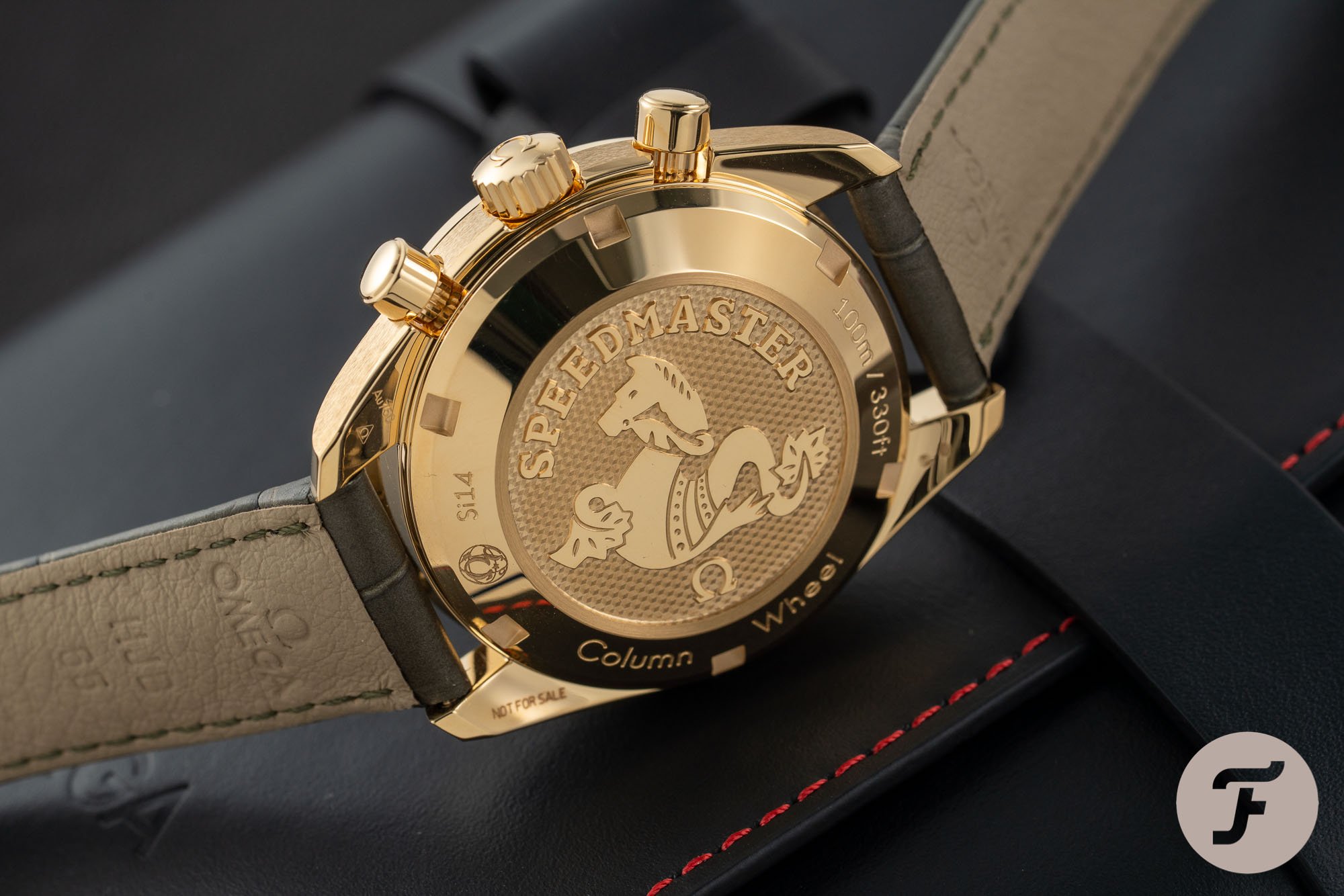 Co-Axial
Inside this gold Speedmaster 38 is a self-winding chronograph movement with column wheel mechanism and a Co-Axial escapement. I am talking about Omega's caliber 3330, of course. This movement's base is the ETA A08.L01 but fitted with George Daniels' invention, the Co-Axial escapement. The design of this movement is very close to the Valjoux 7753, on which the ETA A08.L01 is actually based.
It has a power reserve of 54 hours, an operating frequency of 28,800vph, and chronometer certification. To be honest, both my mom and wife do not care about these things. They want a watch that works — flawlessly. When my wife unboxed her Speedmaster Moonwatch with caliber 1861, she told me it wasn't running. I don't have to explain to you why.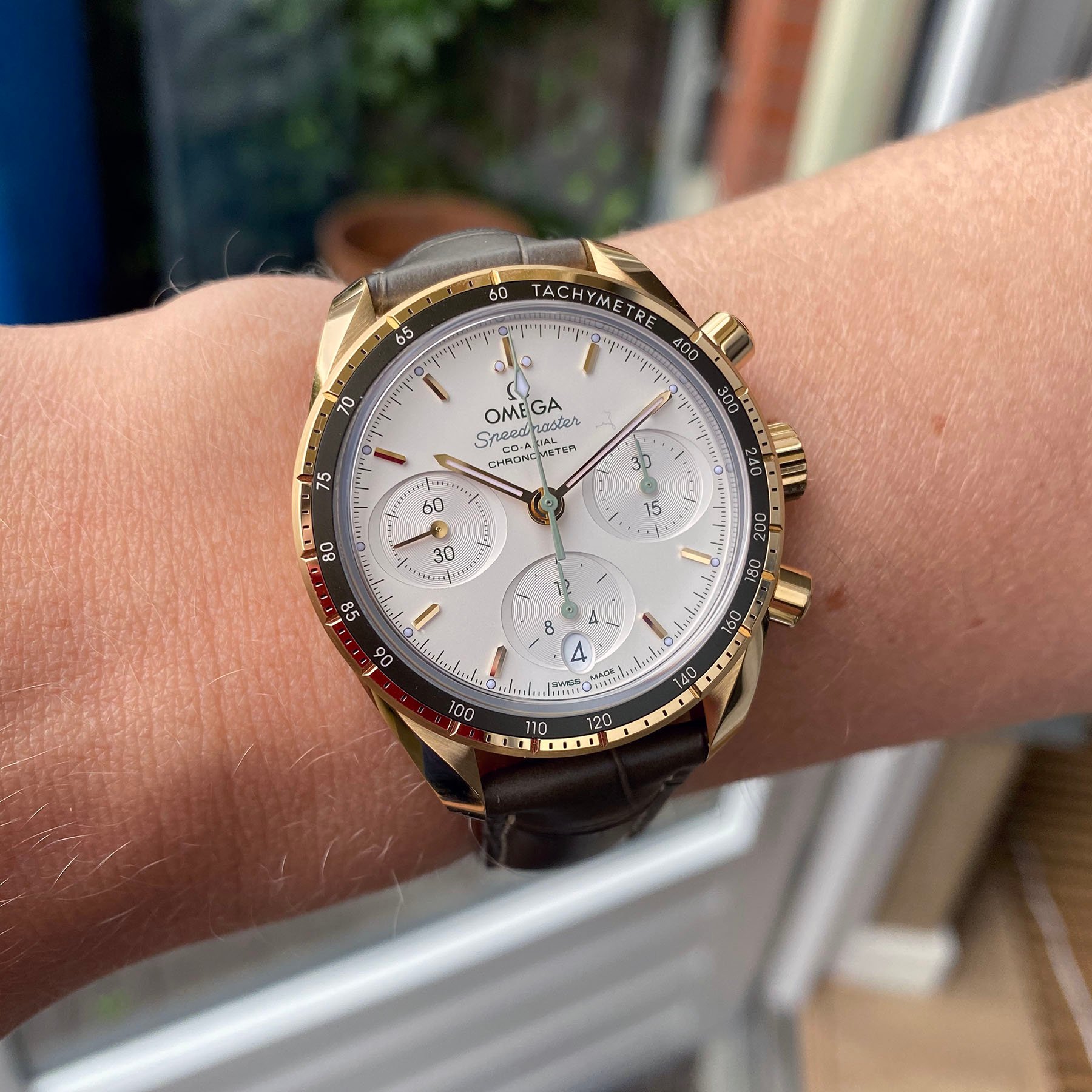 My wife's take on the Speedmaster 38
While the specific stats of a movement are not of much interest to my wife, she wants it to operate without too much manual encouragement. That men's she either chooses quartz or automatic watches for herself. Having to wind the crown herself would result in a deeply furrowed brow. That's something I (and Omega) would like to avoid…
Yes, dear readers, not everyone knows the Moonwatch is a hand-wound watch. That's something that should always be kept in mind when you're choosing your own Speedmaster. Luckily, this Speedmaster 38 (and her own white Speedmaster Lady 38mm) has an automatic movement. What I find interesting, is that she doesn't really love gold watches, but this one was one she didn't want to give back immediately. Now, it might be the case that she doesn't like my gold watches, but this watch was the first time she openly expressed an interest in yellow gold.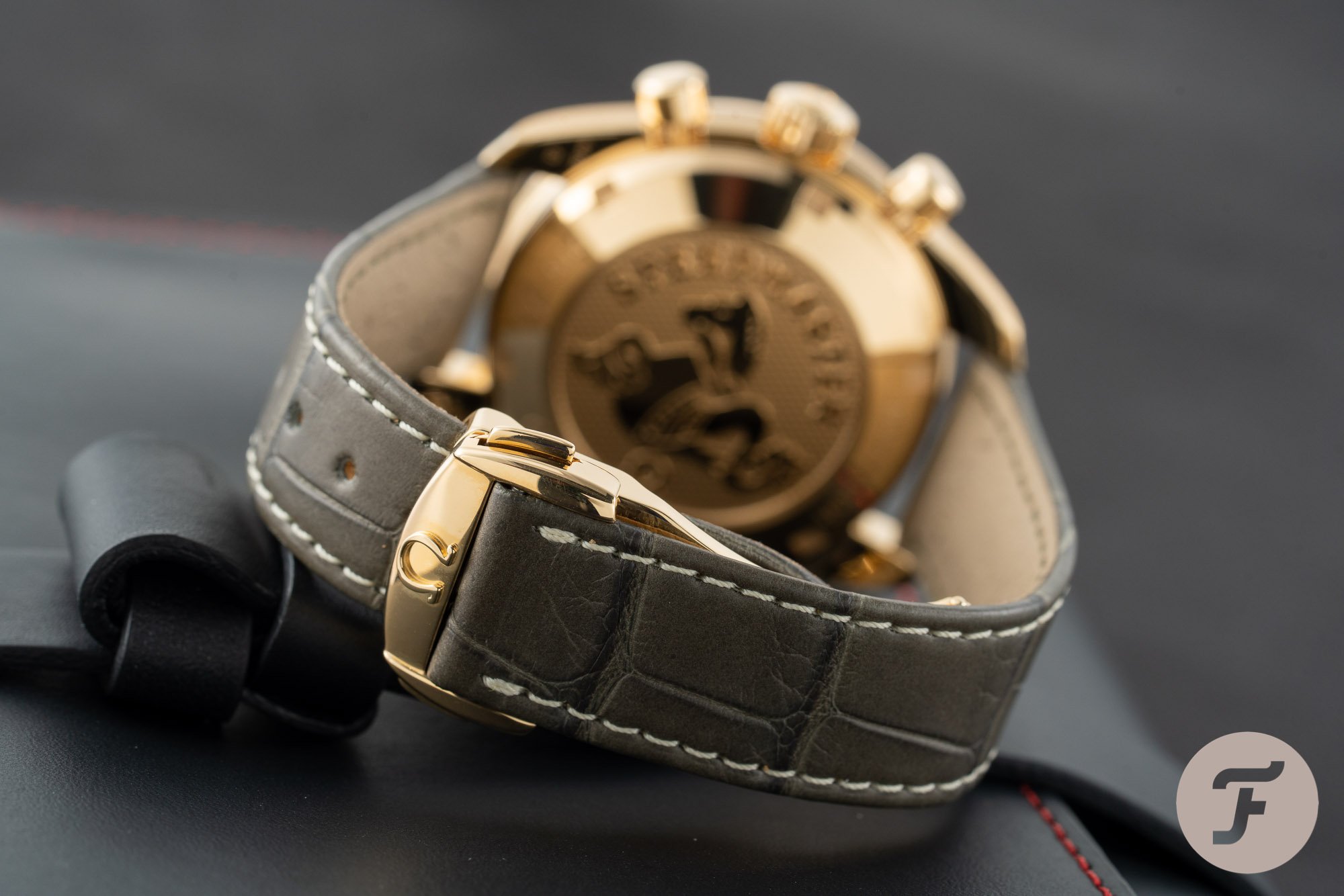 Proper Use
In the past, she had an issue with her Rolex Explorer that was about five minutes off every week, so that had to be regulated. And, I also have to say, that she actually uses her chronographs. More than I do. She uses her Speedmaster(s) when she's cooking, to keep track of things. It goes quite far because if she's wearing one of her three-hand watches, there's always a moment where she indicates I need to get one of her Speedmasters out of the safe. At that point, she really misses the functionality of the Speedmaster.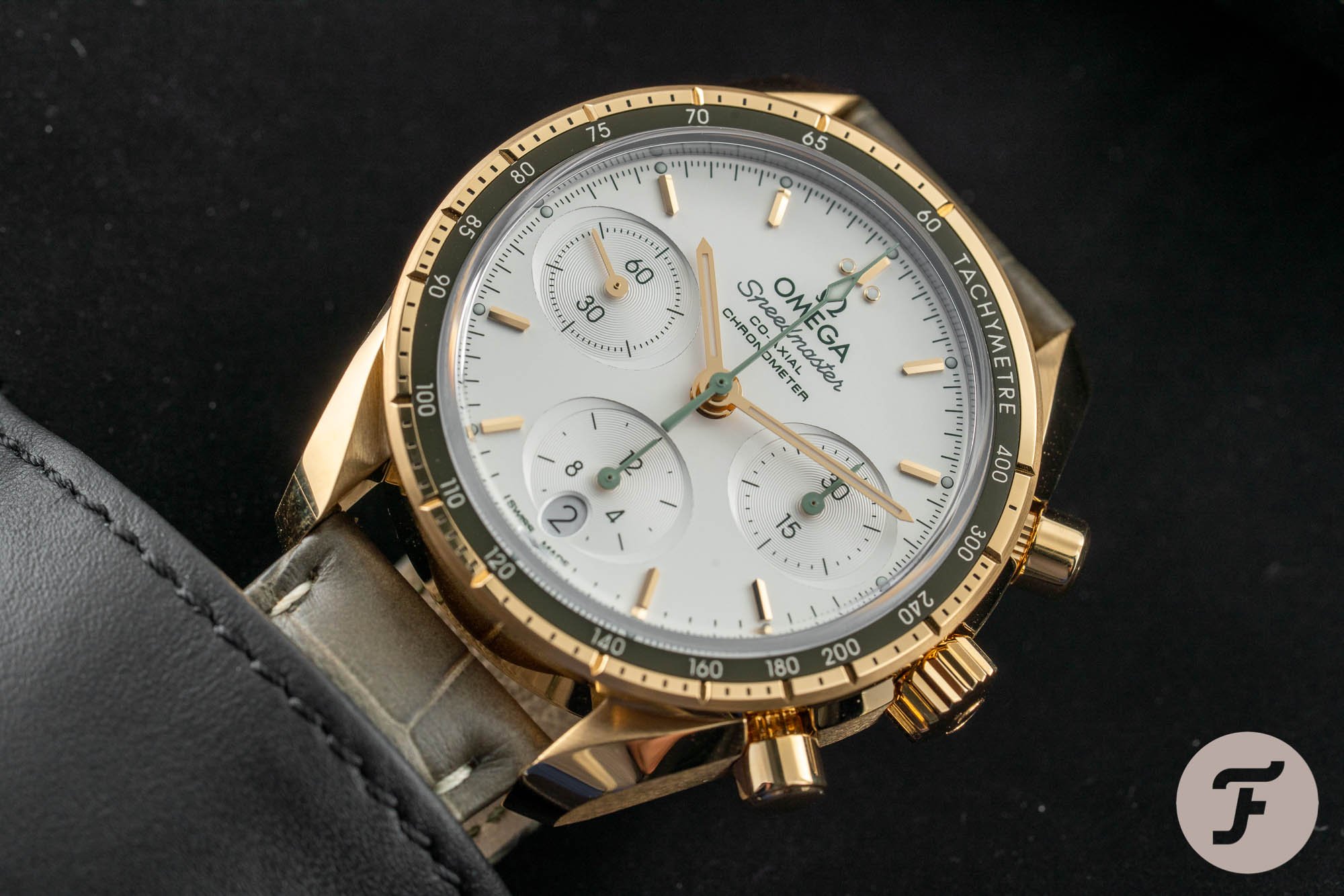 Looking good
But in the end, she wants a watch to look good. And I guess that applies to most of us here. She tried on the yellow gold Omega Speedmaster 38 and simply said "Can I keep this one?". I had to disappoint her (as always, of course), but it is actually the first time she has been that fond of a watch I bring home for review straight out of the box. It isn't only because of the yellow gold, but she loved its combination with green and (off)white.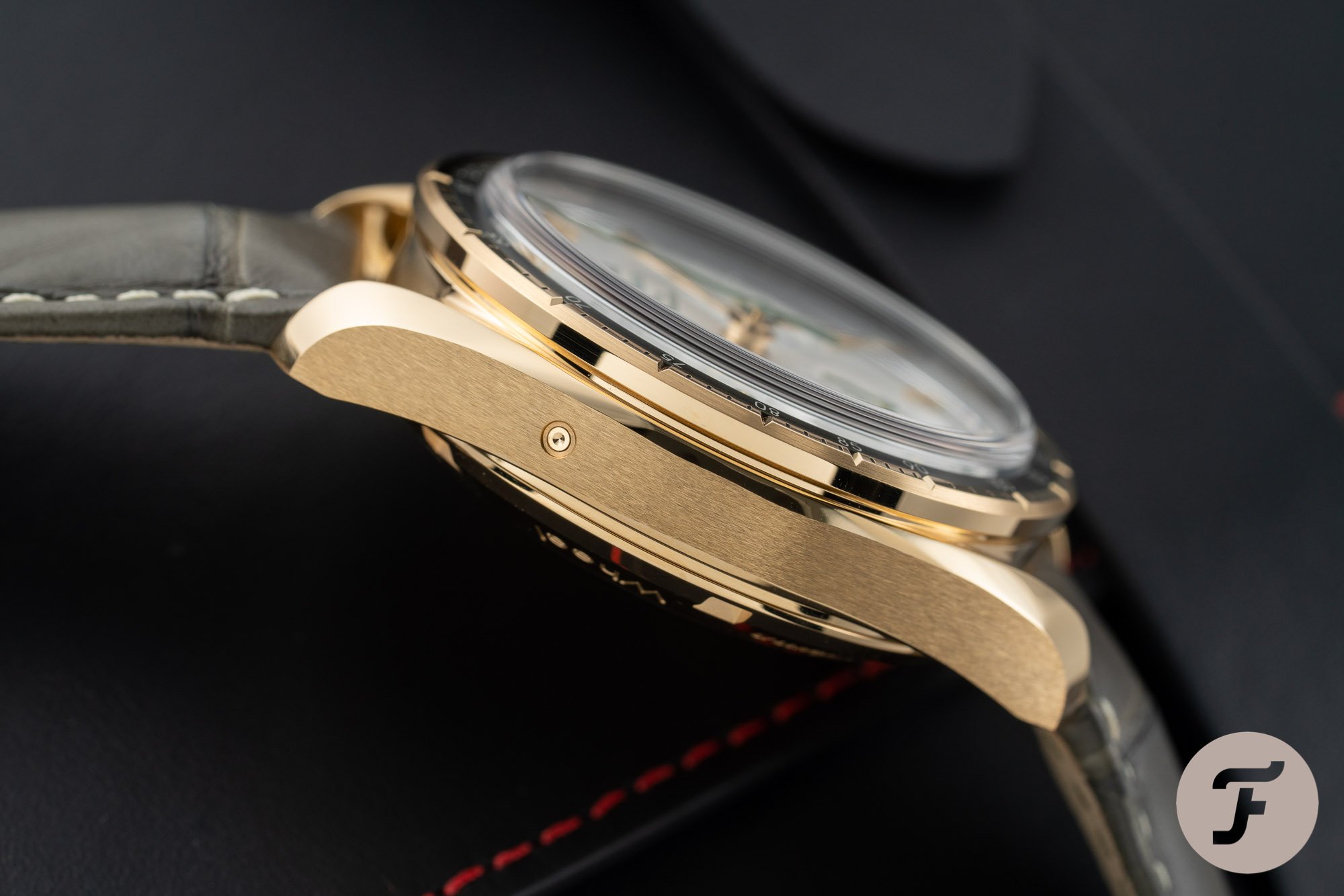 Advancing the date
What I've noticed, is that the dates on the Speedmaster of my wife and on the "Cappuccino" of my mom are never correctly set. Both watches, like this new Speedmaster 38 in gold, have a corrector in the case band. You receive a little tool with the watch, to push the corrector. But the truth is, they just don't do this. It is too much of a hassle, and they don't feel comfortable sticking pointy things into their watch. So either they ask me to do it for them, or they just leave it. In most cases, it is the latter. I hope that Omega will come with a proper solution for this with future chronograph movements for small(er) cases.
My take on the Speedmaster 38
You're not here to read my wife's take on the gold Omega Speedmaster 38, I guess, but I just wanted to share that experience with you. How she changed from "I don't like gold watches" to "I don't want to give it back" after seeing this specific watch. To be honest, I was not super excited when I saw this specific configuration in the press release earlier this year (May). But, in the metal, things start to look different. I find this to be the case with many watches out there. Watches often look so static on a product page. No reflections, no depth, lack of intensity of the colors, and so on. That was one of the reasons I did not fancy the digital releases at Watches & Wonders so much, or basically any other digital-only release this year. More than ever, I realize you definitely need to see a watch in the flesh before giving a verdict.
For Ladies
In my opinion, the Speedmaster 38 is not a collection for ladies only. If you have small(er) wrists, or just like the looks, more power to you! I do feel that the gold Speedmaster 38 ref. 324.63.38.50.02.004 in this review is for ladies though. Omega isn't very outspoken when it comes to this collection, and perhaps it is considered unisex, but I think the real target of these watches is women. I do like the size though, especially if you have small(er) wrists, 38mm has proven to be a great size for a Speedmaster.
A successor to the Speedmaster Reduced?
The Speedmaster Reduced 3510.10 (that we compared to the Moonwatch here) picked up in demand over the years, so there's room for a smaller Speedmaster. I have a Hodinkee H10 Speedmaster, Speedmaster 57 60th anniversary, and the new Speedmaster Caliber 321, all in 39.7mm, and that also really works for me. On my 19cm wrists, the Speedmaster 38 is just a tad small. But also here, you have to try it yourself.
A faithful successor to the Speedmaster Reduced it is not. Neither this gold model nor the Speedmaster 38 with black dial and bezel share much in common with the occasionally missed Reduced. The Speedmaster Reduced is a smaller version, or interpretation, of the Moonwatch, and the Speedmaster 38 models aren't that.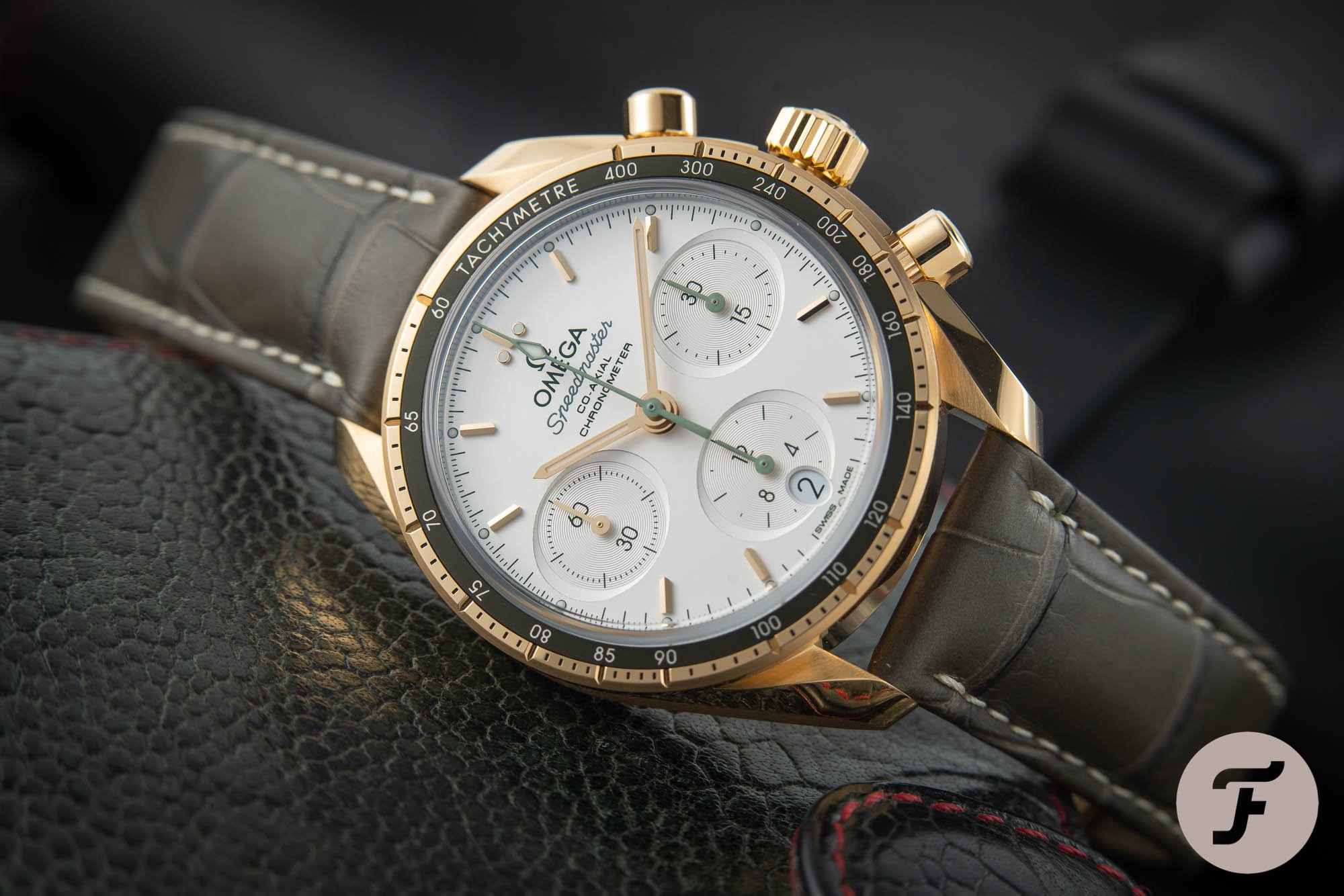 Price and Availability
The Omega Speedmaster 38 Co-Axial Chronograph reference 324.63.38.50.02.004 has a retail price of €14,800 and is available in the Omega boutiques and via the brand's own e-commerce channel. I think it looks amazing on a woman's wrist. The Speedmaster 38 in gold ticks a lot of boxes. The brushed gold always looks stunning on the Speedmaster, the green combines very nicely with gold, and the solid gold case back is simply beautiful. There's something about solid gold case backs (as opposed to a sapphire crystal to see the movement) that I really like. Also, the watch is water-resistant to 100 meters. I hope that, at some point, all Speedmaster can have this WR rate.
More information via Omega online. All our Speedmaster articles can be found here.
Watch specifications
Model
Speedmaster 38 Co-Axial Chronograph
Reference
324.63.38.50.02.004
Case Material
18 carat yellow gold
Case Dimensions
Diameter: 38mm
Case Back
18-carat yellow gold with Seahorse medallion
Movement
Caliber 3330, ETA A08.L01 base, self-winding chronograph with column-wheel mechanism, Co-Axial escapement, power reserve: 54 hours, chronometer certified, ticking speed: 28800vph
Water Resistance
100 meters / 10 bar
Strap
Alligator in green with 18-carat gold folding clasp
Functions
Time, Date, Chronograph, Tachymeter
Warranty
Five years of international warranty