Hands-On With The Panerai PAM 615 Luminor Submersible Flyback Titanio
A few weeks ago, I received the Panerai PAM 615 (or Luminor Submersible 1950 3 Days Chrono Flyback Automaic Titanio in full) for a hands-on review. This Panerai PAM615 as well as its brother with a titanium bezel, the PAM 614, were introduced in Geneva earlier this year. I've had a couple of Panerai watches myself and we've done reviews on several models in the past, but it is the first time I actually tried and tested te Panerai Submersible for a longer period.
Panerai PAM 615 Review
Operating the Panerai PAM 615
Even though the Panerai PAM 615 has a 47mm diameter and is – by all means – a big watch, it didn't shock me when I strapped it on my wrist. I don't have very big wrists, but I could handle the Submersible without problems. The Panerai signed rubber strap ensures a proper fit and prevents the watch from (annoyingly) sliding on your wrist. Operation of the watch is rather easy, the crown is used to set or correct the time and the two pushers (located at 10 o'clock and 8 o'clock) are used to start, stop and reset the chronograph.
Panerai uses an in-house developed caliber P.9100 for the PAM 615. This column-weel chronograph movement consists of 302 components and has a 3 day power reserve. Furthermore, as the official model name implies, the chronograph has a flyback feature. A flyback function means that you can reset the chronograph and start it again with one push of the button (located at 8 o'clock) without having to stop the chronograph first. The flyback chronograph therefore saves a bit of time compared to stopping the chronograph first, push the reset button and then press start again. For crucial timing this might come in handy.
Furthermore, this in-house developed caliber P.9100 features a central chronograph minute hand and two small registers (at 9 o'clock and 3 o'clock): the regular seconds and a 12-hour totalizer. Personally, I love the look of two-register chronographs and I am happy to see that more brands are using this lay-out in modern watches.
Of course, this Panerai Luminor has the trademark crown to ensure water resistance. The Panerai PAM 615 is resistant to 30 bar (approximately 300 meters) and due to the use of a rubber strap, you are ready at all times to enter the water. I didn't of course, but I have no doubts that this watch goes deeper into the water than I am capable of.
Submersible Case
As written above, the case of the Panerai PAM 615 Submersible is big with its 47mm diameter. I had two 44mm Luminor models in the past and tried a 45mm Radiomir at some point, and already thought those were on the limit of what my wrist could handle. However, if there something I've learnt over the years is that specifications are only on paper. You need to try a watch on the wrist in order to check if it is suitable for you. The Panerai PAM 615 has certainly a lot of presence when worn on the wrist, not only due to the large case but also because of the big rubber strap and Pre-Vendome style buckle. I received actually one comment from a non-watch person, telling me that this was one tough looking watch. It surely is.
The finish on the titanium case is very nice, a lot of surfaces are matt brushed and by doing this in various directions, per surface, it really looks awesome. No need for a lot of polishing on divers watches in my opinion, although this never disturbed me on the Panerai Luminor Marina models I had myself.
On the titanium caseback of the Panerai PAM 615 is no sapphire crystal (+1) but instead an engraving of a submersible and the place where the original workshop was founded in 1860: Florence. As you can see on the image below, the lugs have these little spring mechanisms in place that need to be pushed with a little tool to have the strap removed. I have seen a similar mechanism in the bracelet of my IWC Ingenieur 3227-01 if my memory serves me correctly.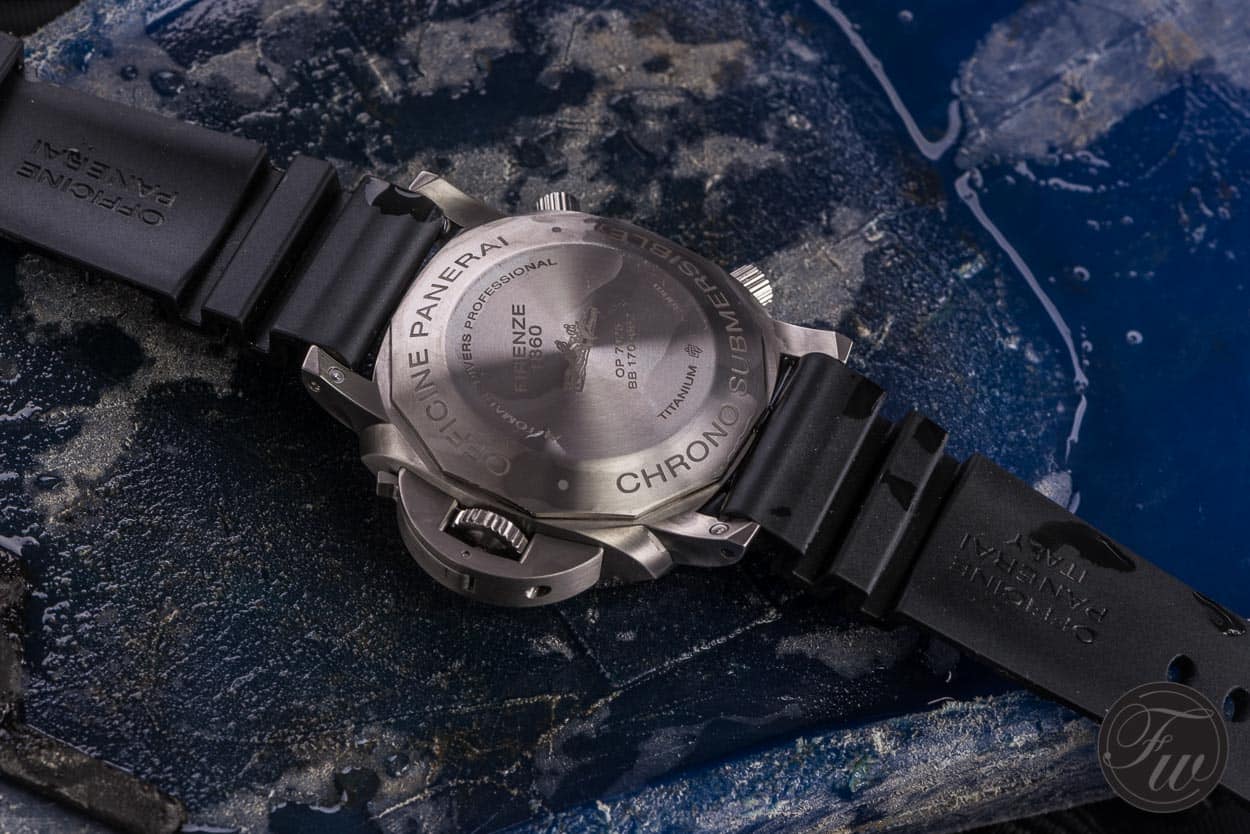 On top of the Submersible case is the bi-directional bezel. This Panerai PAM 615 has a matt black ceramic bezel. What surprised me, is that the Submersible I had for review had two small nicks on the bezel, showing a metal color underground. I don't know the exact specifications and characteristics of ceramics, but perhaps the ceramic inlay of the bezel is rather thin. Ceramics can be scratched though, that much was clear to me when observing this watch. The bezel feels very solid and there was no play detected. The bezel has clear markings for every 5 minutes and the '15', '30' and '45' markers are engraved with an Arabic numeral to be able to quickly identify the remaining diving time.
Panerai PAM 615 Dial and Hands
I already talked about the two-register chronograph and how much I like that configuration. The large black dial is very readable and legible. Big round hour luminous hour markers and an Arabic '12' and '6'. The small chronograph hour recorder located at 3 o'clock also used Arabic numerals for the '12', '3', '6' and '9'. The '6' and '9' digits are 'open', like the ones on the date disc of my vintage Rolex watches. The designers of Panerai are King in embedding some heritage in their watches. The chrono seconds hand and small chronograph hour hand are in blue, which gives a very nice contrast. It also matches the OP logo on the rubber strap. The central chronograph minute hand is silver, like the regular skeleton hour and minute hands. The small seconds hands has the typical shape for Panerai watches.
The hour, minute and seconds hands that indicate the time are applied with luminous material and work very well during low light or in total darkness.
Strap and Buckle
The black rubber strap is very comfortable on the wrist, especially during warm or hot weather. I wore the Panerai PAM 615 during this Summer and we had some high temperatures. I don't like to wear watches on leather in warm weather and am actually a guy that prefers bracelets in general. However, the rubber strap is something I could get used to very quickly. I also don't know what type of leather strap I would put on this Submersible as it is clearly a diving watch. Perhaps a brown strap would do, but be aware that you can't use a leather strap in the water.
The Panerai Pre-Vendome style buckle is something Panerai re-introduced a few years ago. They used this buckle before the Vendome Group (now Richemont Group) took over in – I believe 1997 – and made Panerai part of their luxury group. Collectors and Paneristi were in favor of the old style (Pre-V) buckle and I guess this led to the decision to re-introduce it again. A wise decision, as I love the Pre-V style buckle as well. The titanium (Trapezoidal) buckle on the Panerai PAM 615 has a nice satin brushed finish and is very unlikely to fail on you. Be aware that it is large though, just like the rest of the watch.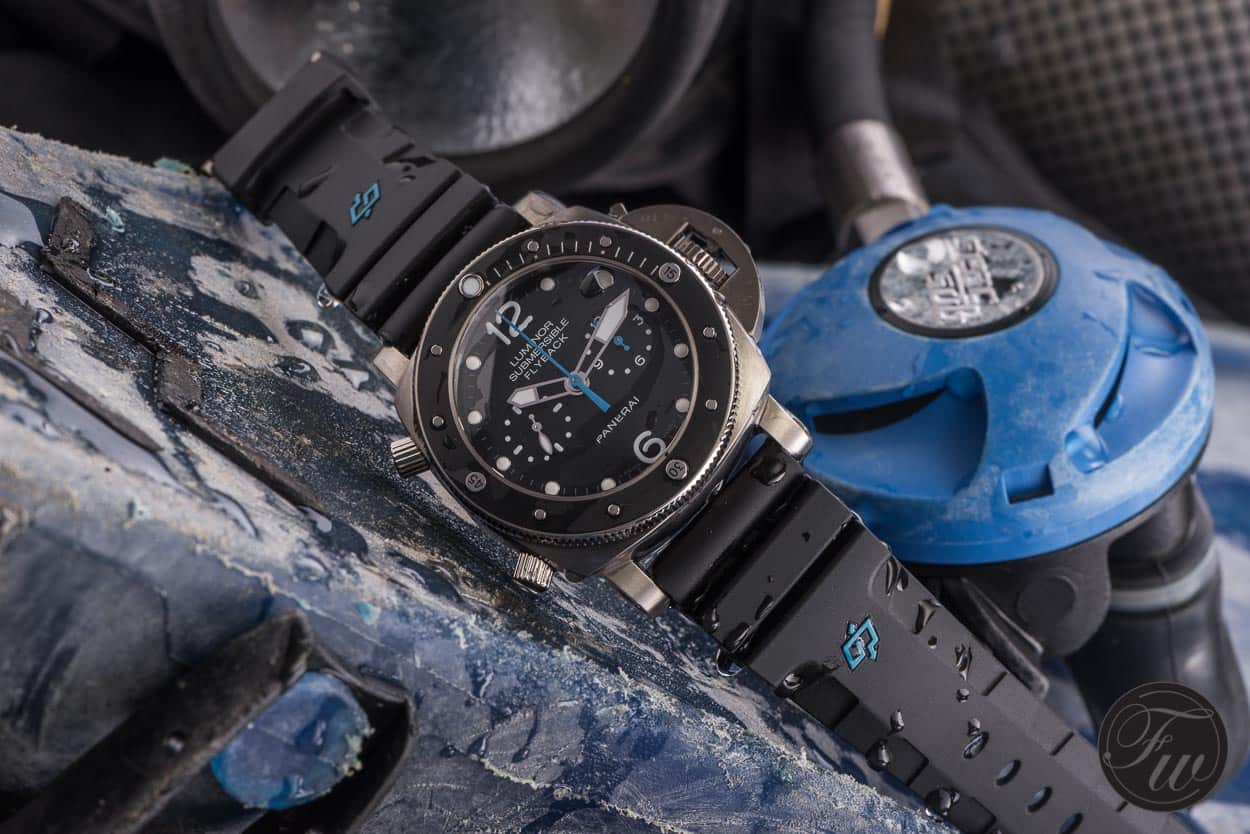 Verdict on the Panerai PAM 615
Truth to be told, I had fun with this Panerai Luminor Submersible 1950 3-Days Chronograph Flyback PAM 615 watch for sure. I am by no means a diver, but I believe only a small percentage of those wearing a divers watch is. It is more about a certain style you prefer or a lifestyle you hold on to. Despite the 47mm diameter of the watch it is quite wearable, but truth to be told I wouldn't buy this as my only watch. That's personal of course, and has nothing to do with the quality or the design of the watch.
A chronograph is one of the most convenient complications in my opinion, as I find myself using it quite a bit (compared to other complications). I like to time certain activities like traveling or during cooking, but also like to time certain operations I perform on my computers (large data loads or certain processing of queries). The flyback is of no personal use to me, but I love the extra complication on top of the chronograph.
The one thing that worries me a bit on this Panerai PAM 615 is the price. It has a suggested retail price of  €16.600,- Euro (~ $18,360.- USD). I understand that the Swiss Franc was disconnected from the Euro and that Richemont decided to do some annual price increases nevertheless (it was €15.700,- Euro at the time of introduction January 2015). The demand for Panerai is still impressive (source: Chronolytics.ch), and in Q2 2015 the growth was especially noticeable in the United States, Asia and Australia compared to Q1 2015, so Richemont and Panerai feel no need to slow down on price increases. However, €16.600,- Euro felt quite steep to me, despite the use of an in-house developed column-wheel chronograph movement with flyback function. However, Panerai is also known to keep good value over time. This certainly has to be taken into account when you are in the market for the Panerai PAM 615.
Another thing that surprised me were the scratches on the bezel. You have to know that the watches we receive are mostly samples that are being sent around to journalists, photographers and stylists. Not pointing fingers here but these are not only watch people and might be a bit more reckless with these watches that I am used to. I don't know what happened to the watch before we received it, but it had two little nasty marks on the bezel as can be seen on the photos. Let's assume that it did see some hard knocks or a collision with something 'hard' as well.
Pros
Awesome sporty appearance / design
Vintage elements
Column-wheel chronograph with Flyback function
Comfortable on the wrist, despite the 47mm size
High power reserve, especially useful if not worn daily
Keeps (market) value
Cons
High retail price
Ceramic bezel does get scratched
More information on the official Panerai website.