Hands-On With The Swatch PAY!
No need to take out your bank cards with these Swatch watches
Swatch always brings back sweet memories. Back in the late 1980s and early 1990s, a lot of kids in school had them, in all sorts of colors. Over the last 20 years, the watch landscape has changed drastically and Swatch is not as disruptive as it used to be. Will the Swatch PAY! change that?
Swatch PAY! was introduced last year. In November the introductions took place in The Netherlands and Germany. As we're big Swatch fans, we joined the Swatch PAY introduction in Amsterdam, which is closest to our headquarters. Together with ABN AMRO Bank — the first to support Swatch PAY! — the watch was explained and presented by Swatch Creative Director Carlo Giodanetti.
How does it work?
Well, for starters, it is important to know whether your bank card supports Swatch PAY! If it does, you're good to go. Head down to your nearest boutique to choose your watch. These Swatch PAY! watches are available in a variety of colors, and in two different models. Prices start at €80 and the BBMist PAY! and BBNyte PAY! watches have a price of €100. The latter two are part of the Big Bold product family and have a diameter of 47mm. Not for everyone, I am sure. The regular version is a wearable 41mm in diameter.
Inside these watches is an NFC chip. It works in basically the same way as in the one in your bank card that enables contactless payments. As such, it doesn't drain your battery. It is merely a token needed to authorize transactions.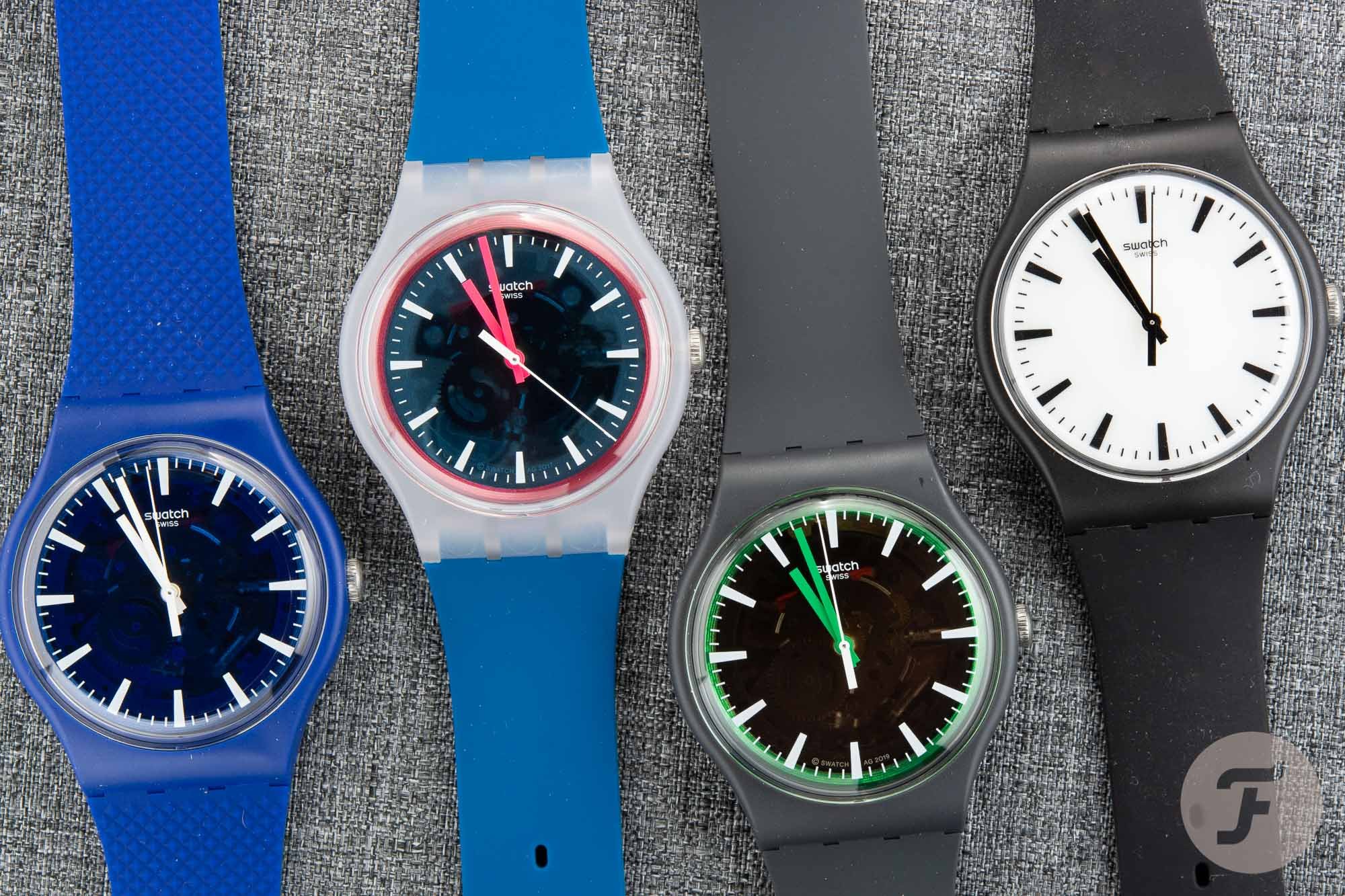 My favorite is the Blackback PAY! (far right in the picture above), as it reminds me of those very first 1983 Swatch models in black (GB100, GB001, GB700). Each Swatch PAY! comes in the well-known plastic case. In the colorful cardboard sleeve, you will find a special quick manual to activate the watch and connect it to your bank card. The warranty papers are in the plastic case itself, by the way.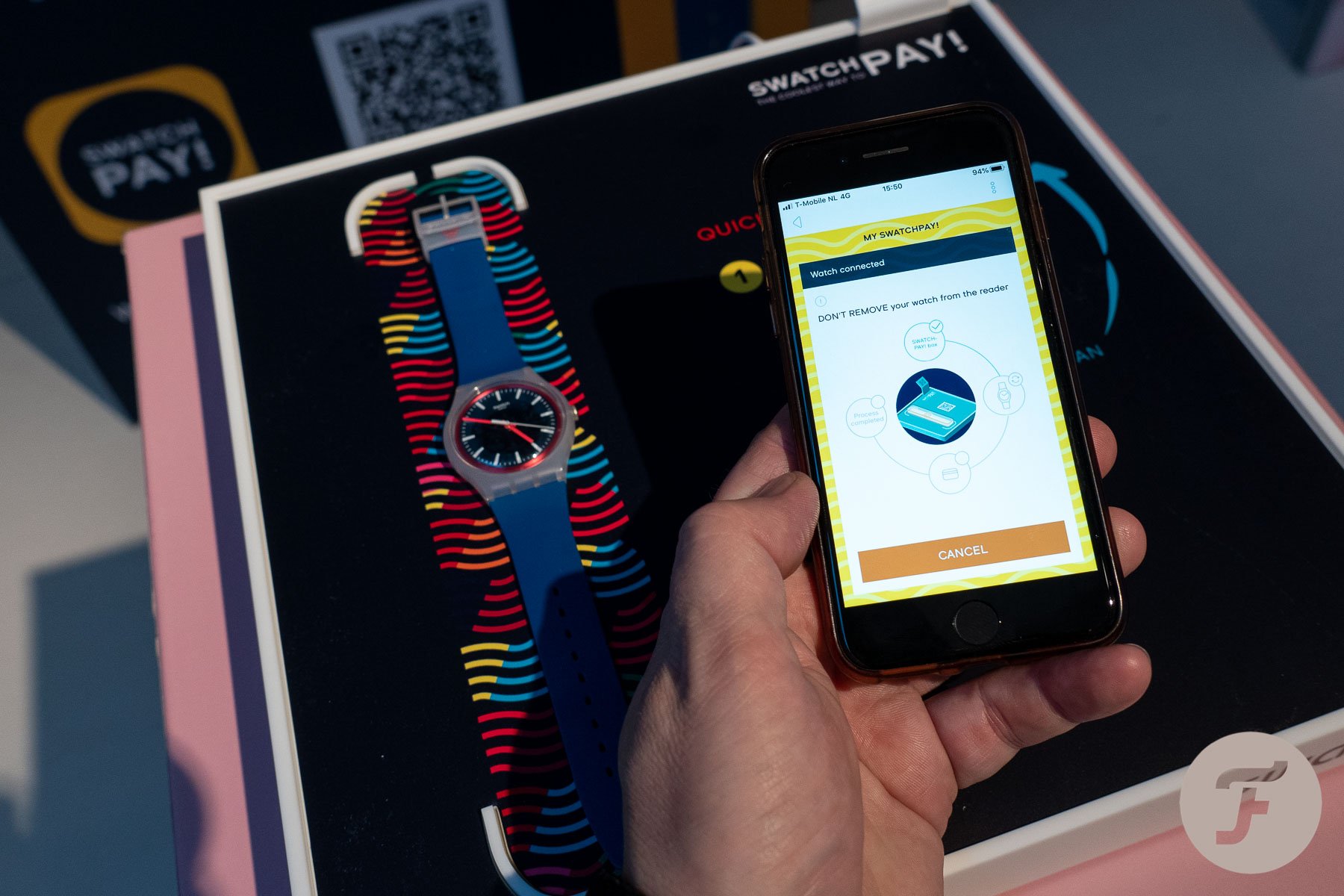 It's actually very simple. You need to scan the QR code on the manual, and it will install the Swatch PAY! app on your smartphone. Follow the steps in the app to create a Swatch PAY! account and enter the details from your bank card (you can also scan it with your camera). When that is done, you need to place the Swatch PAY! on the box in the Swatch boutique and activate it. This last step is crucial, and you have to understand that this can only be done at a Swatch boutique.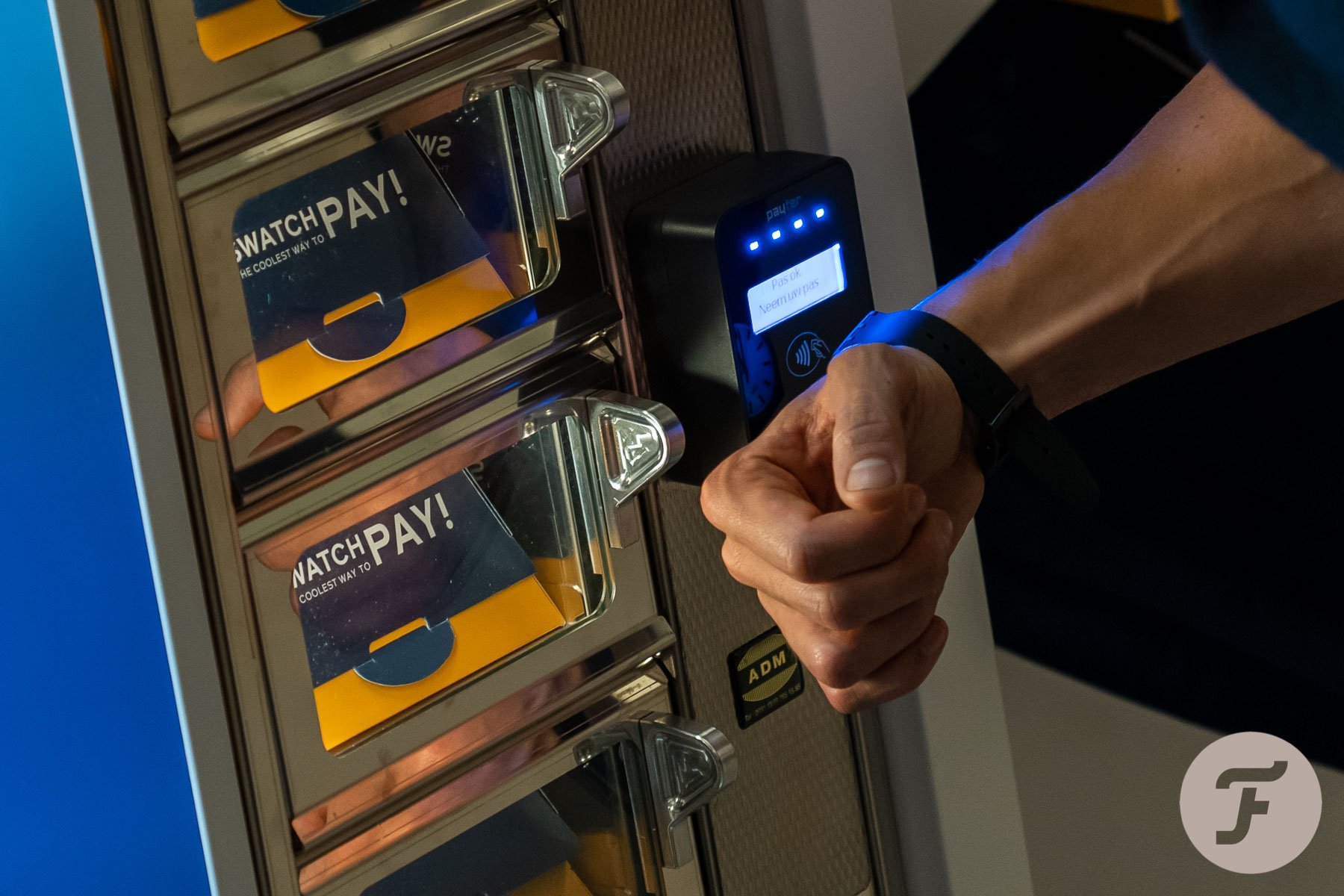 If the watch is paired with your bank card, you are all set. Just hold the watch close the payment terminal as you do with your contactless bank cards and you've paid. In case your watch gets lost or stolen, you can deactivate Swatch PAY! with the app on your smartphone. However, it is highly unlikely someone will mug you for your Swatch (although Biggie Smalls had other ideas in his Gimme the loot track).
Good to know is that the payment process is exactly the same as your bank card payments when it comes to maximum amounts and so on. In The Netherlands, the only bank that supports Swatch PAY! is still ABN AMRO Bank, but hopefully, more will follow soon. Check the Swatch PAY! website for an overview of supported bank cards in your country.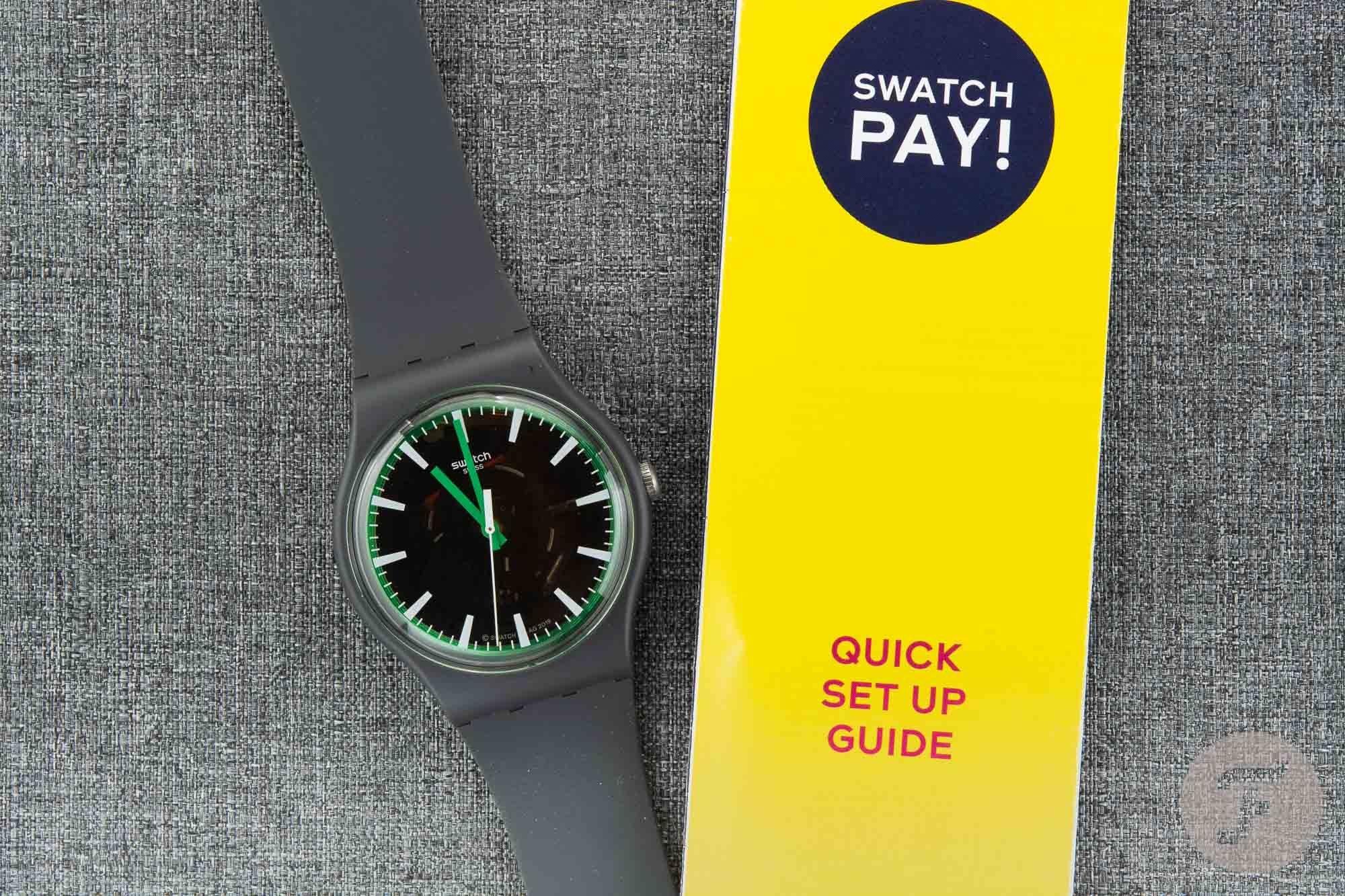 The Swatch PAY! Watch
Besides the NFC chip to perform contactless payments, the Swatch PAY! is pretty much the same as other Swatch models. A plastic watch with a silicone strap and a quartz movement. It has a water resistance of 30 meters. And they tick just as loud as they always did. The sound somehow gives me this nostalgic feeling when I put this watch on the wrist (or within twenty yards of my bed at night).
The advantage of using Swatch PAY! watch instead of a smartwatch is that you're not relying on battery life. There's also a bit more versatility in the Swatch designs than smartwatches, which often remain aesthetically uninspiring and overly technical.
As written above, my favorite execution is the Blackback PAY! I think it is due to its minimalistic appearance and how incredibly readable it is. The silicone strap is very comfortable and the watch is, of course, super light-weight. Even if you don't want to use Swatch PAY! or when your bank card is not supported yet, it is a great choice. The only give-away that this watch is a Swatch PAY! model is the NFC radio signal logo on the keeper.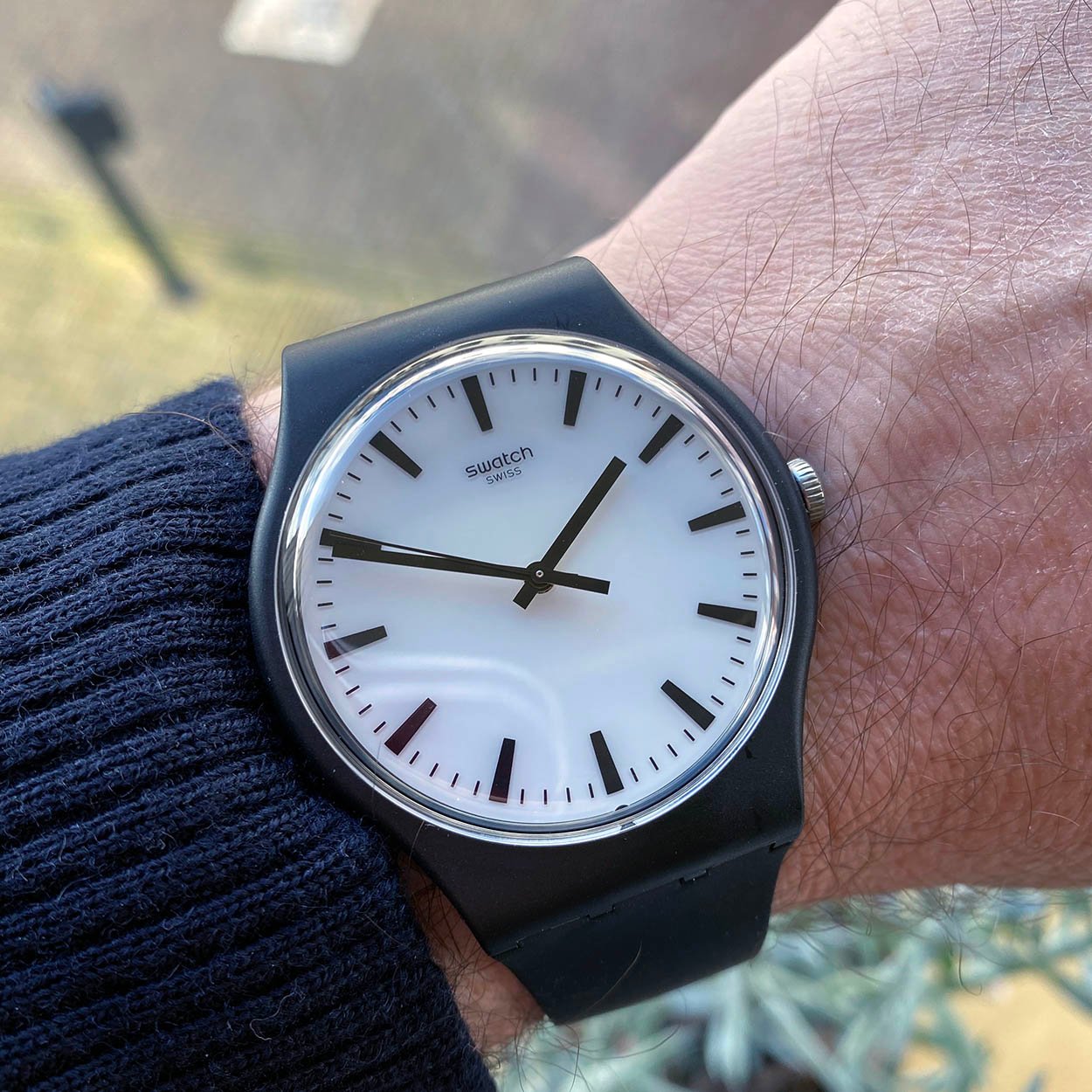 Is Swatch Still Disruptive?
Swatch had a huge impact in 1983 when it launched its now-iconic plastic and colorful watches. Grown-ups, teens, kids, everyone had a favorite Swatch. Watches were cool again and later on, Swatch founder Hayek used the success of these watches to rebuild the traditional watchmaking companies such as Breguet, Omega, etc. Today, Swatch is not part of the street scene.
Swatch tried with The Beat (internet time) in the late 1990s, if I am not mistaken, and again in 2013 when they introduced the Sistem51 — a cool mechanical Swatch for an amazingly affordable price. Did those disrupt the watch industry? No, they didn't. Perhaps that was not the aim. But a bit more shock-effect would have been appreciated I feel.
The same goes for the Swatch PAY! It is not groundbreaking, just convenient. Will people buy a Swatch PAY! solely for doing contactless payments? I can't imagine they would. You need to like the watch first. The good thing is that Swatch made a number of very attractive models that have the PAY! technology embedded.
In my opinion, I don't think Swatch will release anything that will disrupt the watch industry. Teaming up with Apple would have rocked both worlds of tech and Swiss watches, but they didn't. Instead, they fight over slogans.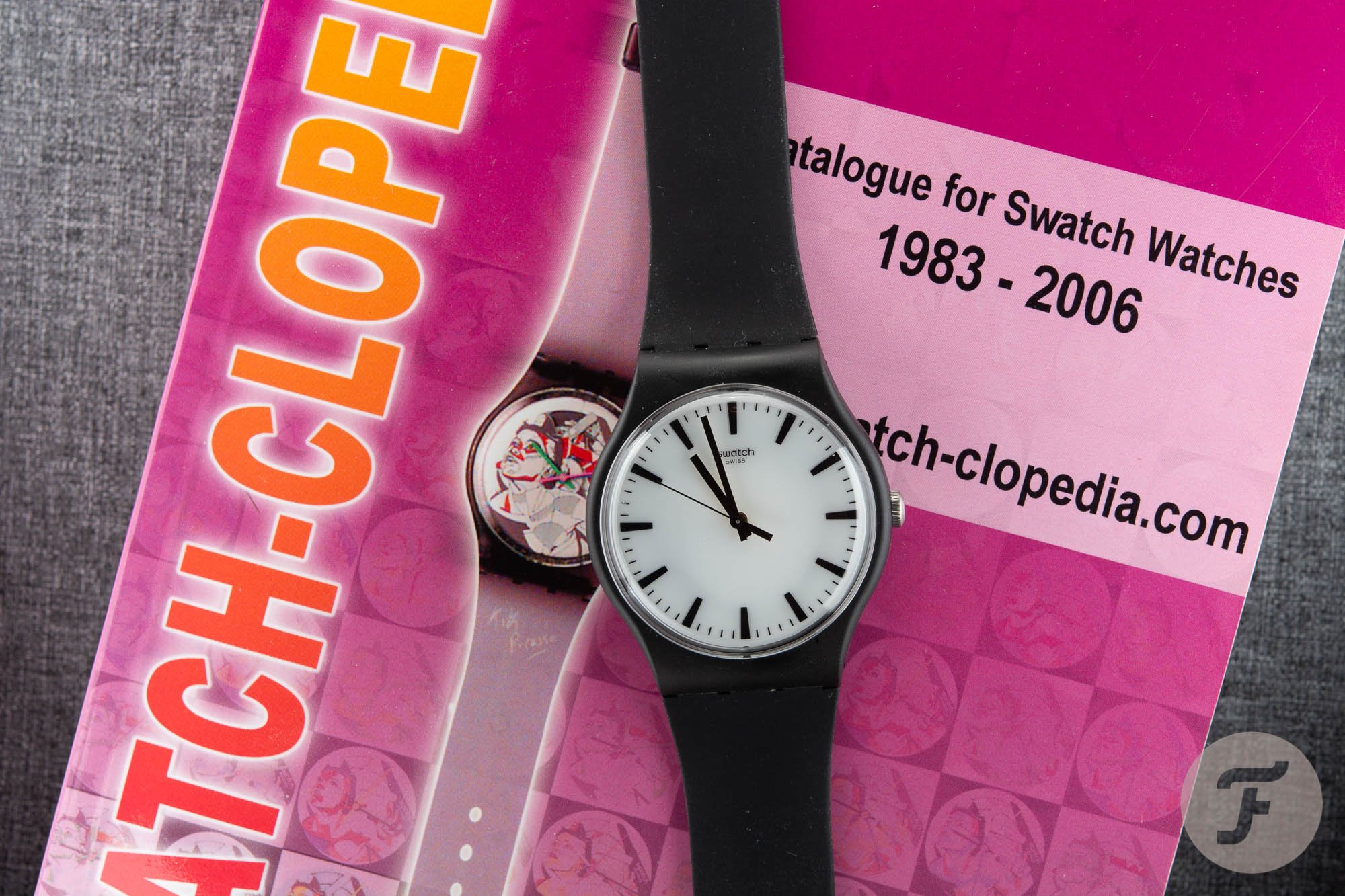 Board Clock
Last week I've been thinking of what kind of products Swatch can create to conquer the world again. I write "products," a word I normally hate when it comes to watches, but I think it should rather be a product than a watch. Don't get me wrong, I buy Swatches once in a while, especially when I am traveling and want a nice souvenir. I would just like to see them getting the attention they deserve.
How about this: I am on the road a lot, and my car only has a simple digital time indicator somewhere on the instrument panel. It would be awesome to have a very cool "board clock" by Swatch that you can just attach to one of the air vents (or somewhere else where you can put and remove it without damaging anything). The stylistic possibilities for such a tool are effectively endless.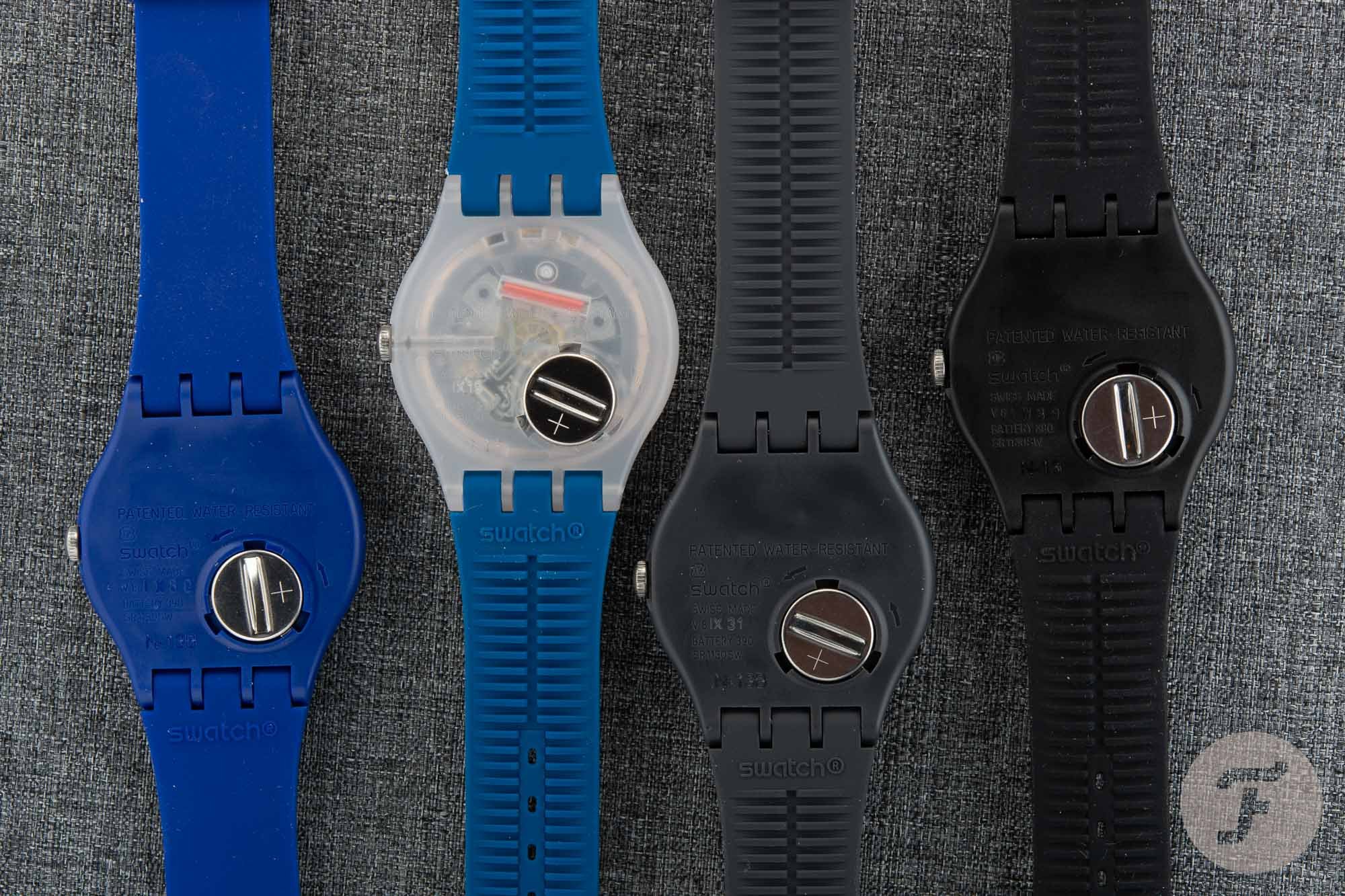 A new generation
A watch (or device) that I can just attach to my golf cart or bag, where I can simply read the time, or set a start time or something. And it needs to be "protected" from those clubs. I can imagine Swatch can do something "retro" here with their protectors they had back in the day. I can imagine something similar to other sports where you don't always want to wear a watch, but want it close to you.
Typical things for the generation that grew up with Swatch and are now in their late 30s till mid-40s. But here's another one for a new generation, the generation Swatch wants to talk to when they're a bit older and Swatch Group brands want to reach when they're young grown-ups. What about a device or "product" that teaches little children to read the time. In a variety of languages, of course. I gave my daughter a Flik-Flak when she was too young, but now that's she is six, I think some cool Swatch gadget or 'thing' that teaches her how to read time and the concept of time, perhaps, would be amazing. More information via Swatch online.
Watch specifications
Case Dimensions
Diameter: 41mm, Height: 11mm , Lug-to-Lug: 46mm
Water Resistance
30 meters
Functions
Time, Contactless Payments
Special Note(s)
Check the Swatch website to see if your bank supports Swatch PAY!