Hands-On With The Tockr C47 Skeleton In Black
A limited edition of 8 pieces that takes inspiration from a jet engine
Tockr landed on my radar with its incredible Tockr Air-Defender Lume series of watches. A single sight of that series tells you everything you need to know about this brand. Tockr is not restricted by conventional boundaries. And I like that. As long as the brand can keep coming up with remarkable, eye-catching, and fun ideas, you can count me among the interested. I had a chance to find out whether the Tockr C47 Skeleton Black is just as impressive and eye-catching as the Air Defender series.
Austin, Texas is high on my list as places to visit once we finally get a chance to travel without restrictions. The Texas state capital is the home to the SXSW festival, houses some of the best BBQ places in the world, and has one of the most vibrant craft beer scenes in the United States. Austin also happens to be the city where watch brand Tockr is based. The young Texan brand is the brainchild of Austin Ivey who created his brand around the idea of creating aviation-inspired timepieces. The inspiration for that comes from Ivey's granddad who was a U.S. Army pilot who flew C-47 aircraft during World War II.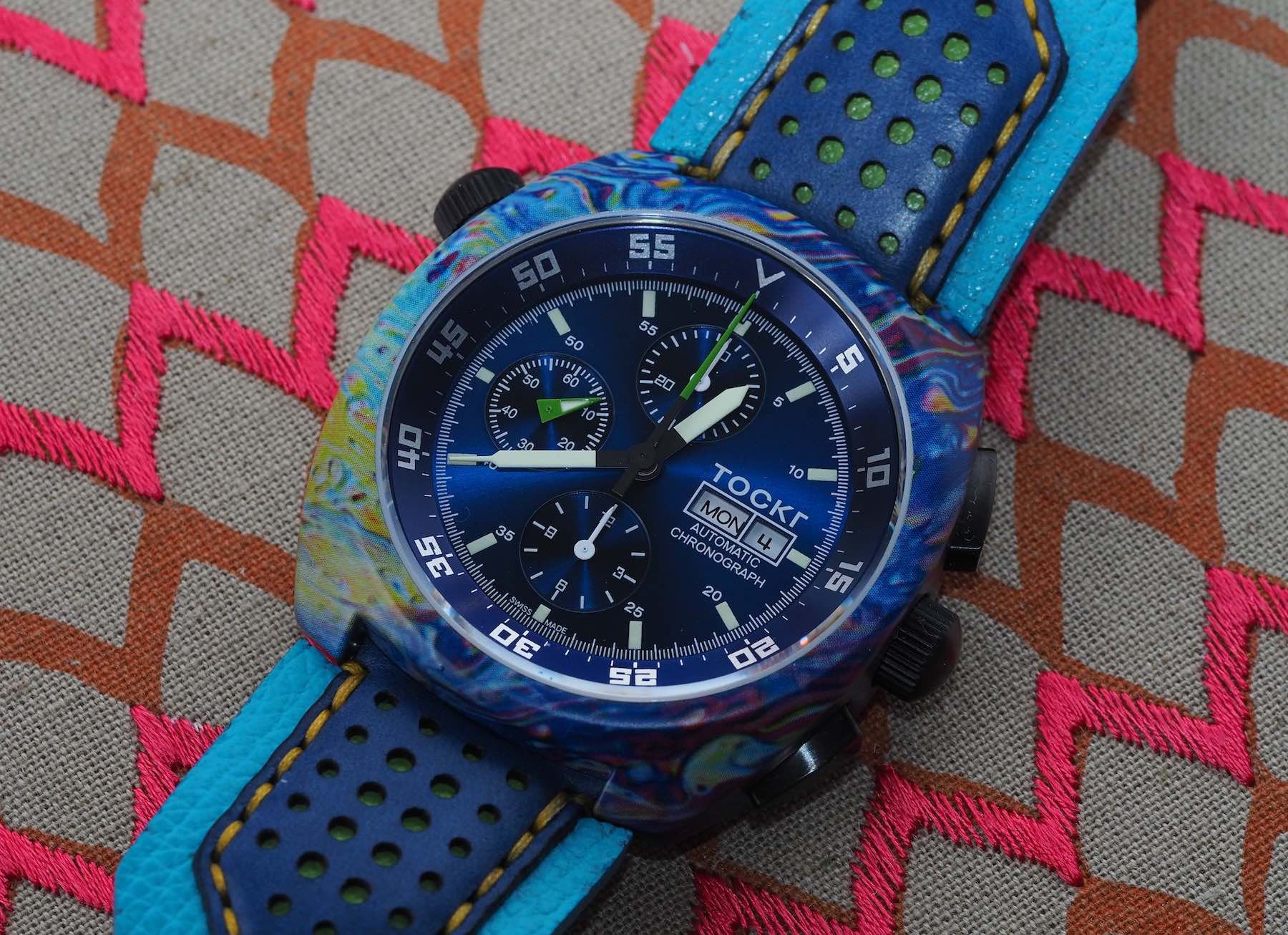 It's not about modesty
Well, it's safe to say that aviation-inspired timepieces do not set the Tockr brand apart from so many other brands out there. And it's also not necessarily what the brand is known for. Sure, it's a style that gives an indication of what to expect. But what to expect from Tocker is not just a simple collection of vintage-inspired pilot's watches. Tockr has been known to push the boundaries of colors and materials used for its watches.
This is not about classic modest-sized pilots' watches at all.
Our very own Rob owns a Tockr Air Defender Chronograph Hydro Dip Tie-Dye and that gives a good impression of what to expect. The Hydro Dip series features cases that have crazy patterns that catch your eye from across the room. By using the process of hydro-dipping, the brand has been able to come up with a wide array of striking cases. No, this is not about classic modest-sized pilots' watches at all.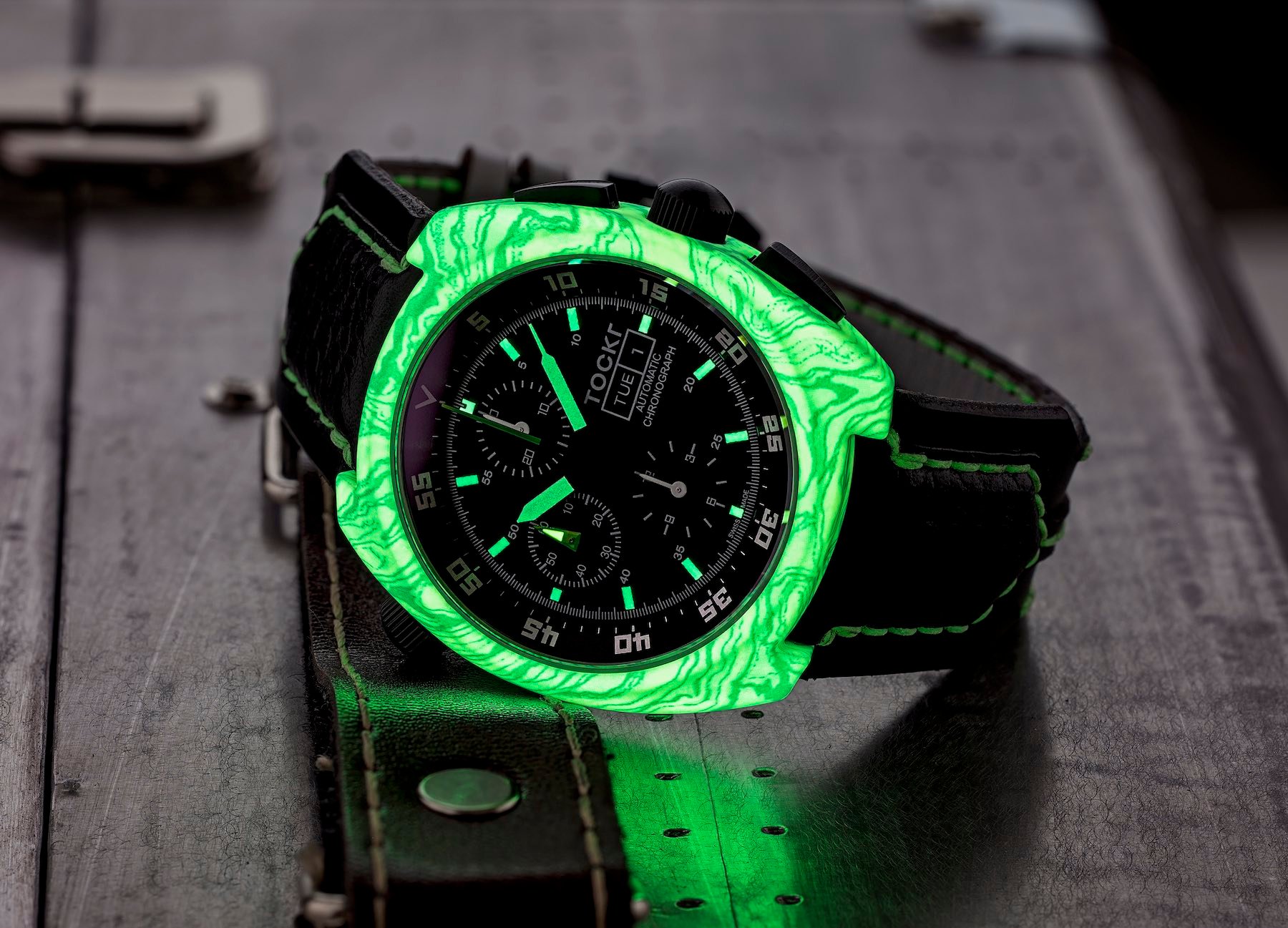 Taking it one step further
And Tockr turned it up another notch by releasing the Lume series of the Air Defender Hydro Dipped that glow in the dark. Now that's something to remember a brand by! You can argue all you want whether this is a serious watch or a gimmick, but there is no denying this is one impressive statement. I was immediately attracted to the sensation of these watches.
Sometimes it's just about plain fun.
There is a time to be serious and there is a time to enjoy the things that are less serious. So why not take it over the top? Just to draw a parallel, I take music very seriously. And I have for well over three decades. But that doesn't mean that I don't enjoy the shenanigans of fellow-Texas native and Hip-hop artist Riff Raff aka Jody Highroller. Sometimes it's just about plain fun. Come to think it, these watches fit his over-the-top personality and neon-colored outfits perfectly.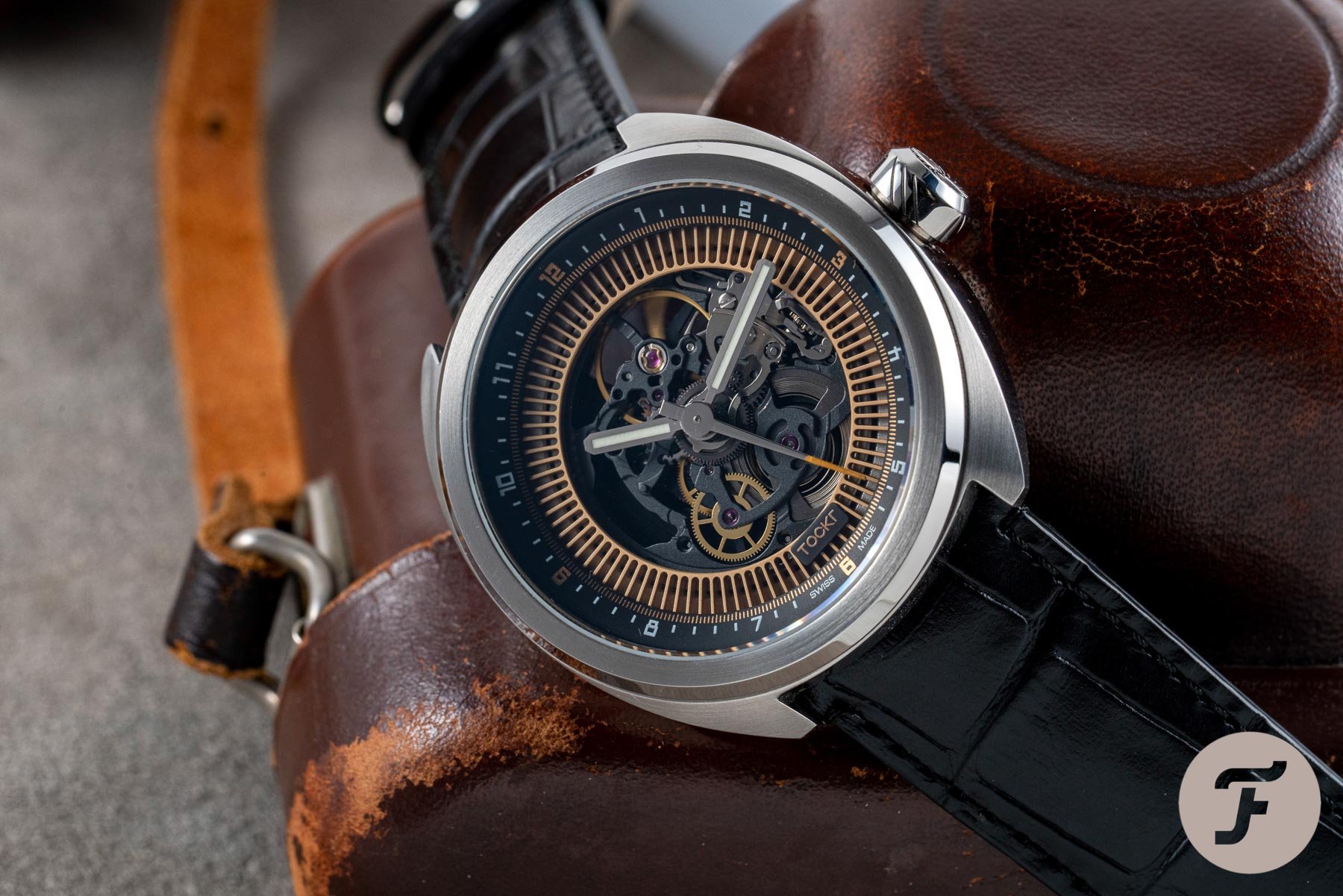 Tockr C47 Skeleton Black
Although still not your ordinary watch, the Tockr C47 Skeleton series is not as extravagant as the Hydro Dipped models. When I first saw the C47 Skeleton Black it felt almost modest despite its skeletonized character. But that's purely when viewed in the context of the brand's other offerings. The C47 Skeleton Black obviously gets its name from the C-47 aircraft that Ivey's grandfather flew in World War II. There are two product lines that carry the name C47. The first is the D-Day C-47 that Balazs reviewed back in 2019. It's a more conventional pilots' watch showing the serious side of the brand.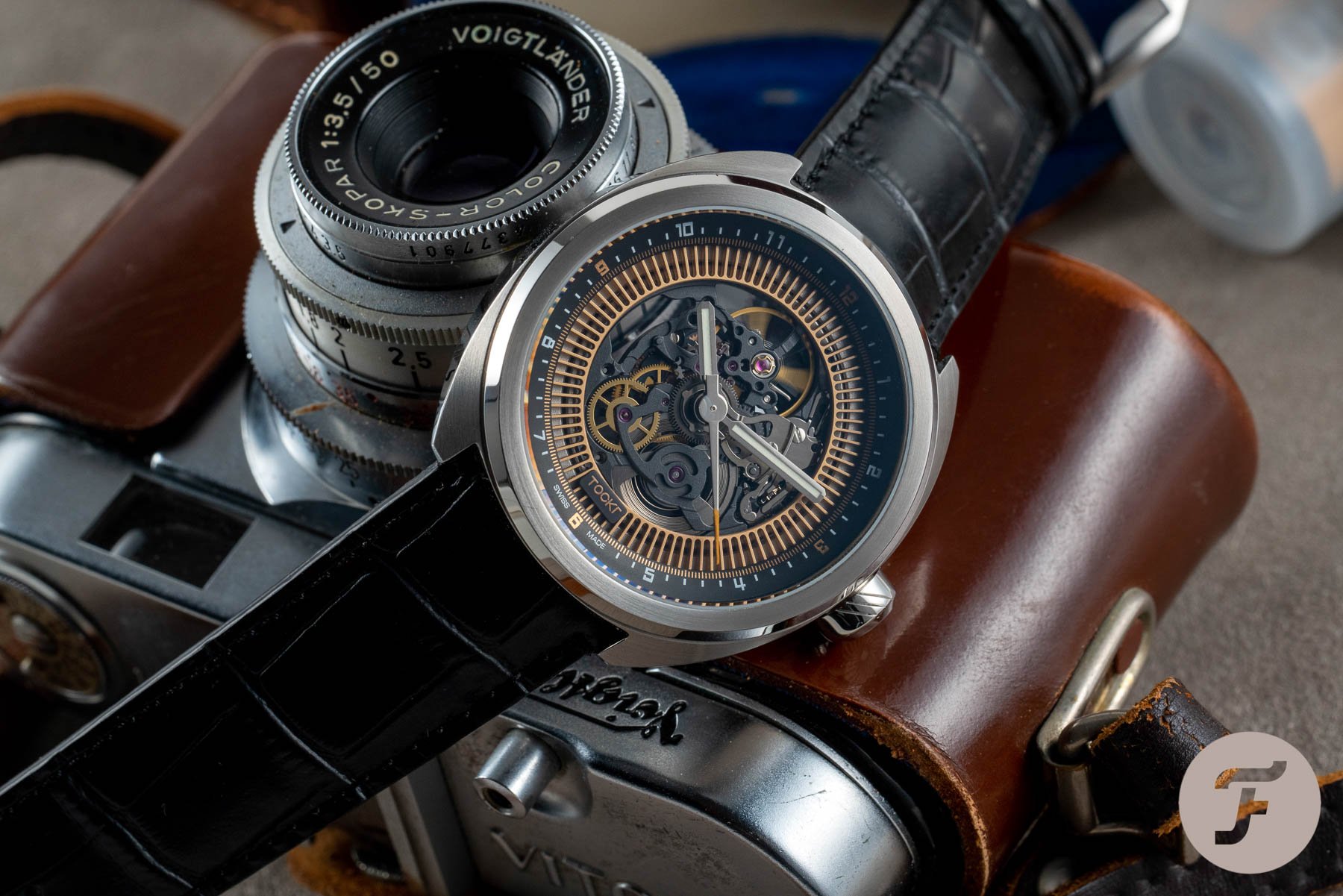 The Tockr C47 Skeleton series shares the case and the crown with the D-Day C-47 but that's about it. But the link to the legendary aircraft is still there. So let's look at some details. The C47 Skeleton Black features a 42mm cushion-shaped stainless steel case. The skeletonized dial features a bronze grid with a black sunburst outer ring featuring a 12-hour scale in bronze. The aesthetic is a tribute to the C47 Radial Engine. And that is the feeling you get when you first see the watch, it looks like a jet engine.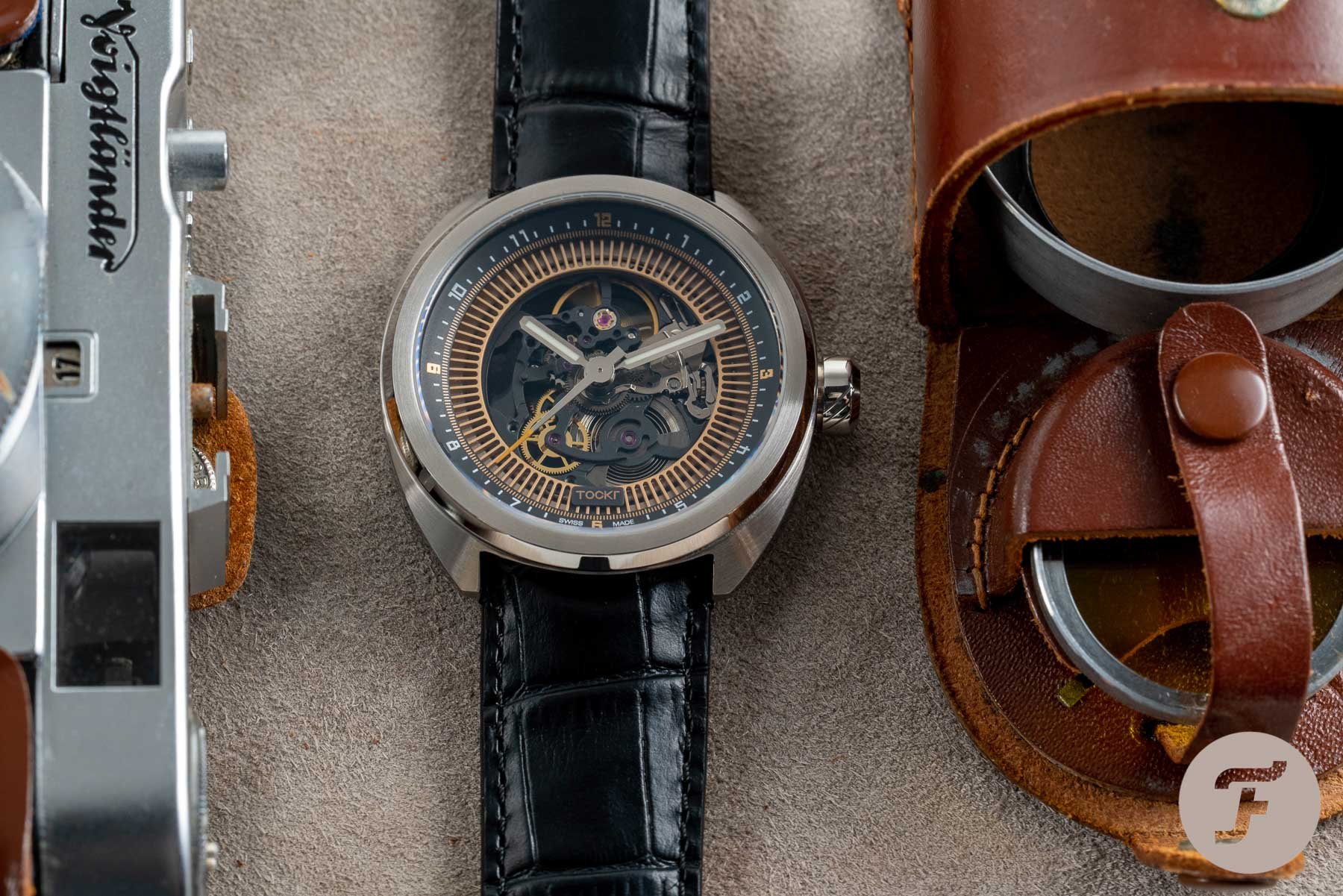 Calibre STP 6-15 H6
Through the open-worked dial, you can clearly see the skeletonized and blackened self-winding Caliber STP 6-15 H6. The movement is based on the STP Caliber STP1-11 which is based on the ETA 2824-2 movement. The movement operates at 28,800vph, has 26 jewels, and features a power reserve of 44 hours. Underneath the sapphire crystal, you will find stainless steel hour and minute hands filled with lume and a stainless steel seconds hand with a bronze-colored tip. The overall feel of the dial and the movement is somewhat vintage in its color scheme and very technical in its shapes.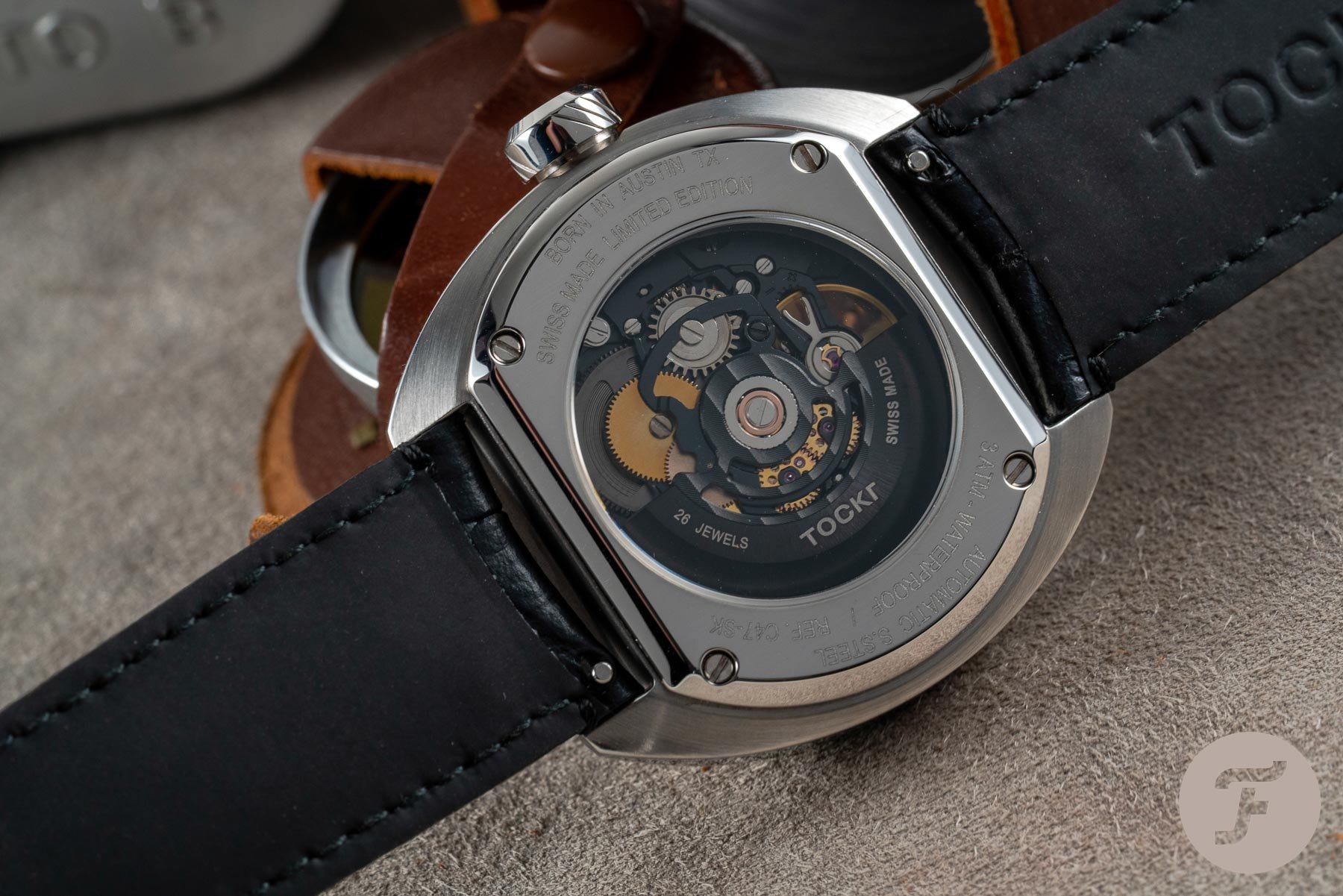 If you turn the watch around you will find that the case back is secured with four screws and features a sapphire crystal viewing window. It allows you to watch the skeletonized black rotor in action. Each of the cases is engraved with a serial number from 1 to 8/8 indicating it is part of a limited-edition production run. The watch is water-resistant up to 30 meters (3ATM) and comes on a hand-stitched calf leather strap. Additionally, the watch is delivered with a second silicone strap. Both straps feature steel signed pin buckles and quick release spring bars.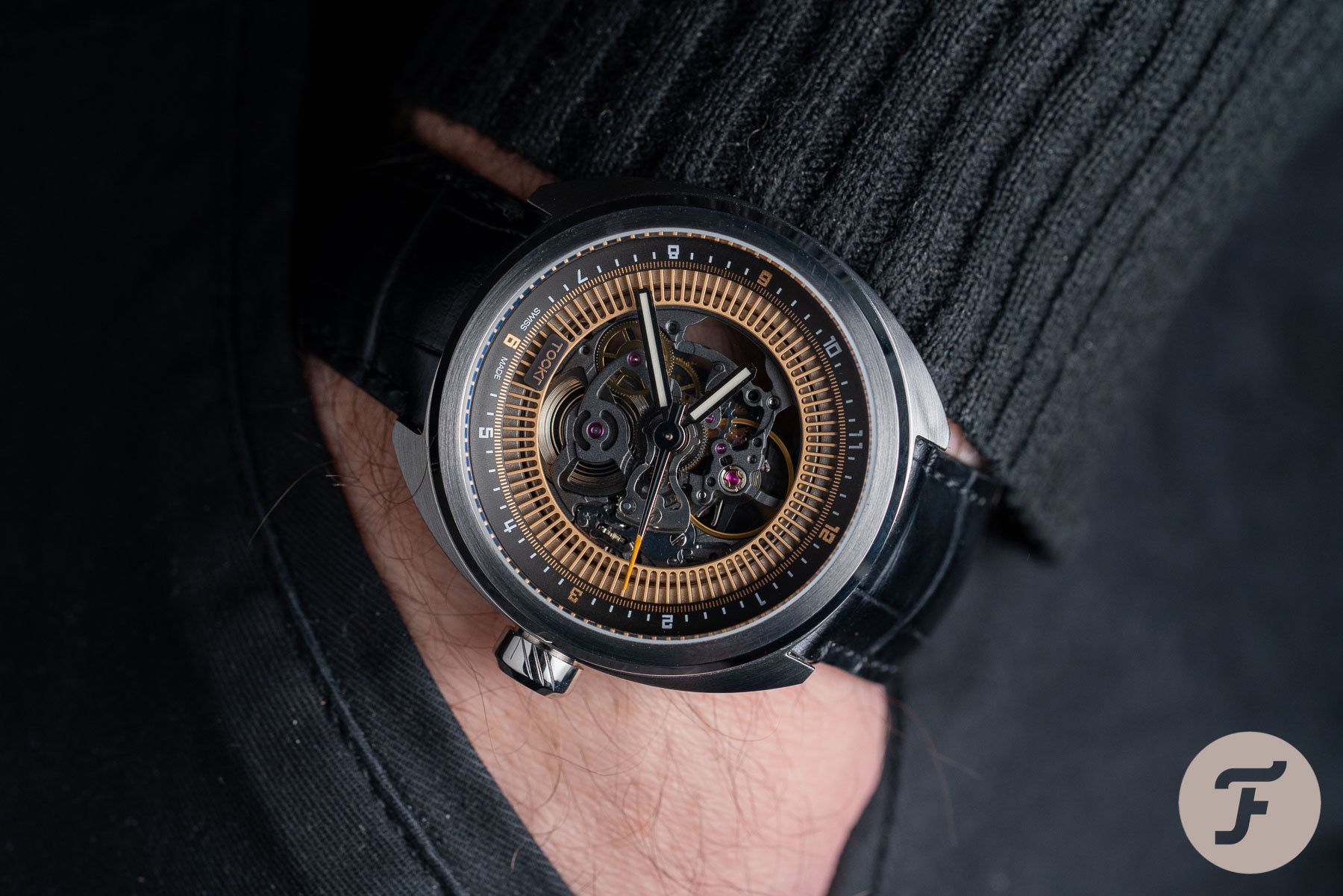 Wearing the Tockr C47 Skeleton Black
The first thing that stands out is how comfortably the C47 Skeleton wraps itself around my wrist. At 42mm and with the comfortable black calf leather strap, this fits my wrist well. The second thing that immediately stands out is obviously the design of the watch. And I have to be honest here. The design does not evoke any extreme reactions in both negative or positive ways.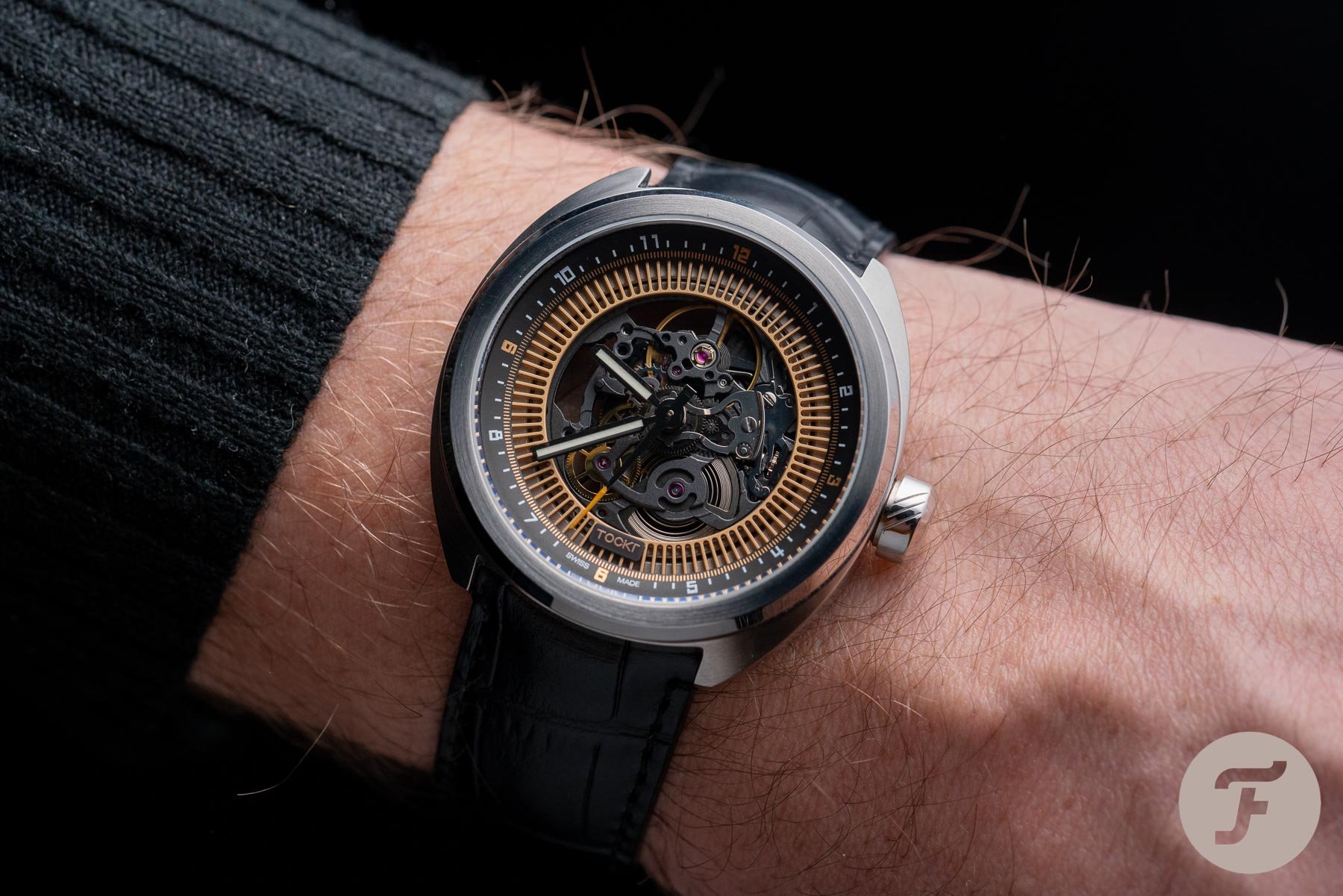 I am not the biggest fan of skeletonized watches, to begin with. There are exceptions when the movement is a genuine piece of art. Taking that in mind and knowing that other watches in the Tockr collection do genuinely excite me, this is just not the watch for me. And it doesn't have to be. There are four C47 Skeleton models and each one of them comes in a very limited production series. The Black version I reviewed will be made in a series of 8 pieces and they have all sold out. There is a blue version (8 pieces) that has also sold out. Both sold for $2,300 and now proudly grace the wrists of their owners.
However, there are two different versions still available. Those two are the Dark Star edition and a Hugo Blue Edition (10 pieces). And I'm sure they will also find their way to consumers. Both of them are available now for $1,899.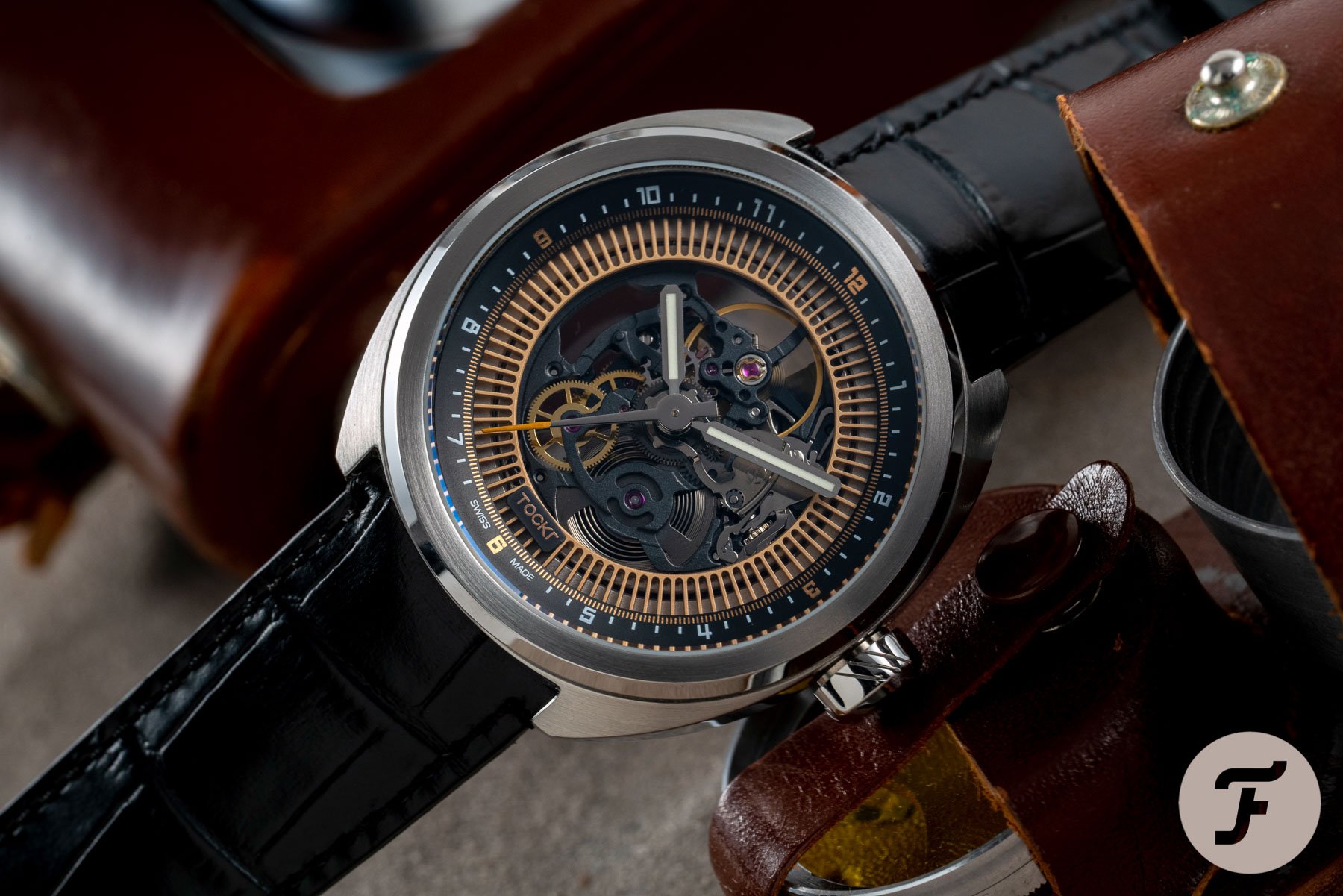 Final thoughts
While this Tockr C47 Skeleton Black might not be my pick when it comes to Tockr, it hasn't made me less enthusiastic about the brand. I would still love to do a review of one of the Air Defender Chronograph Hydro Dipped Lume Series models. Taking that out at night must be a genuine blast. Although with a curfew in place at the moment, it might get me into trouble with the police.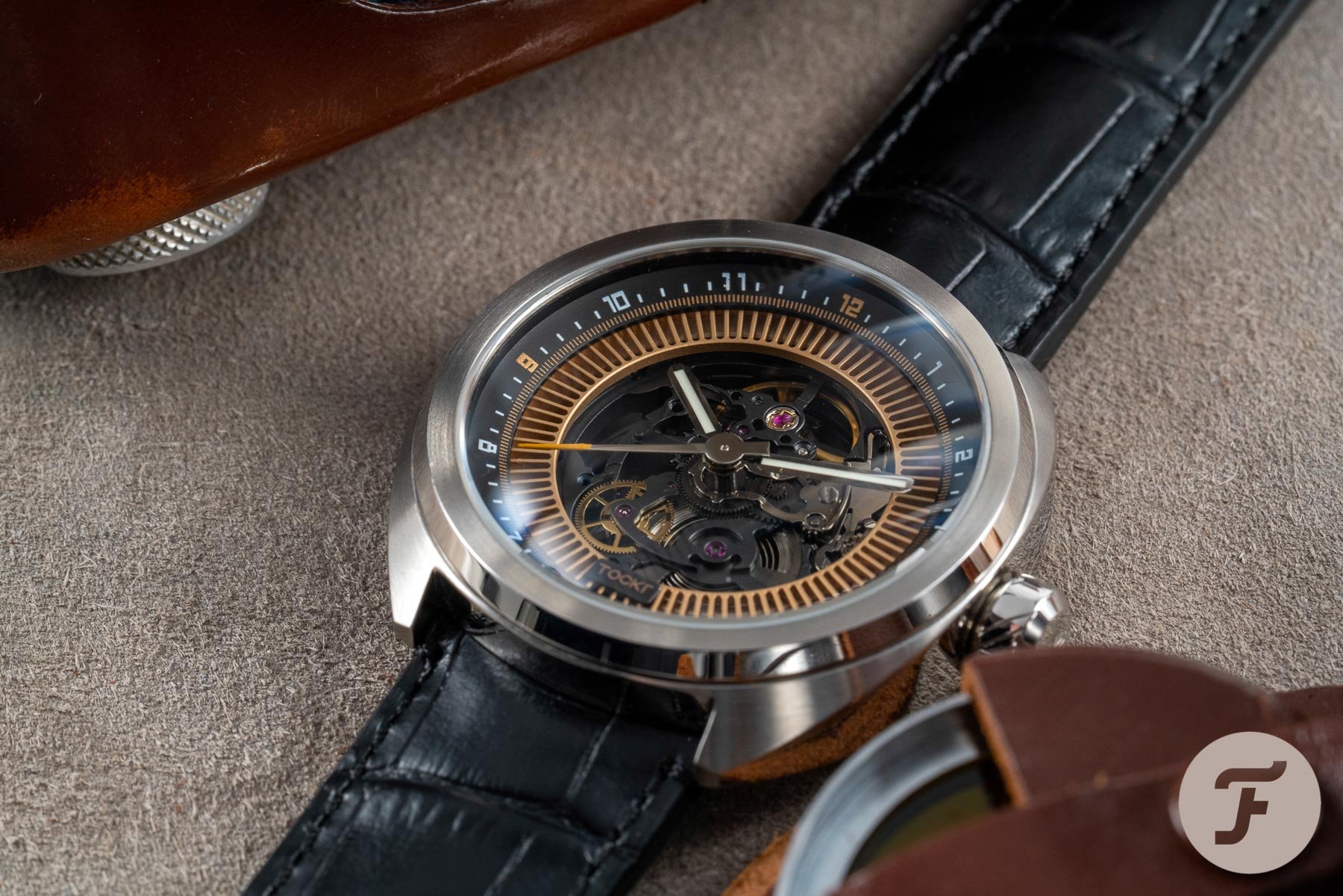 Overall I love the versatility that Tockr offers. And with versatility obviously come yeas and nays. While this may be a nay for me, I am sure the limited production run has made 8 people very happy with this C47 Skeleton Black. And that means: goal achieved!
If you want to find out more about Tockr, you can visit their official website.