Have Mister Enthusiast And King Nerd Quietly Made The Most Soulful Submariner Mod Ever?
A rugged Submariner draws me into the quirky world of Phil Toledano
I have just had a chat with Phil Toledano, known as @misterenthusiast on the 'Gram and from his podcast Viva Bastardo. Phil is a conceptual artist and connoisseur of Italian four-wheeled exotica. His cars are always of the quirkier kind, and so are his watches. In a world of diminishing love for the politically incorrect smell of petrol fumes, Phil's studied garage is as fascinating as his off-trend wristwear. In my story on modified watches a couple of weeks ago, there was one watch I omitted for a reason. The question is, with this Rolex Submariner mod, did Mister Enthusiast and King Nerd go too far?
Phil made a short run of modified Rolex Air-Kings and Submariners with renowned engraver Johnny Dowell, aka @kingnerd. Dowell started out as an engraver for Purdey, the shotguns of royalty, and pivoted to the world of watches. With collaborations aplenty, from G-Shock to the URWERK Ur-T8 Skull and his latest piece unique for Unimatic, he's in high demand for a reason. With @misterenthusiast, they gave a deeper meaning to the revered Sub and Air-King. Yes, I am aware that a fair few of you will find it blasphemous, but that's OK. I actually feel it gives these ubiquitous Rolex watches more soul, but this will be open to debate. Bring on the mods!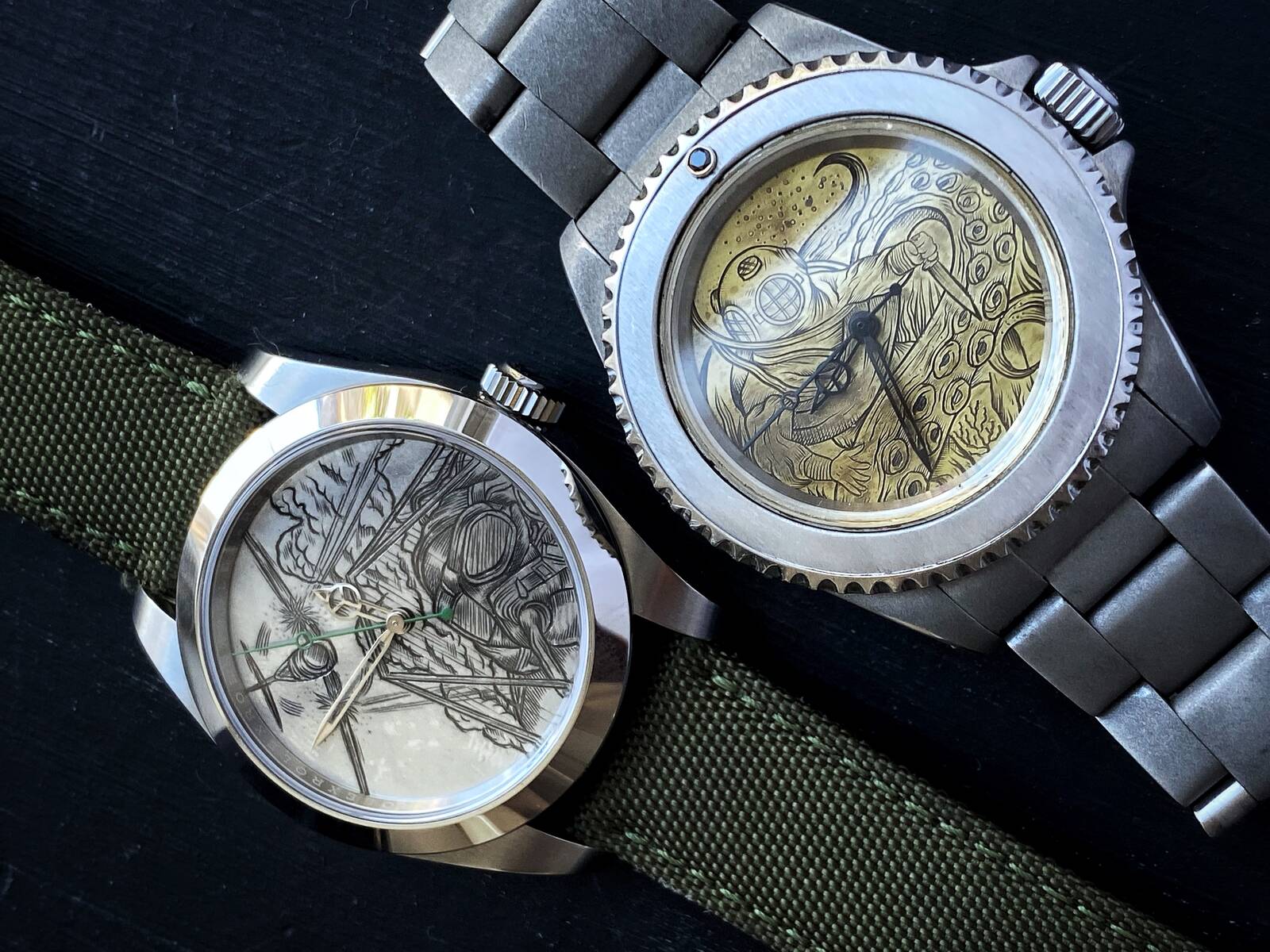 The Submariner mod — A gritty ref. 14060 with a diver's soul
When we talk about Submariner mods, most of the watches we see are bussed-out, diamond-studded examples with blindingly glittery dials. And this will put most enthusiasts on the defensive until they see the tasteful reworkings of ateliers like Artisans de Genève. Still, the Sub is — let's face it — no longer a tool watch but a dressy talisman, and that instills respect. To my mind, Phil Toledano has gone back to the dive-tool history of Rolex and created a gritty version that, to be fair, might frighten some of you. Phil tells of his inspiration: "Well, I had an idea a few years ago — two or three years, longer, three or four years ago. Because I'm a conceptual artist, everything starts with an idea and a very definitive, often small idea."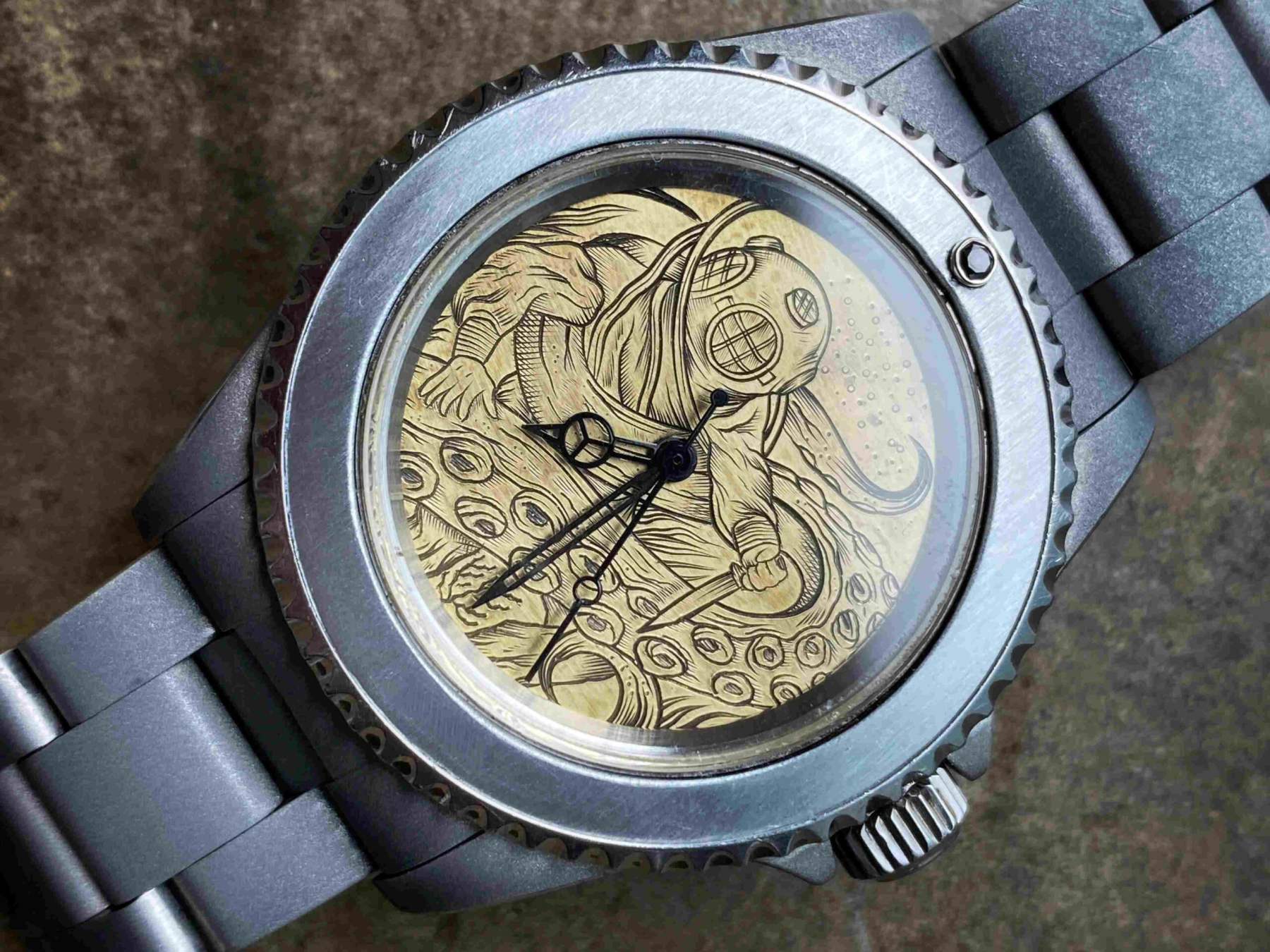 What brought forth the inspiration?
Phil tells me more: "People were doing engravings on Rolex cases and backs, and I loved it, but there was no point to it. It was just engraving with no kind of concept. What if you have an engraving on the dial that's specific to the function of the watch? For the Rolex Air-King, an aeronautical-themed dial. The Sub would have a nautical theme, and even though people don't pay any attention, the material of the dial would connect to the concept as well, with a brass dial like brass fittings on a ship or a diver's helmet."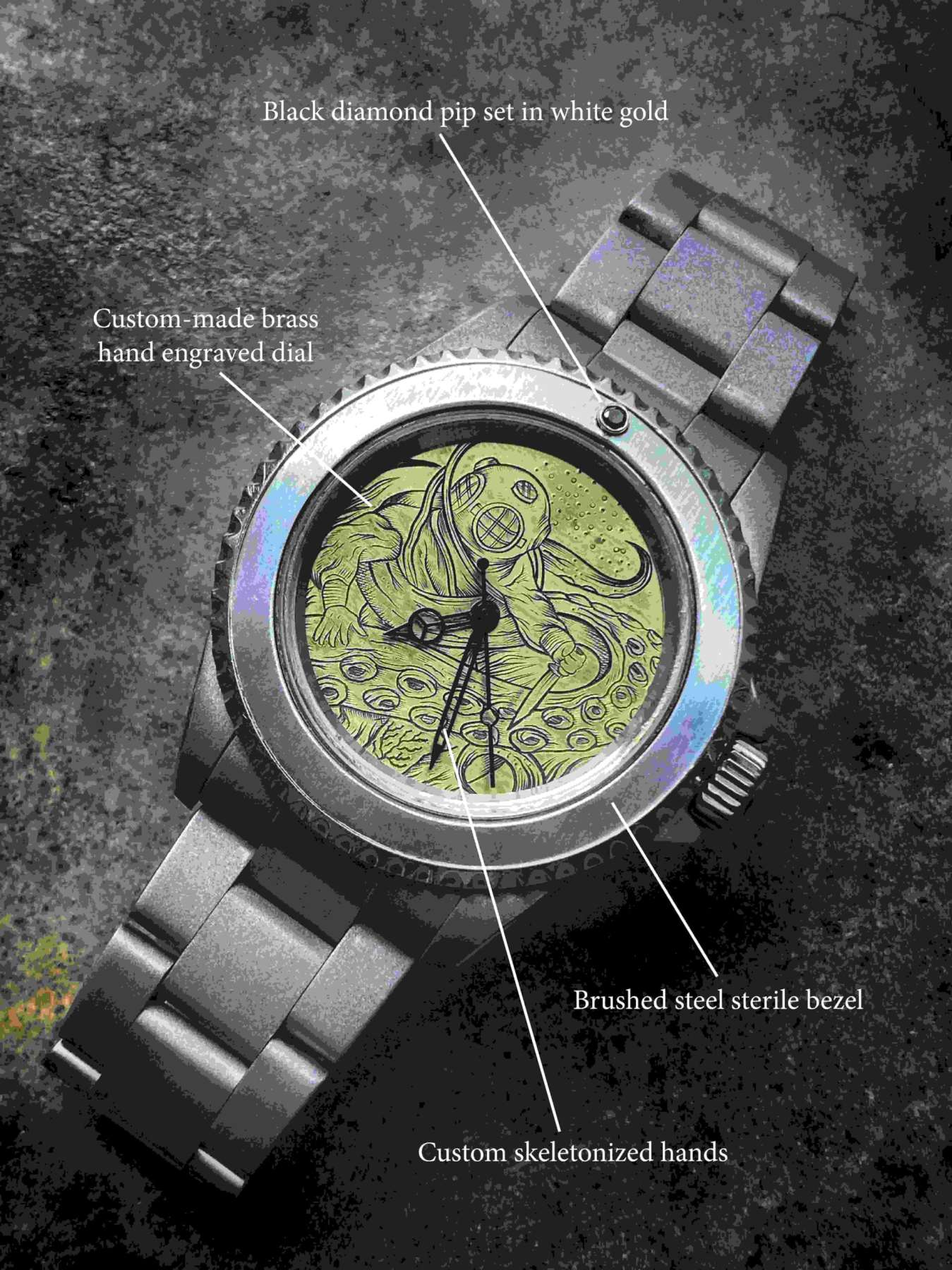 From idea to conception
From Phil Toledano's first seed of inspiration, there was a considerable gestation period before the steampunk-like result emerged. Phil explains, "We were going for an aluminum dial for the Air-King, but we ended up with steel because it would just last longer and was better to work with. For about two years, I tried to find an engraver who would do it. I approached all the people who were doing glorious engraving, but no one had any interest in the project."
I have a feeling this was due to the respect the Submariner has garnered in the community, but Phil found his man. He tells me, "I stumbled across Johnny Dowell, aka King Nerd, and approached him. Johnny totally understood it. He got it, and that was it. My idea involved a Jules Verne-inspired etching for the Sub, and for the Air-King, a '60s/'70s war-comic inspiration."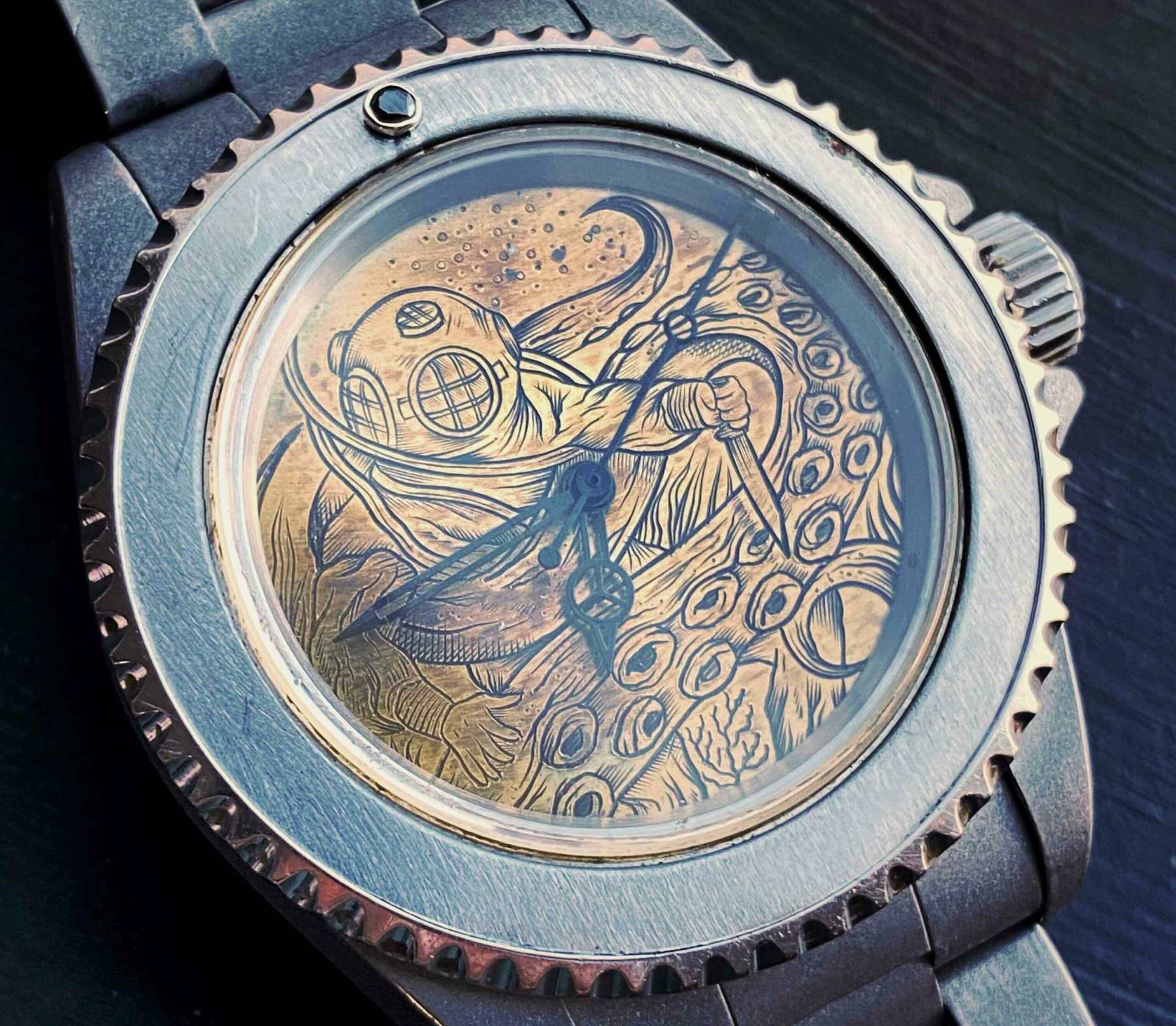 The 14060 Submariner becomes rugged wrist art
A Submariner is not for the faint-hearted to mess with. But just as Phil's Lancia Delta "Bastarda" received a gray paint job far from its primal-colored past, the change had a deeper meaning. If we are honest with ourselves, a Submariner is a tool watch at heart, not today's red-carpet-tux accessory. Perhaps this is just what we need to remind us. Phil spills the beans: "When I got the dials from Johnny, I thought I'd just drop it into a 14060 Sub from the '90s. But after fitting the dial, I realized that it didn't work at all. With the smooth case, it was too asynchronous."
This is when Mr. Toledano fell into the famous modification wormhole, starting with a replacement bezel. "I removed the bezel, got a replacement bezel, and sandblasted it to see how it would look. But the watch still seemed too shiny…"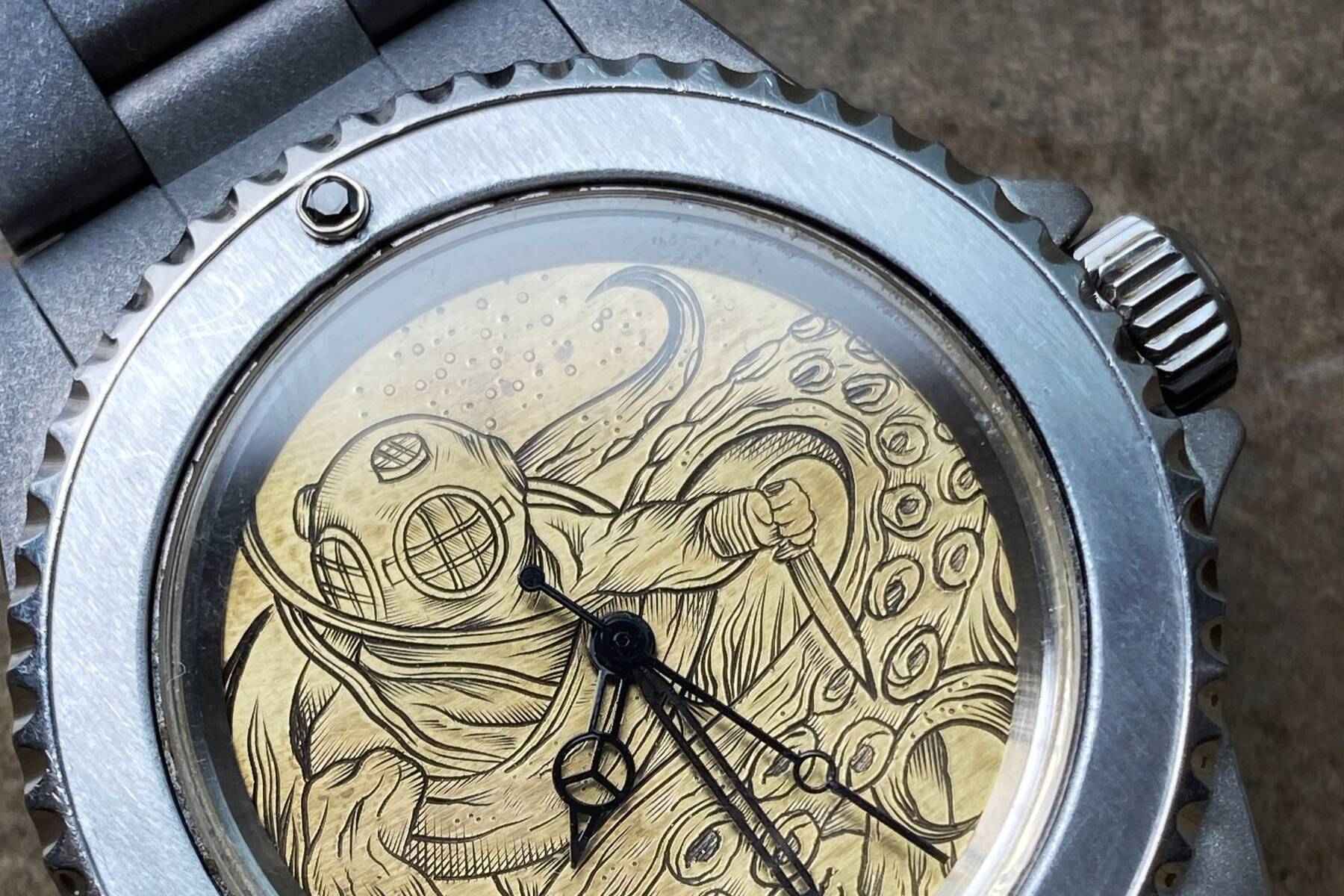 The final product
The now fairly unrecognizable Submariner got its finishing touch by replacing the luminous pip at 12 with a black diamond. And yes, the entire case and bracelet got sacrilegiously sandblasted to a soft but rugged finish. This Submariner does disturb me on some level, it's true. But still, I am deeply drawn to it. It has toughened up considerably, and the brass dial has a beautiful patina. It's as soulful and thought-inducing as a dive-worn, scratched-up Submariner but on a different level. The rugged look with a small black diamond and blacked-out skeleton hands has given the boardroom-ubiquitous watch a story. It might be mod-crafted, but it feels real. I know, hundreds of you are shaking your heads in despair at this inaccessible grail watch being altered, but within these polarizing looks lies a deeper charm.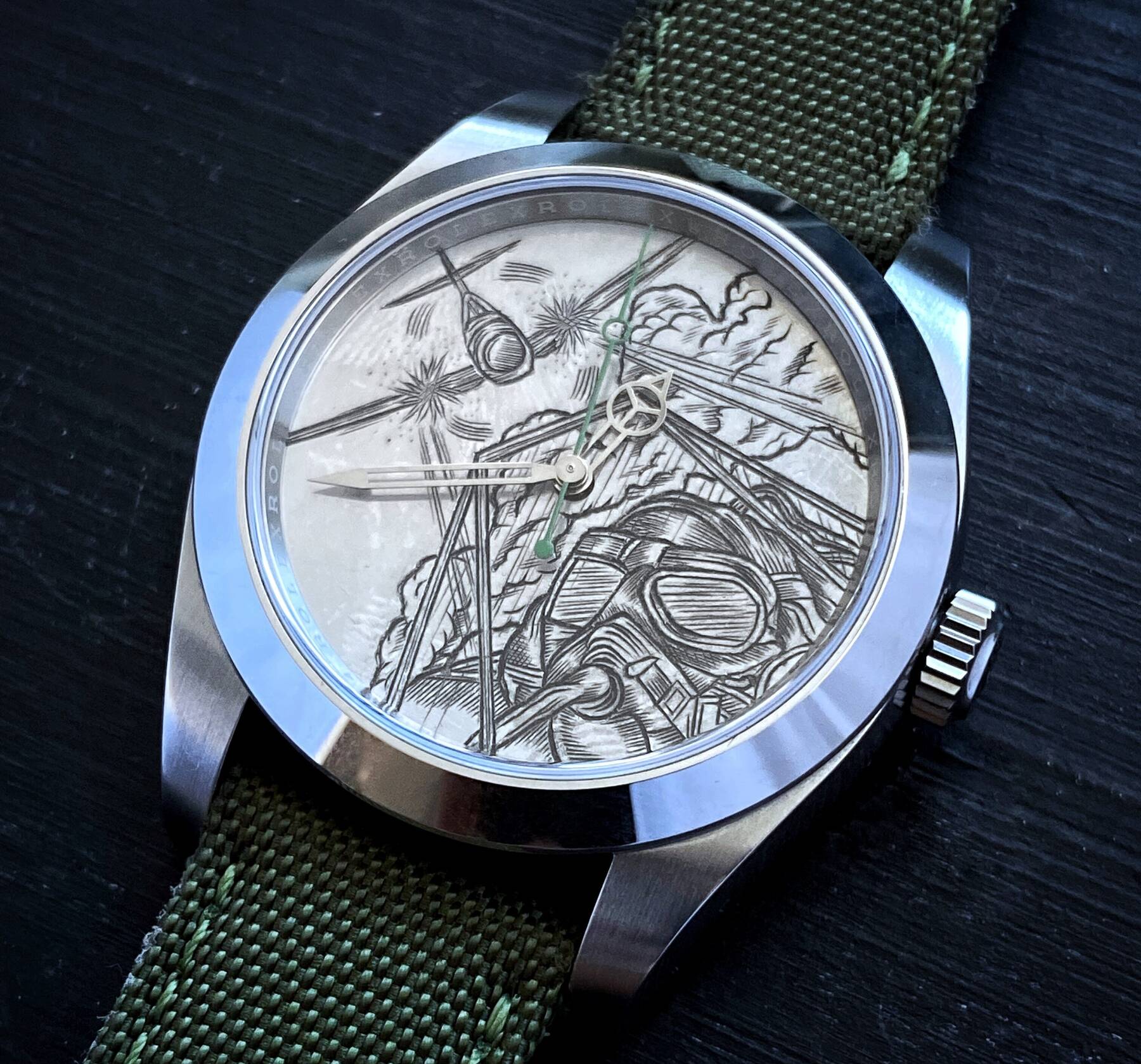 A casual Air-King with a twist
What about the Air-King? It sits on a fabric strap and has a more casual vibe to it, though the inspired engravings are still there, this time with wartime-comic vibes. "The Air-King was simpler because it's a very clean watch. So I skeletonized the hands, fitted the engraved dial, and we did editions of five or six for each watch. There should be one Air-King left and only one Sub left. I have to check. Well, I didn't do an enormous amount of marketing. I posted on my Instagram, and Johnny and I think a couple of people talked about it in some blogs. But that was it. I didn't do inserted ad campaigns or anything like that. This was about word of mouth."
I asked Phil if there was a particular reason why he chose Rolex, and the answer was more prosaic than you'd think.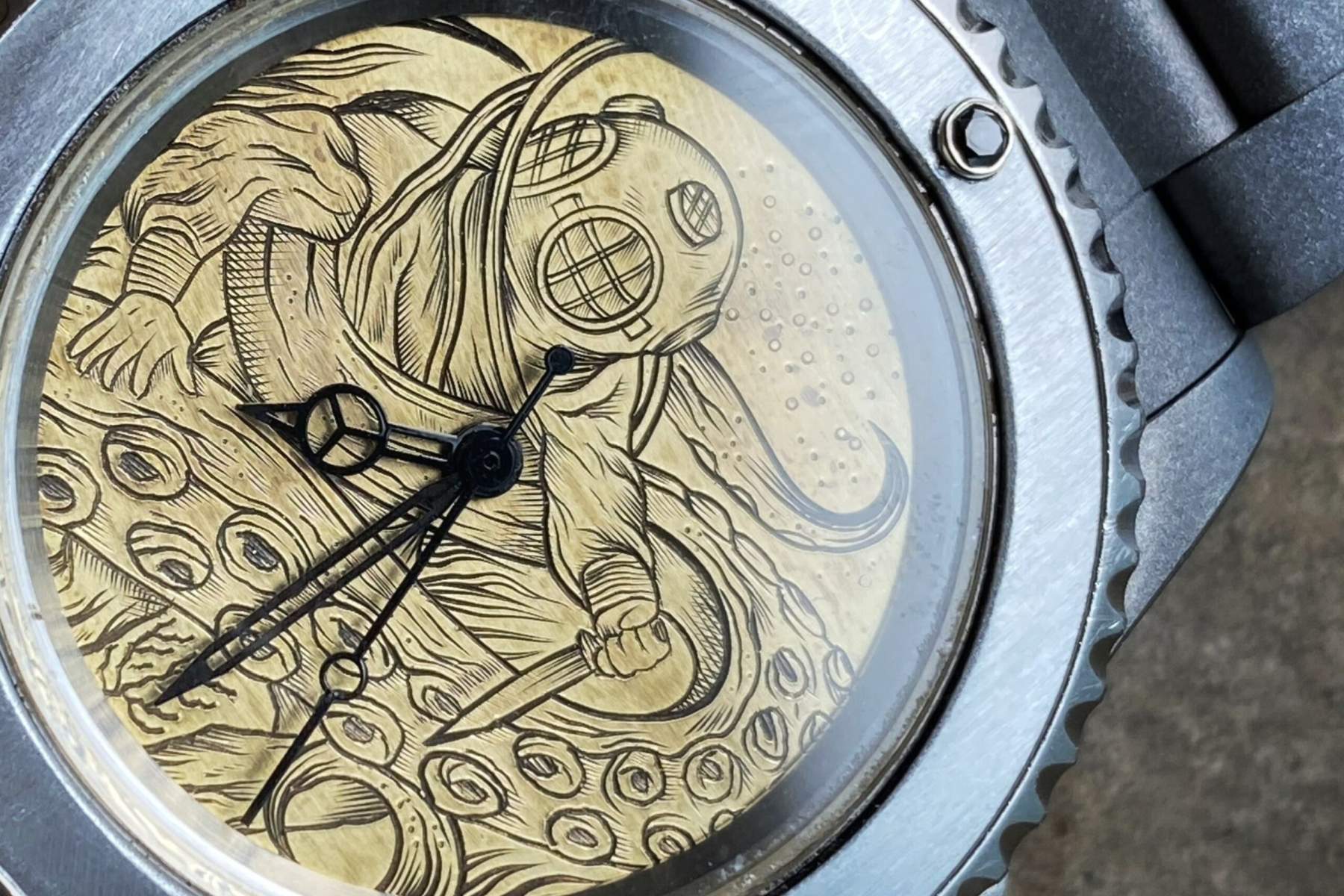 Why Rolex, and will there be more?
Phil tells us, "There's a very particular reason I chose Rolexes, with their Professional range having different functions. We were even considering a Milgauss with a radiation theme (please do, Phil!). I mean, you could do a Datejust, a daily office worker's watch, by etching a cubicle and the guy working there, which could be kind of genius. The ideas were there, but both of us got exhausted with the production."
To me, the altered state of the Submariner has imbued it with warmth, as if adding an extra dimension and soul to the Rolex. "In a way, we've made pieces of art that you can carry around with you. Because of the design and the dial, you can never recreate it. Just like a fine art print edition of five or 10, that's what you have — one of five art pieces that you can wear."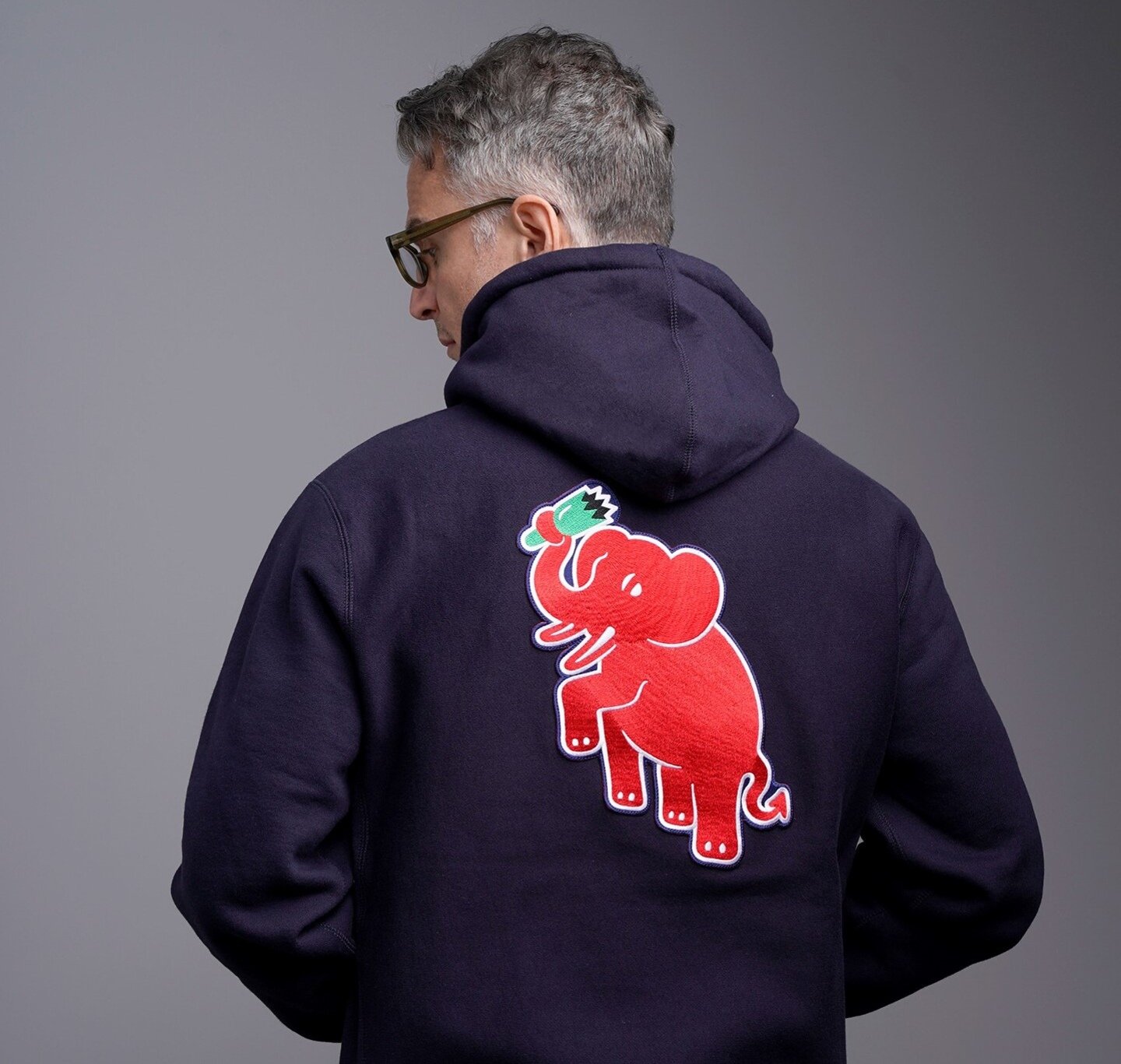 The mad world of Viva Bastardo
Listen to Phil Toledano's podcast Viva Bastardo at your peril. You will be drawn into a fascinating world of Italian cars (and one tasty English rarity). I had pretty much left my petrolhead days behind me after owning everything from the rare Lotus Elan +2 to a BMW 2002, but no. Phil's guests range from Porsche legend Magnus Walker and former head designers at Pininfarina to George Bamford to Max Büsser. With Viva Bastardo, Phil can draw you into his particular universe of cars, art, and watches. It's a place that is as indefinable as it is fascinating.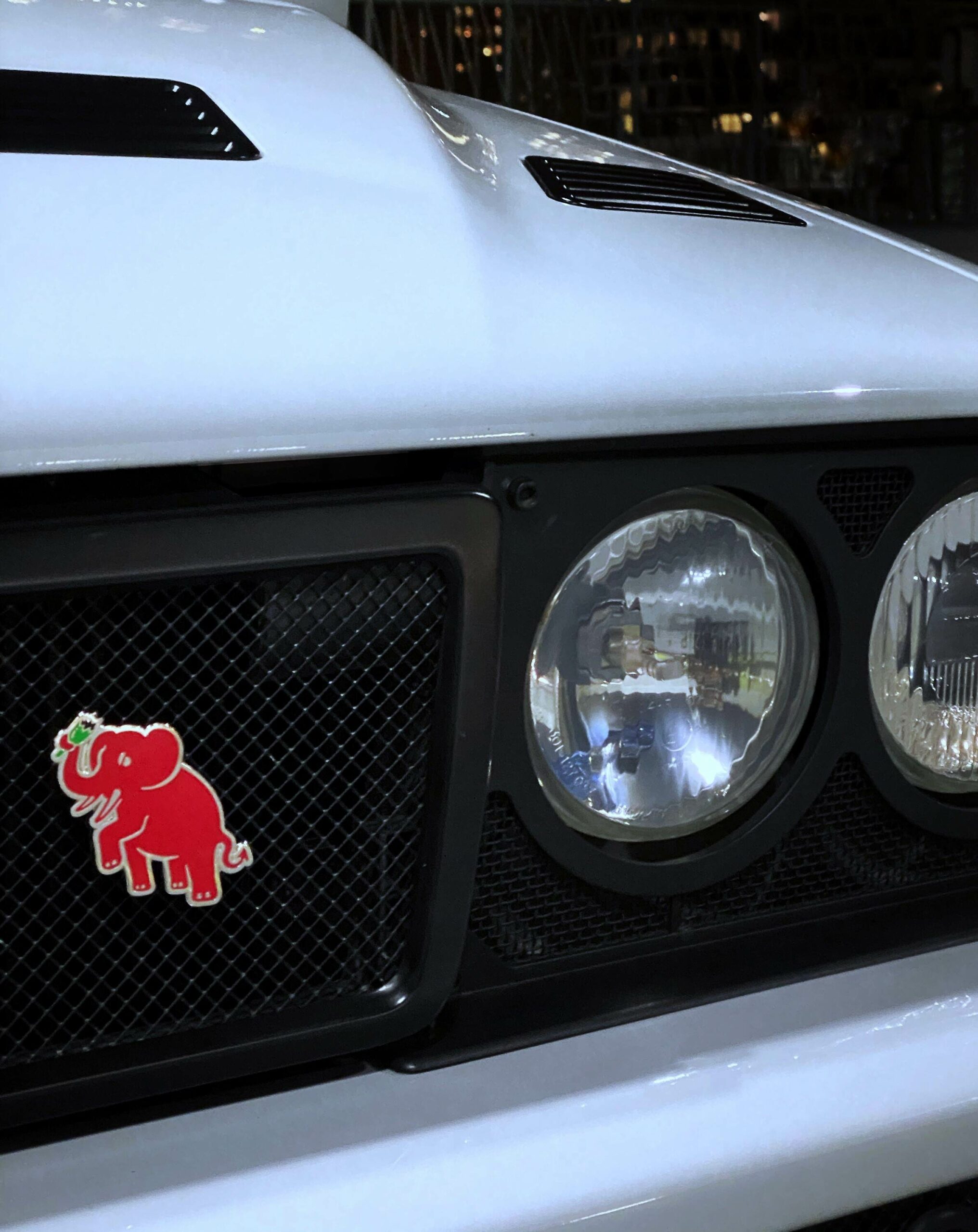 With a penchant for resto-mods and a charmingly irreverent approach to originality, Phil's podcast is a refreshing listen. From performing a dark green Plasti Dip mod on a rare De Tomaso Guara to owning wheeled exotica as diverse as a Lancia 037 and Mitsubishi Pajero EVO, he's made my love of cars return. But the best is yet to come, as Phil is working on his own watch design with a prototype currently under evaluation. Considering Mister Enthusiast's quirky taste in cars and horology, you can let your imagination run wild. I can tell you, it's good, but my lips are as sealed as securely my name will be on the order list.
Here's the big question, Fratelli: have Mister Enthusiast and King Nerd gone too far? Or are these two Rolex mods actually soulful works of art? Let us know in the comments below.