Please Help Us To Find This Stolen Speedmaster (Stolen in Berlin)
During a burglary in Berlin, Germany, an Omega Speedmaster Professional was stolen and we ask you kindly to keep an eye out for it. Because it has some special markings, we hope that someone will recognize it and contact us in order to give it back to the rightful owner.
It is an Omega Speedmaster Professional 145.022 from 1974 (so that would be a reference 145.022-71 or 145.022-74, depending on the exact production date). This watch is special, as it was given by the FIFA to those who participated in the Soccer World Championship in 1974 and bears the initials of the receiver (W.T.) as well as the FIFA logo. The son of the receiver, who lost his dad at young age, had his initials engraved as well (C.T.). The watch was given to Werner Treichel, president of the DFB referee committee up to his early death in 1978. It is one of the few things that reminded the family, especially his son, about him. A watch that has a greater emotional value than can be expressed in money.
With your help, we hope to find this watch back and return it to the family. There is no box or papers with the watch (so no serial number can be given) as only the watch was presented at the time. We hope that the engraved initials and FIFA logo will do the trick. The son of Werner Treichel is not sure, but it might be that there was also "WM" engraved (Welt Meister which translates into "World Champion") in the Speedmaster. However, if I look at the FIFA logo for 1974 (see above), it includes the "WM" abbreviation as well.
All engravings were done in the slope of the caseback, as it is a regular 145.022 Speedmaster Professional, most space on the caseback is taken by the "Flight-Qualified by NASA for all manned space missions" and "First watch worn on the Moon" engravings. It is very similar to the engravings below, an image from an eBay auction from 2010.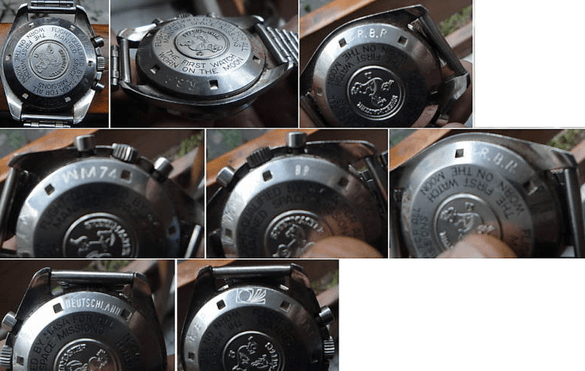 Unfortunately, there are no photos of this specific Moonwatch with engravings, but according to the family it was a Speedmaster Professional on a stainless steel bracelet.
Another identifier would be the fact that two more watches were stolen during this burglary. A Rado 'Florence' and a Franck Muller 'Casablanca', which the burglar or receiver might offer all three together.
It would mean the World to Werner Treichel's son and granddaughter (with whom I am in touch) if the watch safely returns. You can reach us by using our contact form or via info (at) fratellowatches.com
Please share this post on FB and other Social Media channels and help to get this watch back to its rightful owner.