Hot Take: The Czapek Faubourg De Cracovie Aventurine — The Stars Align For This Glittering New Czapek
A guest post by Warky
The Czapek Faubourg de Cracovie has been with us now since 2018 and was the third new model line from the brand following its resurrection (or genesis, depending on your take). Named after the location of the third boutique opened by the mysterious Francois Czapek in Warsaw the first time around in the 1800s, it has always been a bit of a sleeper in the lineup with low production numbers and an even lower profile. I think that is about to change.
The Faubourg de Cracovie has always had a bit of an identity crisis. It packs a cutting-edge automatic chronograph movement with very modern, technical finishing techniques visible through the display case back, but from the dial side, it looks more like a dress watch. Right from the start, one of the dial options was a (sublime) white Grand Feu enamel dial with Czapek's signature elongated Roman numerals paired with super-skinny, sharp, classic hands. There was no lume, no pump pushers, no ceramic bezel, and no tachymeter scale. Not even a pulsometer. It was very beautiful, but not very "sporty". The "sporty" option had lumed delta hands with lumed indices too…but the (also sublime) blue guilloché dial with its "resonance" pattern and snailed sub-registers again wasn't very sporty. There was still no tachymeter scale anywhere to be seen.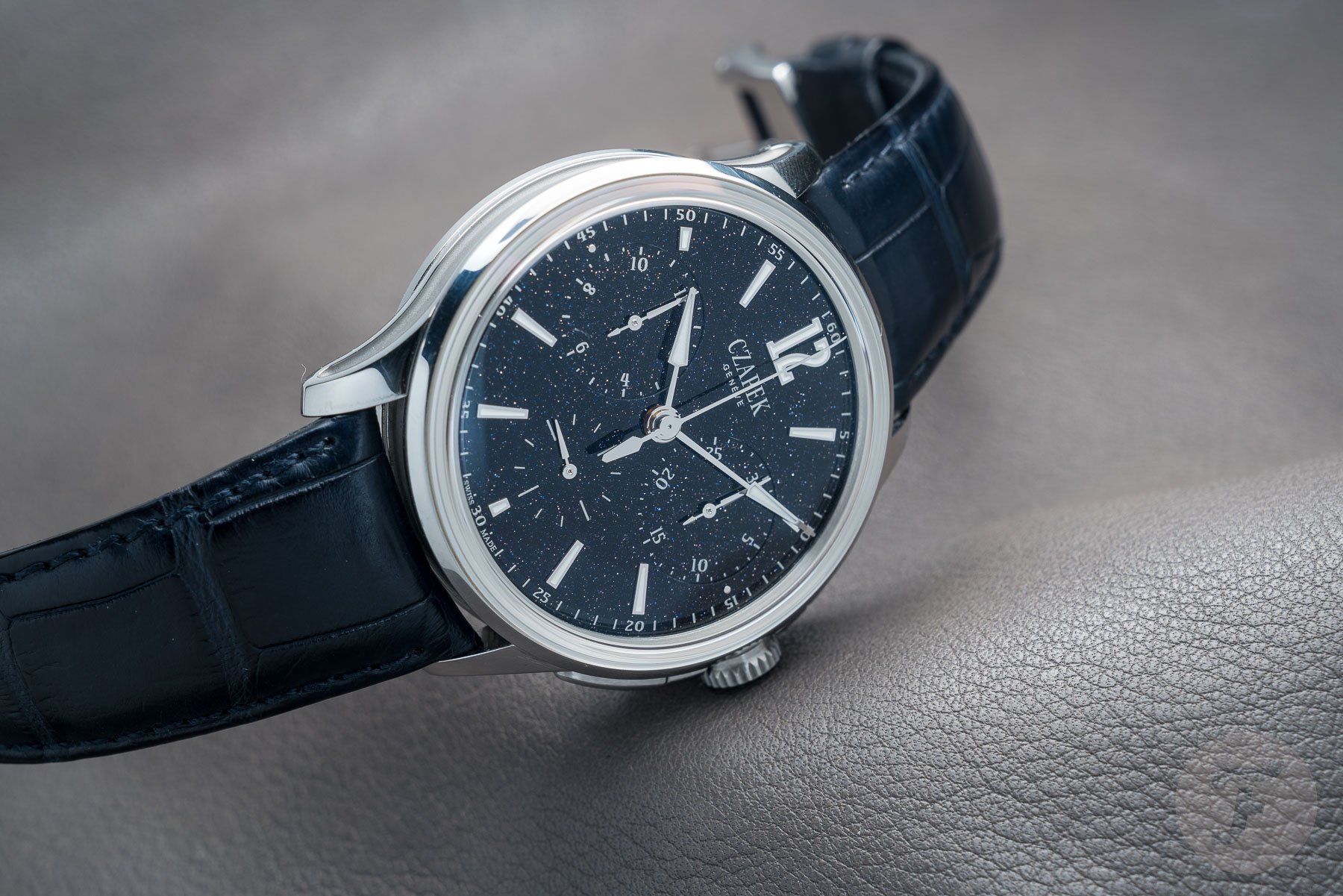 Moves in the right direction
Czapek is a brand that listens. To board members, to customers, and to the watch media. Think of it as the Anti-Rolex in that regard. That's why it broke with its original plan and gave us the world-class Antarctique in 2020. One of the advantages of this approach of making small, limited runs of each model variant is the ability to evolve it quickly. Firstly, and quite predictably, we got fashionable "panda" variants with both enamel and guilloché dials. Then we got a "California" dial with a more sporty matte finish and a tachymeter scale (which, strangely, didn't suit the watch as well as I had expected). On the materials front, we got 5N and 2N gold cases. We got titanium cases. We got rubber strap options. Then, in a bit of a breakthrough, we got an option on certain models to delete the date. This was a bit of a game-changer.
The star of the show
Finally, Czapek brought many of these winning "tweaks" together in October 2022 and made a dial out of Aventurine for the Faubourg De Cracovie. In itself, that doesn't sound like much, but this is the most balanced "FdC" to date. Omega has previously given us Speedy dials in this material, so we know that it looks great on a chronograph. Out of necessity, it also resulted in a more uniform look to the main and sub-dials due to construction limitations. The two main sub-dials on the Faubourg De Cracovie always stood out and seemed slightly too large to my eye. In the same material and finish as the rest of the dial, that issue is addressed. More crucially, the deletion of the date position means that the running-seconds sub-dial isn't interrupted. In previous executions without the date, this sub-dial was incorporated into the guilloché pattern whereas the other two were snailed, making it look like an "odd one out".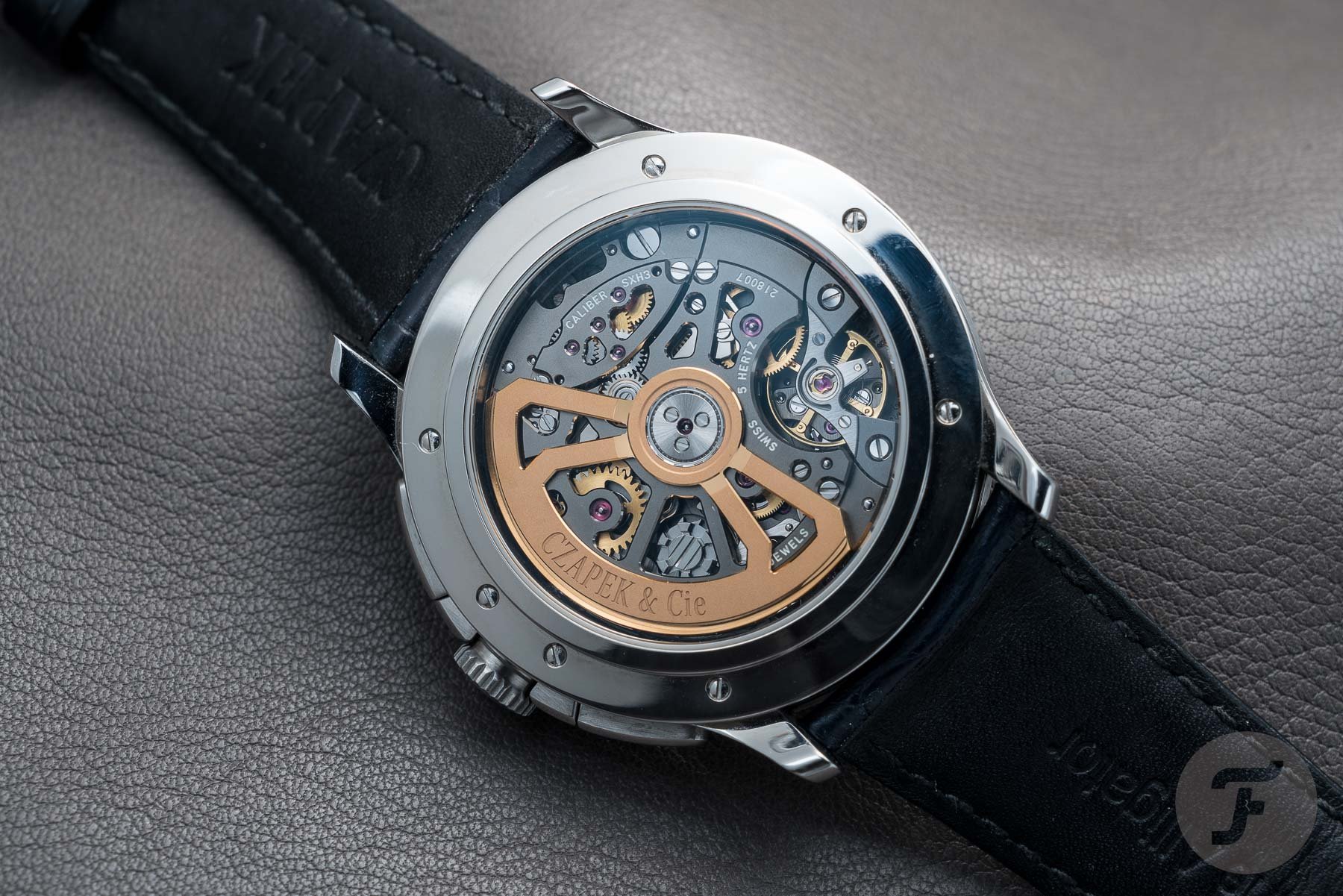 Czapek was also canny enough to let the aventurine literally be the star of the show. There are no splashes of bright color on the indices or chronograph seconds hand like other models vying for your attention, just beautifully polished rhodium-plated hands and indices throughout in perfect harmony with the dial.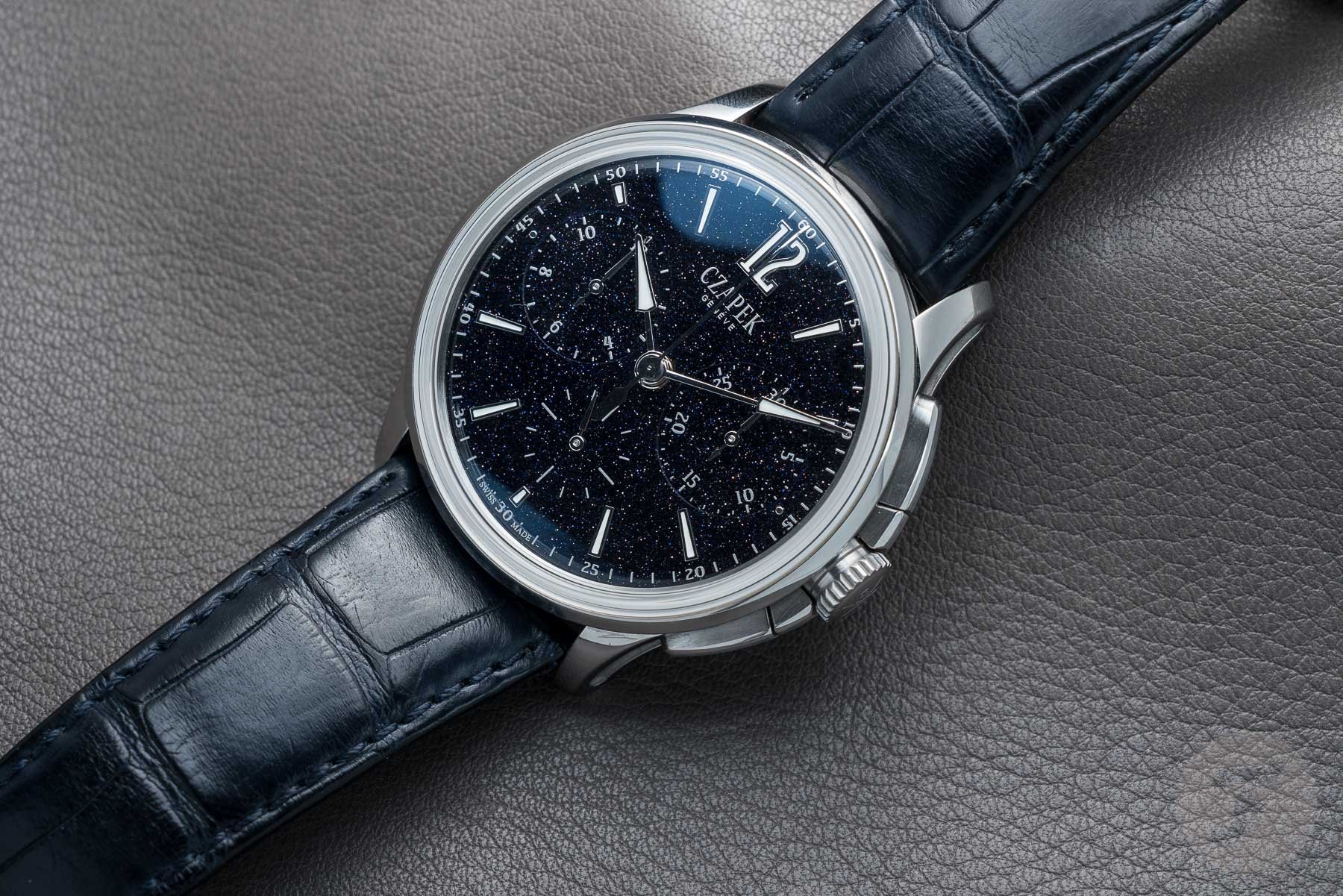 A stellar chameleon
I was lucky enough to get hands-on with this piece at Geneva Watch Days. It wears beautifully, and the case is perfectly proportioned, as it is with all FdCs. Like all of Czapek's pieces, the build quality and finishing are simply outstanding. I handled it on the balcony of the brand's temporary HQ for the week at the Beau Rivage Hotel. In the shade, it is subdued and calm. A very dark, brooding purple, as close to black as you can imagine with lighter specks on the dial. It has excellent contrast and legibility even before you factor in the lume. As soon as you move out of the shade into the bright end of summer sunshine, however, the dial explodes into life, turning into a galaxy of brilliant stars against a deep blue background.
This dial is the missing final ingredient to bring out the best of that lovely sculpted case with its beautifully integrated pushers. Instead of having an identity crisis, this aventurine Faubourg De Cracovie knows exactly who it is — a high-end, classy chronograph with a modern edge that walks the tightrope between dressy and sporty with aplomb.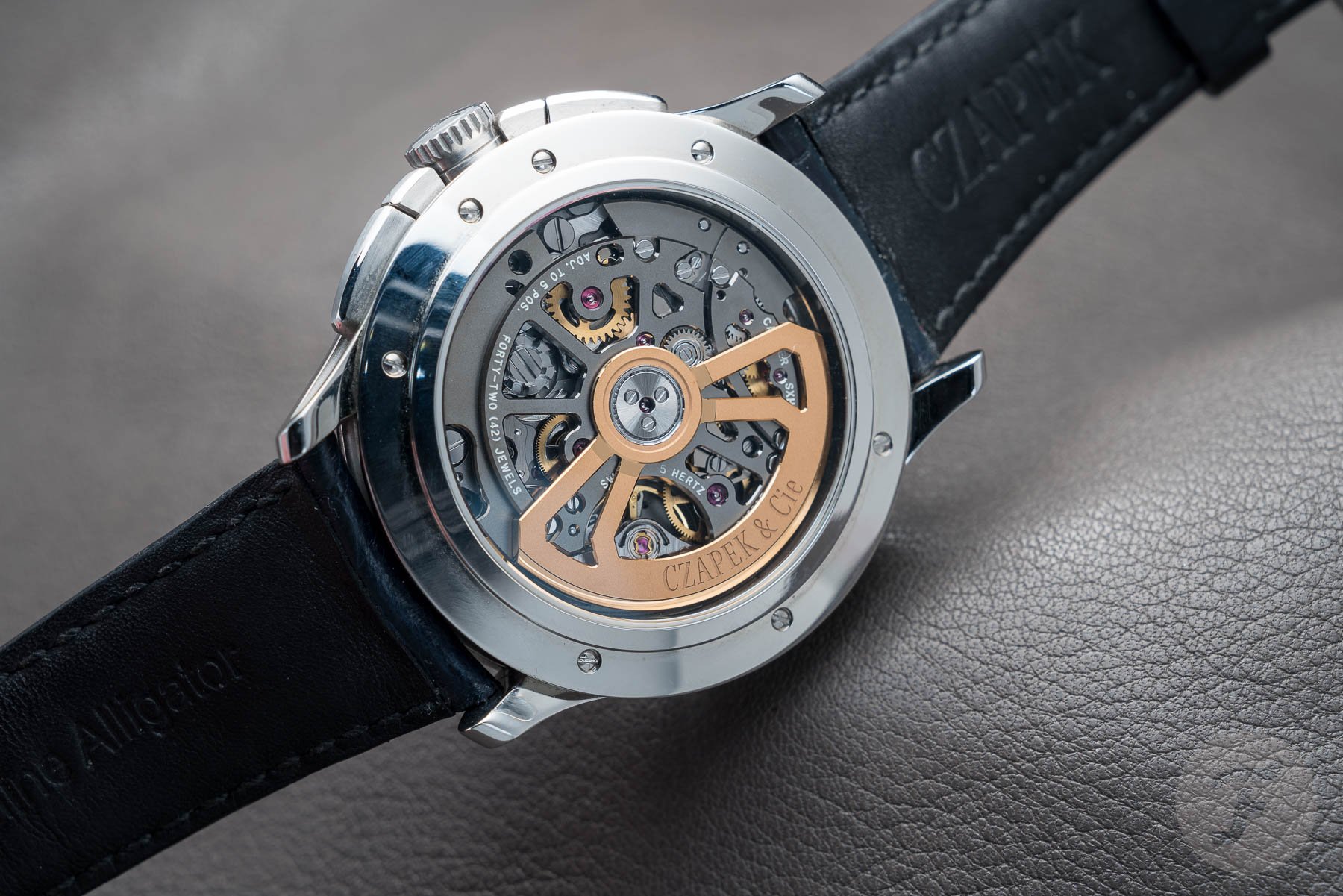 Interstellar propulsion
As alluded to earlier, this watch is packing a top-end engine — it's still state-of-the-art four years after its release. I wouldn't be surprised if it could crack Warp 9. A custom execution for Czapek of the Vaucher 6710, versions of this can be found in a €350K Richard Mille. Column wheel, vertical clutch, 5Hz, and 65 hours power reserve with a raft of technical solutions in its construction. It is also relatively slim for such a technical tour de force at under 7mm. The Czapek-specific skeletonized 22K gold rotor is beautifully finished just like the rest of the movement in a manner that is exclusive to the brand. This is a real looker to the naked eye or under magnification, and its modern, techy aesthetic works well with the stellar dial instead of clashing slightly with it.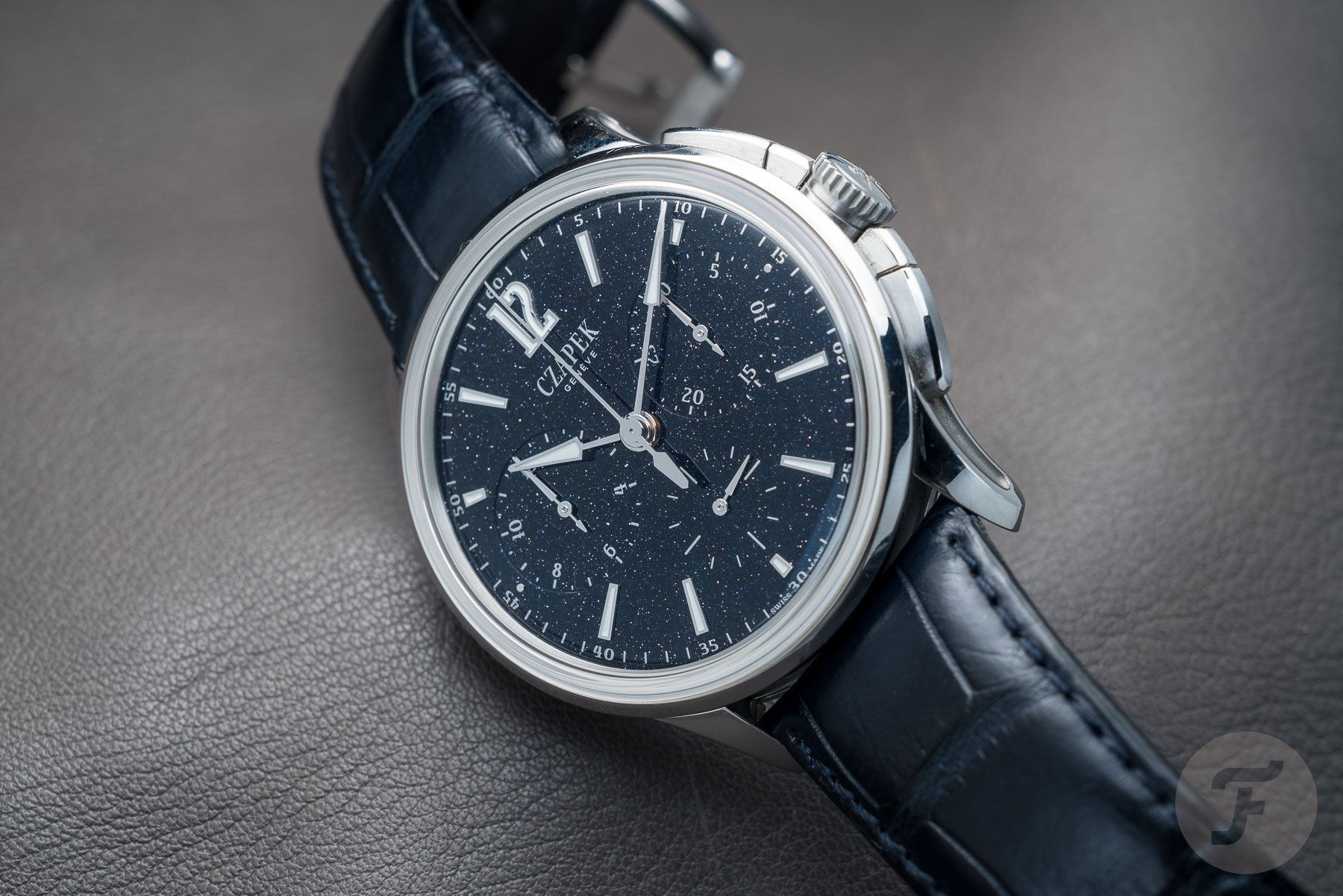 Room for improvement
There is always room for improvement. In this instance, the (beautiful) dark blue alligator leather strap seems slightly incongruous with how I perceive this watch even though it looks great. I can imagine it looking amazing on a Dark Side of the Moon-style black Cordura strap, for example. I also think the FdC generally would become a real contender with a matching steel bracelet making use of that fabulous media-blasted finish we see on the case flanks. While we will probably never see the latter (but who knows; Czapek is the Anti-Rolex, remember!) a strap swap for a custom-order Cordura one — or indeed anything else you fancy — is an easy fix.
Final thoughts
After the brand's 2.0 version of the Quai des Bergues at Geneva Watch Days, it is clear that Czapek has no intention of resting on its laurels with its initial model range or focusing all of its efforts on its wildly successful Antarctique. This time, it is the Faubourg de Cracovie getting the attention with a brilliant aesthetic update. This is a very well-balanced, beautifully executed high-horology automatic chronograph. It is priced accordingly and isn't cheap, but for the price of a modern steel Daytona on the secondary market, you could have one of these instead.
I know which I would rather have. So I put my money where my mouth is.