Family Heirloom: I Found This Forgotten Moonwatch That Belonged To My Grandfather
A reader's story about his Speedmaster Professional
Sometimes we feature stories from our readers about their Speedmaster watches. This is a story from Jason, who inherited his grandfather's watch, a beautiful Speedmaster Professional 145.022-69 with a straight-script case back. The thing is, he never knew about this watch until his grandfather passed away and he went through his belongings. Without further ado, enjoy this great story about a family heirloom.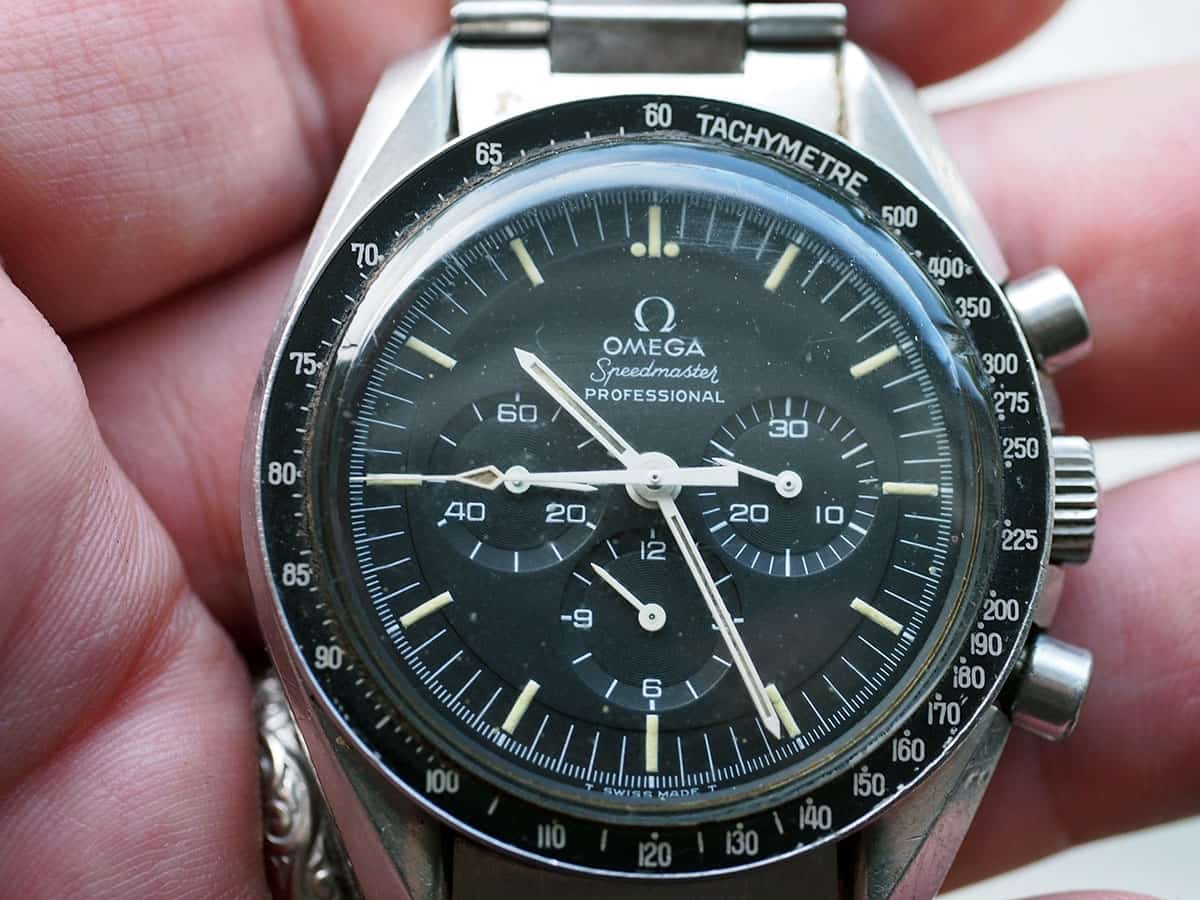 The forgotten Moonwatch
Despite being a fan of watches and familiar with his grail watch, the Speedmaster, Jason never identified the watch in the pictures of his grandfather as a Speedmaster Professional Moonwatch. The reason for this, probably, is that his grandfather used to wear the watch on the inside of his wrist. Once you know this, you will recognize the Speedmaster bracelet (ref. 1039) on his wrist in the photos.
Jason's grandfather passed away in 1984, but he worked for the NSA (National Security Agency) until he retired in 1979. He started working for the NSA straight out of high school and must have bought the watch sometime in the early 1970s. When Jason's grandmother passed away, he helped his mother get everything in order at his grandparents' place.
The box that escaped
One box escaped the eyes (and fingers) of the rest of Jason's relatives — a box filled with two decades of bank receipts and other papers. However, in that same box was this Omega Speedmaster Professional 145.022-69 Moonwatch, which finally saw daylight again after being tucked away for many years. Neither Jason nor his mother had any idea that this watch belonged to his grandfather. Coincidentally, Jason considered the Moonwatch to be his grail watch long before he found it in this box. A while ago, he bought a Bulova Accutron Spaceview because it was far more affordable and had some space-related history as well.
Jason's grandfather held the rank of General and worked in the field of cryptography for over 30 years. He often traveled under pseudonyms, was a Special Operations Liaison Officer, and, most importantly, was a wonderful family man. Unfortunately, he passed away when Jason was too young to be able to ask him any questions regarding his work or his watch (as if he knew).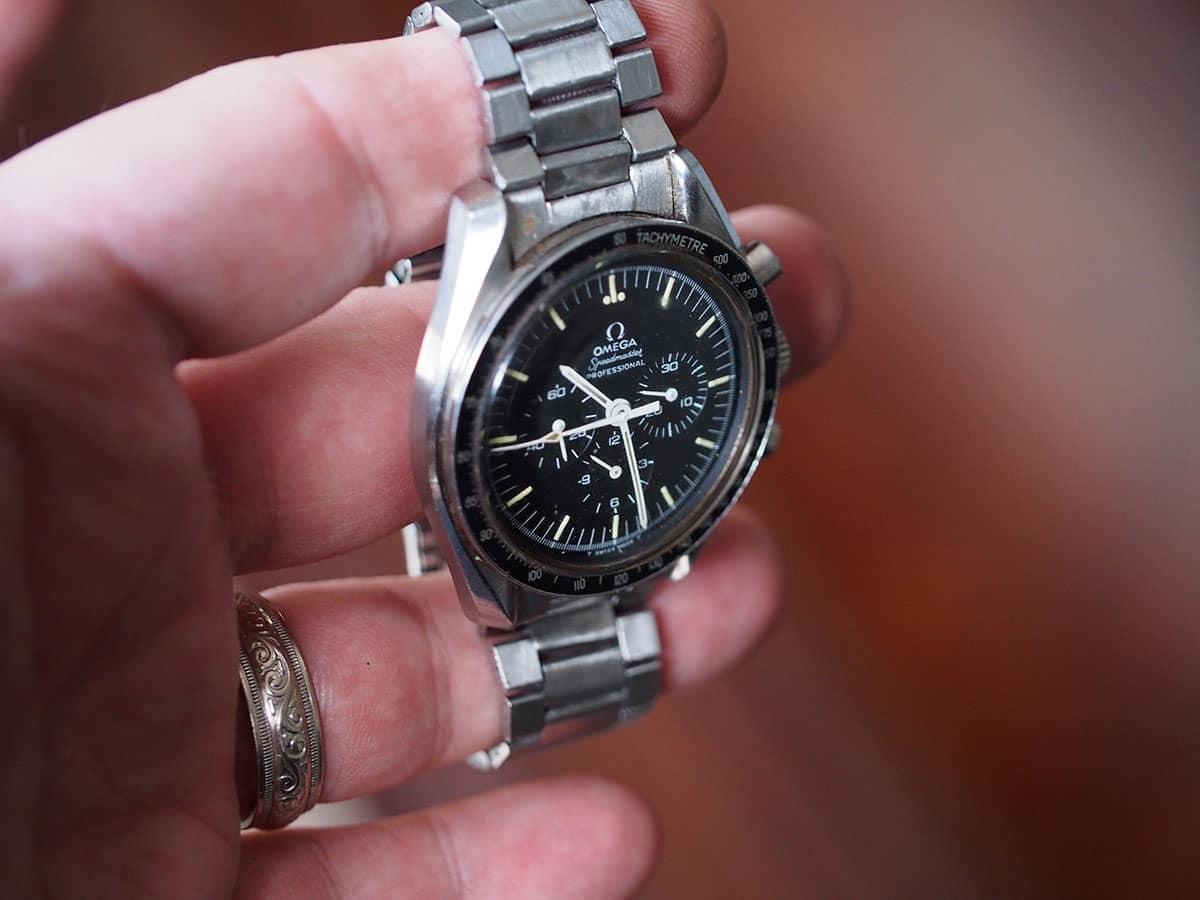 "I was a Moonwatch fan but didn't have the means"
Jason told us that he always wanted a Speedmaster Professional Moonwatch since about 20 years ago when he started to get interested in the 1960s space race. However, he just assumed that he would never buy one as it was too expensive for him when he was younger and his priorities were somewhere else as he got older. Jason writes, "And now that I could actually afford it, I could not justify it when I could be spending the money on our 90-year-old house or any of the more 'grown-up' things (like travel — we love traveling overseas). Home repairs kill a lot of dreams!"
Fratello: Did you already have a specific love for watches before you found this one? You obviously already had an Accutron.
Jason: Yes, and in fact, I had gotten the Accutron Spaceview because I assumed I would never get the Speedmaster! It was the closest I could get to the First Watch Worn on the Moon… I had it restored, found the correct Kreisler coffin-link bracelet, and was very pleased. Then this Speedmaster fell into my lap, and the Spaceview lost all its charm!!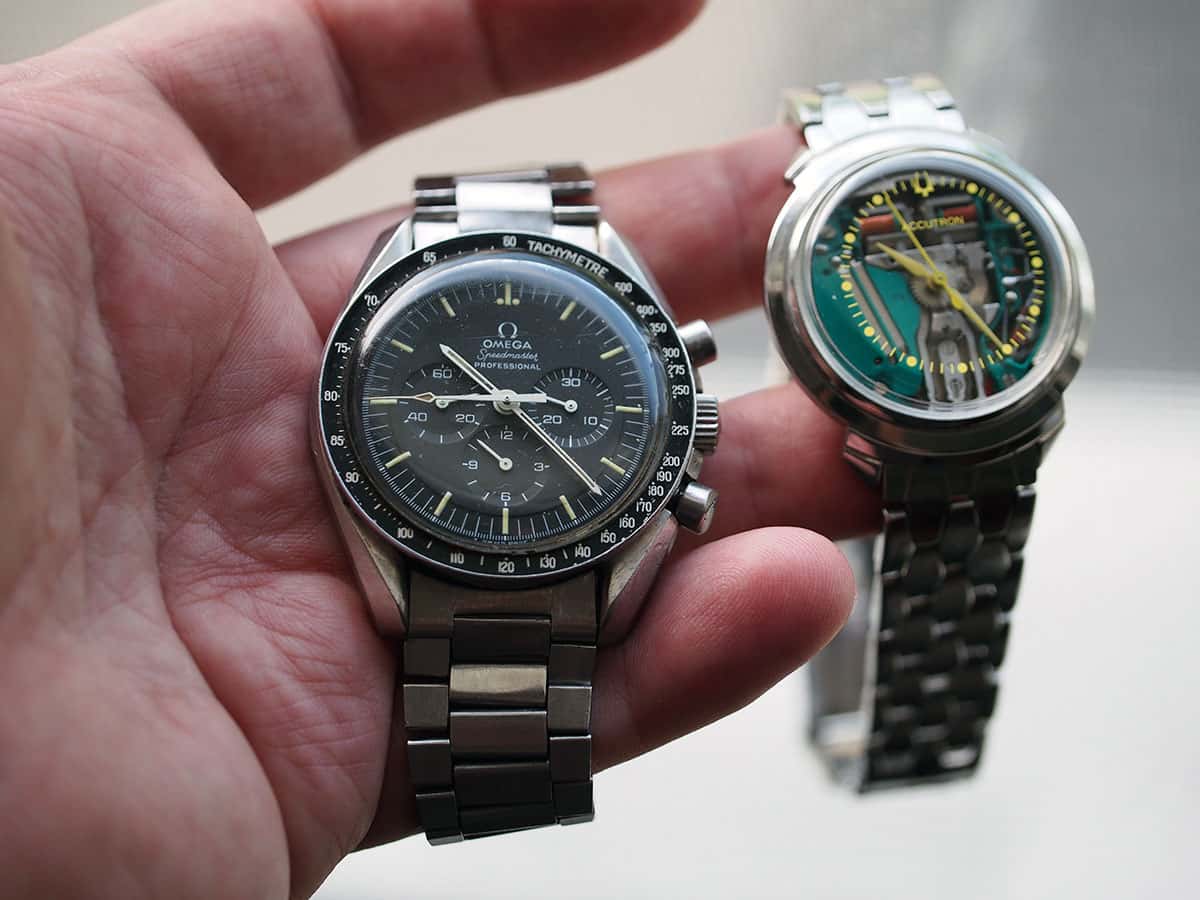 F: Did your grandfather wear the Speedmaster Moonwatch as a daily watch until 1984?
J: Yes, can you believe it? I have many photos of my grandfather, and literally, every photo taken post-Moon landing until months before his death has that Omega bracelet prominently on his wrist. I never even realized he had it until I discovered it in my grandmother's house because my grandfather wore the watch with the dial facing inward.
F: Do you know some more about the background of this forgotten Moonwatch? Do you know where it was bought?
J: Sadly, I know nothing about the where and how. I have spoken to my great-aunt, the last surviving relative from that generation, and she thinks that it was very much in his style to buy something like that — a good-quality timepiece that he could rely on. His national pride syncing with Omega's involvement in what we had accomplished in 1969 was probably the icing on the cake. She is unsure whether the NSA would have furnished him with the watch, but there may have been an opportunity to buy one via the NSA (like a perk as an employee). Her husband also worked there, but sadly, he too has passed.
The details of the forgotten Moonwatch
On to the watch that Jason found. It is an Omega Speedmaster Professional Moonwatch reference 145.022-69. For this reference, Omega used a number of different case backs. One was the pre-Moon case back, which has "Speedmaster" and the seahorse logo engraved in the center. The other ones were the straight-script case backs that have "The First Watch Worn on the Moon" engraved in the center. Only one version comes with just this horizontal text, and the other one is similar but has "Apollo XI 1969" engraved below the "The First Watch Worn on the Moon" text. The latter is a bit rarer.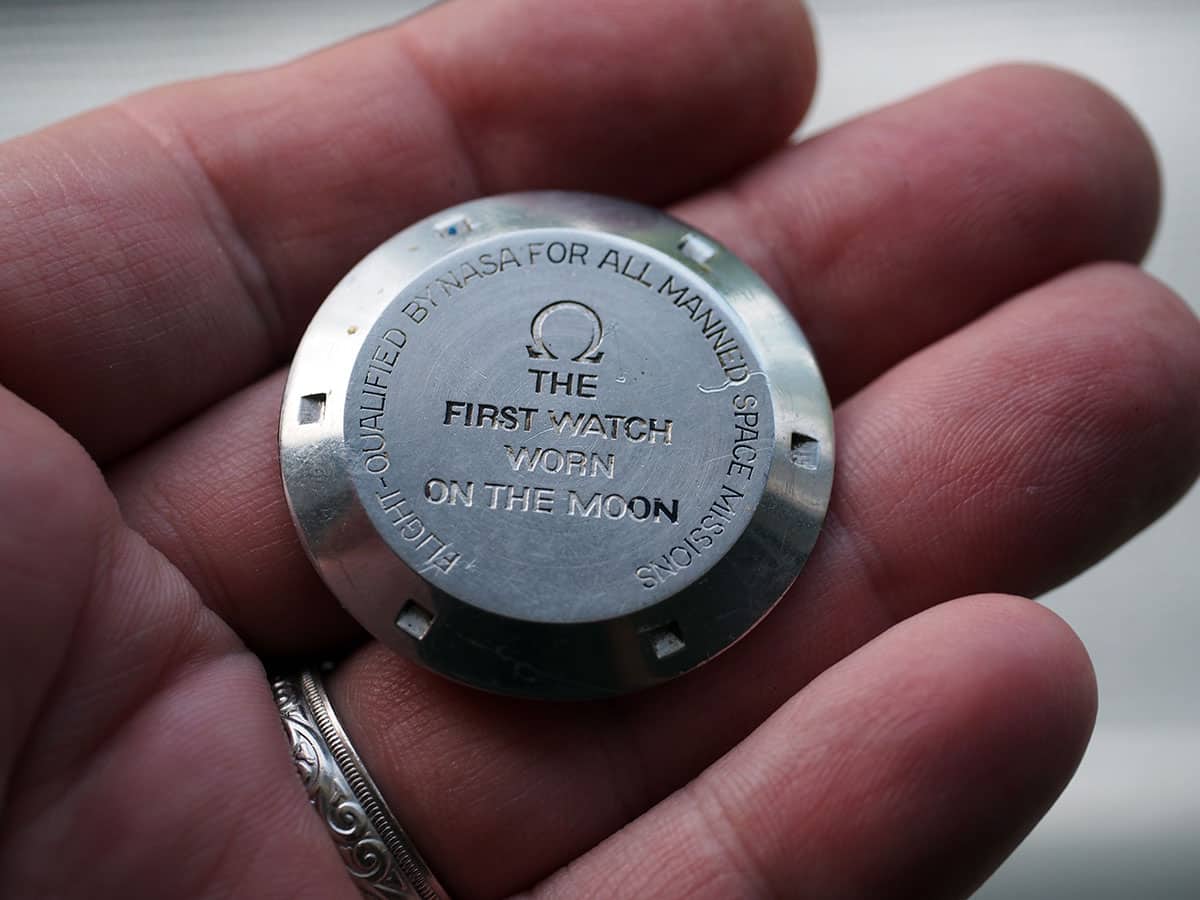 The straight-script case back you see here from Jason's Moonwatch was used between 1970 and 1973. Actually, these case backs were all used at the same time (or overlapped somewhat), and it is unknown when or how Omega decided which to pick. My best guess is that whoever assembled the watch just used what was on hand at the time. It wasn't until reference 145.022-71 came along that Omega started using case backs with the "round" engraving.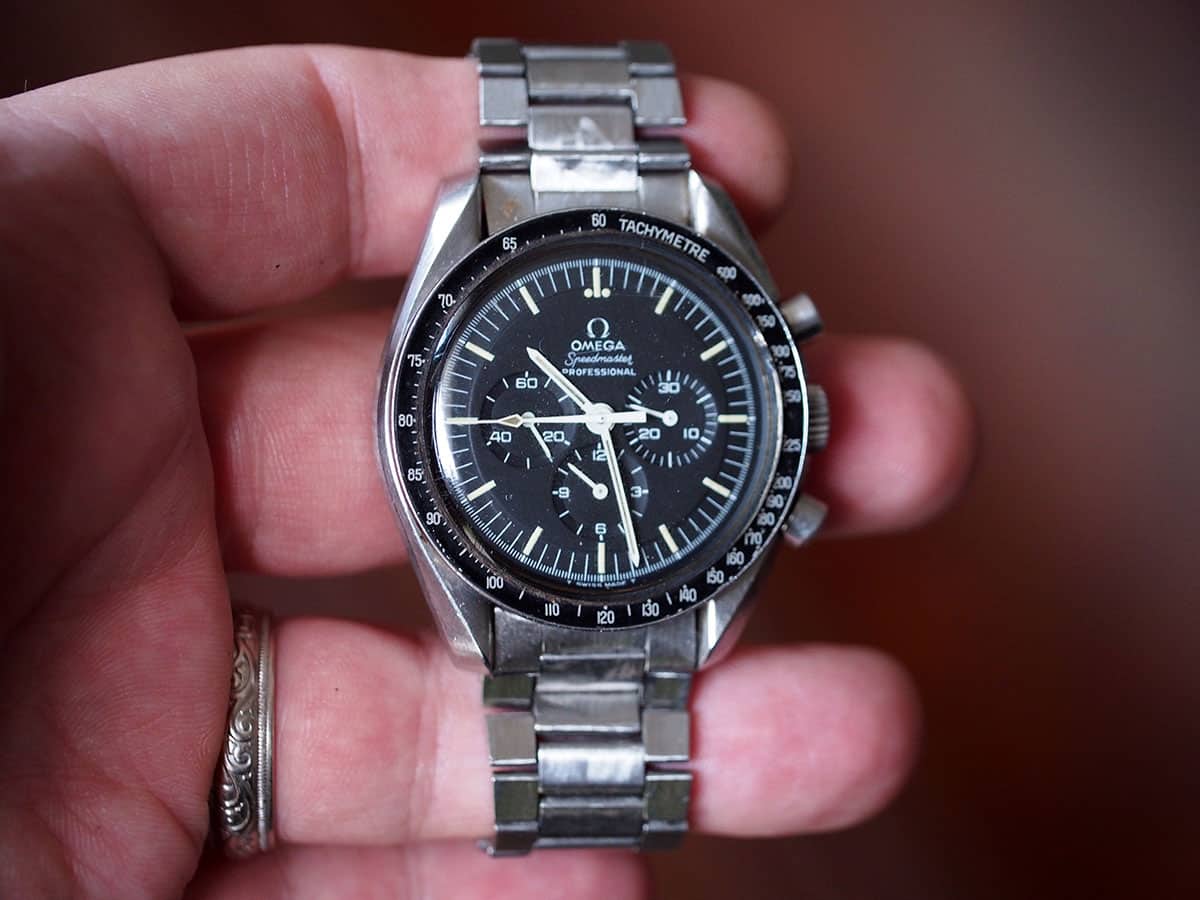 This also means that Jason's Moonwatch uses the Lemania-based caliber 861. This hand-wound copper-colored movement first appeared in the Speedmaster Professional reference 145.022-68 in 1968 (with the applied-logo dial). The movement saw some iterations until it received an upgrade in 1997 to the caliber 1861 with a rhodium-plated finish and an extra jewel.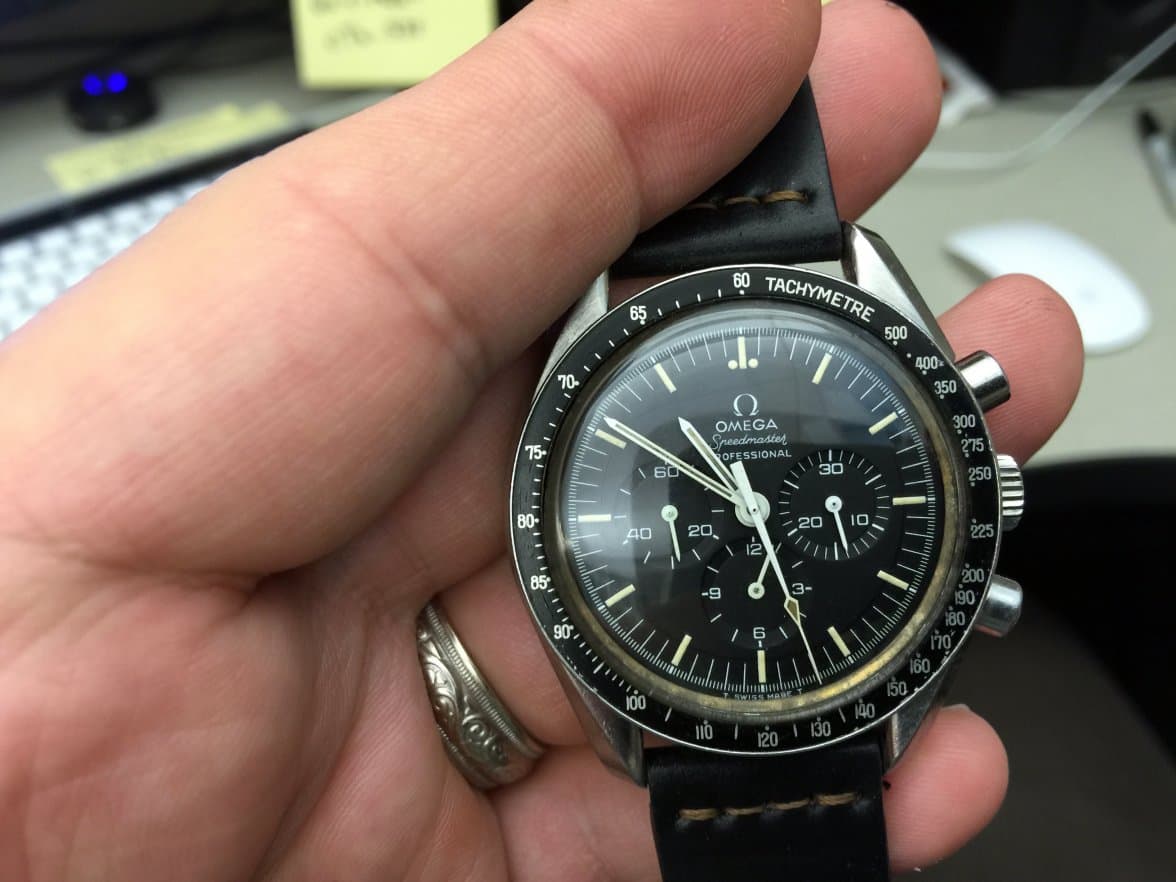 As the reset button didn't work properly, Jason had his watch serviced and tried it on a leather strap and a neat Velcro strap (see below). The 1039 bracelet needs a few more links, but they are difficult to find.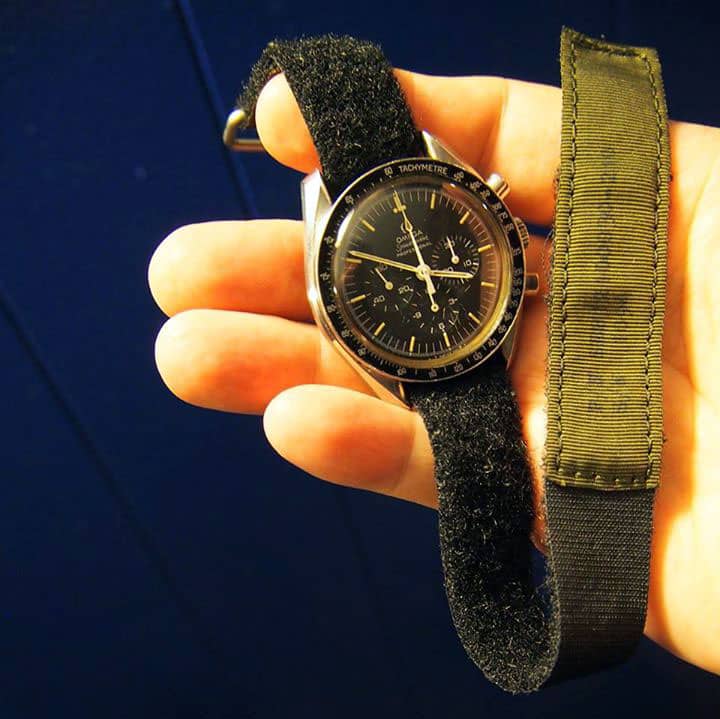 Jason published his story on OmegaForums.net first, and I decided to ask some follow-up questions about his great find. Jason allowed us to publish it for our Speedy Tuesday feature on Fratello.
*This article first appeared here on Fratello Watches on September 22nd, 2015.