IKEA Hack: The Ultimate Watch Strap Storage Solution
Who else is ready to ditch their old shoebox?
Before we start, please allow me to ask you a few questions. Has your strap collection gradually grown into something that's hard to overlook? Are your straps stored in several different pouches, cases, and drawers? Have all your NATO straps started to tangle up in that old shoebox? And, most important of all, is this whole situation stopping you from changing straps as much as you'd like to? Well, don't worry. I was in exactly the same situation, but this storage solution from IKEA has completely changed my life!
Before I came across this (strap)life-saver, my strap storage situation was a complete mess. My rubber straps were in a small metal box that I got with one of my straps. All the leather straps were divided between different watch pouches and rolls to supposedly keep them in good shape, and my NATO straps were dumped all together in a plastic bag. At some point, I couldn't live with this situation anymore. So I went to a store with kitchen appliances around the corner and got myself some cheap plastic cutlery trays. But that didn't really help either because the trays were ugly and I had to hide them away in another drawer. So I started looking for how other people store their stuff.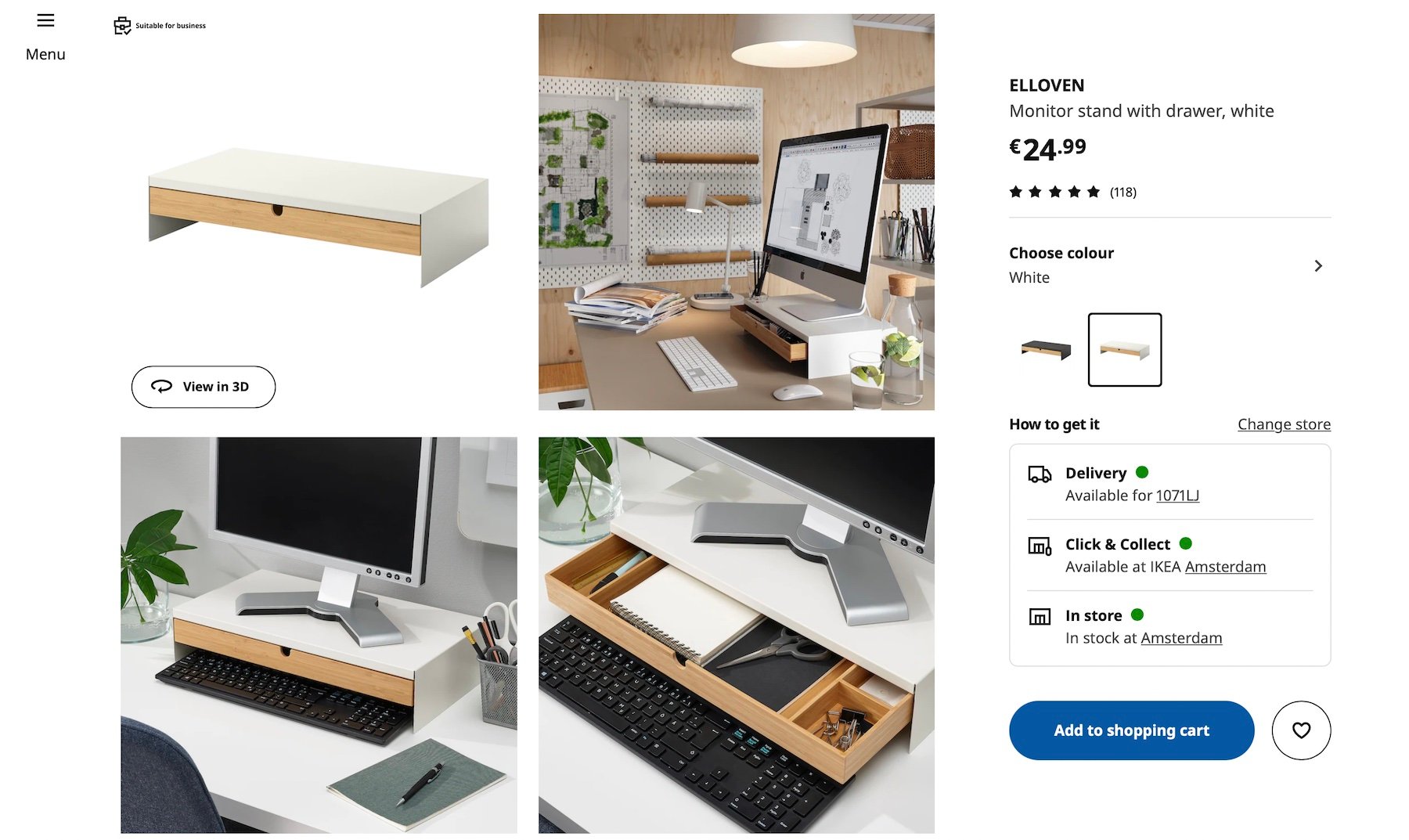 There's a video for that!
I ended up clicking through videos on everyday carry storage solutions. I'm not very much into that EDC culture, but the storage solutions I came across looked quite nifty. And there it was, in a video from a guy called Maurice. It's the runner-up when it comes to his most-watched videos, and in it, he very clearly presents the IKEA Elloven monitor stand as a handy storage solution for all his EDC items. First, he unboxes it, tells you all its measurements, and then shows what he stores inside of it. Maurice, we could very well say, is a fan! Heck, he even has four of them standing there in that Billy bookcase behind him. And I can completely understand why.
You see, what was initially designed as a monitor stand can actually be used in many other situations as well. And because it's a monitor stand, it's built quite well to withstand the weight. So, while it only costs €25 for a stand including a wooden drawer, it looks and feels more expensive. And that's exactly the thing you need for your straps. Yes, I could defend spending almost €1,000 on an Italian-made blue leather watch box, but I wouldn't want to do the same for my straps. Still, I want my storage solution to work well and look good. And that's exactly where the IKEA Elloven really shines.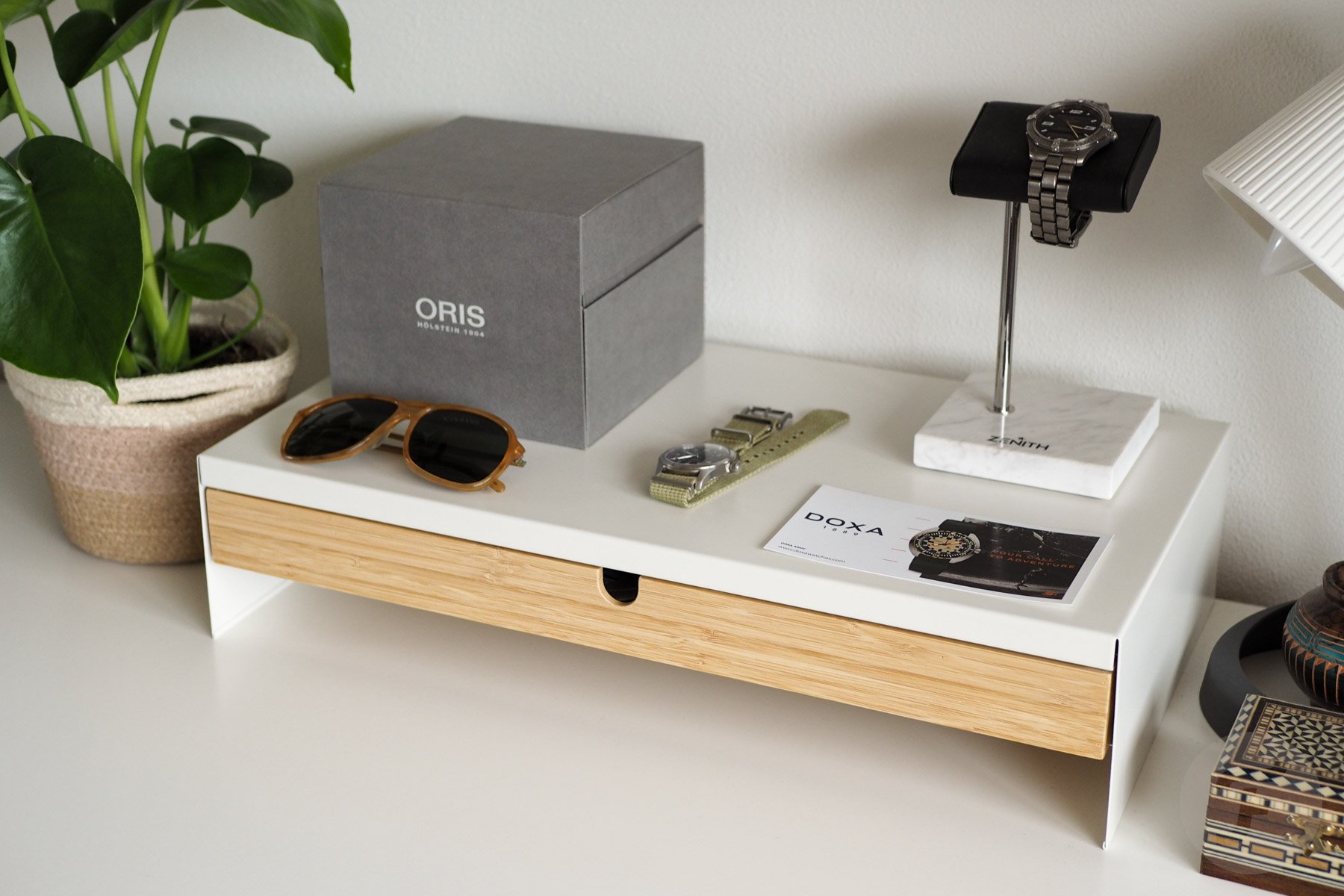 Simple but effective
It's basically a folded metal structure that comes in either matte black or matte white. I went with the white one because it matches the rest of my furniture better. Inside, there is a wide drawer, which basically looks like one of those cutlery trays I bought before. But in this case, there are not as many slots, and it's made out of a much nicer-looking bamboo. It's a simple construction —what else would you expect for this price? But that means the drawer slides in and out of the structure without any kind of safety hinge. As such, you can easily pull it out, but it could also easily fall out if you pull it out and leave it hanging there. That is something to keep in mind, but it's certainly not a dealbreaker for me.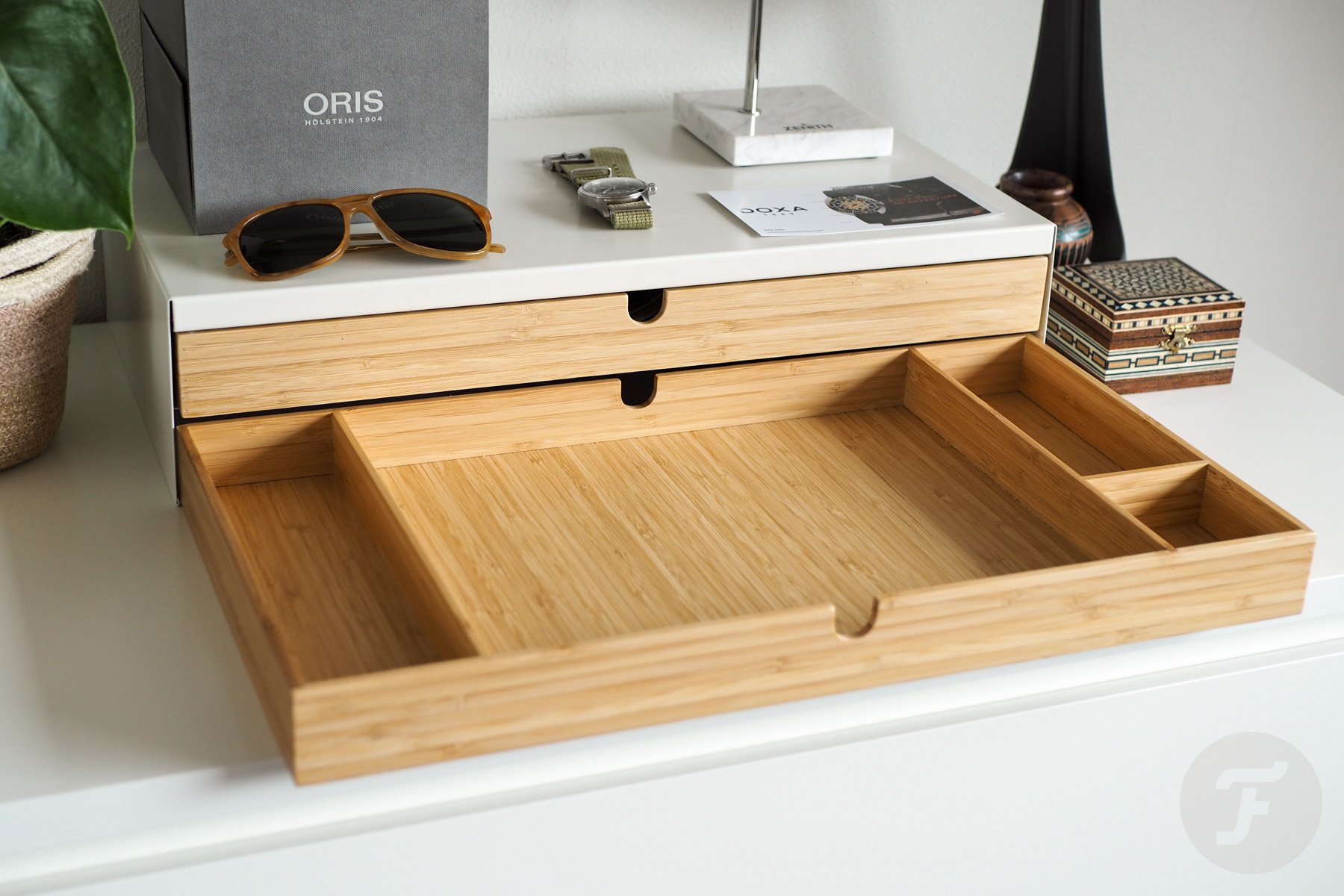 Especially if you only intend to use the Elloven to store straps, you won't be adding a lot of weight to the drawer. This means it'll still slide in and out easily. It also comes in handy for your next strap-changing session because you can quickly put the whole drawer on the table and choose which strap to use next.
As I said, the drawer comes with a few pre-installed slots. There is a long slot measuring 6.5cm × 24cm, a big one in the center measuring 30.5cm × 24cm, and two smaller ones on the other side. One measures 16cm × 6.5cm and the other 7.5cm × 6.5cm. I thought there weren't going to be enough slots, but it's actually nice to have one bigger compartment and a few smaller ones.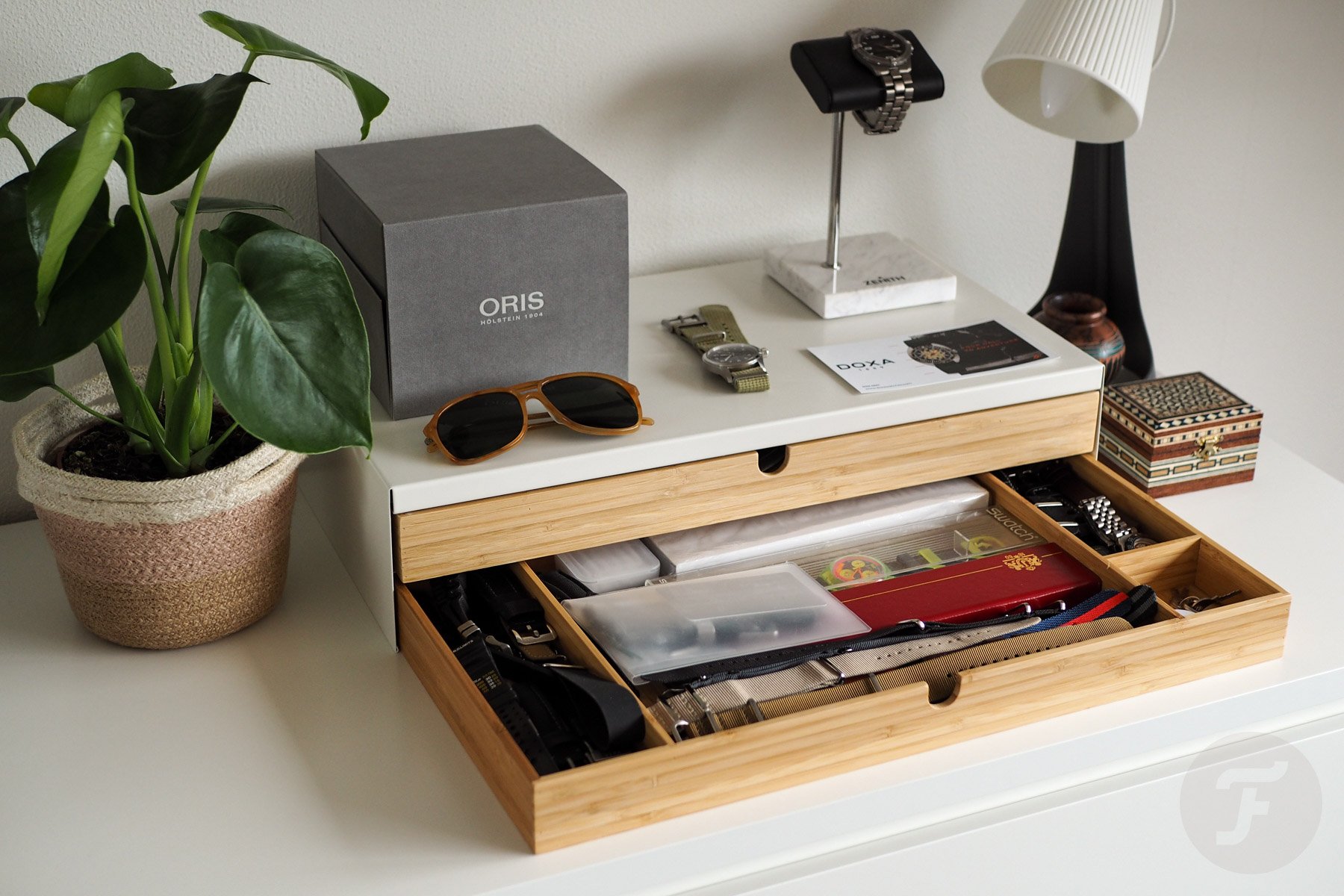 Why not get two?
So I was actually very happy when my wife sent me off to IKEA last week. She wanted me to get a new bed for our son, and I quickly added the Elloven to her shopping list. I got two because I figured that with the number of straps at home, one wouldn't be enough. And I'm glad I did because I really want to be able to see each and every strap when they're in there. Besides, it also makes it easier to keep it tidy and not end up with a pile of tangled-up straps again. So I have one drawer allocated to the two-piece leather and rubber straps and the other is full of NATOs. I use the smaller compartments for random tools and pieces, and I also store my steel bracelets in there when I'm not wearing them.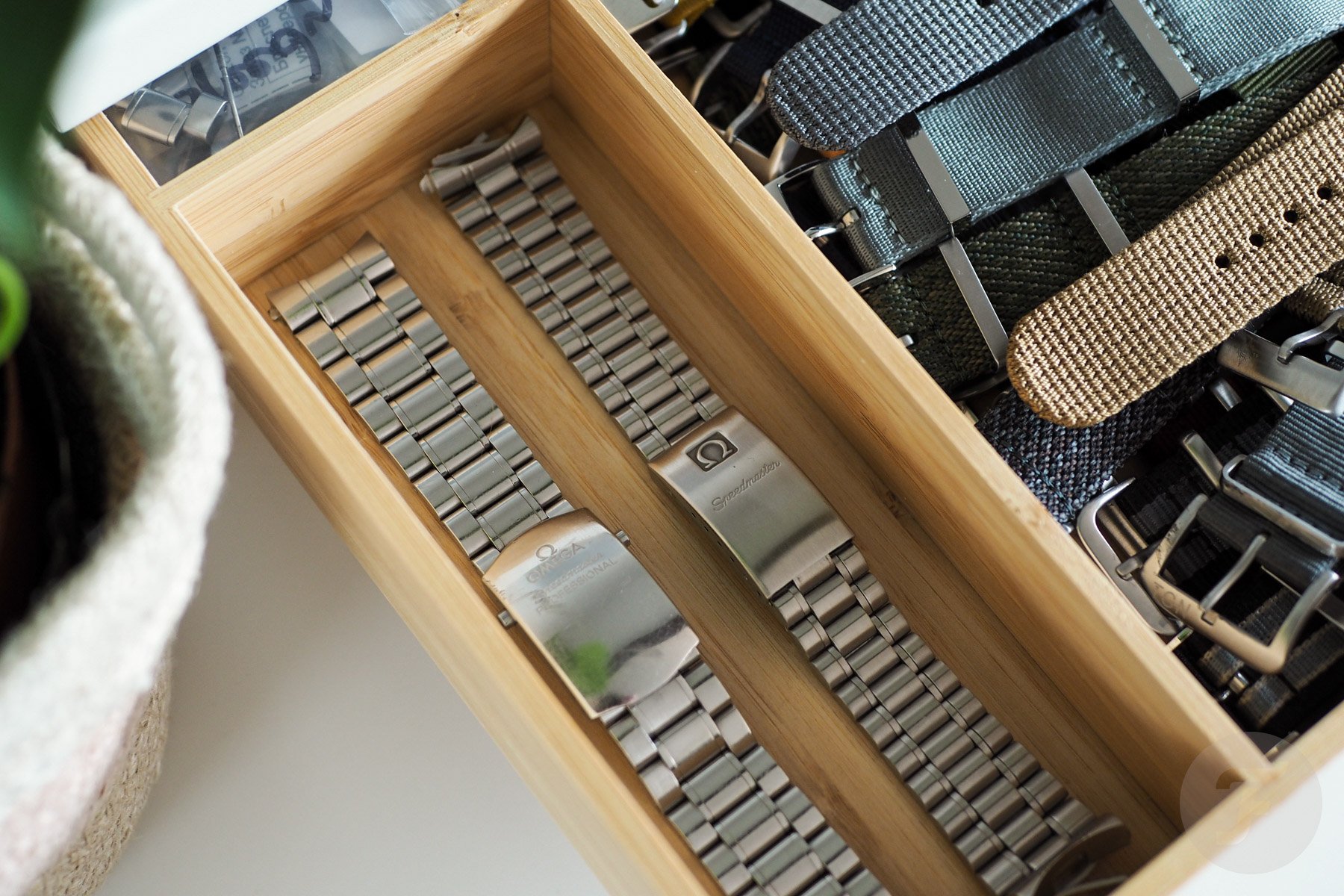 I was initially planning to stack one stand on top of the other because the cabinet I put them on isn't wide enough for them to sit side by side. But the stack didn't look very stable, so I tried to put one of the bamboo drawers underneath the other one, and that looked very good indeed! The bottom drawer, then, just slides on top of whatever the Elloven is standing on. In my case, that's another piece of IKEA furniture, so I'm not all that worried about scratching it. But if you are, you can always stick some felt underneath it for protection. My wife uses the empty stand as it was intended in her home office. When she doesn't need her keyboard and mouse, she slides them underneath it to create some space. But you can use it as a nice divider in any kind of situation, of course.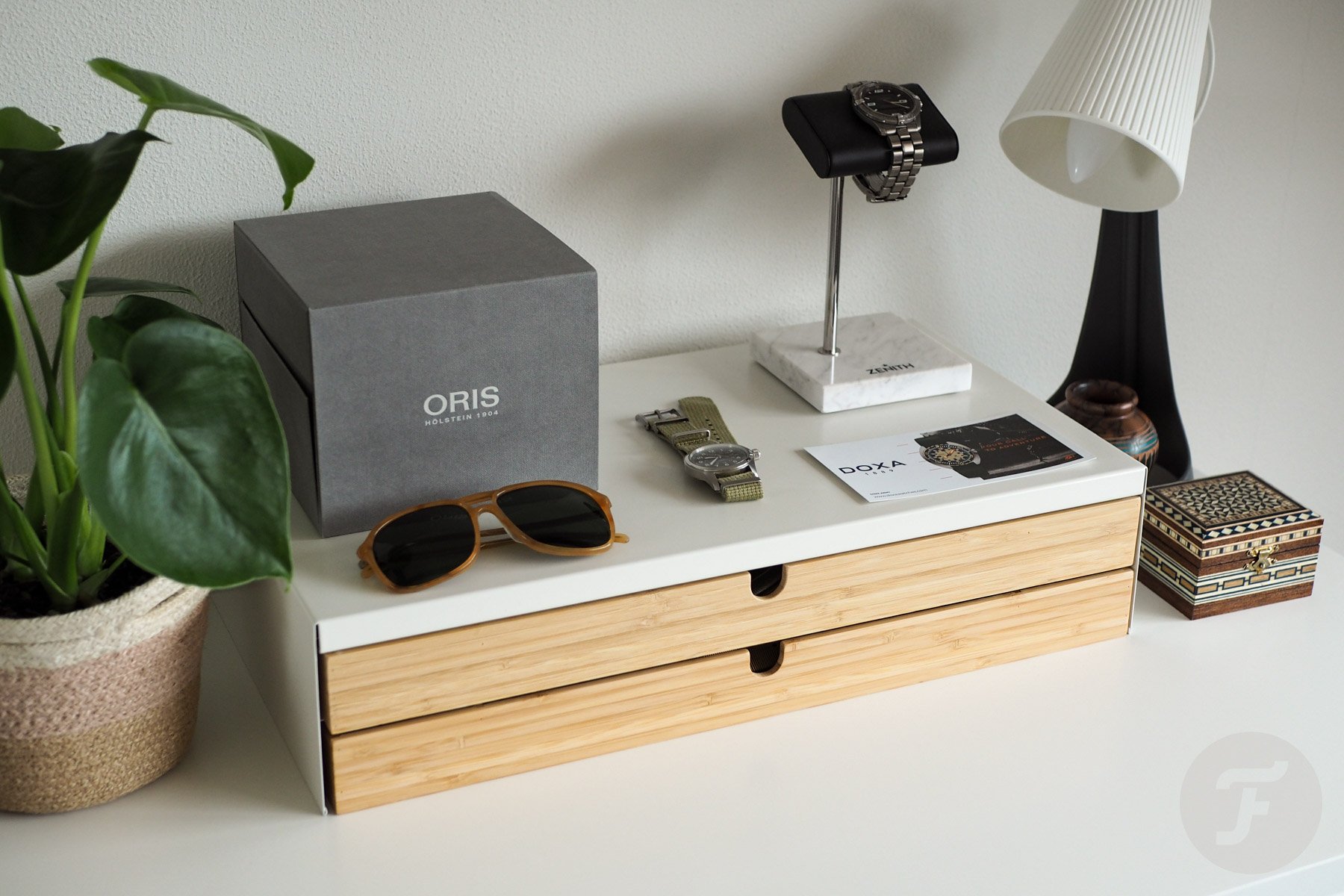 Quite the reactions
I must say, compared to the setup I had before, the Elloven makes a world of difference. Now I can just look at all the straps I have and deliberately choose one of them instead of grabbing the first one on top of the pile. I was so happy with this storage solution that I shared a picture of my new setup in my Instagram stories. I got quite a number of reactions and inquiries. Nacho from the Fratello team was also interested. That same weekend, he went to IKEA and got two for himself (a black and a white one). The pictures in this article are ones that he took of his setup. He just laid out the NATOs inside the drawers because he has many of them. I chose to fold mine, which makes them easier for me to see and grab without making a mess. But of course, that's totally up to you.
Nacho also shared some of his shots on Instagram and got many reactions and questions too. That's why we decided to dedicate an article to it — we thought our dear Fratelli could be interested as well! We hope you enjoy this little IKEA "hack". May it help you to finally enjoy your strap collection instead of complaining about the mess in that old shoe box!
And again, all the credit goes to Maurice for bringing the IKEA Elloven monitor stand to my attention. Tell us about your strap storage solution in the comments!
If you have any further questions, you can also contact me through Instagram: @fliptheparrot