Introducing: The Omega Speedmaster Super Racing With Spirate System
The next evolution in precision for Omega's Master Chronometers
This new Omega release is not only about a new Speedmaster but also about pushing boundaries in terms of accuracy. Meet the Omega Speedmaster Super Racing 329.30.44.51.01.003, featuring the new Spirate System. This watch is a visual tribute to the Omega Seamaster Aqua Terra "Bumblebee" (the black and yellow version) introduced exactly 10 years ago, which was antimagnetic to over 15,000 gauss.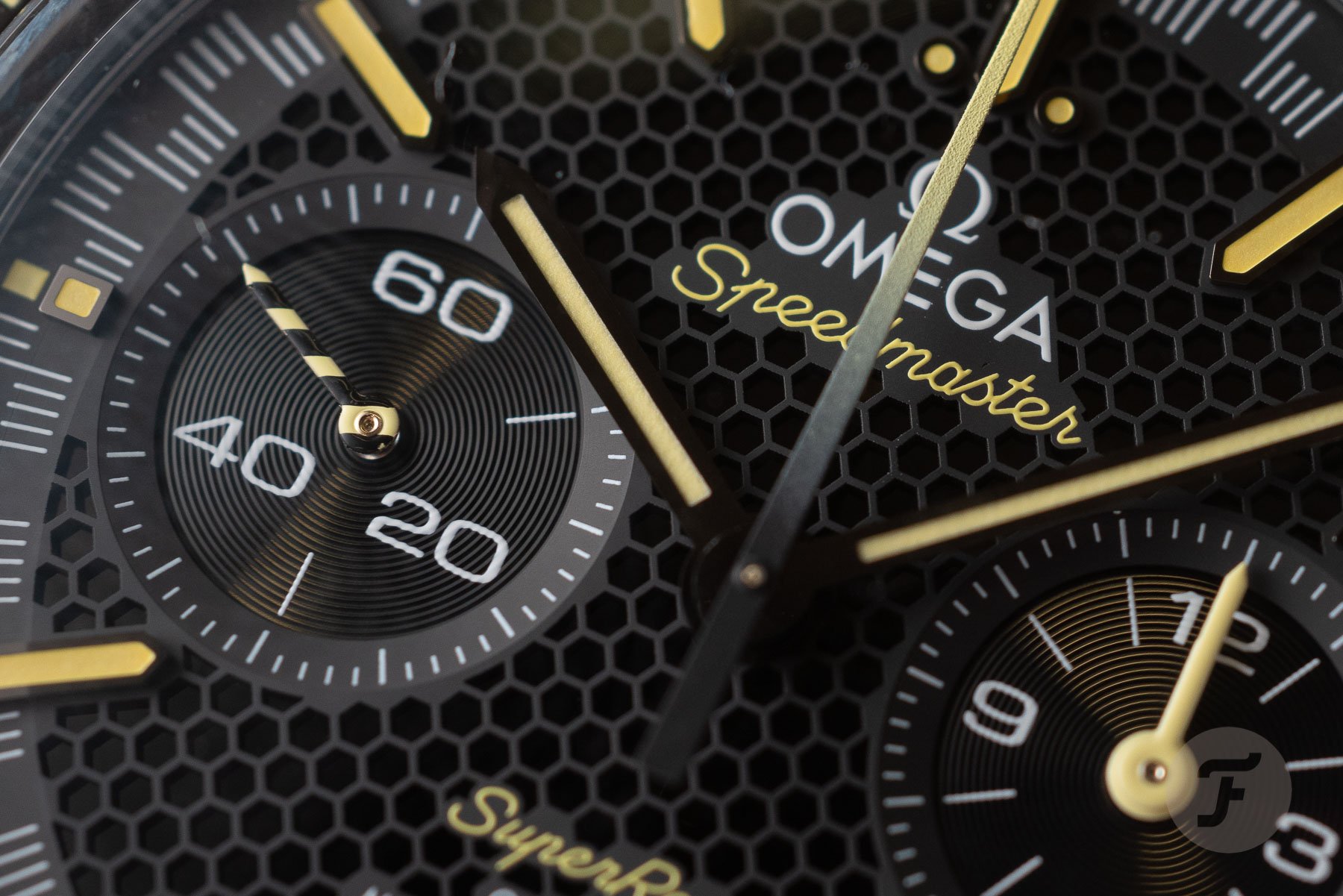 When Omega introduced its Co-Axial escapement in 1999, I couldn't anticipate the impact it would have. I didn't know it would inspire continuous innovations and improvements to create the Master Chronometer movements that Omega uses today. It was a game-changer for sure, but I had no idea about the magnitude of George Daniels' solution for reducing friction and limiting the need for lubrication.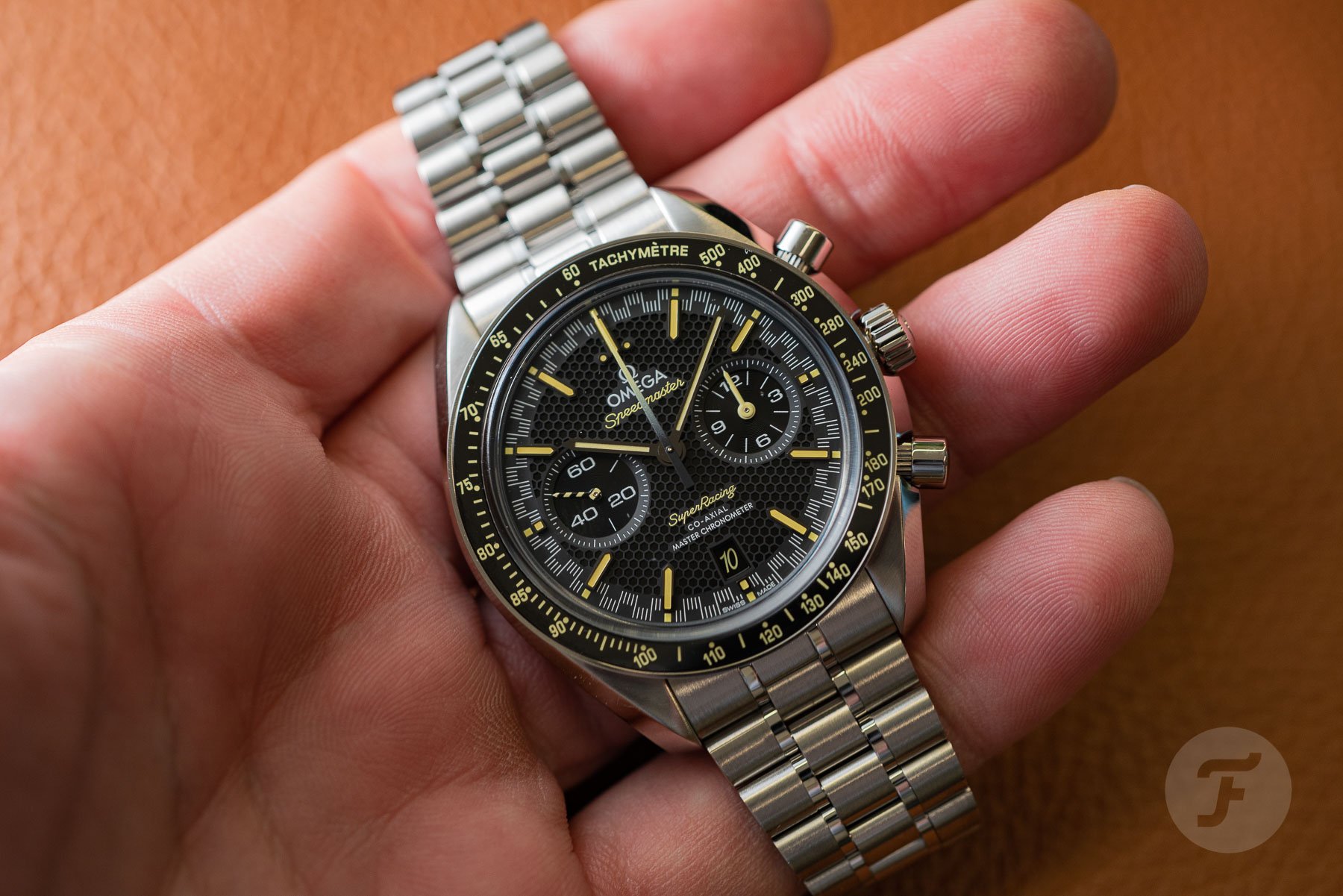 Pushing the boundaries
Master Chronometer certification
In 2007, Omega introduced its first modern in-house-developed movements, calibers 8500 and 8501. In 2008, the brand added a silicon (Si14) balance spring as well with calibers 8601 and 8611. It was shock resistant and, crucially, antimagnetic. Then, in January 2013, the Seamaster Aqua Terra "Bumblebee" (with caliber 8508) debuted. It was the first watch to have — on top of a Co-Axial escapement and Si14 balance spring — non-ferromagnetic parts that ensured magnetic resistance to 15,000 gauss.
And then, two years later, in 2015, Omega introduced the Master Chronometer certification for its watches (starting with the Constellation Globemaster and its caliber 8900/8901). This meant that chronometer movements would be tested and certified (again) after they were cased. The certification is performed by an independent Swiss organization (METAS) and consists of eight tests performed over 10 days. The result? A watch that offers an average accuracy of 0/+5 seconds per day and that is antimagnetic to 15,000 gauss. But now there's more.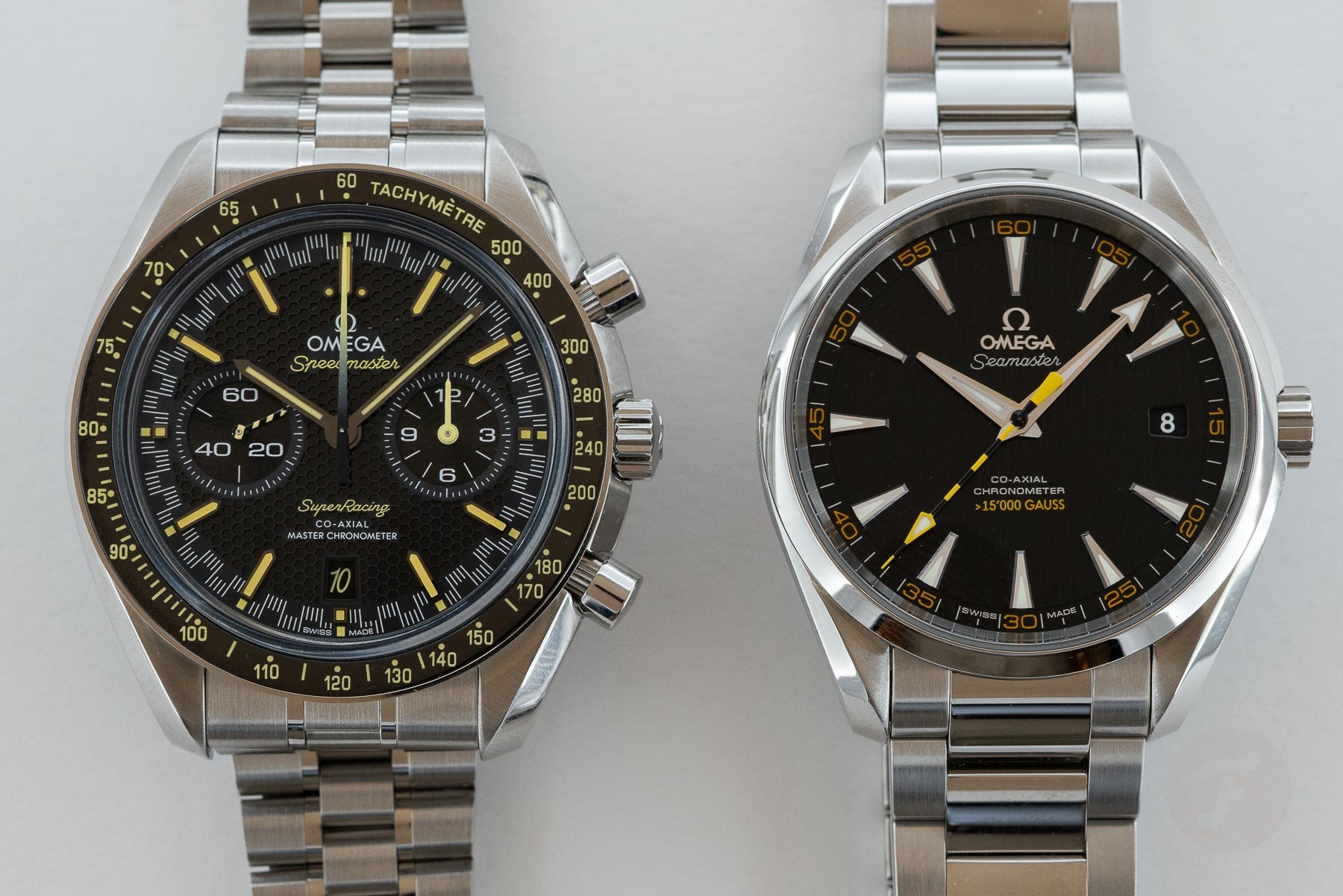 Omega's Spirate System
The new Omega Speedmaster Super Racing features a Spirate (this name is a combination of spiral and rate) system. It's a new patent-pending spiral that, according to Omega, allows for ultra-fine rate adjustments. With this new system, Omega can now achieve a precision of 0/+2 seconds per day on average, certified by METAS.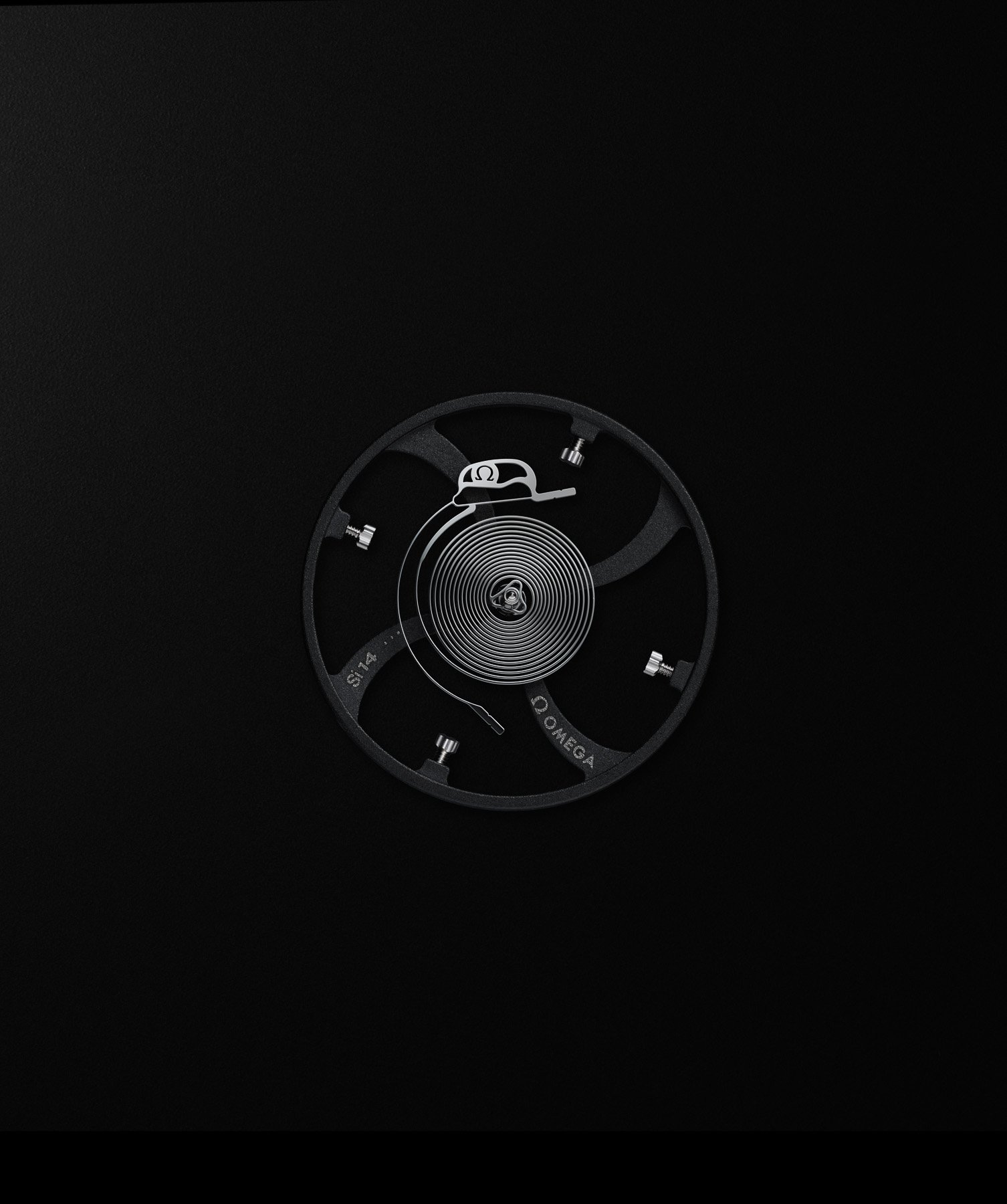 For this, Omega had to redesign the Si14 balance spring. This is the most complicated component of the regulating organ, so creating the new Spirate system was a huge challenge.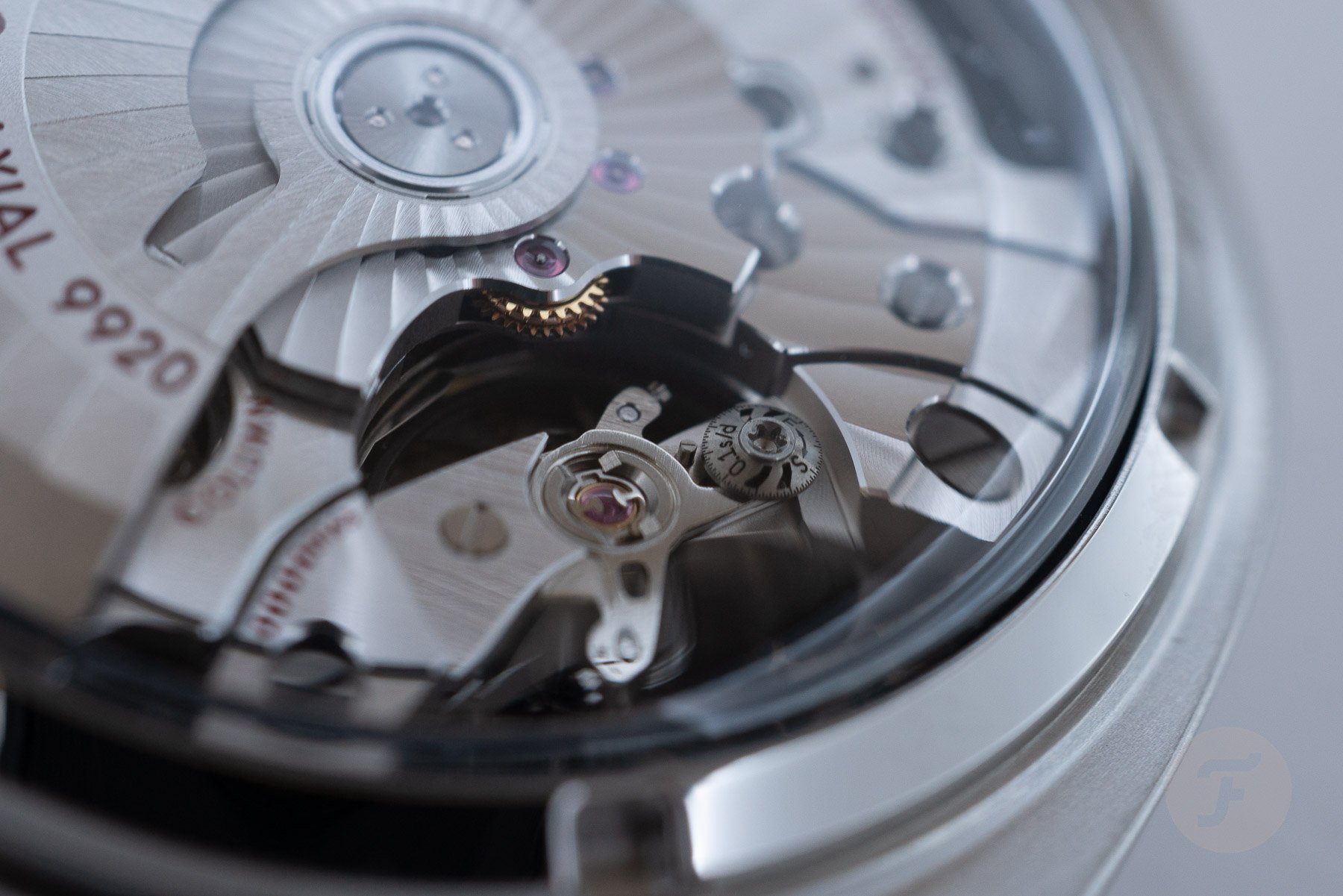 Using an eccentric adjustment mechanism (Omega refers to it as the graduated tuner) on the balance bridge, a watchmaker can act on the stiffness of the hairspring's attachment point. As a result, the movement can be fine-tuned to achieve an average deviation of 0/+2 seconds per day versus the already-impressive 0/+5 seconds per day.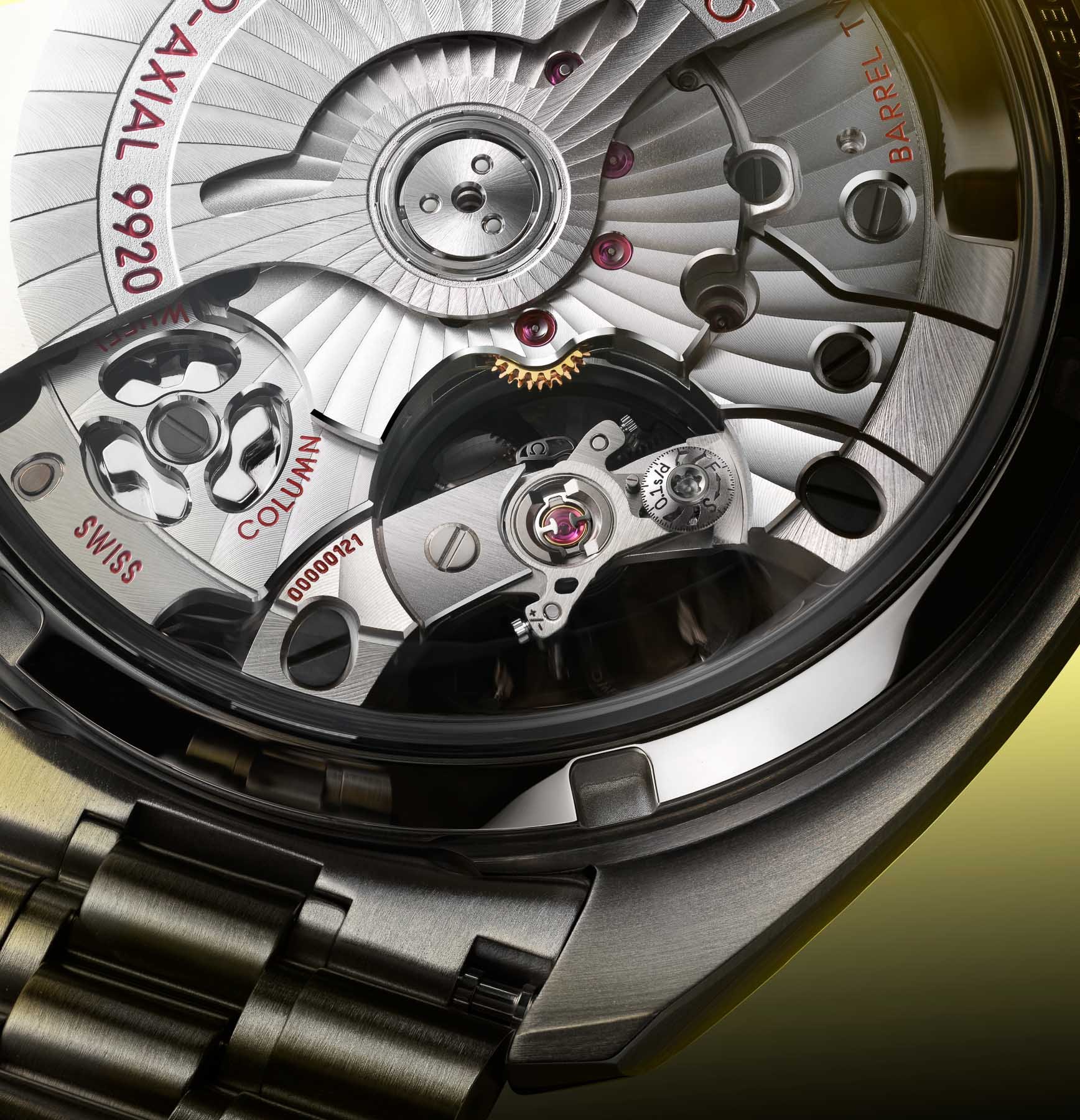 To be sure, the fine-tuning done via the adjustment system on the balance bridge is on top of the micro-screws on the balance wheel. Needless to say, this chronograph 9920 movement, like the caliber 9900 series, has a column-wheel mechanism. In a later article, we will go into detail about the development of the Spirate system.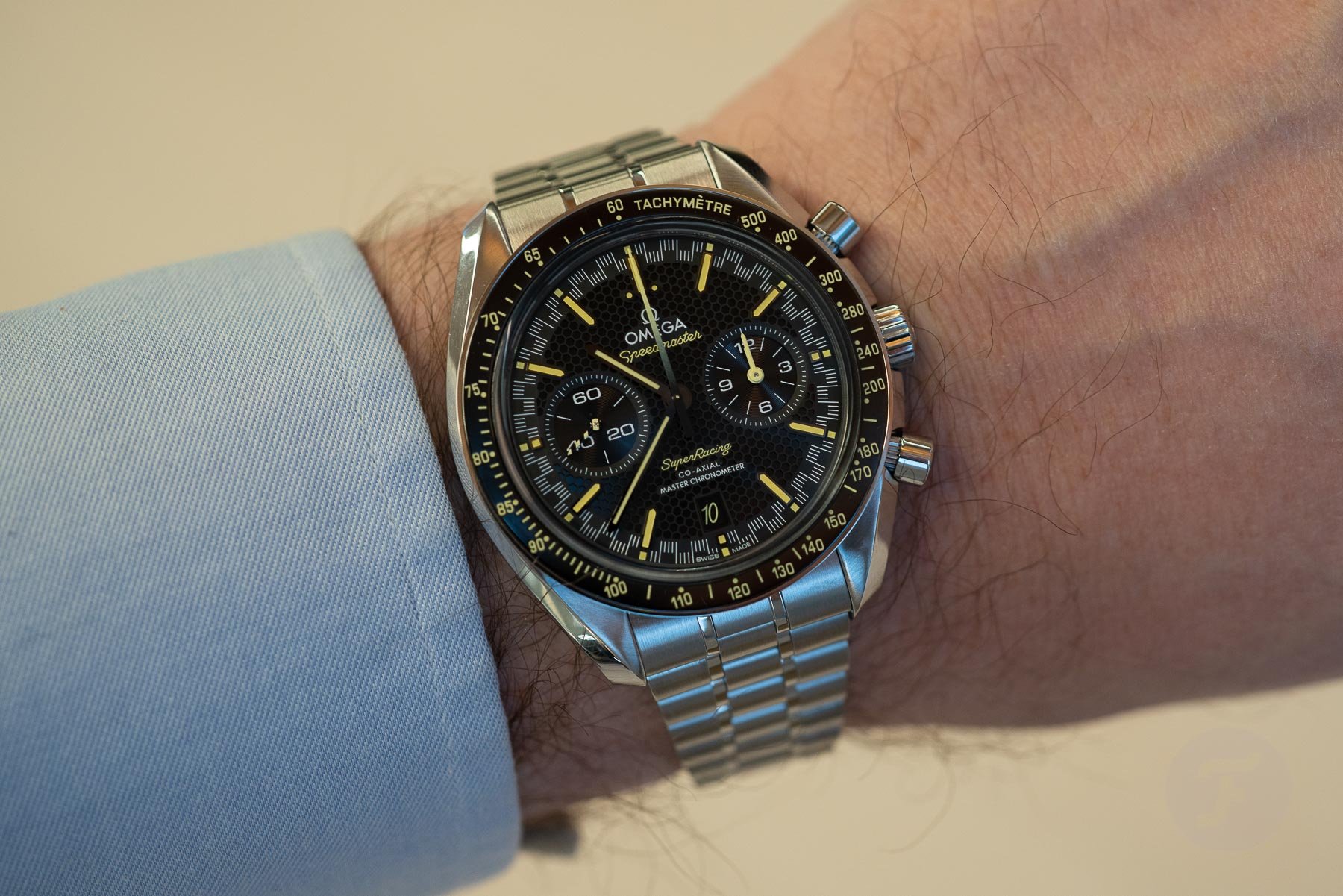 Omega Speedmaster Super Racing
Omega's new Speedmaster Super Racing watch is the first model to feature this new Spirate System. The brand used the caliber 9900 as a basis to adopt it, resulting in the caliber 9920 (4hz frequency movement). It will probably only be a matter of time before other movements will also receive this upgrade.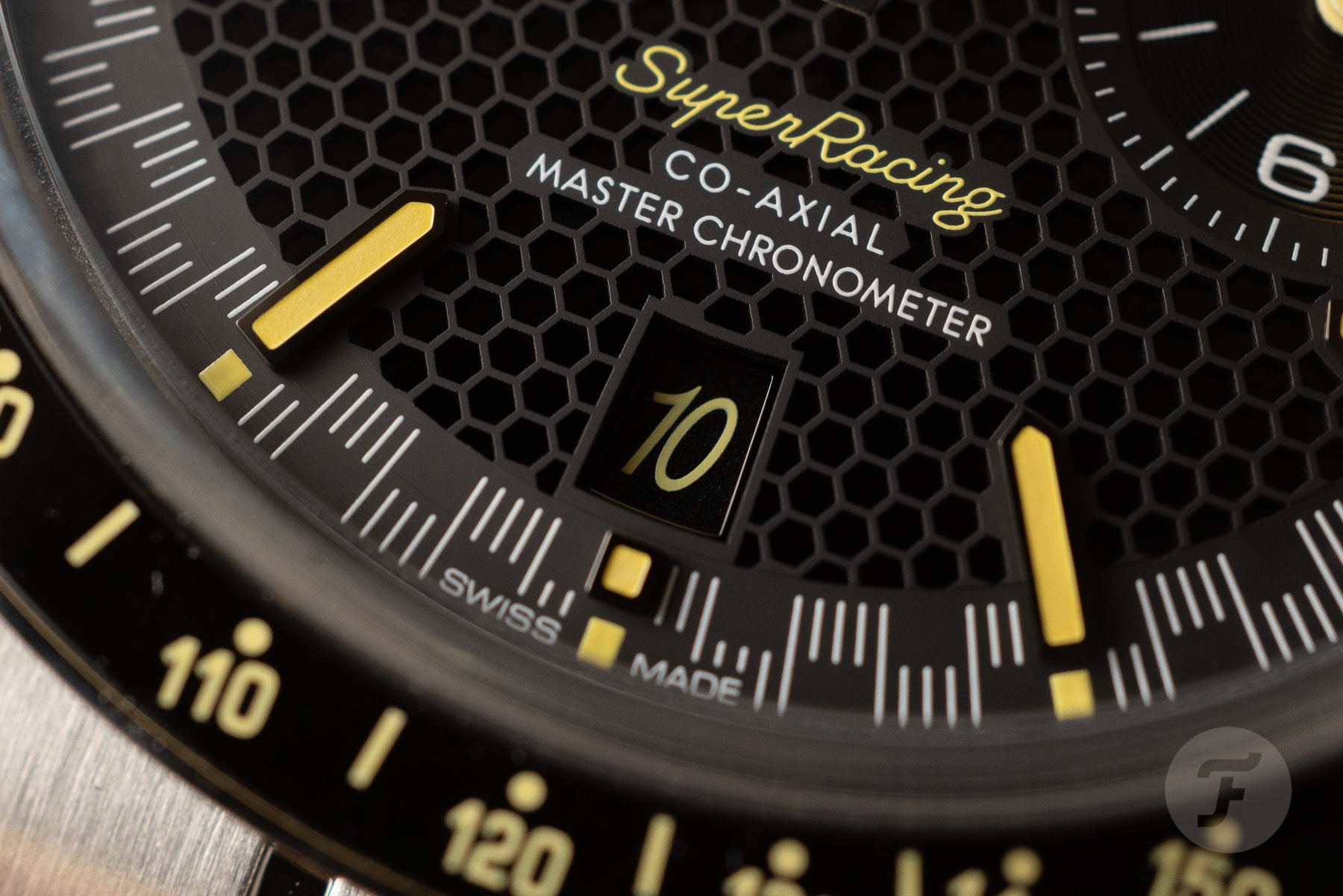 For the owner of this Speedmaster Super Racing, it means that your watch is incredibly precise and certified by METAS. Besides that, it's a great-looking Speedmaster Racing variant with a 44.25mm steel case, the new-style bracelet, and a "honeycomb" dial (a nod to the 2016 concept watch in the Omega Museum that survived extreme magnetic fields of >100,000 gauss, tested at 16 Tesla). This Speedmaster Super Racing "Bumblebee" has a racing-style minute track, black and yellow hands, and a date window at 6 o'clock that shows the 10th of every month in the typical Speedmaster typography. The ceramic bezel has the tachymeter scale done in yellow Grand Feu enamel to match.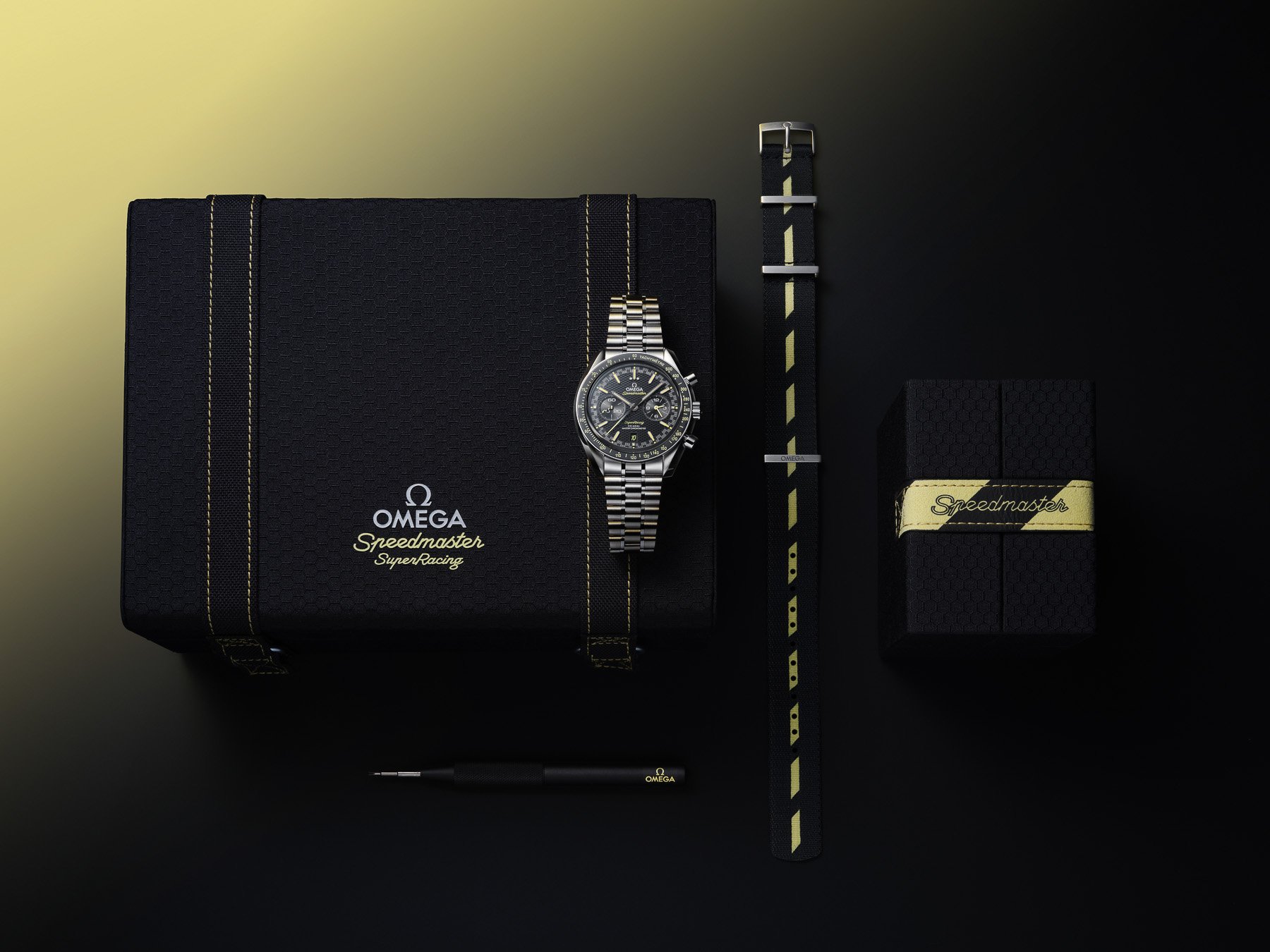 The Omega Speedmaster Super Racing comes with an additional NATO strap in black and yellow. The box of the watch also has the honeycomb motif and black and yellow color scheme. Additionally, there's also a strap changing tool in the box.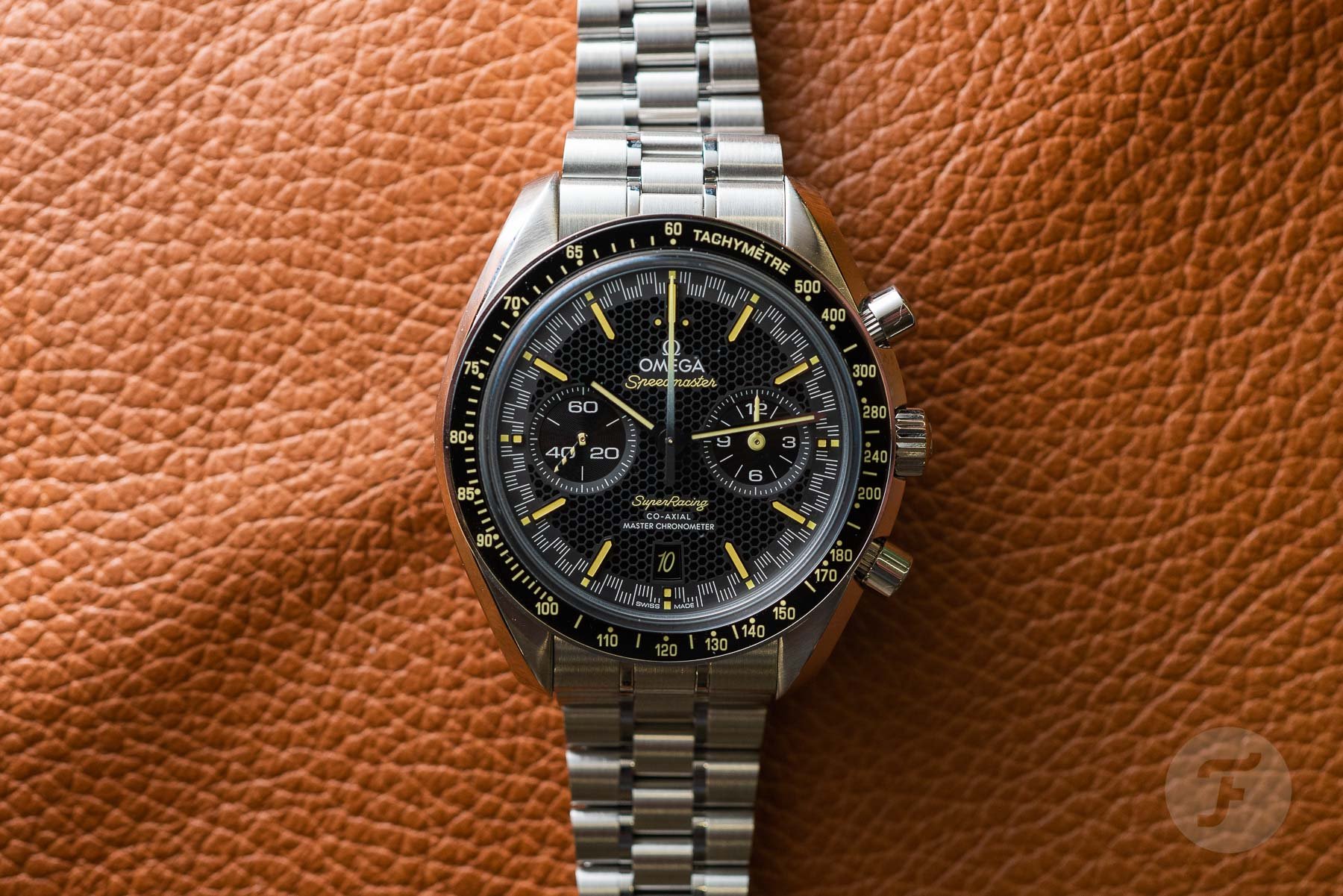 Some initial thoughts on the new Speedmaster Super Racing
This Speedmaster release was teased on the first Tuesday of January 2023 and in the weeks after. I've received many questions and guesses from you guys, and I've heard predictions for anything from a new version of the Speedmaster Moonwatch to a new Dark Side of the Moon or a new Snoopy edition. The most recurring comment, though, was that you thought it would be a 36,000vph / 5Hz movement. though. It is not, but it can provide greater accuracy by using a new hairspring and fine-tuning mechanism on the balance bridge.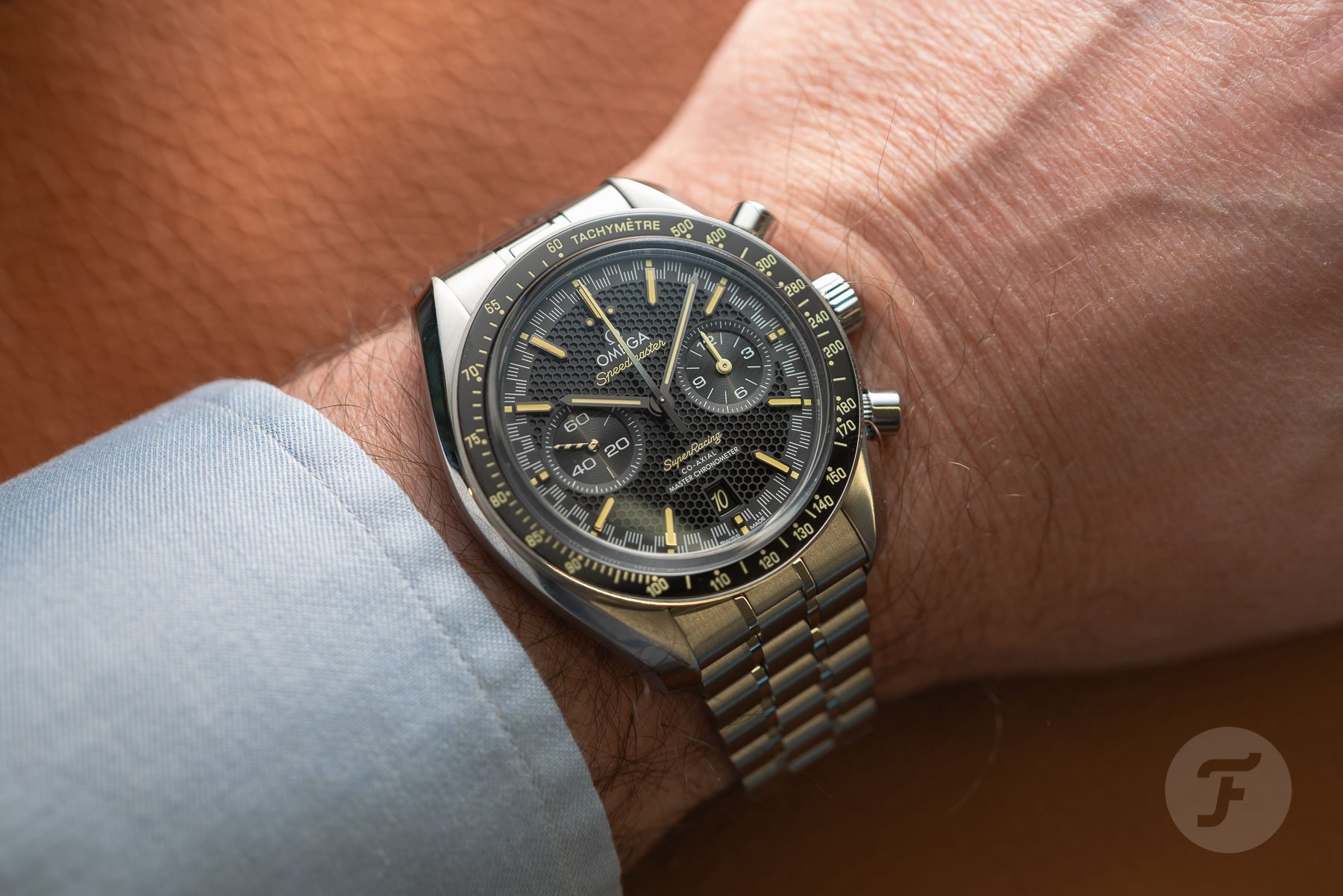 What I like about the new Omega Speedmaster Super Racing is indeed the racing element. I think Omega executed this very well with the honeycomb dial, the racing minute track, and the playful use of black and yellow. The dial consists of two layers, including a black DLC upper plate with the honeycomb cut holes and a polished black DLC lower plate. The hands in black and yellow are beautiful as well, especially the chronograph seconds hand with its gradient effect.
The Speedmaster is not only associated with space missions but also with cars and racing (click here for an in-depth article on Speedmasters and racing). So in that regard, it makes total sense. I also like the date window at 6 o'clock, with the "10" in the Speedmaster typography. These kinds of small details make it fun and interesting.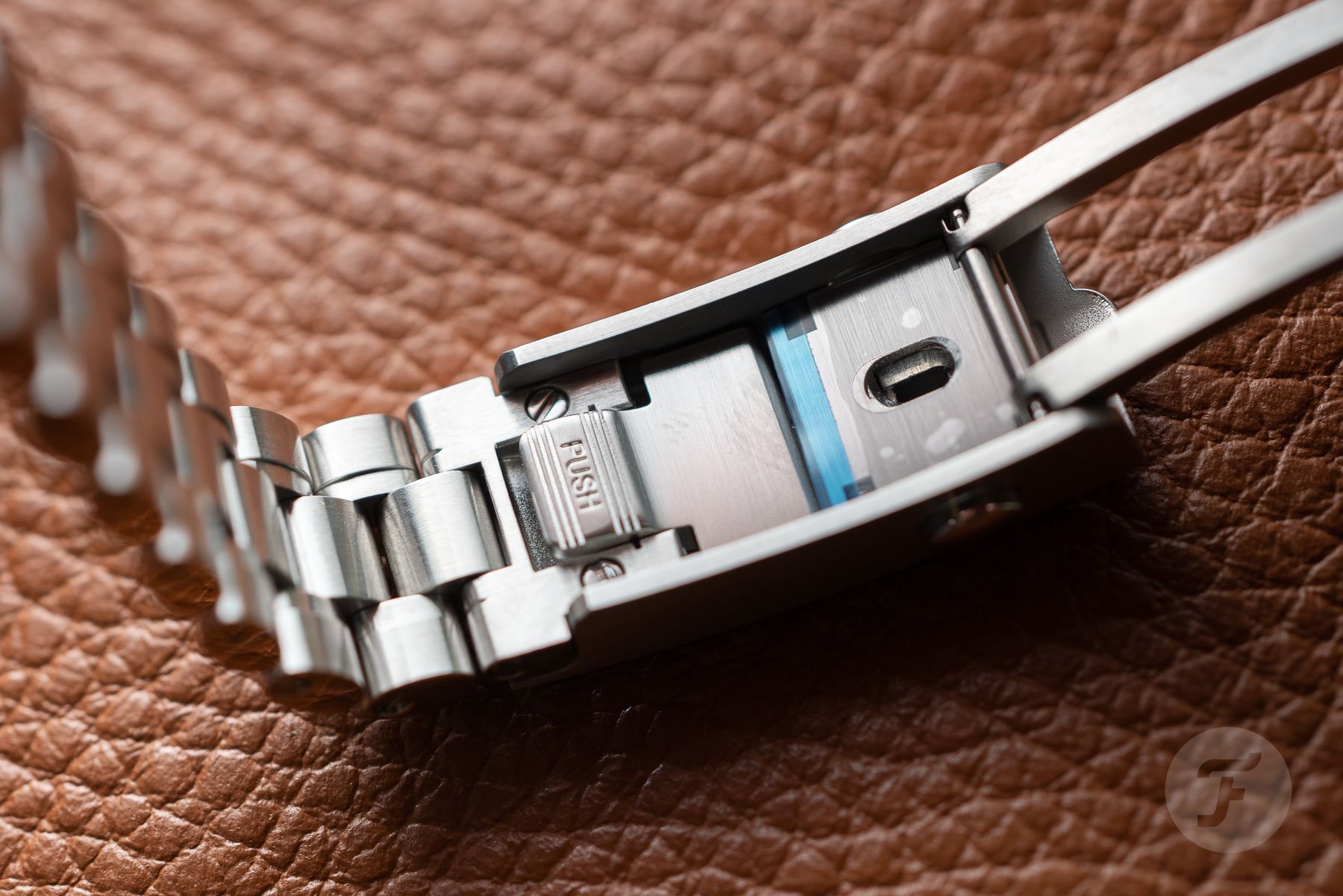 The new "Nixon" bracelet is stunning, and there's little to criticize here as well. I bought an extra one for my Speedmaster Silver Snoopy Award because I like it so much. The bracelet for the Speedmaster Super Racing tapers from 21mm to 15mm at the clasp. And the clasp has, as you can see above, an easy adjustment system (2.3mm).
The watch measures 44.25mm wide, 50mm from lug to lug, and 14.9mm thick. This is not small by any means, but on my 18.5cm wrist, it wears pretty well. I can't say otherwise. I know the trend these days is towards smaller watches again, and I get that. If you have large(r) wrists, though, you also might want to have a large(r) watch. In general, I'd say it is impossible to make a one-size-fits-all watch, which is also the reason Omega's Speedmaster collection goes from 38mm up to 44.25mm.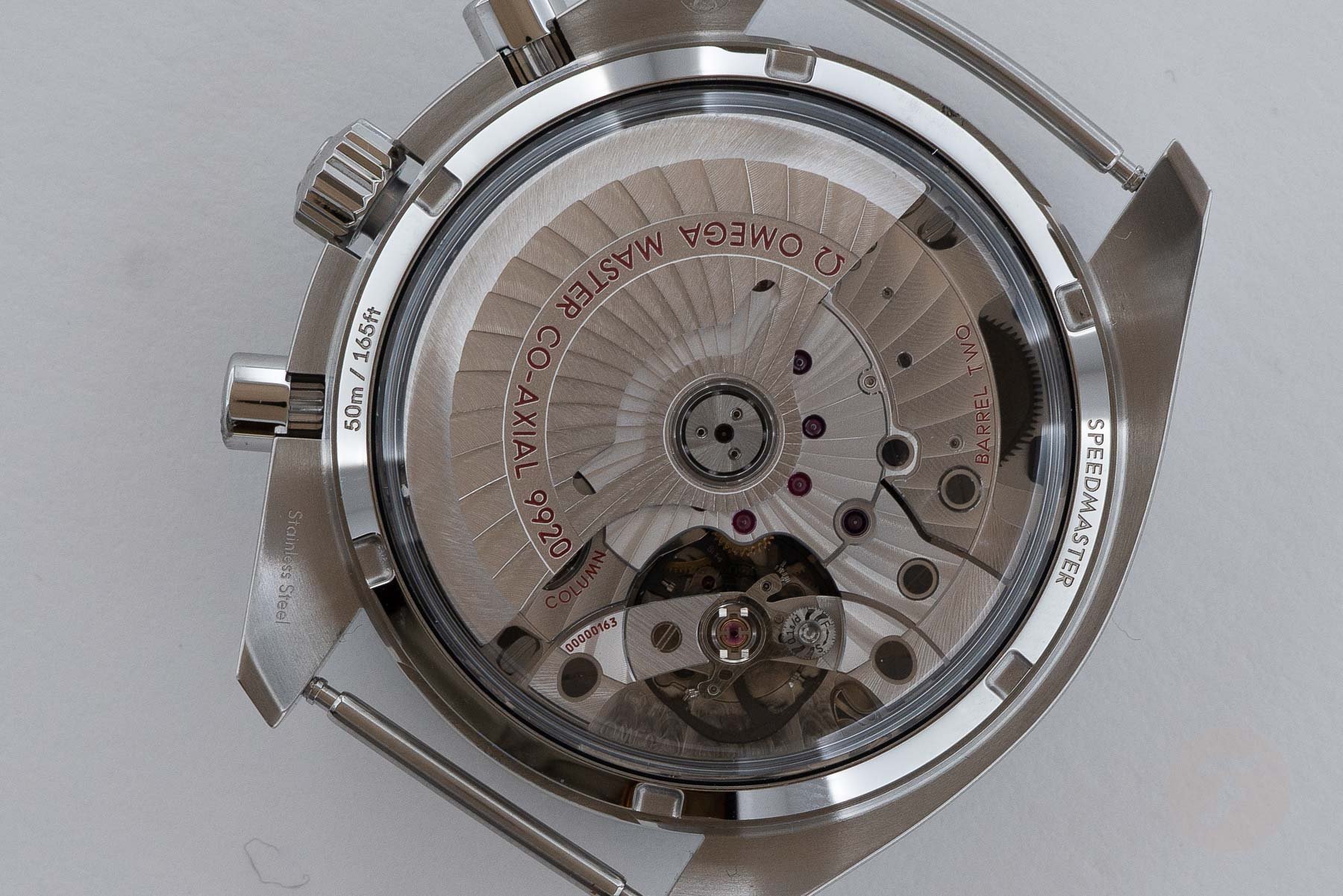 Caliber 9920
The new Omega caliber 9920 is visible through the sapphire case back of the watch. It looks like the regular 9900 movement with its Arabesque Côtes de Genève decoration, but on the balance bridge, you will see the regulating mechanism. By using a special key, the watchmaker can fine-tune your Speedmaster Super Racing to run between 0 and +2 seconds per day. That's a big deal when it comes to mechanical watches. Rolex is guaranteeing an accuracy of -2/+2 secons per day on average. Grand Seiko can guarantee -2/+4 seconds per day on average for their mechanical watches (not for all GS movements, though), and Tudor has one watch in its collection that also complies with the Master Chronometer standard of 0/+5 seconds per day on average.
I love the race for greater precision. It feels a bit like the competitions they had in the old days. Striving for the highest accuracy has become less relevant with all the technology surrounding us, but that's beyond the point. Still, in the end, the most important thing is that the watch needs to look attractive. And the Omega Speedmaster Super Racing is, in my opinion, a great-looking watch, despite the caveat that it's a large watch and thus probably not for everyone.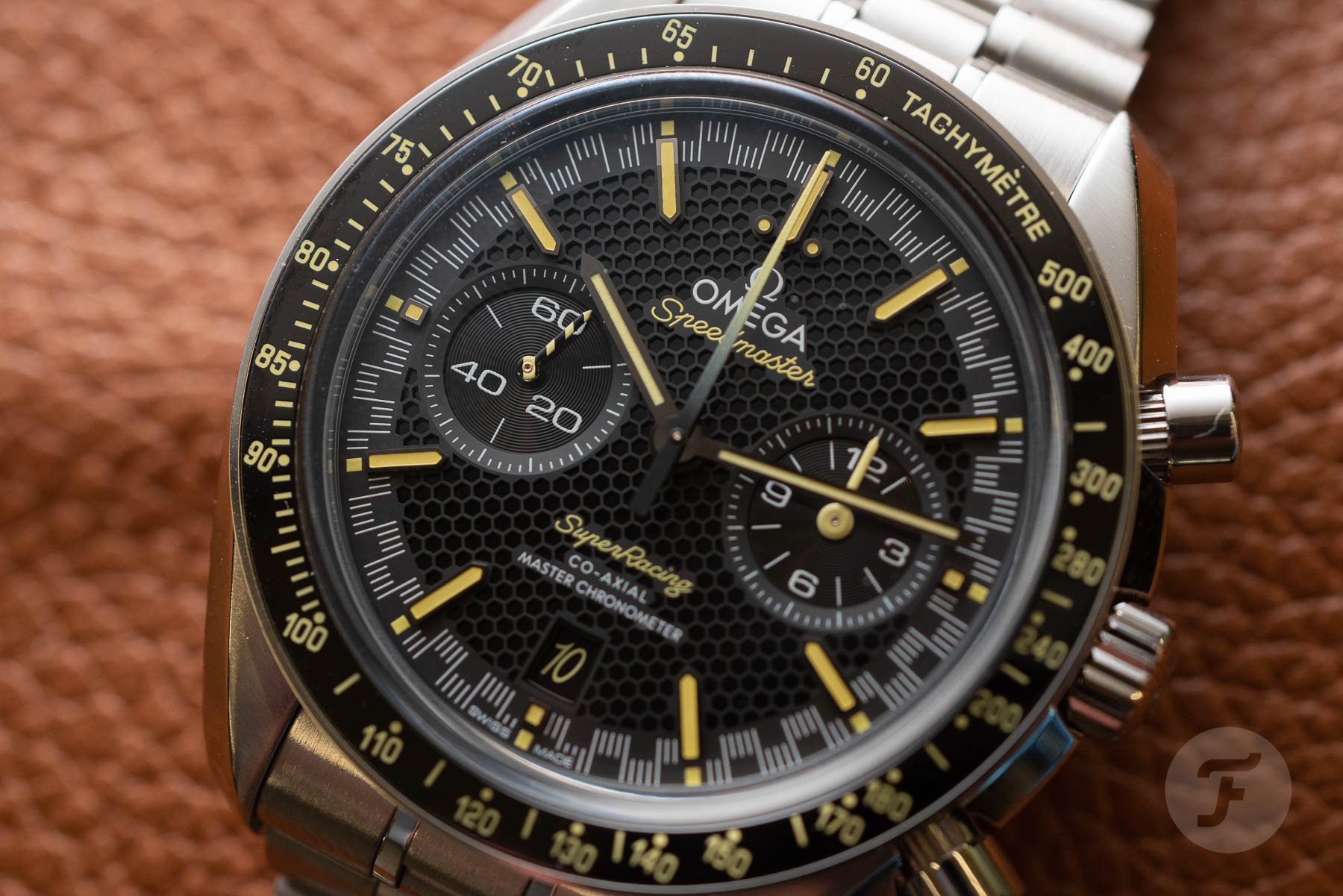 One thing that seems to be tough to tackle at Omega is the water resistance on the Speedmaster watches. For this model, the rating remains at 50 meters (5 ATM) only. Personally, I couldn't care less as I don't think this watch is meant to go diving, and this rating is fine for rain, a shower, or even an occasional swim (as confirmed by Omega; just don't use the pushers or pull the crown). But I strongly believe that Omega could and would sell more Speedmaster watches if they were water resistant to 100 meters.
The retail price of the watch will be CHF 10,200. You can find the retail price in your country's currency on the Omega website.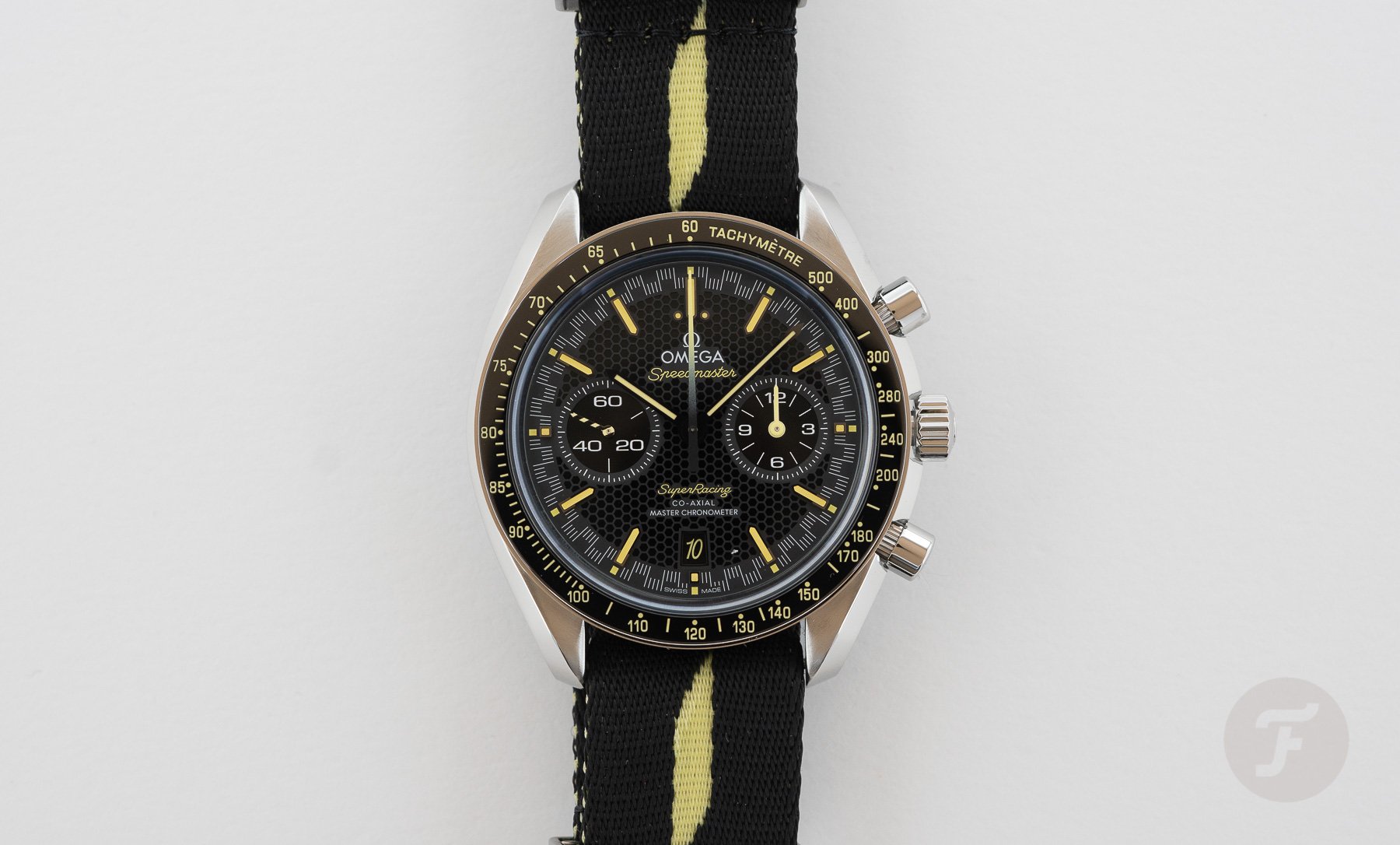 Spirate System — To be continued
This watch is just the starting point for Omega's tiny new device. During the presentation we received today, Omega indicated that the new Spirate System will make its way into many other calibers.
Watch specifications
Model
Speedmaster Super Racing
Reference
329.30.44.51.01.003
Dial
Black with honeycomb motif, yellow hour markers, racing minute track
Case Material
Stainless steel
Case Dimensions
Diameter: 44.25mm, Height: 14.9mm, Lug-to-lug: 50mm, Lug width: 21mm
Movement
Caliber 9920, Master Chronometer certified, self-winding movement, Spirate system (Si14) hairspring, Accuracy of 0/+2 seconds per day on average (guaranteed), power reserve 60 hours, 54 jewels
Water Resistance
50 meters / 5 ATM
Strap
Stainless steel "Nixon" bracelet, additional NATO strap
Functions
Time, Date, Chronograph, Tachymeter
Warranty
Five-year international warranty