The Omega Speedmaster Racing — Imagining A World Without Moonwatch
What if the Speedmaster had remained true to its original purpose?
The Speedmaster is and will always be associated with the Apollo program and Moonlanding forever, but that was not what Omega had in mind when they introduced it in 1957. This chronograph was made to measure intervals by scientists, engineers, athletes, but also by racecar drivers. The Speedmaster was the first watch ever to have a tachymeter scale outside the dial, on a bezel. In the very first advertisements of the Speedmaster, we find two men sitting in a sports car, implying they're using the chronograph to time laps or measure average speed using the tachymeter scale.
The Omega Speedmaster Racing Story
For those who don't know, the tachymeter helps you calculate the average speed over 1 kilometer or mile (doesn't matter). Start the chronograph at point A and stop the chronograph at point B. You must ensure that there's either a mile or kilometer in between them. Then, the chronograph seconds hand points to the average speed during that measurement on the tachymeter scale. Give it a go next time you're on the road with one of your chronographs!
Speedmaster Racing Dials
It is known that Belgian race car driver Willy Mairesse wore a Speedmaster around 1962. however, it is quite certain this wasn't endorsed by Omega. Other race car drivers known to wear Speedmaster watches are Luca di Montezemolo and Walter Röhrl. The brand never properly pushed their relationship with motorsports, other than introducing the first Speedmaster (Professional) watches with a racing dial that were produced between 1968 and 1970, in different variations. It's called a racing dial because of the colorful chapter ring, often featuring red, orange, and white elements. Often combined with orange or red hands.
Little is known about these racing dials, except for the serial number ranges and the markets they were delivered to. It is assumed that they were there to offer a slightly more flamboyant dial as an option to order from certain retailers. With low production numbers, estimated by Omega's Brand Heritage Manager Petros Protopapas to a maximum of just a few hundred pieces, these watches are incredibly rare and sought-after. There's no clear link to actual racing activities though.
Speedmaster Racing for Japan
In 1970, Omega introduced another Speedmaster Professional Racing with orange accents, in a very limited run (Moonwatch Only indicates a short production run in May–June of 1970). This model inspired the 2004 limited edition exclusive for the Japanese market. Although it's a modern watch, it has already received somewhat of a cult status and is highly sought-after. The number of messages we receive asking us to do something with this type of racing dial for a possible next Speedmaster Speedy Tuesday model have been endless.
Speedmaster Schumacher
Omega picked up its race pace again in the 1990s, by having brothers Michael and Ralph Schumacher as ambassadors. Another significant name from the world of racing was Michael Andretti. For the latter, Omega created a special blue dial Speedmaster Racing "CART" edition for Andretti, who was racing for the Newman/Haas team.
A fun fact is that the famous Paul Newman ordered several of these watches for the Newman/Haas crew in 1997. For Michael and Ralf Schumacher, Omega started out with the colorful red and yellow Speedmaster Racing models. These were based on the Speedmaster Reduced collection.
The blue model with the "CART" logo was linked to Andretti. Interesting to know is that the Speedmaster Racing, introduced in 1996, was launched at the go-kart track in Kerpen (Germany). This is where Michael Schumacher learned his racing skills. In later years, Omega introduced several Speedmasters dedicated to Michael Schumacher, to commemorate his championships. My favorite is the one with the panda dial. Limited to 6,000 pieces, it holds the name: "The Legend". There is also a very limited run of 500 of the same Speedmaster "Schumacher" watch that was ordered for the Ferrari team at the time, featuring his signature on the dial.
Until Schumacher's departure to Audemars Piguet in 2010, Omega had several Speedmasters dedicated to him. Although the stream of Speedmaster "Schumi" watches seems endless, I can't help to think that it wasn't the most fruitful collaboration. But perhaps it is also because the internet, and especially social media, was not there to give these endorsements the boost they would be getting today.
Finding a Speedmaster Racing "Schumacher"
You can find many of these Speedmaster Racing and "Schumacher" editions on the pre-owned market. The colored Speedmaster Racing with "Reduced" cases went up in price quite a bit over the years, but there are also still some undervalued treasures to discover like a full gold 2003 Speedmaster Schumacher "Broad Arrow" model for under €10,000. My favorite remains to be the Schumacher "The Legend" Edition with its panda dial and red accents. Unfortunately, Omega's link to F1 and the world of racing faded away. There was never as much Speedmaster presence on and around the racetrack as Rolex has in F1 today. Other brands like TAG Heuer, Hublot, IWC, and Richard Mille are also present on the track and paddock, as these brands are sponsoring certain drivers.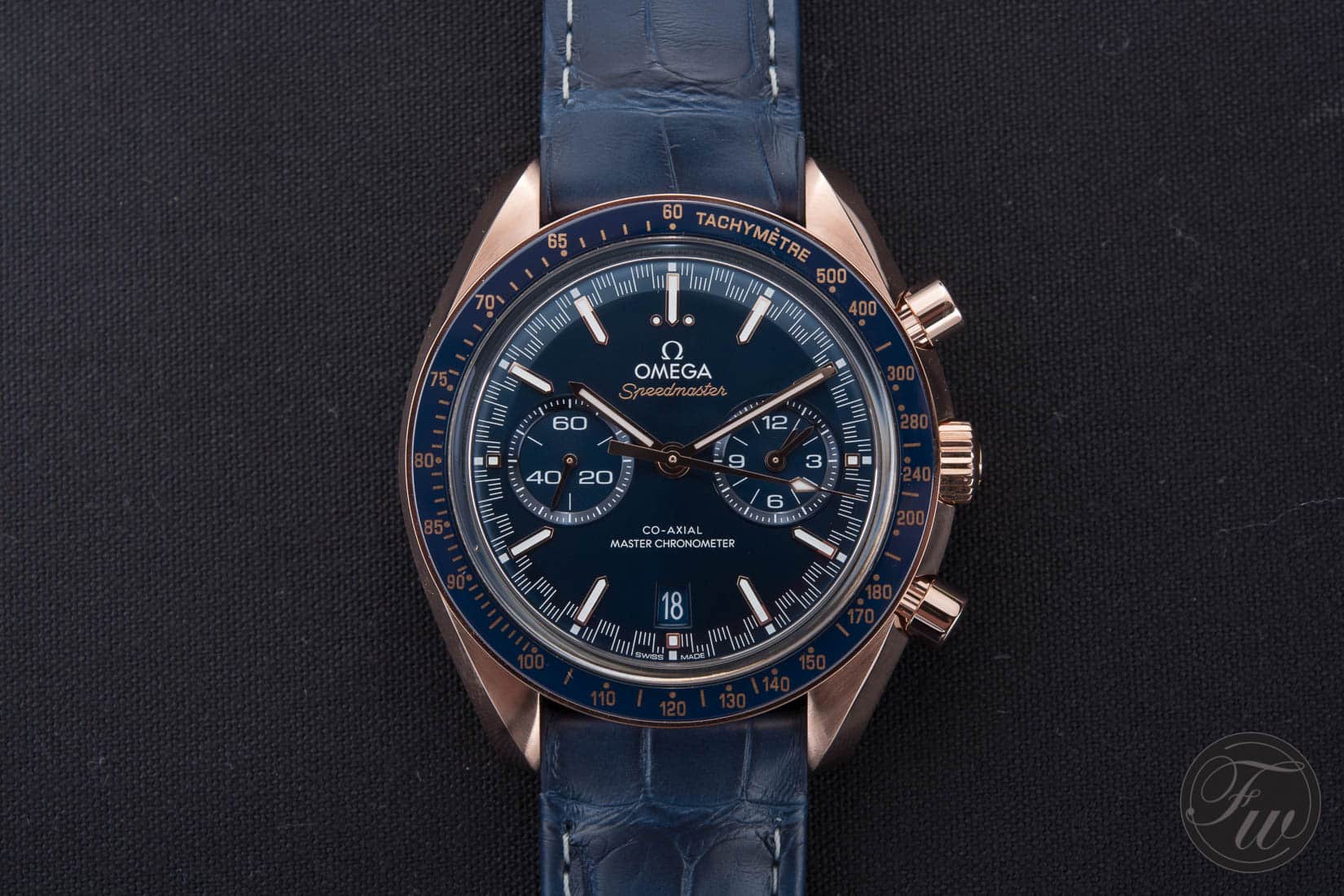 Speedmaster Racing Caliber 9900
However, that did not stop Omega from dedicating the Speedmaster with the in-house developed chronograph movement (caliber 9900) to "racing" once again. No less than 10 references are in the modern "Racing" collection, excluding the Mark II Racing re-edition that has been in the collection since 2014. These models feature the racetrack pattern on the dial (minute track). Some of them feature the famous orange markers and hands. There's even a version in Sedna gold with an impressive €26,800 price tag.
What if…?
It makes me wonder, what the Speedmaster would have been without its Moonwatch history. I guess there wouldn't have been a "Moonwatch" in the collection, but rather a more modern interpretation of those watches, much like the 44.25mm diameter Speedmaster Racing models. Perhaps Omega would have pursued a certain relationship with car racing, be it F1 or just with certain drivers like they did in the 1990s.
In my opinion, it would make absolute sense to wear a Speedmaster when you're a racecar driver. Well, least more so than an IWC Big Pilot does. The heritage in relation to car racing is there. There's even a link to one of the greatest drivers of all time — Michael Schumacher — and then there's the name of the watch that makes total sense. Just like Heuer's Carrera or Rolex's Daytona, Omega's Speedmaster name would immediately remind you of racing if there had not been a Moonwatch or NASA story to it. If this heritage would be non-existent, I am sure that Omega would have pursued its relationship with race car drivers like Schumacher.
I am convinced that Omega does not want to be active in the car racing world. I say this because there's little that would stop them from doing so if they wanted to. The reason for Omega to have these Speedmaster Racing references is purely a nod to the 1960s models with similar-looking dials. And when it comes to the 2004 Speedmaster Professional "Racing" for the Japanese market, I can hardly imagine anyone bought it for its racing association, but rather for the heritage of that watch.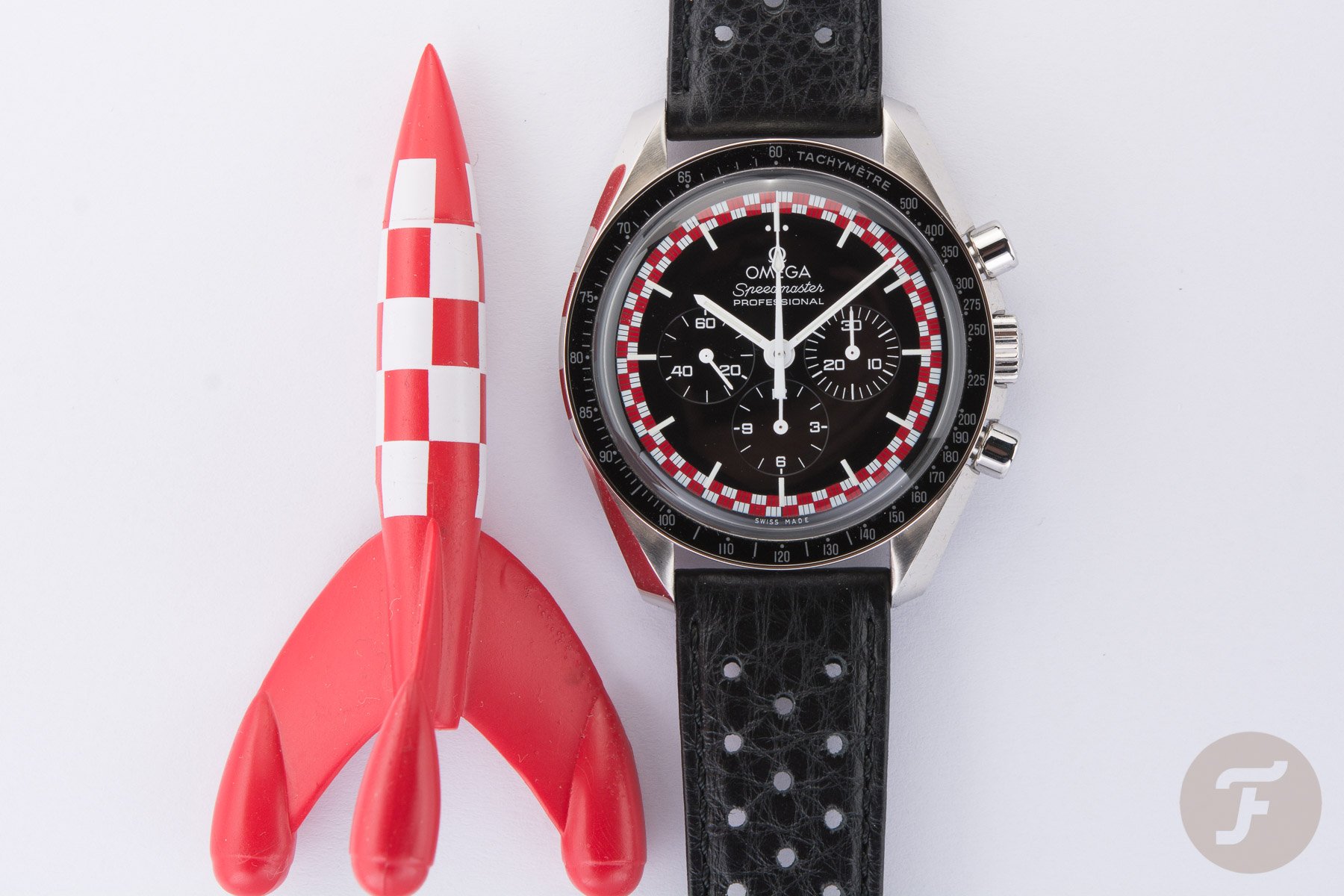 Speedmaster Racing or Tintin
This story isn't complete without mentioning the "faux" Speedmaster Racing from 2013, better known as the Tintin. When Omega introduced this watch, a few days prior to the opening of Baselworld 2013, it was communicated as a new Speedmaster Professional Racing model. However, during our meeting on the first day of Baselworld, we asked about the awkward-looking chapter ring. We were told it was meant to be a watch dedicated to Tintin's "Explorers on the Moon" story and that the prototype looked slightly different, with a rocket on the dial. We broke this story on Fratello, nicknamed the watch Tintin, and the rest is history. The Omega Speedmaster "Tintin" was in production between 2013 and 2016 and assumed is that there are less than 2000 pieces.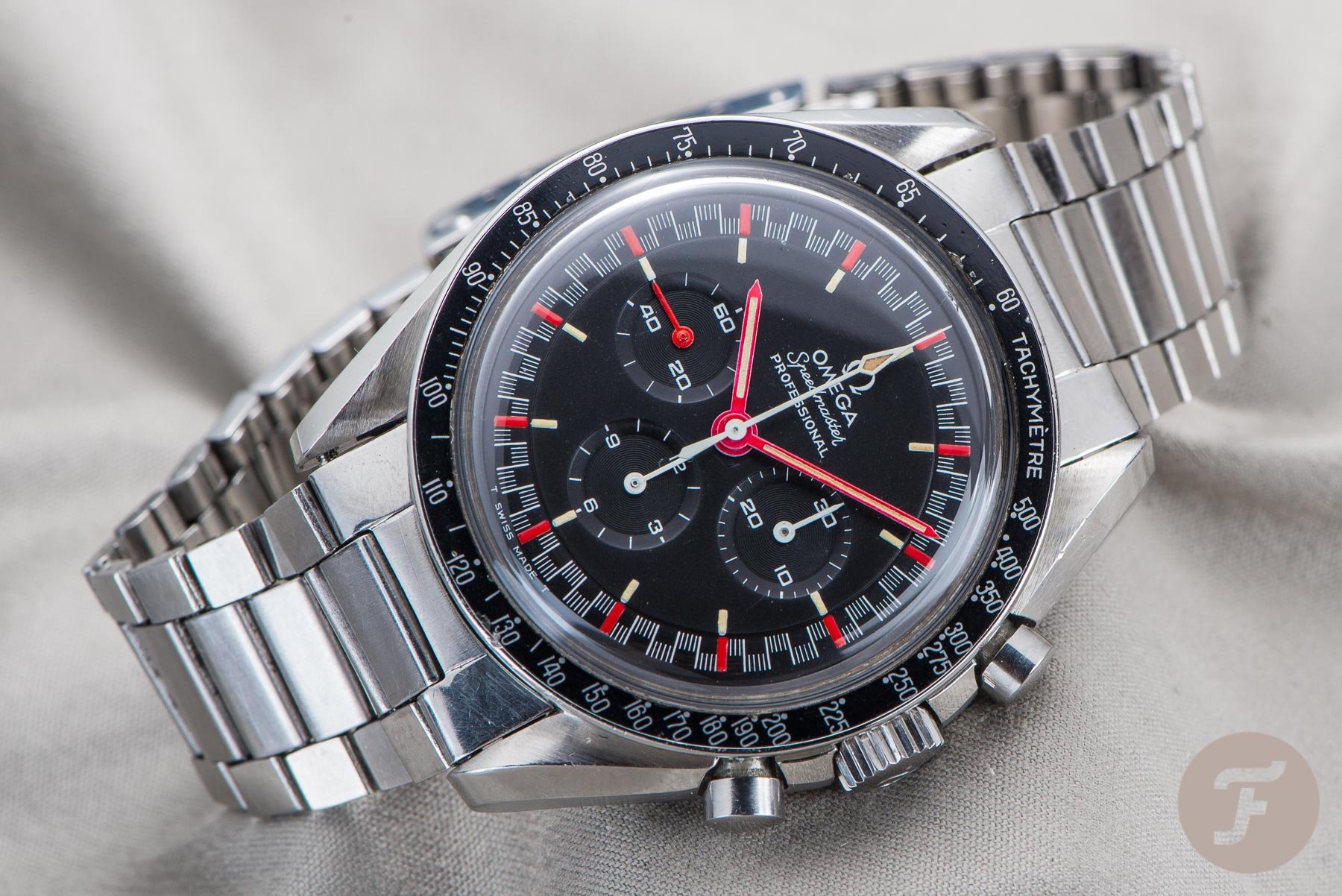 A future return?
Those who love (fast) cars do know how to find a Speedmaster though. During the many Speedmaster events we've hosted over the years, we've met a big number of car enthusiasts. But also my encounter with Ben Oliver, car journalist for Car Magazine in the UK, who proudly showed his Speedmaster Mark III and talked to me about Speedmasters, comes to mind. Or my interview with race car driver Nick Boon, who collects watches and owns a number of Speedmasters, including some vintage references and the gold Moonshine model from 2019.
It is up to you, the enthusiast or owner of the Speedmaster, to establish the link with motorsports. Use your chronograph and tachymeter while doing a rally or race, or just look like a race car driver with a Speedmaster (Racing) on the wrist. And who knows, maybe there will be a future return to the racing roots for the Moonwatch. For now, though, we'll have to keep hoping.
Continue reading about racing legends and their Speedmasters.