Car Racing Legends And The Omega Speedmaster
Speedies worn in and around the race tracks
The watch that started its life as a car racer's companion but quickly went on a very different route.
There are some similarities between a spaceship and a race car. Both have crazy fuel consumption. Both go – very – fast. Often they are both built using state-of-the-art materials and designed by the best engineers out here. All jokes aside, despite the "similarities" the Speedmaster was never intended to be an astronaut's watch. It was a trick of fate that turned a racing chronograph to a space watch. Omega had a different purpose in mind during the mid-50s when the idea of the Speedmaster was born. We all know the story of how the Omega Speedmaster became a timepiece for NASA astronauts (if not, check out this article). Most of you are also aware of the fact that in 1957, when Omega came out with the Speedmaster, the target audience were motorsport enthusiast – I mean, Speedmaster. But did the Speedy abandon the pits of racetracks around the world?
Speedmaster And Racing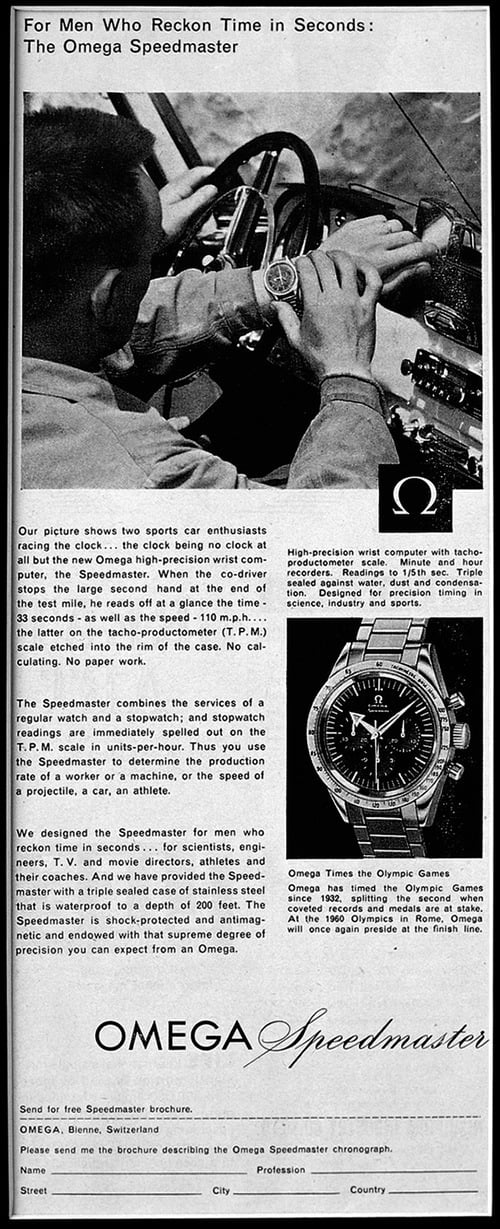 Who's who?
Since the early days of Omega, countless celebrities, politicians, actors and actresses, sportsmen, explorers, and many interesting characters have worn a timepiece by the Biel/Bienne based brand. A lot of these timepieces now reside in the Omega Museum, a free exhibition space that anyone can (and should) visit when in Switzerland. There you can see the little gold dress watch that John F. Kennedy wore at his inauguration as the 35th President of the United States of America. Or the military chronograph that army officer, archaeologist and author Laurence of Arabia wore during his many explorations. The Museum is home to many Speedmasters connected to various NASA missions that changed history and put men on the surface of the moon. We rarely talk about the watches that made their ways to the racetracks. So we selected a few of those Speedmasters for you.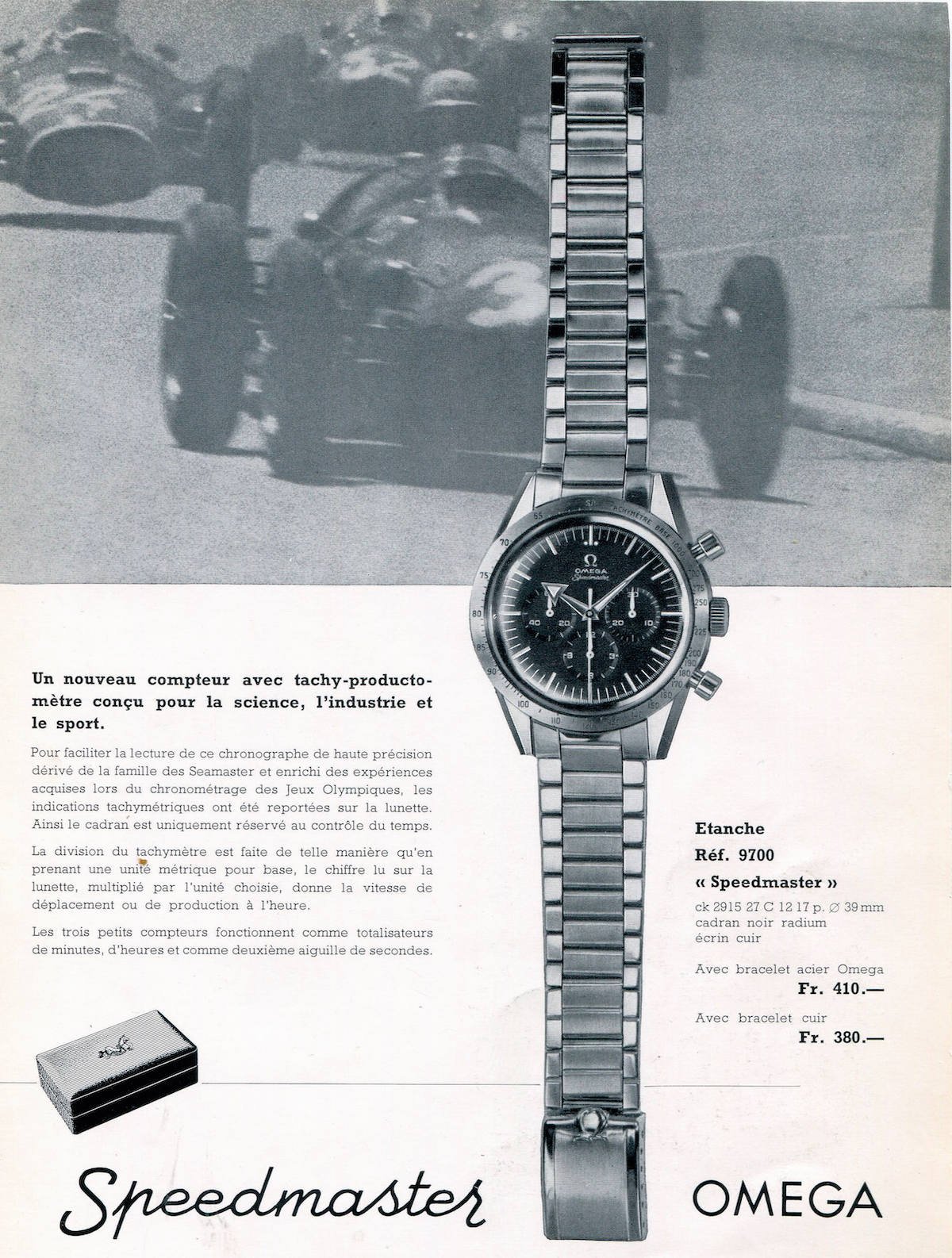 Car racing
If you have ever been to a car race, you know the feeling of roaring engines stirring up your stomach. The smell of burnt rubber and hot asphalt and the sound that makes it impossible to hear your thoughts. What if I told you that the Speedmaster had been sighted around these cars, on the wrists of drivers, managers and other personnel around car racing events? Whether we are talking about Formula 1, rally or any other type of car race Omega's Moonwatch in one way or another has been present at such races. We collected a few historical photos for you for this particular Speedy Tuesday by well-known characters of the car racing world. What unites them is the fact that at one point in their lives, they were all sporting a Speedmaster.
Willy Mairesse
In a previous article, I've talked about Willy Mairesse at great length. He was a Belgian race car driver in the 1950s and 1960s. His most successful years were in the 60s when he raced in Formula 1. This was the time when racing legends were born. The cars were fast, and the racetracks were unsafe. Mairesse's first Grand Prix was the Belgian race in 1960, and in 1965 the same race was his last. During his 5-year F1 career he raced for a bunch of teams including Ferrari and Lotus. He drove at the 24 Hours of LeMans wherein 1962 he ran the fastest lap in his Ferrari 250 GT SWB at practice.  Mairesse also won Targa Florio in 1962. Oh, and did I mention that during all these years he was wearing a Speedmaster? He did, and a very cool one too.
Luca di Montezemolo
If you are a fan of F1, I'm pretty sure you know the name. Luca Cordero di Montezemolo is an Italian businessman, aristocrat and until 2014 the president and chairman of Ferrari. He's been around the sport for decades having been employed by FIAT and Ferrari since 1973. He spent a year at FIAT and in 1974 became the assistant of Enzo Ferrari and the manager of their Formula 1 team, the Scuderia. Parallel to Mr Montezemolo's career, Speedmaster was entering a new, different path around the early 1970s with the introduction of the Mark II series. In the below photo taken in 1974 during the Italian Grand Prix, you can see newly appointed manager Luca di Montezemolo wearing what appears to be an Omega Speedmaster Mark II. The other gentleman in the photo is Niki Lauda, who also started his career with Ferrari in 1974. The two went on to turn Ferrari into a successful F1 team and laid the foundations of future stars like Michael Schumacher or Sebastian Vettel.
Walter Röhrl
A different country and a different series. There is no man in Germany over the age of 45 who loves motor racing and does not know the name Röhrl. Albeit a bit later than Lauda Walter Röhrl also reached the top of car racing as a successful rally driver and world champion in 1980 (Fiat) and 1982 (Opel). During his 15-year career, he had 14 rally wins and stood on the podium 31 times. Just like Willy Mairesse he also raced at the 24 Hours of Le Mans, and while his car came up 7th, his team Porsche System ended up winning that year's race. The two drivers of the winning care were none other than Derek Bell and fellow Belgian to Willy Mairesse; Jacky Ickx. Mr Röhrl was a fearless driver but judging by his Speedmaster choice; he was also a pretty bold watch wearer. During the mid-70s he was often seen sporting a silver dial Omega Speedmaster Mark III. He also owned a Chrono-Quartz at some point. Told you he was/is cool.

Michael Schumacher
How could we write an article about the connection between car racing and the Omega Speedmaster and don't talk about the legendary Michael Schumacher? His career is so known, so often talked about that I don't have to tell you anything about him. 7-time world champion (2 Benetton, 5 Ferrari), long time Omega ambassador. Schumacher joined the brand in 1995, and 1996 Omega released their very first Omega Speedmaster Schumacher edition. To me, these are still the coolest Schumacher Speedies out there. Though over the years many exclusive models came out to honour the great German Formula 1 driver. We also spoke about some of the models at great length on the pages of Fratello. Schumacher would leave Omega to be the brand ambassador for AP in 2010, but in his legacy as an F1 driver, there will always be a special place for the Omega Speedmaster.