Willy Mairesse and his Omega Speedmaster
The Omega Speedmaster is one of the most recognizable watches of the second half of the 20th century. A watch that originally was released as a racing model in 1957– hence the name – but gained worldwide fame as the timepiece that was worn on the Moon in July 1969. Throughout the years it has always been referred to as the Moonwatch and associated with NASA and its astronauts. Little did we know that in the 1960's there was a watch that stayed true to its racing heritage and graced the wrist of a Formula One driver. This watch is thought to be the first Omega Speedmaster we know of that was involved in the golden age of car racing.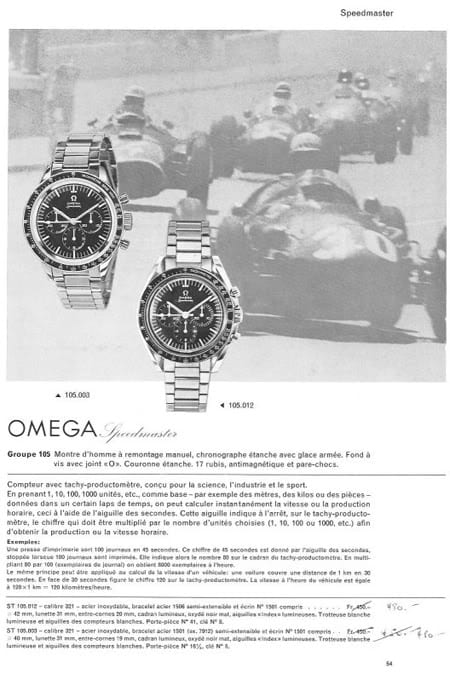 Who Was Willy Mairesse?
Mairesse was born in Belgium in 1928, spent most of his professional career behind the wheels of Formula One as well as various other racing cars. He was 25 when started racing in local racing events. He drove in the Liege-Rome-Liege rally 3 years in a row winning it in 1955. In 1958 he came up 2nd in the 24-hours race at Reimsi and in 1960 he came in 3rd at the 1000-kilometer race at the Nürburgring.
Ferrari had been watching him for a few years at that point and when in 1959 he raced successfully during the Tour de France car race, the Italian team offered him a contract for the next season. He took part in 3 Grand Prixes finishing only one, the 1960 Italian race where he came up 3rd. During the next season he drove 3 races but could not finish any of them. A year later, in 1962, he took part in 4 races finishing one, again the Italian Grand Prix where he became 4th. He was 2nd at the 24 hours of Le Mans and he won the Targa Florio.
Unfortunately 1963 was his last season with Ferrari, which happened to be unsuccessful for him – drove 3 races but could not finish any of them, though he managed to succeed during other races at the Nürburgring and Spa-Francorchamps. This was the year he got closest of winning the 24 hours of Le Mans. He was leading the competition when during a pitstop his car caught fire and he could not finish the race. In 1964 he won the Angola Grand Prix and a year later the 500km race in Spa-Francorchamps. In 1966, after his win in 1962, he managed to finish 1st at the Targa Florio and the year after that he became 3rd at Le Mans.
During the 1968 24 hours of Le Mans while driving a Ford GT-40 he suffered a serious accident when his door flew off his car. He crashed and went into a coma. He woke up after 2 months but he could not gain back his physical or mental health. Willy Mairesse was found dead at his house in Oostende on September 2nd 1969. The cause of death was overdose of medication.
Possible Speedmaster References
The above photo stirred a bit of a storm during the last few days in the watch community and in various watch-related Facebook groups, when Ferrari (and Omega Speedmaster) enthusiasts found it on Ferrarism's Facebook page. It contained no caption so for a day or so we did not know the name of the driver with  the impeccable taste. The racer turned out to by Belgian Formula One and sports car driver, Willy Mairesse and the watch probably an Omega Speedmaster CK2998/105.002 or 105.003. It is really hard to tell even though the quality of the image is pretty good. There are a number of features though that led us to believe that one of the above references is the timepiece on Mairesse's wrist. It is obvious that the case has straight lugs (no crown guard) and a black bezel. The first model to have one would be the 105.012 so anything before that (105.003 and back) is still in play. According to various sources the photo was probably taken around 1962, and while the 105.003 did not come out until 1963 we are not sure about the date so keep this reference among the possible versions.
On the image, the hands chronograph hand is visible, as well are the small hands. The hour and minute hand are not identifiable. Since the other hands are visible, probably due to the white absorbing the light, our best guess is that it would be a CK2998 or 105.002. The 105.003 had the white baton hour and minute hand, so it is likely that these could be seen as well on this image. However, we can't be sure so we keep the option open.
Willy Mairesse raced for Scuderia Ferrari between 1960 and 1963, but during the 1961 season he started with Equipe Nationale Belge then after 3 races moved on to Team Lotus for 2 Grand Prixes only to come back to Ferrari for the next 3 races. He did not finish the season that year. He raced another year with Scuderia Centro Sud but that was his last year in the Formula One. So it is safe to assume that this photo was probably taken somewhere around 1961-63 while with Ferrari. All the above facts lead us to the aforementioned two (well, technically three) references.
Even though Willy Mairesse might not be as well known (or lucky) as Mario Andretti, Jochen Rindt or Jim Clark, he was with Ferrari during the legendary team's 4 seasons in the 60's alongside a good few other drivers. He should also be referred to as the only racing car driver we know – so far – who was at one point in time sporting an Omega Speedmaster during those glorious years of the 60's.
Balázs joined Fratello Watches in 2014 and he has been a fan of watches as long as he can remember. His passion for watches really took off in 2007 when he purchased his first fine Swiss timepiece. From 2007 up to recently, he was also an active and involved member of a number of on-line watch communities. Balázs has a weak spot for vintage Omega watches and vintage watches in general.
Latest posts by Balázs Ferenczi (see all)