Speedy Tuesday – The Very Rare Omega Speedmaster 105.002 Watch
It's Speedy Tuesday! This week we have a contribution from Ashley Budgen (co-owner and founder of the popular Australian based omegaforums.net website) about his very rare Omega Speedmaster reference 105.002. A straight-lugged Speedmaster from 1962 – only 1 year in production – and therefore one of the rarest references. Ashley bought one last year and shares his story with you.
I had actually been looking for a pre-pro, straight lug Speedmaster for quite some time, either an ST105.003 or a middle to later series Speedmaster CK2998.  As all Omega (Lemania based) caliber 321 Speedmaster fans know, the earlier the watch, the harder it is to find an all original example, and for this reason I'd waited patiently for something I really liked to come along.  I had not actually considered the ST105.002, and didn't really know much about the reference, only that it was an odd duck transitional model produced only for part of the year in 1962 and came in a lot of varieties for a single year reference.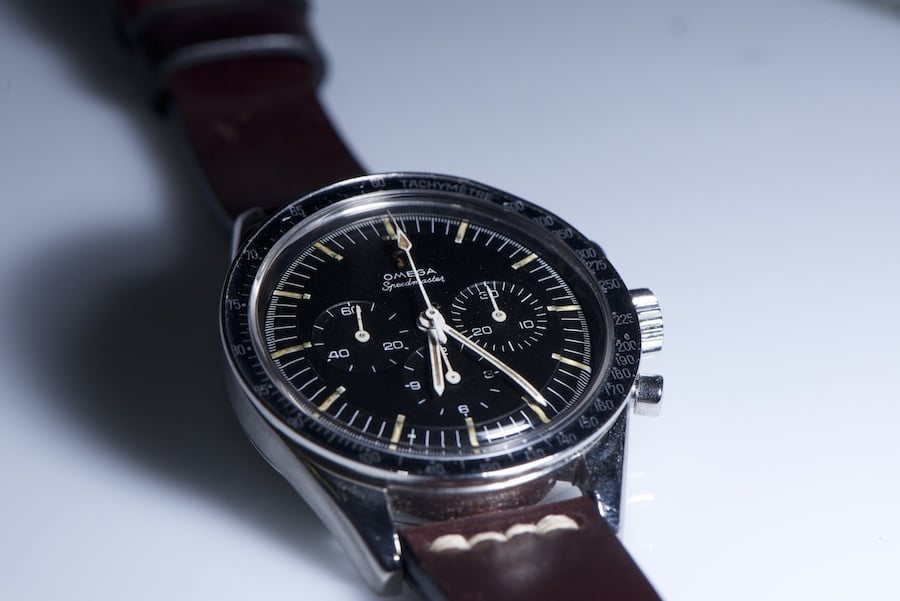 I was tipped off about this particular piece by one of the moderators on Omegaforums, by the nickname MSNWatch, and looking over the photos in depth it became apparent this was an all original "raw" watch, not yet touched by dealers.  The watch was made at the very end of ST105.002-62 production, with a serial number in the 20.52 million range which is why unlike earlier 105.002s with alpha hands, this watch was fitted with stick hands from the factory, making it among the very first Speedmasters to feature them.
While the stick hands make these late Speedmaster 105.002 watches appear similar to the Speedmaster reference 105.003 that replaced them, they are very different watches.  The 105.002 shares the same smaller case as the CK2998 references, and like the 2998 carries a radium dial (with no Ts either side of Swiss Made) unlike the later ST105.003 which uses a tritium dial.  It also features smaller pushers than 105.003s and the CK2998's polished silver tension ring, which gives a real depth to the dial.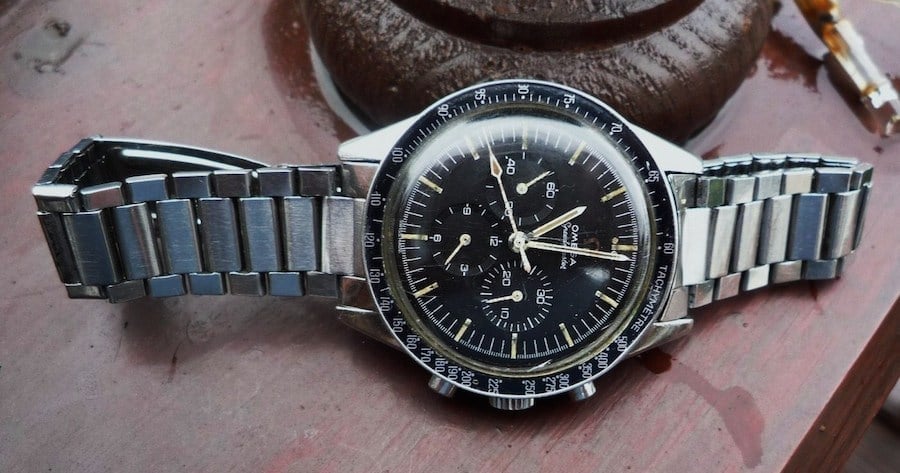 The watch came on its original 7912 bracelet with number 6 endlinks, however having hairy wrists, as much as I liked how it looked and the cool factor of the 7912, the bracelet drove me mad with its pinching and hair pulling until I put it in its box and fitted a Horween Shell Cordovan leather strap in 19mm which fits the style and feel of the early Cal 321 Speedmasters perfectly.  I had a sympathetic restoration performed by one of our watchmaker members, Stefan in the UK.  A full movement overhaul, replacement crystal, tension ring and a modified Railmaster CK2914 crown replacing the generic crown it came with finished the job.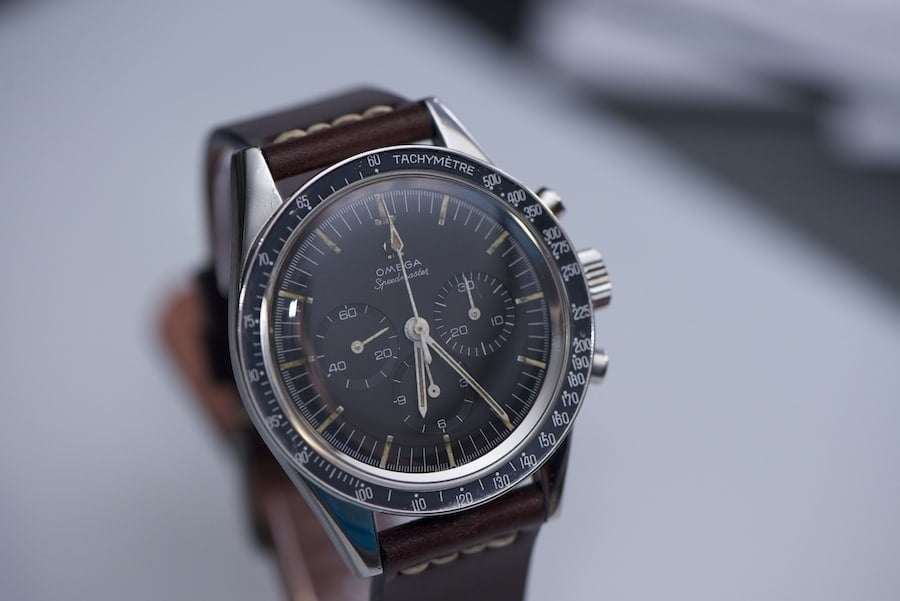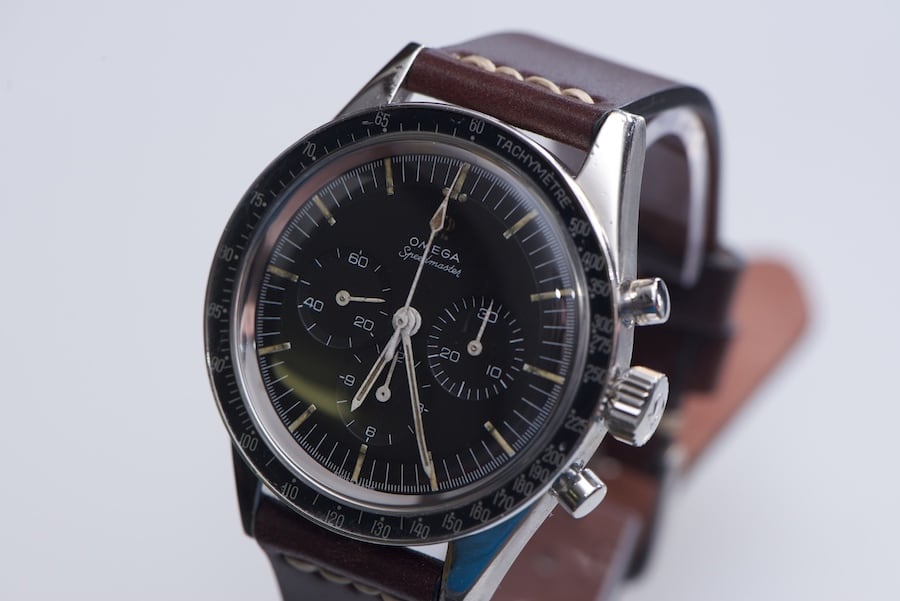 I'm still keen to eventually find myself an alpha hand equipped reference CK2998, the earlier the better, but the ST105.002-62 has really grown on me in its obscurity.  I've always liked watches that are unusual or a bit out of the ordinary and for that reason I think this Speedmaster will always have a place in my collection.
Here are more photos of this Omega Speedmaster 105.002.
Thanks to Ashley Budgen for this week's write-up. Next week, we will feature a customized Omega Speedmaster Professional.