Introducing: The 40th-Anniversary G-Shock G-D001 — Presumably, The Most Expensive G-Shock Ever Made
Co-developed using artificial intelligence, this watch doesn't just break boundaries in terms of design...
It's not often that a G-Shock is featured in a luxury watch auction. We expect pieces from F.P.Journe, Patek Philippe, Audemars Piguet, and even the more extravagant MB&F to make an appearance. But this year, Casio's very mature sub-brand is turning 40 years old. This, of course, calls for something unique to happen. That's why the one-off G-Shock G-D001 was developed and will be auctioned at Phillips this December. And it could very well become the most expensive G-Shock ever made.
G-Shock Dream Project
This is the second time that G-Shock has released a so-called "Dream Project" watch. Dream Project #1, the G-D5000-9JR, was a G-Shock "Square" in full 18K yellow gold. The brand "only" made 35 units for its 35th anniversary, and the watch cost $70,000. I can almost hear you say, "That's a lot of money for a G-Shock." Yes, that's true, but the 35 pieces sold out in the blink of an eye. This year's Dream Project #2 is also made out of 18K yellow gold, but only one will be made, and it doesn't really look like any other G-Shocks out there. That might have something to do with the fact that the watch was co-developed using artificial intelligence. Let's take a look.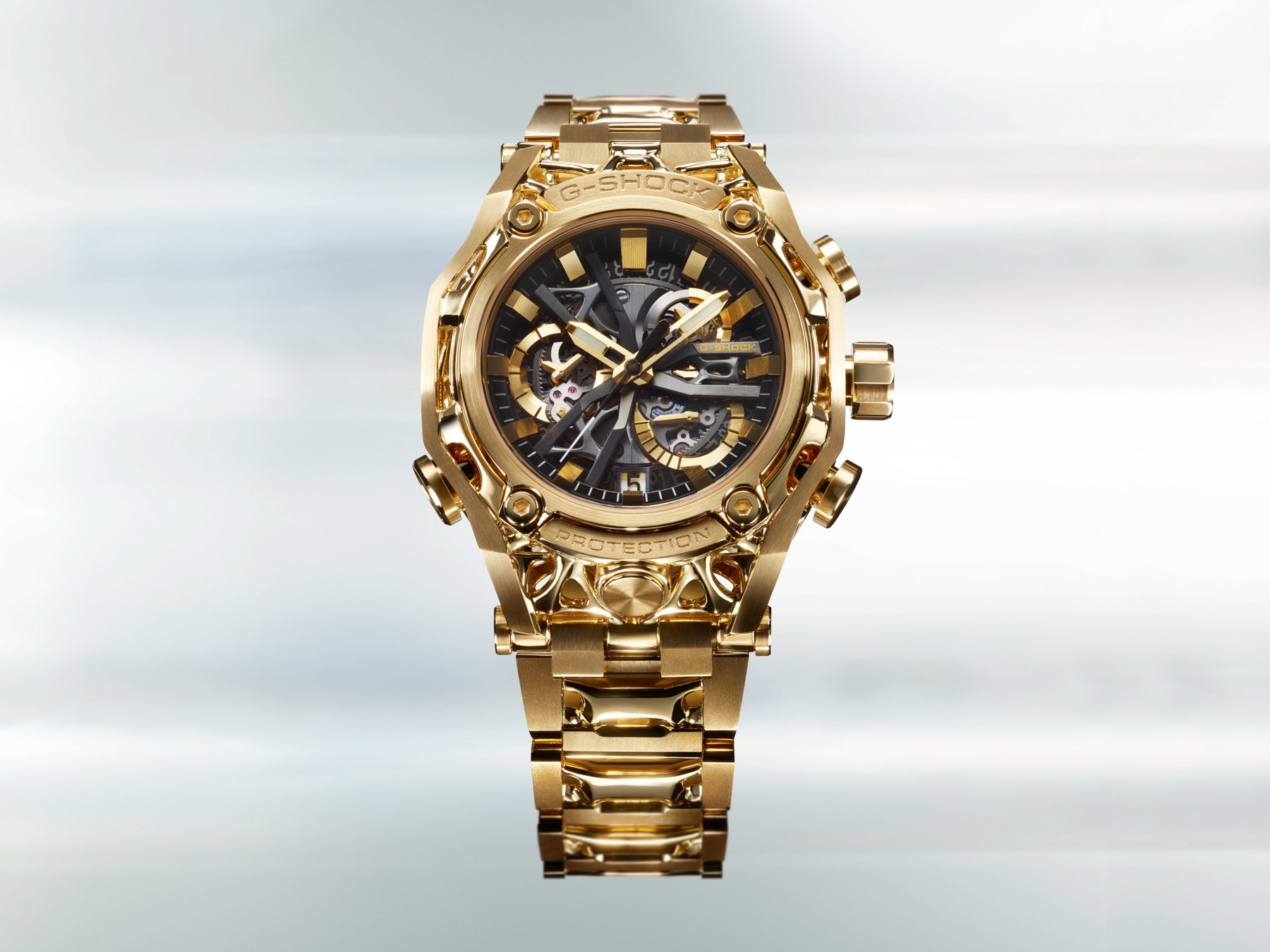 Same concept, different watch
At the start of the 1980s, it was Casio engineer Kikuo Ibe who came up with the concept for the first G-Shock. The watch he got from his father came off of his wrist when he bumped into a person on the street. The watch fell on the concrete and suffered damage beyond repair. That's when he started thinking of a watch that could take a beating. At a playground, he observed how shocks didn't affect the center of a rubber ball as much as the exterior of it. The suspended module inside G-Shock watches takes inspiration, for the most part, from this very same principle.
And now, for G-Shock's 40th anniversary, Kikuo Ibe brought together a team of young G-shock engineers backed up by a few veterans, including himself. In addition to the human input, they also requested the help of artificial intelligence (AI). In this case, AI delivered input on things like structural strength, processing methods, and weight reduction. This relatively new concept of generative design is a continuous interaction between the human and digital members of the team. Together, they came up with something that doesn't look like any other G-Shock but is still very recognizable as such.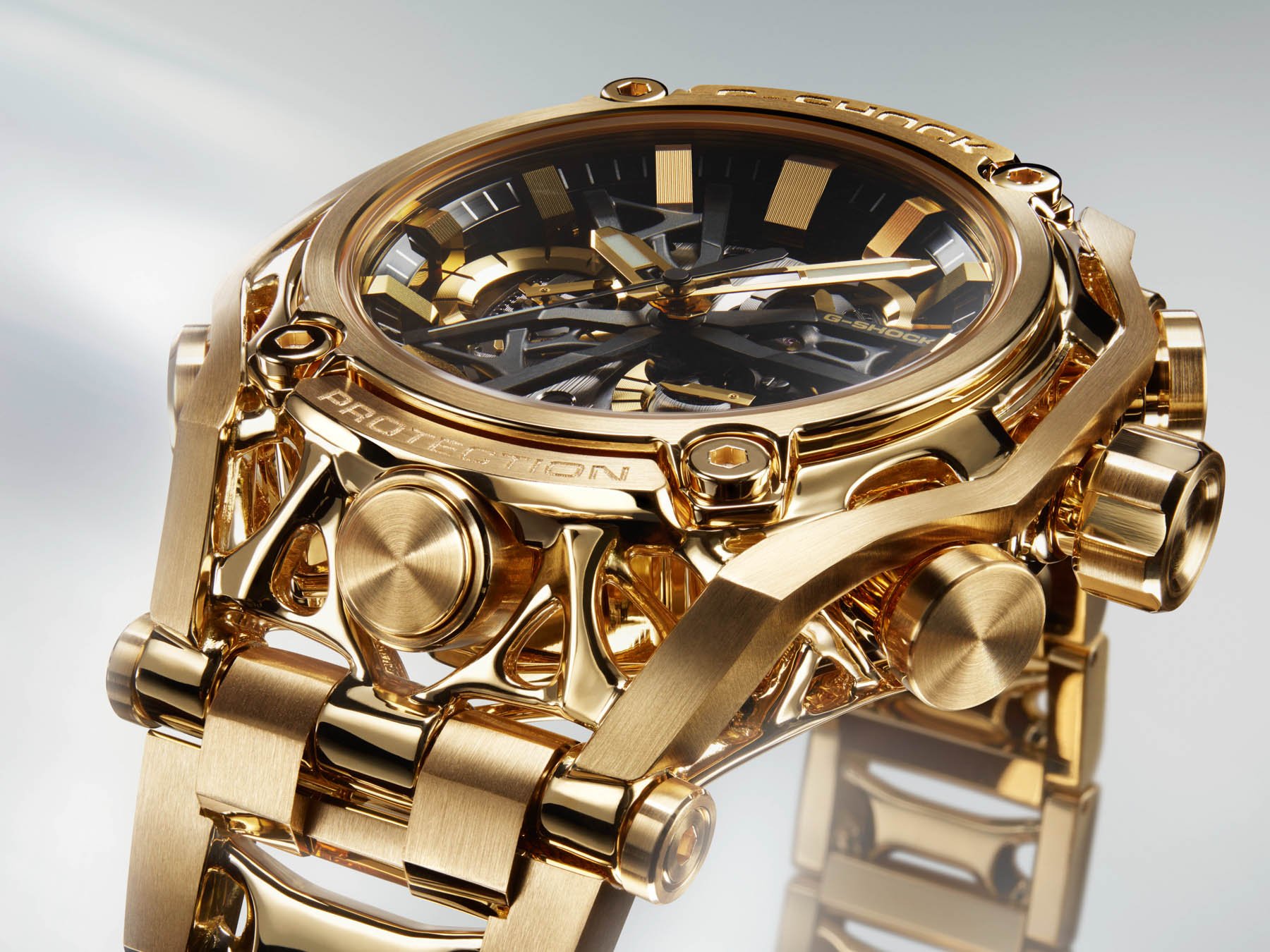 A fully skeletonized beast in 18K yellow gold
When I look at this full-gold G-D001, it kind of looks like a CasiOak on steroids. In terms of its 45.1mm diameter, it isn't even that far off — it's just 0.1mm bigger than the more modest hybrid watch. But that's more or less where the comparison stops because everything else is substantially different. The case, bracelet, and dial are all heavily skeletonized. According to the brand, AI suggested the organic shapes to provide optimal suspension for the solar-powered timekeeping module hidden somewhere inside this 18K gold beast of a watch.
Those organic shapes have all been polished by hand to highlight them to their full potential inside the otherwise brushed case construction. If you ask me, the watch looks like an absolute powerhouse. This is further accentuated by the rest of its dimensions. The lug-to-lug span measures an impressive 57.3mm, and the case is 14.3mm thick. But not only passers-by will notice the watch. Due to its weight of a whopping 355 grams, the wearer will also most definitely notice it's there. Fun fact: that's almost 60 grams more than Dream Project #1.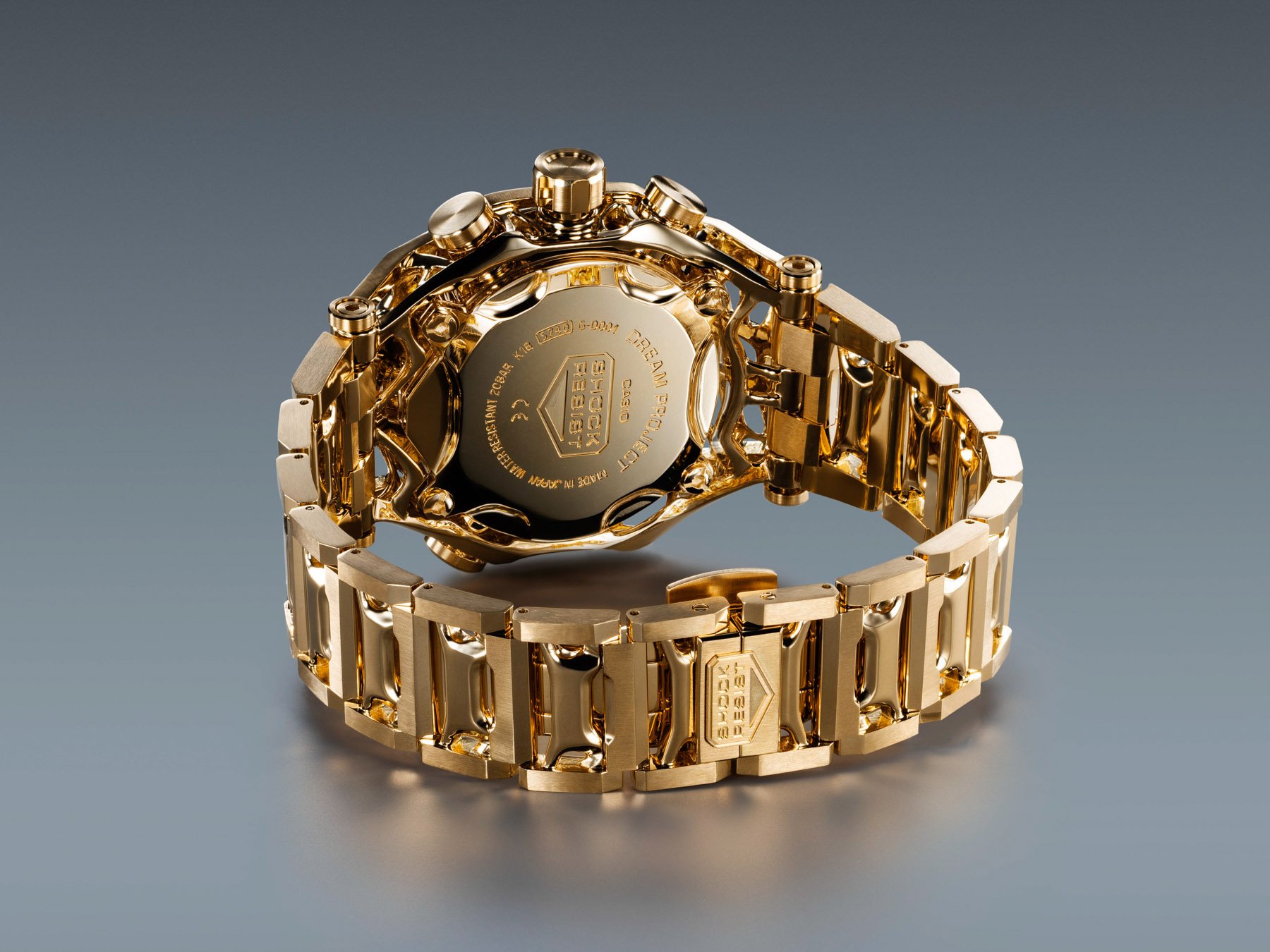 A mix of toughness and high-tech
Both the bezel and the unique-looking parts of the bracelet have been made using the lost wax casting method. That involves first making the desired shape out of wax, covering it with clay to make a mold, and finally, inserting the liquid gold. This will make the wax evaporate, and eventually, the gold cools off and hardens. The result reminds me a bit of Holthinrich's DECONSTRUCTED watch and bracelet, but this G-Shock G-D001 looks even more awesomely outrageous than that.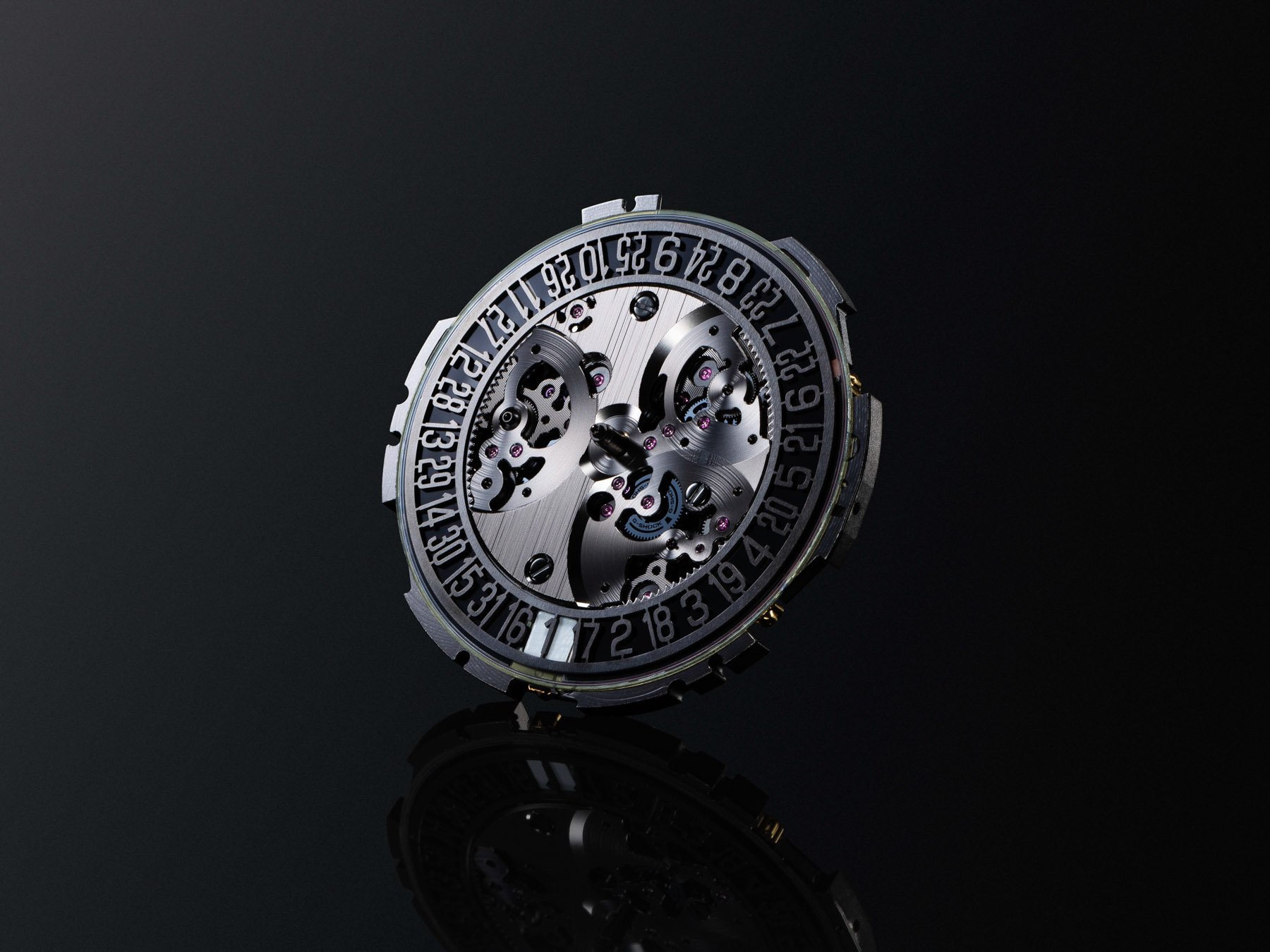 The dial, once again, is skeletonized to the max to reveal this watch's specially designed module. The base is a metal main plate, the cogwheels are made out of silicone, and the bearings are actual rubies to ensure greater accuracy. The solar cell inside uses a gallium compound as the power-generating layer. This is based on solar-cell technology that you usually only see applied to artificial satellites. All this is to increase efficiency when generating power. Finally, a light that shines through a gap in the date window generates electricity to operate various functions, such as radio wave reception. Apart from the date, the dial also shows you the time, an additional time zone, and a chronograph hand.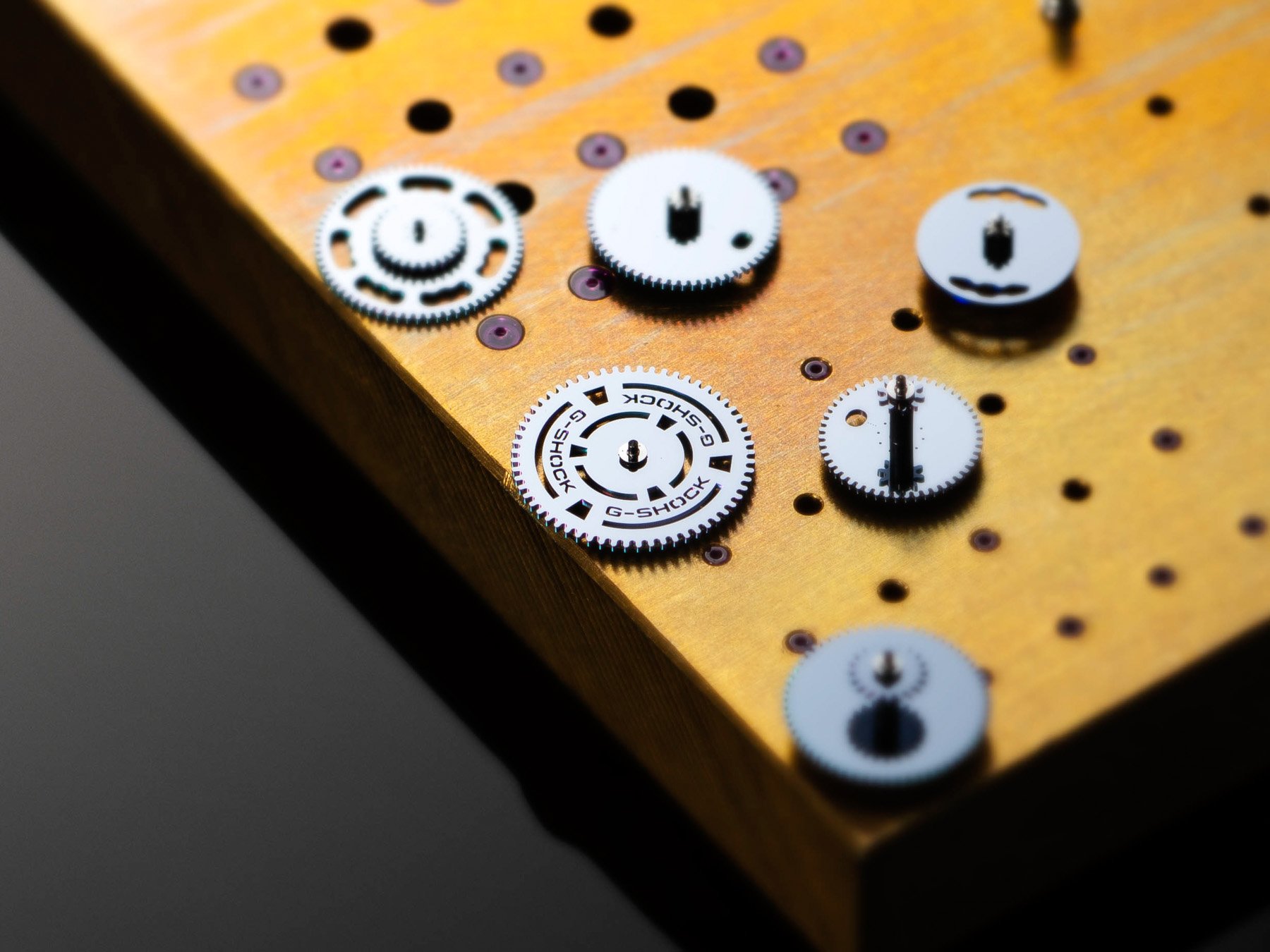 It's fancy, but it's still a G-Shock
The G-D001 might be made out of 18K yellow gold, but it is, of course, still a (top-end) G-Shock. That means it has a sapphire crystal for increased scratch resistance and can withstand water pressure to 20 ATM. So even though it looks fancy, it won't immediately break when you bump into someone on the street or take it swimming. However, I'm not sure if the eventual owner would actually wear it on any adventures. It's also good to know that the watch is accurate to ±15 seconds per month when it cannot connect to the Multiband 6 radio waves.
Going once, going twice…
This G-Shock G-D001 feels more like a concept watch than an actual production watch to me. Don't get me wrong; it looks absolutely stunning, and I'd love to get my hands on it. But it looks more like the result of an experimental design study than a commercial release. That may also be what the people at G-shock thought because they decided to put it up for auction instead of putting it into production. The G-Shock website mentions that "all proceeds will be donated to environmental organizations."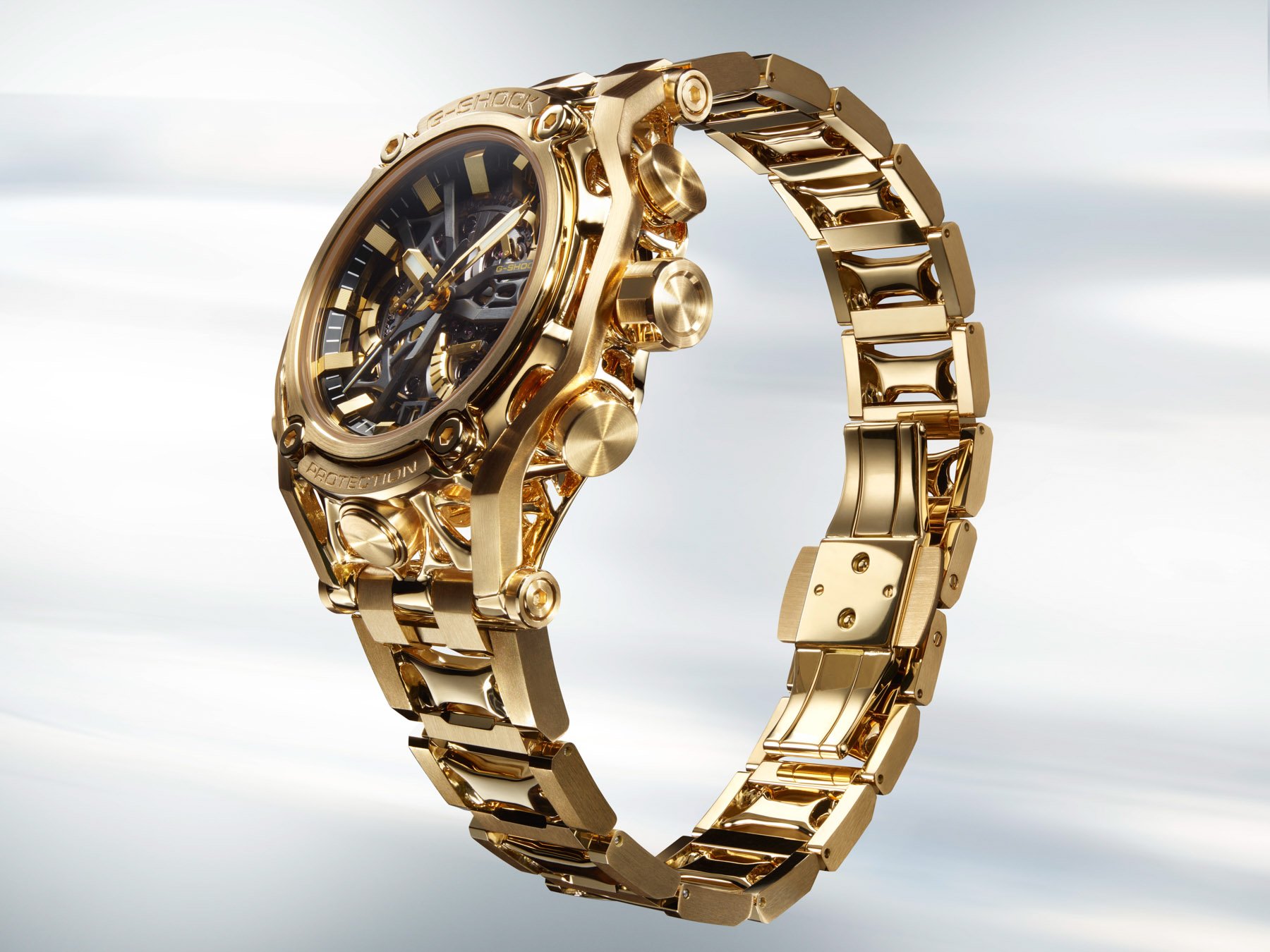 The watch is estimated to sell for between $70,000 and $140,000 at the Phillips New York Watch Auction on December 9th and 10th. That would instantly make the G-D001 the most expensive G-Shock ever. I'm curious to see how much it will sell for in the end. Knowing that those 35 pieces for the 35th anniversary sold in a flash, I almost expect this unique piece to go for a lot more than the current estimate. We'll see, but one thing is clear: G-Shock has created a beast of a watch that beautifully shows off the craftsmanship the Japanese brand is capable of.
What do you think of the G-Shock G-D001? And how much do you think it will go for at the auction? Let me know in the comments below.
Watch specifications
Dial
Skeletonized with golden indices
Case Material
18K yellow gold
Case Dimensions
45.1mm (diameter) × 57.3mm (lug-to-lug) × 14.3mm (thickness)
Case Back
18K yellow gold
Movement
Specially designed solar-powered quartz movement (module reference unknown)
Water Resistance
200m (20 ATM)
Strap
18K yellow gold bracelet
Functions
Solar charging system / Multiband 6 radio control / Dual time / Stopwatch / Visibility assistance for dark locations (Solar cell luminescence) / Date display
Price
Up for auction in December 2023